B2B Lead Generation: 10 Strategies That Work in 2022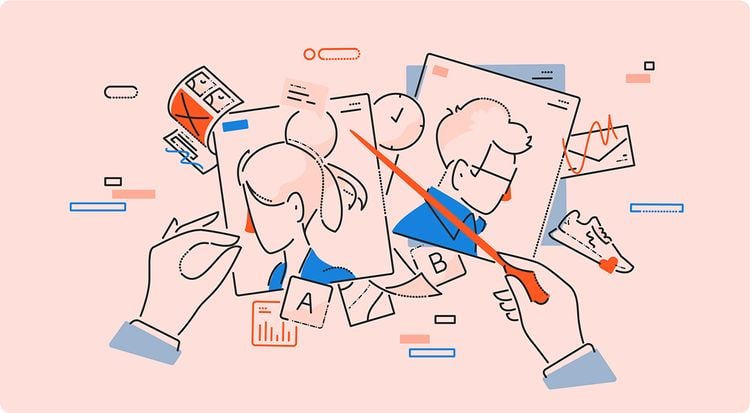 Looking for new strategies to generate leads for your B2B company?
You are not alone. According to HubSpot's study, 61% of marketers rank lead generation as their number one challenge.
Lead generation is hard. It's all about testing different approaches, and then focusing on the ones working best for you. In this guide, we gathered ten effective B2B lead generation strategies that work in 2021.
Some of them are key strategies that we used at Hunter to grow from 0 to 2M users in just five years. Others are strategies that industry experts have used successfully and agreed to share with us for this guide.
Before we jump into the examples, it's important to make sure that you get the foundations of lead generation and its place in your sales funnel. If it's clear for you, feel free to directly jump to the first strategy.
What is B2B lead generation?
Simply put, B2B lead generation (business-to-business lead generation) is the process of acquiring new leads for the business that markets and sells to another business.
For B2B companies, lead generation is a vital business process for their sustainable growth. In other words, businesses generate leads to get more customers who subsequently generate more revenue for the company.
How to align lead generation within your sales funnel?
Defining your sales funnel before starting lead generation activities is uber essential because most of the leads aren't ready to make a purchase right after visiting your website for the first time (or right after you contact them for the first time).
It's even more critical for B2B companies to establish sales funnel in the early stages. According to this survey, 48% of companies say leads require a long sales cycle before converting into paying customers. So, instead of focusing on immediate sales, B2B companies need to stay patient.
I'm sure you saw the typical sales funnel dozens of times with its classic "attract → engage → convert" steps. But have you ever wondered where the place of lead generation is within the funnel?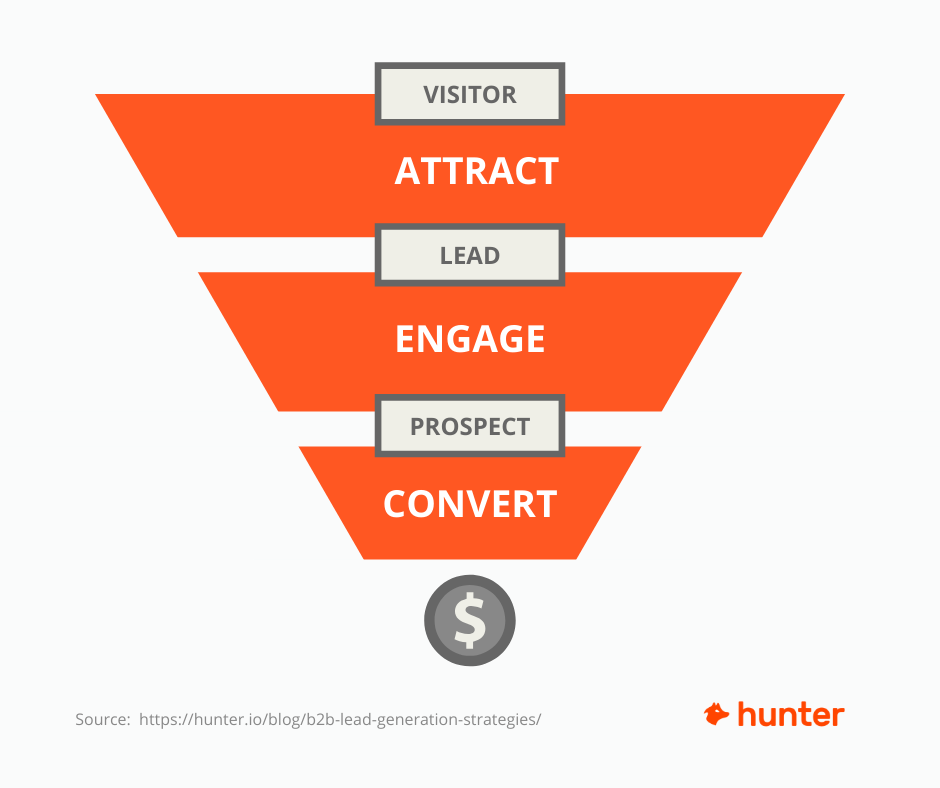 ATTRACT: The sales funnel starts when the audience first visits your website (or when you contact your audience for the first time). At this point, you should build awareness and trust without focusing on direct sales.
ENGAGE: On the second stage, which is the middle of the funnel, website visitors convert (or not) into leads. Just leverage your marketing research and find the pain points of your leads.
CONVERT: The bottom of the funnel is tailored to getting your prospects to purchase. It's time for sales. We don't cover sales strategies in this guide, but here are a few resources that can help you to succeed on this crucial stage of the funnel:
Now, when you know you know the basics, let's dive right into the tried and tested B2B lead generation strategies!
1. Use SEO for organic lead generation
3. Reach out to customers of products related to your niche
4. Use live chat for B2B lead generation
2. Get featured on review websites
5. Build a brand community on Facebook
6. Create a free tool
7. Do highly personalized cold outreach
8. Use Facebook Ads to generate leads
9. Utilize LinkedIn lead generation
10. Amplify lead generation with affiliate marketing
1. Use SEO for organic lead generation
At Hunter, we love SEO. This is by far our first acquisition channel.
In a recent survey, 64% of the marketers said they actively invest in SEO, and that number keeps growing.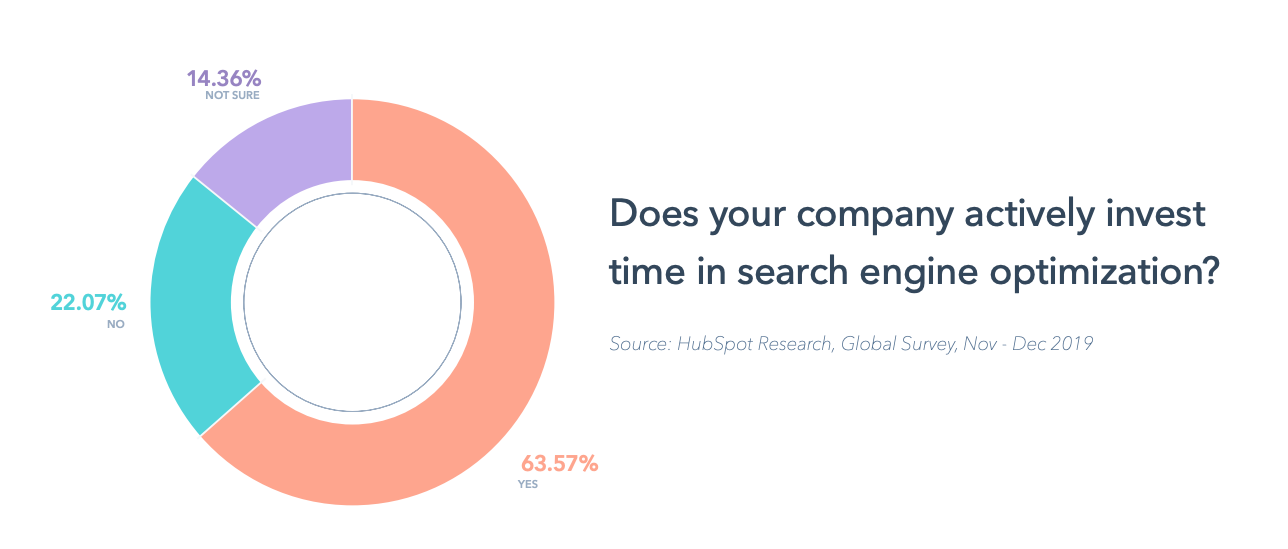 The reason why SEO is such an important aspect of your business is that it helps bring large and recurring volumes of visitors to the top of your lead generation funnel. And you don't have to pay a single penny for this traffic.
It doesn't matter what business you are running—if you have a website, you should care about SEO. If you invest in SEO, you are making a direct investment in your website's visibility and profitability.
There are a lot of factors that contribute to your search engine positions. The list is almost endless. Once you know the very basics, follow this three-steps methodology to generate high-quality leads for your business.
1. Start with keyword research to understand what your audience is looking for
Keyword research is undoubtedly one of the most important parts of SEO. If your content doesn't match search terms people use, you won't get any traffic from Google.
At Hunter, we use a simple but effective strategy when looking for keywords for our new blog posts (inspired by the Ahrefs' methodology).
Start with a seed keyword. Seed keywords are the foundation of keyword research. Think of the keywords that perfectly illustrate your niche or product.
For example, at Hunter, our product helps to find email addresses for cold outreach, verify them, and send cold email campaigns. Some seed keywords for our product would be:
find email address
verify email address
send cold email
Generate more specific keyword ideas. At this stage, you can use the keyword research tool, which will help you to fill your spreadsheet with hundreds of relevant keyword ideas with stats on them.
I'm personally a big fan of Ahrefs, but you can choose a different tool from this list where you can find paid and free alternatives.
For example, by typing the "find email address" seed keyword in Ahrefs Keywords Explorer, you can get 12,910 keyword ideas.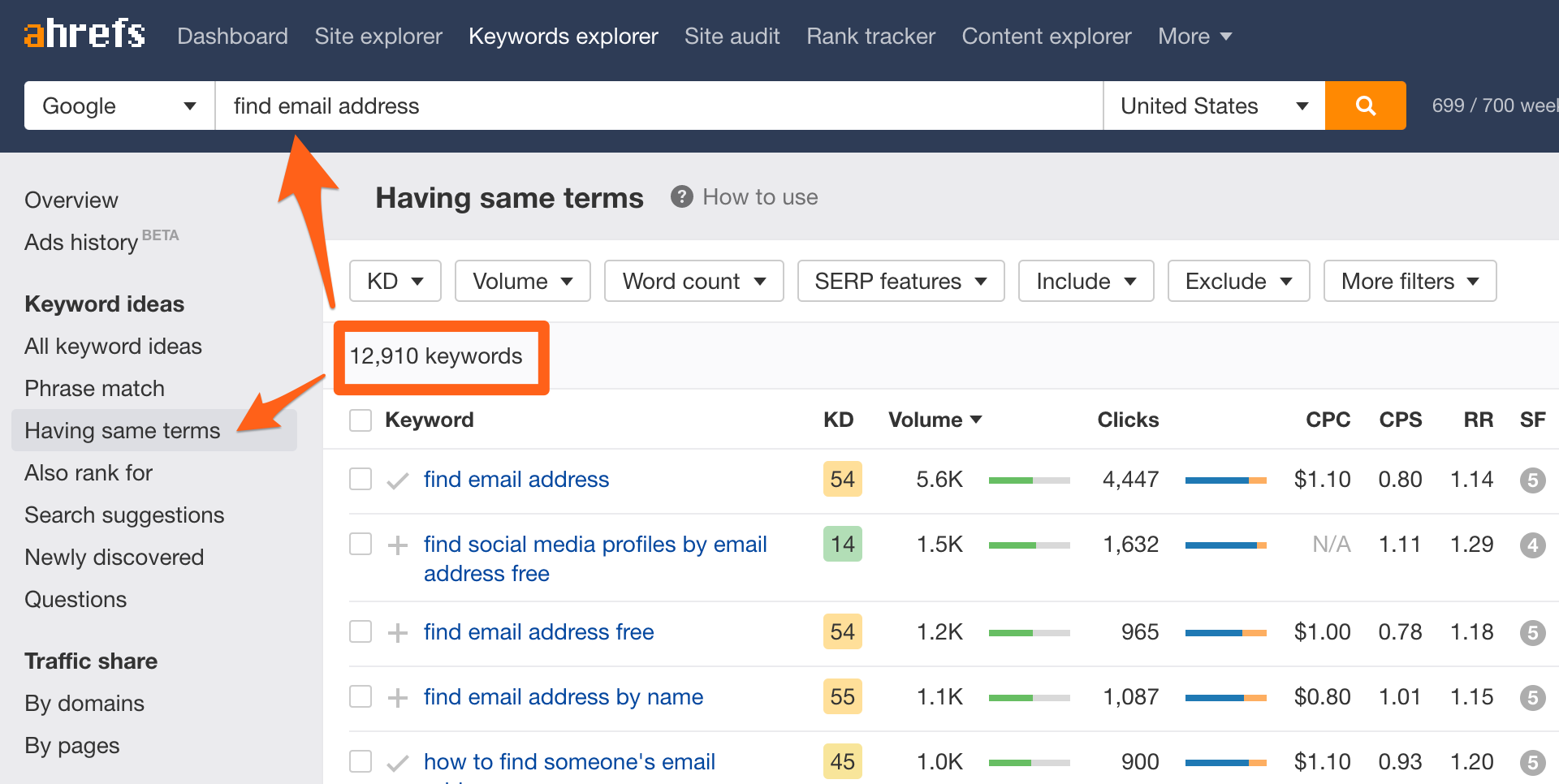 2. Create relevant content based on your research
Now, when you define the keyword you want to target, create awesome content for your audience.
At Hunter, we build our content schedule based on keyword research. Here is how it looks:

Our content SEO checklist is very simple—we follow these five principles:
When starting a blog, make sure that with our content we satisfy users' needs, and that it's relevant to our target audience.
Create long-form and high-quality content. We prefer quality over quantity.
Target one main keyword per blog post.
Make sure that the content is mobile-friendly, and the page speed is high enough.
Include target keyword in the title, URL, and first paragraph of the blog post, and mention it in relevant places further inside of the content. Here is an example from our recent blog post on how to find someone's email address: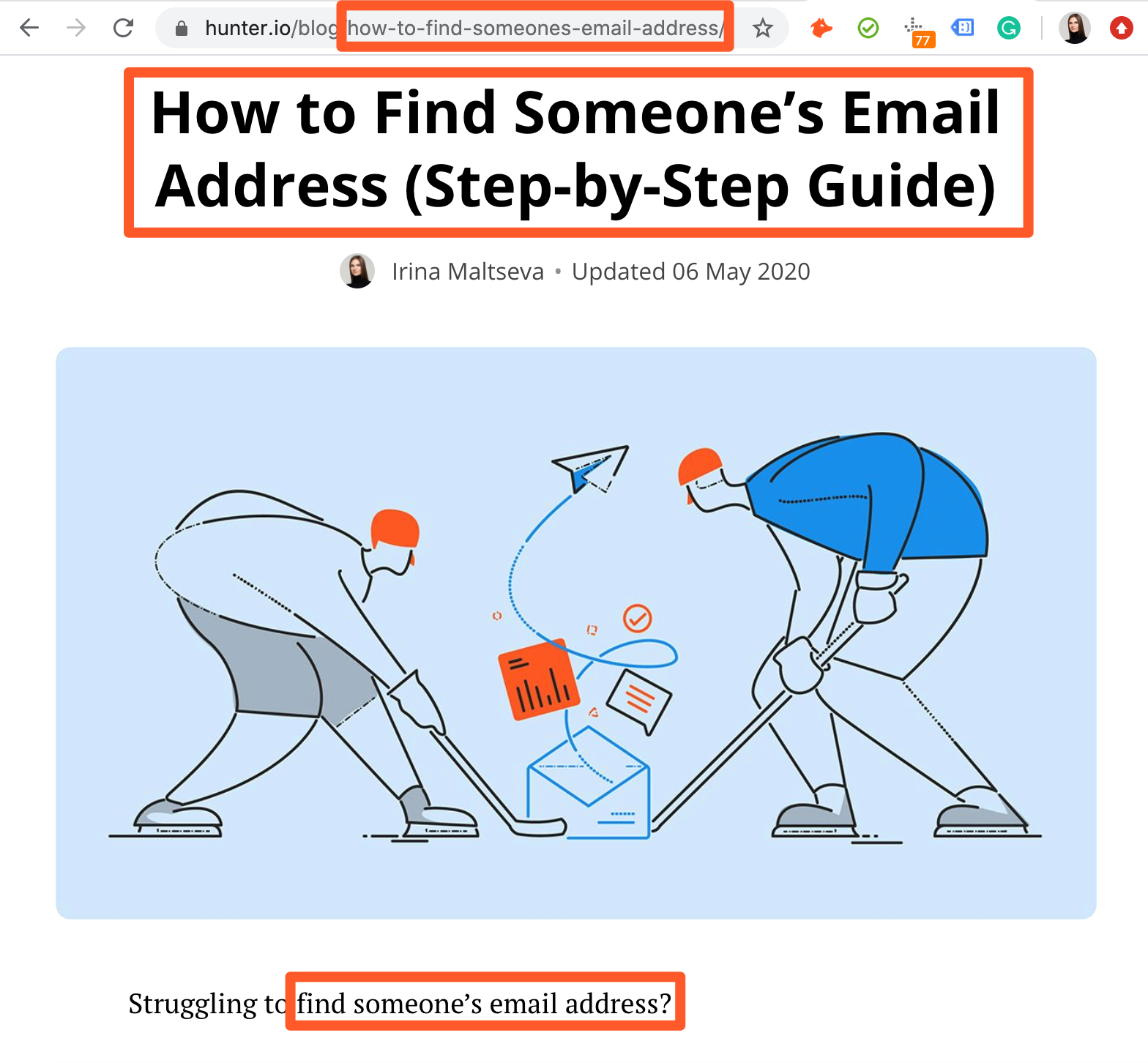 3. Generate leads from your content
You've conducted keyword research and created an impressive piece of content. Now it's time to start generating leads.
There are two common ways to do that:
Strategy #1: Add a newsletter subscription form. The idea is pretty simple—add a newsletter subscription form to each of your blog posts, on the blog home page, and create a dedicated page where blog readers can subscribe for updates.
Don't be too pushy, and don't be annoying with randomly appearing popups. Just provide value with your content and make the sign-up form easily accessible. Those who will find it useful will be happy to subscribe to future updates.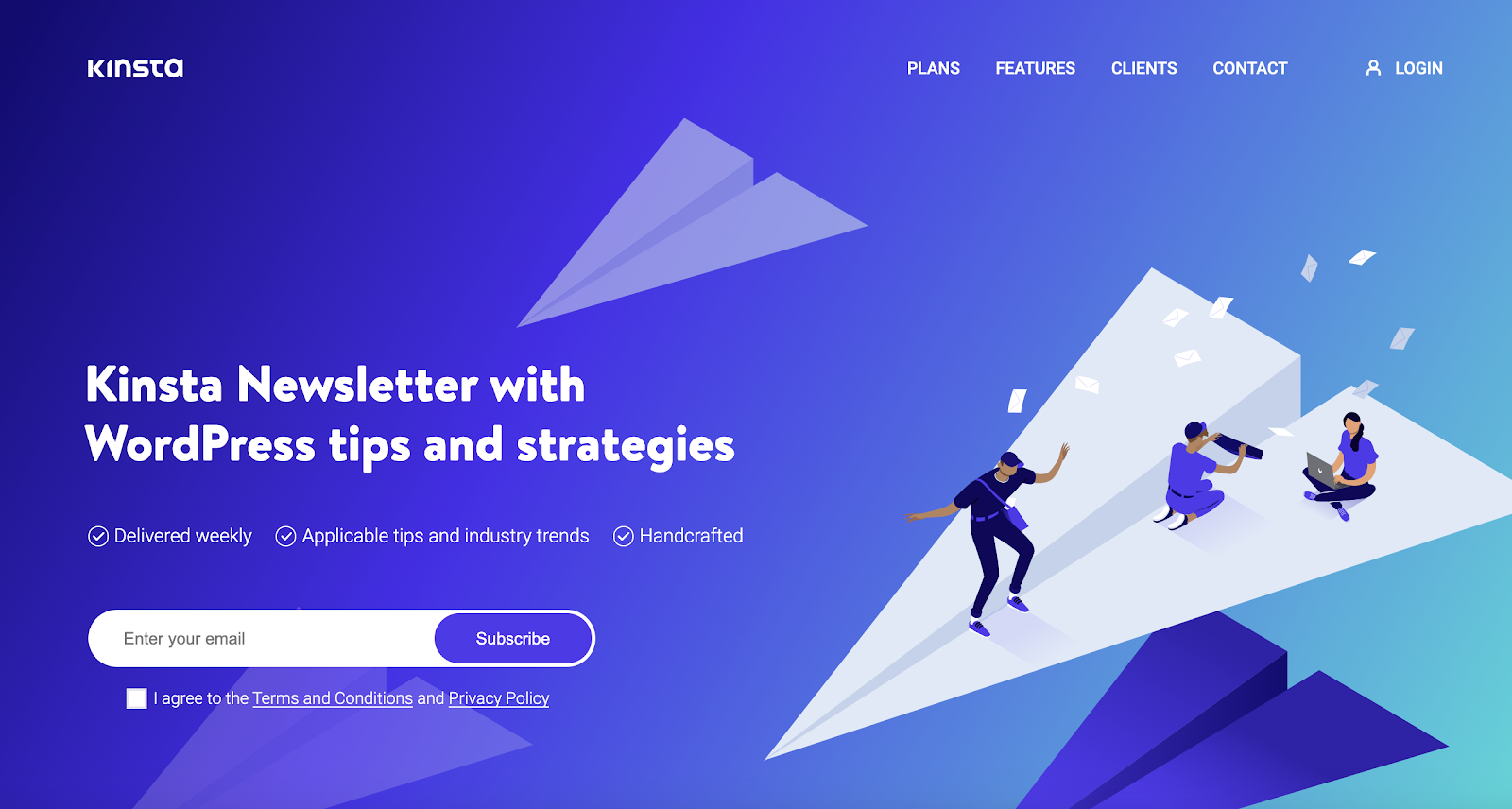 Right after someone subscribes to your newsletter, let them know that you are alive and what they can expect from your newsletter.
At Kinsta, they send an immediate welcome email along with a free ebook: "How to Speed up Your Wordpress site," which is a good way to educate readers about the topic on which the Kinsta team is an expert.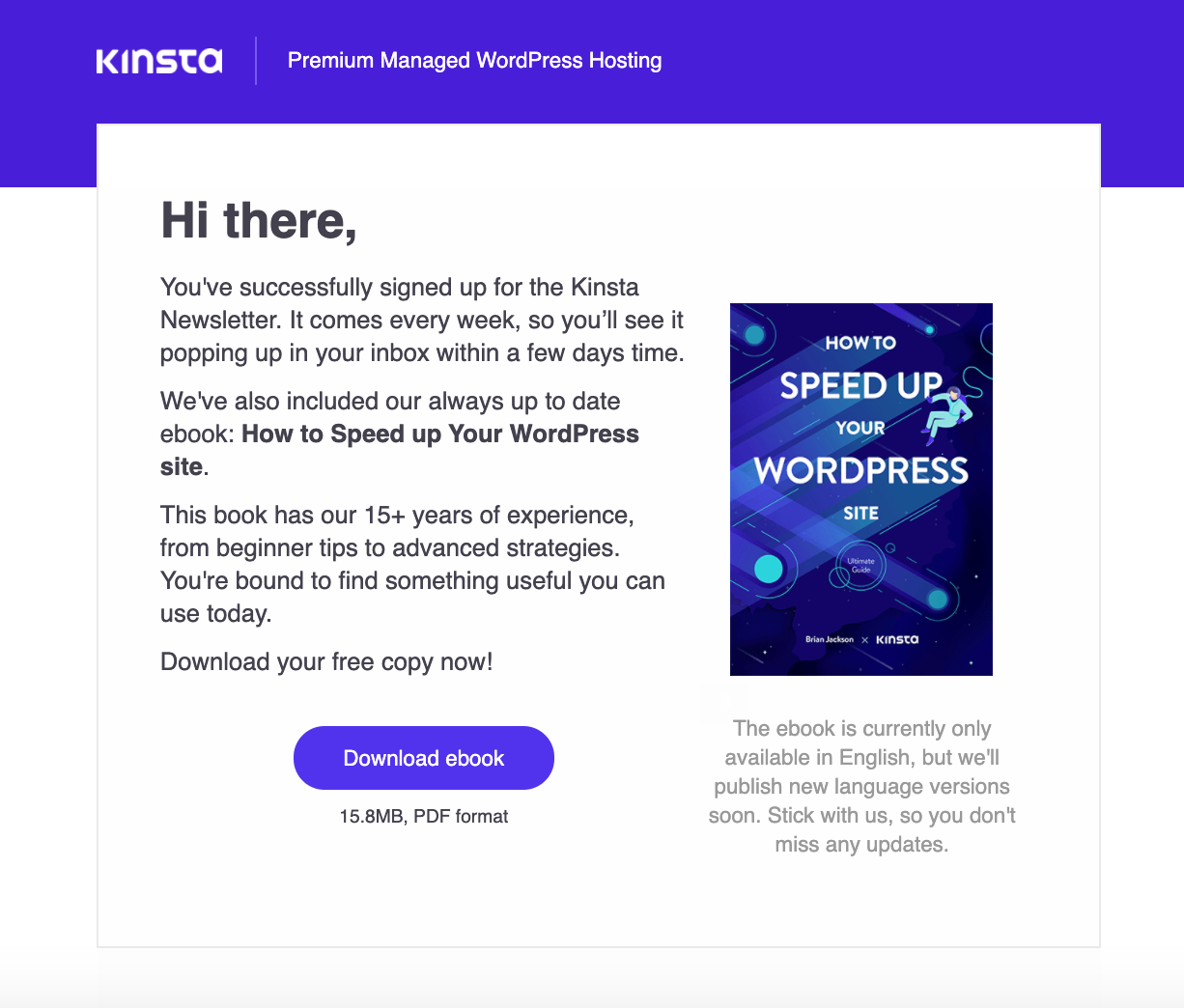 Once you get enough subscribers, don't forget to send them what you promised regularly. Don't be too spammy—try to solve your subscriber's problems and help them with the relevant information. Educate them along the way. It's a long journey, but it is 100% worth the effort to invest.
Strategy #2: Add a lead magnet. Another great way to generate leads from your content is to add lead magnets. The most important point here would be to have a perfect match between the content and lead magnet.
A great example of the relevancy and quality of lead magnets is Intercom:

I stumbled upon this lead generation pop-up with a book on customer support when I was reading Intercom's blog post on defining customer support in 2020. Can a lead magnet be any more relevant in this case? Not sure :)
A lead magnet converts really well when it solves a problem of the customer, promises one quick win, has a high value, and is instantly accessible.
2. Reach out to customers of products related to your niche
One of the simplest ways to generate leads for your business is to contact those who already know something about your industry or even use similar products.
If you have a lot of spare time, you can scrape together followers of your competitors on social media or even contact those who leave reviews under the product or service similar to yours on review websites.
But I bet you don't have too much spare time. And feel that you'd better do things that matter rather than sending random messages to random people.
The good news is that there is no need to do all of this manually when you can get a list of websites using specific technology in a few clicks with TechLookup.
Even better—you don't have to spend a single dollar to get thousands of potential leads. This tool is absolutely free.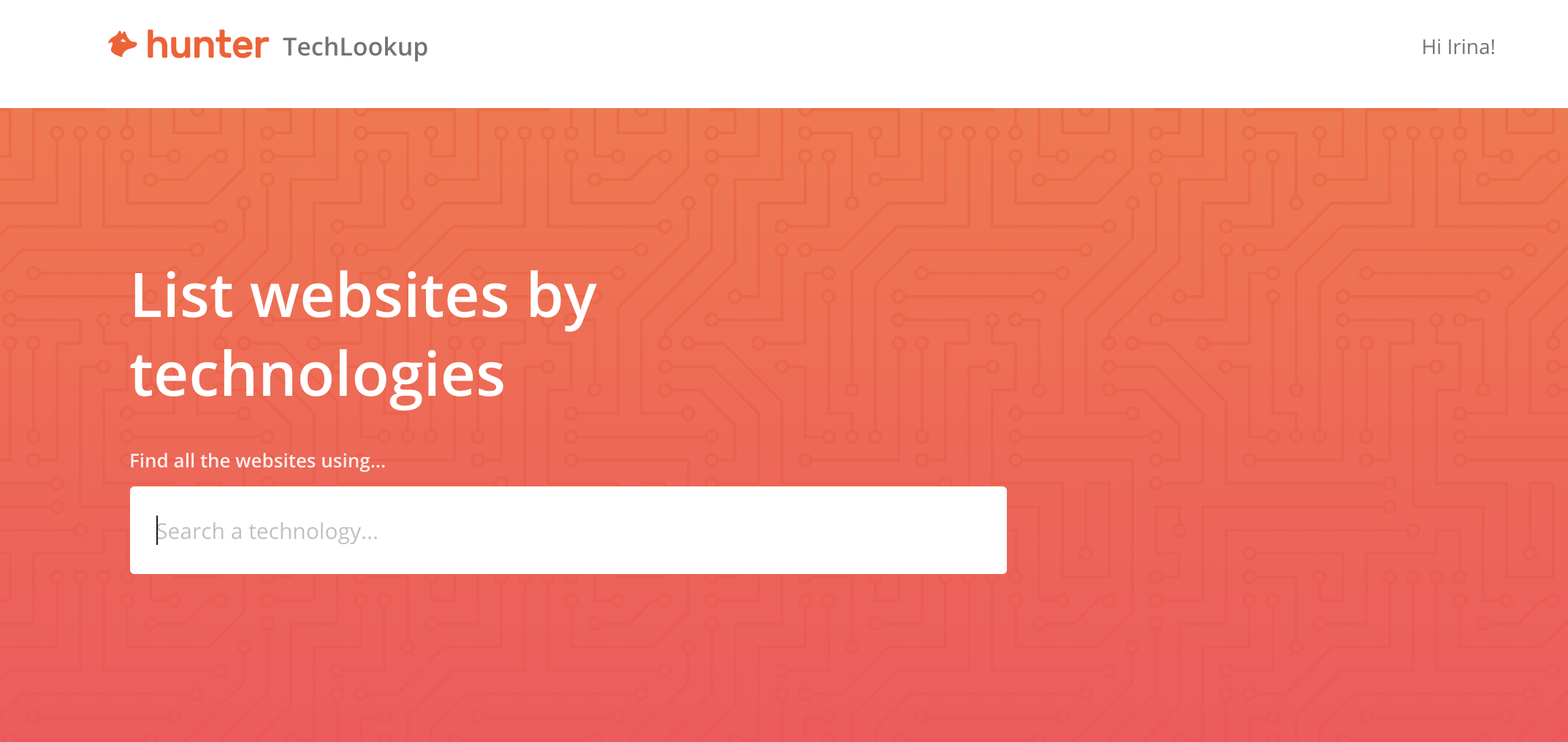 Let's consider one of the use cases for TechLookup so you have a better understanding of how to utilize it for your B2B business lead generation.
(Spoiler alert: TechLookup could be used by almost any online business. The most important condition to make it work for you is to know your target and have an amazing offer).
For example, you just launched a new tool that helps to improve sales for e-commerce businesses.
With TechLookup, you can easily find those e-commerce businesses that are using specific technologies to run their websites. For example, it could be Shopify, Woocommerce, or Bigcommerce.

Let's say you are interested in scraping websites that are running online shops on Shopify.
Navigate to the page with Shopify technology and click the "Create my list" button.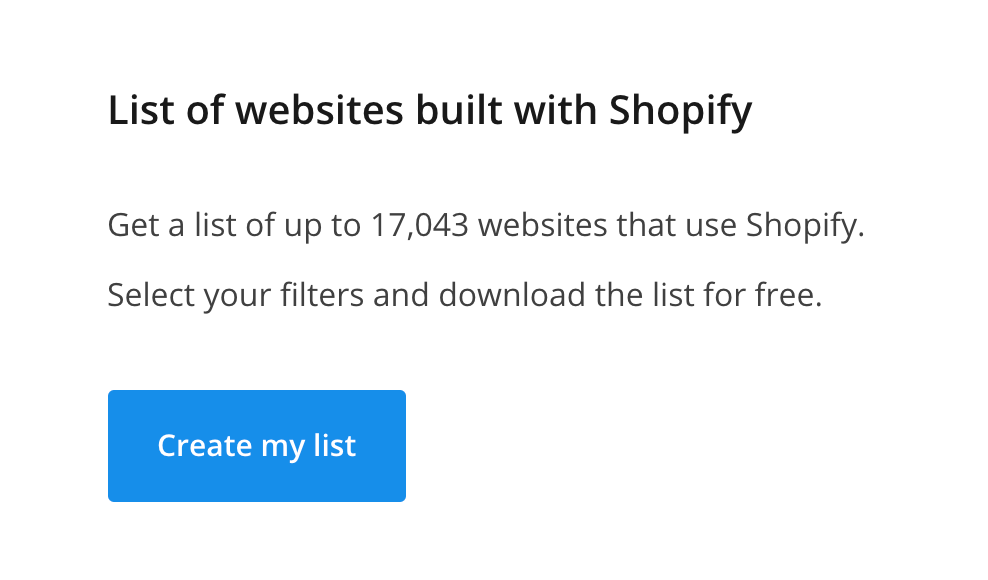 Then, you can narrow down the list by applying different filters. You can choose:
The industry you want to target;
Languages (you can select multiple languages);
Website popularity (least or most popular).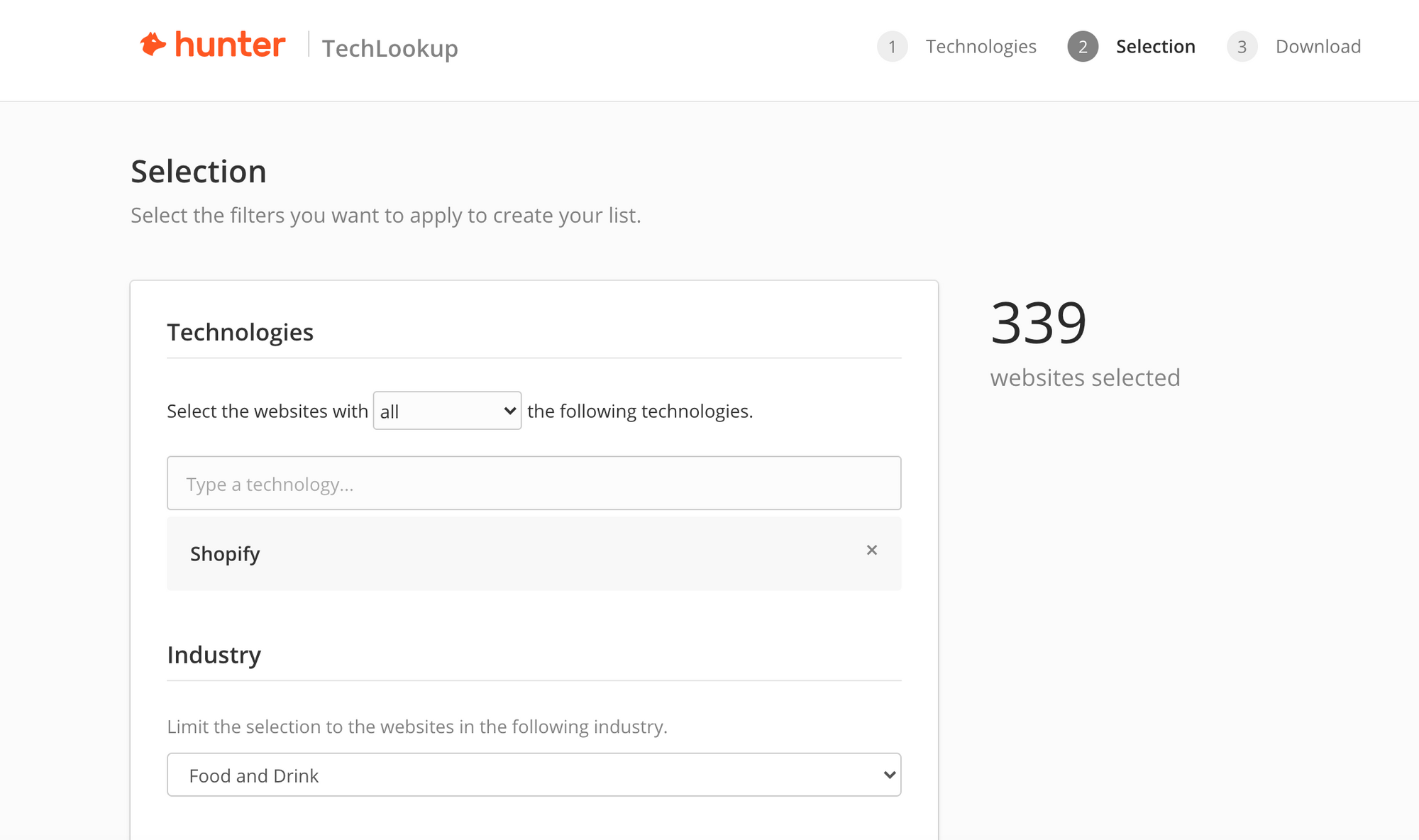 Finally, validate your selection and download the file with the companies who use a specific technology. Easy as 1-2-3!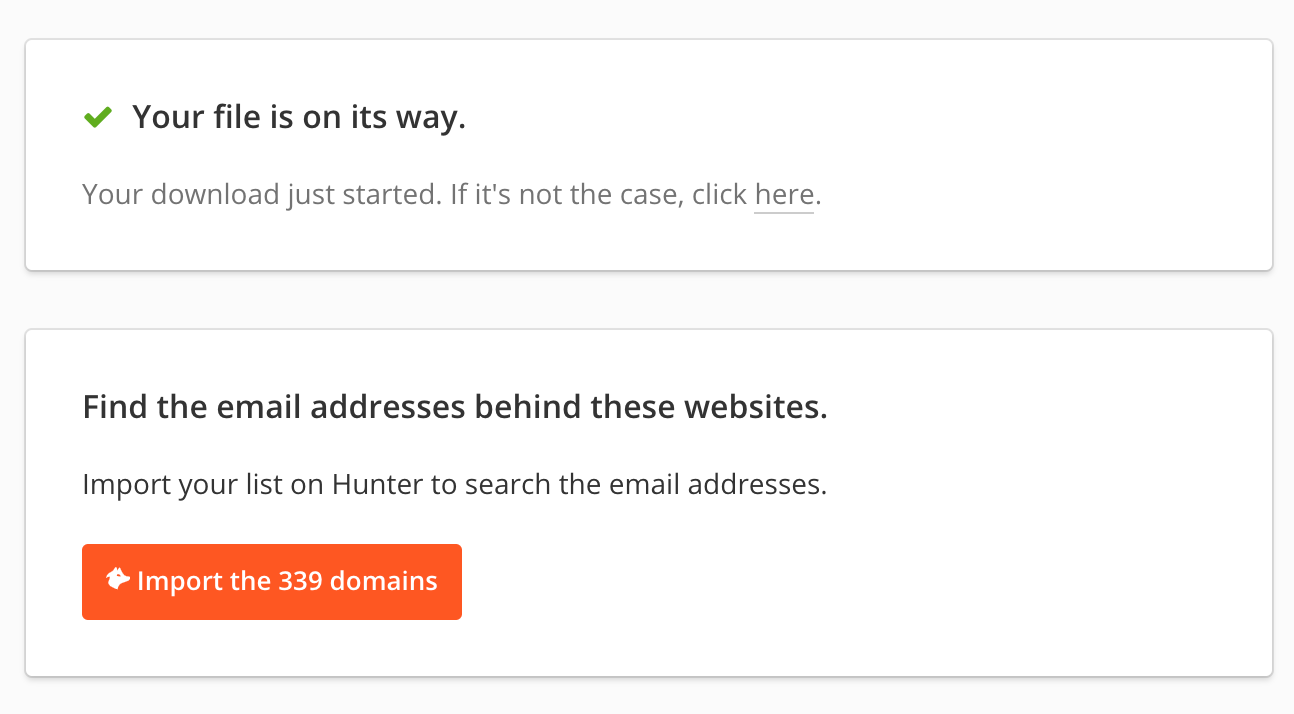 If you need email addresses of your potential leads who work for these companies, import your list on Hunter to search their email addresses.
For this example, click the "Import the # domains" button on the Download page.
After that, you'll be able to set up filters in the Bulk Domains Search (Hunter's tool that will help you to find email addresses behind domains).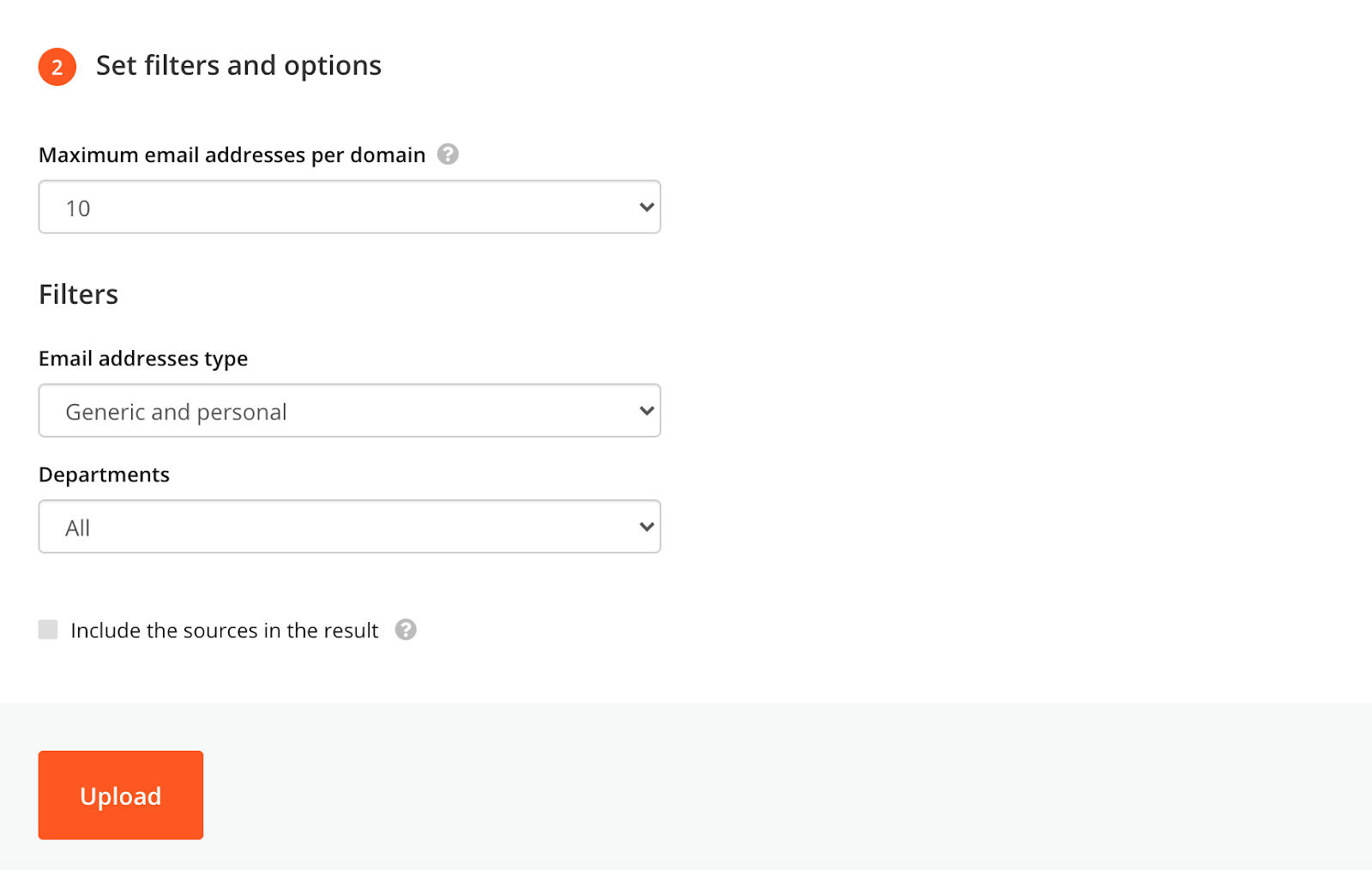 Set maximum filters per domain: You can choose one of the available options: 1, 10, 20, 50, and 100. If we have more email addresses matching your filters than the maximum number of email addresses on a domain, we return the most reliable in priority.
Define email addresses type: Generic, personal, or both generic and personal. Generic email addresses include info@, contact@, hello@, etc. For personal email addresses, you can expect specific email addresses of professionals who work for the company.
Departments: You can also filter email addresses by departments (Management, Finance, Sales, Marketing, etc.).
For example, let's try to find email addresses of all websites running on Shopify that sell food or drinks. We will be looking for only personal email addresses (with a strict filter), including only company executives (with a flexible filter), and limit results by one email address per domain. See below: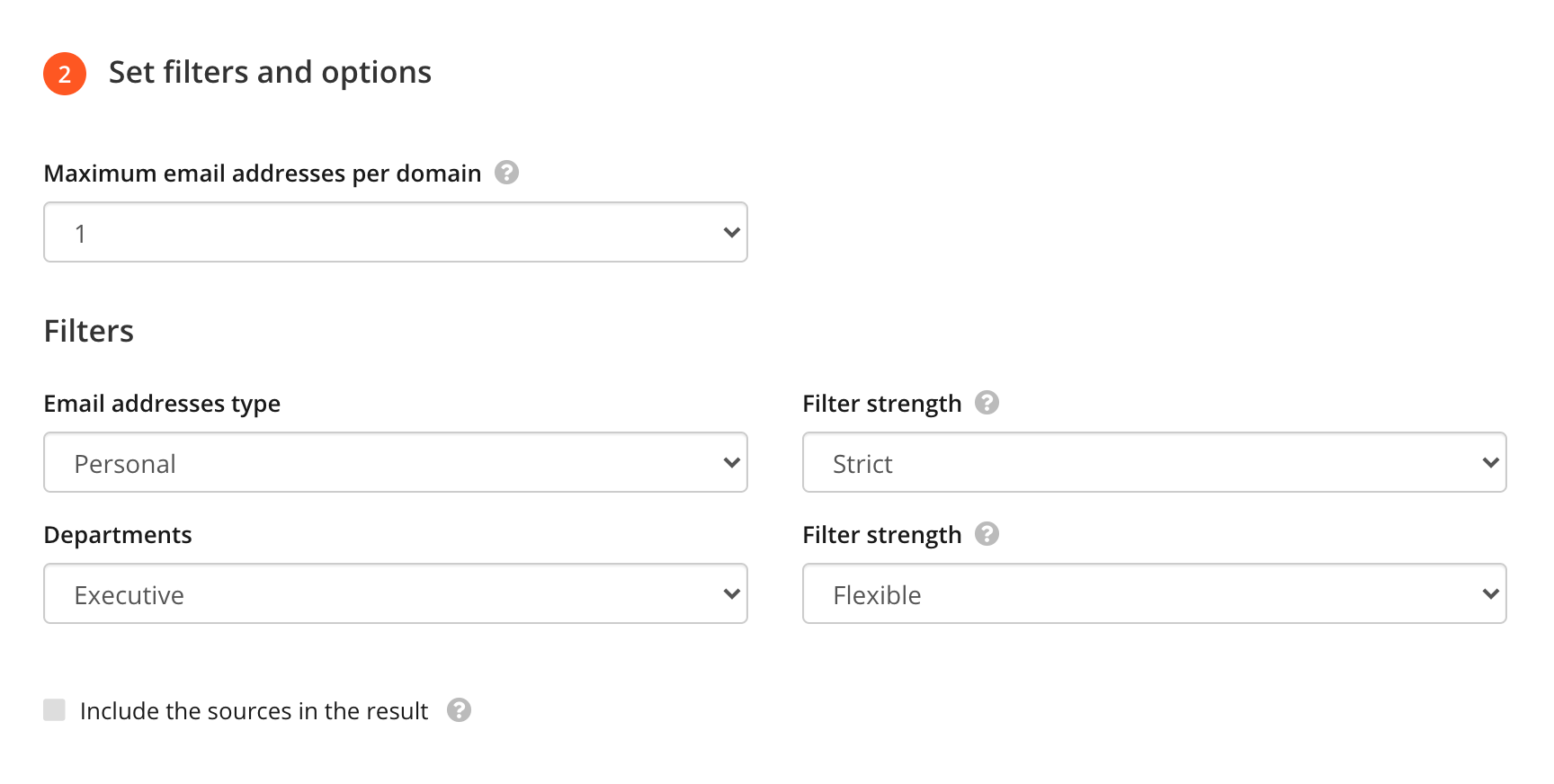 In a few seconds, you'll be able to get personal email addresses of your potential leads with estimated deliverability scores. Just choose one of the lists and download it in CSV, or import it into Hunter Leads to send a personalized email campaign right away.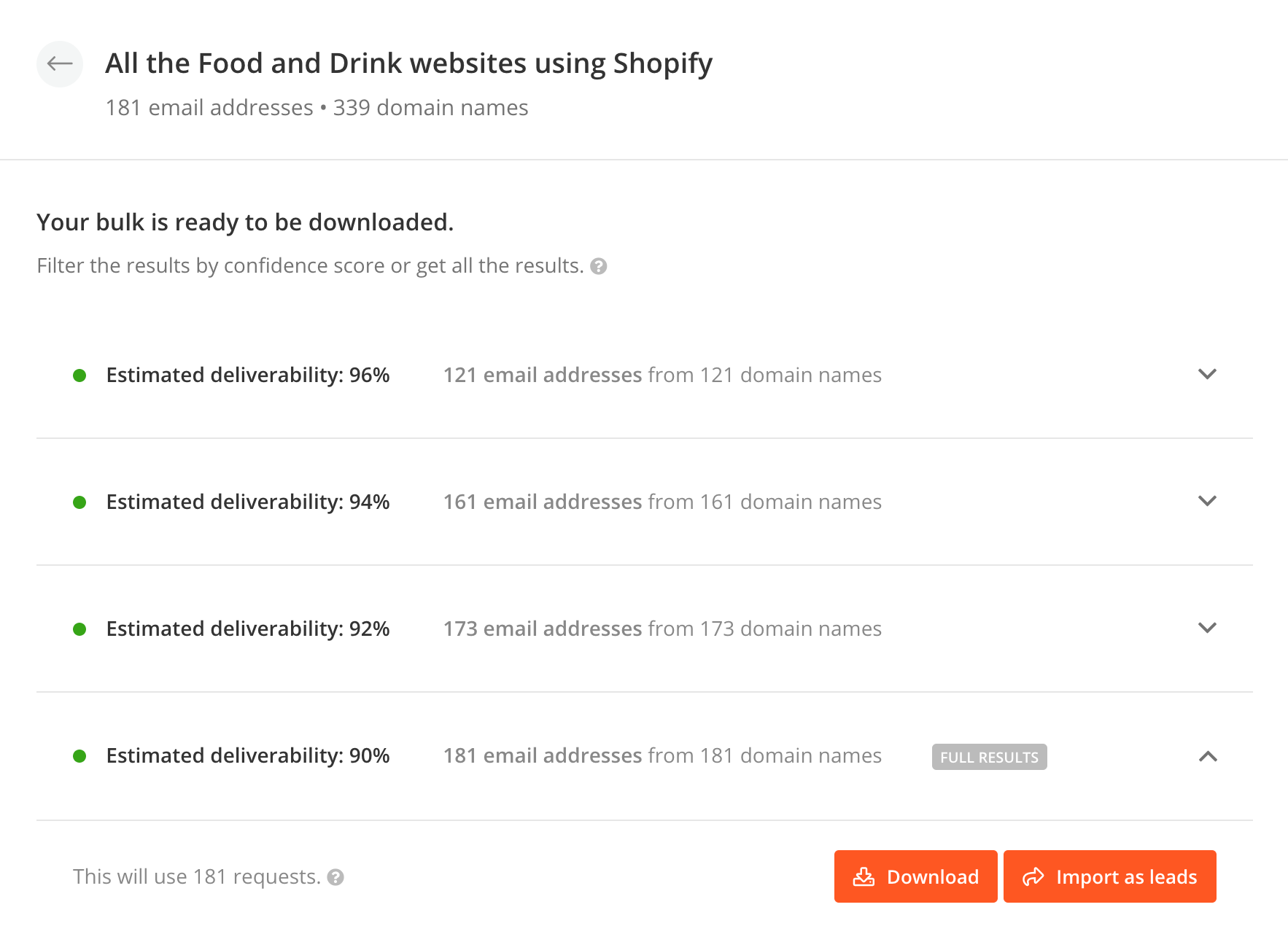 3. Use live chat for B2B lead generation
Live chat is a great option to boost the B2B lead generation process.
Besides increasing customer engagement, live chat is also the fastest and easiest way to reach out to prospects and start a conversation with them in real-time.
If your business has a website, consider live chat as a must-have communication channel along with email or/and phone support.
38% of online users said that they are more likely to buy from a company if that company offers live chat support.
At Hunter, we do customer support before doing sales. We first make sure the users discover how our service can provide the most value from them before helping them pick the right plan.
We noticed that offering timely replies, being transparent, and providing personalized answers can often make the difference.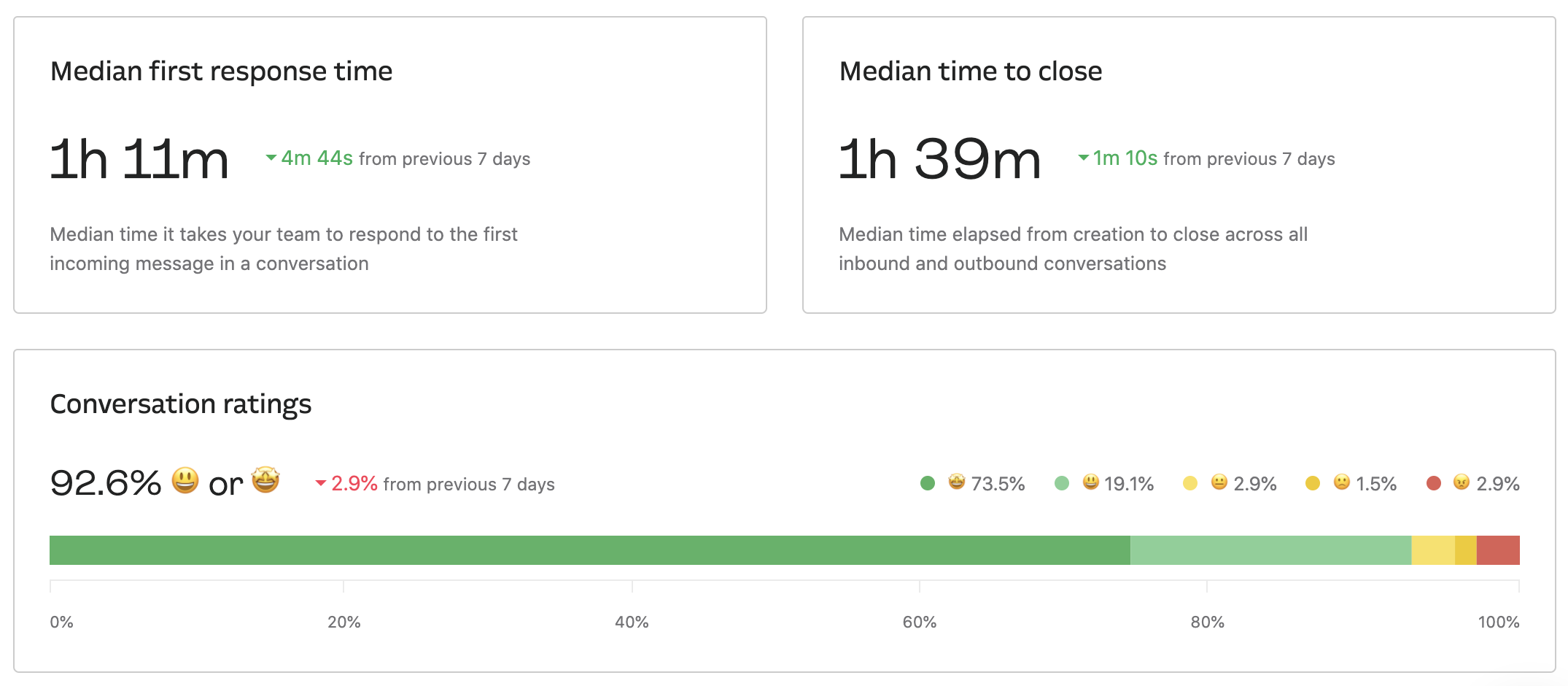 Besides that, we often send friendly follow-ups to users who previously showed interest in our services but needed more time to think.
We noticed that such kind reminders significantly help to increase the conversion from leads to customers: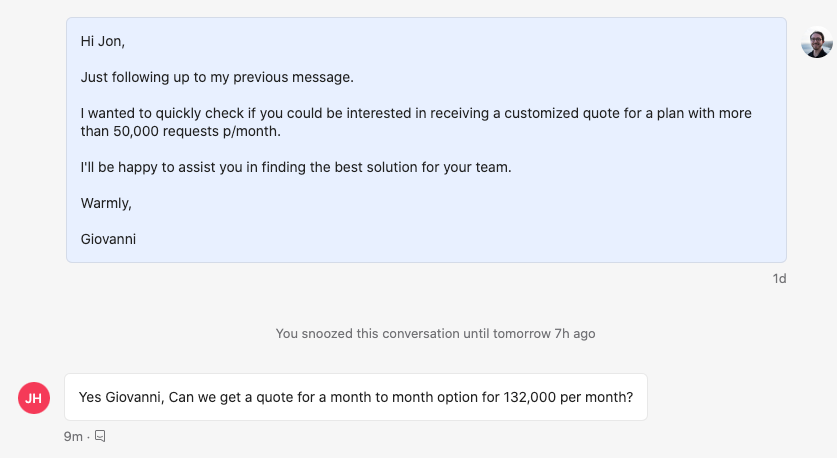 Another trick we use is to have an invitation to chat appear automatically on the pages with high-buying intent. We make it appear on the pricing page, the subscription choice page and the checkout page. We found that engaging leads at these steps is crucial and has a great impact on conversion.

To sum up, we recommend to not be pushy at sales, but instead to follow these three simple rules:
Send timely replies. Most of the time, speed of replies has the highest impact on customer satisfaction, so don't make your prospects wait for too long.
Be helpful and provide value. Try to understand how your solution can provide the most value to your leads, and show them the way.
Be human. No one likes talking to a robot—show your prospects you aren't a machine.
4. Get featured on review websites
90% of consumers read reviews before making a purchase or even visiting a company website for the first time.
Review websites can be a good boost for relevant traffic to your website on different stages of your sales funnel:
Top of the funnel (Attract Stage): You can showcase your product for those who are just looking for a specific solution, but not sure which product or service to use.
Middle of the funnel (Engage Stage): When people decide whether they want to upgrade their account (for example, after the free trial), they can check review websites once again to double-check whether it would be the right investment.

The good news is that review websites work for almost any type of business. There are hundreds (or even thousands) of industry-focused review websites where you can feature your product or service and generate high-quality leads.
How to get online reviews on autopilot
After working more than five years with review websites, I noticed that users hardly ever leave reviews just because they like your product. Most of the time, the service shows them the way to do so.
In some cases, a kind reminder to leave a review when users are ready to do it works perfectly.
The best timing to remind your users to leave a review on one of the platforms would be:
When they participate in the NPS survey and have already shared some positive feedback about your product.
When users had a chat with your support team, and they managed to solve a specific problem.
When users are actively participating in your brand community or are active on company social media networks.
For example, at Hunter, we send a simple automated email asking users to leave a review: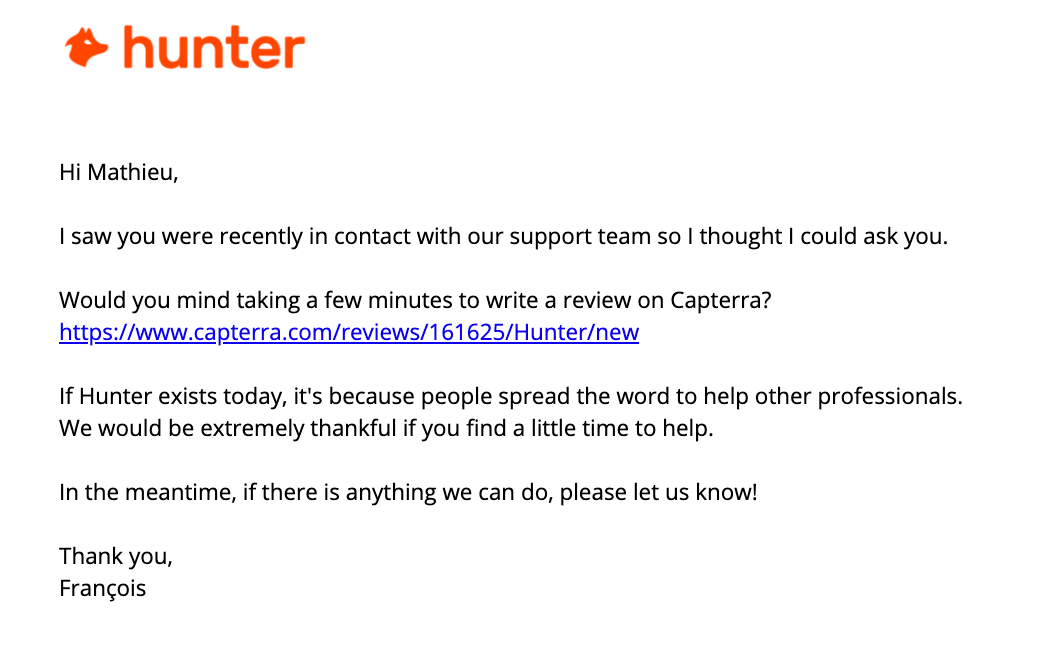 Since we are present on a few review platforms, the 50/50 A/B test functionality at Customer.io allows us to equally split the invitations between Capterra and G2 Crowd.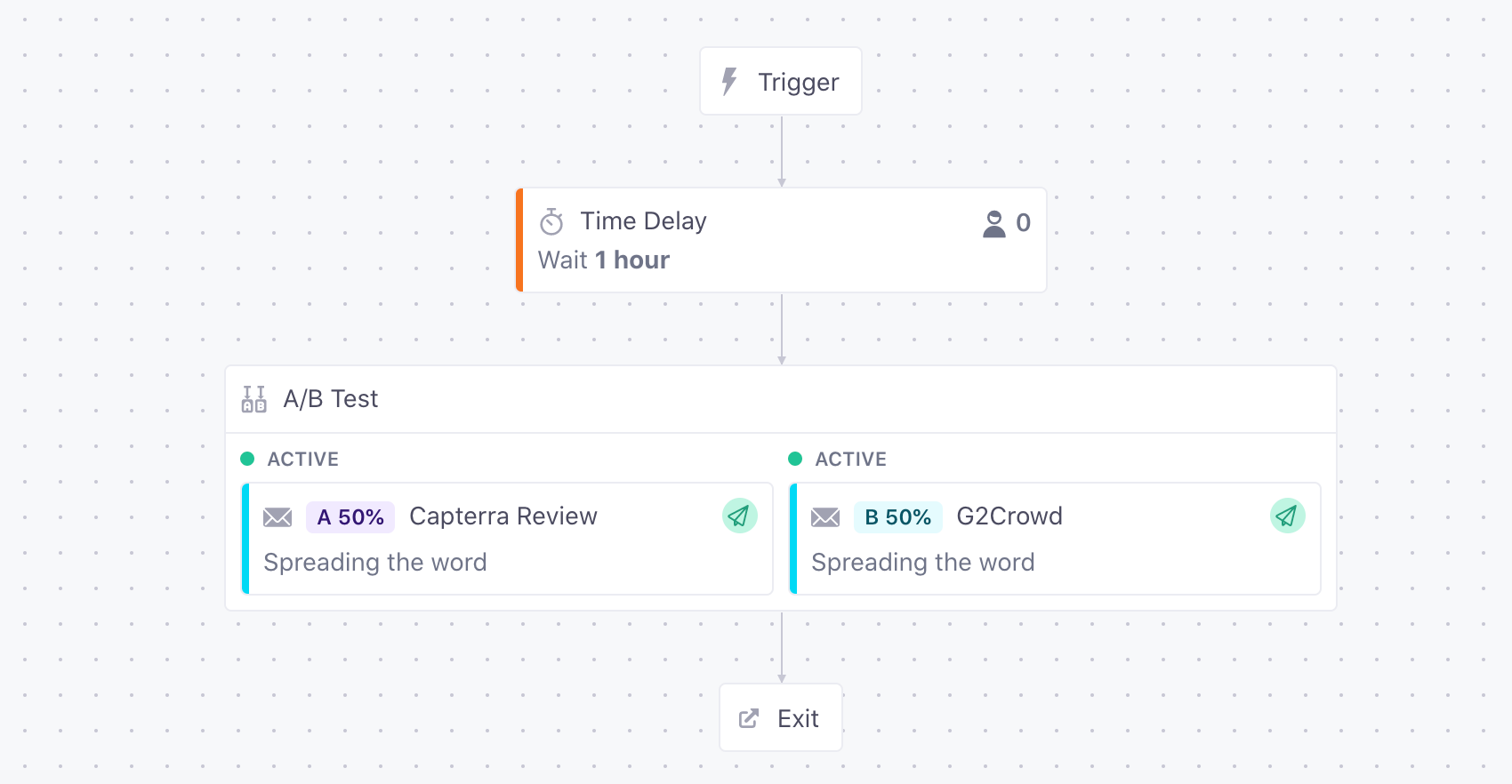 The main points for this strategy to work is:
Send a timely message to your customers when they are happy with your product;
Automate the process (it's a quite time-consuming to do everything manually);
Be precise and personalize the ask.
If you want to dive deeper into the review generation process, you can take a look at this case study. I described there how I used viral campaigns and got 800+ reviews from product users within less than a month.

5. Build a brand community on Facebook
Just imagine a platform used by over 3 billion users where people communicate daily.
Yes, I'm talking about Facebook.
Almost every business, offline or online, B2B or B2C, can communicate with their target audience using Facebook.
Since Facebook changed its algorithm back in 2018, the newsfeed has prioritized posts from friends and Facebook groups you are a member of.
If you want to increase your organic reach, build long-lasting relationships with your customers, have a direct line to customers, and generate warm leads, try creating a Facebook group.
Here is how you can do it
Suumit Shah (Founder of Rankz) shared with us a case study on how Rankz built a highly engaged community of SEO professionals, turned them into their brand evangelists, and subtly added them into the product top funnel.
They wanted to build a high-quality community around SEO that will help other users with using Rankz for doing specific tasks, or where members are encouraged to ask questions, engage in discussions, and share their knowledge around general SEO with fellow marketers.
From their side, the Rankz team often shares valuable case-studies and helps members understand how the SEO landscape is changing across countries/niches over time.
In less than a year, Suumit grew his group from 0 to almost 3,500 members: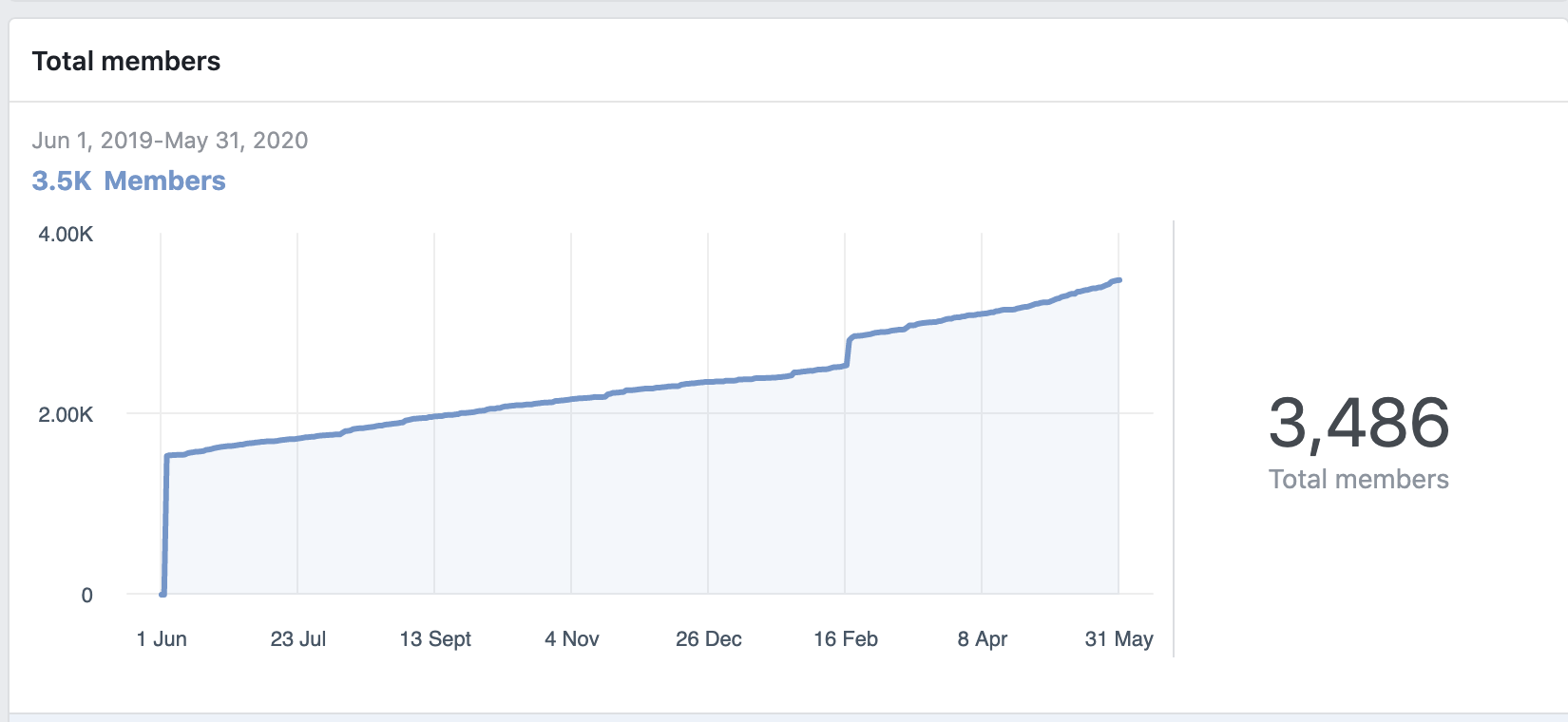 The Facebook group perfectly helps Rankz to generate new leads.
The subtle branding makes followers aware of the brand name, high quality posts build the trust, and the product update posts get them to sign up for a trial.
From there, the product itself takes over and works on converting followers into paying customers.
For example, recently they posted about an upcoming tool and received lots of emails from people who wanted to use it.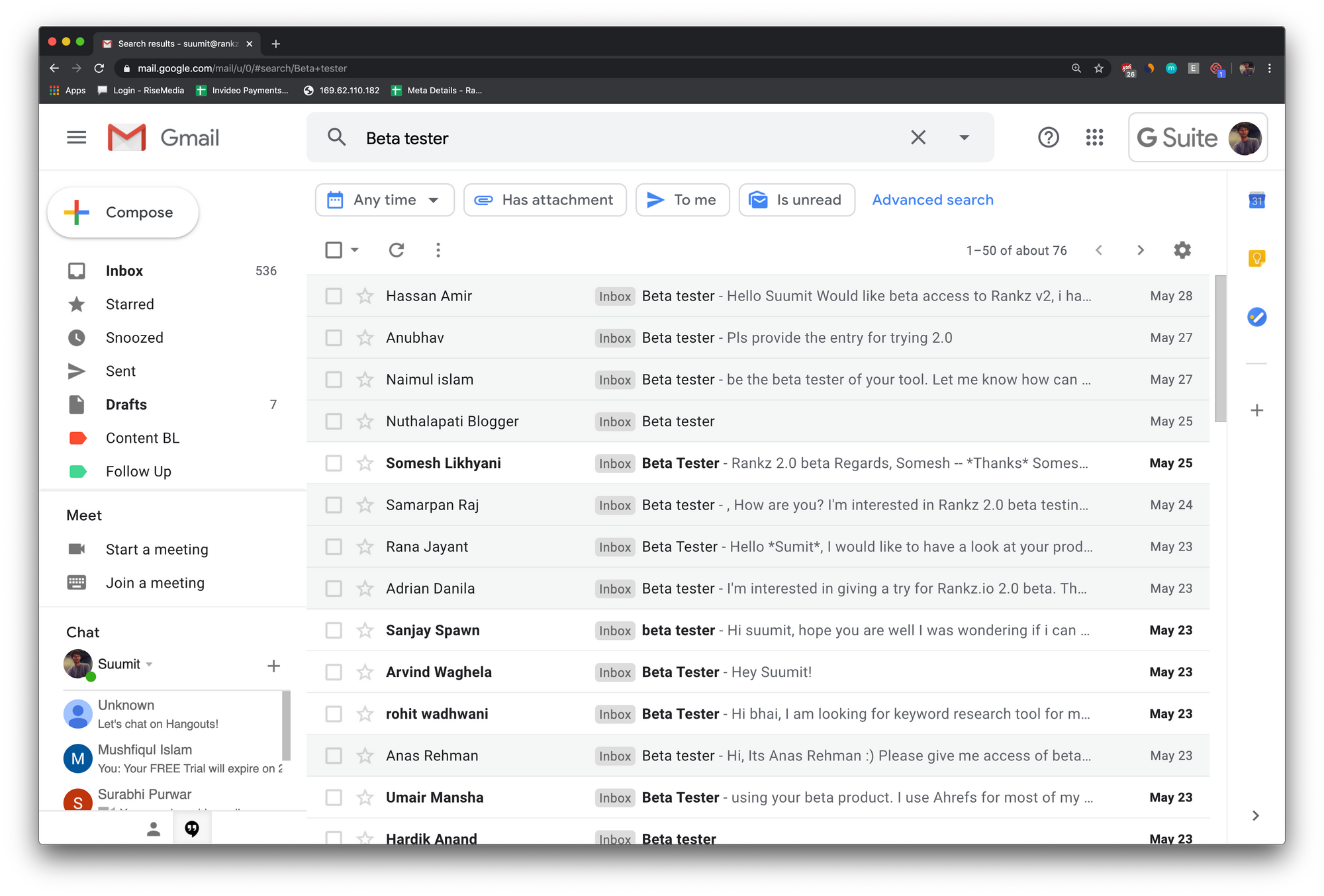 Here are the channels Rankz use to drive visibility to the group
For Rankz Users: Their product onboarding email sequence has dedicated sections talking about the group encouraging free trial users to join and ask questions and participate in discussions. Everyday they get more than 300 free trial users across the product suite, and they see 10–15 new member requests in the group as soon as they start using Rankz—a large part of them comes from the onboarding emails.
For Non-Rankz Users: They post super-valuable case studies about SEO growth hacking in the group, and most of the members share their case studies with fellow marketers.
Besides that, they often create a post around the specific case study they prepare and generate excitement/FOMO (fear of missing out) before the case study is even released: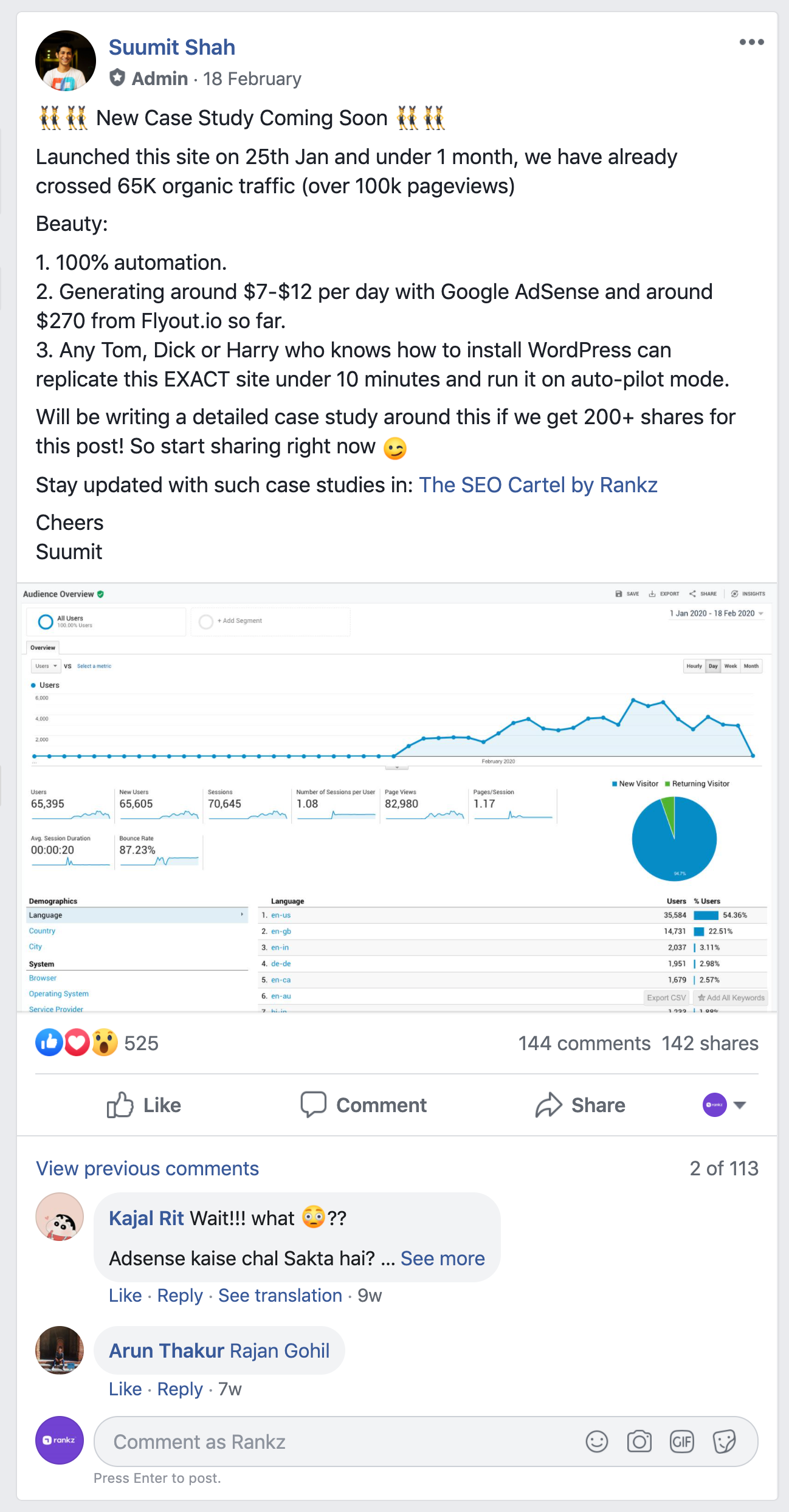 Just by publishing case studies and content that helps Facebook group followers to solve their business problems, Rankz generates a constant flow of leads for their business.
Summit shares:
"For the industry used to blowing up money on aggressive ads, I agree it's a long and painful process however we have seen a rather consistent growth in revenues so far from our content and community efforts and will continue to prefer these over quick shortcuts."
If you want to use Facebook group for lead generation, we recommend using a similar to Rankz approach:
Share useful content to your target audience that helps to solve their problems;
Do not sell your products directly through the groups, and provide value and advice when needed;
Keep the community engaged: encourage members to participate in discussions, ask them what they would be interested in reading about, and publish content on a regular basis.
6. Create a free tool
Simple and free tools could be a great lead magnet, especially if you want to promote a SaaS product.
Free tools can help you to promote your core product with them. If someone used a free tool, you could be sure these people are very close to your target audience. Moreover, if you helped them to solve their problem with a free tool, they will be more likely to upgrade or try something that will help them even more.
I really like how CoSchedule uses this approach. Their primary products that generate revenue are a blog calendar, a marketing calendar, and a marketing suite. It's pretty evident that their target audience is marketers (CMOs, content marketers, social media managers, etc).
For each of their core products, they developed free tools. For example, Social Message Optimizer helps users to write better social media posts.
On each of the free tools pages, you can find very targeted CTAs to try their core products. For example, here is the pop-up that appears when I reviewed some of the results for my social media post.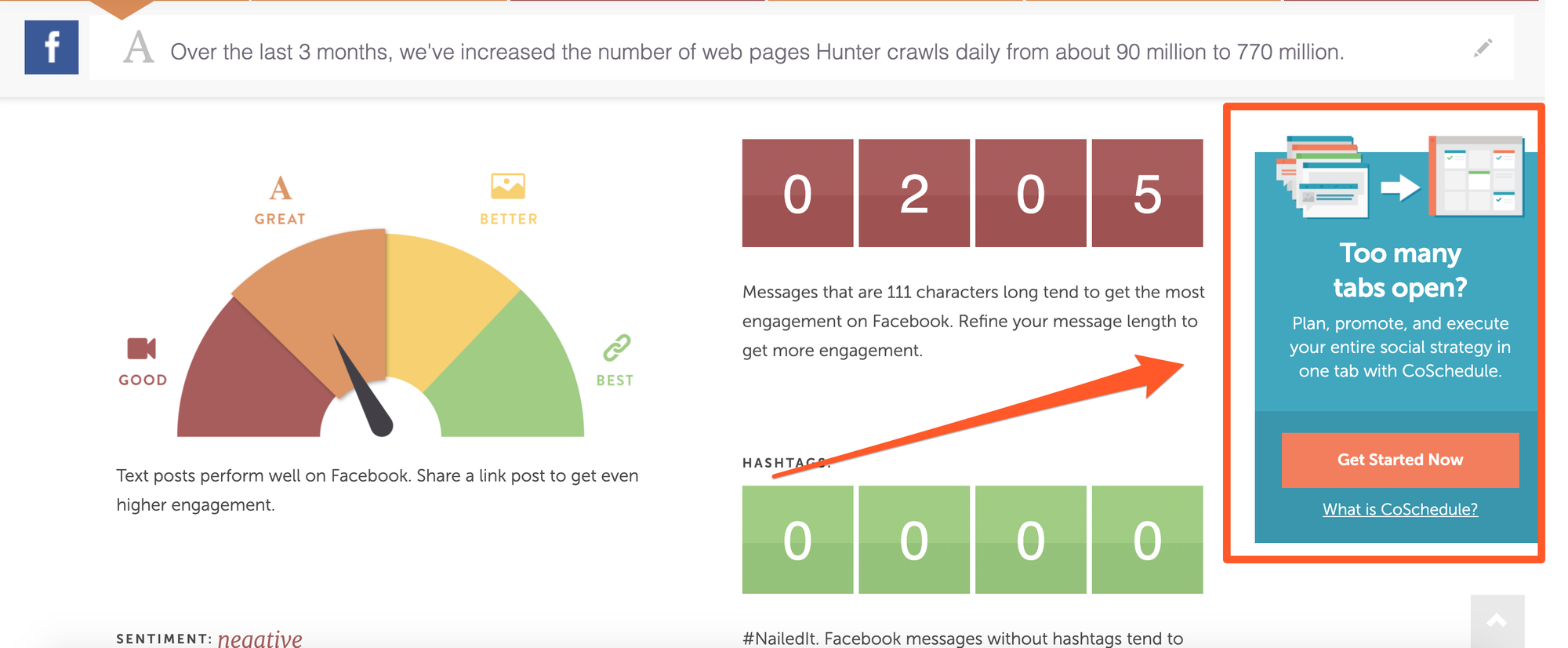 The message is also super relevant to the target audience and their problem (just noticed I have a few dozen tabs open in Chrome :) ). It's a win-win!
At Hunter, we also have a few free tools like MailTracker and TechLookup that support our core products and help generate a lot of warm leads.
Curious how to make users of free tools to learn about your core product?
Here is an example of how we do it at Hunter.
For example, for the MailTracker (the extension that helps to find out who opens your emails), we have a simple strategy identifying people who might be interested in trying Campaigns (our tool for cold outreach).
As soon as someone has sent 1,000 tracked emails, we send a triggered email introducing Hunter Campaigns: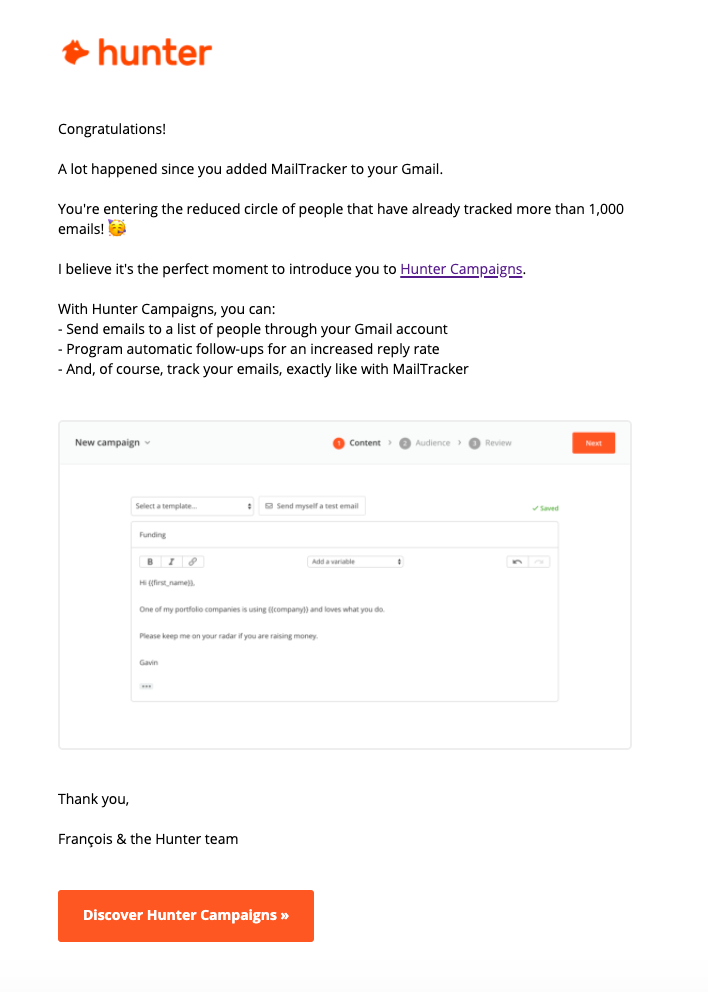 We know that most of the people we send this email to would be interested in trying a tool that helps automate email sending. They will be able to send emails to a list of people through their Gmail account, program automatic follow-ups for increased reply rate, and keep tracking emails exactly like with MailTracker.
Moreover, this strategy perfectly works due to a few other reasons:
It addresses the same audience as your main solution (in our case, Hunter Campaigns);
It creates great value without replacing your main solution (people can use two or more products at the same time, they could be complementary);
It helps to build word-of-mouth, increases brand awareness, and represents a potential new PR push.
7. Do highly personalized cold outreach
Like never before, we have a great opportunity to reach out to virtually anyone.
But this also means people are increasingly solicited and it becomes harder to get their attention in the thick of busy inboxes. The quality and relevance of the approaches is more important than ever.
Quite often, I receive this kind of email in my inbox: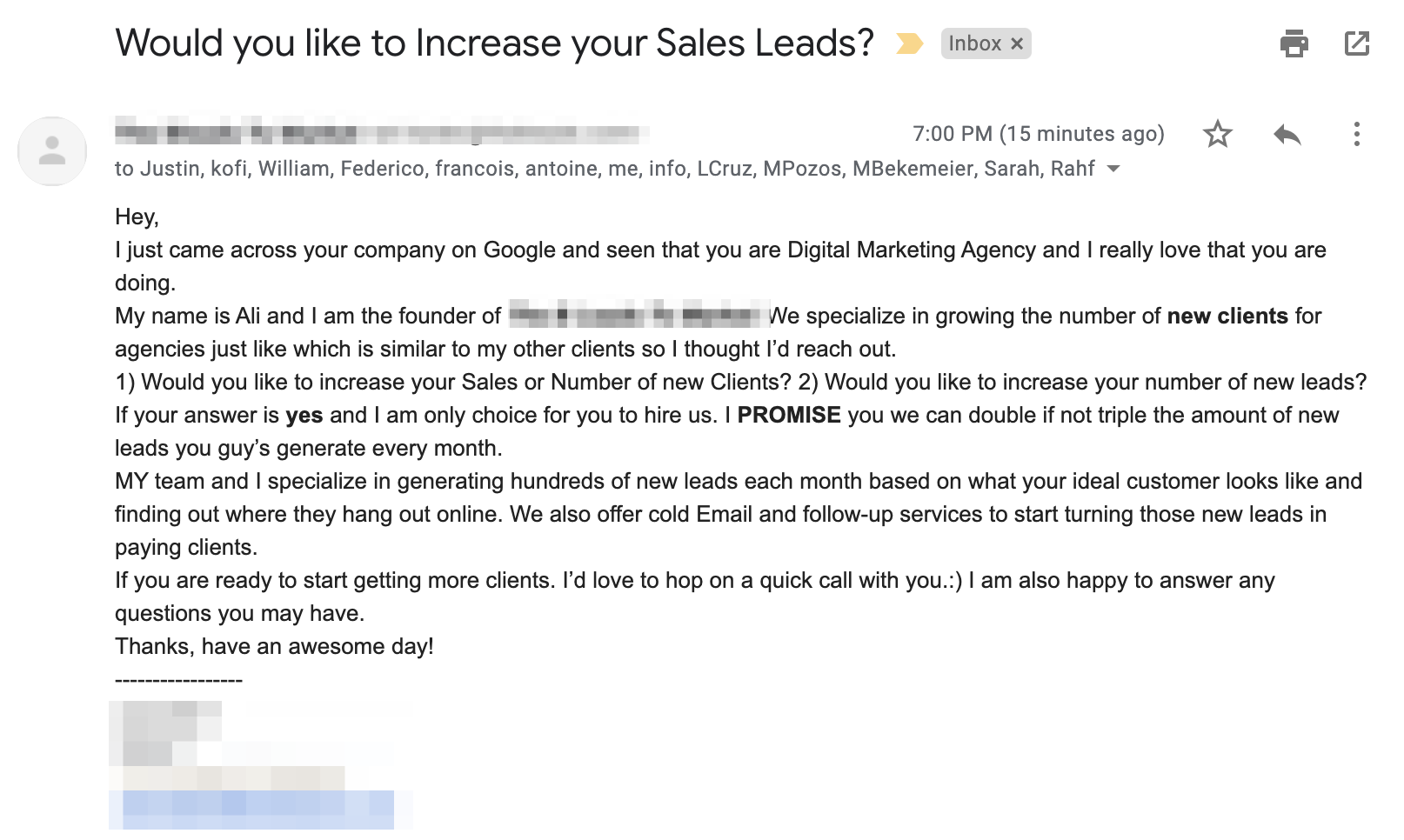 I'm always wondering what the conversion rate for this cold email campaign is. How many people replied "yes, please, let's jump on a call"? Probably not many.
Why is it bad?
There is no personalization. The exact same email could have been sent to anyone in any company.
It doesn't provide value and immediately moves to the sales part.
(Let's not mention that all the recipients are visible to everyone)
There are three simple rules to make your cold emails effective:
Find out who your prospects are.
Contact a specific person, not a company.
Benjamin Thomas (Marketing Director at User.com) shared with us an excellent example of how to make cold emails super relevant and personal to every prospect.
At User.com they use Albacross which allows them to capture website visitors, track their website activity, and identify decision-makers.

For the next step, they use Hunter to identify the email addresses of potential leads. With just company name or domain, Hunter finds such information as name, email address, position, and social media accounts of the decision makers.
After that, they launch a cold email campaign, which includes three emails spread over the week. One initial email and two follow-ups.

Their second follow-up is just a kind reminder about the initial email. Also, here they try to figure out the most relevant person in the team to talk about their product.

They always end their drip campaigns with something like a "This will be my last time contacting you" or "This is going to be my last message" which they've learned really raises conversion (as prospects probably have FOMO). Here's an example email, it seems pretty hard to resist puppy eyes.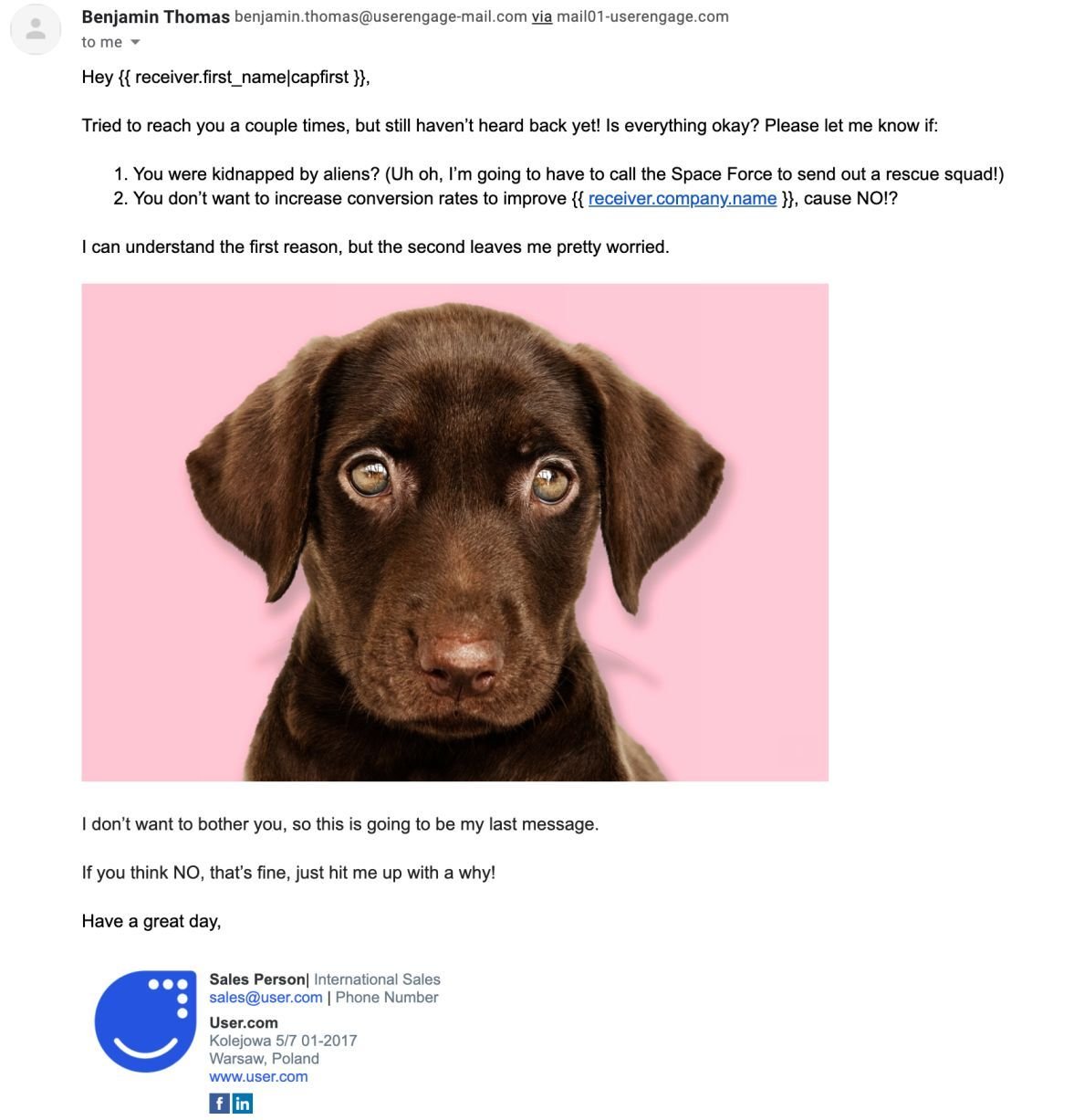 Send your cold emails on autopilot
Cold emailing is a time-consuming strategy, especially when you personalize every single email, but it's definitely something worth investing time and effort in.
At Hunter, we've built a tool called Campaigns that allows you to send cold emails campaigns while helping you to personalize them.
Here is how you can set up your campaign in three easy steps:
1. Prepare your email with custom attributes
Make every email personal by adding custom attributes. It could be your prospect's name, company, a specific URL, or anything else you may think of.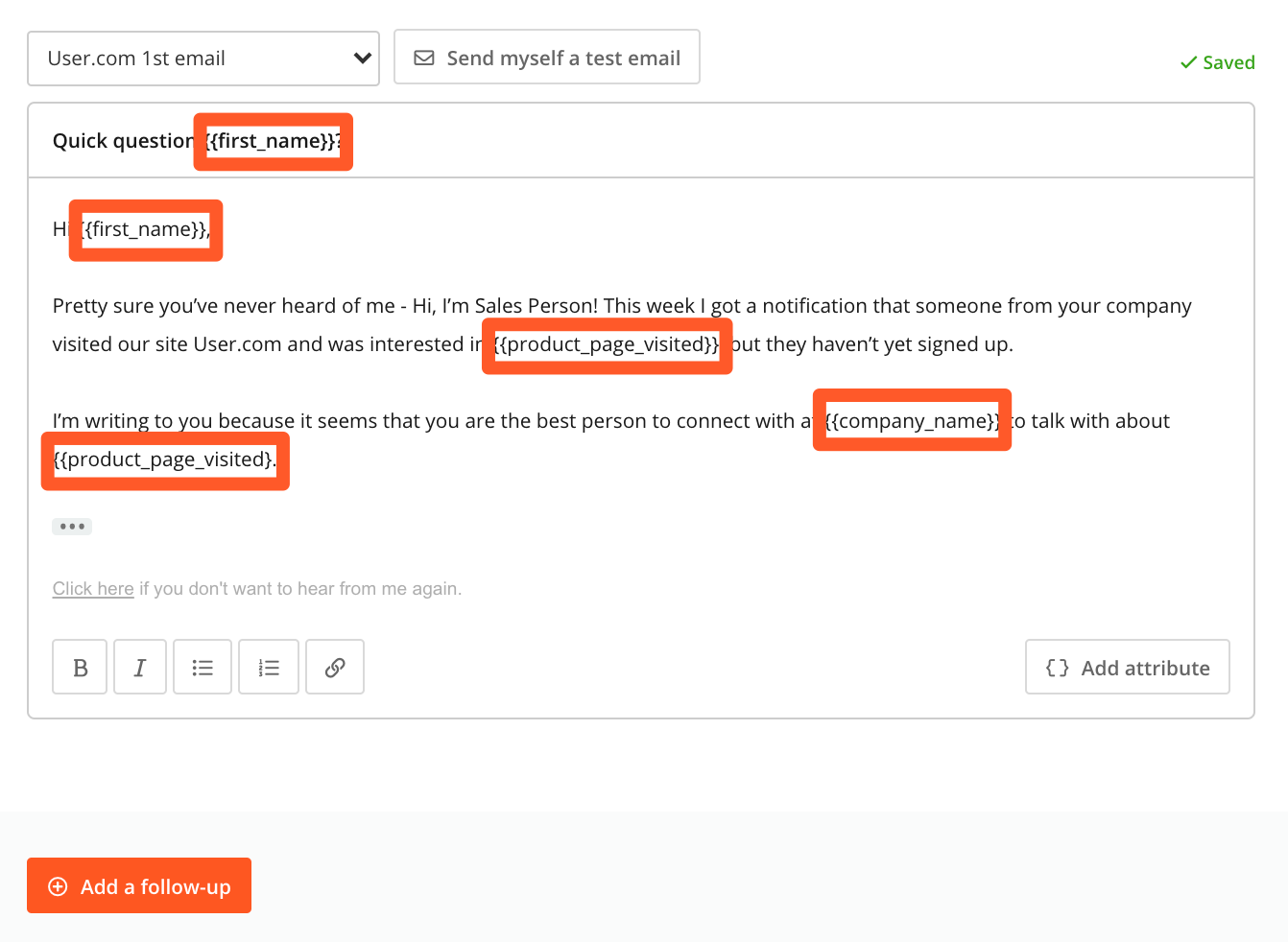 2. Add automatic follow-up
Schedule an automatic follow-up that will be sent if there is no reply from your prospect within a specific time.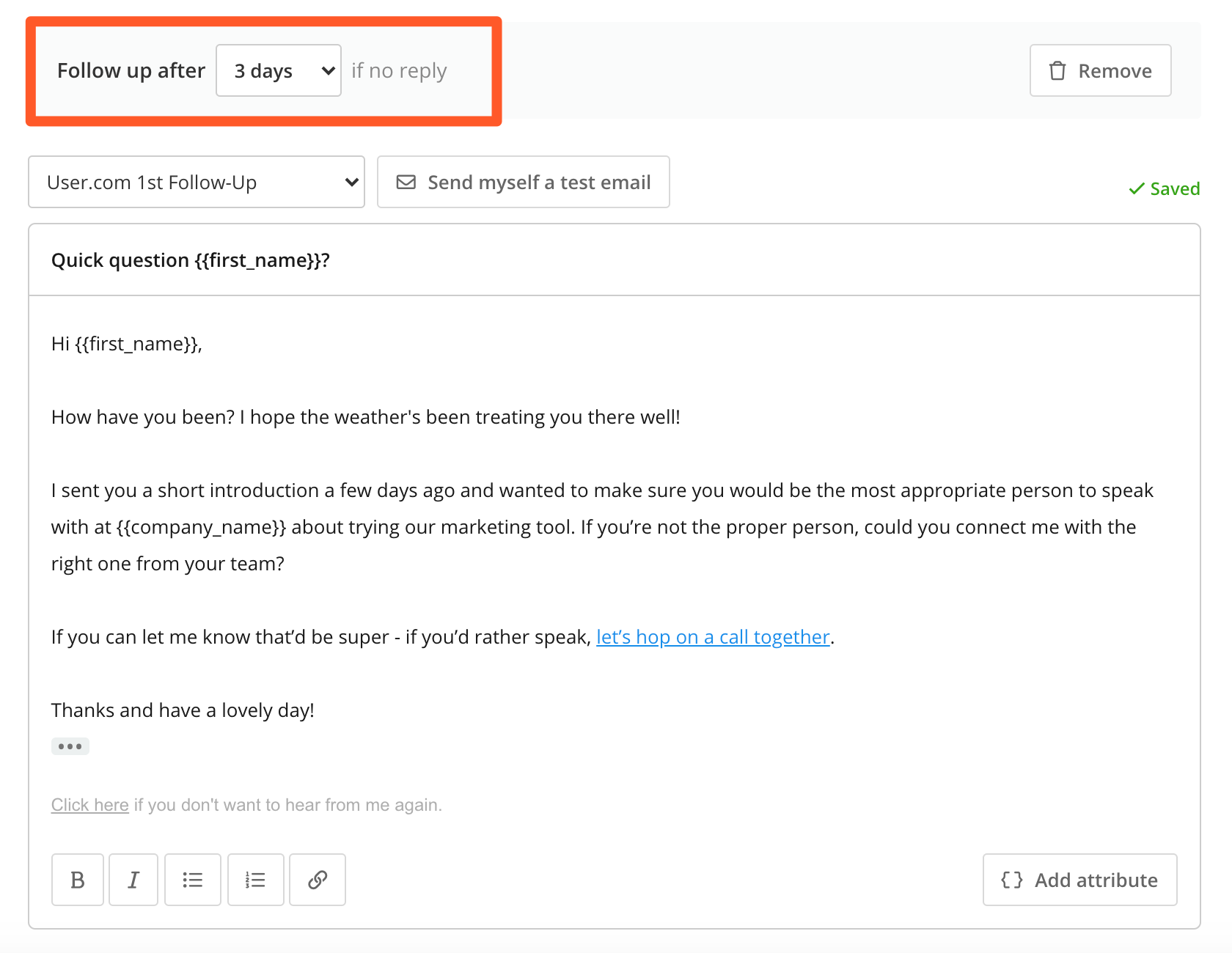 3. Review and edit the emails that will be sent
After you added the recipients to your campaign, you can review the emails that will be sent. You can edit each email, which is a great opportunity to make them even more personal.

That's it—your cold email campaign is ready to be launched!
Find inspiration from best-performing cold email templates, sorted by categories
8. Use Facebook Ads to generate leads
If you have a marketing budget, Facebook Lead Ads is one of the simplest and fastest ways to generate high-quality leads for your business.
Lead Ads are pre-populated forms with your target's name and email address that surface when your target audience clicks on the ad.
Just imagine that you don't even need to have a dedicated landing page or direct users to a specific page on your website to ask them to share their email address.
All this can be done via Facebook. Show your target audience a relevant ad with an incentive, then ask right questions using the Facebook Leads form, and reach out to them—or send a lead magnet that you offered with your Lead Ads.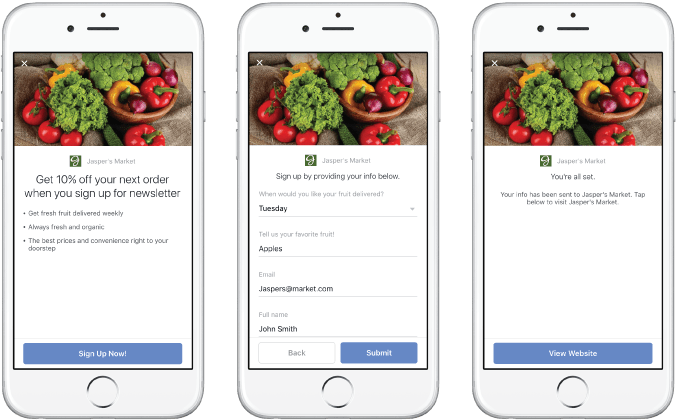 Facebook Lead Ads can be used for almost any B2B business, but it's most effective for such objectives as:
Gated content download
Product demos
Newsletter subscriptions
Free trial signups
Webinar or event registrations
You can check out these definitive guides to learn more on how to set up Facebook Lead Ads step-by-step:
One very interesting use case for Facebook Lead Ads is driving downloads of marketing content to educate users along the funnel.
Before launching these ads, it's very important to define users' problems and then help to solve them by providing valuable content.
For example, PandaDoc, in collaboration with HubSpot, created the eBook with the best online sales templates.
They are only showing this ad to those people who previously were searching for specific sales templates.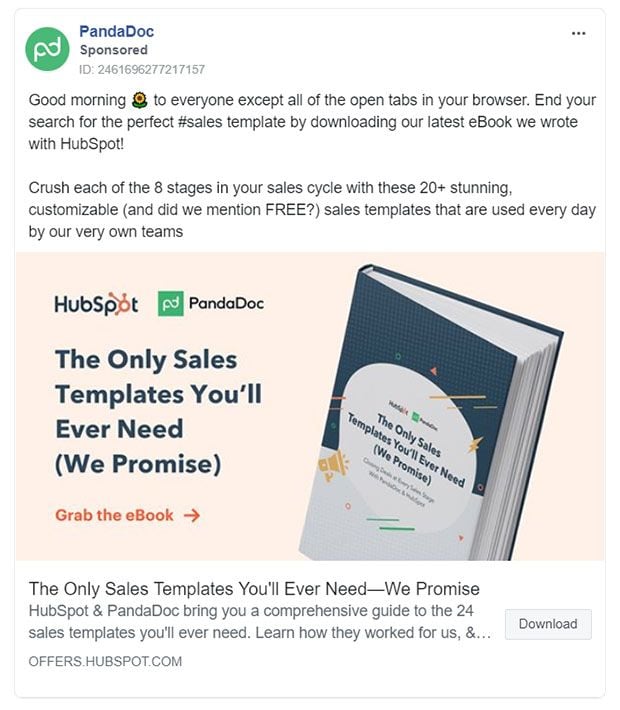 Another excellent example of how to generate warm leads with Facebook Ads was shared with us by Effandgee Dambreville from Dambreville Media.
Most businesses make the mistake of running direct response marketing, which causes their CPL (cost-per-lead) to be high and leads to be unqualified.
The solution Effandgee found to work is building relationships with potential customers with videos before asking them to take any kind of action
Facebook allows you to build a so-called "Invisible List" of your potential leads and save them based on how much they engage with your content.
Here's how this strategy works, explained step-by-step:
1. Create a video view or post engagement campaign—don't include any CTAs, only provide value. You will get views for as low as $0.03.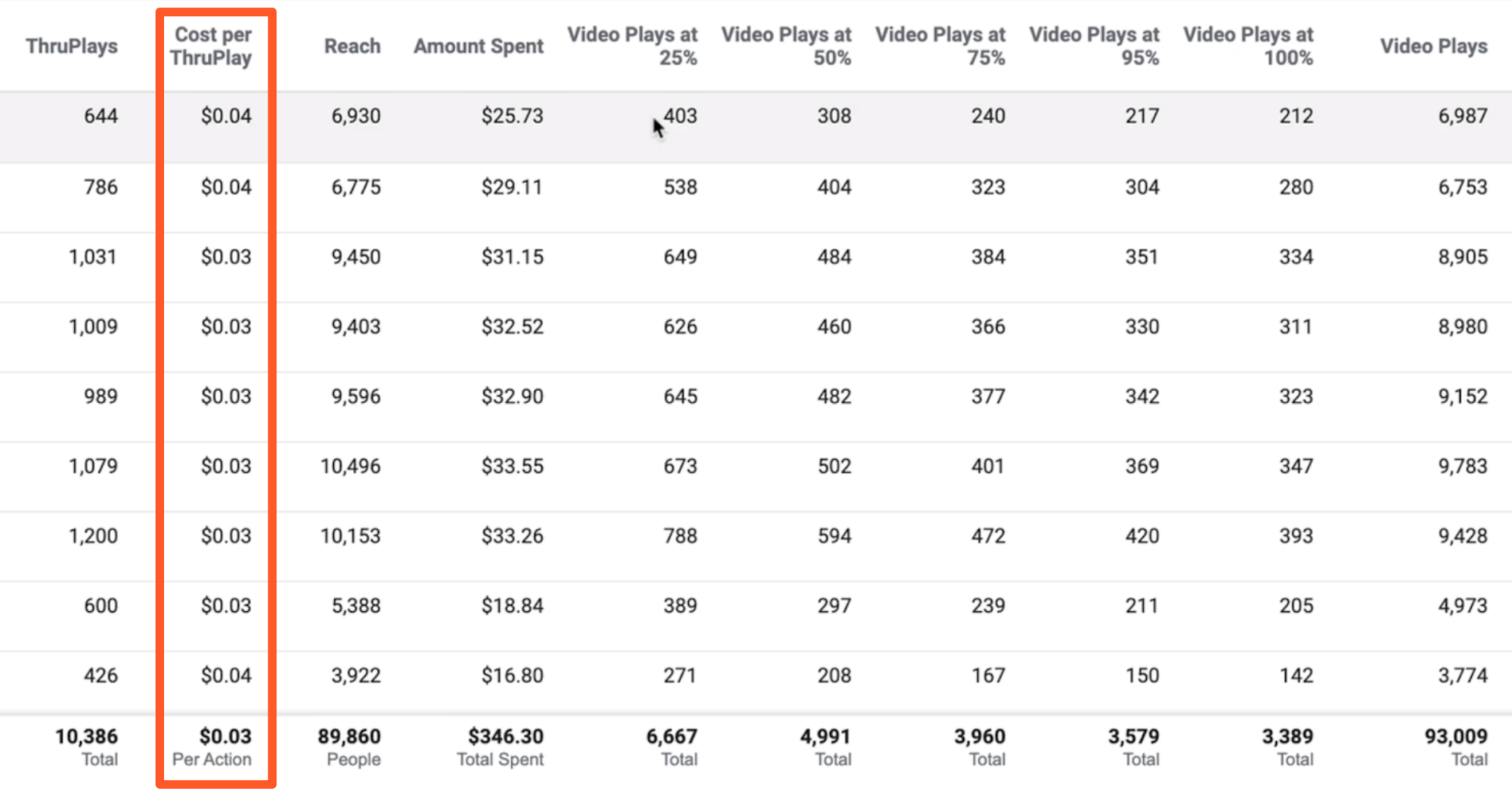 2. Retarget anyone who watched 10% or more of Video #1 with Video #2 with more precise information about the same topic. Again, don't include any CTAs, and don't try to sell anything.
3. Retarget anyone who watched 25% or more of Video #2 with Video #3 with even more in-depth information about a specific topic.
4. Retarget those who watched 50% or more of Video #3 with a Facebook Lead Ads campaign asking them to sign up.
By doing this, you will get a lot of qualified leads. Here's why:
You made sure your potential leads watched the videos you strategically placed in front of them before you asked them to take any action. This means that they are interested in a specific topic related to your product or service.
Unlike most people, you didn't try to sell them directly. You provided value and showed your potential leads why they need you, which makes them know, like, and trust you, which in turn increases chances of converting them into loyal customers.
9. Utilize LinkedIn lead generation
If your company is engaged in B2B, now is a great time to develop a LinkedIn strategy for your lead generation campaign.
The CEO of Brightest Minds, Vlad Goloshuk, shared with us a 3-step LinkedIn B2B lead generation strategy that helps to easily start conversations in a personal way that builds authority, ultimately leading to new business opportunities:
1. Finding your ideal customer

Start by identifying your ideal customer. You should be able to describe your ideal customer using six questions:
What industry does your ideal client work in?
Where do they live (country, city, zip code)?
What is their job title?
What is the seniority of the person you are contacting? Is it the owner, or someone else?
Are there any distinctive keywords in their profile?
How many employees does their company have?
Enter the answers to these questions into LinkedIn Sales Navigator.
Sales Navigator helps you find a list of individuals who match your search criteria.
Search by typing a role (for example, Social Media Manager), and/or a company, or search them separately if you aren't seeking a specific job title.
Now, go to the "People" tab on any given company's page. You'll be shown a list of potential contacts with job titles and relevant connections.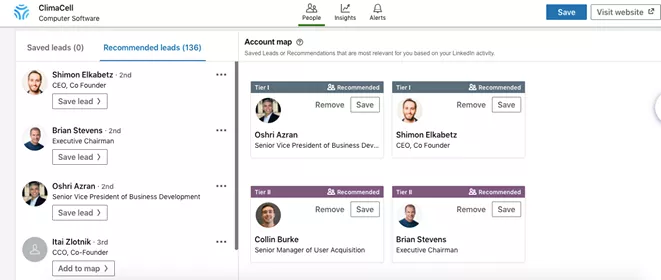 Step 2. Contacting your ideal customer

Send a personal message and arrange an appointment with those who are receptive to it. Mention your prospects' pain points in your outreach cold messages.
At this stage, you don't want anybody to think you're selling, because that scares people away.
Get in touch by sending a connection request

A connection request can be sent with or without a personal message.
You should always include a brief and personal message of your own since you want to build a relationship with your prospects. Many will appreciate the fact that you have taken the time to write something personable.
Take this, for example:
Initial Outreach - Stage 1:
Hi Tom, I won't take up too much of your time. I just want to say that you and your team are creating an awesome brand (it's the branding geek in me) 🤓.
- [ Name ]
Stage 2:
Hi Tom—I see that you seem to be using a third-party online ordering system for your multiple locations...
The reason I bring it up is that we recently helped [competitor 1] & [competitor 2] increase per order revenue by 13% with our white label online ordering platform.
You can check it out here: [your link]
Implementing this system will help you to own your customer's data, keep your brand at the forefront, and increase per-order revenue.
Would love to hear your thoughts and/or questions on this.
- [ Name ]
Step 3. Staying top of mind with your ideal customer

When you first link to your services or products, your prospects may not need them immediately, but if they see your posts, again and again, they may be tempted.
Maximize your profile visibility with posts and interactions

LinkedIn allows you to use three types of posts:
Text only
Text with image
Text with video
Video is very effective at the moment—the average engagement rate is three times higher than on text posts.
What should you post, though?
When you're creating content for LinkedIn, the goal should be to get traffic to your offer. So you'll want to promote your expertise by providing valuable tips, relevant articles, valuable lessons learned, and promotional content.

Storytelling content in a personal and authentic manner works well. Anything that happens to you in your everyday life that you can apply to a professional context is suitable for a post.
This LinkedIn B2B lead generation strategy relies on the fact that people buy from people. By taking a genuine interest in someone else, you can discover whether the connection will benefit your business.
By creating valuable content, you can attract leads since they see you as an expert.
10. Amplify lead generation with affiliate marketing

Affiliate marketing is one of the lead generation channels that can help you to get new leads without spending too much time and company resources on it.
Just imagine you have an army of affiliates who promote your product through dozens of channels simultaneously. They are motivated to get new leads for your business because they get benefits from this as well, which is affiliate commissions.
By running an affiliate program, you can get not only new leads for your business, but also tons of reviews, new mentions, social media appearances, and more significant visibility for your brand.
At Hunter, we have run an affiliate program for a couple of years, and we noticed that there are a few key factors that make affiliate program working great and generate high-quality leads:
1. Make your commissions interesting for the affiliates

For many affiliates, the promotion of someone's products and services is the main occupation. This is their job that generates money for their business.
So when choosing an affiliate program to apply for, besides the promoted product itself, affiliates pay attention to the revenue they can potentially earn.
The better commissions you offer, the higher chances to convert the best affiliates. However, you have to also consider your profitability. Maintaining a perfect balance between being profitable and providing attractive commissions is something that you should definitely keep in mind.
2. Make it easy to apply and validate candidates

You should keep the affiliate application process simple, and at the same time ask key questions that may help you to filter out the best candidates.
At Hunter, we have a simple Google Form that includes such validation fields: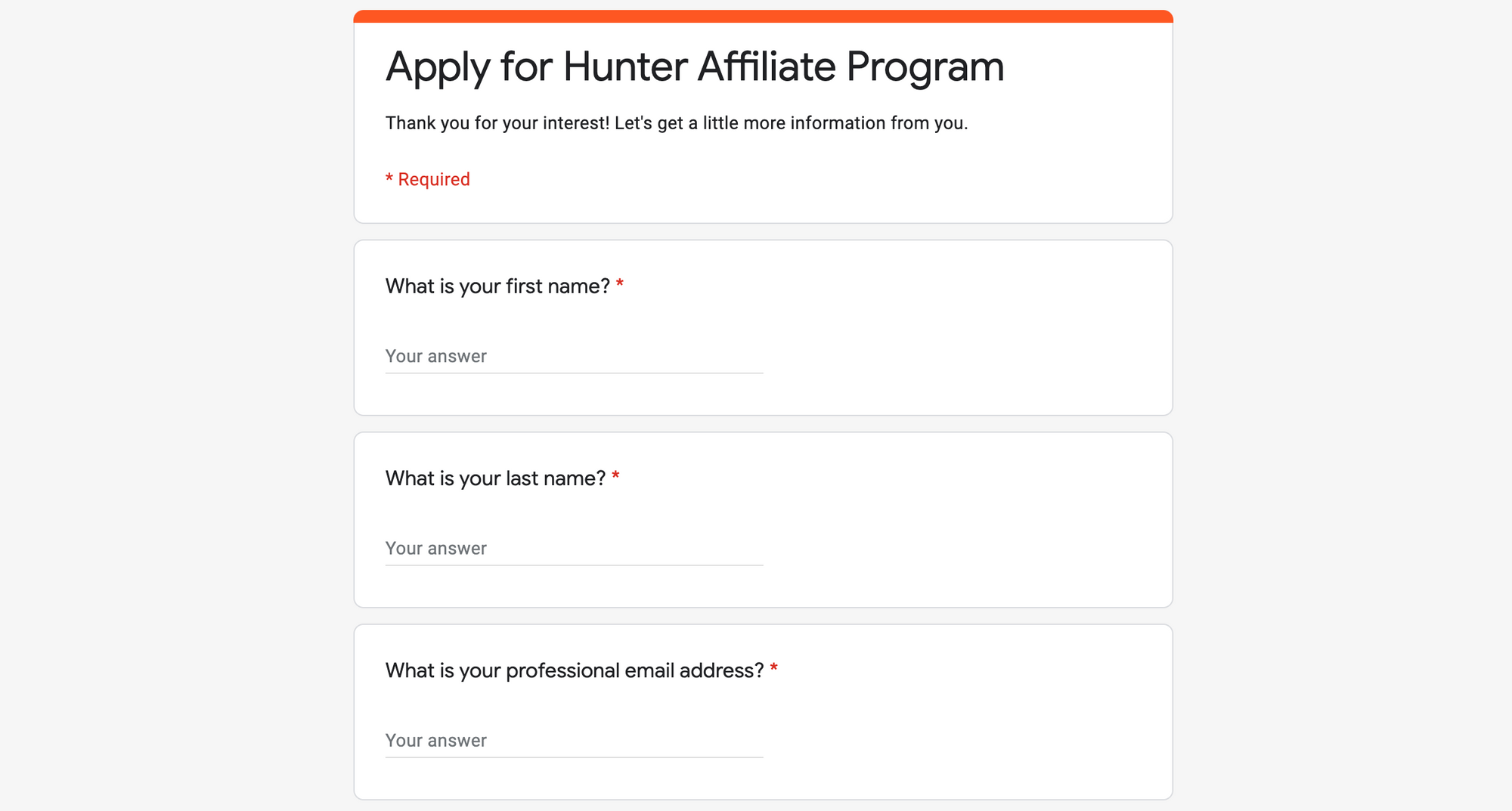 First & last name
Email
Company name & URL
Is the affiliate a current or former Hunter customer
Why an affiliate is interested in promoting our product
Where an affiliate will be promoting affiliate links
These questions allow us to quickly choose the best candidates. The ones who are really interested in collaboration happily share their ideas on how they will be promoting our product, and we can also check on our end if the affiliate is a right fit for us.
3. Validate the channels you want to use for affiliate marketing

It's quite essential to validate channels you allow to be used for affiliate purposes.
For example, at Hunter, we mention in Affiliate Program Terms that affiliates can't run ads on Facebook and Google.
These are the channels that we successfully run in-house, and by having someone else working on them, we can potentially get a higher CPC (cost-per-click), which will lead to a higher CPA (cost-per-acquisition).
4. Use affiliate management software to track your performance

To easily manage your affiliate program, I recommend using affiliate tracking software.
This is a lifesaver when you need to check the revenue from your affiliate program, pay all of the commissions in one place, know which affiliates generate the most profit for your business to build them long-term relationships, and run other co-marketing activities.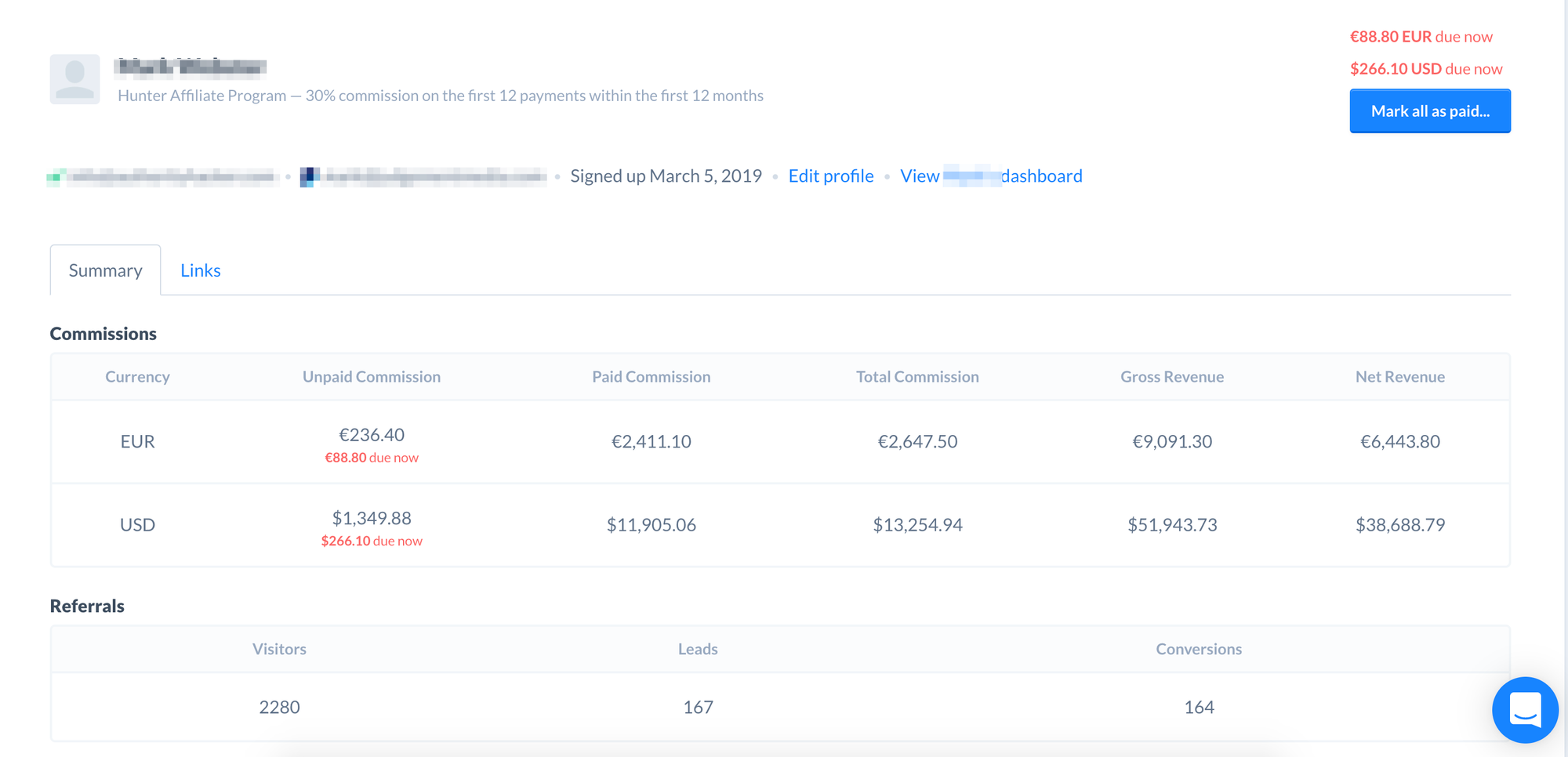 Wrap up
Lead generation can be done in a number of ways. The strategies we mentioned in this guide are all tried and tested by our team and leading industry experts. And all of them showed great results.
However, we are pretty sure that there are a lot of other effective tactics for B2B lead generation that we didn't mention in our guide. Had great results with some of them? Don't hesitate to share it with me on irina@hunter.io or let me know on Twitter.
And don't forget—lead generation is not the end of the journey. Once you collect leads using these strategies, it's time to turn them into loyal customers.