10 Best Cold Email Software of 2023 (and How to Choose One)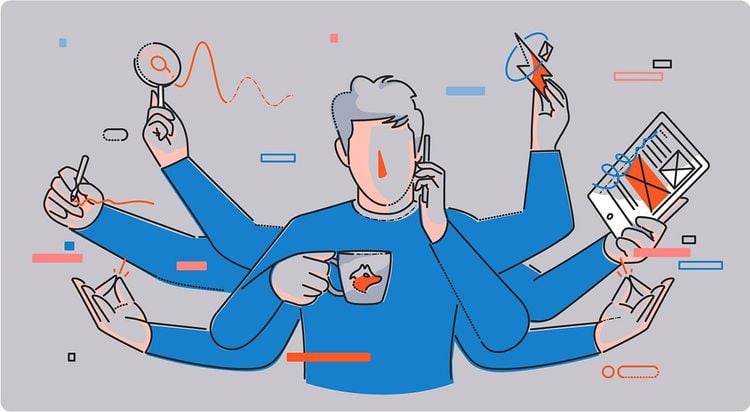 Let's be honest.

There are a lot of cold email tools available. And they all look similar from the outside.

If you don't know how to choose the right platform, you've come to the right place. I have meaningful experience using most cold email tools on the market.

By the end of the article, you will know the most prominent players, their strengths and weaknesses, and how to pick a cold email software that works for you.

And if you're in a rush, here's a quick TL;DR of the best cold email tools:
Best for beginners and startups: Hunter Campaigns
Best for lead generation agencies or teams who want to scale their outreach: Instantly.ai
Best for sales teams: Reply.io
The table of content will be generated here
Comparison methodology

First, let's start with a quick explanation of our methodology for this comparison.

I picked the tools based on the following:
My own experience with cold email software (we have a cumulated seven years of experience in cold emailing in the team),
Internal user interviews we ran in the past 12 months (it's part of my job to keep track of cold email trends, and we use user feedback to stay updated),
The tools that I see mentioned the most in private cold emailing communities such as the "SaaS Yacht Club" (WhatsApp group created by Jesse Ouelette), and the "Cold Email Closers" and "Cold Email & LinkedIn Outreach for your agency" Facebook groups.

To get a clear overview of the strengths and weaknesses of each software, I followed this methodology:
I tested all these tools myself.
Because we also value other users' opinions, I analyzed verified reviews on G2.com, Capterra, GetApp, and Trustpilot to complement my analysis.
I asked cold email experts to step in and provide their thoughts on the tool they use the most.

Now, let's define our topic.

What is cold email software?
Cold email software definition

Cold email software helps businesses send personalized, targeted emails to prospects they've never talked to before.
Cold email tools aims to help sales, marketing, and recruitment teams implement scalable cold email campaigns that drive new business opportunities. It aims to make cold outreach more efficient and productive.
Why use cold email software?

Now that we know what cold email outreach software is, let's examine its benefits.

Cold email software helps you save time:
Instead of writing and preparing your emails individually, you can prepare them in bulk.
Similarly, they let you follow up automatically if your prospects don't reply to your first email.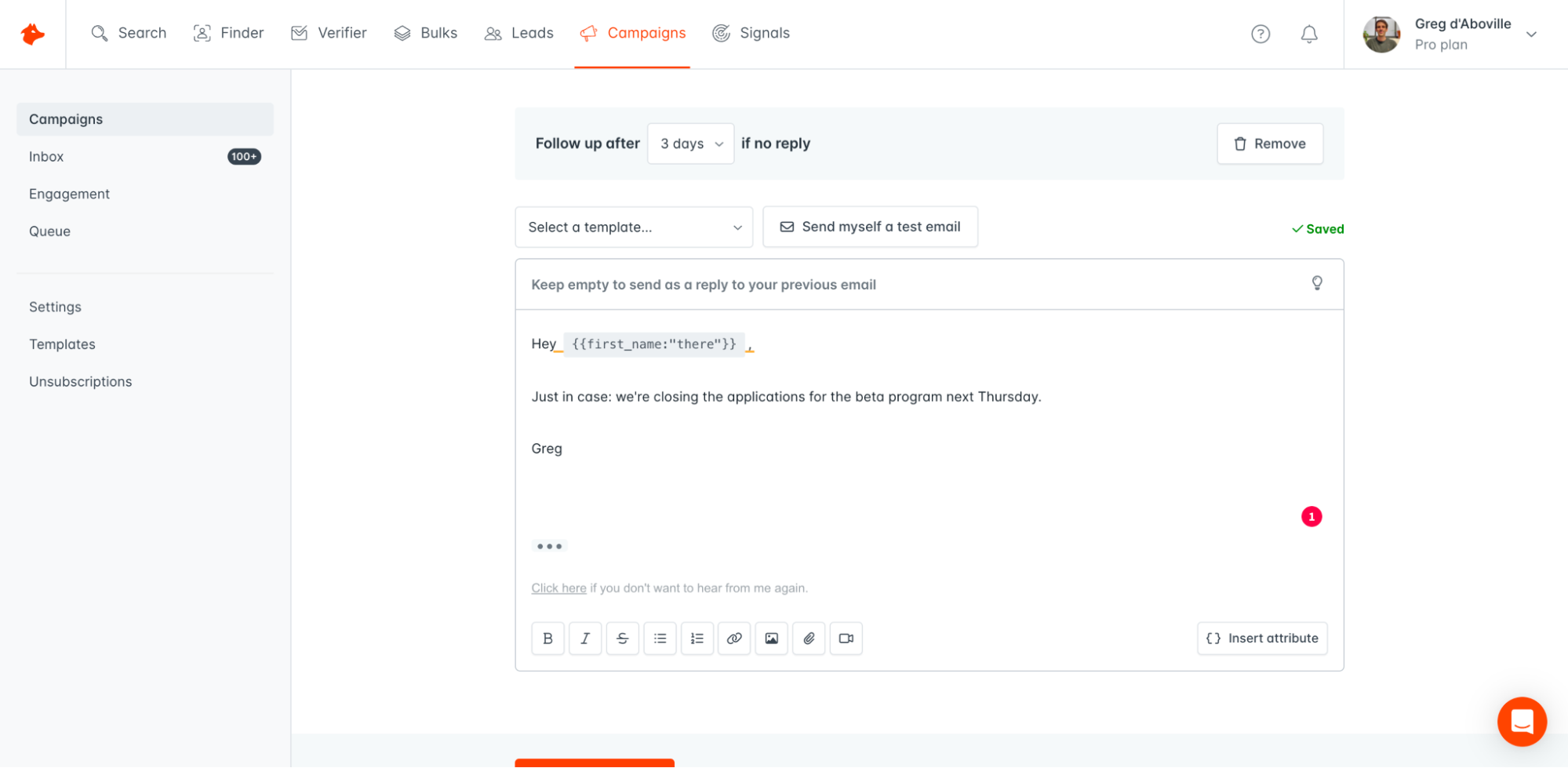 2. Cold email tools help you make sure your emails land in your prospects' inbox (not the spam folder):
They make it easy to spread sending your emails over time to avoid triggering spam filters. Indeed, many providers can flag you as a spammer if you send too many emails at once.
They usually let you personalize your emails and make them look less generic (and less spammy).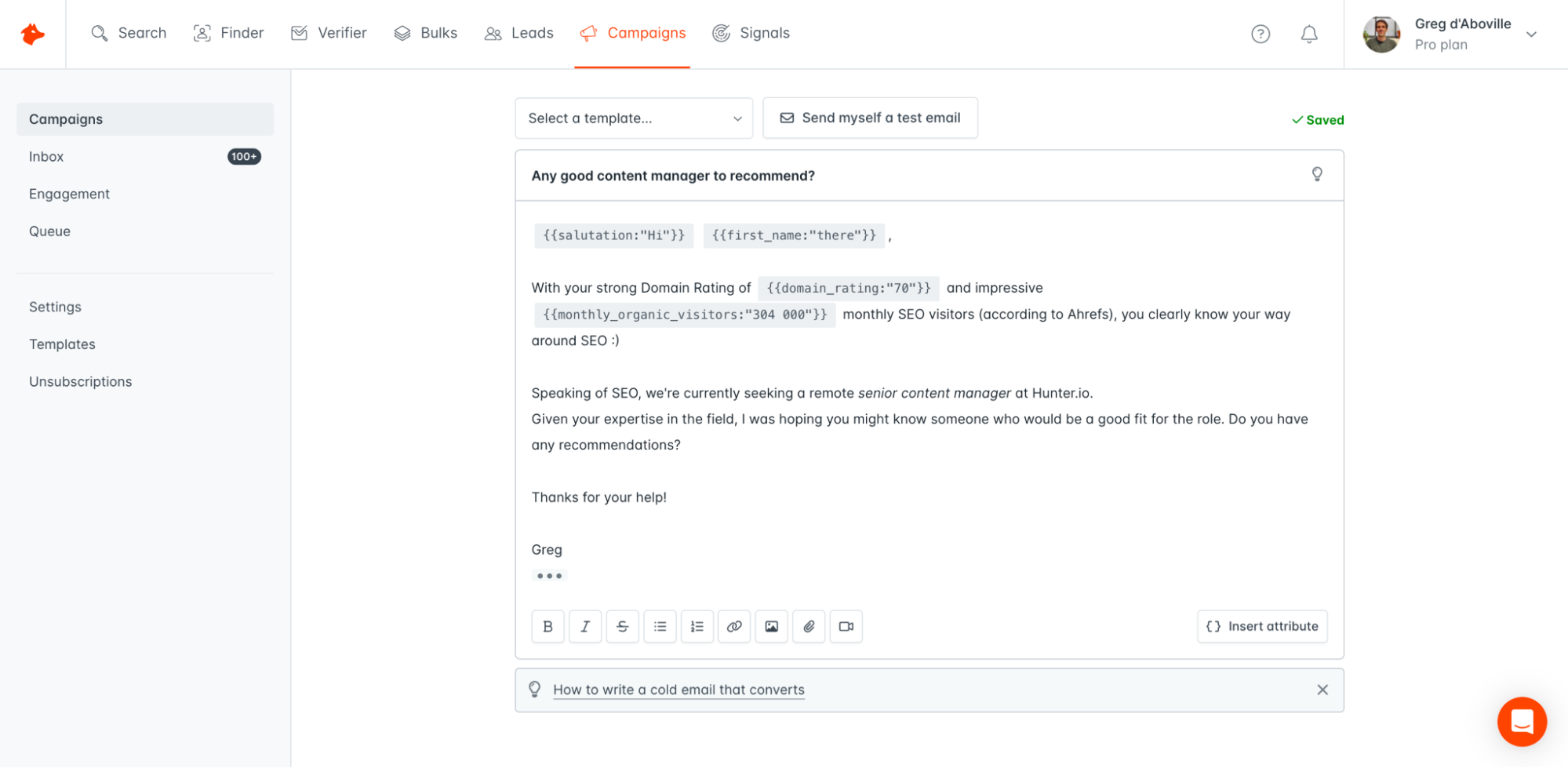 3. Cold outreach software helps you track your results and improve:
Most tools let you track opens, clicks, and replies, removing the guesswork. Some can also let you A/B test your emails to evaluate what works and what doesn't.
Based on your results, you can iterate to find the perfect cold email formula.

4. Most cold email solutions also provide onboarding material. Cold email can be quite a technical subject; these resources can help you get started faster.

When do you need cold email software?
Based on the benefits I listed, I recommend picking and using a cold email platform as soon as you send more than a few cold emails weekly – especially since multiple tools with free plans work well enough for small teams.

Now, it's time to dive into our comparison.
10 best cold email tools

| Tool | Entry price | Free trial available? | CRM integrations? |
| --- | --- | --- | --- |
| Hunter Campaigns | Free plan available | Yes | Yes |
| Instantly | $37/month | Yes | Via Zapier only |
| Lemlist | $59/month | Yes | Yes |
| MailShake | $58/month with a yearly commitment | No | Yes |
| Woodpecker | $39/month | Yes | Yes |
| Quickmail | $49/month | Yes | Yes |
| SalesHandy | $36/month | Yes | Yes |
| Gmass | Free plan available | Yes | No |
| Reply.io | Free plan available. | Yes | Yes |
| Smartlead | $39/month | Yes | Via Zapier only |
Hunter Campaigns
Company background
We launched Hunter Campaigns in 2019 to complement our other tools for email outreach (the Email Finder and the Email Verifier). Campaigns were designed for teams that want an easy-to-use cold email tool, whether they're new to cold email or have more experience.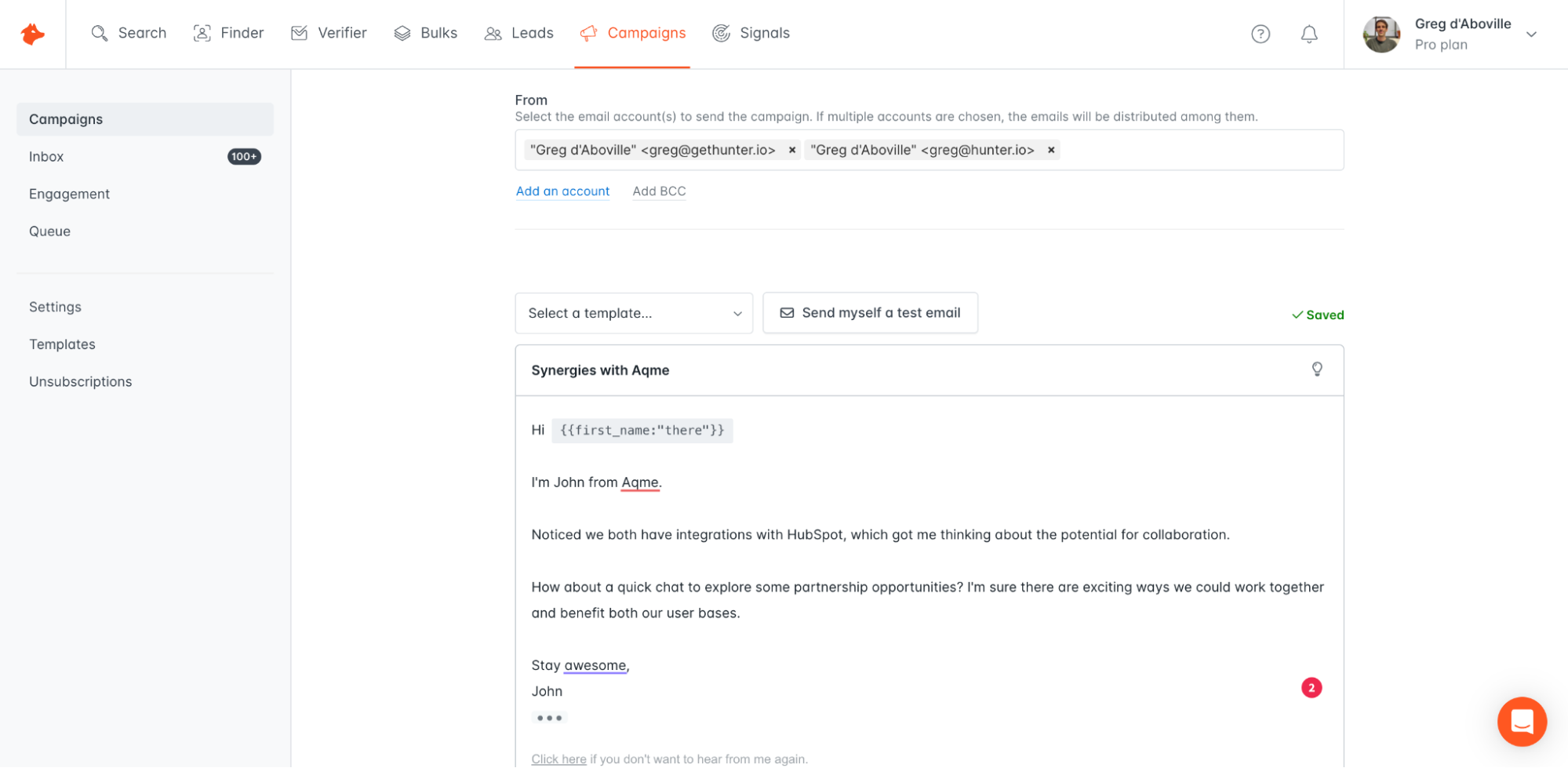 Strengths
Generous free plan available
Ease of use
Seamless integration with the rest of the Hunter.io suite
Rich integration with HubSpot and options to connect Salesforce, Pipedrive, and Zoho;
No limits of emails sent or active leads
Zapier integration to connect other tools or handle advanced CRM integrations need.
Very reliable API praised by tech-savvy customers
Weaknesses
Lack of some advanced features like email warm-up, A/B testing, or spintax
Currently only integrates with Gmail/Google Workspace and Microsoft 365/Outlook email accounts
Pricing
Anyone with a Hunter account can connect one email address to Campaigns and send cold email campaigns. You'll need to upgrade if you want to send emails from more than one email address or if you would like to add more than 500 recipients to a given campaign. Hunter's paid plans start at $49/month.
My opinion
It's hard to be objective, but Hunter Campaigns is probably the best option if you want a tool that is easy to learn, easy to use, and will generate results quickly. The free plan also includes free email finder and verification credits which can also be quite handy.

The expert's opinion
I've been using Hunter Campaigns for two years now and have relied on it extensively to get new backlink opportunities. The product is easy to use, yet powerful. The two things I like the most are the Engagement screen, which helps me identify the warmest leads in a few clicks, and the Inbox which lets me find all our replies on a single screen. I'd recommend Hunter Campaigns to any person who wants to send cold emails, whether you're starting out or you're already looking to scale your cold email strategy.
Instantly
Company background
Instantly is one of the most recent tools we've included in our comparison. Raul Kaevand started Instantly in 2021 after noticing that most cold email tools were too expensive and not adapted to the needs of lead generation agencies.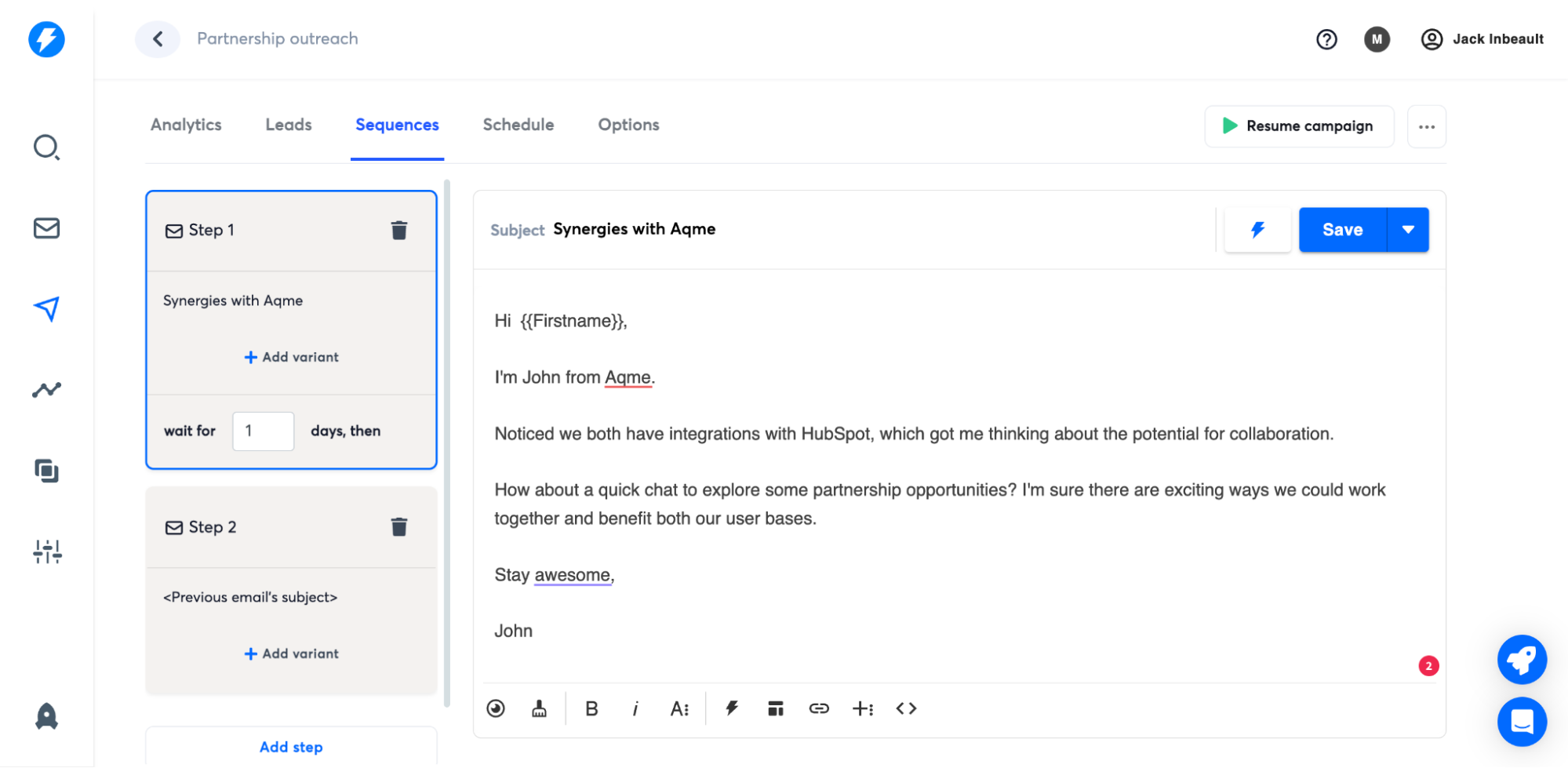 Strengths
Nice, modern UI and ease of use
Advanced (and exclusive) features such as an advanced email service providers matching option
Pricing works very well for agencies managing a lot of email accounts (they don't charge per email account)
Support team is responsive and professional
They even provide a B2B sales leads database (recent addition, I haven't tested it yet)

Weaknesses
Instantly's pricing structure is limiting if you have a lot of active leads
They don't have any native integrations, so you'll have to rely on Zapier to sync your data to your CRM and for other use cases

Pricing
Instantly is available from $37/month and offers a free trial.
My opinion
Instantly took the market by surprise with their aggressive pricing. Because of their pricing model and core mission, the product is particularly well-suited for agencies with high sending volume.

The expert's opinion
What makes Instantly stand out is the fact that you can add an unlimited amount of email accounts. This has saved our agency thousands of dollars and increased our client results as we were able to send more volume.
Lemlist
Company background
Lemlist was started in 2018 by Guillaume Moubeche with a precise mission: make cold emails feel more personal. Their team has pioneered features that have become mainstream, such as email warmup and image personalization.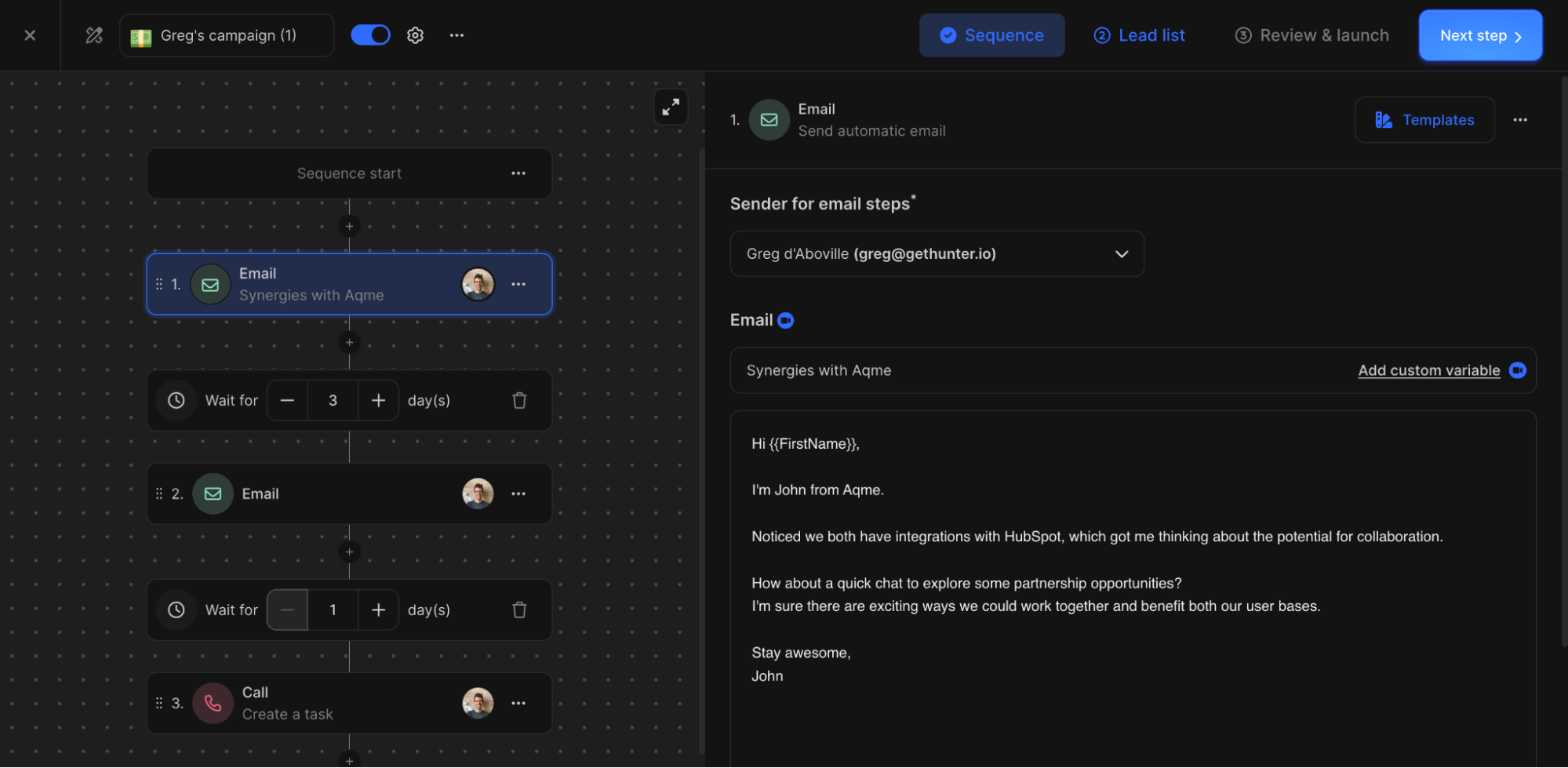 Strengths
Advanced personalization options such as personalized pictures and landing pages
An easy way to source leads and find their email addresses directly from LinkedIn
AI copy generation tool that helps fight writer's block
Great training material
Native 2-way sync with HubSpot, Salesforce, and Pipedrive
Weaknesses
As any advanced product, Lemlist can be a bit difficult to use at first
User reviews mention that the UI can be difficult to navigate
Pricing can get expensive, especially if you want to send emails from multiple inboxes


Pricing
Lemlist's cheapest plan costs $59/month. They offer a free trial.
My opinion
Lemlist is robust, and its advanced integrations and features have made it a go-to cold email tool. Their main current limitation is their pricing, which makes the product costly if you have multiple email accounts. Last but not least, you should follow their team members on LinkedIn (especially Kévin Moënne-Loccoz). They regularly share outstanding tips for cold email practitioners.

The expert's opinion
I've been using Lemlist for about three years. Besides their robust cold email features, they also offer basic LinkedIn touchpoints, which is super convenient for those wanting to adopt a multichannel approach. However, my favorite feature is Liquid Syntax, which allows for crafting truly unique emails. I believe Lemlist is best suited for advanced users, but it might be a bit too complex for beginners.
MailShake
Company background
MailShake is a pioneer in dedicated cold email software. Started in 2015, it initially focused on providing promotional tools for content creators. Over the years, MailShake evolved into a sales engagement platform with multichannel outreach capabilities.

Strengths
Great features for agencies (reporting, client onboarding)
Robust native CRM integrations
Unique calendar view that lets you check exactly when your emails will go out
Many users praise the quality of MailShake's customer support
Native integrations with Pipedrive, HubSpot and Salesforce
Weaknesses
MailShake can get expensive if you manage multiple email accounts
The lack of free trial and the yearly commitment make it difficult to start
UI feels a bit outdated and clunky, especially since they added a lot of sales engagement features (dialer, tasks, etc.)
Pricing
MailShake starts at $58/month with a yearly commitment. They don't offer a free trial.
My opinion
I started using MailShake in 2017. Back then, the entry-level plan ($29/month) and the good integration with Gmail made it an easy choice. But with the changes in their pricing policy (no free trial and yearly commitment) and a lack of new meaningful additions, I stopped using the tool
The expert's opinion
We have been using Mailshake since Leadable was founded in July 2019. During that time, we have tested 20+ other platforms and have always decided to stay with Mailshake. In the tests we have run, we have found that it consistently performs the best from a deliverability perspective. The UI is simple, and it offers all of the required functionality, without overcomplicating things with unnecessary features. The support team is fantastic also. I would recommend it to anyone, from beginners to advanced users, looking to run outbound campaigns.
Woodpecker
Company background
Like MailShake, Woodpecker has been there since 2015. At the time, Matt Tarczynski started it as an internal product for his lead generation agency. He decided to release it to the public when he saw interest from outside his company.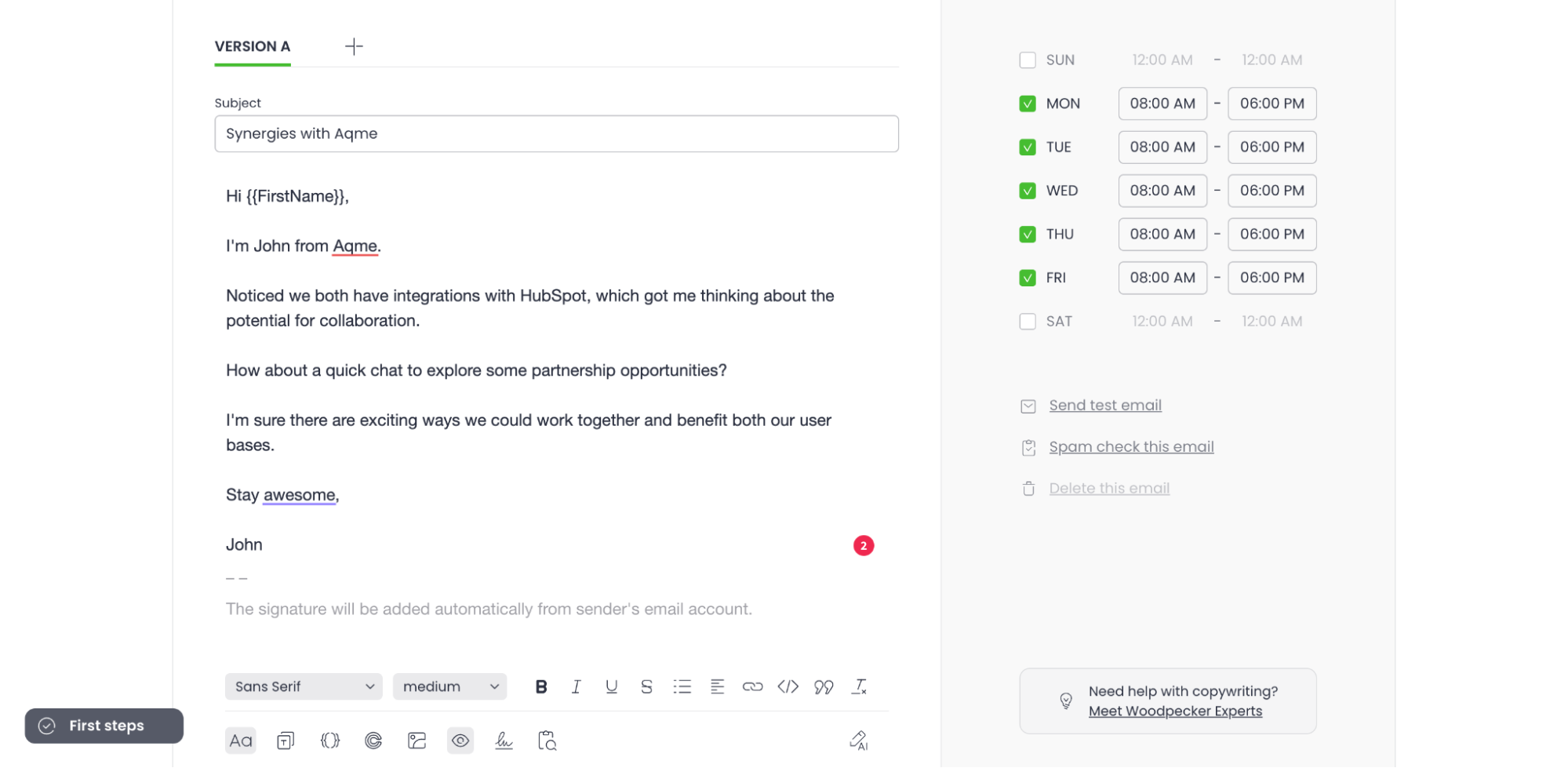 Strengths
Includes everything you would expect from a good cold email software: A/B testing, reporting, native CRM integrations, etc.
Reviewers emphasize the ease of adoption
Advanced personalization lets you create different email sequences based on your recipients' actions (opens, clicks, etc.)
Native CRM integrations with HubSpot and Pipedrive
Weaknesses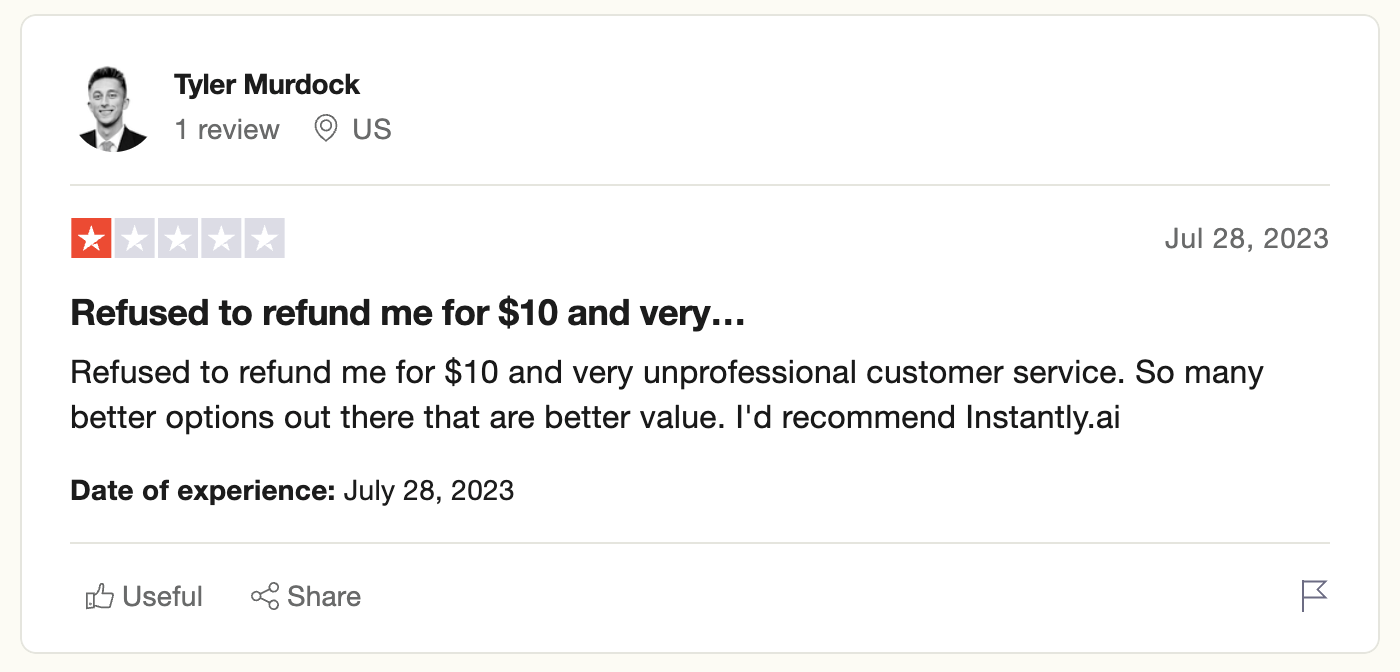 Pricing
Woodpecker's entry-level plan costs $39/month. A free trial is available.
My opinion
Woodpecker is a good choice if you want a cold email tool that works and won't send too many emails. It's reliable and fast and relatively easy to use.

The expert's opinion
I've been using Woodpecker for about three years now. It's great for so many reasons: first and most importantly, during these three years, I didn't have any major problems with the tool, which is crucial for cold email campaigns. It's very intuitive, their customer support is great, and they constantly develop their product. I would recommend Woodpecker to anyone who needs to create cold email campaigns. It should work well both for small entrepreneurs and for a giant recruitment agency.
Quickmail
Company background
Jérémy Chatelaine started Quickmail in 2014 (!) to scratch his own itch. Since then, the product has become a favorite among email outreach agencies, especially after they pioneered email account rotation (a way to send more emails by spreading the sending over multiple email accounts).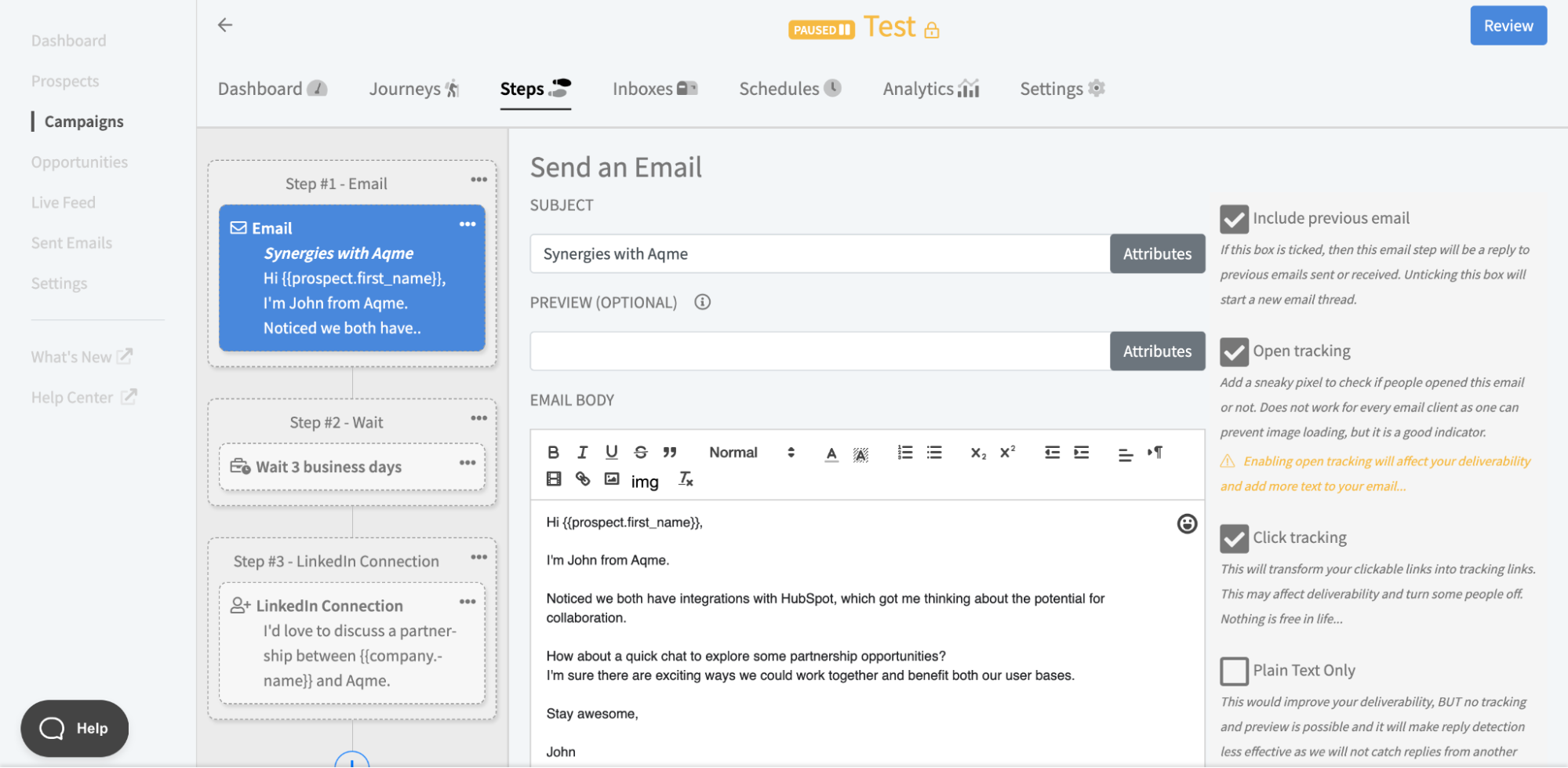 Strengths
Advanced features like email account rotation and detailed reporting
Agency-specific features that make reporting to the client and account management easier
Native 2-way HubSpot and Pipedrive integrations
According to most reviewers, the product is easy to use
Plenty of users praise the quality of their support team
Multichannel capabilities (you can automate LinkedIn connection requests and send text messages)
Weaknesses
The UI feels a bit outdated
The warmup feature depends on a third-party partner

Pricing
Quickmail's pricing starts at $49/month and includes a free trial.
My opinion
Quickmail's founder's enthusiasm is contagious. Their focus on volume contributed to making Quickmail one of the best cold email tools if you run an agency or simply need to send a lot of cold emails. I also recommend you check their CEO's podcast. It's a great way to stay up-to-date with the industry.

The expert's opinion
I've used Quickmail for about 18 months. My favorite thing about Quickmail is conditional email logic, allowing journey emails to change dynamically based on opens, replies, custom indicators. I also particularly appreciate their transparent roadmap and list of recent feature releases, and before they had to sunset their auto email warming was fantastic. I know Quickmail is particularly popular with agencies, but I also recommend it for individual non-experts (like founders) looking to minimize time spent on outbound emails.
Smartlead.ai
Company background
I'll be honest: I hesitated to include Smartlead in this comparison. Why? Because it launched only in June 2022, and according to reviews, it's still a little buggy. However, reviews from promoters I saw in Facebook groups convinced me that Smartlead deserved some attention.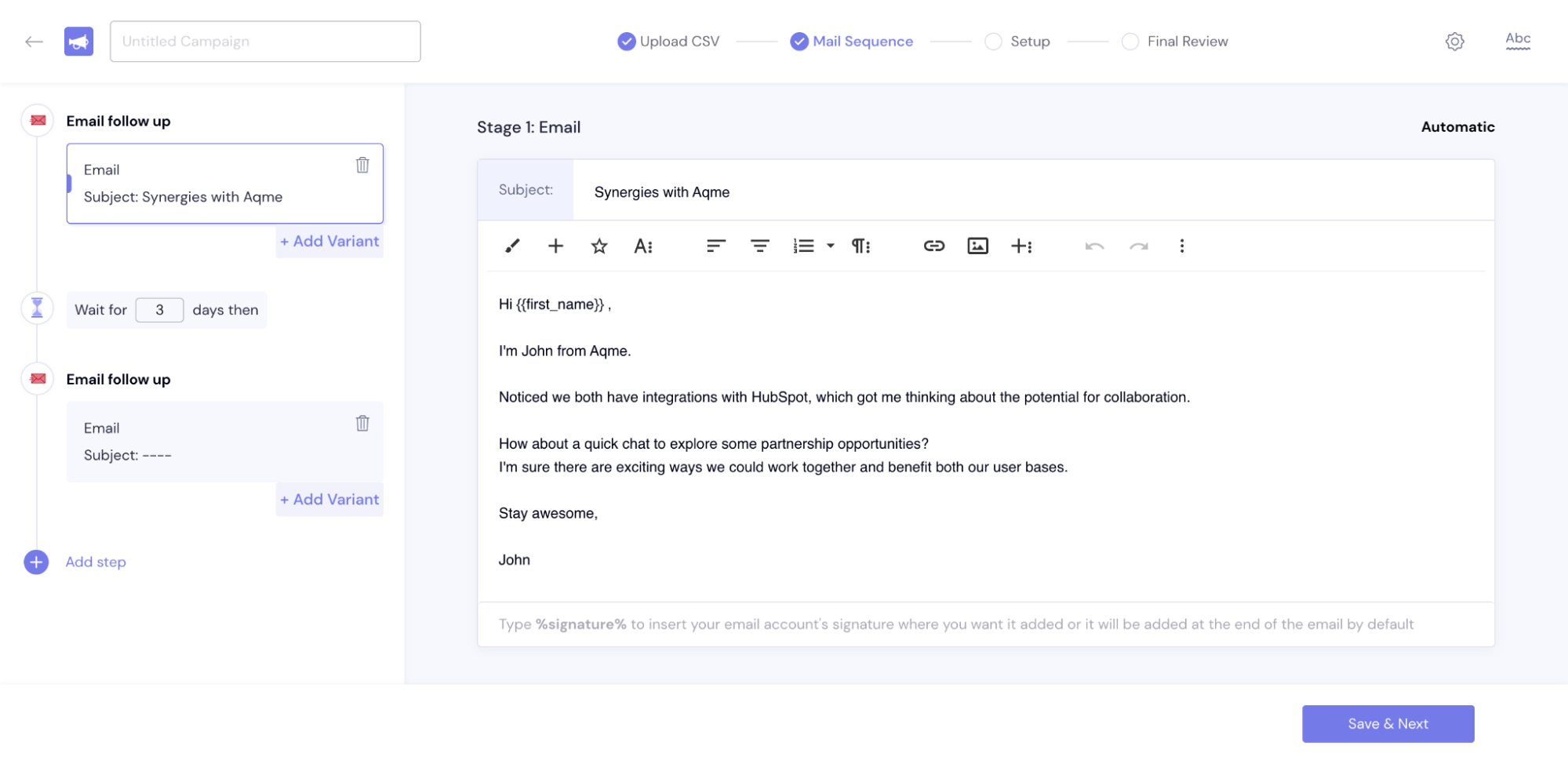 Strengths
Aggressive pricing that makes it the cheapest option if you want to scale your outbound strategy
According to user reviews, their customer service is very responsive
Some of their clients also praised their agency management features

Weaknesses
Overall, it's quite a recent tool, which means that you won't find all the integrations you need, and you may experience some bugs

Pricing
From $39/month. A free trial is available.
My opinion
Smartlead is a recent player, but they're worth keeping on your radar as they're improving quickly, and their product is surprisingly inexpensive.
The expert's opinion
I've been using Smartlead.ai for eight months, and it is absolutely amazing! I am not a techie, but everything is really easy to learn and understand. And if you really need help, the team delivers the best service that I have ever experienced online! I love the AI tools and the personalization options that are getting better and better. But what I love the most is that they listen to their community, ask us what we want, and release the options we need. I recommend it to everyone who wants to get really serious about cold email. There is no better software on the Market. I am on a Mastermind with 220 Cold Emailers, and 80% use Smartlead.
Gmass
Company background
Gmass was started in 2015 by Ajay Joel to allow marketers to send mass emails straight from Google Sheets and Gmail. With 300,000 users on the Chrome store, it might be the most widely used cold email tool.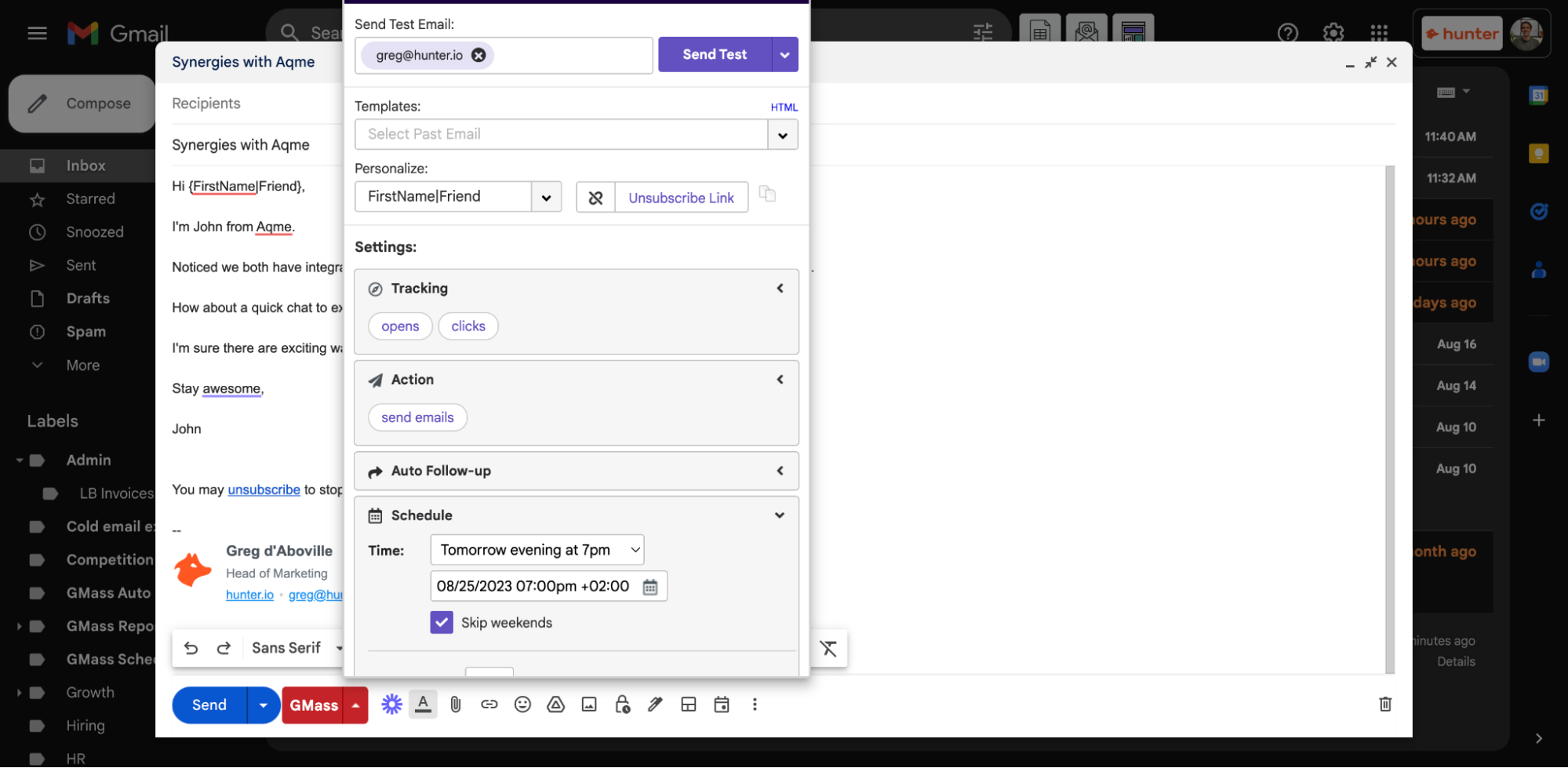 Strengths
If you're using Gmail, you'll love being able to send your cold emails directly from there
Includes a lot of options you find in advanced cold email tools like A/B testing, a spam checker, etc.
A lot of their users praise the reporting options included in the tool

Weaknesses
As it's a complete tool, many users complain that there's a steep learning curve before you can actually start using Gmass (this is something our tests confirmed)
The UI and their onboarding content are a bit confusing

Pricing
Generous free plan available.
My opinion
Gmass is probably interesting if your priority is picking a free cold email software that works in Gmail. Apart from that, I found it the hardest-to-use tool of our benchmark. You can also check MailMeteor if you want a free tool to send your cold emails from Gmail.

The expert's opinion
In my journey as an SEO and content manager, I've explored a variety of tools for cold emailing and outreach. Amongst them all, Gmass stood out due to its clean and straightforward interface. I've been using this tool for half a dozen years now, and its features have never ceased to impress me. What sets this tool apart is that it operates directly within Gmail. There's no need to switch between web apps; everything you need is right there in your inbox. You can track emails, access analytics, launch mass email campaigns, set up automated follow-ups, and more, all from within Gmail. Furthermore, this tool offers the ability to send up to 50 emails in a mass campaign for free each day. It's an excellent resource for both beginners and intermediate marketers looking to enhance their cold email marketing strategies.
SalesHandy
Company background
Dhruv Patel started SalesHandy in 2015. From the start, the tool targeted sales teams, making SalesHandy both a cold email tool and a fully-fledged sales engagement platform.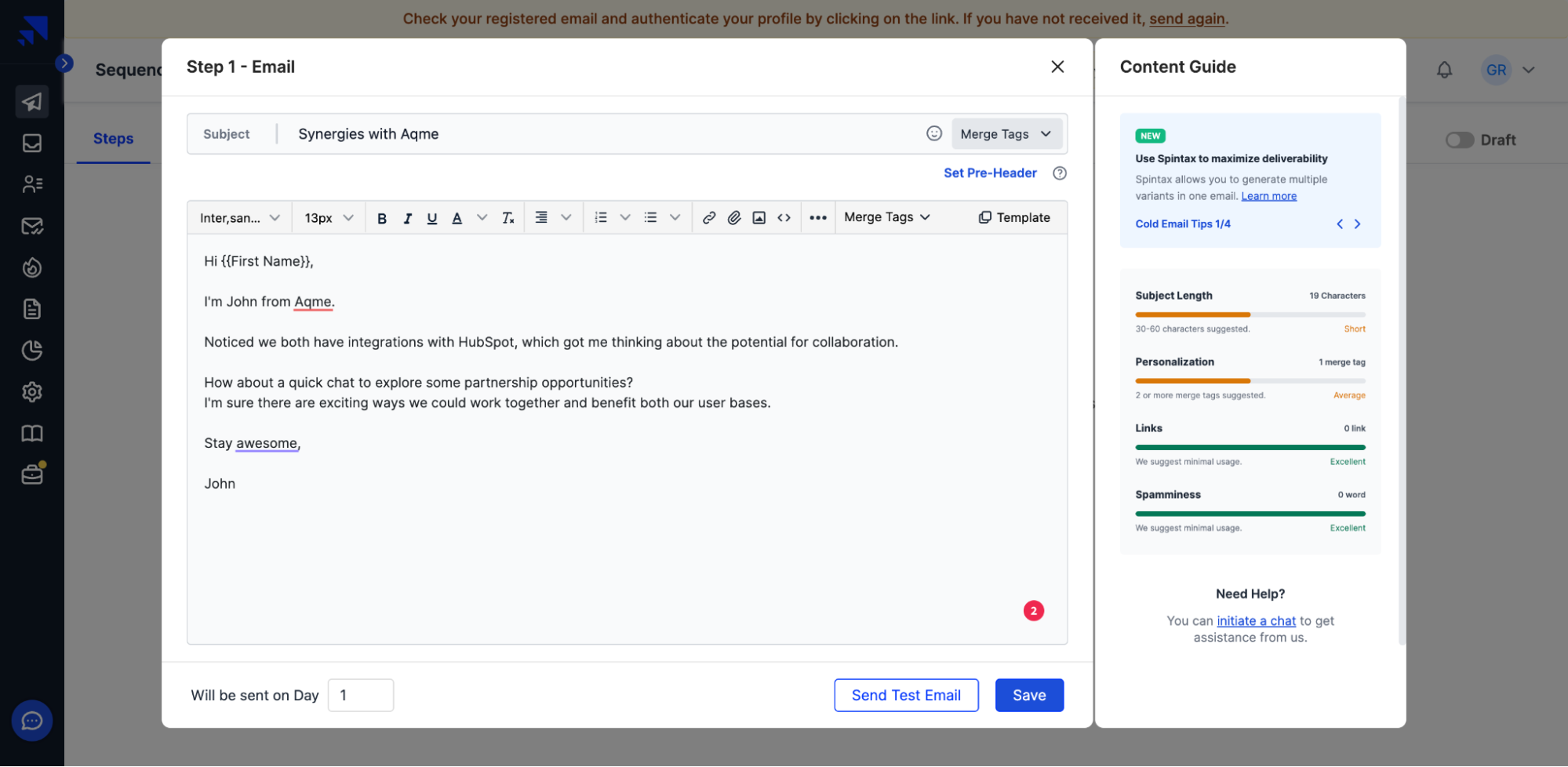 Strengths
Lot of advanced features like spintax (that allows you to make your emails more unique and can help escape spam filters), A/B testing, and email warm-up (via a partner)
Entry-level plan priced at $36 (making it the cheapest option among sales engagement platforms)

Weaknesses
Compared to other sales engagement platforms, it lacks multichannel capabilities
Some reviews pointed out that the time difference with the support team (based in India) can be an issue
1-way CRM integrations only

Pricing
Saleshandy's pricing starts at $36/month. You can test it for free.
My opinion
SalesHandy might not be the best cold email tool. It's probably not even the best sales engagement platform. But it can be a good starting point, especially given its cheap entry-level plan.

The expert's opinion
After years of working with virtually every cold email software available, we chose to transition to a platform that's not only tailored for cold email marketing but also excels in continuously adapting to the ever-changing, hyper-dynamic landscape of cold emails. This is particularly evident in the innovative approach they adopt and the exceptional level of support they provide. We genuinely feel that they are truly rooting for us to succeed.
Reply.io
Company background
Reply was founded in 2014 by Oleg Bilozor to help sales teams automate their time-consuming manual tasks. Like SalesHandy, it includes many sales engagement features and doesn't limit itself to cold email.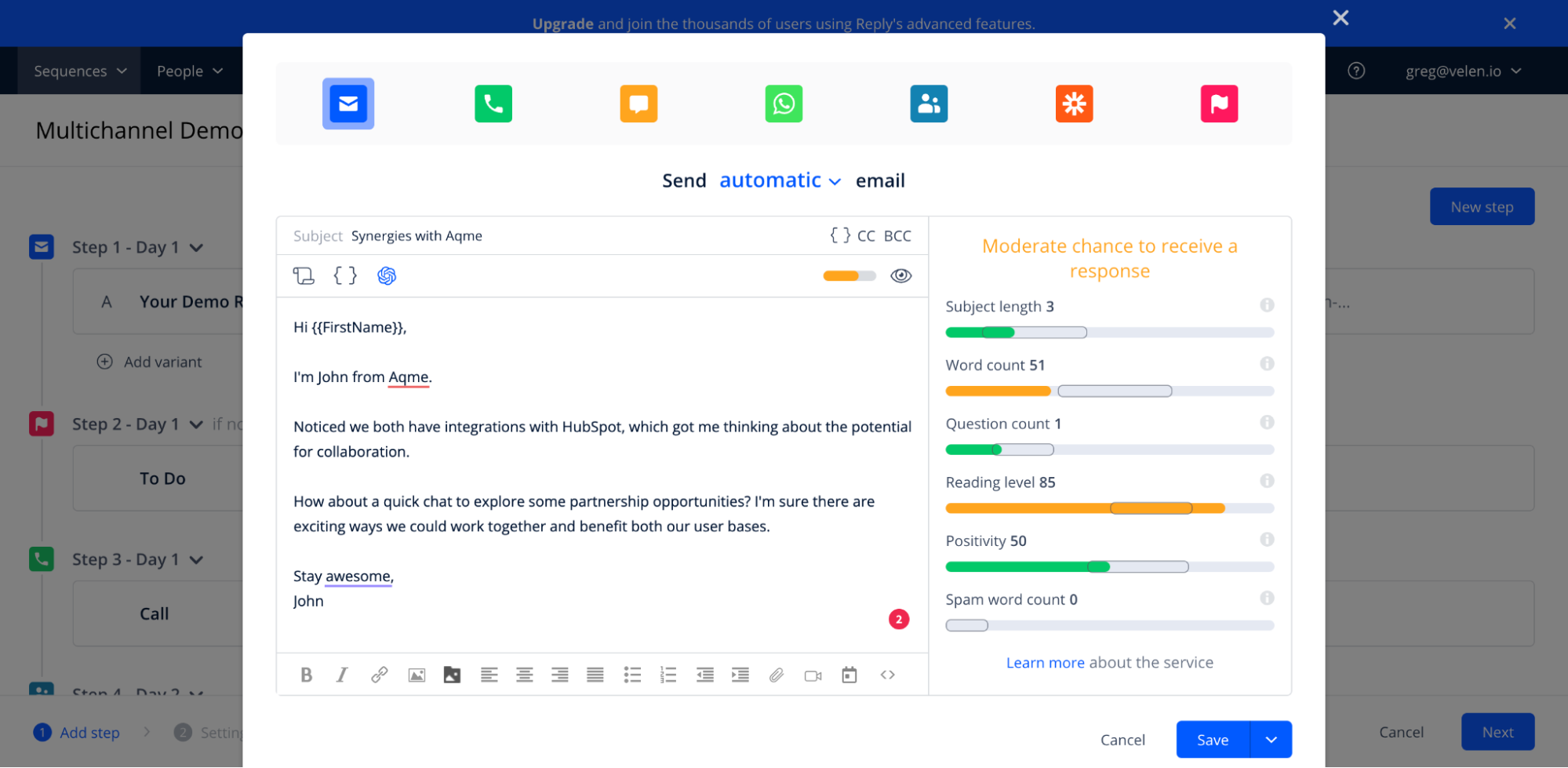 Strengths
True multichannel capabilities with LinkedIn automation options, support for automated SMS and Whatsapp messages, and a feature to place your calls directly from within the app
Lead database (it's a recent addition, though, and I spotted some data quality issues)
Plenty of comments praise their responsive and helpful customer service
Native 2-way integrations with HubSpot, Close, Copper CRM, Salesforce and Pipedrive
Weaknesses
The tool includes numerous features and can be overwhelming initially
Their advanced features (LinkedIn automation, additional email accounts, etc.) require paid add-ons

Pricing
Reply.io offers a free plan. Paid plans start at $60/user/month.
My opinion
Reply.io is the veteran in this comparison. I recommend it if you're in a sales team and need a reliable multichannel cold outreach tool.

The expert's opinion
I've been a Reply user for more than four years, and the experience has been amazing so far! I like how the product evolves each year. The team is extremely feedback-driven and customer-centric. Among the cold email features, I really appreciate the reporting and the ability to have an in-depth view of my team's sequences. With native integrations with other apps, I can automate various workflows in seconds. Multichannel sequences are what I adore the most – they help me with outreach via email, LinkedIn, or using Zapier. Super useful. Also, it's a real time-saver having a Chrome extension for email search, email validation, a native appointment booking app, and built-in AI assistance, all under one hood. I can recommend the app to all outreach folks, whether it's for sales or link-building purposes.
How to choose the right cold email tool?
There's no one-size-fits-all cold email tool.

Picking the right software implies evaluating how it would fit your sales stack, budget, and a few additional elements.

Let's take a look at them.

Take a look at your existing tool stack
If you're working on your own and don't use a CRM, then any cold email tool can work for you.

If you're using HubSpot, Salesforce, Pipedrive, or any other CRM, I recommend you choose a tool that offers native integration with them. It will save you the trouble and additional costs of manually connecting the tool to your CRM via Zapier or the API.

I also recommend checking the type of integration:
1-way integrations (like SalesHandy offers) allow you to pull out contact lists into your cold email software to reach out to them automatically,
2-way integrations go further and let you pull data from your CRM and synchronize your cold email activities back to your CRM.

In our comparison, only Hunter Campaigns, Lemlist, MailShake, Woodpecker, Quickmail, and Reply.io offer CRM integrations.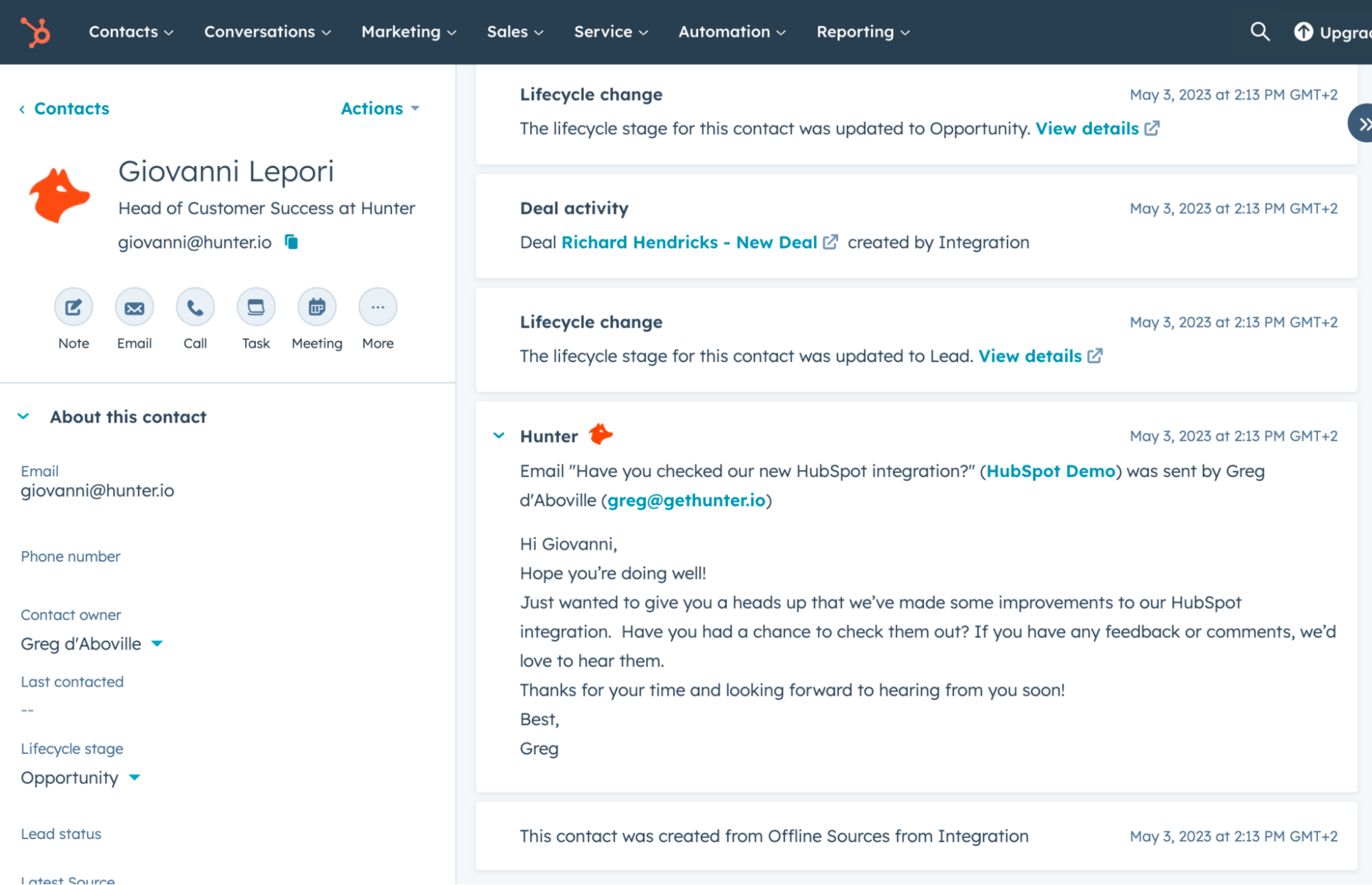 Check if the tool is within your budget
You found the perfect tool… But it ends up being too expensive. Sounds familiar?

To avoid this problem, I recommend you check the pricing of the tools you're considering purchasing.

Let me be a bit more specific.

First, not all the tools I included offer free trials or plans. Without a free plan, confirming if the tool works for you will be harder. Among the tools we reviewed, MailShake is the only tool that doesn't offer a free trial or a free plan. Instead, they offer a money-back guarantee (but it will still force you to advance $696 to try their cheapest plan).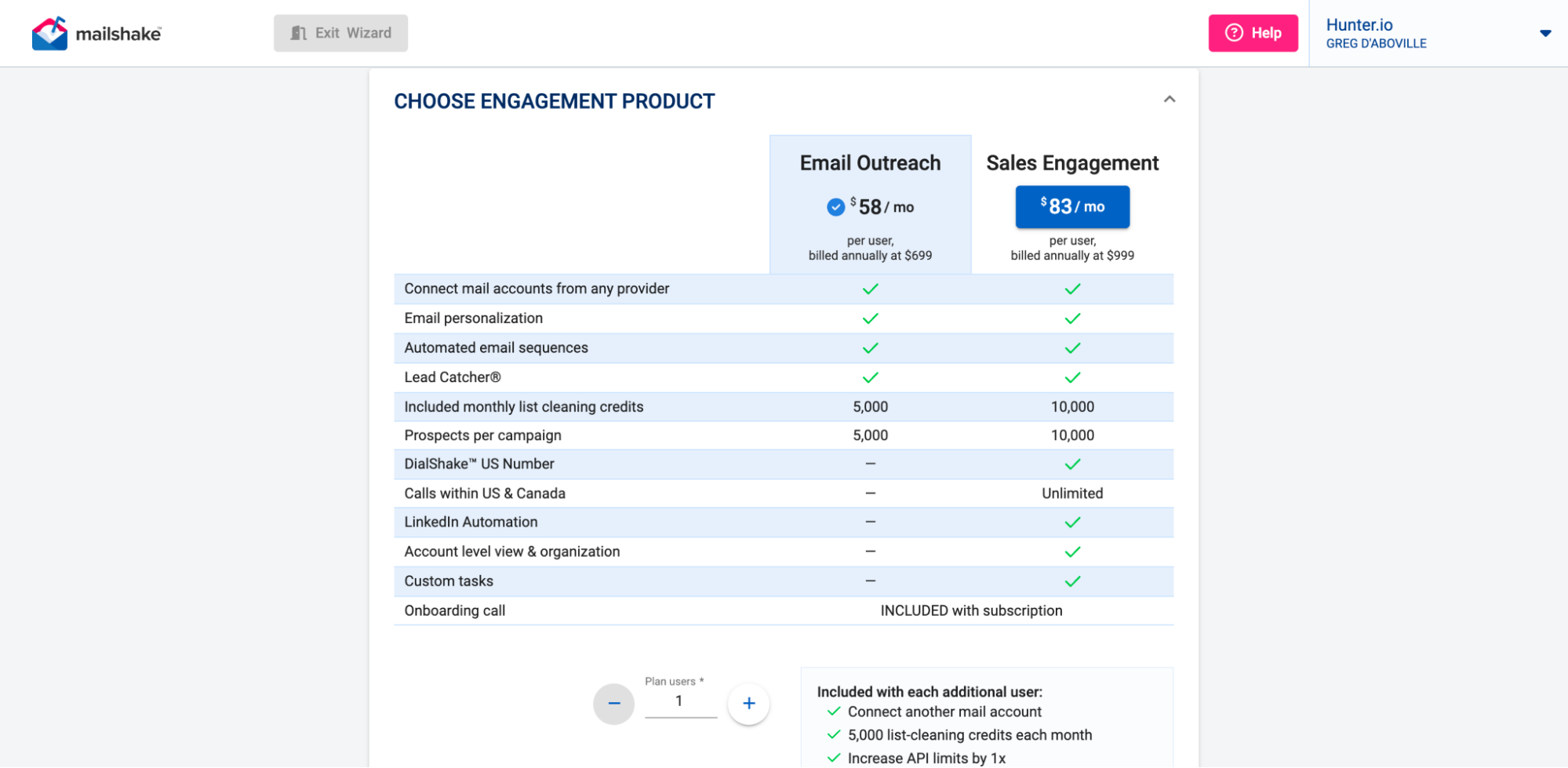 Secondly, take a look at the pricing model of the tool you're considering.

To put it simply, there are two pricing models:
Tools that charge you based on the number of users (or email) that you will connect. This is the case for Lemlist and Reply.io. This kind of pricing works great if you need to send below 50 cold emails a day. If you need to send more, you'll likely need to connect more email accounts to protect your sender reputation. In that case, you'll pay for the additional email accounts, which could cost more than expected.
Tools that charge you based on the number of emails you send and active leads. That's the case for Instantly, Smartlead, or Saleshandy. This pricing model makes way more sense if you intend to send more than 50 cold emails a day because they don't charge you more if you connect more email accounts.

Hunter Campaigns and Quickmail have a pricing model that mixes both.

Finally, one tool in our comparison (MailShake) required yearly commitment. They might not be the safest option if you're just starting with cold email.

And if you're looking to get away with a free plan, Hunter Campaigns and Gmass are probably the best options.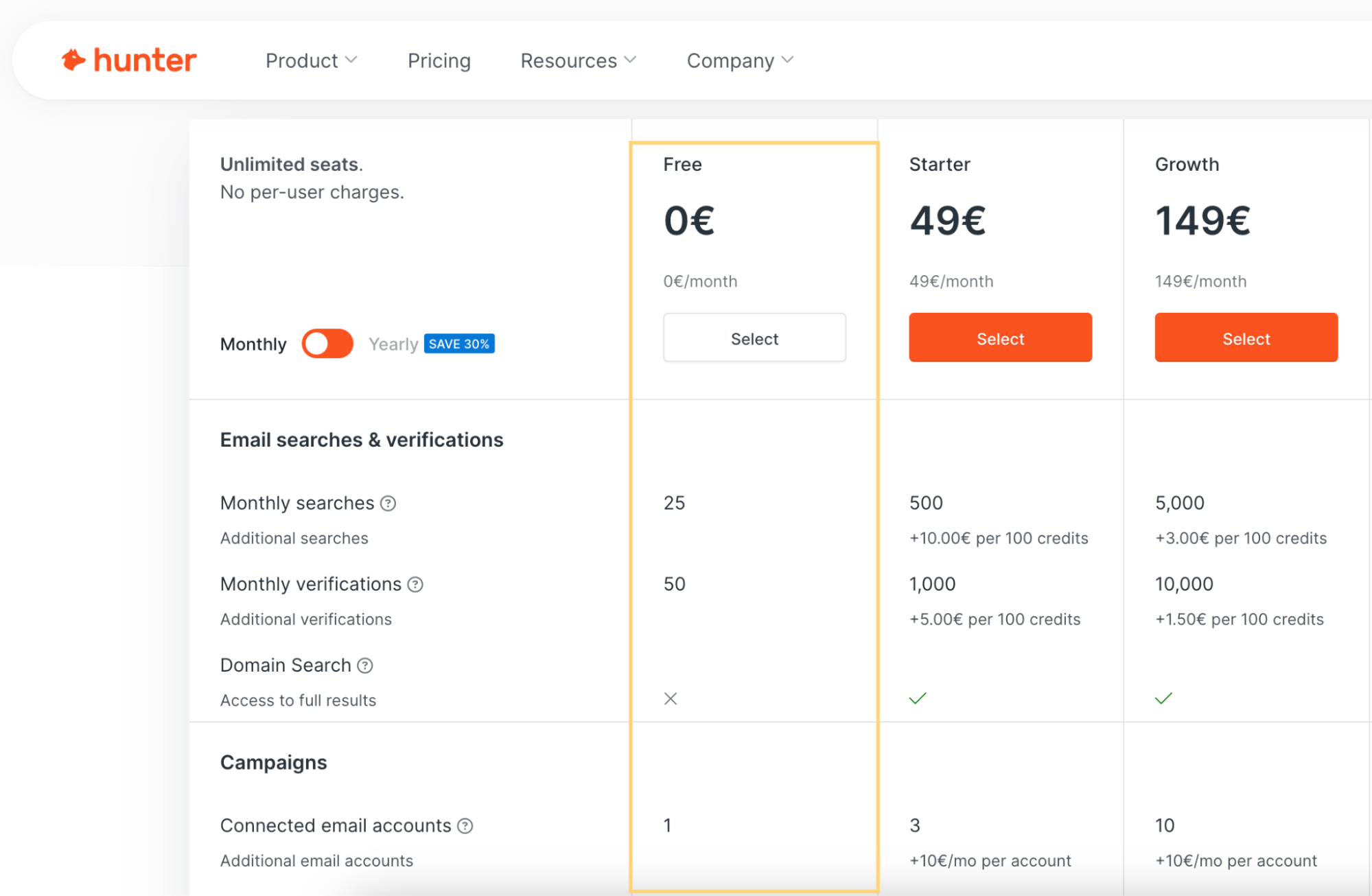 Check if the tool has multichannel options
For some teams, it's important to reach out to prospects on multiple channels and not only via email.

If that's your case, I recommend you check what are the options to automate your outreach outside of emails.

Some cold email tools let you automate LinkedIn connection requests or inMails. Others include the option to reach your prospects via WhatsApp or text message.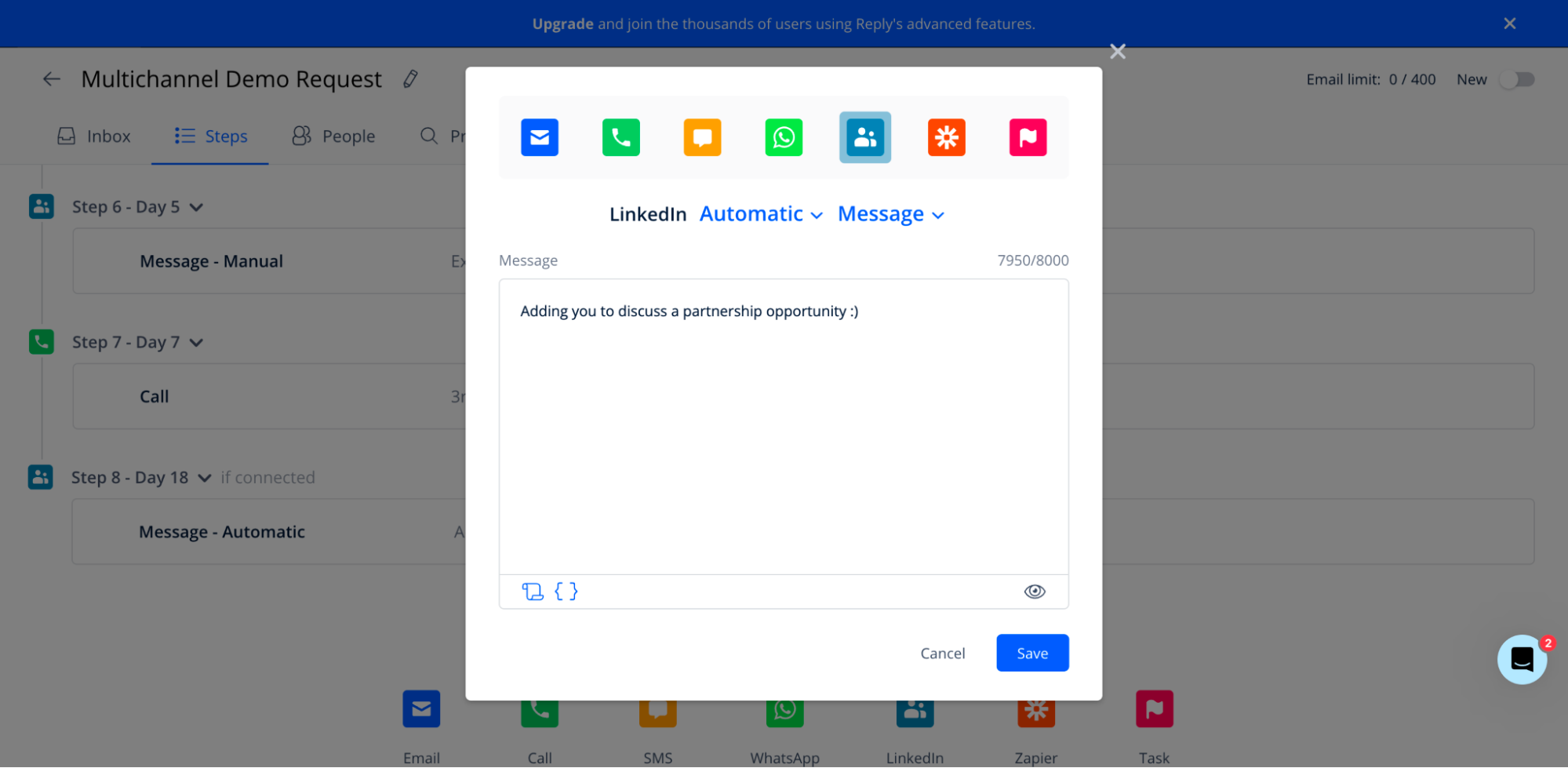 Customer support and reputation
Cold emailing can be difficult, especially if you're just starting.

That's why it's important to pick a tool that provides professional assistance with any issues you may face.

To get an idea of the level of customer support you may expect from a given tool, check the verified reviews on websites like G2 or Trustpilot.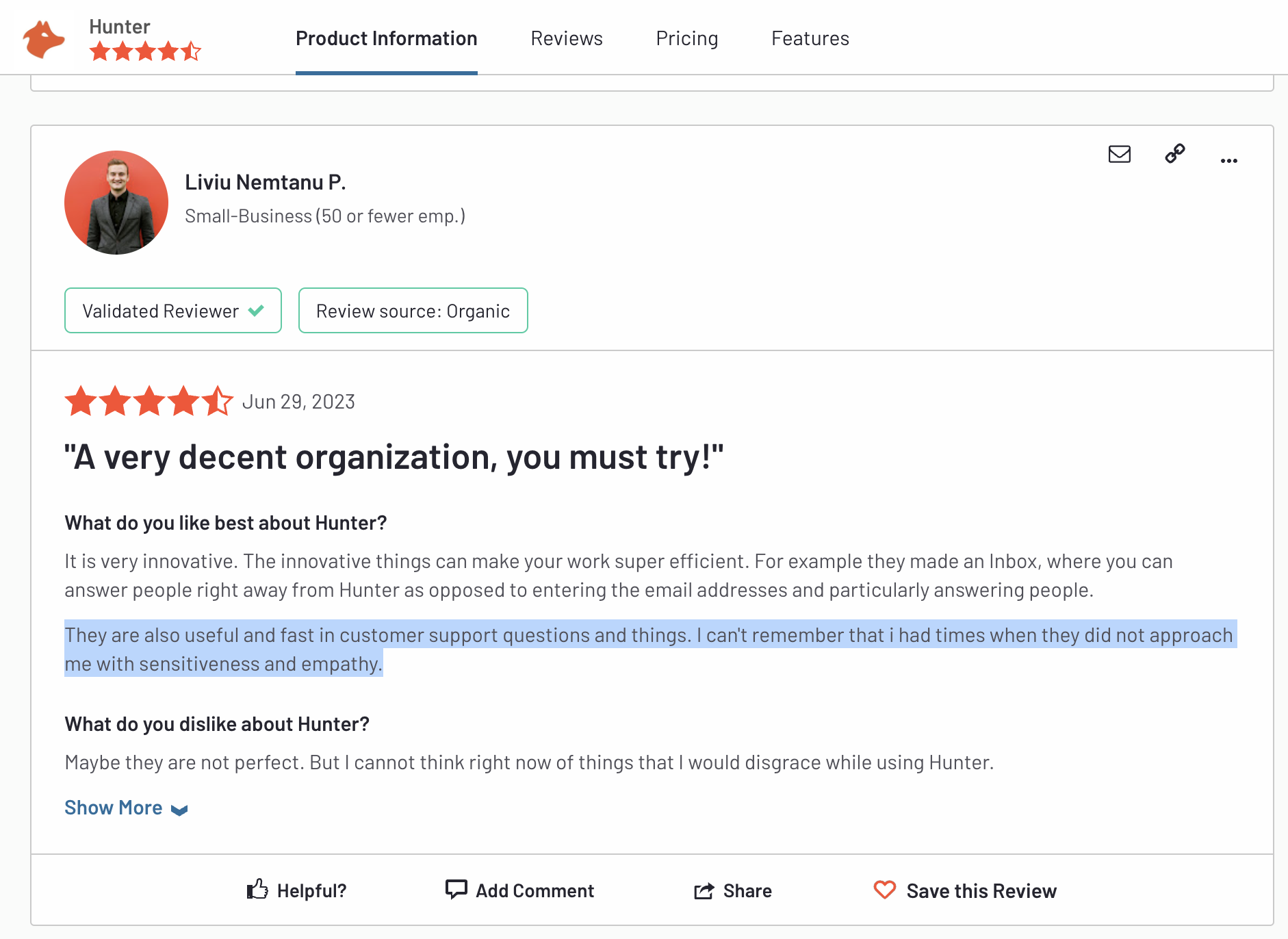 FAQ
By now, I hope you have found the right tool to skyrocket your outbound strategy.
Just in case you have more questions, feel free to explore this last section.
What is the difference between a sales engagement platform and cold email software?
As the name suggests, sales engagement platforms are more geared toward sales teams.
Usually, they include specific features like multichannel capabilities, rely more on manually triggered sequences than fully automated workflows, and integrate better with CRMs.
The most prominent sales engagement platforms are Outreach and Salesloft. Reply.io is the closest equivalent to a sales engagement tool we've included in our comparison.
How does your cold email tool impact your deliverability?
Cold email deliverability mainly depends on elements that are not directly related to your cold email tool:
Your domain's reputation (that depends on the emails you sent in the past);
The reputation of your email service provider (for example, Google Workspace);
Your email copy (although some cold email tools can alert you when your emails look too spammy;

But your cold email tool can help you protect your deliverability by helping you spread your email sends over time, letting you use different email accounts within one campaign, or warning you when too many of your emails bounce.
What is the best email service for cold emails?
In short, I recommend using a professional Microsoft or Google Workspace account because they have a good sender reputation, a robust infrastructure, they're affordable, and overall, they're low maintenance.
Do I need a domain for cold email?
Yes, I recommend using a separate domain dedicated to your cold outreach efforts. It helps you avoid risking the reputation of your main domain.
It also allows you to create more email addresses, which is a good way to overcome the daily sending limits.
At Hunter, we use gethunter.io and hunter-email.org among other domains.

Is cold emailing illegal?
Cold emailing itself is generally legal, with proper precautions around truthfulness, recipient consent, and relevancy. It becomes unlawful if messages are fraudulent, abusive, heavily spammed, or violate provider policies.
Can I use Gmail for cold email?
Yes, using a Gmail account to send your cold emails is technically possible. But to ensure your emails get taken seriously, I recommend you purchase a Google Workspace account that you can associate with a professional email domain like yourcompany.com.