Top 12 SEO Chrome Extensions for 2023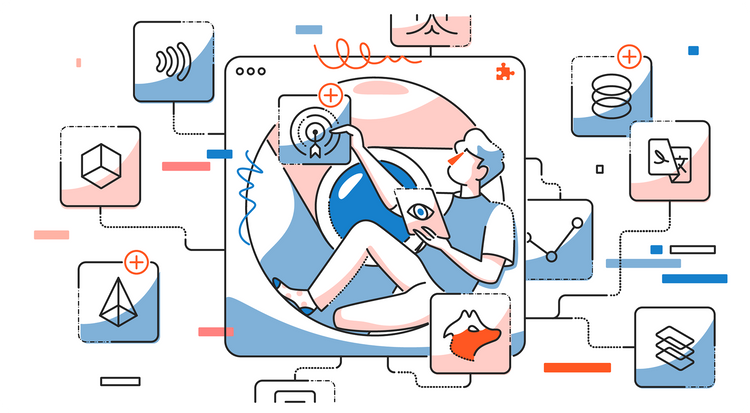 As an SEO or website manager, a significant part of your job revolves around SEO tools.

These tools, in general, help you make sense of your performance, find issues and improvement opportunities and basically dictate the actions you should take to hit your goals.

The Chrome extension version of these tools gives you access to the essential features of these tools without forcing you to switch pages or stop what you are doing.

You get to access the most critical features of your favorite SEO tool right where and when you need it. This helps you save time and be more productive.

In this article, we'll share the top 13 SEO Chrome extensions you need to have in your tool set today—from keywords to technical SEO tools.
On-page SEO and competitor analysis Chrome extensions
The on-page SEO Chrome extensions below let you spy on your competitors, giving you a solid understanding of their strategy and how to replicate it.
Ahrefs SEO Toolbar
Best for: In-depth competitor analysis, backlink research, and keyword data.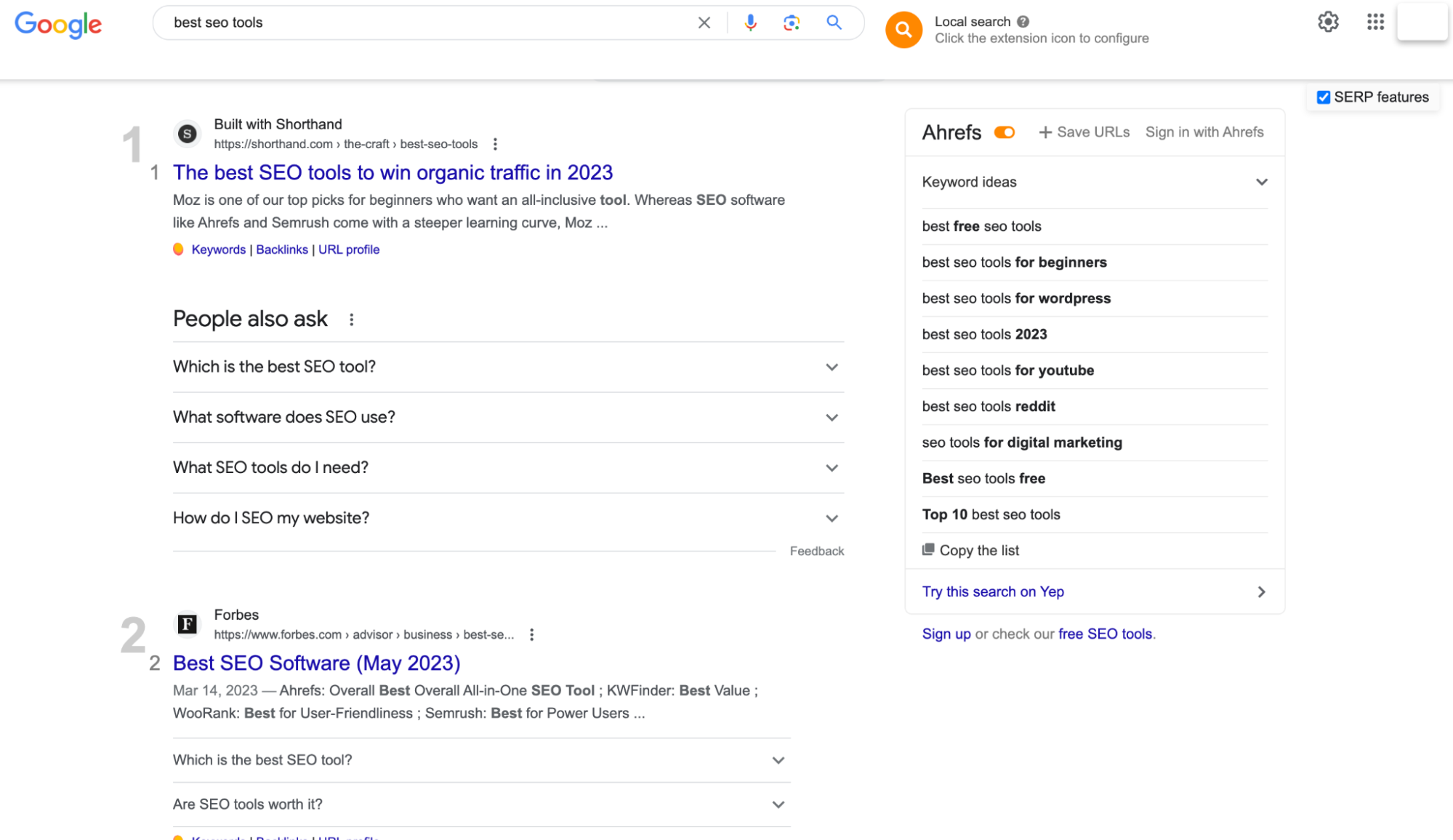 If diving deep into competitor analysis and uncovering hidden opportunities is what you're after, then Ahrefs' Chrome extension is the SEO tool for you.
With its extensive features, Ahrefs enables you to unlock the secrets of top-performing content and pinpoint the most effective keywords for your niche.
Some of the key features and use cases for Ahrefs include:
On-page SEO report: This feature provides you with a detailed analysis of the on-page SEO factors of any webpage, including title tags, meta descriptions, headings, content, and more.
Broken link checker: This feature lets you scan webpages for broken links and provides a report of any broken links found, which can help you fix these issues to improve user experience and SEO. You can also use it on other websites to find link building and guest posting opportunities.
Link highlighter: With a single click, you can highlight all the internal and external links on a webpage, enabling you to quickly identify and analyze your website's link structure.
Redirect tracer: It allows users to trace the path of any redirect on a webpage without having to click through every link in the middle. With this, you can identify any redirect chains or loops affecting your website's performance and SEO.
User-agent switcher: This feature allows you to view webpages as if you were using a different device or browser. It enables you to identify user experience or SEO issues for specific devices or browsers.
Country changer for search results: You can view search results as if you were in a different country. It helps website owners understand how their website performs in different locations and markets.
This is a must-have tool if you're an ambitious content marketer on a mission to stay ahead of the competition and dominate your industry.
Serpstat
Best for: On-page SEO, Web-page analysis, Domain Analysis.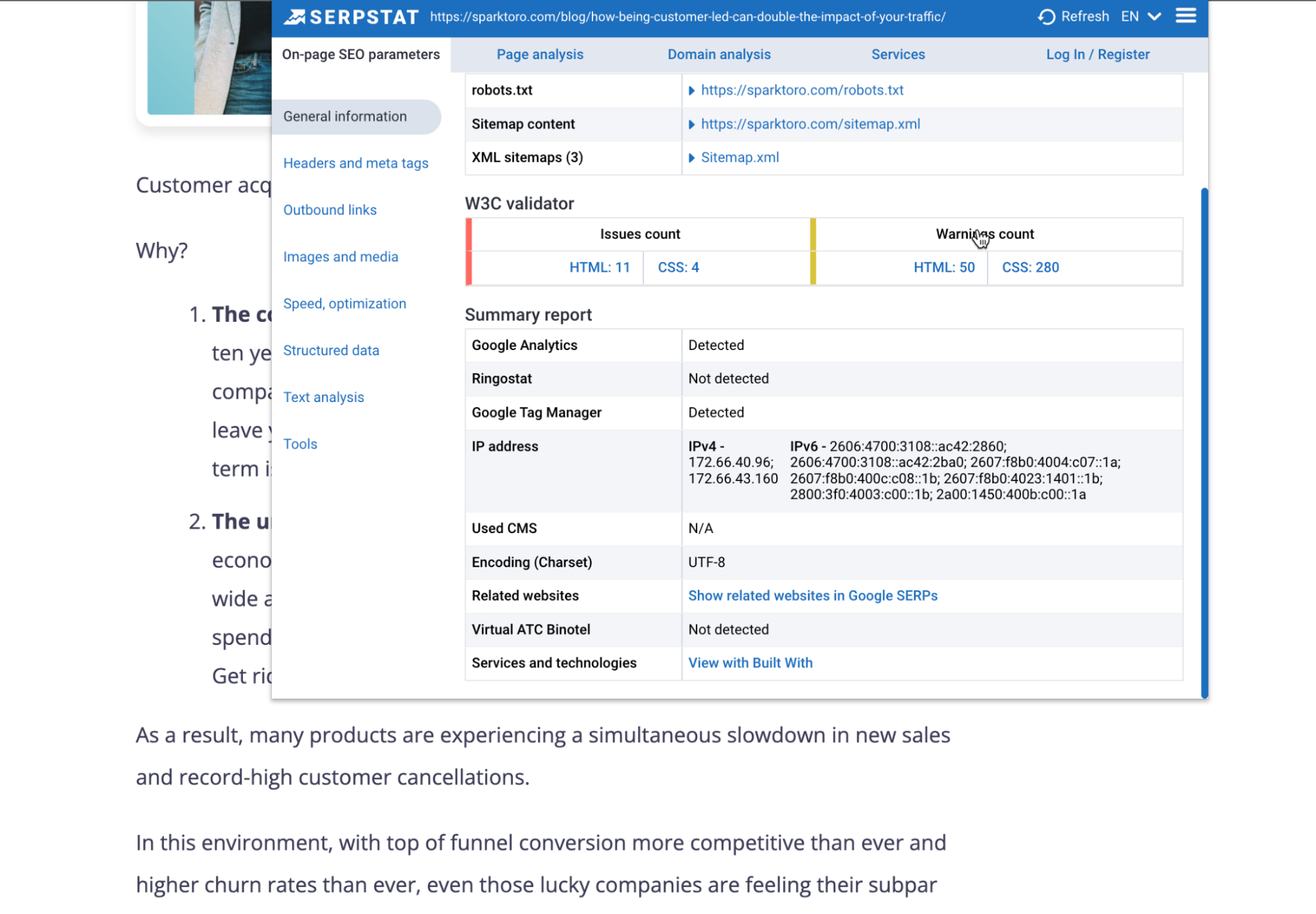 Serpstat
offers an excellent SEO Chrome extension that empowers you with comprehensive SEO metrics, analysis, and invaluable tips at your fingertips.
Simply click on the Serpstat icon and unlock an instant SEO audit showcasing domain visibility, traffic, keyword count, top regional competitors, and much more.
You'll experience three powerful sections right within the extension, which make it its top features:
1. On-page SEO Parameters
Page Source Analysis: Dive deep into the structure and code of your pages.
Google Cache Snapshot: Examine how search engines perceive your content.
PageSpeed Insights: Optimize your website's speed for a better user experience.
Site Start Date: Discover when a website was first launched.
Meta Tags Optimization: Craft captivating meta tags for better click-through rates.
HTML Tag Analysis: Uncover any issues or opportunities within your HTML tags.
Word and Symbol Count: Gain insights into the length and density of your content.
Favicon Checker: Ensure your website's branding stands out across browsers and devices.
2. Page Analysis
Top Keywords Ranking: Uncover the keywords propelling your competitors to the top.
URL Ranking Insights: Identify the exact pages that dominate search engine results.
Keyword Position and Volume: Track ranking positions and search volumes for targeted keywords.
Keyword CPC (Cost Per Click): Understand keywords' monetary value and competitiveness.
URL level competitors: Pinpoint websites competing for the same keyword space.
Keywords the site ranks for: Discover the broad keyword landscape in which a site is visible.
Missing Keywords: Identify valuable keywords your competitors rank for but you don't.
3. Domain Analysis
Domain Visibility: Assess the online visibility of a domain across search engines.
Domain Traffic Insights: Uncover the estimated traffic volume a domain receives.
Number of Keywords: Quantify the keywords a domain ranks for and their significance.
Improved and Declined Keywords: Track keyword performance changes over time.
New and Lost Keywords: Identify emerging trends and areas of improvement.
PPC (Pay-Per-Click) Keywords: Unveil the paid search strategies of your competitors.
Search Engine Results: Determine the number of search results across Google, Bing, and more.
Number of Images in Google Image Search: Examine the visual presence of a domain.

So, are you sold? Give Serpstat's Chrome Extension a try now.
Moz
Best for: Evaluating domain and page authority, quick comparisons, SERP analysis, and link-building analysis.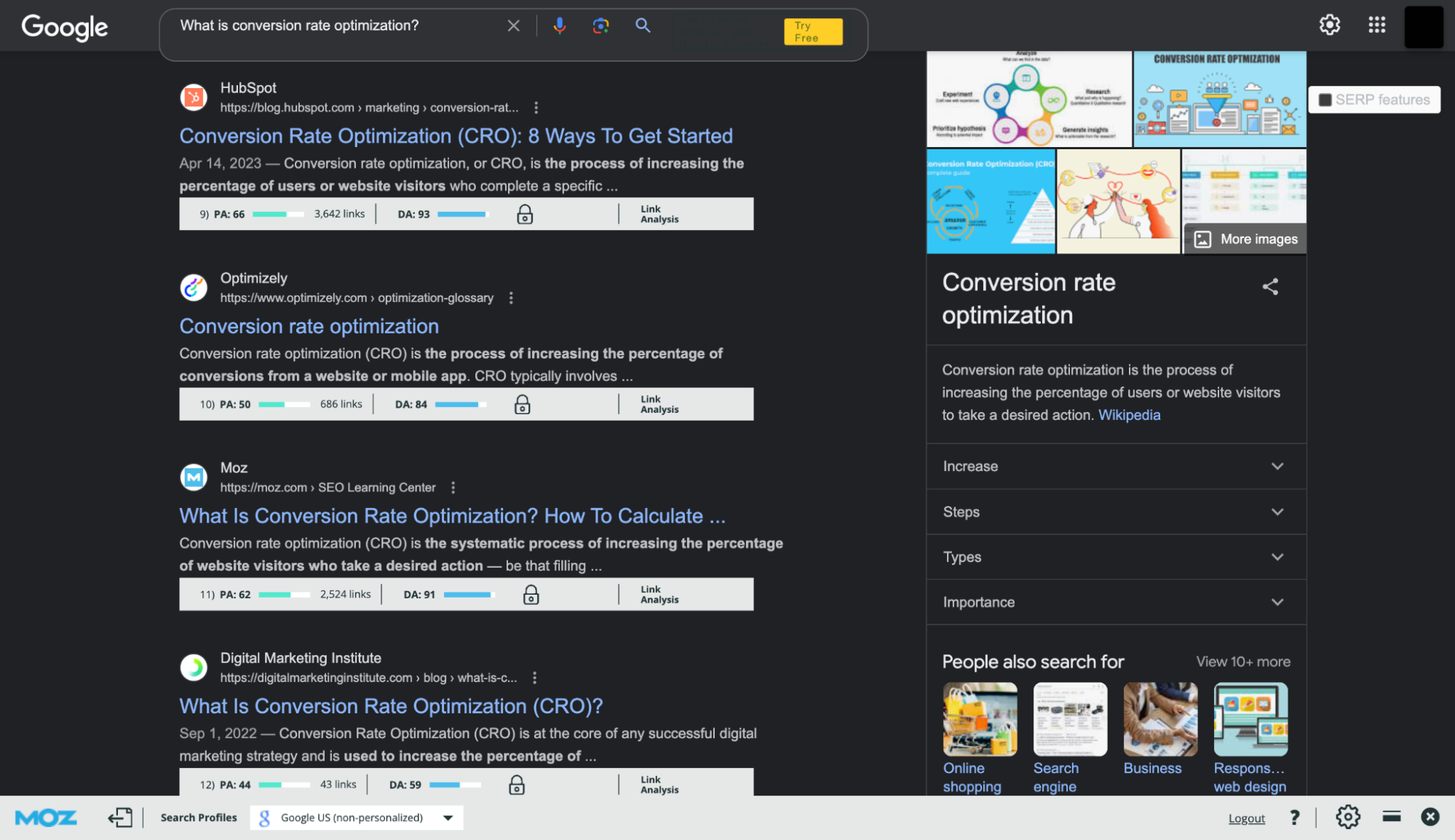 If you're familiar with the terms "Page Authority" and "Domain Authority", you've already encountered
Moz
's impact on the SEO industry.
But their MozBar Chrome Extension is about more than that. It provides instant metrics and invaluable insights while you browse any web page or search engine results page (SERP).

Whether you're an SEO professional, digital marketer, or website owner, MozBar equips you with the tools you need to make data-driven decisions and stay ahead of the competition.
Key features:
Instant Metrics, anywhere: You get immediate access to vital metrics without leaving your browsing window — real-time data on the fly.
Customized Search: It lets you tailor your searches based on your specific needs. Create custom searches by search engine, country, region, or city, ensuring you get the localized information you require.
Page and Domain Authority Analysis: You can assess the strength and credibility of any site or page with ease. As soon as you open a webpage, MozBar analyzes and scores the domain and the page out of 100, allowing you to gauge the impact of your SEO efforts or analyze your competitors' websites.
Comparative Link Metrics: While browsing SERPs, MozBar lets you compare link metrics across pages, giving you a comprehensive view of the linking landscape.
Keyword Highlighting and Link Differentiation: MozBar identifies and highlights keywords on a page, helping you identify their prominence and relevance. Additionally, you can differentiate links by type: Followed, No-Followed, External, or Internal, providing deeper insights into your backlink profile.
Page Analysis and Attributes: It exposes essential page elements, general attributes, markup, and HTTP status, giving you a comprehensive view of the page structure.
CSV Export: You can seamlessly export your search engine results page (SERP) analysis details to a CSV file.
And if you go premium with a Moz Pro Subscription, you get even better and more useful features on your MozBar extension.
Keyword Difficulty: You'll get real-time Keyword Difficulty scores for any search term on any SERP. Evaluate the competitiveness of keywords and adjust your strategy accordingly.
Page Optimization: You'll get instant page optimization details and content suggestions for any keyword on any page, helping you improve your on-page SEO.
More Metrics: It lets you dive deeper into page and SERP analysis data. You can root domain and subdomain links, gain unlimited Open Site Explorer reports, and uncover additional valuable insights.

Keyword research Chrome extensions
Want to sneak peek into a website's keywords or even search volume around some keywords without dealing with CSV files and spreadsheets? These Chrome extensions are for you.
Keyword Surfer by SurferSEO
Best for: Easy keyword volume data, search intent analysis, and discovering content gaps.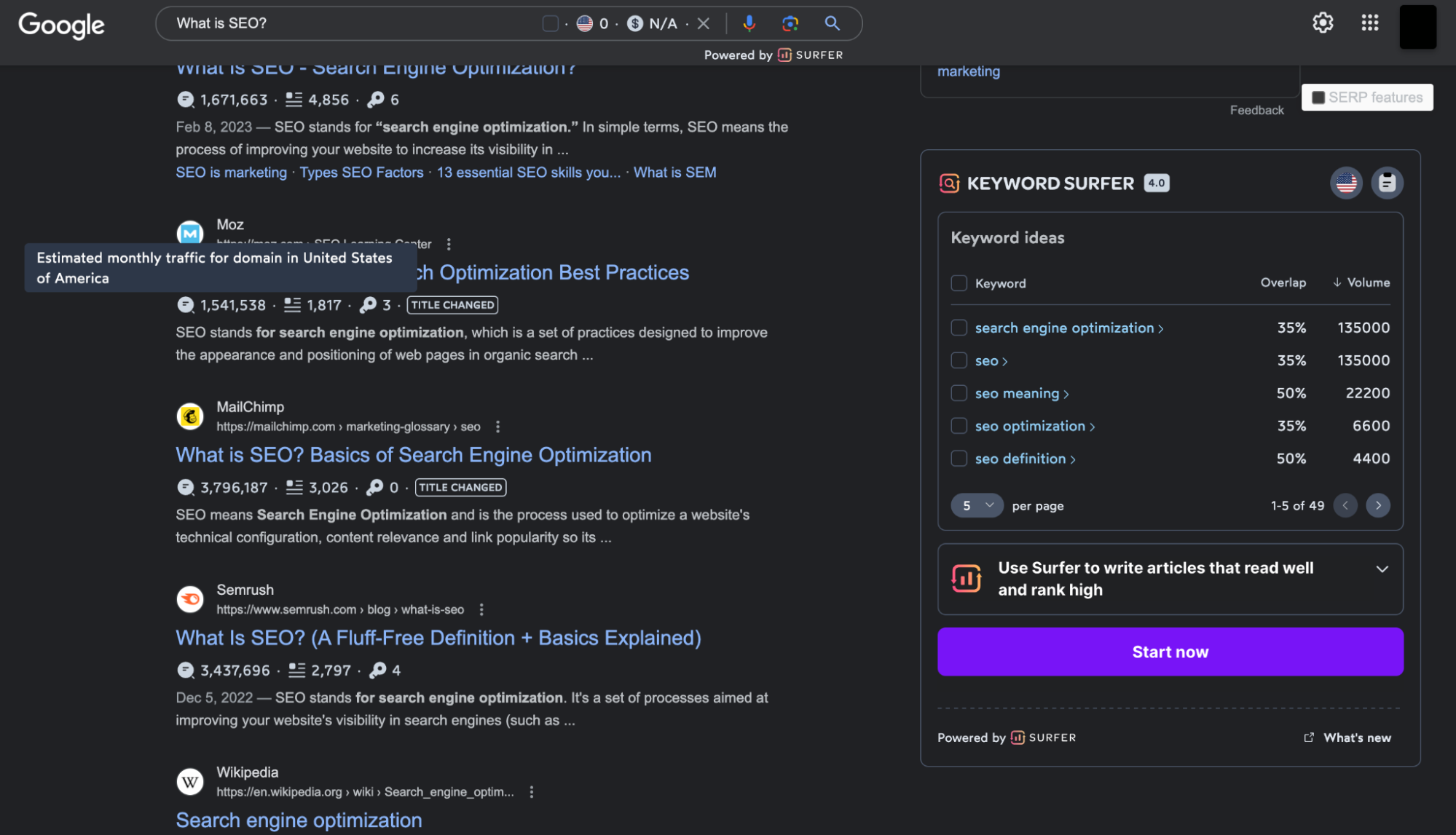 No two ranking blog posts are the same. There are reasons every single blog post on the first page of Google is ranking. And most of it has to do with keyword optimization, which is where Keyword Surfer really excels.
SurferSEO
's Chrome extension is the easiest and most convenient way to access keyword volume data right from the Google Search Results page – and it's 100% free!
SurferSEO's unique offerings include:
Search Volume Data: With Keyword Surfer, you no longer need to rely on separate tools or websites to determine search volumes. You can access search volume data directly within Google search results, saving you time and effort.
Comprehensive Insights: You'll get a treasure trove of essential information, including search volumes, CPC (Cost Per Click), and relevant keyword suggestions, empowering you to make data-driven decisions in your content creation strategy.
Related Terms: Keyword Surfer presents you with a wealth of related keywords, enabling you to diversify your content and capture a wider audience.
Visibility Metrics: The extension provides visibility metrics that give you insights into each keyword's difficulty and opportunity level, helping you prioritize your efforts effectively.
On-Page Data: Identify the top-ranking pages for your target keywords, analyze their word count, and see how they are structured so that you can optimize your own content for maximum impact.
Keyword Collections: You can create keyword collections, conveniently saving important keywords for later reference. No more googling them separately each time. And when you need them, easily export your collections as .csv files for seamless integration into your workflow.

Website analysis Chrome extensions
Curious about where your competitors' traffic is coming from? Here are Chrome tools that'll help you find that information.
SimilarWeb
Best for: Website traffic insights, competitor analysis, audience demographics, and traffic stats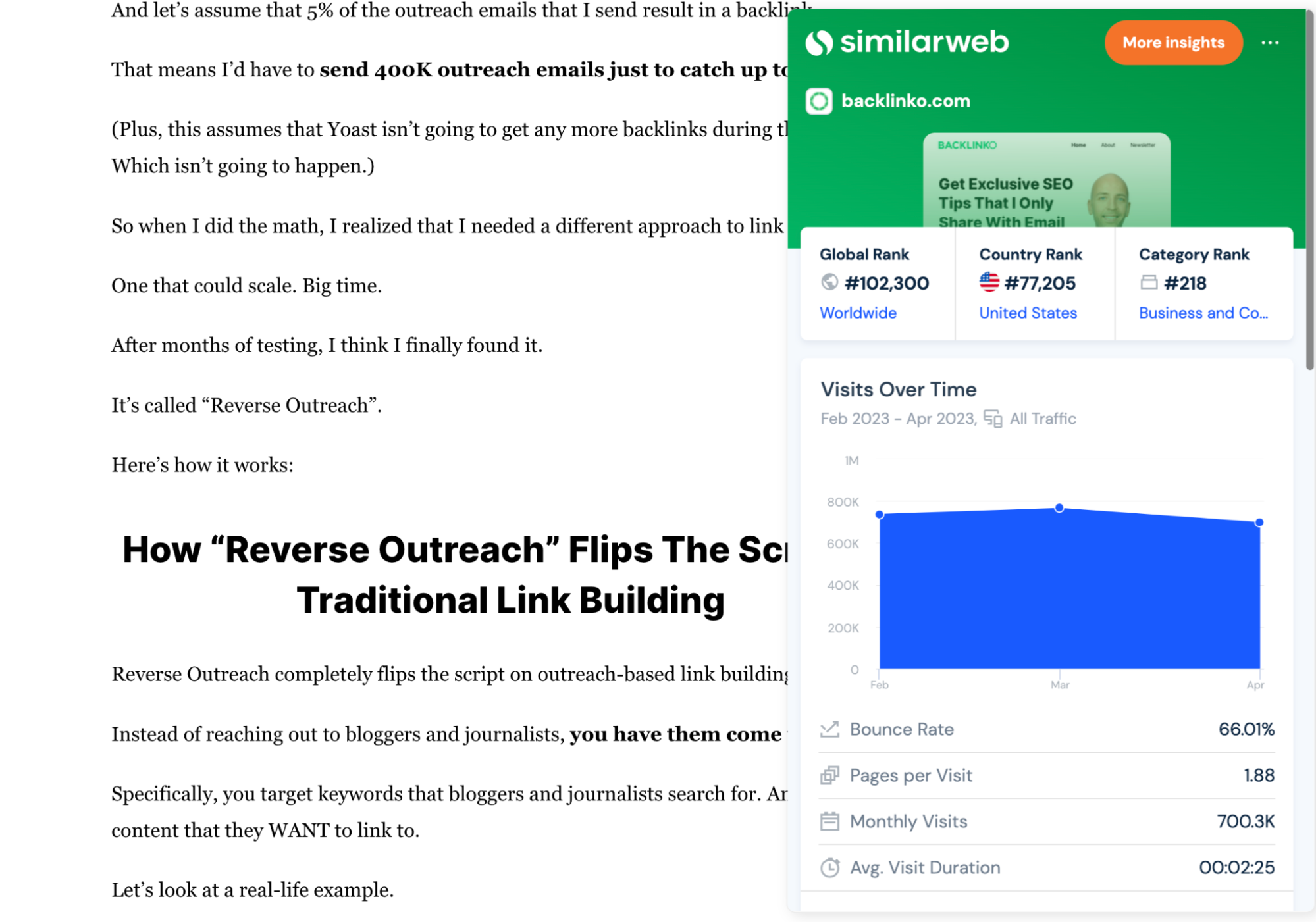 SimilarWeb
offers a free Chrome extension that gives content marketers and website managers insights into website traffic, audience demographics, and competitor performance. With the sunset of the Alexa toolbar, SimilarWeb is a go-to source for traffic data.
Key features of SimilarWeb:
Website traffic insights: Get comprehensive insight into the origins of traffic, including direct visits, search queries, email campaigns, social media referrals, and display advertisements — all with a single click.
Visits Over-time: Uncover the growth trajectory of a website by tracking its visitation patterns over time. Access crucial data, including the number of visits, bounce rate, pages per session, monthly website visits, and average user duration.
Audience demographics: Understand audience interests and preferences.
Traffic breakdown by country: See the top countries driving visits to any website or app. See detailed breakdowns of website traffic rankings and uncover the sources of global engagement. Tailor content strategy for specific regions.

Woorank (SEO Analysis & Website Review)
Best for: Website audits, performance tracking, and customized SEO recommendations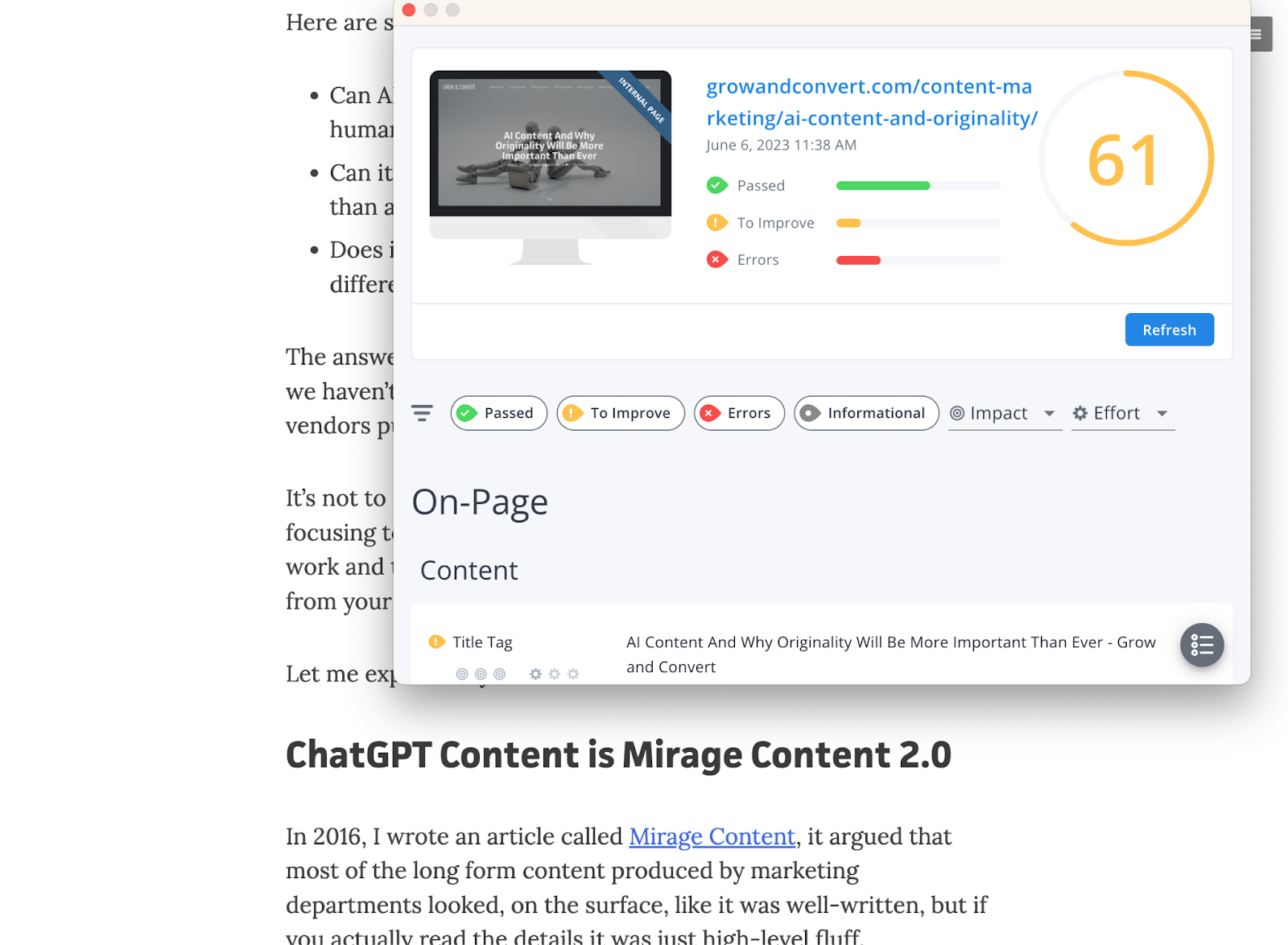 Woorank
's Chrome extension (SEO Analysis & Website Review by Woorank) offers content marketers and website managers in-depth website audits, performance tracking, and customized SEO recommendations.
It helps you identify areas for improvement, ensuring your website's SEO is top-notch and drives organic traffic. Get ready to revolutionize your SEO strategy and enhance your website's performance with ease.

The top features of Woorank include:
Website audits: Evaluate your website's SEO, usability, and performance to identify weaknesses and opportunities for growth. The extension analyzes the website you're browsing, providing a complete picture of its SEO status and performance.
Performance tracking: Monitor your site's progress over time, measuring the impact of your SEO efforts.
Competitor analysis: It gives you a competitive edge by reviewing your competitors' websites. You can explore their backlinks, understand their choices, and learn from their strategies.
Customized recommendations: Receive tailored suggestions to improve your site's SEO and user experience. You'll get a clear, actionable report highlighting issues affecting your website's accessibility, readability, usability, and findability.

With Woorank, you'll have the insights to optimize your website's SEO, enhance user experience, and boost organic visibility.
Mangools
Best for: Keyword research, backlink analysis, and rank tracking.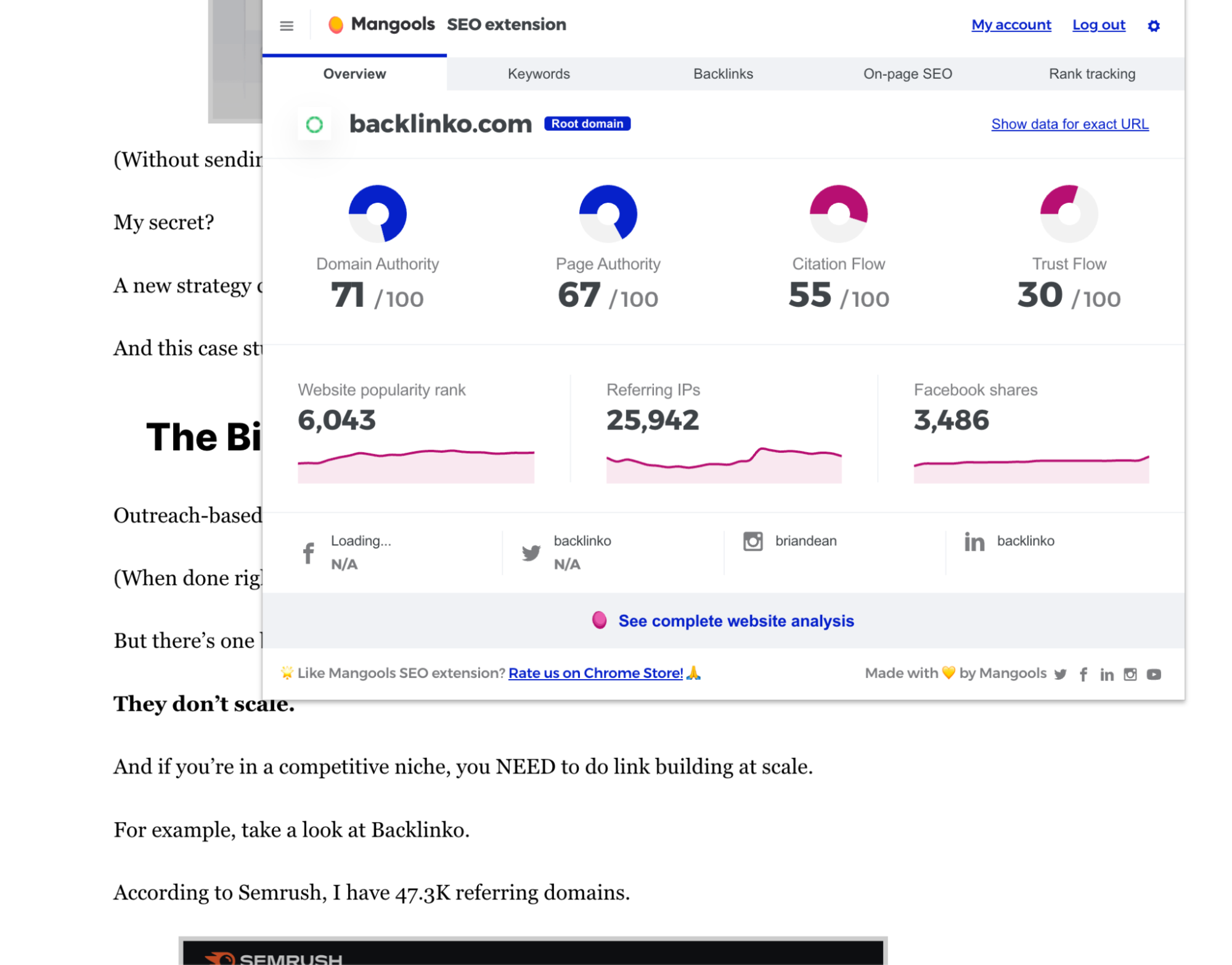 Mangools
' Chrome extension comprises a user-friendly SEO tool suite that makes it easy for content marketers and website managers to conduct keyword research, backlink analysis, rank tracking, and more.
All you need to do is get on the target website or webpage, hit the Mangools Chrome extension button, and watch it do its magic.
Here are some of the key features that make Mangools SEO Extension stand out:
Domain Authority and Popularity Check: It offers you an overview of any website with the most popular SEO metrics by Moz and Majestic. You'll discover metrics like Domain Authority, Page Authority, Citation Flow, Trust Flow, Alexa Rank, Referring IPs, Facebook Shares, and Followers on social profiles.
Competitor's Keyword Analysis: It lets you see your competitors' rankings without visiting any keyword tool. It'll show you the list of keywords with positions in search results, the exact search volume for each keyword, and estimated visits to the currently visited website.
Backlink Checker Tool: Get the list of your competitor's backlinks directly in your browser. The "Backlinks" tab includes critical metrics like The Link Strength developed by Mangools, Source URL, HREF, Anchor text, and DoFollow/NoFollow tags. And you can click on the "Expand" button to proceed to LinkMiner for further backlink analysis.
On-page SEO analysis: With this feature, you can preview the Google SERP snippet, check Meta tags, Headings, and Structured data, and analyze keyword usage, outbound links, page speed, and social previews.
Keyword Density Checker: Identify long-tail keywords used on the website, their density, and where they are used.
Broken Link Checker: You can also view any errors on your own website by viewing the Placement, Status, Anchor text, and Dofollow/Nofollow attributes.
Context Menu Integrations: Quickly access all the popular features of the Mangools SEO tools package at any time with quick context menu integrations.
Google SERP on steroids: After installing the extension, you'll get advanced features directly in SERP to boost the SEO analysis. It provides SERP positions and shortcuts to Mangools SEO tools for further analysis.

Technical SEO and Backlink Analysis Chrome extensions
Backlinks are one of the main ranking factors search engines look at before pushing your pages to the first page of the search. Here are tools that'll help you know how many backlinks your competitors have and where they're coming from.
Majestic Backlink Analyzer
Best for: Backlink analysis, content trustworthiness, and link influence.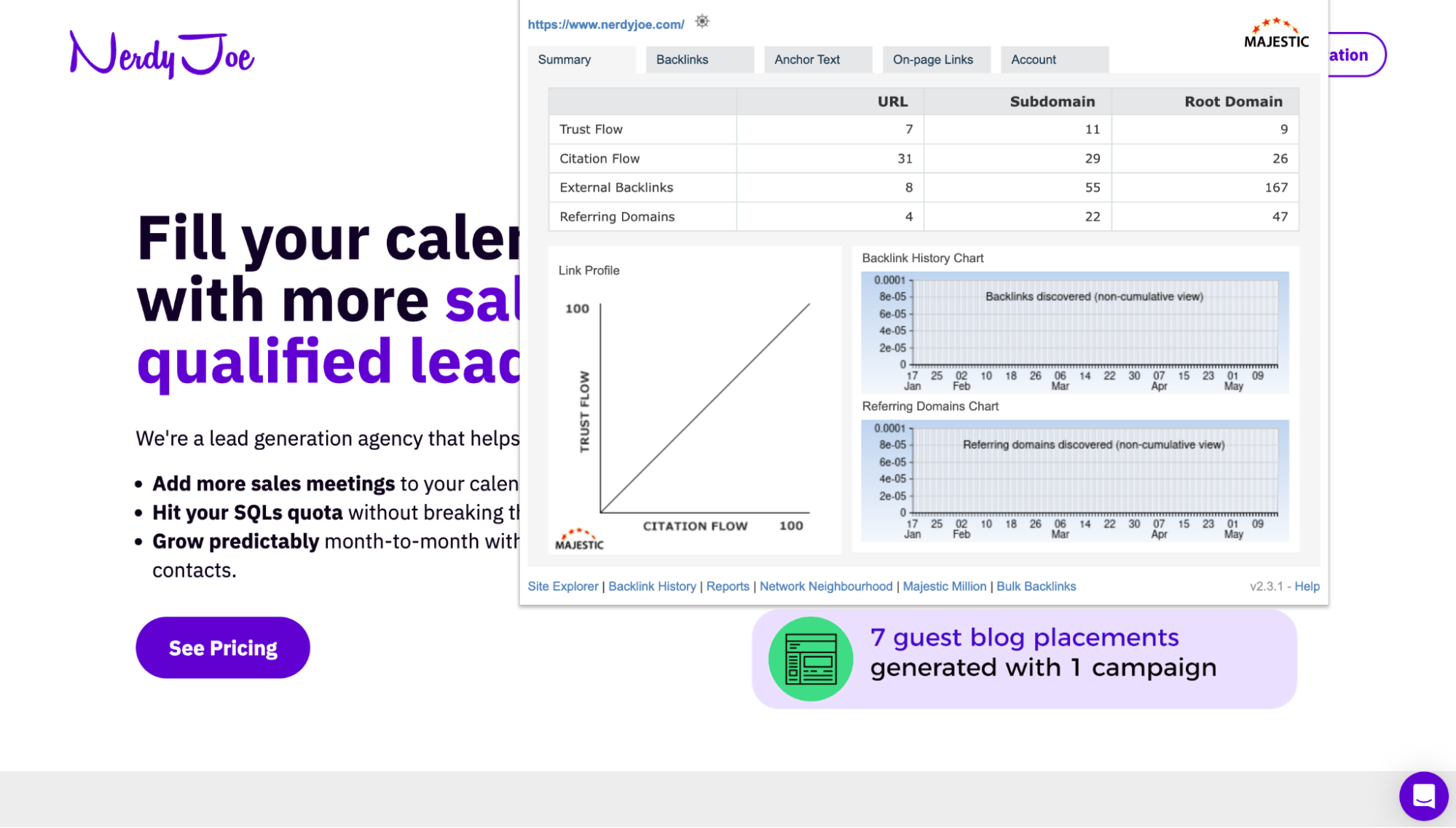 Majestic
offers a user-friendly Chrome extension that provides a comprehensive backlink profile overview, making it an essential tool for content marketers and website managers.
This tool offers a deep dive into your site's link profile, helping you understand its strengths and weaknesses to improve your search performance.

Key features of Majestic include:
Detailed Backlink Analysis and Insights: See the strength of any page based on its backlink data. You'll get insights into any web page's Trust Flow, Citation Flow, and Visibility Flow, all displayed conveniently on your URL bar. Plus, there is summary information about the number of domains and URLs linking to that page.
Topical Trust Flow Integration: The Majestic extension integrates Topical Trust Flow, providing invaluable insights into the content relevance of the linking sites. This lets you see the topic or category associated with each backlink effortlessly.
Link Profile Charts and Counts: Access free information, including link profile charts and link counts at various levels, such as URL, subdomains, and root. Additionally, enjoy two Flow Metrics, ranging from 0 to 100, for the pages you visit (do note speed limits apply).
Anchor Text Insights: Explore the strongest anchor texts in links to the URL you're analyzing. Uncover link counts and domain counts associated with each text, and grasp the links' relative Citation Flow and Trust Flow. The primary Topical Trust Flow is also included, enriching your analysis.
Add to Bucket for Later Analysis: When encountering an intriguing URL requiring further investigation, simply click the "Add to Bucket" button from the extension icon. The URL will be securely stored in your Majestic account, and you can revisit it later for comprehensive backlink analysis.
SEO Minion
Best for: Quick on-page and technical SEO overviews, SERP analysis, and page improvement tips.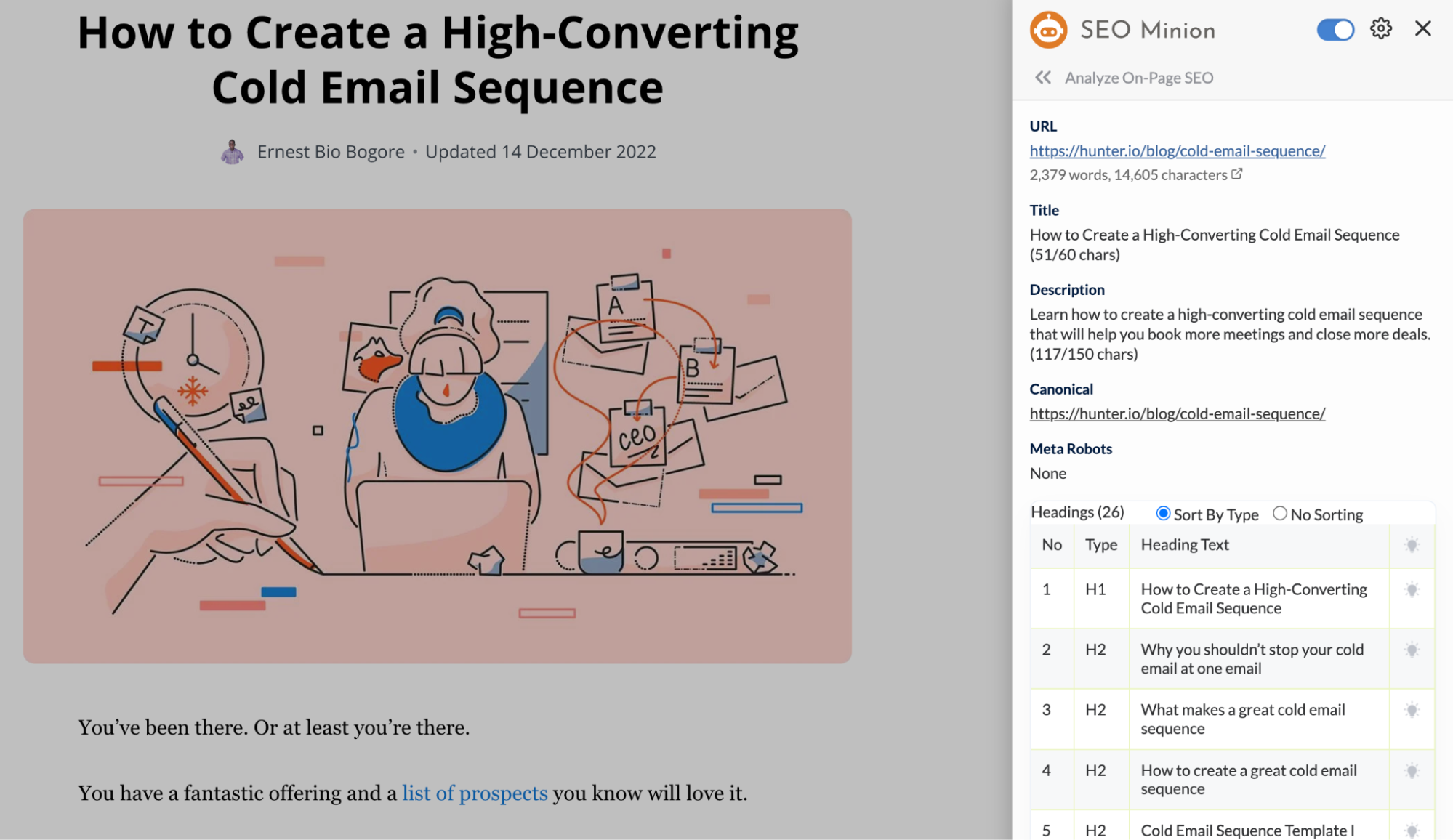 SEO Minion
is a versatile Chrome extension that provides a rapid overview of your on-page and technical SEO, analyzes SERPs, and offers actionable tips for improving your pages.
This all-in-one tool simplifies the optimization process, helping you achieve higher search rankings and drive more organic traffic.
Notable features of SEO Minion include:
On-page SEO analysis: Evaluate your page's SEO elements, such as title tags, meta descriptions, and heading structure.
SERP preview: Visualize how your page will appear in Google search results, enabling you to optimize snippets for higher click-through rates.
Hreflang Checker: SEO Minion allows you to check the validity of hreflang tags on your website, as well as whether there are return tags present. This can help you ensure that your website is optimized for international audiences.
SERP Utilities: This lets you copy or download URLs and data from Google SERP listings for organic, advert, local, product, video, image, fresh, news, FAQ listings, and PAA data. This can help you save time when analyzing search results for keywords related to your website.
Broken link checking: Quickly identify and fix broken links to improve user experience and search engine crawls.
Link Highlighter: Effortlessly visualize and explore internal and external links on any webpage. Identify link structures and patterns, ensuring an optimized linking strategy that enhances your website's authority and user experience.

With SEO Minion, you can efficiently optimize your website's on-page SEO elements for better rankings and increased organic visibility.
Content creation and link-building SEO Chrome extensions
Want to run a backlink outreach campaign? The following tools will help you nail your targeting strategy while ensuring your outreach emails are grammatically correct.
Grammarly
Best for: Grammar and spelling checks, readability improvements, and tone suggestions.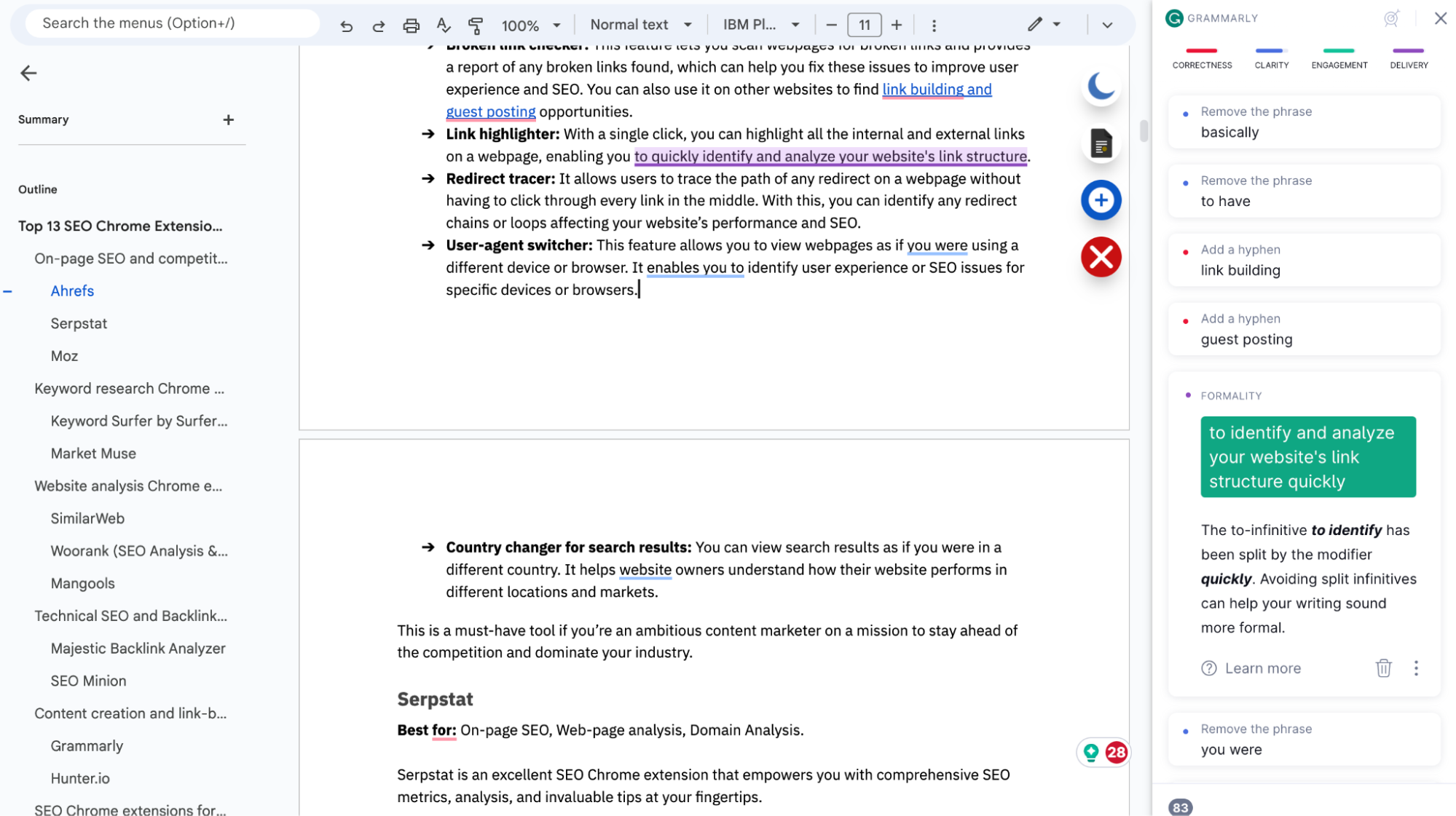 Grammarly
is a must-have Chrome extension for content marketers and website managers looking to polish their writing.
This AI-powered tool effortlessly corrects grammar and spelling mistakes, enhances readability, and provides tone suggestions for clear, engaging content.

Key benefits of Grammarly include:
Grammar Checker: Eliminate grammar errors and improve the clarity of your writing.
Spelling Checker: Catch and correct spelling mistakes effortlessly.
Punctuation Checker: Ensure your punctuation is spot-on for polished writing.
Tone Detector: Maintain the right tone and style throughout your content.
Auto-Citations: Easily generate citations to enhance the credibility of your work.

Those were only for the freemium version of the tool. When you swipe in your credit card, Grammarly takes your experience to the next level.

Clarity-Focused Sentence Rewrites: Enhance the flow and readability of your sentences.
Tone Adjustments: Fine-tune the tone of your writing to match your intended audience.
Vocabulary Improvements: Enhance word choice and formality to elevate your writing.
Fluency Suggestions: Seamlessly improve sentence structure and coherence.
Generative AI Features: Leverage the power of advanced AI to enhance your writing skills.
Additional Advanced Suggestions: Receive personalized recommendations to take your writing to the next level.

Grammarly takes your content to the next level, making it more professional and compelling to your audience.
Hunter.io
Best for: Finding email addresses, verifying email deliverability, and streamlining outreach.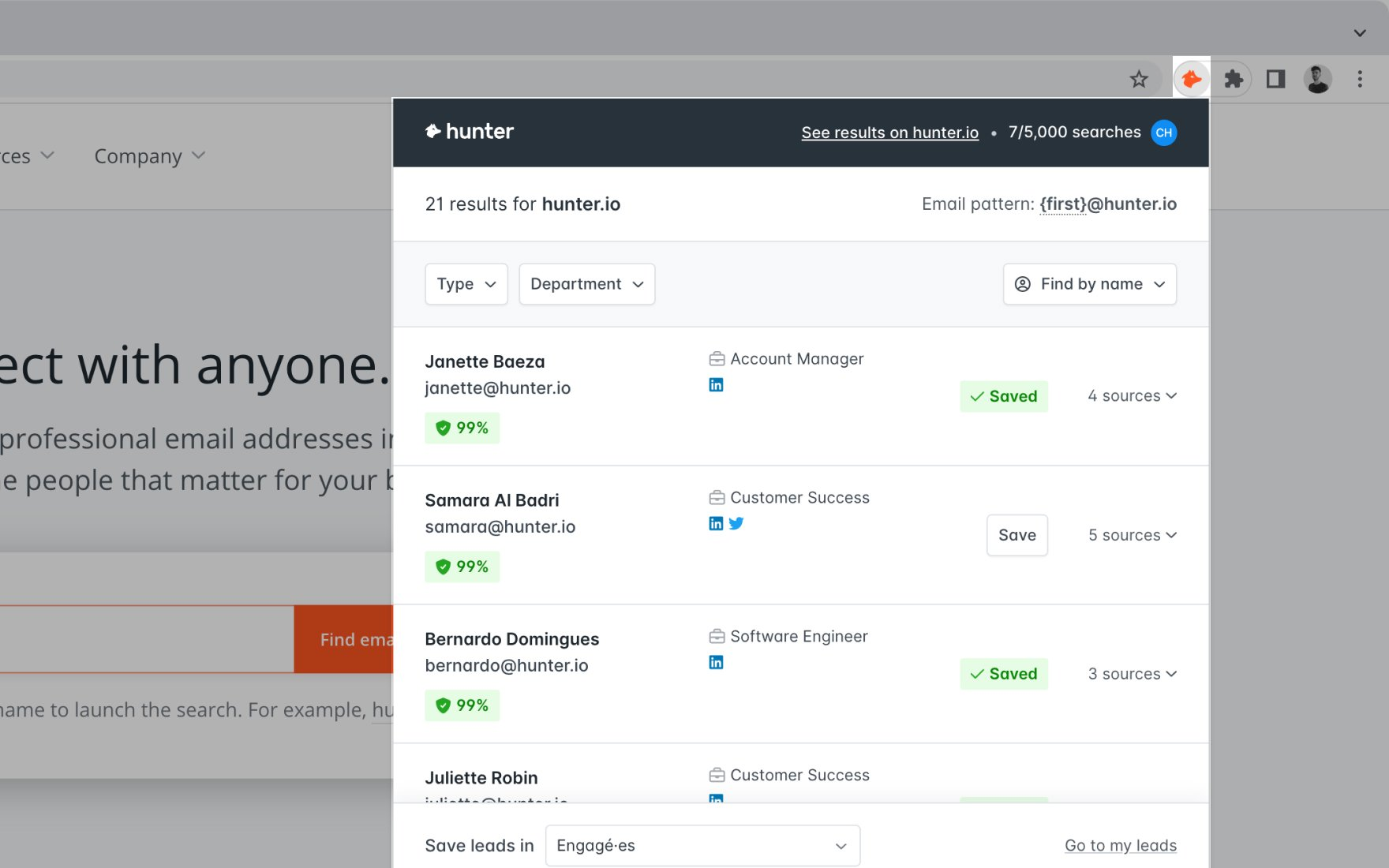 Hunter.io is an essential Chrome extension for content marketers and website managers involved in link-building and outreach efforts.

This powerful tool simplifies the process of finding and verifying email addresses, making it easier than ever to connect with influencers, website owners, and potential collaborators.

Hunter.io's standout features include the following:

Discovering email addresses: Quickly find the email addresses associated with a specific domain, streamlining your outreach process and saving you valuable time.
Verifying email deliverability: Ensure that your outreach emails reach their intended recipients by verifying the deliverability of email addresses before hitting send.
Streamlining outreach campaigns: Use Hunter.io to create and manage email templates, track your outreach performance, and follow up with prospects effectively.

By simplifying the email discovery and verification process, Hunter.io enables content marketers and website managers to focus on building meaningful connections and fostering valuable partnerships. Give Hunter.io a try and elevate your outreach efforts today.
SEO Chrome extensions for social media
Want to run a PR campaign or a viral campaign? Here's the Chrome extension you need.
BuzzSumo
Best for: Quick assessment of page popularity on social media and content creation insights.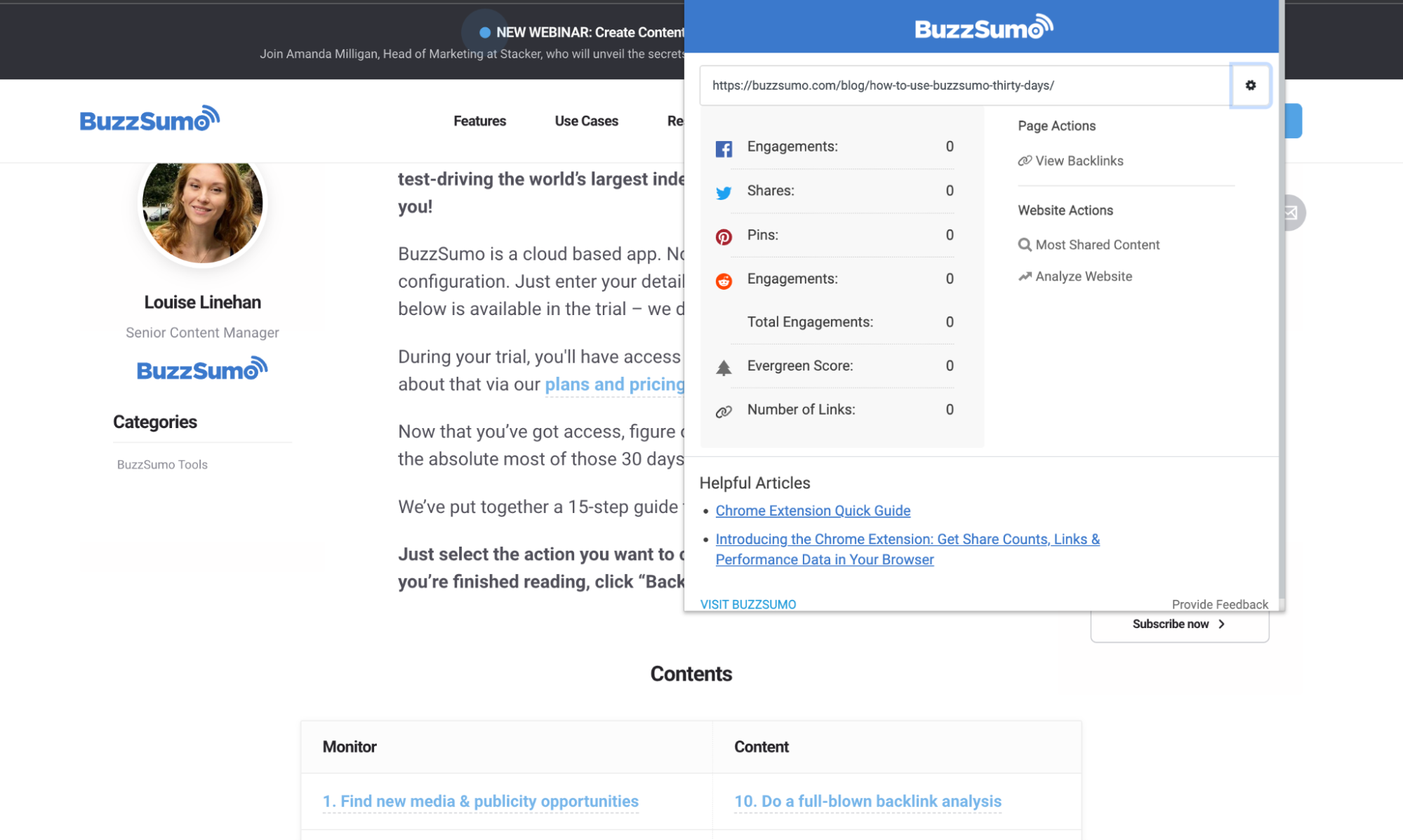 BuzzSumo
's Chrome extension offers a fast and efficient way to gauge a page's popularity on social media. It is an invaluable tool for content marketers and website managers looking to understand what types of content perform well on social media platforms.
It's perfect for identifying trending topics, analyzing your competitors' content strategies, and discovering the most-shared content in your niche.

Key features of BuzzSumo include:
Competitor analysis: Understand which of your competitors' pages are popular on social media and identify opportunities for improvement.
Shareable content identification: Discover content likely to be shared widely on social media, increasing the chances of your content going viral.
Trendspotting: Identify emerging content trends and topics gaining traction on social media.
Social engagement data at your fingertips: Gain instant access to social engagement data for the page you're currently viewing, as well as any other website you're interested in.
Twitter sharers unavailable elsewhere: The extension reveals Twitter sharers, even those no longer available officially. You can see who's been sharing the page on Twitter and tap into their influence.
Track backlink count: Get valuable insights by viewing the backlink count for any URL. Identify websites linking to the page.
Discover the most shared content: Stay ahead of the curve by exploring the most shared content for the current website. Understand what resonates with the audience and gain inspiration for your content creation.
Analyze top-performing content formats: You can assess the top-performing content formats to determine what drives the most engagement.
Effortlessly share content: The BuzzSumo extension allows you to easily share captivating content via Facebook, Twitter, and Pinterest.

In just a few clicks, BuzzSumo helps you stay ahead of the curve with data-driven content strategies that resonate with your audience and improve your online presence.
Wrap-up
There you have it. Admittedly, with the right combination of SEO Chrome extensions, you can optimize your website for search engines, analyze your competitors' strategies, and track your performance over time.

The extensions discussed in this article are some of the best options to help you enhance your browser experience and streamline your SEO tasks. You'll also be able to stay ahead of the competition and achieve greater success in your SEO efforts.