6 Best GMass Alternatives for Cold Email Outreach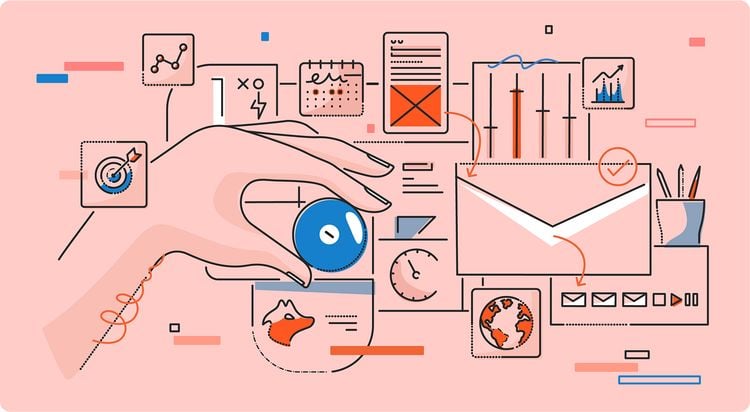 One of the simplest cold outreach tools, GMass is decent for sending mass email directly from Gmail. But since it's a mail merge Chrome extension rather than a full-fledged cold email tool, it has limited outbound capabilities.
So which platform should you consider instead?
To help you choose a better option, we compiled the top outbound tools. We'll compare the best GMass alternatives in terms of features, integrations, and pricing so you can find the ideal email outreach software for your team.
Why GMass Isn't the Best Cold Email Tool
If you only need a basic tool for bulk email, GMass might be worth considering. Since it plugs right into Gmail, Google Workspace, and Google Sheets, it can help with prospecting and lead nurturing while keeping your tech stack simple.
But before you spend too much time setting up GMass, make sure you know what you're getting into. It's missing a lot of features that are key to successful outreach campaigns. Here are the main downsides of GMass:
No standalone app: As a Gmail-based tool, GMass doesn't have a separate app or a dedicated dashboard. And since you manage the tool right in Gmail, it can create inbox chaos—despite its automated email labeling system.
Limited email service provider support: If you already use Gmail or Google Workspace, then GMass will fit with your tech stack. But if you use Outlook or another provider, you won't be able to use GMass for mass email.
No inbox rotation: Because the tool integrates with Gmail, you can't add multiple email addresses to a GMass account. That means you can't rotate accounts as you send campaigns—which can lower total sending capacity.
Lack of templates: Most other cold email tools have either battle-tested templates or AI-powered email writers. GMass has neither. Instead, it advises users to create their own templates from previous campaigns.
No email warmup: Since Google's crackdown on Gmail warmup tools in early 2023, GMass no longer has a feature to gradually increase sending capacity. Many cold email providers suggest a third-party tool, but GMass doesn't.
No CRM integrations: GMass connects directly to Google Sheets and works with Zapier. But it doesn't have any direct CRM integrations. That makes it less than convenient to use with HubSpot, Salesforce, or Pipedrive.
Comparatively high price: GMass does have a free plan that lets you send up to 50 emails per day. But if you need to send more, note that GMass's paid plans are far from the cheapest—and they don't include added features.
Not as user-friendly as it seems: GMass is designed to be an easy-to-use Gmail tool. But anything beyond sending emails—like implementing Email Analyzer suggestions or setting up a custom tracking domain—requires a lot of technical knowledge.
Best GMass Alternatives for Email Outreach
Looking for a better tool to scale cold outreach campaigns? Let's compare six of the best options.
1. Hunter Campaigns vs. GMass
A simple yet powerful cold email platform, Hunter Campaigns makes each step of your outreach workflow easier. Whether you want to scale campaigns or you just need an easier way to send outreach, Hunter has an affordable (or free) plan.
With Hunter Campaigns, you can send personalized emails, including multi-touch sequences. If you need a hand in fine-tuning the messaging, Hunter's template database can help you say the right thing to grab prospects' attention.
Since Hunter has integrated email finder and verification tools, you can manage prospecting directly from the dashboard. Hunter also has a leads database and integrates with CRM tools like HubSpot, Salesforce, Pipedrive, and Zoho.
Hunter always lets you onboard your team at no added cost, offering unlimited seats even with the free plan. With paid plans, the platform also supports multiple email addresses. That means you can rotate email sends automatically and scale outreach faster.
Why Hunter Campaigns is better
Hunter works with Gmail and Outlook, giving you more email service provider options. While GMass requires full access to your Gmail or Google Workspace accounts, Hunter needs limited access in comparison.
Hunter has a dedicated dashboard where you can manage campaigns and built-in tools like Email Finder and Email Verifier.  When you onboard your team to your shared workspace, you can collaborate on campaigns and leads.
Where GMass has an edge
GMass has an SMTP option, but Hunter doesn't. This can be useful in some cases, although you can successfully send cold emails without using an SMTP service.
Hunter Campaigns pricing
Free plan supports 500 recipients per campaign, with unlimited campaigns. Paid plans start at $49 per month for unlimited seats, 3 email accounts, and 2,500 recipients per campaign.
2. Mailmeteor vs. GMass
As a mail merge tool, Mailmeteor shares a lot of similarities with GMass. Both link to Gmail, Google Workspace, and Google Sheets and send personalized outreach emails—including follow-ups.
In many ways, Mailmeteor is more advanced than GMass. It supports multiple email aliases, and its Autopilot feature maximizes deliverability automatically. It also has an AI subject line tool to help your emails stand out in the inbox.
But Mailmeteor is still missing a lot of features that you'd want from a dedicated email outreach platform. For example, it doesn't have A/B testing to improve your messaging. And unless you purchase the top-tier plan, it doesn't work with Zapier.
Why Mailmeteor is better
Compared to GMass, Mailmeteor has a dedicated app that's nicer and easier to use. It also has helpful features like built-in contact list management and campaign templates.
Mailmetor's paid plans also start out much cheaper than GMass. But because many Mailmeteor features are available on the mid- and top-tier plans only, it might not offer much savings after all.
Where GMass has an edge
Compared to GMass, Mailmeteor's free plan is pretty bare bones. For example, if you want to set up campaigns, or add attachments, you need a paid plan—likely the more full-featured mid-tier plan.
Like Hunter, Mailmeteor doesn't have an SMTP option either. That means with Mailmeteor, you can't exceed Gmail and Google Workspace's daily sending limits, which are 500 and 2,000 respectively.
Mailmeteor pricing
Free plan allows 50 email sends per day. Paid plans start at $9.99/user per month for 500 emails per day, with unlimited campaigns and contacts.
3. Yet Another Mail Merge vs. GMass
A mass email tool, Yet Another Mail Merge (YAMM) also has a lot of basic features in common with GMass. It creates mail merges and sends bulk email using Google Sheets and Gmail.
YAMM makes it relatively easy to add attachments, links, and rich formatting. The tool supports Gmail layouts, which you can use to create email templates featuring images.
With YAMM, you can track results in Google Sheets and segment contacts using filters, making your follow-ups more effective. But you'll have to create follow-up mail merges manually since YAMM doesn't support sequences.
Why YAMM is better
If you're looking for the simplest mail merge tool out there, YAMM is a contender. It has far fewer features than GMass, making it one of the most easy-to-use options on this list.
It's also the least expensive tool on this list by far. YAMM's annual pricing is lower than most other platform's monthly pricing, making it a decent option for bootstrapped teams with simple needs.
Where GMass has an edge
It's important to note that YAMM isn't really a cold email tool. Like its name suggests, it's mainly a mail merge tool that doesn't support automated sequences or follow-ups and lacks any CRM integrations.
YAMM doesn't have the SMTP option that GMass offers either. That makes YAMM less ideal as a cold outreach tool, especially if you want to exceed Gmail and Google Workspace's sending limits.
YAMM pricing
Free plan allows 50 email sends per day. Paid plans start at $25 per year for 400 email sends per day from a @gmail.com account.
4. Mixmax vs. GMass
As a sales engagement platform, Mixmax is much more advanced than any mail merge tools on this list. Mixmax supports multi-channel sequences with emails, LinkedIn messages, cold calls, and manual touches.
The platform's emails can include interactive elements like polls and calendars, making it ideal for booking sales calls and demos. Since Mixmax integrates with Salesforce, it's easy to automate CRM updates and team handoffs.
While GMass technically supports teams, Mixmax makes collaboration much easier. With this platform, you can create shared workspaces and even chat about email threads directly in Gmail.
However, Mixmax does have some downsides. It only works from Gmail and Google Workspace, which means you can't link Outlook accounts. And if you need to add multiple inboxes, it gets expensive quickly.
Why Mixmax is better
GMass is just a cold email tool, but Mixmax offers much more. It's a complete sales engagement platform that can power your outreach sequences across channels.
Yet Mixmax is considered one of the simplest and most easy-to-use sales engagement platforms. So it could be a solid choice if you need an outreach tool that's more powerful than GMass.
Where GMass has an edge
Mixmax is much more complex, with its multi-channel campaigns and CRM integrations. As a result, it has a much steeper learning curve and may take extra time to implement.
Compared to GMass, Mixmax also has a higher price tag. In fact, many of Mixmax's integrations—including Salesforce and LinkedIn Sales Navigator—only work with mid- and top-tier plans.
Mixmax pricing
Free plan includes one-off email outreach with non-removable Mixmax branding. Paid plans start at $34/user per month for outreach sequences and mail merge capabilities.
5. Saleshandy vs. GMass
An advanced cold email tool, Saleshandy is a good alternative to GMass if you intend to scale your outreach campaigns. It works with all email service providers and allows unlimited email accounts, which is ideal for scaling.
To help you increase sending capacity without compromising your domain, Saleshandy plans include TrulyInbox, a third-party email warmup tool. The platform also has email account rotation to assist with scaling.
Saleshandy can even help you send more engaging emails. Its A/Z multivariate testing can test up to 26 versions of an email, while its spintax tool automatically adds variety to your messaging.
Saleshandy does have a Pipedrive integration. It also has an API and works with Zapier. But it doesn't have native integrations with CRMs like HubSpot or Salesforce.
Why Saleshandy is better
Saleshandy has plenty of cold email features that GMass lacks. Its email warmup and inbox rotation features make Saleshandy much more useful for scaling.
Its content guide feature is helpful for creating better sequences. It analyzes subject lines, personalization levels, and spam signals to help you send emails that are more likely to land in the inbox.
Where GMass has an edge
Compared to GMass, Saleshandy is both more complex and more expensive. But if you're planning to scale your outreach, it has some of the lowest pricing out there. All plans allow unlimited email accounts, and all but the lowest tier plan allow unlimited team members.
Saleshandy pricing
No free plan, but a 7-day free trial is available. Paid plans start at $36 per month for 6,000 email sends to 30,000 recipients from unlimited email accounts. Email verification is an optional add-on for $60 for 30,000 recipients.
6. Woodpecker vs. GMass
Woodpecker is a cold email platform that automates multi-touch sequences. Its automations allow conditional logic, so you can use prospects' behaviors to determine what happens next in the sequence.
To improve deliverability and increase engagement, Woodpecker has several advanced features. The platform offers email validation, real-time verification (provided by Bouncer), a spam checker, and email warmup for Office 365/MS Exchange accounts.
Woodpecker's A/B testing can help you create better outreach over time. And its analytics offer insight into campaign performance—so you can do more of what's working.
Like Saleshandy, it works with any email service provider, including Gmail. But Woodpecker also has integrations with CRMs like HubSpot, Salesforce, Pipedrive as well as Google Sheets.
Why Woodpecker is better
If you want to send behavior-based campaigns or connect with prospects in more places, Woodpecker is a solid choice. Top-tier plans include LinkedIn automation, which can turn your email campaigns into multi-channel outreach.
Where GMass has an edge
If you don't need an advanced tool, GMass is a much cheaper option. At about a third of the cost, it would make scaling much more affordable. But if you're serious about scaling outreach, a plan that includes multiple seats or email addresses is a better choice overall.
Woodpecker pricing
No free plan, but a 7-day free trial is available. Paid plans start at $54/email slot per month for 1,500 prospects.
Send Better Email Outreach Without GMass
If a mass email tool like GMass isn't advanced enough to meet your outbound needs, you have much better options. With Hunter Campaigns, you can find prospects, verify contact details, manage leads, and send sequences from a dedicated cold outreach platform.
Sign up for Hunter Campaigns and start sending outbound email campaigns for free. Onboard your team and collaborate in a shared workspace at no additional cost.