7 Lemlist Alternatives for Cold Email Outreach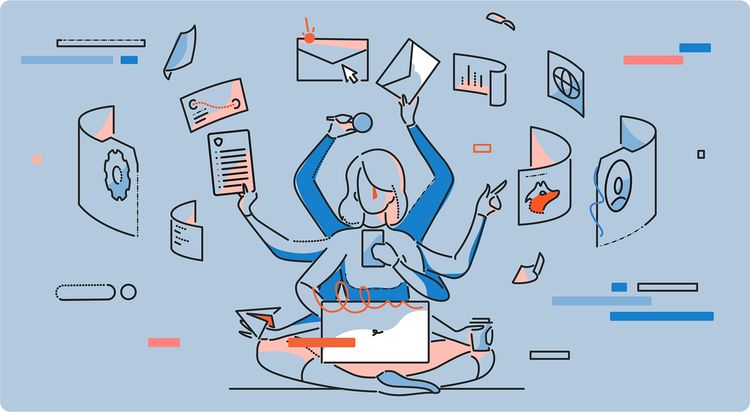 A popular cold email outreach tool, Lemlist is a decent option for some outbound teams. Yet, it's missing a lot of basic outreach capabilities—like email account rotation, a dedicated inbox, and affordable scaling.
Is there a better choice for your team? If you already checked Reddit for Lemlist alternatives and found nothing but thinly disguised marketing speak, you might be even more confused about your options.
So you can easily compare side-by-side, I rounded up the top cold email tools for outbound teams. I'll walk you through the best Lemlist alternatives to help you find the tool with the right features, pricing, and integrations.
7 Reasons to Consider Not Using Lemlist
If you're looking for a sales engagement platform that works across channels, Lemlist might be at the top of your list. Its multi-channel campaigns can include a dozen or more touches via email, LinkedIn, and cold calls.
But if you go with Lemlist, take note. Tasks like maintaining good deliverability rates and and onboarding your team will likely cost more or require more manual work than you expect.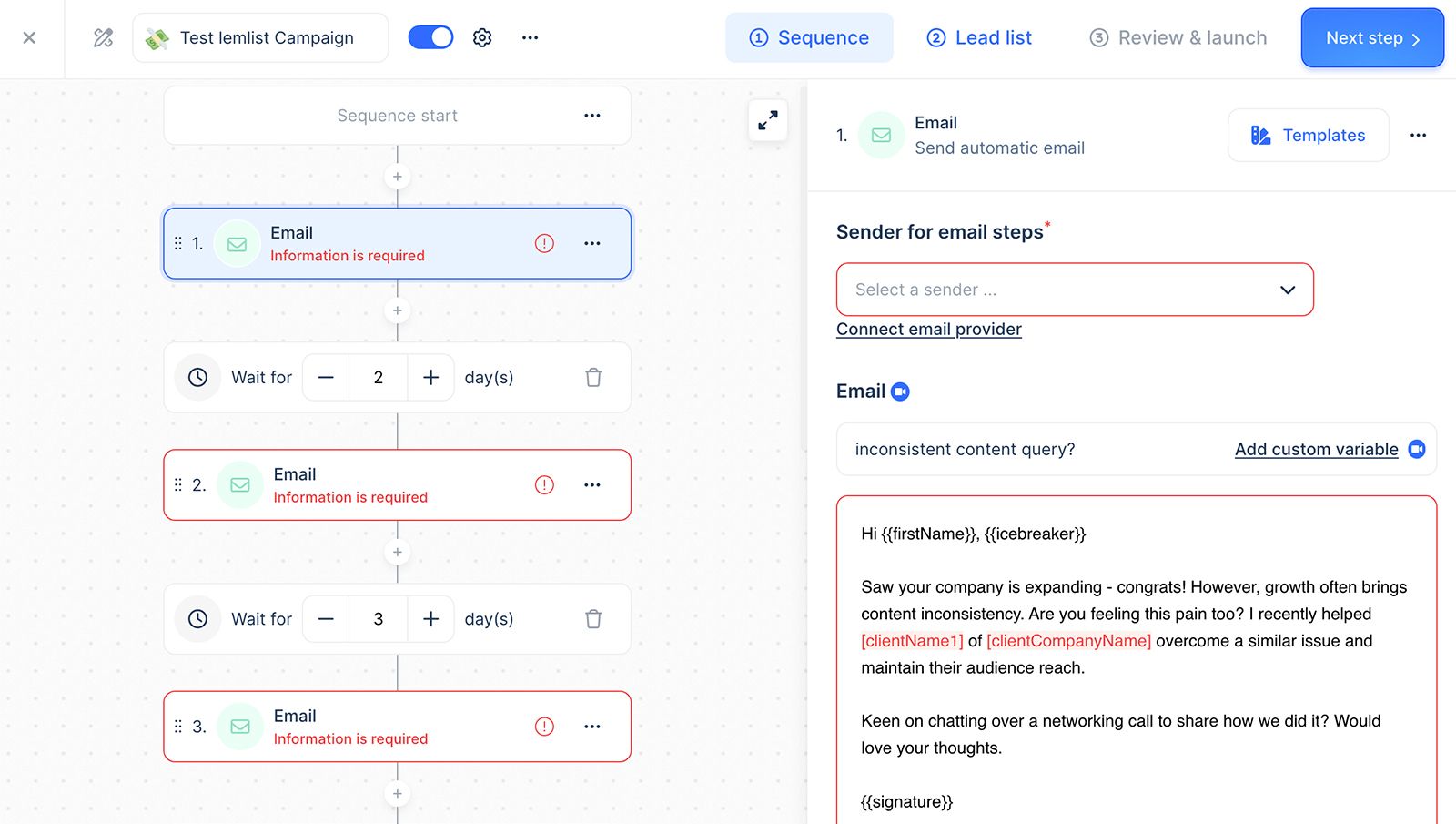 Here are a few of Lemlist's biggest shortcomings:
One email account per seat: Lemlist allows a single sender for each seat. If you want to send a campaign from multiple email accounts, you have to pay for multiple seats—which gets expensive quickly.
No automated account rotation: Sending outreach campaigns from a rotating list of accounts can help with deliverability. Since Lemlist doesn't have this option, it may end up throttling sends.
Limited CRM integrations: Lemlist has direct integrations with HubSpot, Salesforce, and Pipedrive. But if your team uses another CRM, you'll need to use Zapier or the Lemlist API instead.
Outdated email templates: Lemlist's templates look like the kind of outreach that goes right to my spam folder. The AI email writer has much higher quality output. But it takes tokens, which add up.
No dedicated inbox for replies: When prospects reply to your messages, Lemlist doesn't make it easy to respond to them efficiently. Replies go to Lemlist's task list, where they can easily get lost.
Pricing per user with expensive add-ons: If you need to onboard a team to scale outreach, Lemlist's per-user pricing adds up quickly. The platform requires tokens for AI and email sends, which get pricey quickly.
Steep learning curve: Lemlist is known as a comprehensive platform with a team that can ship new features at an impressive pace. However, because Lemlist supports so many channels with such advanced sequences, it can be challenging to learn. If you need a tool you can implement quickly, consider an alternative.
Best Lemlist Alternatives for Outreach Campaigns
Looking for a better tool to scale cold outreach campaigns? Let's compare seven of the best options.
1. Hunter Campaigns vs. Lemlist
A cold email tool with powerful outreach capabilities, Hunter Campaigns is a solid alternative to Lemlist if you want an easier-to-use option with more built-in features and more transparent pricing.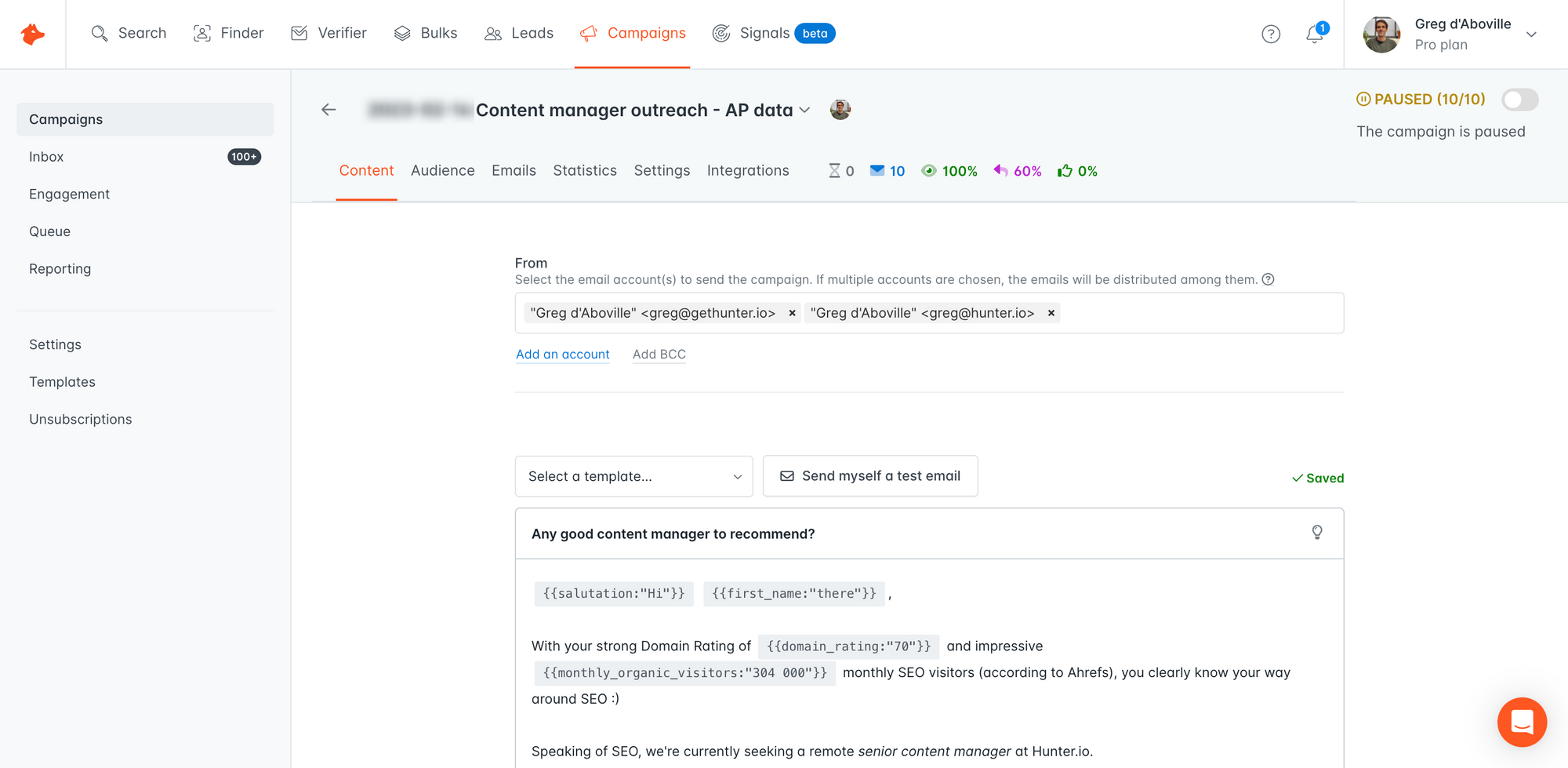 The platform's outreach templates can help you create high-performing multi-touch email sequences quickly. When you receive replies, you can monitor and respond from Hunter's dedicated inbox.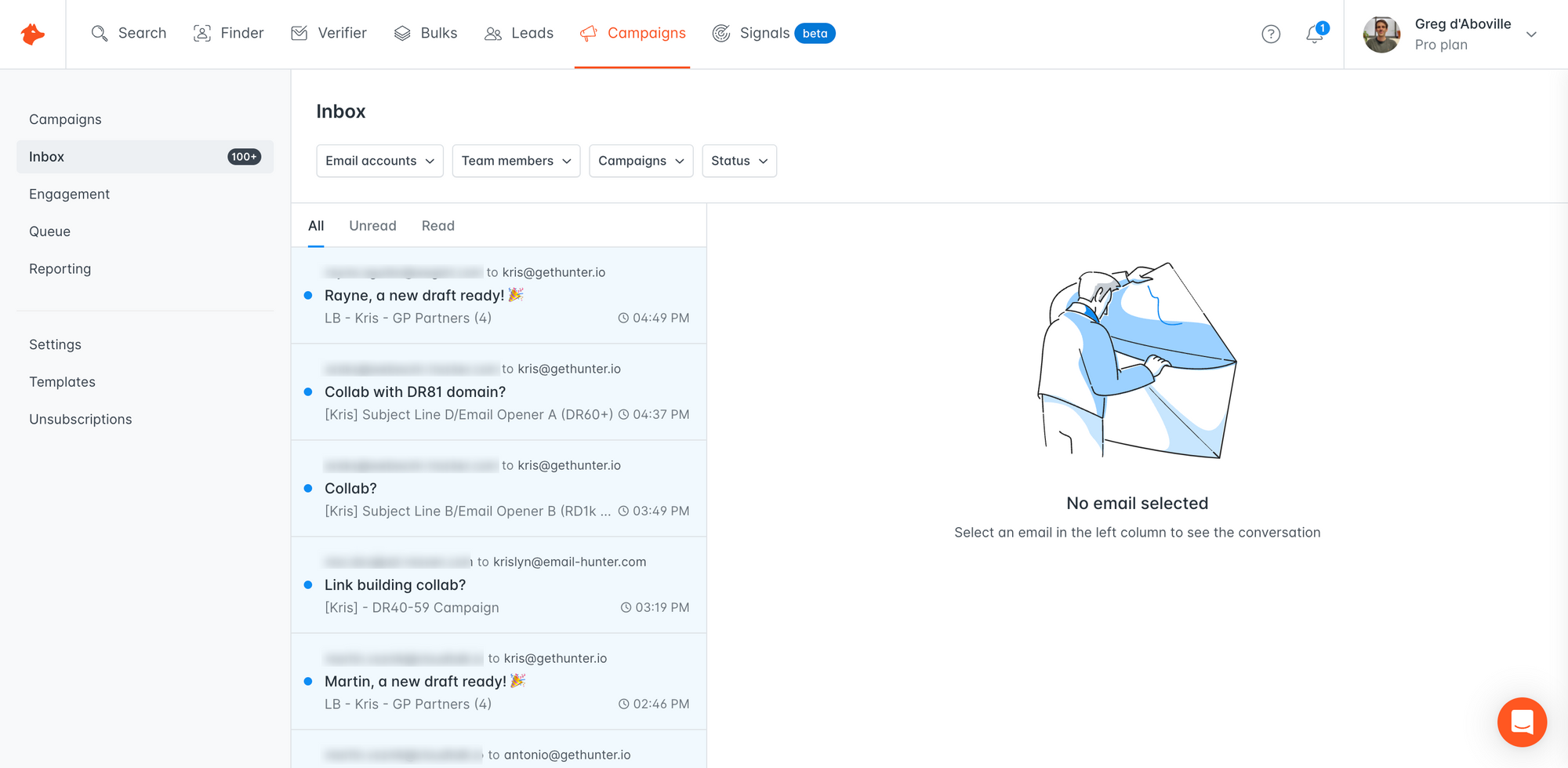 On top of its native API, Hunter works with popular CRMs and Zapier, so you can easily add the platform to your prospecting workflow.

If you need updated data or more prospects, Hunter can help with that, too. The Campaigns tool integrates with Hunter's Email Finder and Email Verifier. It finds, verifies, and enriches prospects' contact details, helping your outreach land in the inbox.
What Hunter Campaigns does better
Hunter Campaigns might look simpler, but it has more essential outreach tools than Lemlist. All Hunter plans include an integrated leads database, and paid plans support multiple inboxes with account rotation.
Hunter's pricing is also easier to navigate. Paid plans support unlimited seats, capping emails by campaign rather than by send—making Hunter much more affordable to scale.
Where Lemlist comes out ahead
Hunter Campaigns is designed for email outreach only. Unlike Lemlist, it doesn't support LinkedIn messages or cold calls.
Although its email campaigns allow over a dozen custom attributes, Hunter offers less advanced options to personalize outreach. Compared to Lemlist, its list of native integrations is also shorter.
Hunter Campaigns pricing: Free plan available. Paid plans start at $49 per month for unlimited seats, bigger campaigns, and more email verifications.
2. Woodpecker vs. Lemlist
If Lemlist's outreach isn't advanced enough for your needs, Woodpecker is a good alternative. To help you find what resonates with prospects, all Woodpecker plans include A/B testing with up to five variants. You can manage replies to your sequences from the platform's unified inbox.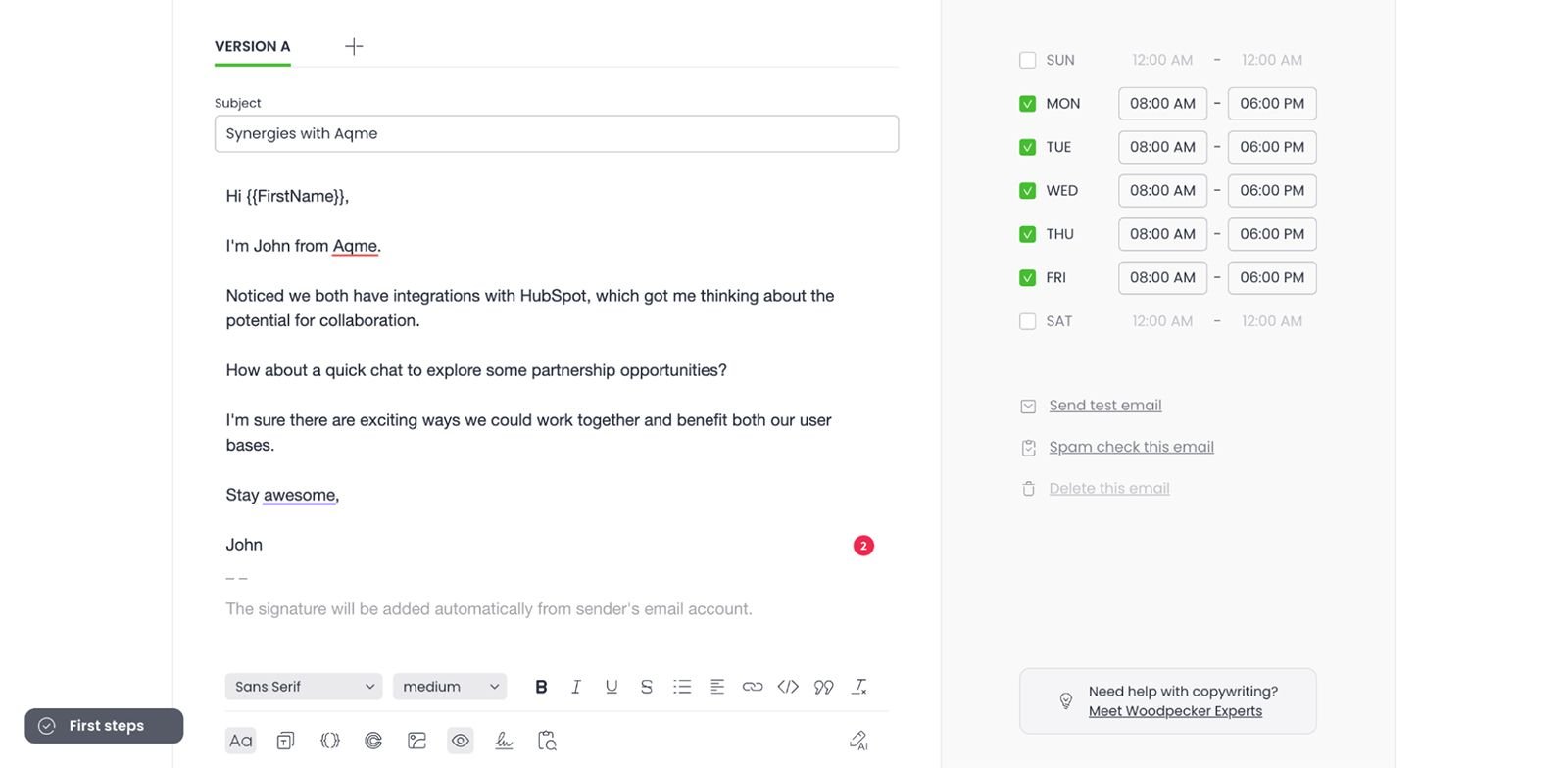 But Woodpecker is missing a few important tools. It doesn't have a lead finder—although it does integrate with Hunter.
And while Woodpecker does have a deliverability monitor to spot issues with bounced emails, it no longer offers automated warmup and recovery for Google accounts. You'll have to increase sending capacity for new accounts or fix your sender reputation manually.
Bootstrapped teams, take note. Like Lemlist, Woodpecker's pricing structure is based on user count. If you have a lot of outbound reps to onboard, it could get expensive quickly.
What Woodpecker does better
Compared to Lemlist, Woodpecker's analytics are much easier to interpret. For any campaign or email, you can see open rates, replies, and interest levels at a glance.
Woodpecker also has detailed prospect profiles. From the dashboard, you can easily check prospects' complete campaign history and manage their statuses.
Where Lemlist comes out ahead
Woodpecker does have email templates. But it's missing an AI-powered email writing tool, something that Lemlist does relatively well.
Woodpecker pricing: 7-day free trial but no free plan. Paid plans start at $54 per email slot per month to contact 1,500 prospects.
3. Mailshake vs. Lemlist
Designed for multi-channel outreach, Mailshake is a good option for building sequences with both cold email and cold calls. It works with any email provider and integrates with major CRMs, so it can connect to your workflow.
Mailshake has several tools to improve deliverability, including email warmup and advanced scheduling and throttling. All plans also include A/B testing.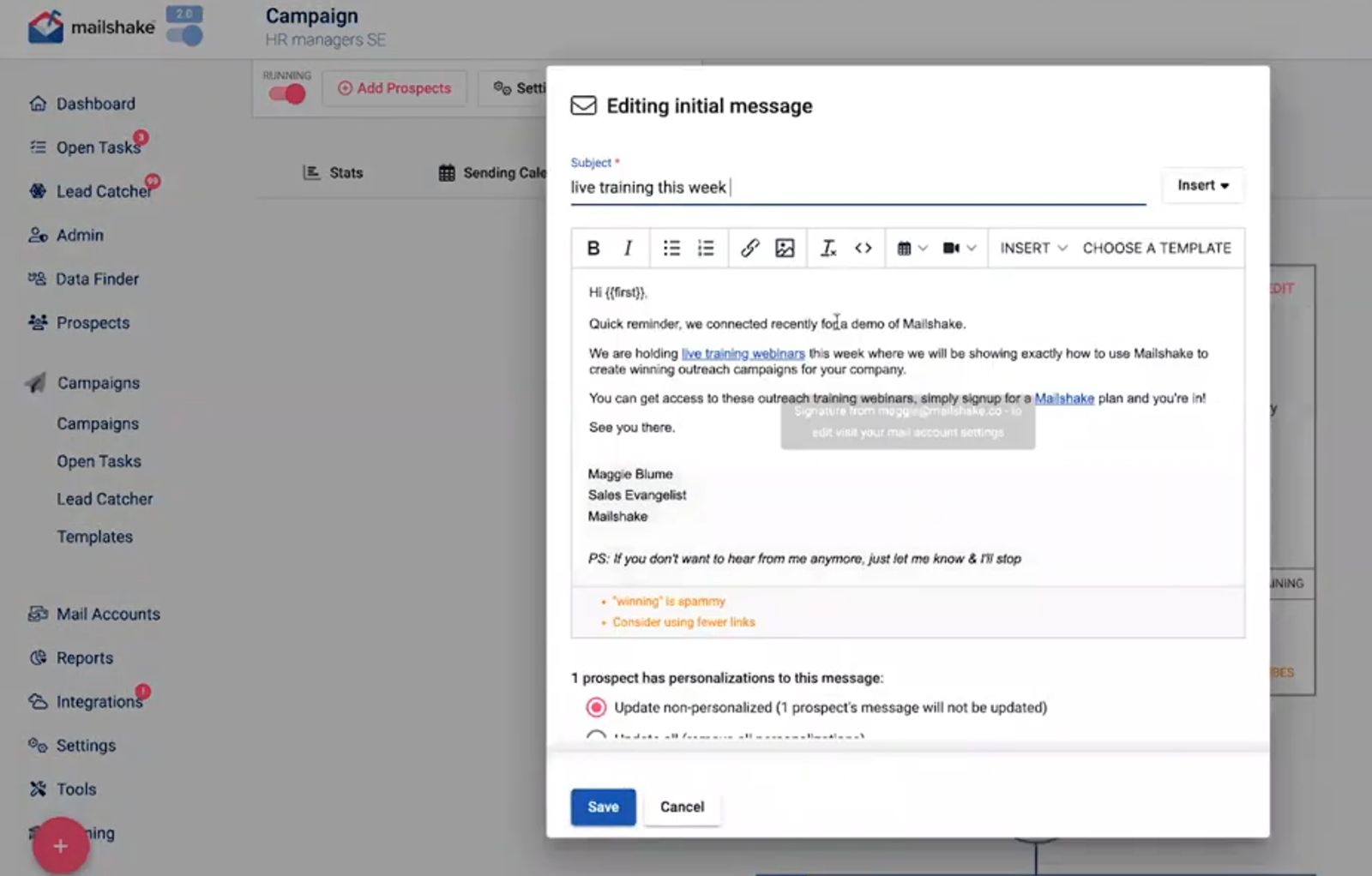 To improve your outreach, Mailshake has templates and an AI-powered email writer – SHAKEspeare. It generates multiple versions of a message so you can choose the best fit.
If you need to use lead enrichment or cold calling, note that you'll need to upgrade. Mailshake's data finder tool is priced separately, and cold calling is a top-tier feature.
What Mailshake does better
Like Lemlist, Mailshake has a task-based reply management system. However, Mailshake's is more powerful.
Between Mailshake's lead catcher tool and task list, you can respond to leads and review their engagement history. You can even call leads and record calls from the task list.
Where Lemlist comes out ahead
If you thought Lemlist's pricing looked complicated, Mailshake takes things a step further. The platform has separate pricing for outreach and lead data, making it tough to know how much you'll really end up spending.
Mailshake doesn't have a free trial, so you might not realize that the UI seems a bit outdated until you've already paid. The platform requires an annual commitment, so even testing it is expensive.
Mailshake pricing: No free plan or free trial. Paid plans start at $58 per user per month (billed annually) for basic email outreach features. Includes 50 free Data Finder credits. Credit plans start at $49 per month (billed annually).
4. Reply.io vs. Lemlist
If you need more robust outbound features, Reply.io is a good alternative to Lemlist. More than just an outreach tool, this platform can handle your entire sales engagement flow.
Reply.io has built-in lead finder and verification tools to speed up prospecting. Its outreach tools work with email, cold calls, SMS, and WhatsApp, so it can build advanced multi-channel sequences.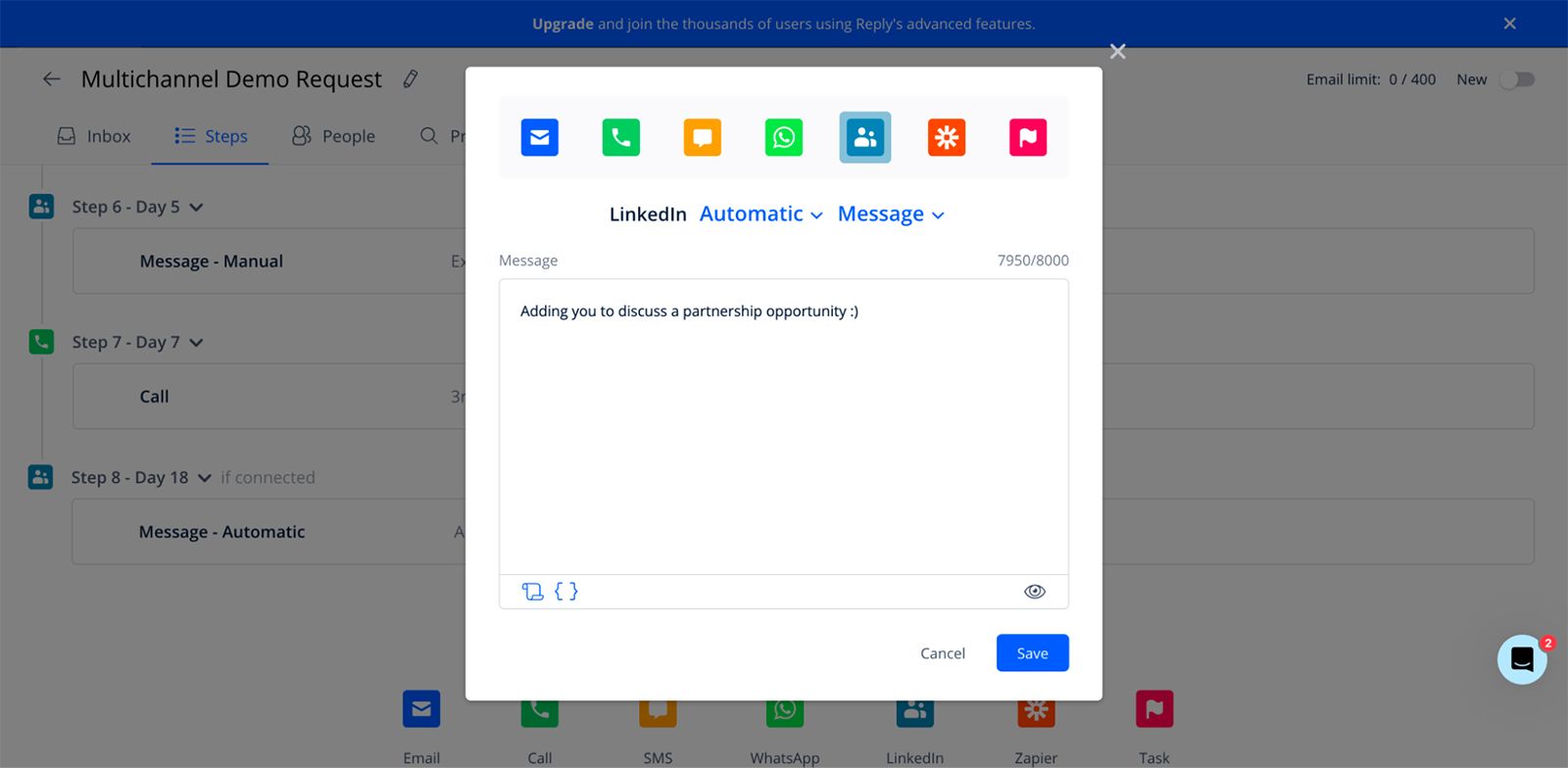 Using Reply.io's AI-powered tech, you can create touches or entire sequences with short prompts. The platform also supports personalized video, giving you another way to connect with prospects.
It also has an AI-powered sales assistant tool that can write replies based on previous messages in the thread. The tool automatically estimates the likelihood of receiving a response so you can fine-tune as necessary.
To help you book more meetings, Reply.io has a built-in calendar tool. The platform integrates with HubSpot, Salesforce, and Pipedrive to keep your data synced.
What Reply.io does better
From sales engagement features to AI-powered tools, Reply.io can do much more than Lemlist. If you want a complete outbound platform, Reply.io is a better option.
Where Lemlist comes out ahead
Because it's so complex, Reply.io has a much steeper learning curve. It's also much more expensive, especially for teams.
Reply.io charges per seat, making it pricey to scale. If you want add-ons like extra mailboxes, email warmup, and email verification, expect to pay more.
Reply.io pricing: Free plan available. Paid plans start at $60 per user per month for one mailbox and 1,000 data credits.
5. Instantly.ai vs. Lemlist
With its unlimited email accounts and a robust warmup system, Instantly.ai is a decent option for large outbound teams with ambitious outreach goals. Compared to Lemlist, it's easier to use and cheaper to scale.
What's the catch? Basic plans have just one seat, so you have to upgrade to onboard your team.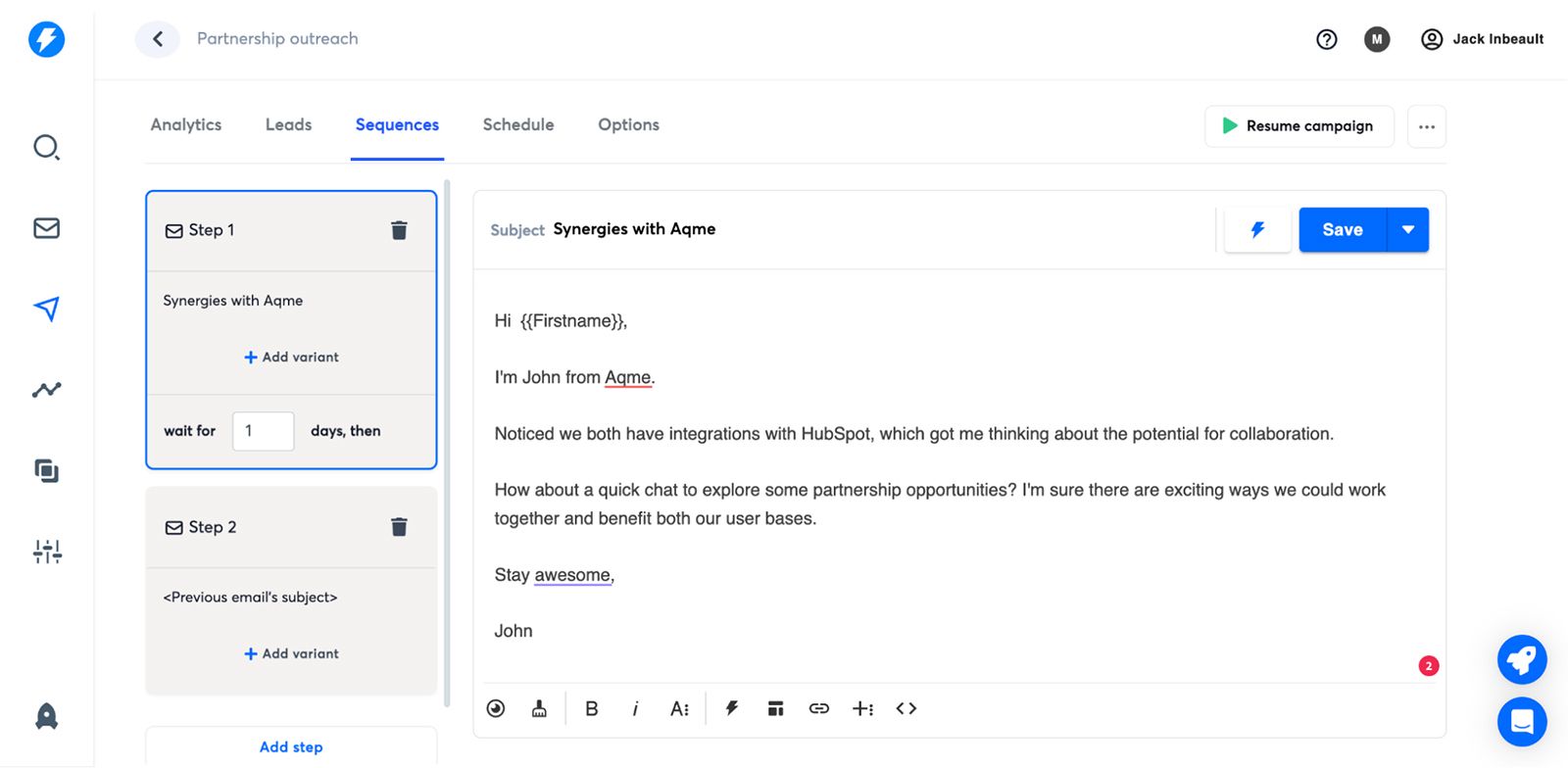 All Instantly.ai plans include multi-touch sequences, advanced scheduling, and analytics to monitor results. But only top-tier accounts include key features like A/Z (multivariate) testing and a unified inbox.
While Instantly.ai does have a lead finder and enrichment tool, it's not included in campaign pricing. Be prepared to spend twice as much if you want to add on lead verification.
What Instantly.ai does better
While Lemlist has a full suite of tools, they aren't always directly integrated. For example, you'll have to use the Lemwarm dashboard to warm up email accounts and the Lemstack dashboard to look for leads.
In comparison, Instantly.ai has a much simpler setup. All essential tools—including an email warmup tool—are integrated into Instantly.ai.
Where Lemlist comes out ahead
If LinkedIn is crucial to your outreach strategy, Lemlist is a better option. Instantly works with cold email only.
Don't expect to sync your CRM with Instantly.ai either. It doesn't have any native CRM integrations, so it requires using Zapier to connect your data.
Instantly.ai pricing: Free trial but no free plan. Paid Sending & Warmup plans start at $37 per month for unlimited email accounts and email warmups. Paid Leads plans start at $47 per month for 1,000 leads.
6. QuickMail vs. Lemlist
Designed for sending outreach at scale, QuickMail is a good option for large teams and outbound agencies. Its prospect and email limits are among the highest of any Lemlist competitor.
One of the most affordable cold email tools, QuickMail also works for bootstrapped teams. All plans allow multiple email accounts and unlimited seats, so you can get everyone on board.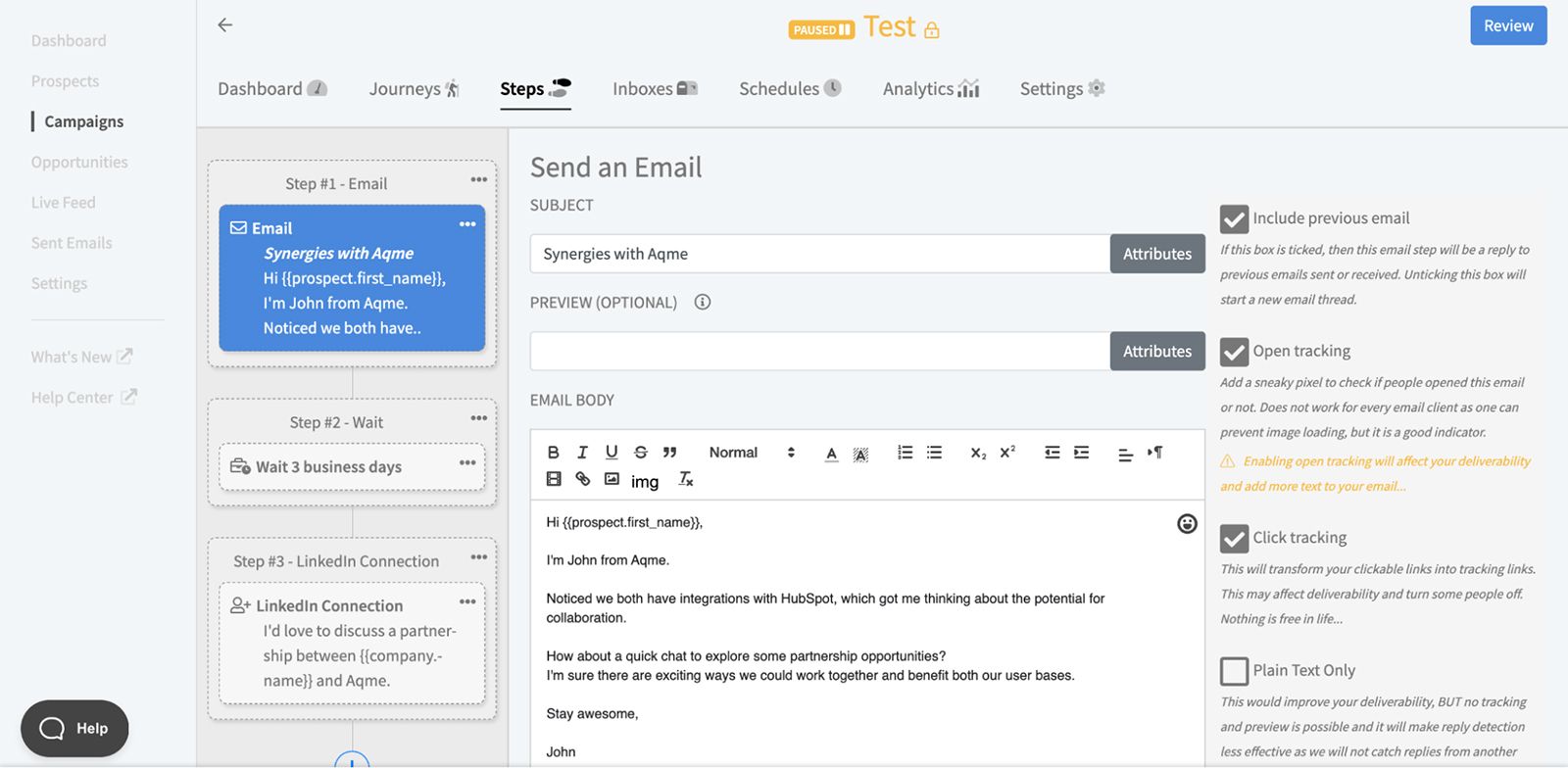 QuickMail works with Zapier and email warmer tool MailFlow. But its list of native integrations is relatively short—and HubSpot and PipeDrive only work with the mid- and top-tier plans.
Although QuickMail has multi-channel campaigns, they're a bit limited. You can use the platform for email, SMS, and cold calls. But there's no direct LinkedIn integration. To add a LinkedIn touch to a sequence, you have to add it as a task (that you'll have to complete manually) rather than an automated step.
What QuickMail does better
For outreach agencies, QuickMail is a better option than Lemlist. QuickMail allows free access to its agency reporting portal, so you can easily share dashboards with your clients. And since QuickMail has far fewer add-ons, the pricing is much simpler.
Where Lemlist comes out ahead
Lemlist's UI might not be perfect, but in comparison, it feels a lot more up-to-date. QuickMail's UI could use a refresh to make the platform more intuitive.
QuickMail pricing: 14-day free trial but no free plan. Paid plans start at $49 per month for five email accounts and 30,000 email sends.
7. Saleshandy vs. Lemlist
A cold email tool for teams aiming to ramp up their outbound, Saleshandy can scale outreach without a huge budget. With its relatively affordable pricing and robust feature list, Saleshandy is a strong alternative to Lemlist.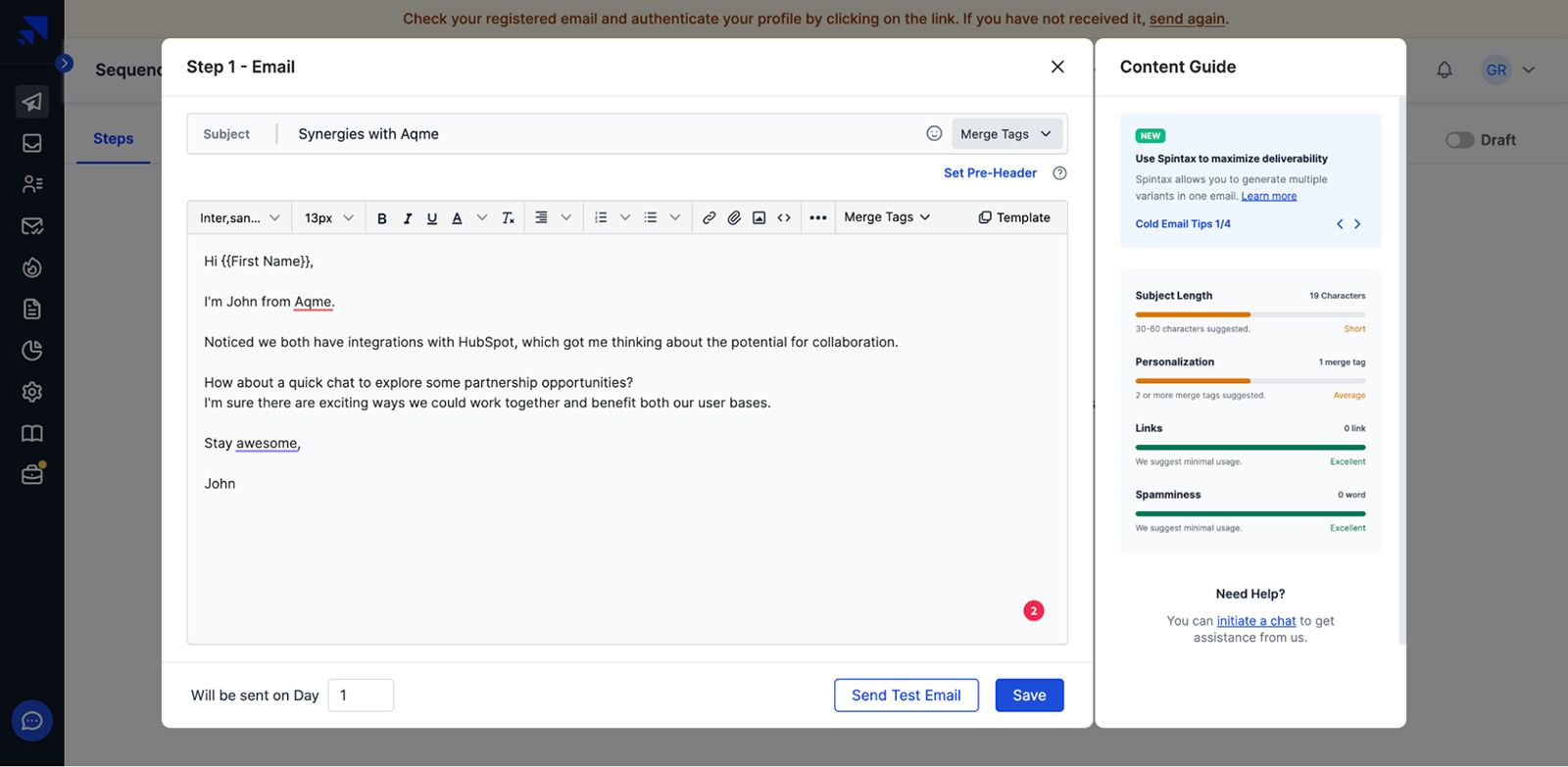 Even the most basic Saleshandy plan supports multiple email accounts, so you can rotate senders to keep deliverability high. Yet, plans do cap prospects and email sends, so you'll need to upgrade for bigger cold email campaigns.
All plans include email warmup to boost deliverability, a unified inbox to manage replies, and spintax to personalize your emails. However, you'll have to upgrade to access multivariate A/B testing.
What Saleshandy does better
Compared to Lemlist, Saleshandy has a longer feature list with more options for optimizing cold emails. For example, Saleshandy has a content guide that evaluates your subject line, personalization level, and spaminess score to help you send better outreach.
Saleshandy's pricing is also much easier to navigate. It does have some add-ons, but it doesn't require you to factor in credits for extra email sends.
Where Lemlist comes out ahead
Saleshandy only supports email, making it a bad choice for multi-channel outreach. And since it lacks native HubSpot and Salesforce integrations, it might not fit into your prospecting workflow as easily.
Saleshandy pricing: 7-day free trial but no free plan. Paid plans start at $36 per month for unlimited email accounts and 6,000 email sends. Email verification is available as a $60 add-on for 30,000 recipients.
Start Scaling Outreach With a Top Lemlist Alternative
Lemlist is far from your only option for cold email outreach. And with its feature limitations and complicated pricing, it might not be the best option for your outbound team either.
Ready to simplify your prospecting workflow and connect with decision makers? With Hunter Campaigns, you can start finding prospects, verifying email addresses, and sending sequences at no cost.
Sign up for Hunter Campaigns and start scaling your cold outreach for free.