B2B Sales: What is a Sales Process and How to Get Started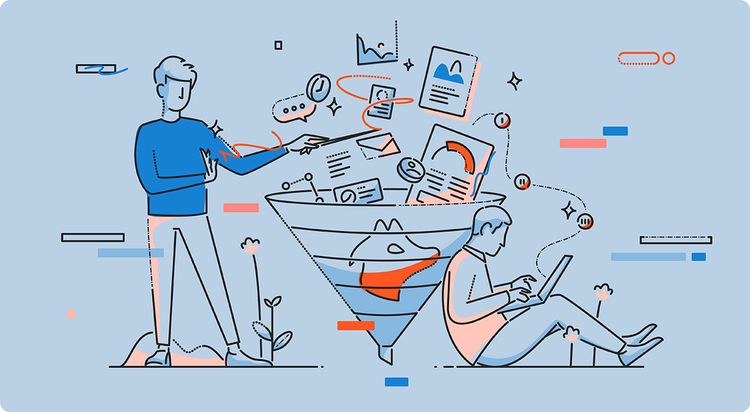 Did you know that there are 31.4 million small businesses in the USA alone?
With all those businesses, that means there are a lot of sales transactions happening every day, making for a competitive sales landscape.
Since sales is a necessary part of any business, it's not something you can shy away from; however, with so much to consider, you may ask yourself, "where exactly should I start?"
Here is where a sales process comes in.  
Although it may sound complicated at first, you'll want to simplify it by breaking each component of a sale down into stages via a sales process to help give clarity and keep you on track to make a successful sale.

In this guide, we'll share the foundational stages of the B2B sales process, with tips and tools to help you move prospects from one stage to the next.

So, let's dive right into the B2B sales process.
1. What is B2B sales?
2. Sales Process Overview
3. Sales Process Stages
4. B2B Sales Best Practices
5. B2B Sales Resources
What is B2B Sales?

Even though most sales transactions are similar in that you exchange a product or service for money, did you know that there are generally two kinds of sales categories?
These include business-to-business sales (B2B) and business-to-consumer sales (B2C).
B2B (business-to-business) sales is a transactional process between two businesses. If you sell products or provide professional services primarily to other companies, then you fall into this category.
What is the difference between B2B and B2C sales?

In a B2C (business-to-consumer) sale, the primary target customers are general everyday consumers instead of other businesses.
Knowing which category you fall into is vital because the sales methodology is different between the two.
Sales Process Overview

What is a sales process?

You can think of a sales process (or sales cycle) as a guide to helping you convert your prospects into paying customers.
Overall, it's a series of clearly defined stages to help your sales reps stay organized and have clarity, leading to the ultimate goal of closing more sales.
Why is setting up a B2B sales process important?

According to a survey conducted by Harvard Business Review, companies and sales teams with a defined sales process outperform companies that don't have defined sales processes.
With your entire sales process defined and outlined, you're simply better equipped to nurture your prospects into customers.

With each stage, you'll ultimately lay out the path for how to communicate the right thing at the right time, and in the right way to each prospect.
Sales process vs. sales funnel

At this point, you might be wondering if there's a difference between a B2B sales process and a B2B sales funnel.
To put it simply, they work together!

You can think of the sales funnel as a basic outline or reference point of the stages involved in a sale. The sales process then details the action steps and information needed to move from one stage to the next. When put together, they work harmoniously in guiding your sales team.
Sales process stages

You can define as many unique stages in your sales process as needed, but to get you started, we'll cover four foundational stages that will help you set up a successful 4-step sales process that includes the following steps:
Awareness
Interest and Education
Decision and Commitment
Delight and Grow
1. Awareness

Awareness is the first step in the B2B sales process because it's the stage in which your potential customer is first introduced to your business.

Typically, when a business enters the Awareness stage, it means they have identified a problem in their own business that needs some fixing, and they are on the hunt for a solution.

There are a few ways they can become aware of your products or services.
One of the most common is a Google search, which may lead them to an article on your website. Additionally, they may come across ads on their social media feeds, or maybe even by word of mouth from a colleague within their industry.
Another common and effective method of building awareness is via a cold email campaign.
This is certainly not an exhaustive list, but it should give you a good idea of the different ways a potential customer, or lead,  becomes aware of your service or product.
Now, once you've implemented an awareness method and gathered leads,  they can then be split into two separate categories: inbound and outbound sales.
Inbound sales and outbound sales
Inbound B2B sales is when a company contacts you to inquire about a service or product you offer. In these cases, the company most likely heard about your business from a source like Google Search, ads, or colleagues.
Working with your marketing team to implement strategies like SEO and ad campaigns linked to a landing page will help you populate an inbound sales leads list.
Once you've identified a lead, you'll want to qualify them to move to the next stage.

Qualifying means the lead goes through a vetting process to ensure your product or service will be the right fit for them and that you can successfully help solve their problem.

You can have a set of qualifying questions your sales rep can ask during a call or via email to identify qualified leads, like we do at Hunter. Additionally, we have a form on our website to help capture inbound lead information with qualifying questions already built in.

Outbound B2B sales is when you reach out to a company within your target market to share information about your products or services. This is usually done via cold email outreach or cold calling.
To get started with cold outreach, using a prospecting tool can help you build a list of professional email addresses linked to the businesses you want to contact.

For example, by using Hunter's Domain Search and Email Finder tools, you can search for emails by simply using a company name or domain, along with the name of a specific contact if you have one.
The next step after you have a list of professional emails is to set up an email campaign.
One of the simplest ways to do this is by using a tool like Hunter Campaigns that allows you to set up automated cold email campaigns.
Keep in mind your communication will differ between inbound and outbound sales since each channel will require different information at different times, which leads us to the next stage...

2. Interest and Education

During the Interest and Education stage in a sales process, the potential customer is looking for a solution to their problem but needs additional information to make an informed decision about which service or product they will choose.
The goal in this stage is to inform, educate, and help.

This can be done in various ways, but the key is to have valuable content readily available to answer questions the lead may have throughout their journey toward making a decision. Questions such as:
Why do I need this product, and why now?
Why should I pick this company to help me?
Here at Hunter, we provide several resources to help answer these questions: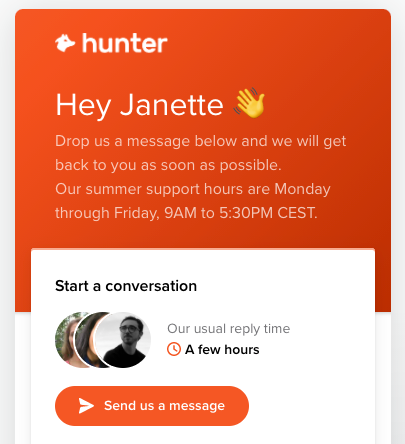 An important point to keep in mind is that the potential customer is on a non-linear journey, particularly during this stage.
They will have several experiences and sometimes backtrack on their journey several times until they've been fully informed. You'll just want to make sure you are there to help them along the way.
3. Decision and Commitment

Here's the stage we've all been waiting for, the Decision and Commitment stage.
This is the point in your sales process where the lead decides to select you as their trusted partner and commit to a deal.

By now, they have already gathered the necessary information and insights, so they don't need much more help from you.

Due to this, they switch to a more internal decision-making process, making this stage seem like a black box at times since you won't always be able to identify where they are in their journey.

You'll have to trust that the previous stages in the sales process have been executed well enough to ensure your prospect feels confident moving forward.
Now, once you receive the exciting news that the prospect is ready to commit, you'll want to start off their experience as a customer right, making sure to set up the relationship to be fruitful in the long run.

One way to ensure your new customer is off to a successful start is by guiding them through an easy onboarding experience.
For example, try using proposal software that easily shares the information of the agreement, along with customized onboarding documents to provide additional relevant information that will help your customer be successful when using your product or service.
4. Delight and Grow

Even though the sales transaction is technically complete, an effective sales process doesn't stop there.
This final stage, Delight and Grow, is maybe the most crucial because it's the stage where you make sure the customer's goal has been met and even exceeded!

It's important because, in today's B2B world, customer satisfaction is one of the best ways to not only get repeat business but also gain new customers since potential customers often rely on review platforms and social media reviews during their journey.
According to a survey, "After a positive customer experience, 69% would recommend the company to others, and 50% would use the business more frequently."

Overall, during this final stage, your goal is to delight the customer in ways that support their goals but also support a flourishing business relationship for you both.
Excelling in providing customer education, sharing best practices, giving customized experiences, and providing easy-to-access support are just a few ways to do this, but feel free to get creative!

Here are a few ideas to get started:
Share a brief survey where customers can easily contribute feedback. Be sure to follow up on their feedback, particularly if there is an issue to resolve.
Provide ongoing educational resources which share valuable information.
Send personalized check-in emails and be readily available for additional support when needed.
B2B sales best practices

Now that we've covered each stage of the B2B sales process, there are a few things you'll want to keep in mind as you work to create a strong sales process:
Invest time into creating a unique sales process that serves your specific product or service and team.
Remain customer-centric by focusing on meeting your customer's needs at all times.
Aim to build trust and credibility within each stage.
Use tools like a CRM and Hunter Leads to help you stay organized and ensure clear communication at each stage.
Wrap up

Overall, the goal in sales is not to convince or persuade someone just for the sake of closing the deal; it's about helping your customer reach their goals by providing a solution to their problem.
By working to create a standardized sales process and define the actions required in each stage while using different tools to help along the way, you'll be able to determine how to best nurture your prospects into becoming valuable customers.

Whether you're just getting started in B2B sales or are reading this to improve your current sales process, we hope you are encouraged that by investing the time to implement and refine your B2B sales process steps, you'll be set up in the right direction toward sales success.
Have questions about B2B sales? Don't hesitate to reach out to me at janette@hunter.io.