Ideal Customer Profile: What It Is and How to Create One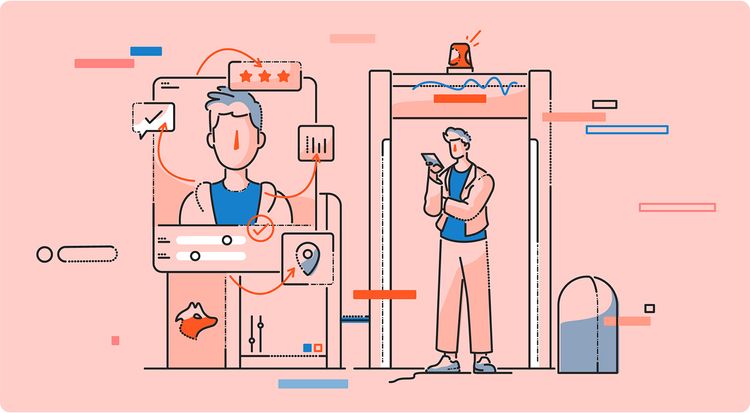 "You can't be everything to everyone." It's good advice for life — and B2B marketing.
When it comes to marketing and sales, maybe you can be all things to all people. It's just really expensive.
Casting too wide of a net can water down your value and cost much more than having a laser focus on your most important audience. This is where an ideal customer profile (ICP) can help.
An ICP gives everyone in your company a clear focus so that they can ensure their work is always designed with this profile in mind. Sales, marketing, development, growth — everyone can key in on this well-defined profile and make better decisions every day.
In this blog post, we'll show you what an ICP is, how it differs from a buyer persona, and how to create one. Let's get into it.
The table of content will be generated here
What is an ideal customer profile?

An ideal customer profile (ICP) is a comprehensive description of the company that is the ideal fit for your product or service. An ICP is usually defined by characteristics such as company size, industry, revenue, pain points, and goals.
Often, this is a fictional or made-up company that's an amalgamation of your best customers.
Your ICP should answer the question: What business would get the most value out of what we offer? And, what business would deliver the most value back to us in terms of referrals and revenue?
Typically, an ICP is thoroughly described in a written document. It can be owned by one department within an organization, such as sales or marketing, but you should share this document across the entire company once created.
It may even become an onboarding staple that you give to new hires so they can better understand who they're ultimately working for.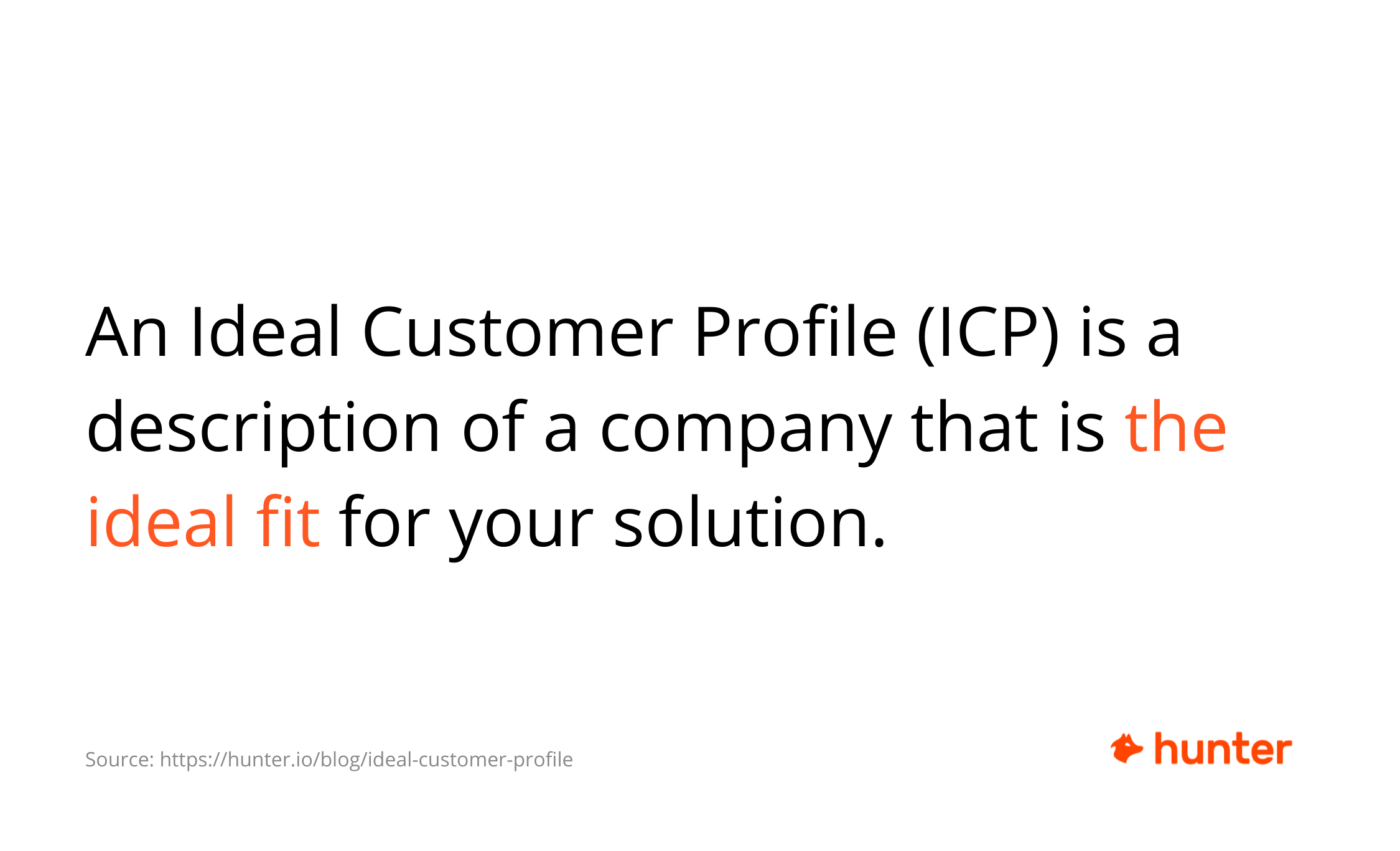 Ideal Customer Profile vs. Buyer Persona

You might be thinking, "But isn't that just a buyer persona? We have that already."
Not exactly. An ICP is a description of a company that would be the perfect fit for your solution.
On the other hand, buyer personas describe the person working at the company in your ICP who would be involved in deciding to purchase your solution.
An ICP is an organization. A buyer persona is a role or person within it who is responsible for buying decisions.
Your buyer persona might say something like, "A CMO who is responsible for finding efficient new marketing channels." Your ICP might say, "A software-as-a-service (SaaS) company with 500+ employees based in the U.S."
Many businesses develop both, with the ICP and buyer persona working together to support your sales team and drive innovation within marketing.
Why you need to define an ideal customer profile
Your ICP serves an important purpose for your sales and marketing teams: to make lead generation easier, effective, and efficient.
You can use your ICP to help find and qualify leads for sales so that they're not wasting time and effort on companies outside of your target audience.
Having an ICP is also useful for developing messaging and marketing creative that shows your customers you understand them and can help.
If you're not going after a specific type of customer, you're likely pouring money down the drain. That's because you're putting your product or service in front of people who have no use for it.
To make matters worse, you might also be holding your product, company, and team back.
Creating for a mass audience instead of an audience of one inspires average work that can please a crowd, not exceptional work that speaks to the heart of someone's challenges.
Seth Godin describes this narrow focus as a "minimum viable audience," or the smallest possible group that could sustain your business. He suggests this approach as an alternative to mass marketing because when you're focused on this smaller set, he explains, two things can happen:
"You discover it's a lot larger group than you expected
they tell the others."
If you want customers willing to sing your praises, you must first identify and understand them. Let's take a look at a few more ways your ICP can have an impact on your business.
Finding prospects

By narrowing down who you're going after, you're better able to find the right prospects.
Once you know who is in your ICP and who isn't, your marketing and sales teams can start targeting based on several factors, including the technology they use. Here's an example:
Let's say you're a SaaS company targeting mid-sized e-commerce businesses that value tech and use it to improve their operations. Your research into these companies might lead you to look for companies using Shopify because your software integrates with it.
You could use TechLookup to search for all companies using Shopify to power their web store. You'll have a whole list of businesses to reach out to because you know a company already using Shopify fits the ICP you've created.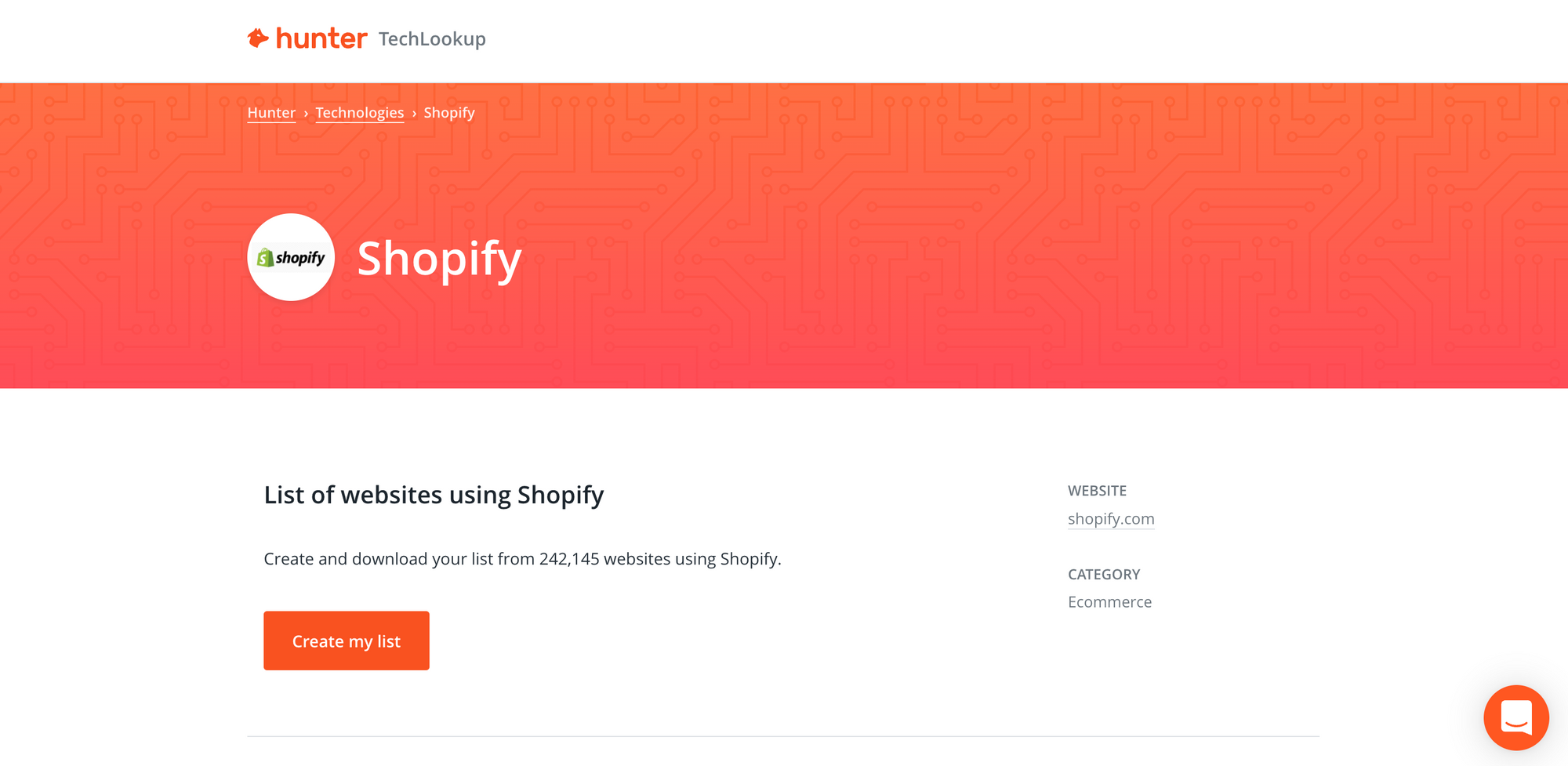 With TechLookup, you'll also have the email addresses of professionals at that company as a starting point for a cold email campaign.
Qualifying leads

Once you've captured a lead, your ICP can help you know where to invest and where to spend less time throughout the sales cycle.
A business that sounds like your ideal customer deserves more of a concierge, VIP experience, and you'll be able to tell from the moment a lead comes in if they fit the profile or not.
Your lead scoring can become more accurate because it's based on the profile you've created.
Higher scoring leads can get moved up in the queue and assigned a dedicated sales rep, while others can get a more automated experience. The return is greater on those who fit your ICP, so it's worth the extra effort.
Outbound sales and marketing

Your ICP can have a big impact on your overall sales strategy and sales process.
For example, you can use your ICP to give you a clearer idea of the job titles to target in your outreach efforts. Here's an example of how an ICP can help:
Let's say you want to target an HR role for your culture-building agency. The person fulfilling these HR responsibilities at a small business might be a business owner or manager. But at a larger corporation, your target might be a COO, HR director, or VP of HR.
With your ICP outlining the company size, geography, and more, you'll have a better idea of exactly which titles to go after, so you're not spending time on dead ends.
You can use this when you start searching by job title on LinkedIn or searching for email addresses at a specific company using Domain Search.
Without knowing the right job title, you might be wasting efforts on the wrong person or the wrong type of company that won't end up being a good fit for your product or service.
Closing more sales

Defining an ICP allows you to personalize your messaging to resonate better with your target audience. This, in turn, will help you convert more prospects and step up your customer acquisition.
You'll better understand their unique challenges and how you can support them because you've done the work of aligning your offerings to their needs. Your sales reps can align their strategies to their unique journey.
Improving your account-based marketing efforts

An ideal customer profile and account-based marketing (ABM) go hand-in-hand. If you want to start identifying, targeting, and supporting your highest-value accounts, you need a well-defined ICP.
Once you have that, you can have greater sales and marketing alignment, tailor your ABM campaigns, and better prioritize sales prospects.
There are plenty of reasons to start or evolve account-based marketing. A recent report found that 64% of marketing teams found their ABM strategy somehow successful in driving more leads.
As industries get more crowded, account-based marketing can help you target accounts that deliver the highest value for better results.
How to create an ideal customer profile

Now that you know why you should create an ICP, follow these steps to get started.
1. Identify your best customers

The first step to creating an ICP is to look inward. Who are your best existing customers? Make a list and highlight what about them makes those companies an ideal fit.
Some of the factors to consider when pulling your list together include:
Lifetime value (LTV) – Look at your highest LTV customers first.
Average lifespan – The longer they've been with you, the better. However, if you've added features or released a new product, your more recent customers might also be helpful. Something about what you've done lately has drawn them in.
Retention rate – Similar to lifespan, a higher-than-average retention rate shows this customer is the right fit for you and vice versa.
Net Promoter Score (NPS) – If they've rated you highly on an NPS survey, now's a good time to reach out and find out what they appreciate the most.
Besides these criteria, you might also look at customers who have left valuable feedback or have been beta testers of your product.
Those who are more invested in your company are likely that way for a reason: they see your value or want to influence your company's roadmap because they plan to stick around.
2. Perform customer interviews

You can't create a useful ICP without talking to your customers. The best way to gather this input is through 1-on-1 customer interviews. A survey can also work if needed, especially if you have many customers with a lower LTV.
Some of the customer data for your profile can come directly from these interviews, so don't overlook their importance. To help, here's a list of questions you can use as a starting point:
What do you look for in a [product or service] solution?
What were some of the challenges you were trying to overcome?
What led you to seek out [your company name]?
What does your purchasing process look like?
How do you research solutions?
Roughly how much time does it take from start to purchase and implementation?
What factors influence your decision?
What are some of the business objectives you were hoping to address with this solution?
Have you seen any outcomes so far? Please be as specific as possible.
In addition to performing interviews, you'll also want to research these companies on your own. The next section will cover what you should be looking for when researching customers.
3. Look for similarities between your top customers

With your customer interview or survey data in hand, it's time to analyze and put your profile together.
If you use a customer relationship management (CRM) platform or sales tool, you might be able to export more qualitative data like average LTV, most common job titles, and more.
Ultimately, what you want to do in this step is identify any patterns or commonalities across your best customers.
For example, are the majority of your best customers:
Small businesses or enterprises?
Within a certain industry?
Located in a specific geographical region?
Using a specific technology?
Similar in structure?
Driven by similar goals?
Look for what makes your top customers similar and start grouping them into common qualities.
4. Document your ideal customer profile

Now you're ready to crack open a Google Doc and start writing.
Build a story around your ideal customer profile based on all of the research you've done. Again, this doesn't need to be a real company. Like a buyer persona, your ICP is a made-up version of a company based on the factors you've identified.
Make sure to document all of the most important aspects of your ideal customer in your document, including:
Company size
Industry
Annual revenue
Key pain points
Goals and objectives
Decision factors
Common objections or hurdles to overcome
You can even use this list as your own ideal customer profile template once you get into writing.
Improve marketing and sales with an ideal customer profile

With your new ICP, you're ready to start marketing and selling to your best customers.
You might even choose to present your finalized ICP to your whole team or company. After all, the more people are aligned around your ideal audience, the more accurate their work will become.
Looking to learn more? Check out these guides: