Targeted Selling: How to Find & Target Sales Prospects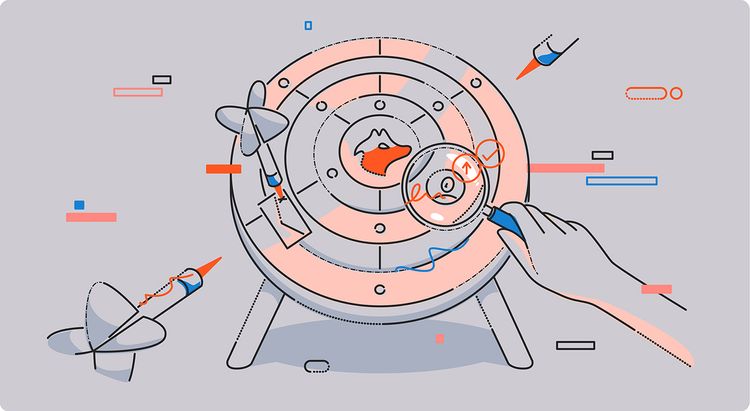 In the B2B world, there are two types of buyers: tiny fishes and giant whales. These two types of buyers contribute to the bottom line; yet, you can't win them using the same sales approaches.
In plain English, your average email or content marketing strategy won't do the work alone if your goal is to sell high-ticket products/services.
The good news is that whatever the size of the company you're trying to close, there are still people behind it. The big difference is these people don't buy the same way. So, you need a sales strategy that drills down to key buyers and targets them with super-personalized sales and account based marketing materials to win them over.
This is where targeted selling comes in.
This article will teach you how to use sales targeting to win high-ticket accounts, plus real-life examples you can mirror today.
What Is Targeted Selling?
Four Benefits of Targeted Selling for Your Business
How to Nail Your Targeted Account Selling
How to Measure the Success of Your Targeted Account Selling
What Is Targeted Selling?
Targeted selling, also known as Target Account Selling (TAS), is a B2B sales process that consists of developing hyper customized nurturing, engaging, and long-term relationships with decision-makers within companies you've identified as highly qualified targets.
The main goal behind TAS is to drive "high-ticket" sales using a set of personalized touchpoints throughout the buying journey.
Here's what TAS looks like in real life:
Let's assume ACME Corp sells recruitment software.
Their marketing, sales, and customer success departments work hand-in-hand to determine a set of characteristics that define a "best-fit" customer for the business.
A more appropriate term for "best-fit customer" here is Ideal Customer Profile (ICP).
So, instead of jumping off and reaching out to the HR person within their target company, ACME Corp's sales team then decides to take a 3-step approach to hit their TAS goal out of the park.
Build a list of the best-fit customers (aka the Target Account List). Here, the emphasis is put on the quality aspect of the list rather than quantity, as suggested by the traditional sales playbook. ACME Corp's list will include a range of highly qualified target accounts along with a list of key decision-makers within these accounts.

Invest time and energy in research. The more you can zero in on who your Decision-Making Unit (DMU) or Buying Committee is, the better. You need to have as much information about each account as possible to nail the personalization part of your TAS strategy. Here, ACME Corp's research will not be limited to just one lead (the right person); instead, it will be a group of people who make up the buying committee (the right people).

Personalized outreach. There's no TAS without personalization. Here, you need to leverage all the data you've collected during the "research" stage. This will help ACME Corp's sales team target high-value accounts with a super-customized and ongoing experience while ensuring the appropriate resources are targeted towards the accounts with the highest potential value.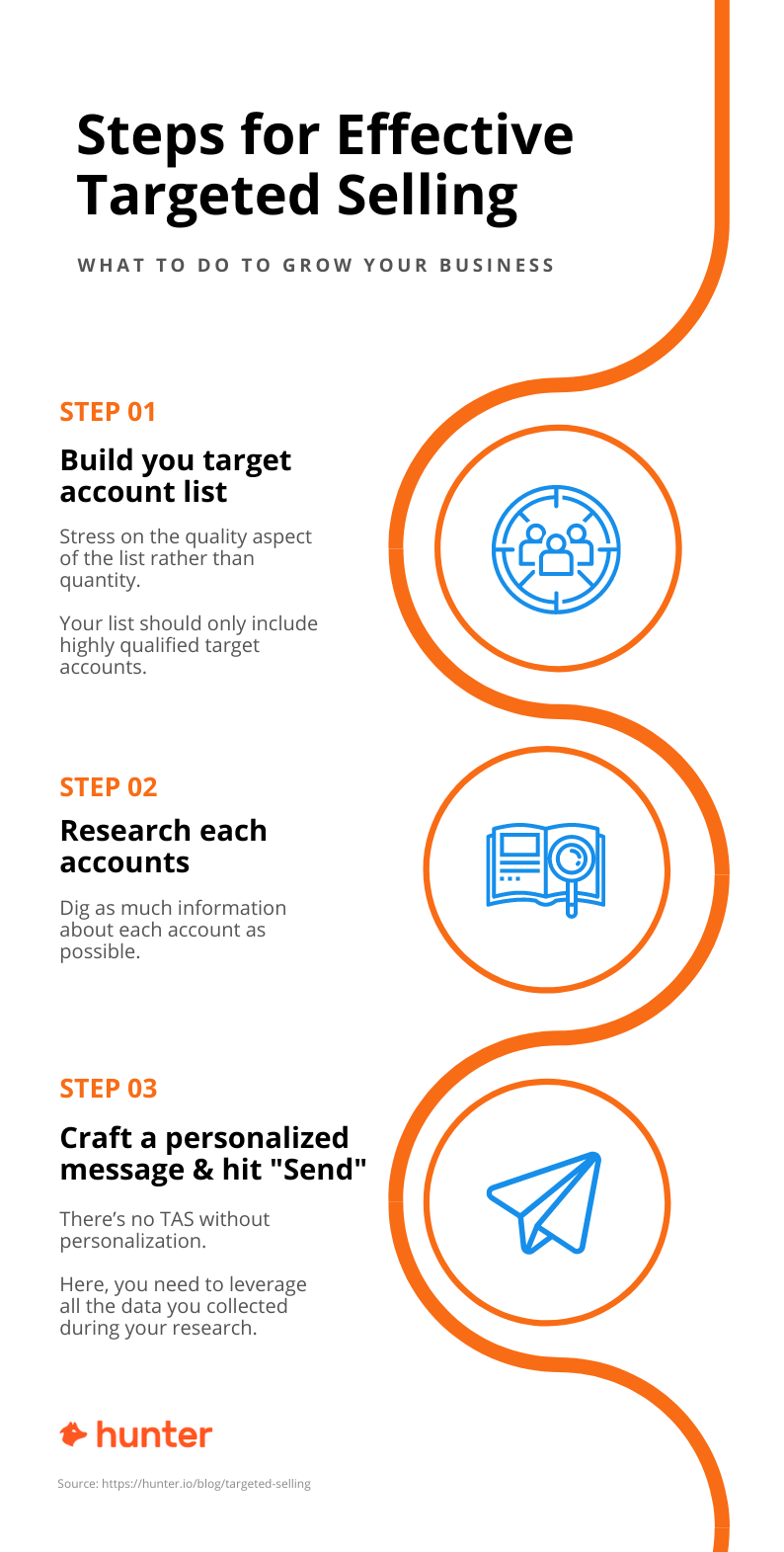 While Target Account Based Selling leads to relatively complex sales cycles, it delivers a better return on investment than the traditional lead-centric sales process.
---
Four Benefits of Targeted Selling for Your Business
When done correctly, target account based selling can deliver significant results compared to what other sales strategies can. Here are a few benefits of it.
1. Targeted selling increases your average order value.
Targeted selling doesn't take a quantitative approach to lead generation. Instead, it insists on the quality of leads–and that's the reason it generates fewer deals with higher-order value compared to traditional sales strategies.
Going down the TAS approach essentially means cutting out the small fishes to make room for the whales whose deal size can be 2 to 10 times bigger.
So, instead of deal sizes around $5000, target account based selling prompts deals in the $50,000 to $100,000 range.
For instance, in a recent campaign, Andrei Zinkevich, Co-Founder of Fullfunel.io, reached out to a select list of 30 qualified companies for his client's product/service.
According to Zinkevich, this campaign had a 37% response rate (12 out of 30 accounts responded) and a 20% success rate (2 accounts) that generated a total of $300,000 in revenue. That's about $100,000 worth of income on average per account converted.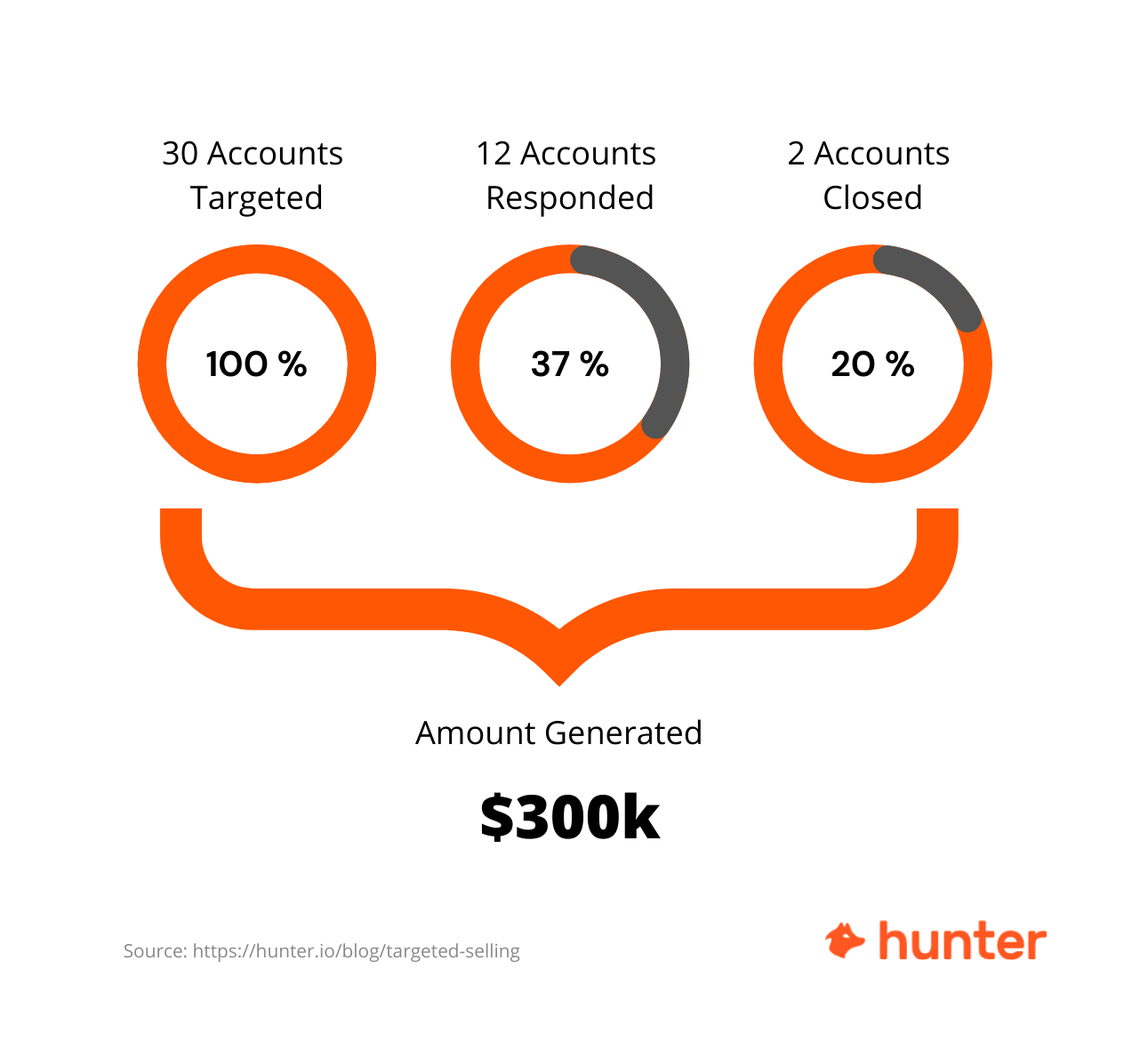 ---
2. Targeted selling improves retention rate & customer loyalty.
In most companies, the sales cycle stops when the lead converts. Quite the opposite, targeted selling doesn't just stop there.
As seen above, target account based selling is more about building a long-term and ongoing relationship with the buying committee. That implies that the relationship is still nurtured and maintained even after the purchase to turn customers into superfans.
A Hubspot study indicates that 93% of customers are likely to make repeat purchases with companies that offer excellent customer service. Plus, 95% of marketers report that personalization translates into increased engagement and stronger relationships. And that's the main idea behind a great TAS strategy.
---
3. Targeted selling increases your conversion rate.
People buy from people. A Nielsen study proved that 90% of people are more likely to trust a brand recommended to them (even by strangers).
And the key factor here is trust. An Edelman study shows that 81% of consumers will not buy unless they trust a brand.
You might be thinking the trust principle doesn't apply to B2B because you're selling to companies. But that's wrong. Here's how Drift's Chief Brand Officer puts it.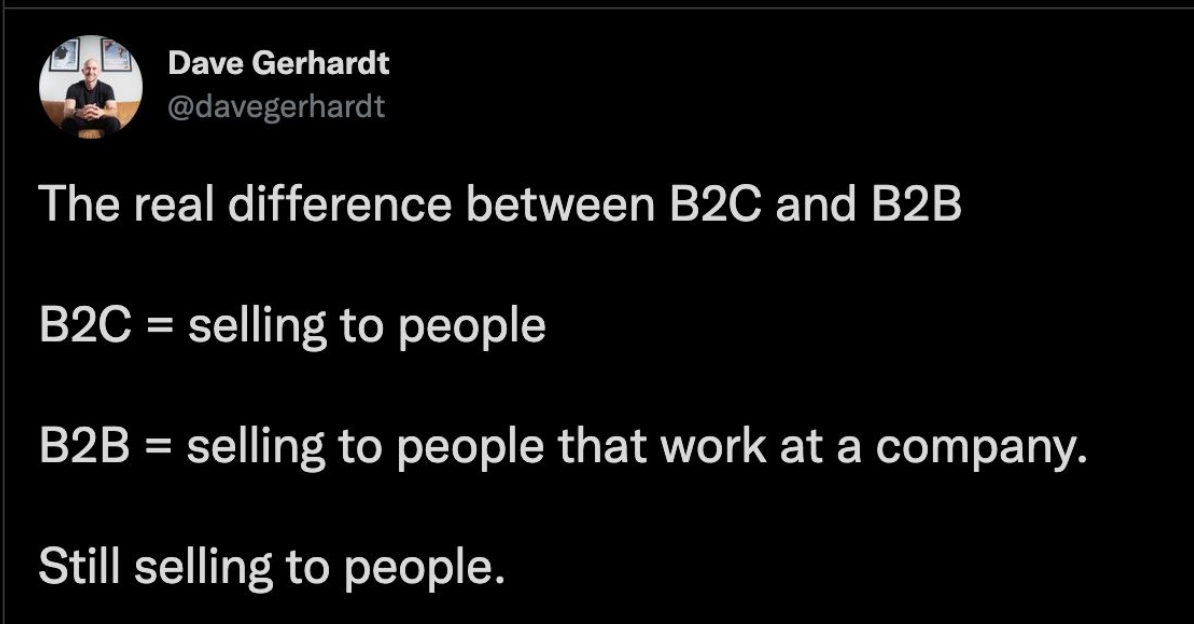 Given that the whole target account based selling strategy revolves around building and nurturing meaningful relationships with your buying committee, you can tell it's an effective way to build trust and increase conversion.
Think about it: two different companies selling the same product target you. The first has vague messaging, and the second has messaging that shows they know you, your needs, and your business' needs. Whose product will you purchase?
---
4. Sales targeting shortens your sales cycle.
While TAS is time-consuming in terms of account research, it can really make your sales process shorter.
When properly implemented, sales targeting allows you to cut off low-value accounts and target specific decision-makers on the buying committee. You also have a say in the purchase decision.
That means you can move these qualified decision-makers through the sales funnel and close deals faster.
A shorter sales cycle saves you money and energy while allowing your sales team to focus entirely on the highest return accounts.
---
How to Nail Your Targeted Account Selling
Now that you know the benefits of a great TAS strategy, here are a few tips to tap into its full potential and watch your sales 2x, 3x, or even 10x.
Learn How to Find Your Ideal Customer Profile
Let's get it straight. Identifying your ICP is not the same as niching down. It's not as simple as saying, "Our target audience is SaaS companies," and your ICP is not your buyer persona.
Defining your ICP requires getting your hands dirty and researching precise and accurate information about the accounts you feel are the best fit for your business.
To start, you need to tap into firmographic and technographic customer data.
Firmographic data refers to information you can use to categorize your accounts. Think of data including the number of customers, geographic area, industry, technologies used, etc.
On the other hand, technographic data is information about the current technology environment of your target accounts.
Using this data, you can categorize your ICP by revenue and sales data, employee count, technology stack, etc.
It can also help you know how your target account operates as an organization. A huge benefit of this is that it tells how to structure your messaging, what major event is happening in the organization and how to take advantage of it, and what's the best time to send your email; the list goes on.
It can even go a step further by identifying if your ICP is already using competing products.
In the example of the campaign that generated $300k in revenue, Andrei Zinkevich categorized his ICP by pulling up the following data from their current customers:
What influences their decision process and who is involved
What alternatives were the target accounts considering
What solution are they already using and why are they using it
The results they got after using the product
As you may have noticed, this data revolves around the pain points Zinkevich's target accounts face, the solutions they leverage, and what they can do to get 100% satisfaction.
Using this type of customer data, you can organize your target accounts according to their current need, ability to buy your product or solution, and the likelihood of being satisfied.
Only then will you begin to define the buyer personas for each account.
---
Build Your Target Account List
After performing your data research, you may notice that your target accounts fall into different ICPs. So, instead of mixing them in the same Target Account List, you can create multiple ICPs for better results.
You want your target accounts to feel that you have done your due diligence and know them inside and out. So, one mistake you should avoid is putting accounts in lists with which they don't identify.
In this case, segmentation is essential. In fact, a study shows that companies leveraging segmentation have a 14.31% increase in open rates than those that don't.
A great way to go about segmentation is to leverage TechLookup, a tool to generate lists based on technologies.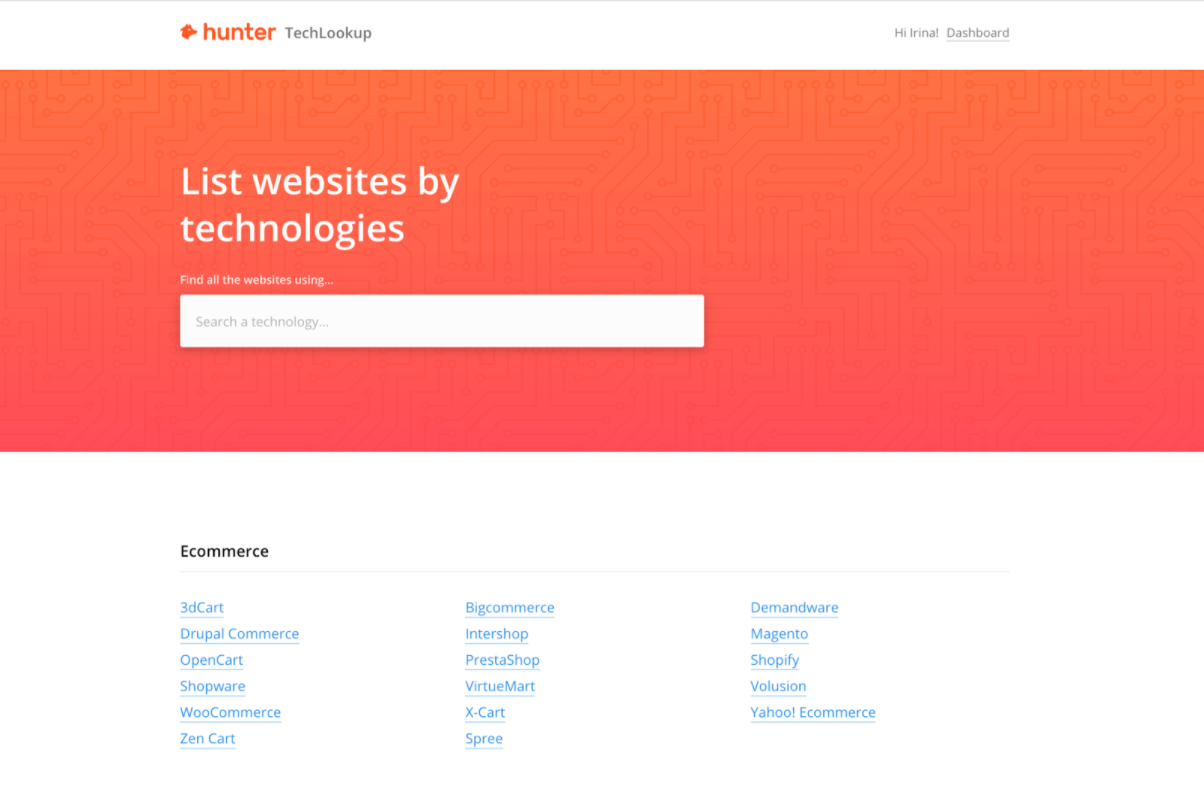 Here's how it works:
Let's say your company has developed a solution to help small businesses manage their websites and increase their conversion. You just launched a CMS or a plugin that integrates with a CMS.
TechLookup is the perfect tool to build and extract a list of qualified prospects. You visit the TechLookup page and check the "CMS" section. From there, you will see a list of featured CMS, and you can click on the one your plugin integrates with.
If your product is a CMS, you can click on each CMS listed and see the companies that use the competing software.
Alternatively, you can enter the CMS or other technology you're interested in the search box, and it will immediately generate if it's available in Hunter's database.
At this stage, you can configure your file. You can select a specific industry you're interested in, require it to have only websites in particular languages, or filter by popularity.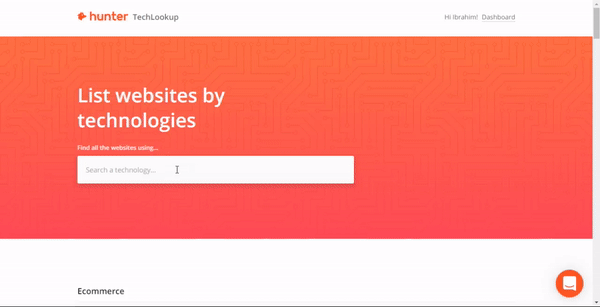 Here is a real-life example of sales targeting segmentation done right:
Let's stick with Andrei Zinkevich's campaign. He and his team came up with three tiers (categories) after defining their ICPs. They decided to focus only on tier 2 and tier 3 accounts. They decided to exclude tier 1 because of a lack of resources.
At the Tier 3 level, they grouped startups with a team size of fewer than 40 people who need help developing specific features according to US medical standards like HL7, HIPAA. In this tier, the buying committee consisted of a CTO (usually a co-founder), a product manager (influencer), and a CEO.
As for Tier 2, it included mid-sized companies up to 200 people that need to quickly ramp up the team with a specific skillset on a timely basis. The buying committee consisted of 5 target roles: product manager, CTO, senior software engineer, CEO, and HRs.
As you might have noticed, Zinkevich and his marketing team ended up having two different Target Account Lists, although their overall goal is the same. That increases their chance of nailing the messaging for each target account list.
---
Find Your Target Account's Email Addresses
Now that you have segmented your accounts based on their interests, it is time to contact them.
The first step on your to-do list is to find the email addresses of the people on each buying committee.  That is where Hunter's Domain Search comes in handy. The Domain Search helps you find email addresses associated with any domain.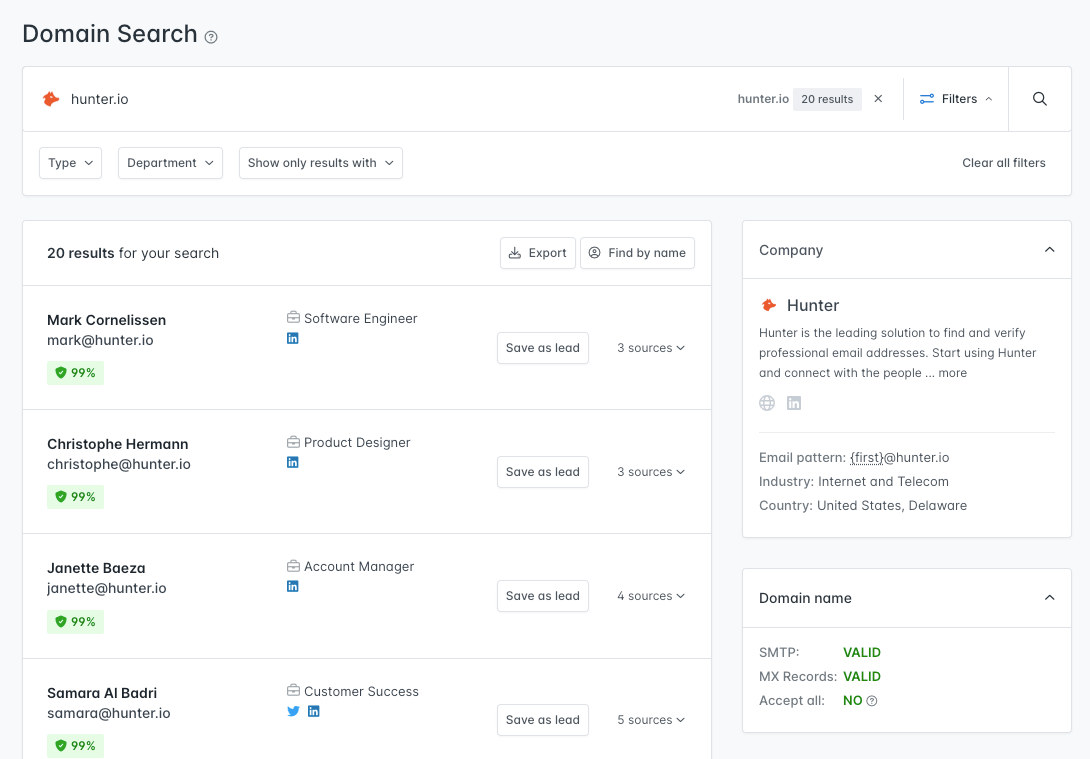 If finding the emails one by one seems like a big task, you can use the CSV file that TechLookup has made available for you and search the emails for each domain in bulk.
Since Hunter crawls the entire web when pulling email addresses, the results also provide you with the sources and dates to give you an idea of how recent and accurate the sources are.
Emails you get from Domain Search might not be verified, so you must verify them using Email Verifier. This tool helps you make sure:
The email's format is correct.
The server hosting the email address is working.
It also shows you sources where the email is found.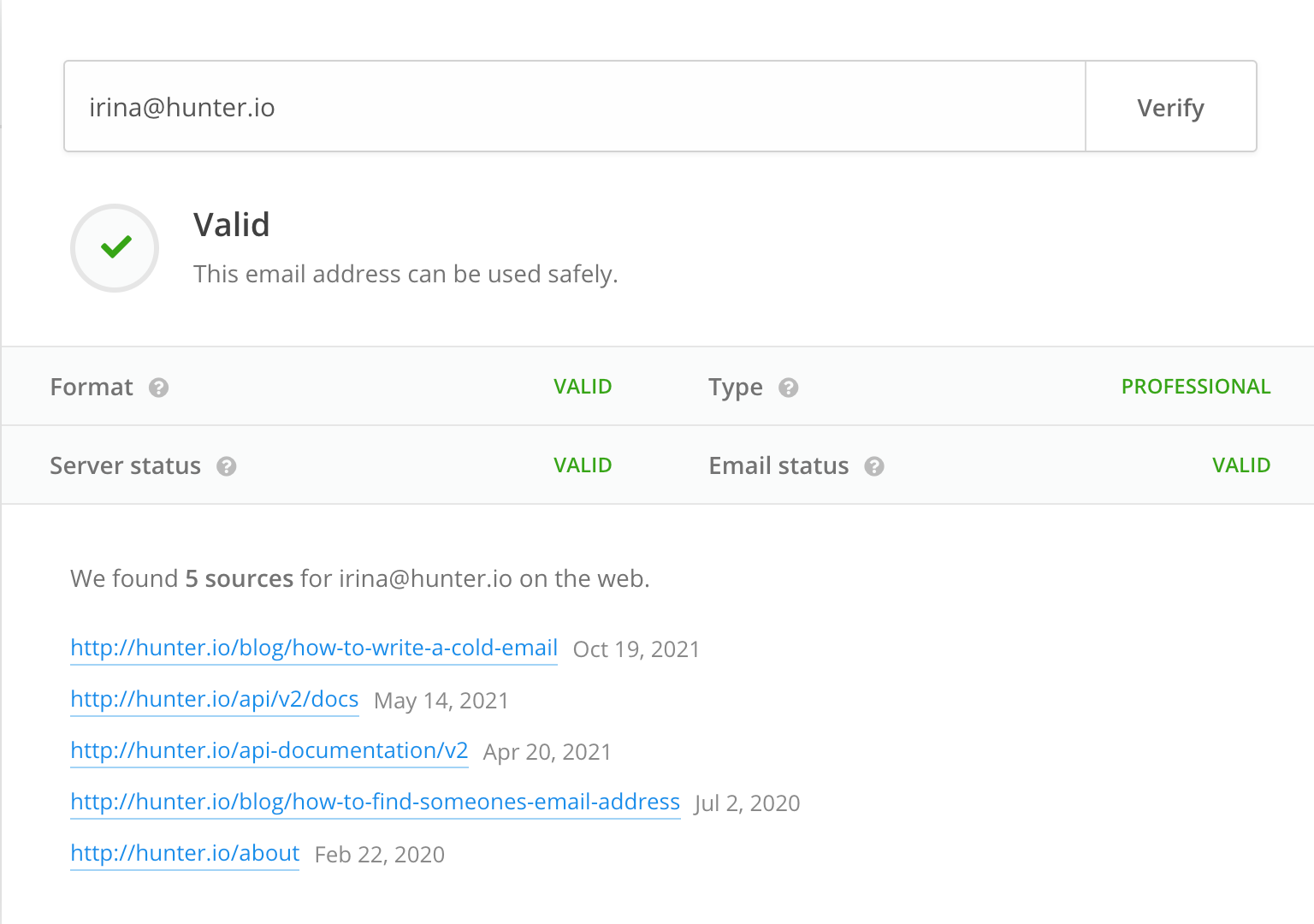 Depending on its accuracy, each email address will be tagged as "Verified," "Accept all," or "Not valid." The first means that the email is 100% accurate. The second means that the email format is correct but has not been verified. "Not valid" simply means that the email is not verified and has higher chances of hard bouncing.
Verifying your target accounts' email addresses is paramount as it helps you improve your deliverability score and negate the risk of having your emails bounced.
Now that you have valid emails, it is time to reach out to your target accounts.
Since this is the first time you are contacting your targets, your outreach will be more or less cold. So, your outreach method here is cold emailing.
---
Craft Killer Cold Emails That Convert
Ask most sales and marketing gurus about cold emails, and they'll tell you this method is dead. Some will even tell you that no one reads cold emails.
Neither answer is true.
Cold emailing works, and here's how to do it right.
Create a perfect subject line.
Your subject line is the first thing your recipient sees when you cold email them. It can make or break your marketing campaigns. That's why your subject lines need to grab attention.
There are a bunch of tactics you can use to make your subject lines catchy–here's a few:
Curiosity: It makes the recipient wonder what's in the email body. If used properly, your recipient can't resist opening your email (e.g., "Quick question," "Is this you?" "Here's the hard truth.").
Straightforwardness: This tactic is another way to get your cold emails opened. It suggests that you state upfront in your subject line what's in it for the recipient. If they see the value they can get from your email, they'll open it (e.g., "$100 coupon," "3 ways to close deals easily.").
2. Write a catchy opening line.
Getting your email opened is not a victory in itself. Getting the recipient to read it and take action is.
That's why the very first sentence of your email needs to be as catchy as possible. The goal is to structure the first sentence, then the second, then the third, etc.
A great way to make that first line engaging is to research your recipient and find exciting facts happening in their personal or professional life. It might be that their birthday is in one week or that they crave French wine, etc.
Once you get that information, you can use it as a custom variable or an Icebreaker, if you like.  Icebreakers show your recipient that you've done your homework and know them.
3. Make your email scannable.
Your target account has opened your email, read the first sentence, and deemed your email is worth reading. But there's one caveat, they're swamped, and as much as they like you, they can't read your 8-paragraph email.
Here's how to make it easy for them to get your message. Make. It. Scannable.
Make it easy for the recipient to scan your email body and get the message without reading entire text blocks.
Another way to have your recipient read the entire email is to keep it short and sweet. Think 3 to 4 paragraphs at most. If they're reading it on their mobile device, your email shouldn't exceed one page.
4. Include a CTA.
They've read your email. Now what? What should be the subsequent steps?
Don't have them guess the next steps. Make your call-to-action clear at the end of the email. It should be easy for your target to know what you want them to do. Do you want them to hop on a call? Fill in a form? Read an article?
---
Automate Your Outreach
Once your email copy is ready, you need to automate your outreach campaign. This is where Hunter's Campaigns comes in.
It allows you to connect your account to your Gmail account and run your outreach campaign in a smooth and streamlined way.
Hunter Campaigns allows you to track personalized emails, create email campaigns, and manage campaign performance.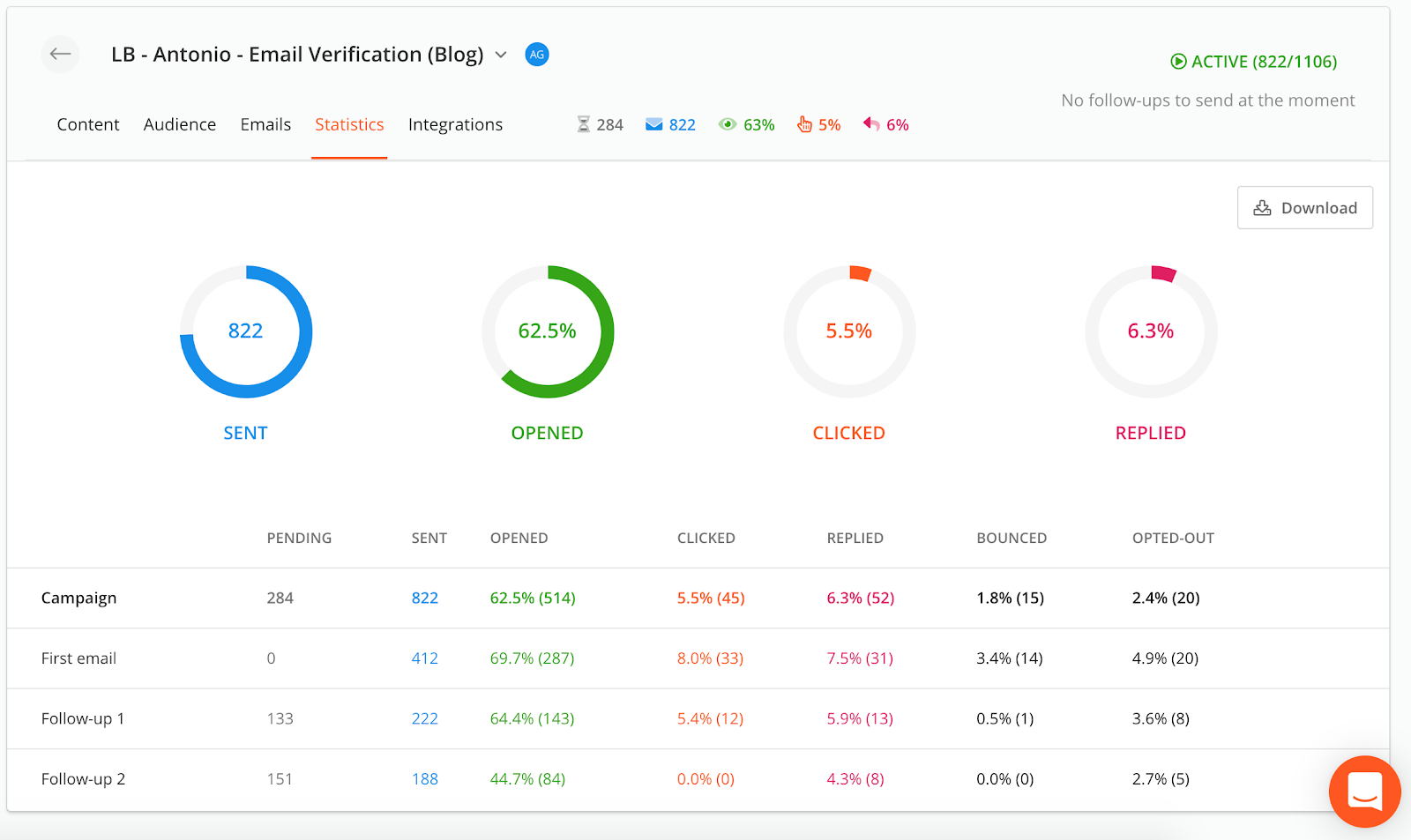 With Campaigns, while writing your cold email, you can also use custom attributes to make it hyper-personalized.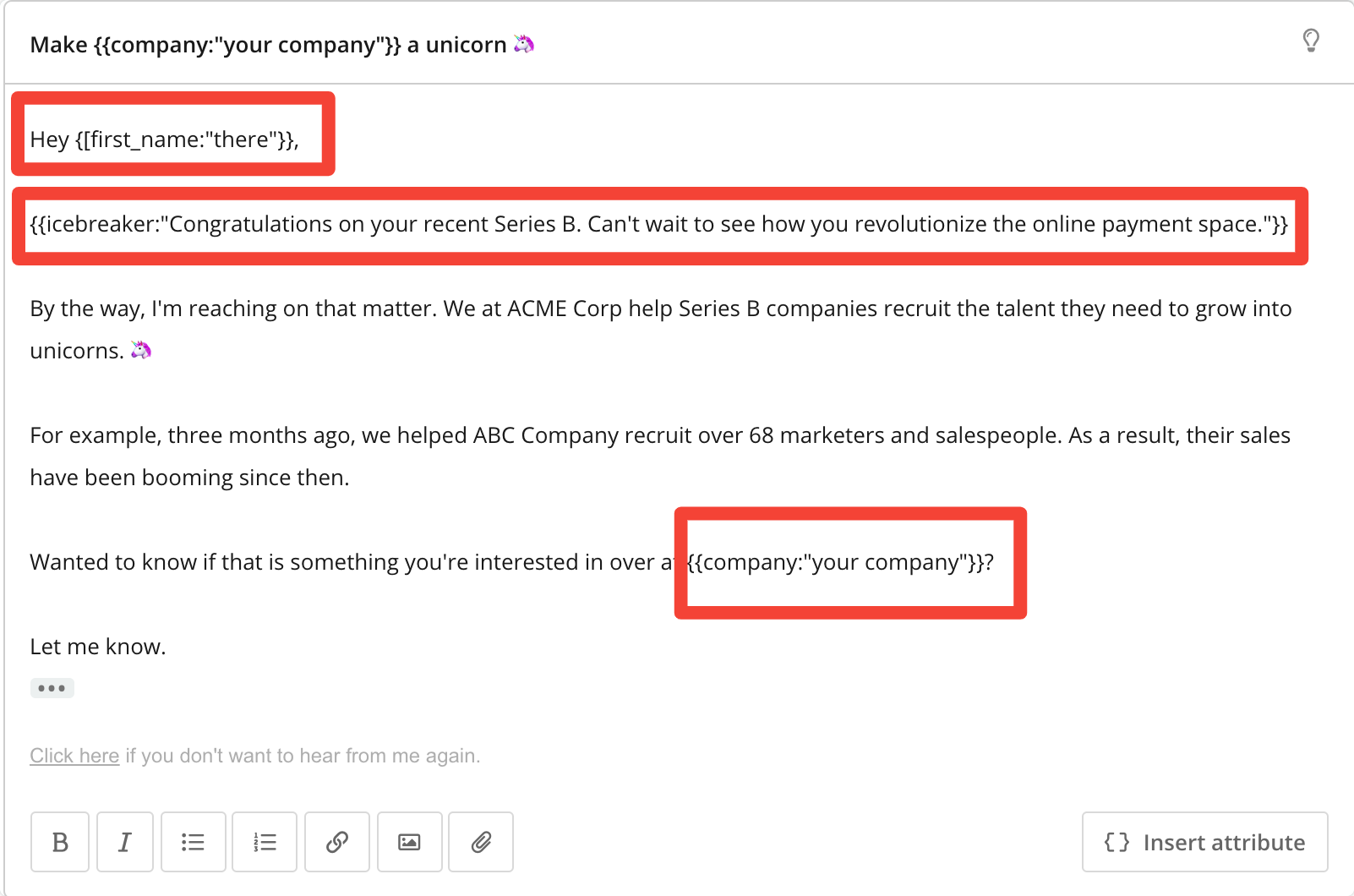 In some cases, even though your emails are highly personalized, you may not get the desired result from the first outreach. In this case, you can build a cold email sequence and use Hunter Campaigns to write and schedule follow-ups.
You can set a daily quota and your schedule by deciding when campaigns are sent based on the data collected during your initial research.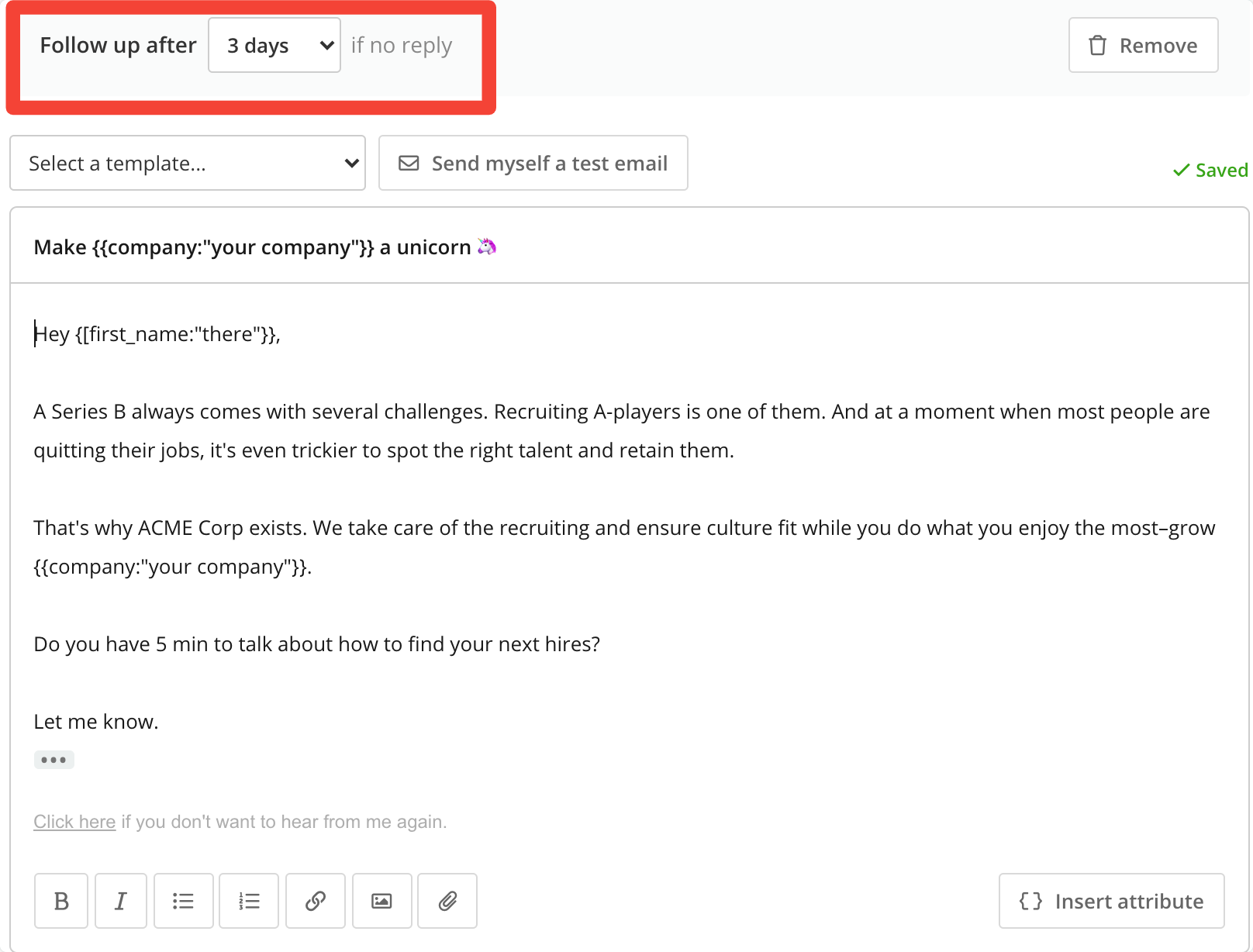 But if you don't know where to start and need the inspiration to craft your email, Hunter provides several email templates with custom variables for you to save time and craft the most targeted message possible.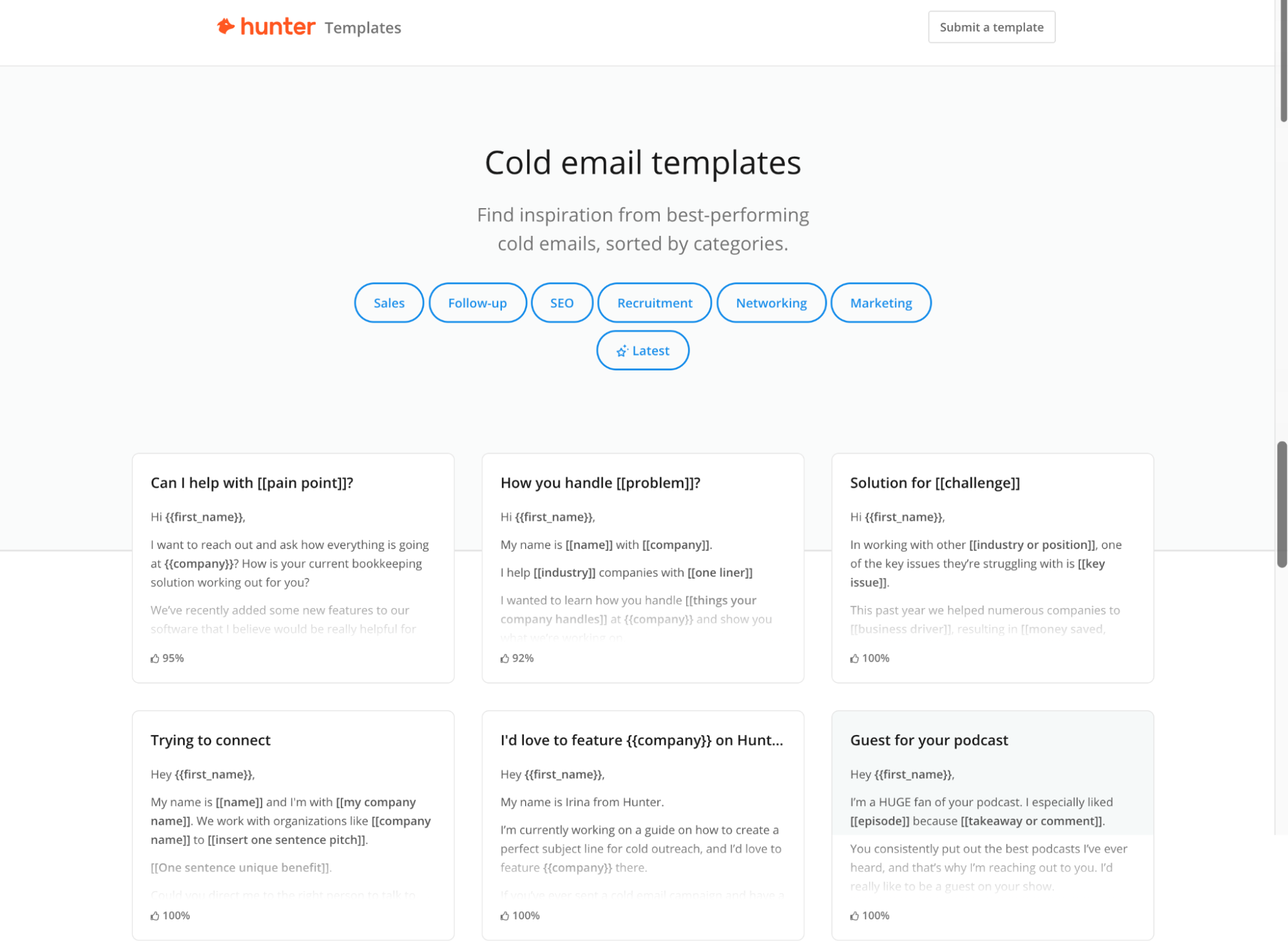 These templates originate from campaigns that have generated significant results.
---
How to Measure the Success of Your Targeted Account Selling
In all of your Target Account Selling campaigns, you need to nurture and continuously engage with key accounts for your sales targeting to be successful.
If your Target Account List is built the right way, every account in your list should show high levels of engagement. If not, there is a problem.
An excellent way to measure the effectiveness of your sales targeting strategy is to compare your engagement levels in current campaigns to your results when you weren't using a TAL to drive your strategy.
This is where Hunter Campaigns can help again. You can create different campaigns and track their metrics so that you can compare metrics. With this, you can optimize each of your campaigns on the go and ensure that you don't make the same mistakes.
What metrics should you keep an eye on?
Basically, the objective of your targeted selling is to drive sales while maintaining a long-term relationship with the different stakeholders involved in your KPI.
So, the key metrics you need to keep an eye on are open rates, reply rates, and success rates. Even though these metrics don't give you a sales-wise overview, they allow you to get a bigger picture of the overall engagement rate across different stages of your email sequence.
---
Wrap Up
The traditional sales playbook is outdated, so to win big customers easily, you need to embrace the targeted selling strategy.
Here are some tips to get it right.
Quality always wins over quantity.
Instead of playing the numbers game, spend a lot of time identifying your actual ICPs and their characteristics to build a select list of companies with which to work.
You can build a very specific list using Hunter TechLookup.
Know every account inside and out.
Targeted selling is like dating. You must first take time to get to know your partner before you go steady.
Take the time to research each account and the different people on their Buying Committee and note what they like, their hobbies, email addresses, etc.
To make sure you are using the correct email addresses, use Domain Search or Email Finder.
Target them with hyper-personalized outreach.
Target Account Selling is first and foremost about personalization.
To succeed in your outreach, make sure you use Hunter Campaigns to leverage custom attributes, including first names, icebreakers, company names, etc.