The Complete Guide to Creating an Effective Sales Cadence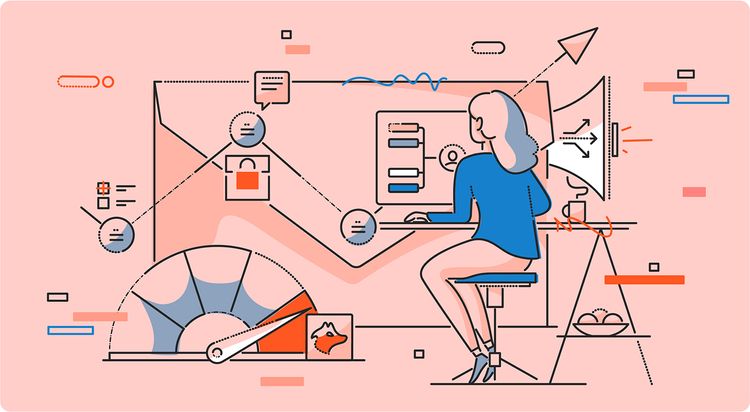 If you're looking to structure and scale your prospecting efforts, creating a sales cadence is a must. In this blog post, we'll show you how to create an effective sales cadence that will keep your pipeline full at all times.
The table of content will be generated here
What is a sales cadence?

A sales cadence is a series of interactions with a prospect, made with the intention of establishing a connection that will lead to a meeting, a product demo, or a sale.
Sales cadences are usually coordinated across multiple channels (e.g., email, phone, and LinkedIn) to increase the chances of getting a reply from the prospect.
Why do you need a sales cadence?

Creating and documenting a sales cadence has multiple benefits. It can help you:
Structure your prospecting process – In order to scale sales, it's crucial to have a structured prospecting process in the form of a sales cadence. This eliminates guesswork and helps sales teams generate consistent results.
Generate more meetings and opportunities – Having a well-defined sales cadence and outbound sales strategy will allow you to delegate your prospecting efforts to an in-house sales rep or outsource to an external sales team. This, in turn, will help you generate more meetings and opportunities.
Speed up the sales cycle – Using a multi-channel outbound sales cadence can help to speed up the sales cycle by allowing sales reps to interact with prospects more frequently and get their attention faster.
How to create an effective sales cadence

Now that you understand what a sales cadence is and why you need it, let's look at how you can create an effective one.
Choose your communication channels

The first thing you need to do when creating a sales cadence is to decide which channels you're going to use to communicate with the prospect.
Popular channels for prospecting outreach include:
Email
Sending your prospect a cold email is likely the easiest way to introduce yourself and let them know what you do and why they might want to work with you.
It's by far the least intrusive outreach channel, and it gives prospects the freedom to decide when to interact with your message.
Phone
Calling your prospect on the phone might make sense for certain industries and job roles. You do need to be careful when incorporating phone calls into your sales cadence since a lot of people don't take kindly to sales calls.
Additionally, you need to be mindful of your prospect's time zone and what they might be doing when you call them.
LinkedIn
As a business-oriented social networking platform, LinkedIn is a great place to try to reach prospects. As with cold calling, however, you still need to be careful about how you approach prospects on LinkedIn. The platform should be used to connect with prospects and develop genuine relationships instead of using hard sell tactics.
Depending on your target audience, it might also make sense to use other channels. When deciding which channels to use, you should consider what your prospect's day-to-day looks like and think about how they'd prefer to be contacted.
Decide on the number of touchpoints

The next step is to decide how many touchpoints your sales cadence will incorporate.
Here, it's important to strike the right balance between not getting any attention from prospects and annoying them with too many outreach attempts.
While it's been shown that increasing the number of touchpoints you use can lead to more sales, that doesn't mean that outreach is strictly a numbers game. The quality of your outreach attempts matters, too.
Every time you reach out to a prospect, you should be providing some sort of value to them — you can't reach out just to pitch your offer every time.
There isn't really a perfect number of outreach attempts you should make. It all depends on your buyer personas and their preferences, as well as your specific offer.
What you do need to keep in mind, however, is that multiple outreach attempts are usually necessary to get a prospect to respond.
At a minimum, you'll be making one outreach attempt per channel. So, if you decide to reach out to prospects via email, phone, and LinkedIn, that's three touchpoints.
For less intrusive channels, like email, you can make multiple outreach attempts. When it comes to more intrusive channels, like cold calling, it might be best to set a limit of one outreach attempt per prospect.
Craft your sales pitch

At this point, it's time to craft your sales pitch.
In most cases, you'll want to keep your sales pitch short to avoid losing your prospect's attention. This is generally going to be true regardless of which channel you use to communicate with prospects.
You should also find a way to create urgency — the prospect needs to understand why solving their pain point using your solution should be done as soon as possible.
For example, if you run an agency that provides conversion optimization services, you need to make it clear to the prospect how their business might be leaking revenue by having a website that's not optimized for conversions.
So, how do you write a sales pitch? Start with a hook — an opening line that grabs the prospect's attention. Then, briefly explain who you are, what kind of customers you work with, and how the prospect can benefit from your solution.
Finally, end your pitch with a call-to-action that lets the prospect know what's the next step they need to take to move things forward. Depending on your sales process, this might mean booking a meeting or product demo, signing up for an account on your website, or doing something else.
Space out your contact attempts

It's important to give prospects some breathing room between outreach attempts. You don't want to reach out to a prospect multiple times in one day.
Then again, you also shouldn't wait so long between attempts that prospects forget who you are.
In general, it's fine to wait two to three days between attempts. You should also try to vary the channels you use with each subsequent attempt.
An example of an effective sales cadence

Need more help creating a sales cadence? Here's an example of an effective sales cadence you can use:
Day 1: Connect with the prospect on LinkedIn

A good way to get on your prospect's radar is to connect with them on LinkedIn. Once they get a notification about a new connection request, they're likely to check out your LinkedIn profile to see who you are and what you do.
For best results, make sure to write a personalized connection request message. If you don't, LinkedIn will just send them the default connection message, which will make it harder for you to stand out among all the other people that might be looking to connect with your prospect on the platform.
Day 3: Send a personalized cold email

Once you've sent the prospect a connection request on LinkedIn, you can wait for a day or two. This will give them time to review and hopefully accept your connection request, as well as check out your LinkedIn profile.
Then, you can send them an email introducing yourself and your offer.
Here, it's important to personalize the email by including details that are relevant to the prospect. This will show them that you've done your research and help with grabbing their attention and building rapport.
Here are a few ways you can personalize the email:
Address the prospect by their name
Mention their company name and industry
Compliment them on a recent achievement or accomplishment
Talk about their pain points and challenges
If you don't know your prospect's email address, you can use Hunter's Email Finder to get it in seconds. Simply go to the Email Finder page and type in the prospect's name and website.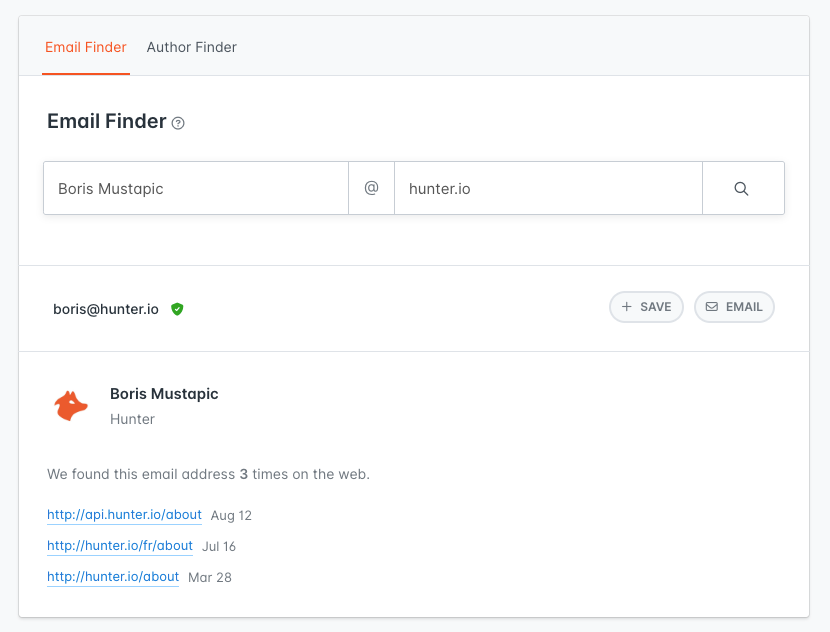 Day 7: Follow up on your email

Since only 8.5% of cold emails get a response, it's unlikely that you'll get a reply from the prospect on your first try. That's why you should always send a follow-up email.
Another reason to send a follow-up is that it's been shown that following up with a prospect can double your reply rate.
When writing a follow-up email, it's important to recap your initial email because there's always a chance that the prospect never read it.
You should also make sure to provide some additional value for the prospect with your follow-up. For example, you could give them a bit more information about your product or service, and why it would be a good fit for them.
Day 10: Reach out through LinkedIn

Still no reply from the prospect? You can send them a message on LinkedIn if they've accepted your connection request.
If they haven't accepted your connection request, don't worry — you can still reach them through InMail.
LinkedIn InMail is a feature that allows you to send a message to people you aren't connected with on the platform. However, in order to use it, you'll need to upgrade to a premium account.
In your message, you can let the prospect know that you've tried reaching them through email but haven't received a reply. Remember to keep the message short and briefly restate your offer.
Day 14: Send a second follow-up email

A week after your first follow-up email, you can send a second one.
This time, focus on providing value for the prospect by sharing a resource that can help them solve a pain point or challenge they're dealing with. As always, don't forget to include a call-to-action at the end of your email.
If you're dealing with multiple prospects at the same time, keeping track of all the follow-ups can be tiresome. You can use a tool like Hunter Campaigns to automate follow-ups and send personalized cold emails at scale.
Here's how to schedule follow-ups using Hunter Campaigns:
Log in to Hunter, and go to the Campaigns tab. Once there, click the +New campaign button.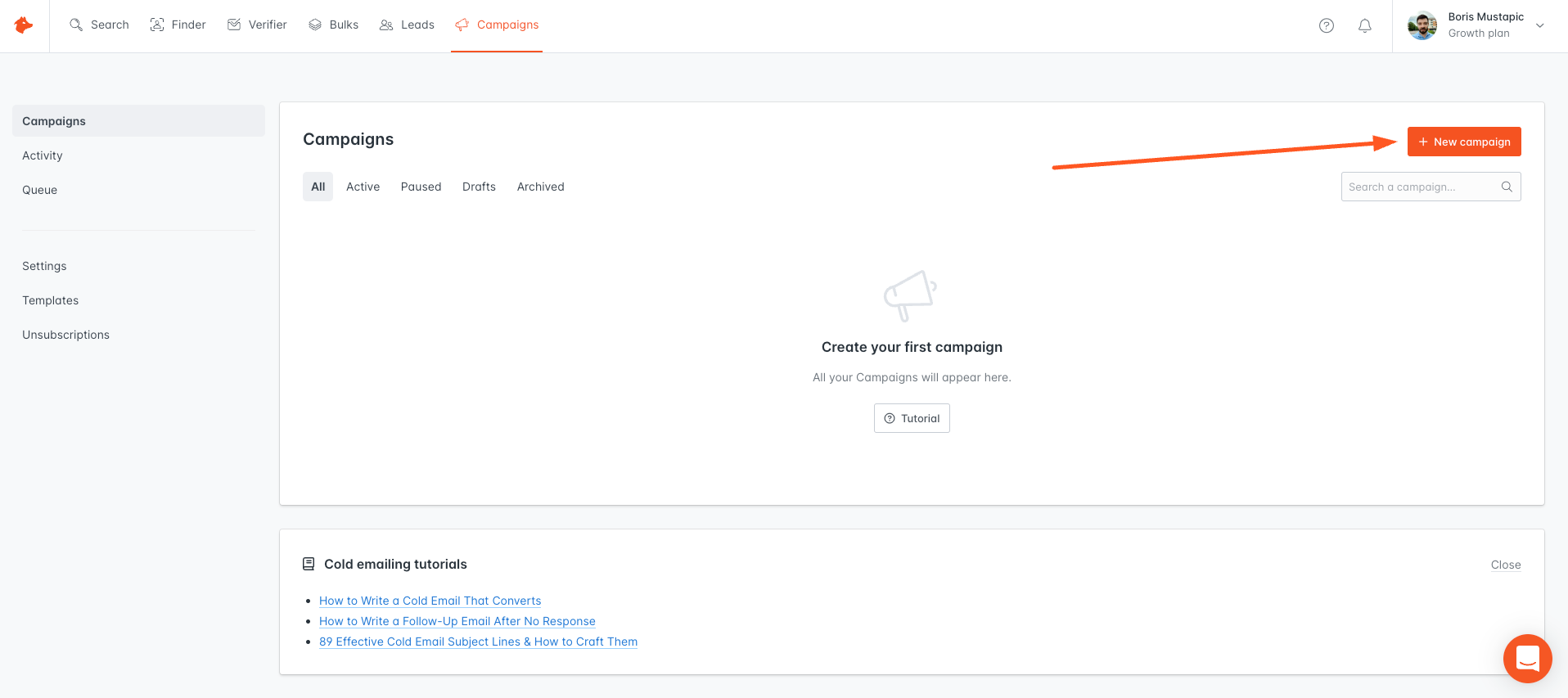 Add a subject line and email body for your initial cold email. Then, click on the Add a follow-up button.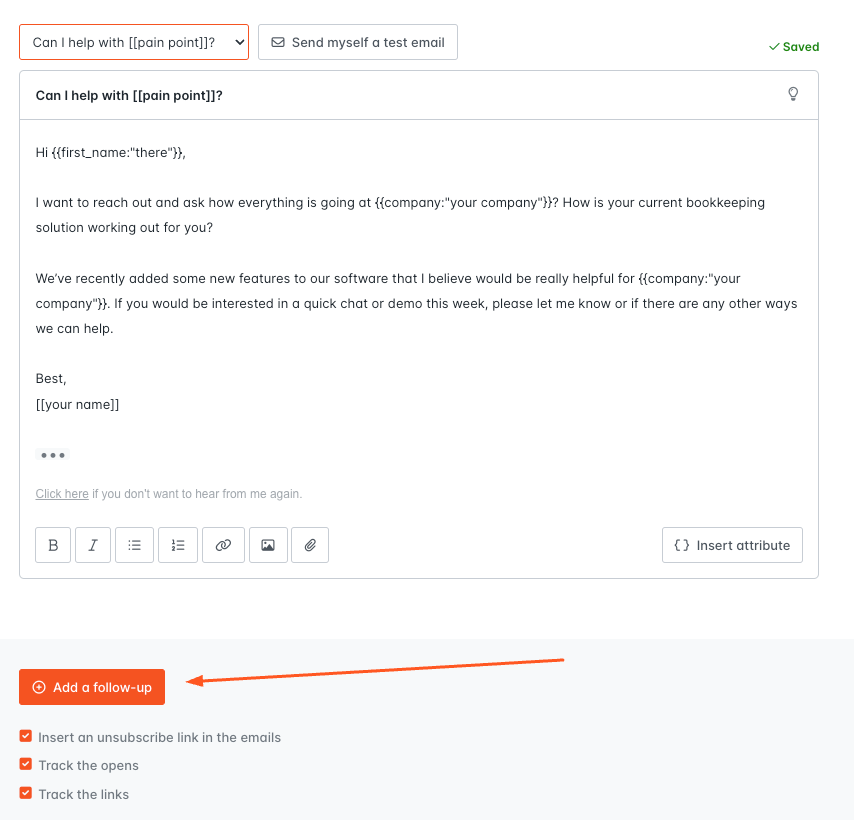 Choose a time delay for sending your follow-up email, and fill out the subject line and email body fields. If you'd like to send the follow-up email in the same thread as your original cold email, keep the subject line field empty.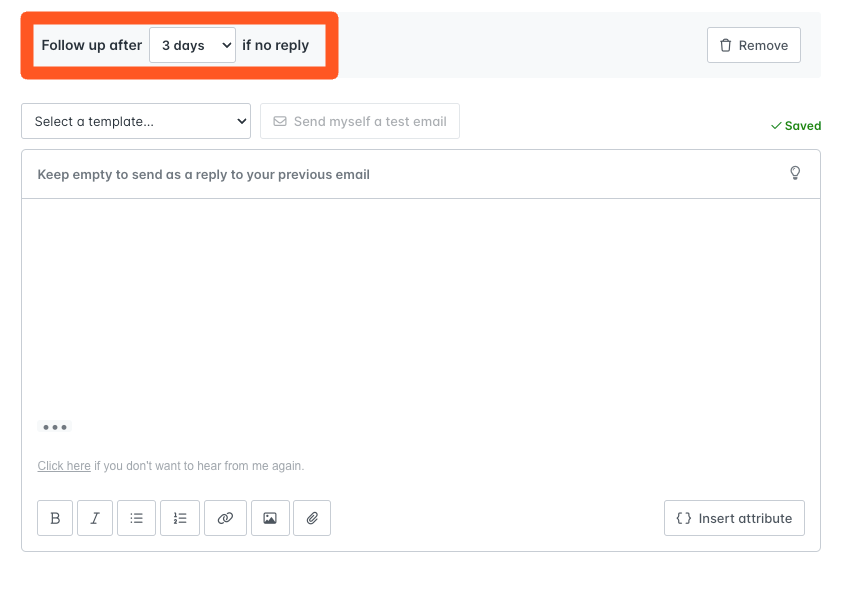 If you'd like to add additional follow-ups, click the Add a follow-up button again and repeat the process.
Day 21: Leave a voicemail message

At this point, you can introduce a third channel into your sales cadence: voicemail.
Why voicemail? Firstly, it's less intrusive than cold calling. More importantly, it can be automated. Solutions like Slybroadcast and Drop Cowboy allow you to schedule ringless voicemail drops to keep your company top of mind with prospects.
In your voicemail, you can let prospects know that you've been trying to reach them for a while and ask them to either call you or reply to any of your messages if they're interested in what you're offering.
Day 28: Send a breakup email

Six touchpoints and still no reply from the prospect? Ouch.
At this point, it might be time to send a breakup email. With this email, the idea is to recognize that the prospect might not have a need for what you're offering at the moment but to still leave the door open for any potential future engagement.
This accomplishes two things:
It shows the prospect that you genuinely care about their needs and won't just mindlessly follow up forever.
It helps you remove uninterested prospects from your pipeline so that you can focus on prospects that might have a better chance of converting.
Additionally, sending a breakup email that lets the prospect know you're going to stop following up might be just the push they need to finally respond.
Need more help writing a sales breakup email? Check out this guide.
Close more deals with the right sales cadence

If you got this far, it means that you're ready to create your very own sales cadence. Now, go ahead and use our tips and the provided sales cadence example to do it.
In case you're looking for more sales and prospecting tips, check out these posts: