LinkedIn Prospecting: Techniques, Tips, and Tools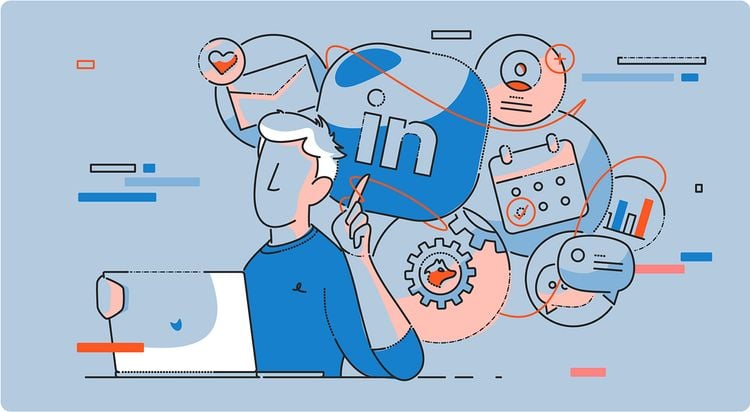 Every salesperson needs a steady stream of prospects to succeed. While there are lots of ways to generate more sales leads, a good LinkedIn prospecting strategy is one of the most powerful.
In fact, LinkedIn is designed to be sales-friendly. With over 800 million users worldwide and an advanced search system that allows you to find people who exactly match your target audience, it's the perfect place for sales prospecting.
Plus, as a business-oriented social platform, users expect a certain amount of sales outreach. A well-tailored LinkedIn outreach campaign can produce outstanding results.
Prospecting on LinkedIn is powerful, but that doesn't mean it's always easy.
Just like everything in sales, your results depend on the quality and consistency of your approach. Spamming hundreds of messages to random connections probably won't generate the leads you want.
We've put together these smart LinkedIn prospecting tips to help you see better results faster.
The table of content will be generated here
Before you start

You're almost ready to jump in. But first, start here:
Define an ideal customer profile and a buyer persona

Like it or not, some businesses will simply never buy from you. They don't need what you sell.
That's okay. There are plenty of companies that want to buy, and you can find them faster by focusing your effort in the right places.
As the first step of your sales process, you must understand your ideal customer profile.
Your ideal customer profile (ICP) is a detailed, comprehensive description of the company that is the perfect fit for your product or service. In other words, they're the potential customer that would be absolutely thrilled to buy from you.
For example, imagine you sell a moderately-priced SaaS tool that helps growing companies manage their changing human resource needs. Your ICP would probably be a fast-growing startup that is going through a lot of hiring.
They might have a single human resource employee, or they may not have formalized HR at all. Whoever is in charge of HR functions is frustrated that they don't have the time and tools to do everything they want to do. Their company values include a commitment to a positive culture, and they want to offer more benefits to their employees.
The more relevant details you can include, the better. Think about the problems that you solve and the reasons that a company wants your solutions.
From there, create a buyer persona to help you focus on making the right contacts during prospecting. This buyer persona is a person who works at your ICP company and is empowered to make or influence the purchasing decision.
Using the SaaS example above, consider who might be the right person to approach at the ICP company. If they have a team member in charge of human resources, that's probably a good prospect. The CEO, COO, or any large department manager who currently deals with people ops is also a viable option.
What does that person want? What are they frustrated about right now? What are they proud of, and where do they wish they could spend more time and energy?
Understanding your buyer persona empowers you to find the right prospects more easily and tailor your messaging to get a better response rate. You waste less time messaging people who will never respond so that you can help more companies that really need your product or service.
Make sure your LinkedIn profile is optimized for prospecting

Once you have a clear picture of which LinkedIn users you're going to target, it's time to take a close look at your LinkedIn profile.
Think about it: what's the first thing that a prospect is likely to do if your message piques their interest?
They're going to look at your LinkedIn profile to see who you are, what you do, and whether you're worth a response.
You're more likely to spark conversations if your profile proves that:
You're a real person
You (and your company) have the expertise, authority, and ability to solve your ICP's problems
You're easy to reach
You're credible and trustworthy
As an added bonus, optimizing your profile also makes you more likely to appear in search results when other LinkedIn members are looking for solutions like the one you offer.
To create the best possible LinkedIn profile, focus on each of these:
Your LinkedIn headline

Other than your profile picture, your headline is the most visible part of your LinkedIn profile.
Your headline gives you the chance to describe who you are and what you do — in 220 characters or less. It's sort of like an elevator pitch.
Headlines are basically first impressions for LinkedIn profiles. This is your chance to set yourself apart and set the tone for the rest of your profile. Think about what you want a prospect to feel about you right away.
Here are some tips to help you get it right:
DON'T use your job title. You know what it means, but prospects don't really know or care about sales team titles.
DO make it clear that you're in sales. It sets the tone and helps build trust because you're not trying to sneak in a sales pitch.
DON'T fill your headline with jargon. Trying to fit too many buzzwords creates confusion.
DO use your ICP's language to explain why you're valuable. Tell them what problem you're going to solve.
DON'T exaggerate. Are you really selling the world's best customer feedback platform? It's better to stick to facts over opinions to keep trust high.
DO use keywords. If someone was looking for your solution, what would they type into the LinkedIn search bar? Try to use that phrase naturally in your headline.
You don't have to hit every single item on this list to create a good headline. The most important thing to consider is what makes the most sense for your buyer persona.
For example, if you sell IT services, your headline might look like this:
IT sales specialist for On Call IT. We offer fast, affordable, on-demand tech support for growing companies.
It's not clever or flashy, but if your prospect is struggling with IT needs at a growing company and can't afford to hire a full-time IT person, they'll be paying attention.
There's no perfect headline out there, so be willing to try something and change it if you feel like it's not working for you.
Your profile photo

The other major component of your first impression on LinkedIn is your profile photo. This shouldn't be surprising. As a salesperson, you already know that looking sharp is a must.
If your main photo is a selfie, it's time for an update. A professional headshot is the way to go. Save the selfies for other social networks where you're not prospecting.
Even if you can't splurge on a photographer right now, use a high-resolution camera and a tripod to take a professional-looking photo. It might take some extra effort, but LinkedIn sales prospecting is competitive, so it's worth it to put in a little more work to stand out in the right way.
A good profile picture meets these criteria:
It's well-lit and clear
You're looking directly at the camera and smiling
Your face is the main focal point and takes up most of the frame
It really looks like you — if someone ran into you at a conference, they'd recognize you from your picture
The background is simple and not distracting
Your clothes and background represent your brand well
Spend extra time on your headline and picture. They're the first things your prospects see and the most important pieces for building immediate trust and rapport.
Next, we'll start filling in the details.
Your background image

A LinkedIn background image should be 1584 x 396 pixels. Use a high-resolution image.
Your background photo might not seem important, but every detail is an opportunity to strengthen your first impression. It's also a chance to prove that you're a real person.
Think about the message you want to send to prospects. Do you want to strengthen your sales message, build rapport as a person, or showcase your credibility with accolades and awards?
You can use a photo or a designed graphic in this space. For example, if you want to reinforce your sales message, you can treat your background photo as a banner ad. You might even mention a special offer or showcase a high-value product.
However, if you prefer to make a more human connection, you might include a photo of yourself in a cool, scenic location.
Your summary

Now, we've reached the part of your LinkedIn profile where you get to explain what you do. Notice that we listed this part last. That's because it's probably the last thing your prospects will read.
Finally, you get to explain what you do, who you help, and how they should get in touch with you.
Remember your ICP and your buyer persona here. In your summary, you're talking directly to them. Whether they found you through a LinkedIn search or they're reading your profile after you reached out, your summary should grab their attention and tell them exactly what kind of problems you solve.
Start with a hook. What does your ICP care about? What will get your buyer's attention? Get to the point right away.
From there, explain what makes you and your solution unique. Why should the buyer solve their problems with you?
Finally, make the ask. Invite them to message you or provide some other way for the buyer to take the next step. They should be ready to learn more, and you should tell them exactly where to go to get the information they want.
Keep this under 2,000 words. You don't want to give them all the answers. Give out just enough information so that they're ready to talk to you.
How to find prospects on LinkedIn

Now that your profile is pristine, you're ready to start prospecting on LinkedIn. Let's talk about where you can find the ideal prospects so that you don't waste your time.
Use Advanced Search

It's time to start using the built-in LinkedIn prospecting tools to find your ideal candidates.
To get to advanced search, simply use the search bar to complete a basic search for your keyword. You'll see a number of options at the top of the search page and a button to see all the filters.

From the "All filters" screen, you can search for specific results using more keywords and settings.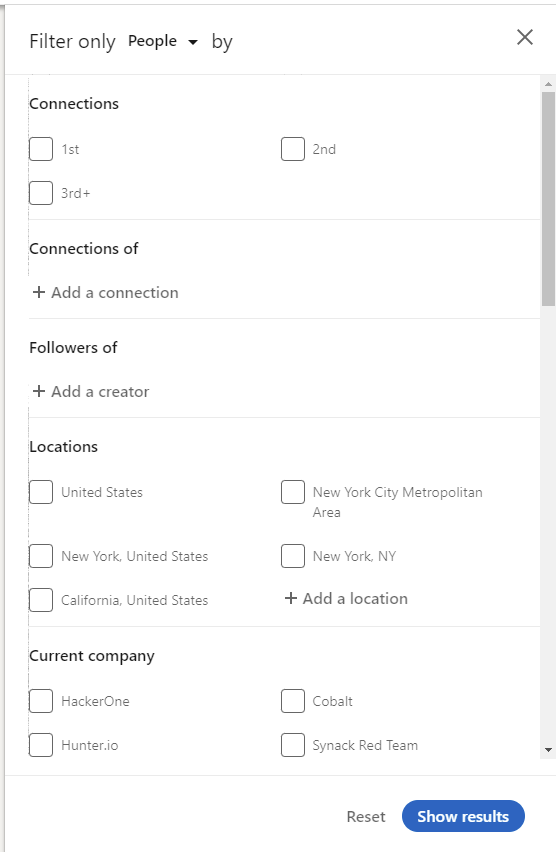 Advanced search is a powerful way to find prospects. You can find people:
By role: look for your buyer personas at any company. For example, search for lead developers to pitch your tools.
By company: look for contacts at specific companies that you have already determined meet your ICP parameters.
By industry: research people and companies who are likely to fit your ICP guidelines based on their industry.
By event: find live and virtual events where you can meet prospects.
Smart filtering in your search results is a huge time-saver.
Take advantage of LinkedIn Sales Navigator

If you're going to make LinkedIn sales prospecting a regular part of your strategy — and you should — then it's worth investing in Sales Navigator.
LinkedIn Sales Navigator is a professional set of prospecting tools specifically for salespeople who want to find leads on LinkedIn. You get:
Even better advanced search capabilities
Automatic recommendations for top prospects and companies
The ability to leave yourself notes on prospect profiles
Data syncing with your CRM
InMail usage specifically for sales
Basically, using Sales Navigator makes LinkedIn an extension of your CRM so that you can generate and manage your leads more easily.
Join industry groups

LinkedIn groups are similar to Facebook groups. They're special pages organized around a specific business topic, usually an industry or more specialized interest. People ask questions, share resources, socialize, and network in these groups.
You can find groups using the advanced search we referenced above. Search for your industry or specialty and check out the available groups.
Once you find a suitable group, don't just jump in and start spamming your sales pitch. Actively participate in conversations to build your reputation as a helpful person and a thought leader.
Remember, people don't join groups for a sales pitch, so resistance to a cold pitch may be high. Groups aren't about finding immediate prospects — they're about building relationships that can eventually grow into prospects.
Groups are also a great place to do some additional market research.
The more you read and participate, the more you'll learn about your target audience. Keep notes on the questions that come up a lot and the problems that really cause a lot of stress. Those are great hot-button issues to talk about during prospecting.
Review the "People also viewed" section

The "People also viewed" section on a LinkedIn profile is a fantastic prospecting tool. When you find someone who matches your buyer persona, scroll down to the "People also viewed" box to get a list of other professionals who are likely to match your prospecting criteria, too.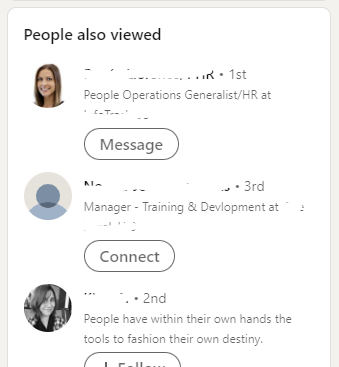 These people are related to the profile you're viewing in some way. They might work at the same company, have a similar job title, or are in the same industry in a similar position.
Whenever you review a prospect's profile, check out this section, too.
How to contact LinkedIn prospects

Once you've found the right people, your next challenge is figuring out what to say to them. How do you get in touch? What kind of messages get the best responses? Let's explore.
Send a personalized connection request

Most LinkedIn users, especially decision-makers, get a lot of connection requests. There are a lot of spammy LinkedIn prospecting strategies out there, too, so it's likely that your ideal prospect is already resistant to getting more connection requests from salespeople.
Personalizing your connection request improves the odds that they're going to accept it.
Your personal message tells that person that you've already put more effort into this request than most people, and you're a real human with something interesting to say.
Good personalized messages are friendly, specific, and open-ended. Let them know what caught your eye, whether it's something cool their company is doing or something interesting on their profile.
If you're using a LinkedIn outreach template that you found online, that's often more annoying to the person who has gotten an identical message 3 times this week already.
It's also bad etiquette to follow up a friendly connection request with an immediate sales pitch. That bad habit feels dishonest to the person receiving the pitch and can hurt your reputation over time.
What does a good message look like? Here's an example:
Hi, James. I saw that you work for ABC Technologies, and I've been following the progress on the Cool Product Release for some time. I'm in the same industry, and I'd love to connect and keep in touch.
Then connect and keep in touch. This is an opportunity to build a relationship.
Use InMail

We just said that connection requests aren't the right place for a sales pitch.
InMail is the right place to send your sales outreach messages.
LinkedIn InMail is a premium feature that's designed to enable cold outreach for recruiters, salespeople, and advertisers. With InMail, you can send a sponsored InMail message to anyone on LinkedIn, regardless of whether you're connected or not.
Based on your account level, you're allotted a certain number of InMail credits on a monthly basis. When you're out of credits, you have to wait until you get more to send more messages. Limits range from 5 per month with a Premium Career plan up to 50 per month with the Sales Navigator Core plan.
Since you can't send follow-up messages until your recipient responds, it's a good idea to ask a question or otherwise prompt a response in your opening message.
Use your InMail wisely to reach out to top prospects only. It's a good idea to combine your InMail strategy with regular personalized connection requests.
Reach out via email

Just because you found a prospect on LinkedIn doesn't mean that you have to communicate with them through LinkedIn.
Email outreach is powerful for a lot of reasons. When you communicate with prospects through email, you can scale your campaign using cold email software and send unlimited messages. Unlike LinkedIn, you're not restricted by InMail limits or connection requests.
Plus, most people check their email more than they look at their LinkedIn messages.
To find email addresses for your LinkedIn prospects, you can use Hunter's Email Finder.
Simply go to the Email Finder page, type in the person's name and company name (or website), and you'll get their professional email address in seconds.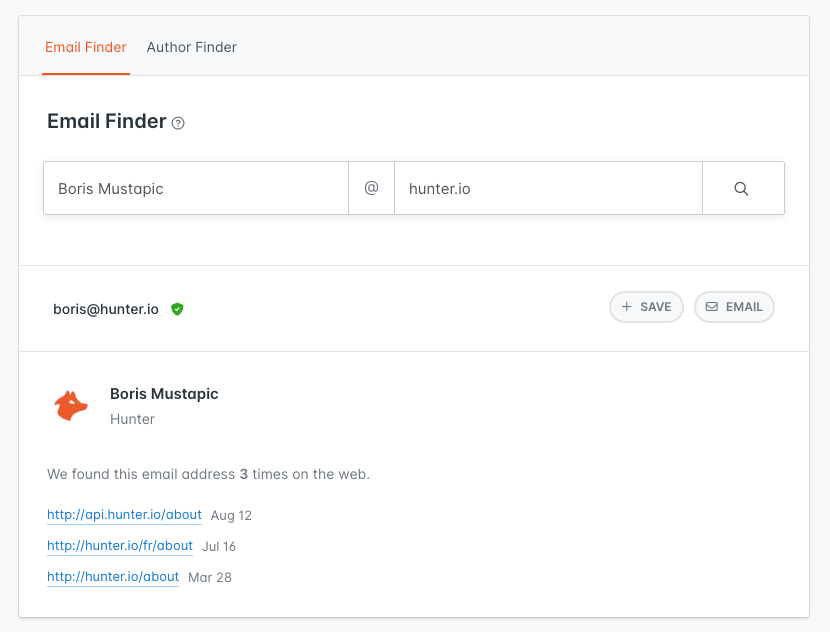 Once you have their email address, you can send them a cold email with your introduction or request. If you need to reach out to a large number of prospects at once, you can use Hunter Campaigns to set up a cold email campaign.
Fill up your sales pipeline with LinkedIn prospecting

Ready to start prospecting on LinkedIn? Great! Although it takes some time and effort to get started, this social network is a truly powerful tool for business-to-business sales.
Get even better results by leveling up your sales skills. Here are a few more blog posts that can help power up your LinkedIn prospecting strategy.