13 Essential Business Development Tools for 2023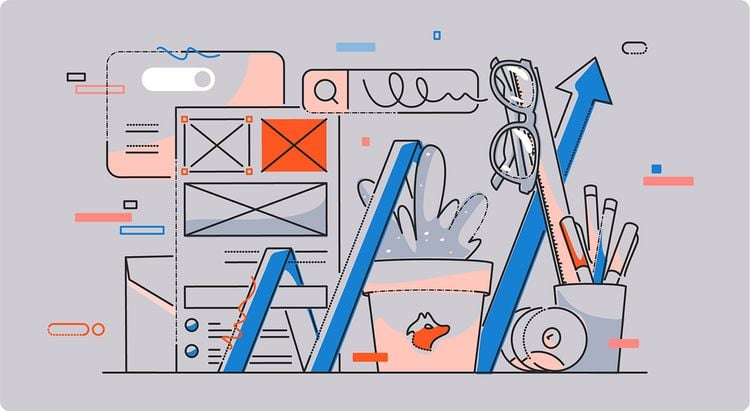 Developing new business opportunities for a company is hard work, especially if you're doing everything manually.
Luckily, there are a number of tools you can use to simplify or automate various aspects of business development. In this blog post, we go over the best business development tools available in 2023.
The table of content will be generated here
Prospecting tools

Prospecting tools help you discover more people who could be a good fit for your product or service.
They can save time for your business development team by automating tasks such as finding prospects' contact information, creating custom prospect lists, and syncing prospect information to your CRM software.
Hunter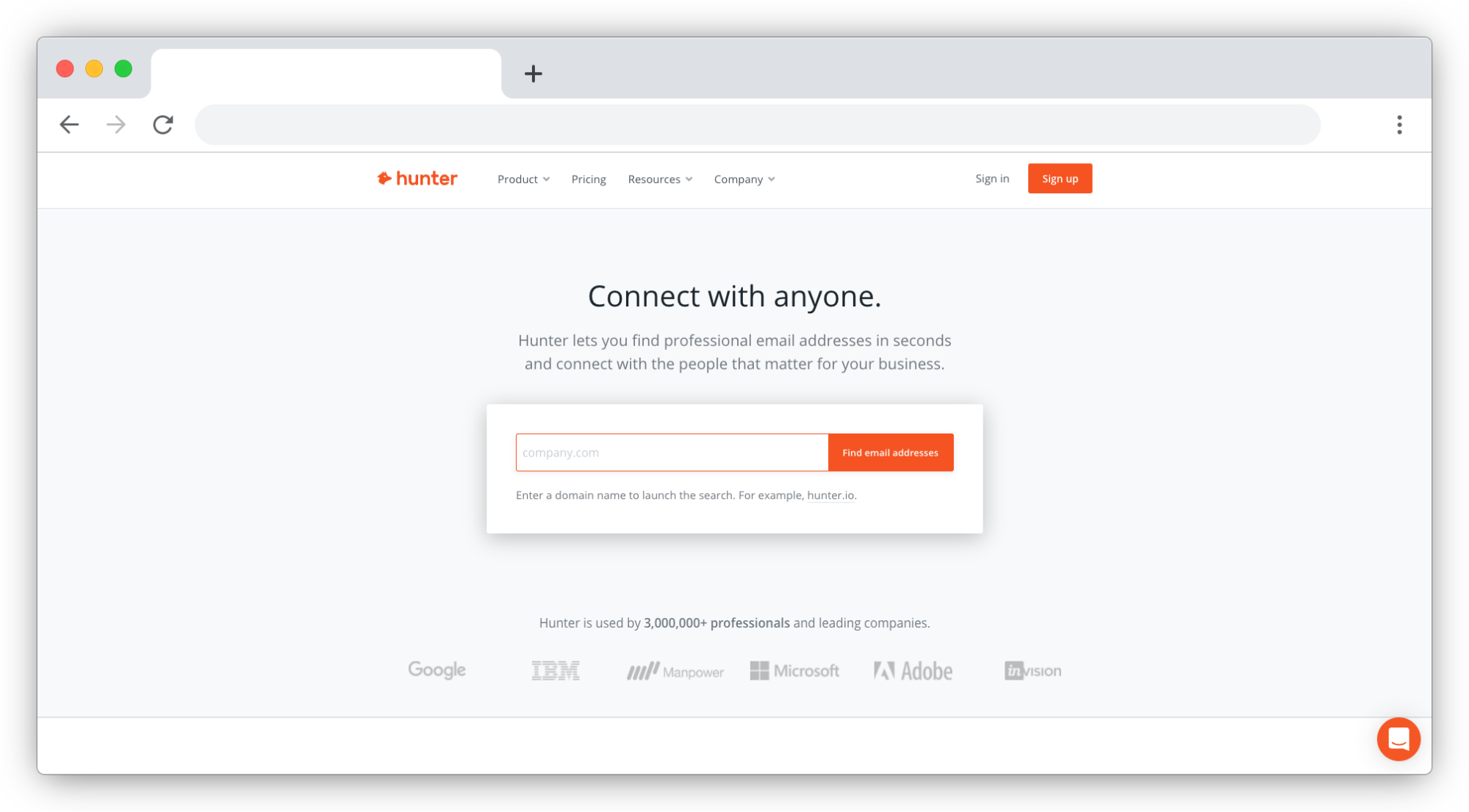 Hunter offers a set of tools that can help you simplify and automate the process of finding prospects' email addresses.
You can use the Email Finder to input a prospect's name and website and get their email address in seconds. Alternatively, you can upload a list of prospects and find their email addresses in bulk.
The Domain Search provides you with a list of email addresses associated with a specific domain. These are retrieved from public sources on the web.
You can then filter the email addresses by department, save them to a lead list, or export them to your CRM tool. Each email address is assigned a confidence score that tells you how likely it is that it's the prospect's actual email address.
Domain Search also lets you know the most commonly used email address pattern for a domain so that you can try guessing the email address of the person you're trying to reach if Hunter didn't manage to find it.
Hunter also offers a Chrome extension you can use to find the email addresses associated with any website you visit and a Google Sheets add-on that can help you find and verify email addresses from within Google Sheets.
Once you have the prospects' email addresses, you can verify them using the Email Verifier to eliminate bounces and improve email deliverability. The Email Verifier makes multiple checks to ensure an email address is valid, including checking the format, MX records, SMTP server, and more.
LinkedIn Sales Navigator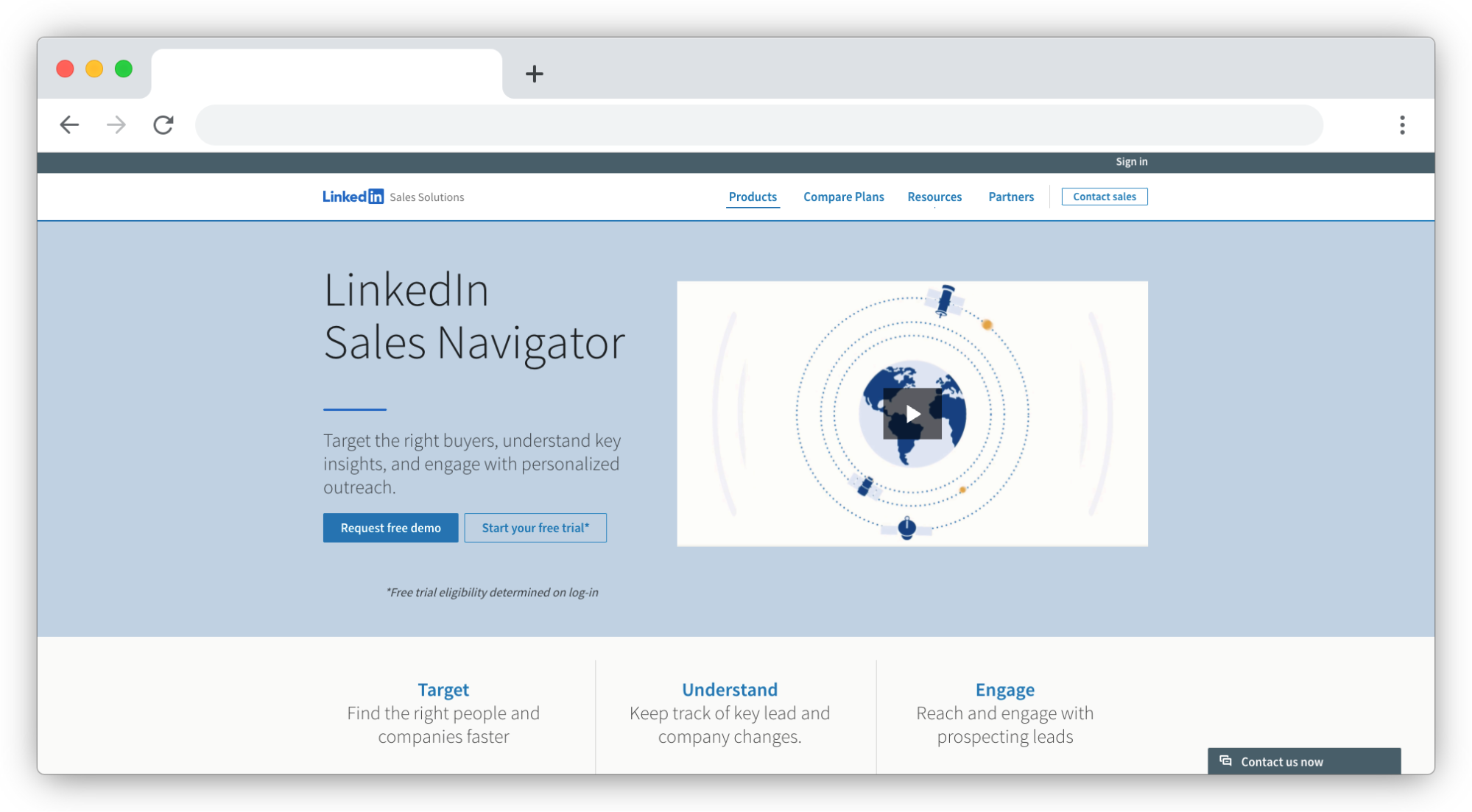 Are you already using LinkedIn? LinkedIn Sales Navigator is a business development tool that allows you to gain access to advanced lead and company search features.
You can search for prospects using various criteria, including industry, company size, and job role.
The tool can also provide you with lead recommendations and real-time updates on your prospects. You can create custom lead lists, add notes and tags to prospects and leads, and sync these to your CRM software.
CallPage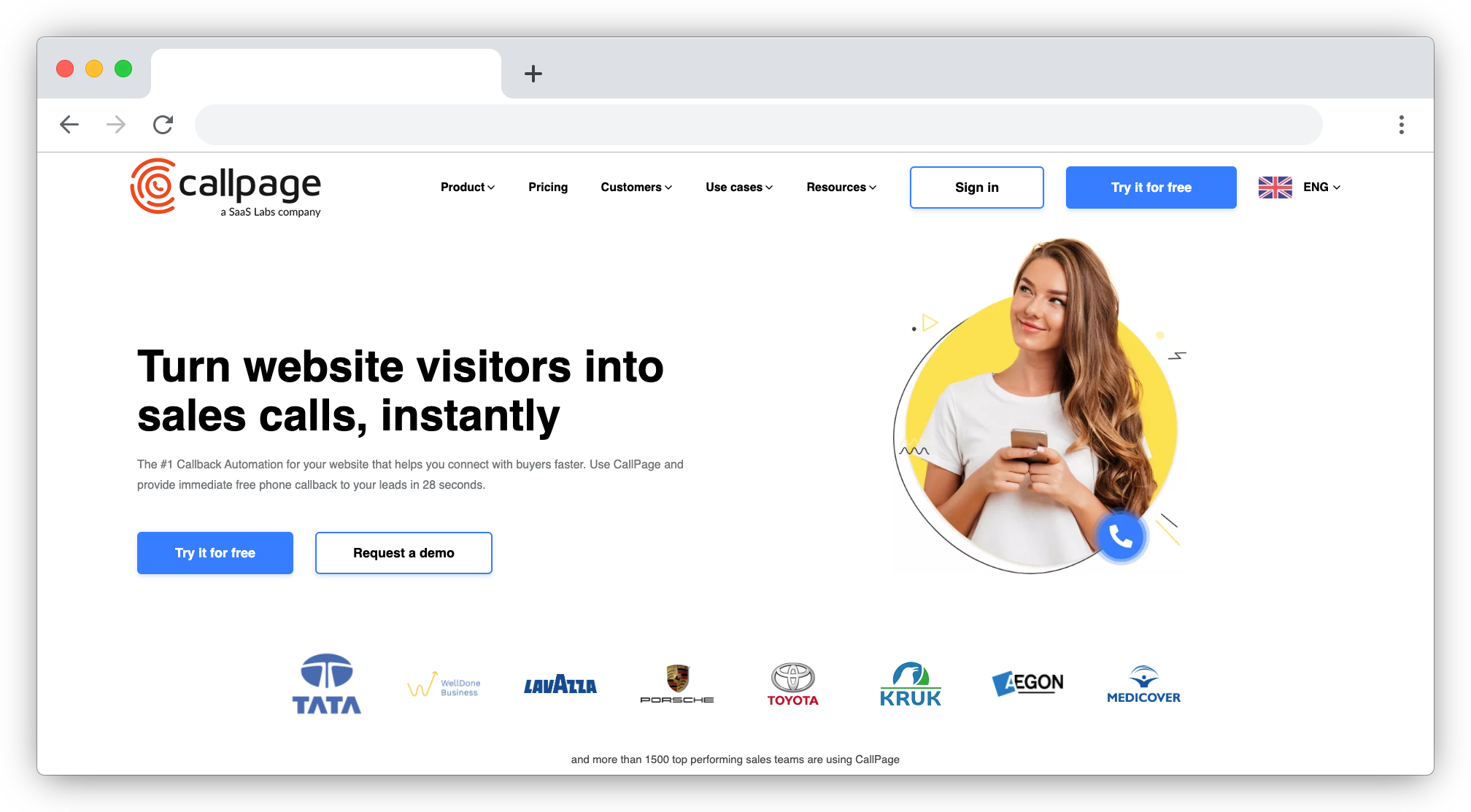 CallPage is a conversational marketing software that helps to turn website visitors into sales calls. It offers a click-to-call widget that can be installed on any website using simple HTML code.
Once a website visitor enters their phone number, CallPage will automatically connect them with an assigned consultant in seconds. Website visitors can also decide that they want to get a call back later, and CallPage will automatically connect them with your sales team at a scheduled time.
The widget can be customized to fit the look and feel of your website. Thanks to scoring rules, you can decide when the CallPage pop-ups should be visible to the user.  All calls coming from the widget are later available in the CallPage app.
---
CRM tools

Customer relationship management (CRM) tools help businesses streamline their business development process by allowing them to store and organize information on their customers and prospects, as well as all the deals and opportunities associated with them.
Close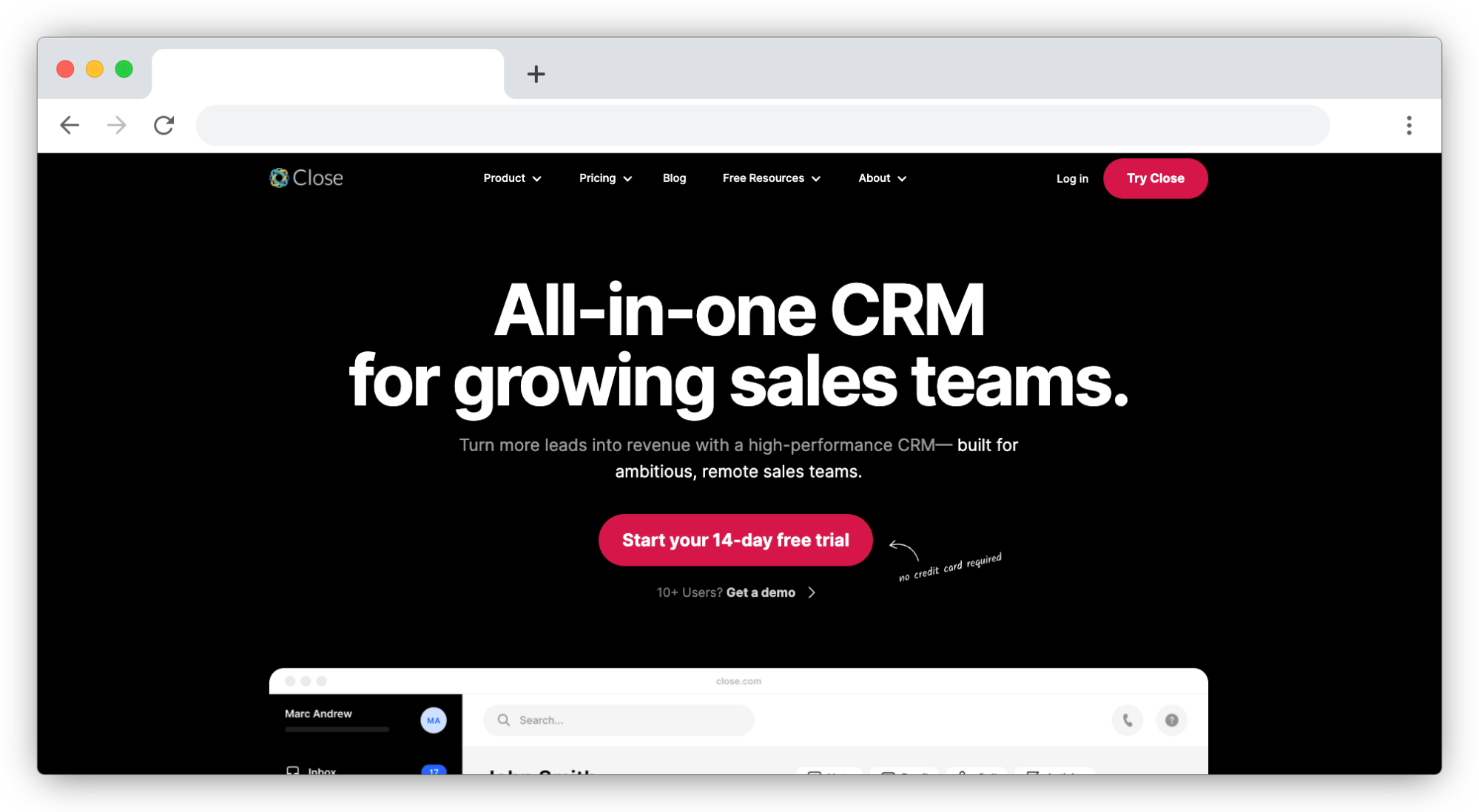 Close is our CRM tool of choice here at Hunter. It allows you to store any type of data on your prospects and customers and offers free data migration from other CRM tools.
You can connect it to your email account and sync your entire history with each lead, as well as send and receive emails from within Close. There's also the option to set up automated follow-up email sequences for leads to ensure deals keep moving forward.
Close comes with cold calling features, including a power dialer and a predictive dialer. You can use it to make outbound calls to more than 200 countries and get a local phone number in a country of your choice.
There are options to record and review calls, as well as set up automated voicemail drops. The tool also supports real-time call coaching with whisper, listen, and barge features.
Close offers detailed sales reporting and analytics. You can see the number of new leads, calls made, emails sent, opportunities generated, and deals won and lost at a glance.
There's also the option to create a custom dashboard with metrics that matter the most to you.
Copper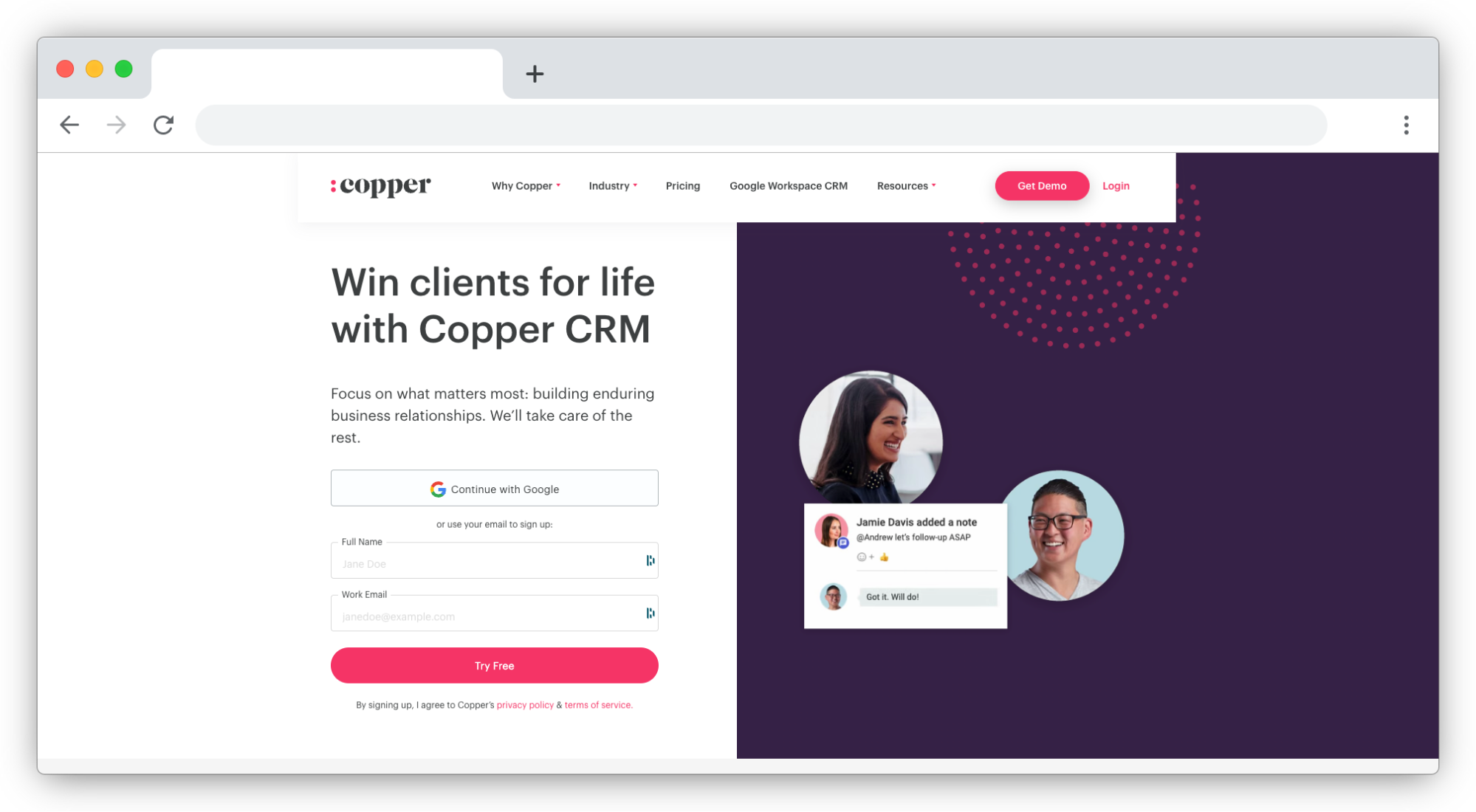 Copper allows you to organize contacts and everything associated with them, including calls, emails, and notes. It gives you a complete overview of your relationship history with each contact.
The tool can pull in contact details (such as phone numbers, email addresses, and social media profiles) automatically to reduce time spent on data entry. It can also sync contacts and emails from Gmail.
Copper supports the creation of custom fields, allowing you to record additional information on contacts.
You can use the software to organize contacts into lists, view a live activity feed of all interactions with a contact, and set up real-time alerts and notifications for when contacts need your attention.
It also allows you to track deals using the visual sales pipeline feature and move them between stages using drag-and-drop functionality.
You can use it to automate your sales workflow by setting up time-based tasks to be assigned to team members automatically. Copper can also recommend the next steps for each contact based on tasks, scheduled meetings, or overdue email responses.
The tool offers plenty of built-in reports you can use to review your sales performance, as well as the option to create custom reports. You can even schedule reports to be sent to stakeholders.
Copper also includes a project management feature with Kanban-style project boards, a standout feature considering it's designed to primarily be a CRM tool.
Pipedrive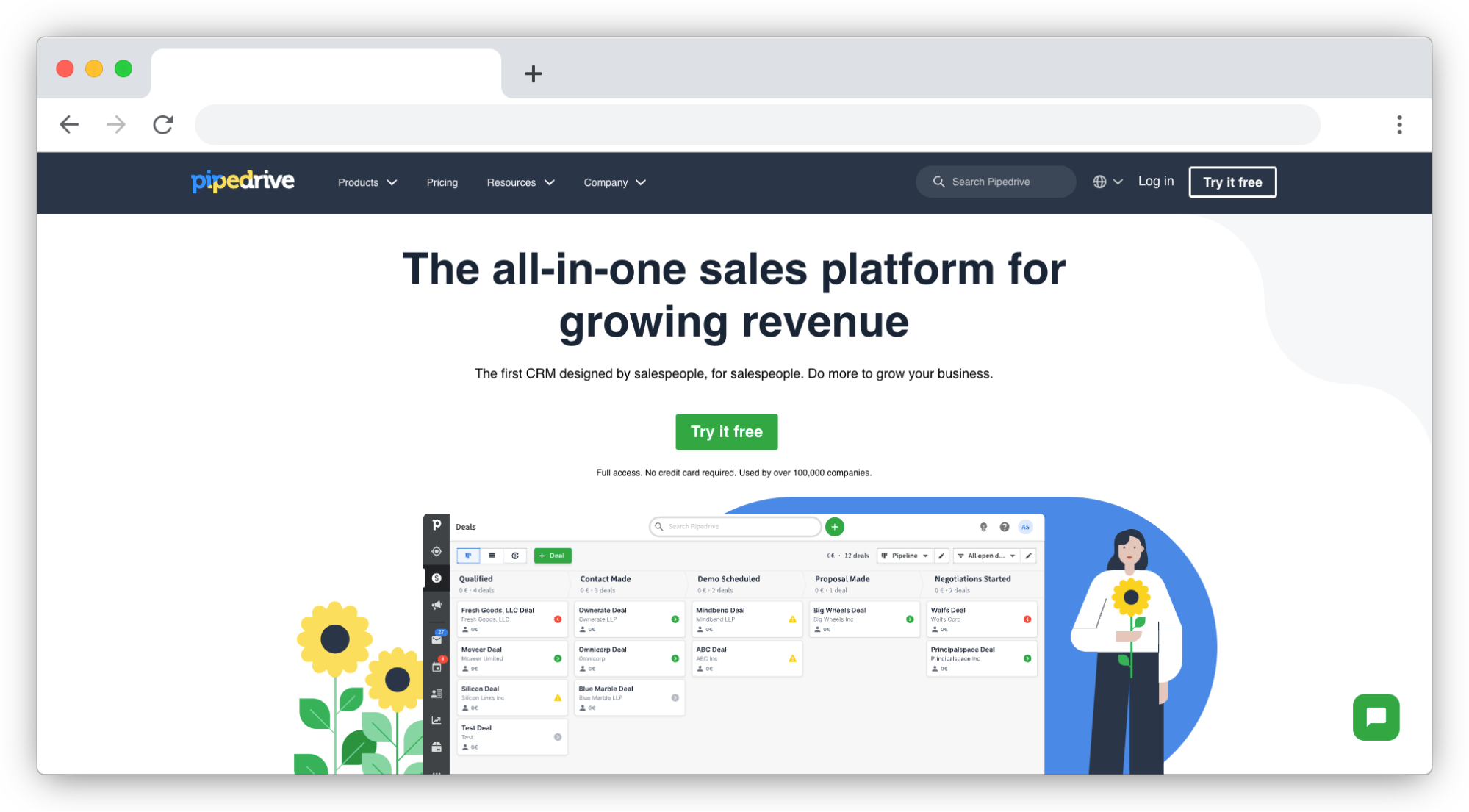 Pipedrive is a CRM tool that gives you a simplified way to track contacts and deals, as well as visualize your sales pipeline with a drag-and-drop sales board. It supports two-way email sync and links conversations to contacts and deals automatically.
The tool makes it easy to migrate from other CRM solutions by allowing you to upload leads and deals in bulk. It can pull data on contacts using sources such as Google, LinkedIn, and Twitter.
Pipedrive offers sales workflow automation features that allow you to automate every step of your sales process using triggers and automatic actions.
The Sales assistant feature provides tips and recommendations on features and integrations you should use to help you take full advantage of the software's capabilities.
You can use Pipedrive to generate detailed reports that allow you to visualize sales performance and share them with anyone using dedicated public URLs. There's also the option to create custom dashboards to track team performance and uncover bottlenecks.
Other notable features include setting and assigning goals to track progress, creating sales forecasts using expected deal close dates, and invoice creation.
Pipedrive also offers an add-on called LeadBooster, which allows you to:
Discover leads based on criteria such as industry, location, and job title
Set up a chatbot to qualify leads
Implement a live chat feature for reps to pick up conversations started through the chatbot
Create custom forms you can embed on your website to collect leads' contact information
Nimble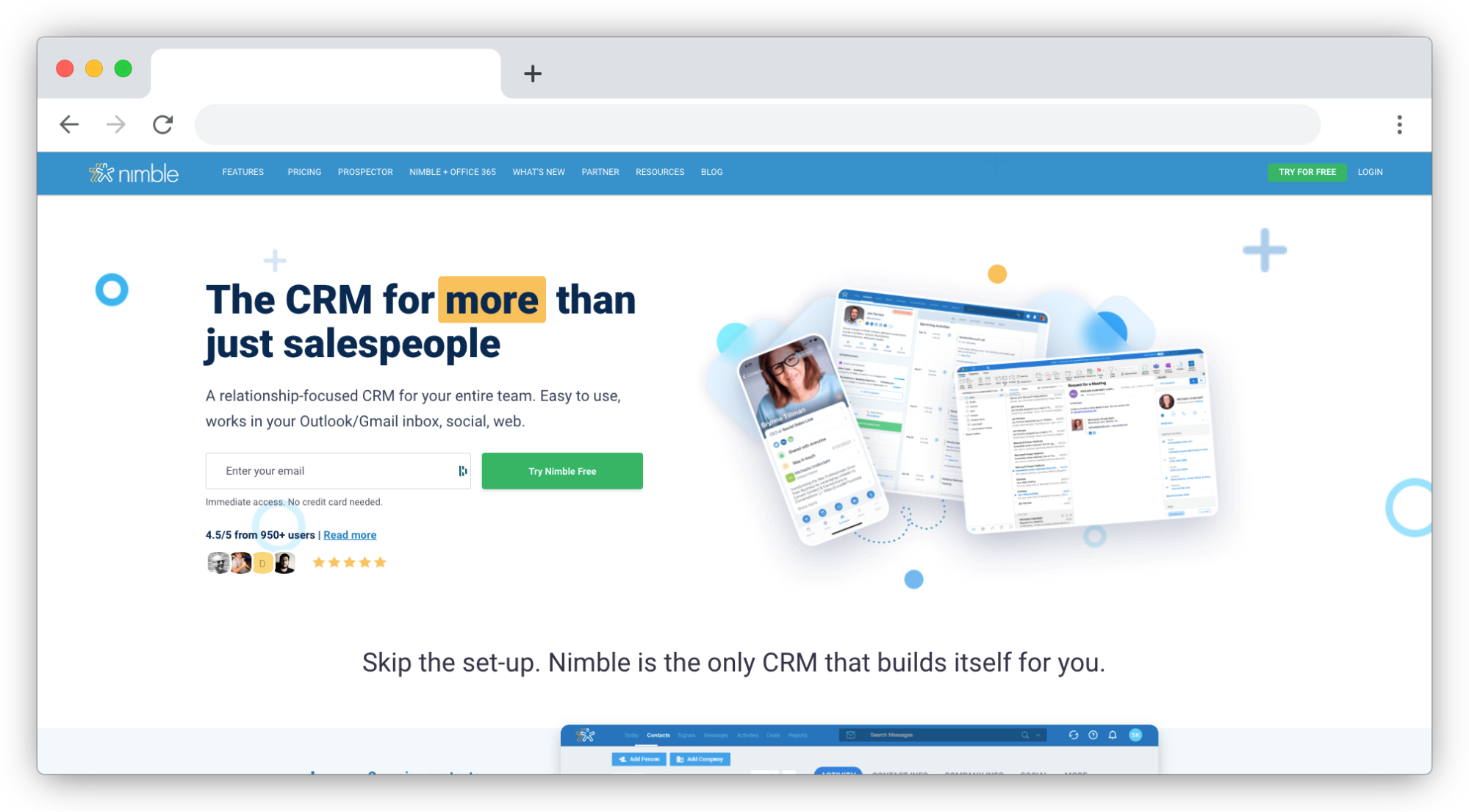 Businesses can use Nimble to manage all their customers and prospects from a central location, as well as create segmented contact lists.
Nimble can help you learn more about your prospects by enriching contacts with data from the web, allowing you to sell to them more effectively. It also gives you an activity tracking dashboard so that you can stay on top of your team's tasks, calls, and activities.
You can use the software to launch personalized follow-up email campaigns to engage prospects and take advantage of the email tracking feature to know when prospects interact with your emails.
Nimble integrates with more than 100 popular apps, including Zapier, FreshBooks, PandaDoc, and Zendesk.
---
Email outreach tools

Email outreach tools help you automate the process of reaching out to a large number of prospects via email. It usually includes features such as email personalization, custom send schedules, and email tracking and reporting.
Hunter Campaigns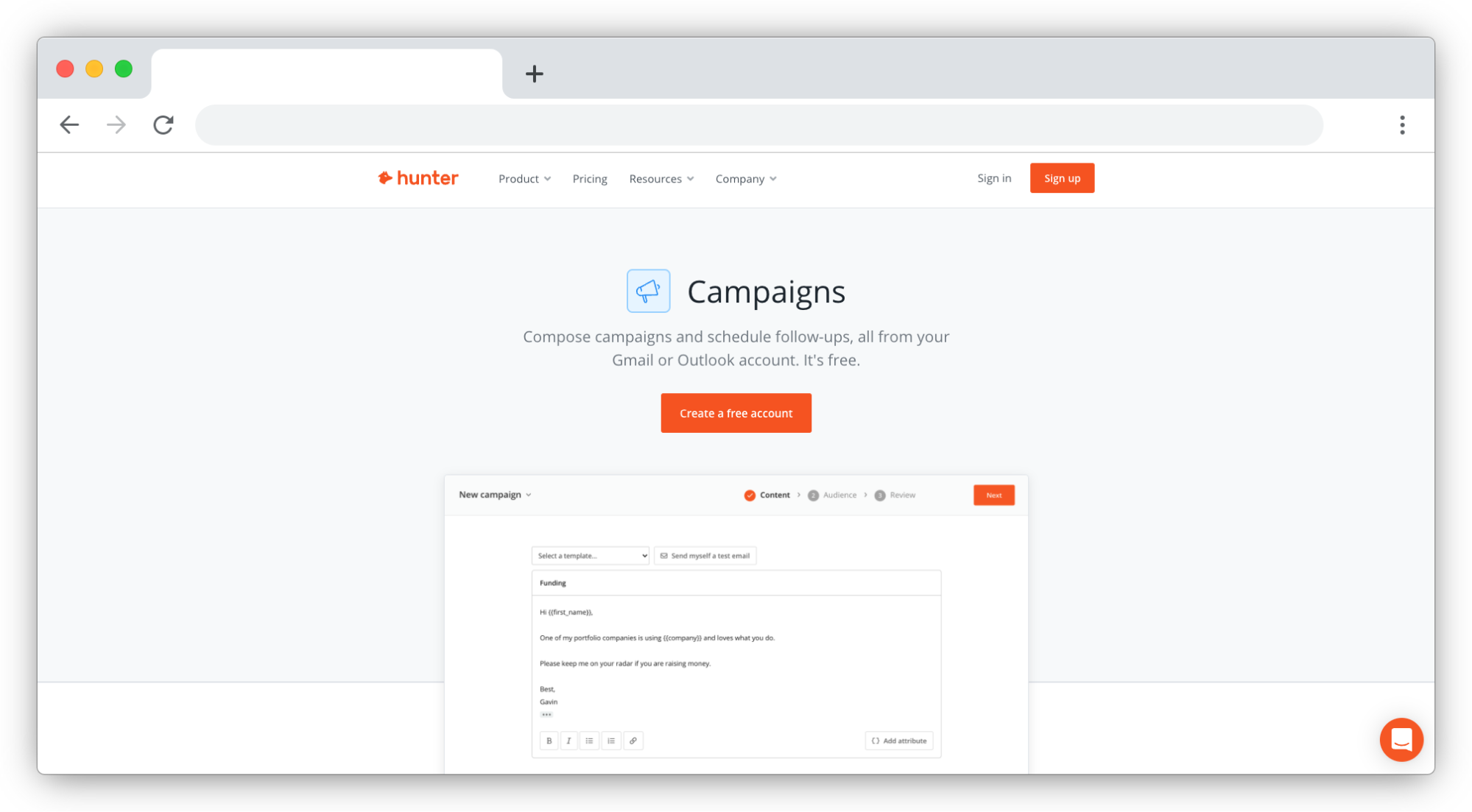 Hunter Campaigns allows you to use your Gmail or Outlook account to send cold email campaigns for free.
You can schedule emails to be sent during specific days of the week or times of the day, as well as personalize emails using custom attributes to achieve better open and reply rates.
With Hunter Campaigns, you can create outreach campaigns consisting of a single email or a sequence of multiple emails. Its email tracking feature allows you to track email sends, opens, and replies.
Hunter Campaigns also offers hundreds of cold email templates you can use to jumpstart your campaigns.
---
Cold calling tools

Cold calling tools help you make cold calls more efficiently. They often include an automated dialing feature, call recording, custom caller ID, and advanced reporting features.
CloudTalk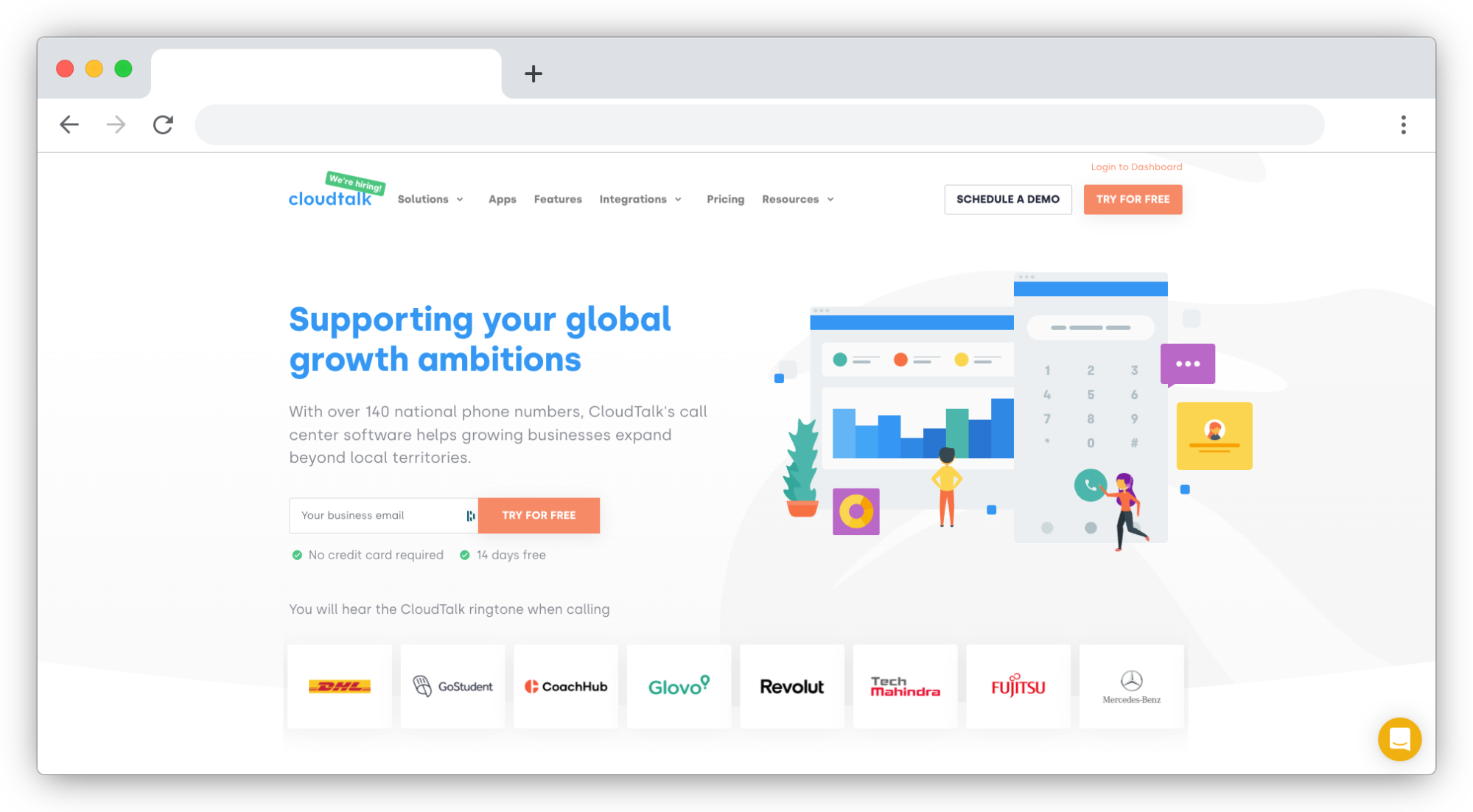 CloudTalk enables sales teams to reach more prospects and close more deals. It offers advanced cold calling features such as:
Predictive Dialer – Make more calls in less time by automatically dialing the next phone number on your list.
Smart Dialer – Compile a list of phone numbers from a website and add them to your calling queue automatically.
Voicemail drops - Record a default voicemail message and have CloudTalk play it automatically when you reach a prospect's voicemail.
You can record calls made with CloudTalk and use the recordings to train sales reps. The speech-to-text feature transcribes your calls automatically so you can review the transcriptions at a later time, as well as search through calls.
There's also the option to add notes to calls and sync them to your CRM system. CloudTalk integrates with a number of popular CRM solutions, including HubSpot Sales Hub, Salesforce Sales Cloud, and Pipedrive.
The automatic outbound caller ID feature makes sure you always dial prospects from a local number, increasing the chances that they'll answer your calls. Other notable features include customer cards, call transfers, call masking, and 3-way calling.
The software offers detailed reports that show you the total number of calls made, voicemail messages left, call duration, and more. You get reports for individual sales reps or your entire team.
The CloudTalk blog is a great resource on cold calling. So, if you want to learn more about how to set appointments for your cold calls, or how to convert cold calls into leads, definitely check it out.
Dialpad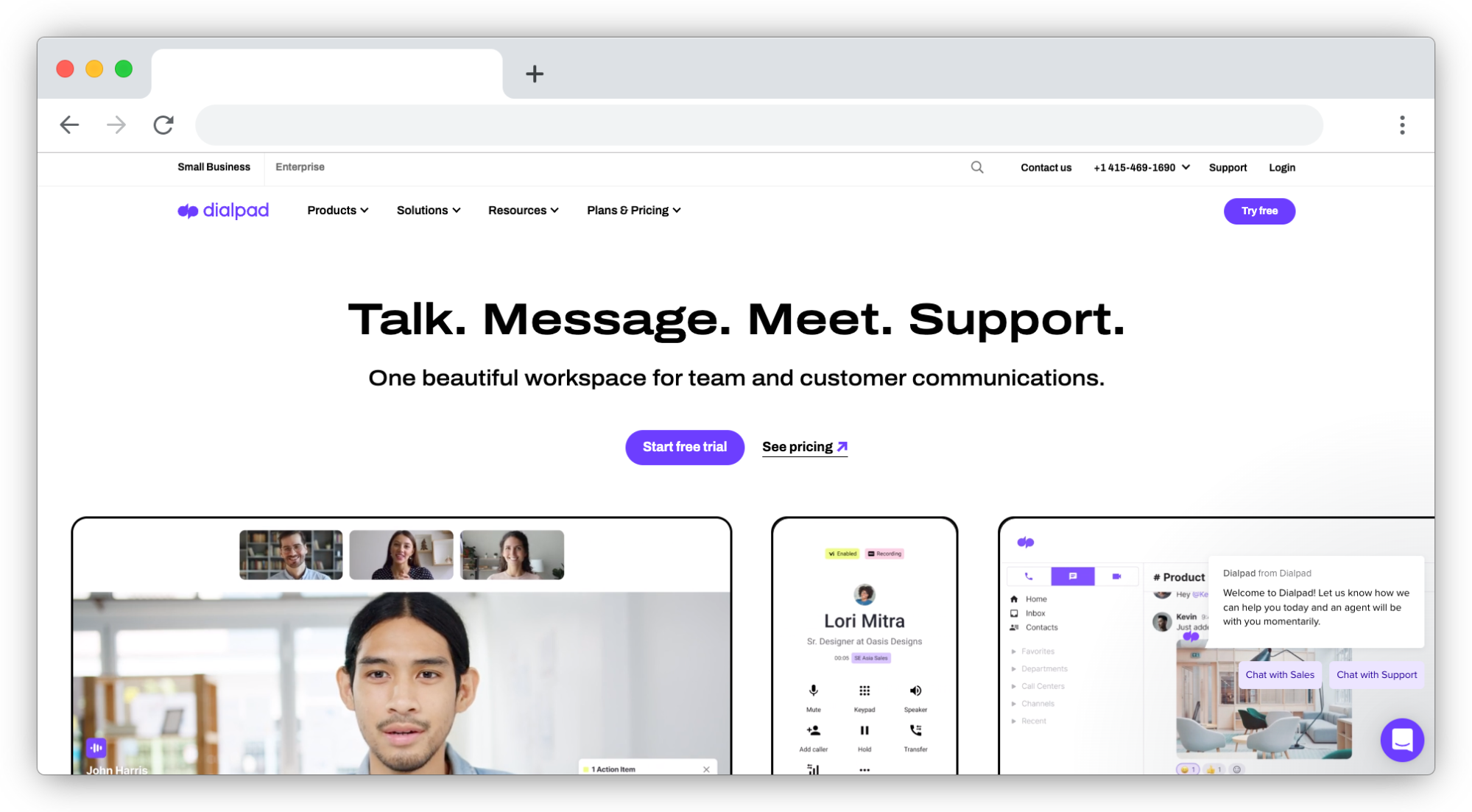 Dialpad is a cloud communication platform that offers a business phone system that works on desktop and laptop computers, smartphones, and tablets.
You can use it to make unlimited cold calls, as well as record and transcribe them. Dialpad also allows you to switch between different devices during calls seamlessly.
The Real-time Assist Cards feature gives sales reps the answers they need to handle objections and move sales calls forward. The cards pop up automatically when trigger phrases or keywords are spoken.
Dialpad also supports sentiment analysis, allowing sales managers to spot sales calls that might be headed in the wrong direction and jump in to assist in winning the prospect over.
You can set up automated support scripts reps can use during calls, as well as create sales playlists consisting of successful calls to educate them on the best way to handle calls.
Dialpad integrates with popular CRM solutions such as Salesforce Sales Cloud and HubSpot Sales Hub, allowing you to sync all your data to your CRM system seamlessly.
Nextiva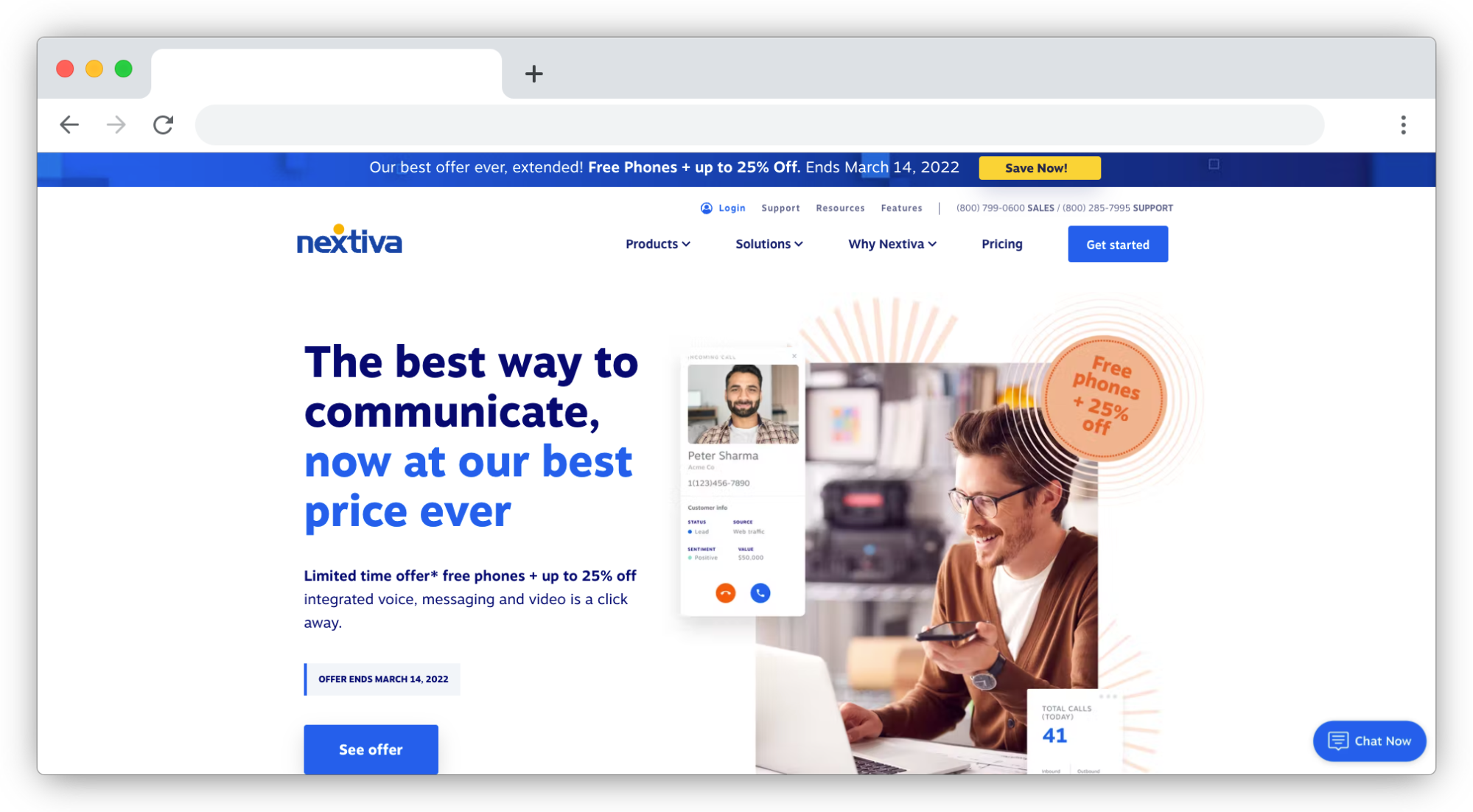 Nextiva prides itself on being a scalable and easy to set up business phone solution. It's available on Windows, Mac, iOS, and Android devices.
You can use Nextiva to make unlimited cold calls. It allows you to set up a custom caller ID and switch between devices seamlessly during calls. In addition, the software can provide your sales reps with real-time suggestions on how to address prospects' concerns and objections.
It also includes features that allow you to track your sales pipeline, create custom pipeline stages, and manage tasks and deadlines.
---
Video sales tools

Video sales software is designed to help sales teams get better response rates, book more meetings, and speed up their sales cycle with the help of video. It can be used for prospecting, inbound lead responses, and even lead nurturing.
Vidyard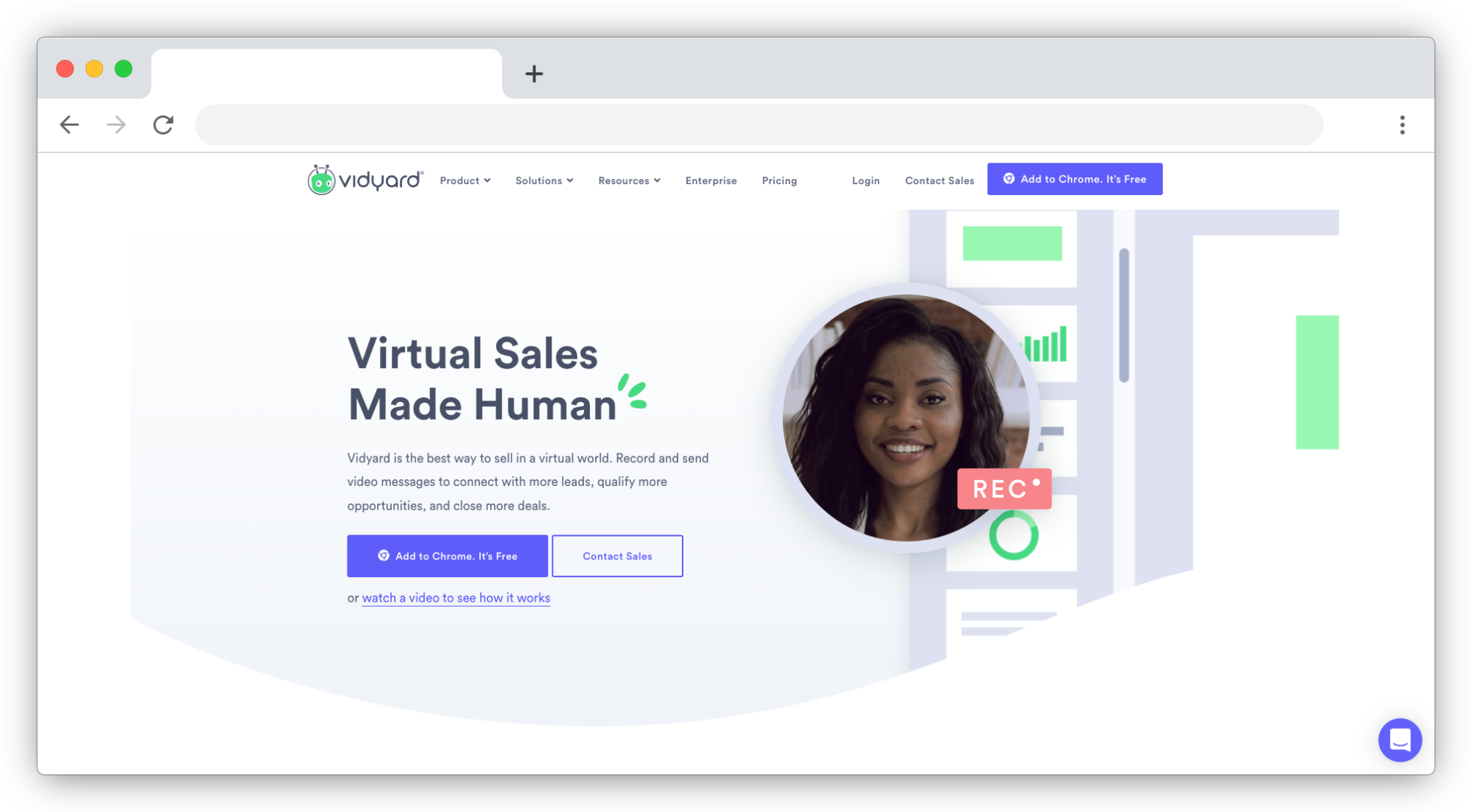 Vidyard allows you to record and send video messages prospects can watch when it's most convenient for them. It can record your screen, webcam, or both.
You can record videos from your desktop, web browser, or smartphone, and edit them within Vidyard.
There's also the option to create a custom thumbnail or animated GIF preview for every video and add a link for prospects to book a meeting with you.
Once you've recorded a video, you can embed it on your website or send it to your prospect via email or a LinkedIn message. Vidyard also offers a Chrome extension that allows you to record and send videos from within LinkedIn.
You can set up Vidyard to send you notifications as your videos are watched. Vidyard supports automatic video transcription, custom video-sharing pages, and video hub and playlist creation.
You also get access to a detailed analytics dashboard that shows you who's watching your videos and which videos drive the most engagement.
BombBomb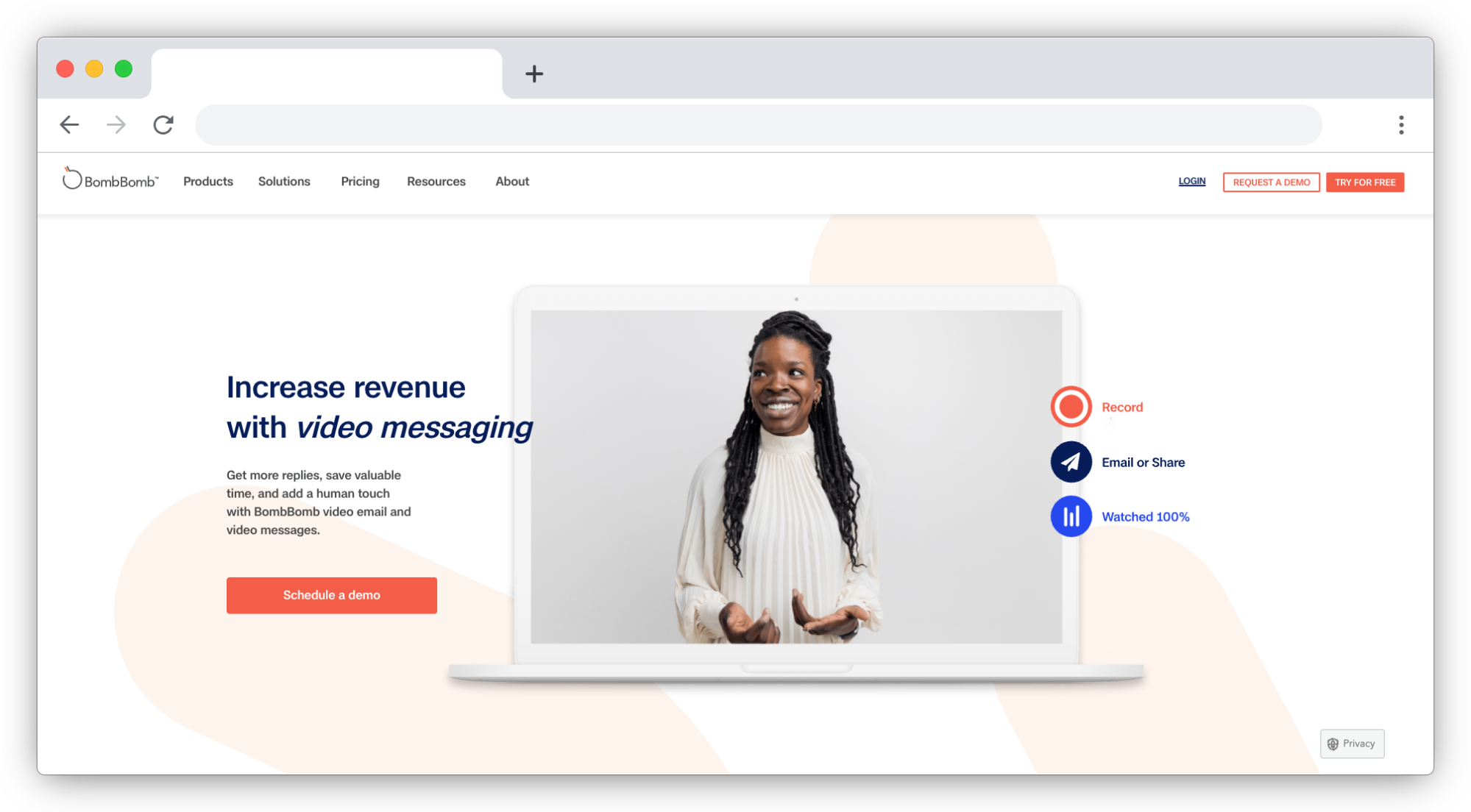 BombBomb is a video sales platform designed to help sales teams prospect and nurture leads more effectively. It allows you to record a video using your webcam or record your screen.
You can share the video through email or social media, or create a branded video page. There's also the option to add a call-to-action link to each video.
BombBomb offers unlimited video hosting, syncs to your CRM tools, and has a handy Chrome extension.
Other notable features include reusable video snippets, caption support, and virtual backgrounds.
---
Sales meeting tools

Sales meeting software aims to help sales teams automate the process of booking meetings with prospects. It syncs with your calendar app to prevent double booking and may even include features such as custom booking pages and lead routing.
Demodesk

Demodesk is a sales meeting platform that helps sales teams simplify the process of booking and running meetings.
It syncs with your calendar app to allow prospects to only book meetings during available time slots. You also get the option to set a minimum buffer time between meetings so that you can rest or prepare for the next call.
Demodesk allows you to set up automated email reminders to reduce no-shows. It supports custom booking pages, pre-booking questions, lead routing, and round-robin team scheduling.
There's also a Virtual Sales Floor feature that allows you to review live and upcoming meetings, as well as shadow calls and coach sales reps in real-time.
Additionally, you can create sales playbooks consisting of slides, web apps, battle cards, and talk tracks. Demodesk offers playbook templates you can use, but you also get the option to create your own from scratch.
With Demodesk, you can sync everything to your CRM system seamlessly, including notes, call recordings, and event activity.
---
Supercharge your business development

Ready to take your business development to the next level? Take another look at our list and pick a few tools to try out. Most of the tools offer a free trial period, so you can see if a particular tool is the right fit for you at no cost.