Blogger Outreach: How to Do It Successfully in 2022 (Complete Guide)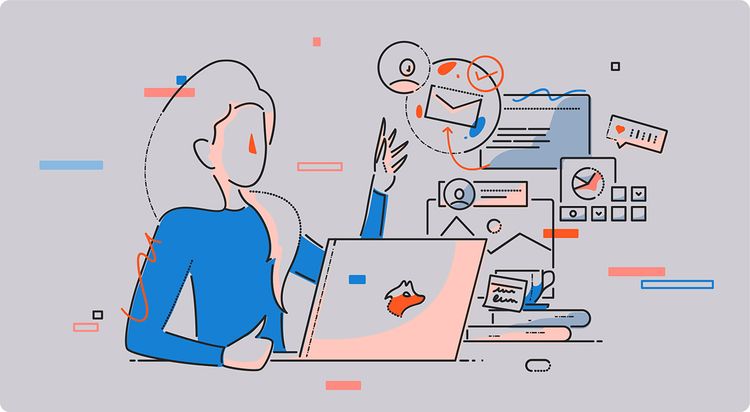 You've built something great, and you want to spread the word about it.
While your family and friends already share posts on social media about your new launch, you want to go beyond and get even more visibility and more relevant traffic.
You think blogger outreach would be the right thing to do. And you're right!
The blogger outreach can look simple in a nutshell - you contact the right person with an appealing offer, they spread the word about you, and you get tons of new leads interested in your product or service.
The general idea sounds simple, but when you start working on your first blogger outreach campaign, you may encounter a lot of pitfalls and questions:
How to find prospects for the outreach and their contact information
How to craft your pitch to get attention
How to scale and automate your outreach process
In this guide, we'll walk you through all of these steps and show how to set up the blogger outreach campaign that will help you to get more visibility—new reviews, backlinks, social media shares, or whatever you want to achieve.
What is blogger outreach?
1. How to find prospects for the outreach
2. How to find prospects' contact information
3. How to segment your list
4. Approaches for the outreach
5. Get on bloggers' radar before outreach
6. How to craft your pitch
7. Pitch don'ts
8. Track open rates
9. Send follow-ups
What is blogger outreach?

Blogger outreach is a form of influencer marketing where you reach out to influencers who have a huge follower base and persuade them to share your product or service with their audience.
The critical difference between blogger outreach and spam is that you have to take care of the list of those you want to contact. You need to do in-depth research to make sure prospects are relevant to your niche and interested in your product or service. You have to collect as much information as possible about influencers and their audience to show how you can help them solve specific problems.
Blogger outreach is a process of contacting the right person with the right offer, where you both get benefits from it.
You can use blogger outreach for:
Link building: You contact bloggers pitching your website page aiming to get a link mention on a blogger's website.
Guest posts: You want to contribute a piece of content on the topic related to your and blogger's website.
Product reviews: You share your product (early access, free version, etc.) with bloggers if you want them to try and review it.
Interview requests: You want to interview opinion leaders in your industry to build authority in your niche and get new website visitors familiar with the influencer you interviewed.
Building relationships: You want to build good relationships with industry leaders to utilize those connections later to spread the word about your product or service.
---
1. How to find prospects for the outreach

The first step in the blogger outreach process is to find relevant influencers to reach out to. There are three key strategies (both free and paid) that usually show the best results:
1. Just Google It

It's one of the simplest ways to find potential bloggers for outreach since there is no fancy tool involved but Google.
This process is a bit time-consuming since you need to do a manual check, but it's perfect for those who don't have a marketing budget.
Generate a list of seed keywords related to your product or service. For example, for us at Hunter, it could be something like:
Cold outreach
Cold email
Find email address
Verify email address
Check whether the email is opened
Next, search for each keyword on Google and check what kind of authority blogs rank for these keywords.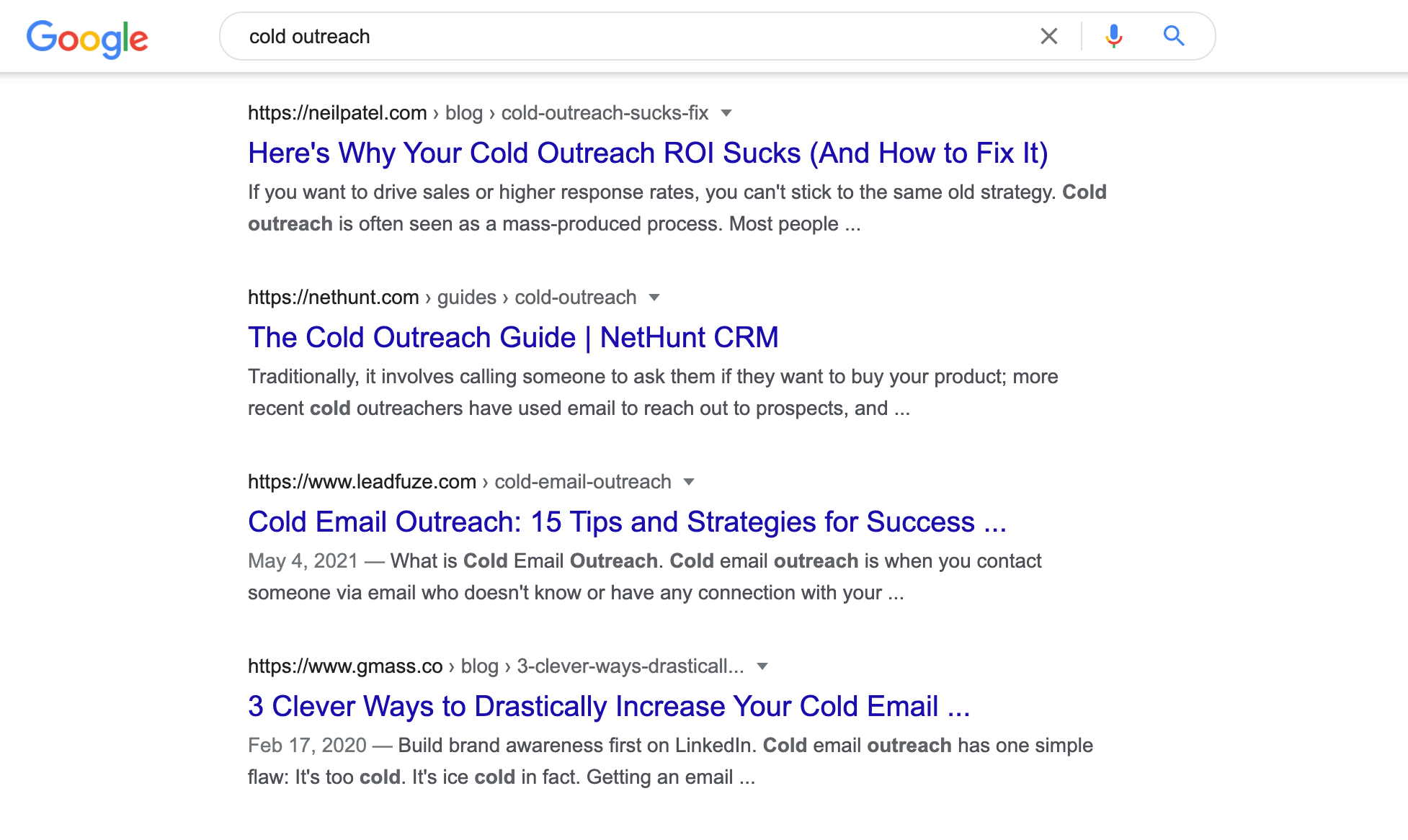 Do a quick check of each website to see whether they focus on covering topics related to your business. If they do, go and add these prospects to your list!
Pro tip: If you use Ahrefs SEO Toolbar, you'll be able to quickly analyze the top-ranking search results, having in front of you a bunch of metrics that show the authority of the website, its traffic, link profile, etc. Also, it could simplify the export process. With Ahrefs SEO Toolbar, you'll be able to export the top 100 Google search results in one click.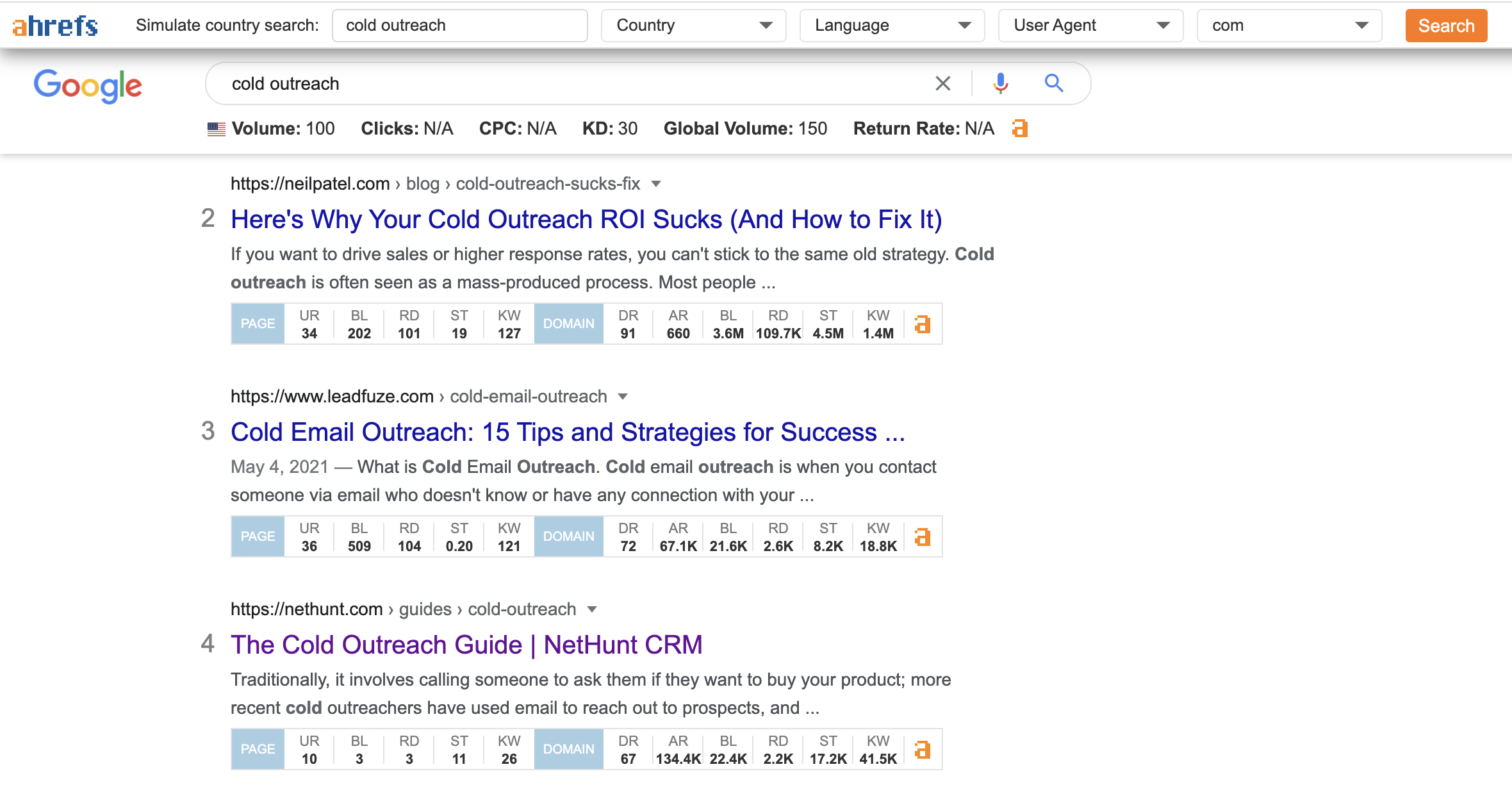 2. Find prospects with Ahrefs

Ahrefs has a bunch of tools that could simplify and automate the prospect lookup process. We use these critical tools at Hunter the most often for this purpose: Content Explorer and Site Explorer.
Find prospects with Content Explorer
Content Explorer is a vast database of over a billion web pages where you can effortlessly search applying filters related to your needs.
For example, if we search for the "find email address" keyword, we get 367,342 results. You can export them all in one click.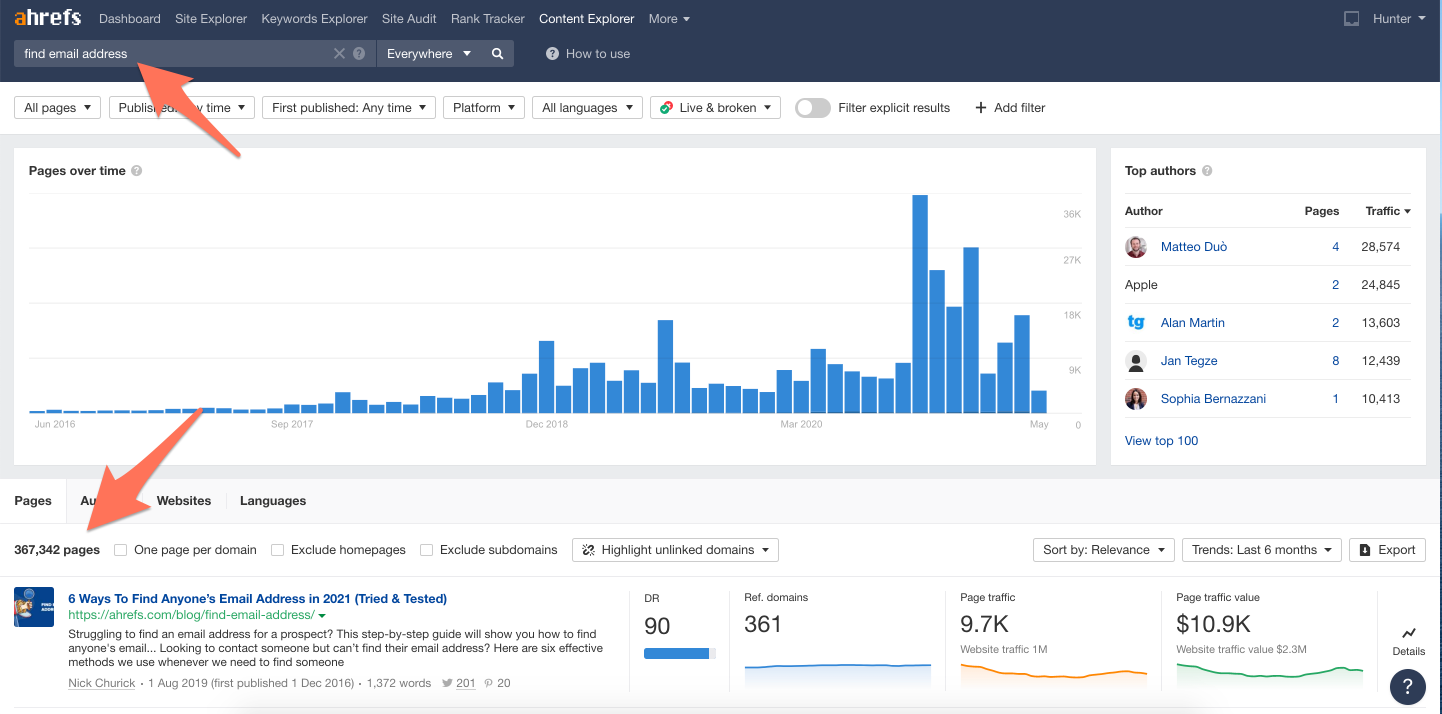 You can narrow down your search by applying such filters as:
Languages - to target websites that write content in a specific language
First published - to show only fresh content
One page per domain - to not pitch the same sites more than once
For example, by applying these three filters, we narrowed down the list to 132,612 pages. You can use as many filters as you want to get more specific results for your needs.

Find prospects with Site Explorer
With Site Explorer, you'll be able to generate tons of prospects for outreach by scraping backlinks from the articles or pages related to your niche.
You can use the results you find with Content Explorer to scale it up with Site Explorer.
Choose one of the blog posts related to your niche you found with a Content Explorer. For example, for Hunter, it could be this one: a guide on finding anyone's email address created by MOZ (it has links from 139 referring domains!).

Type the link into the Site Explorer and open the Backlinks report. You'll find tons of relevant prospects there who are interested in your topic.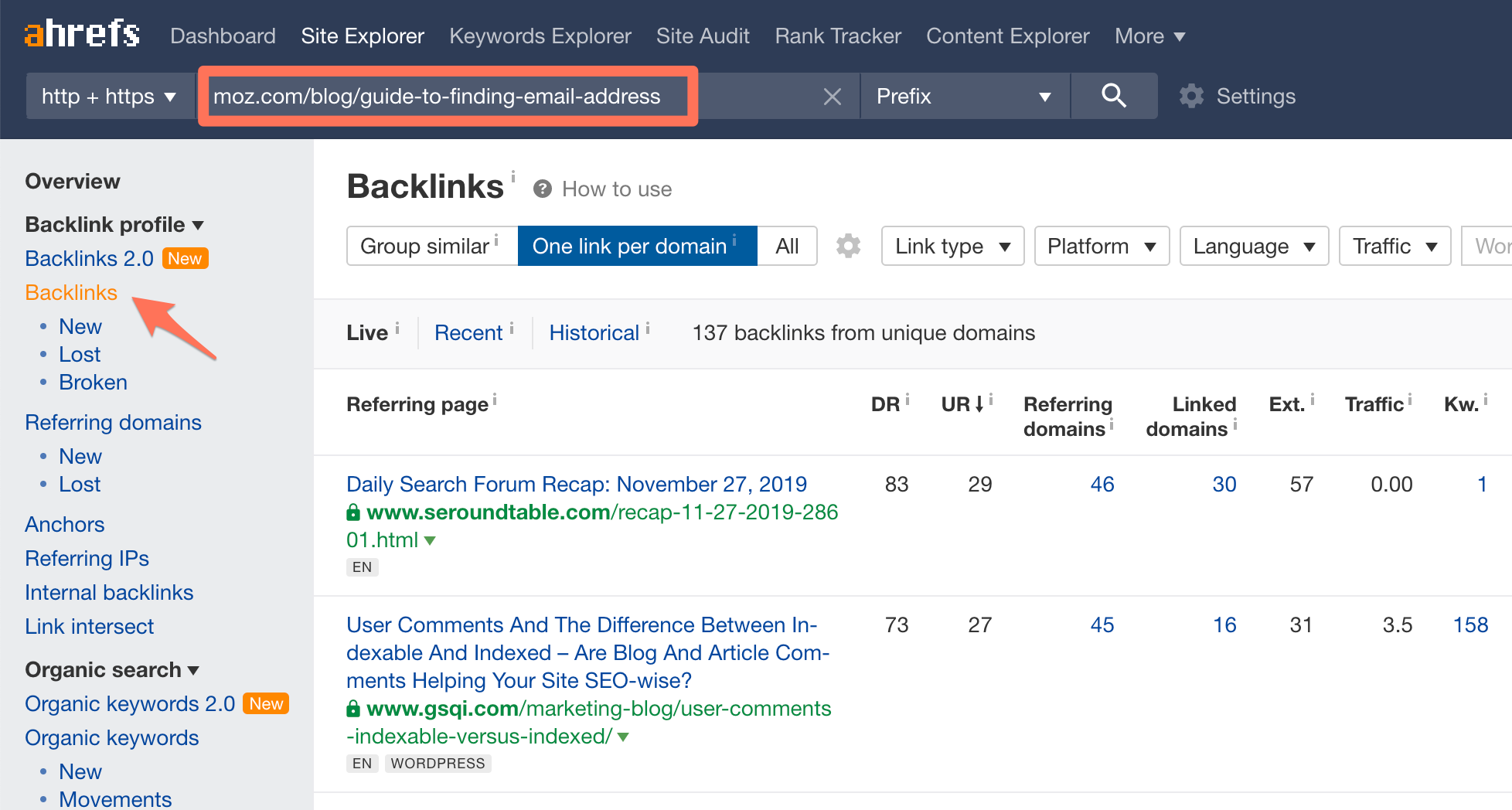 As for the Content Explorer, you can apply multiple filters to narrow down the list of prospects.
3. Discover bloggers on BuzzSumo

BuzzSumo lets you find the best influencers to boost your company's visibility. Their Influencer Tool allows tracking down the most influential authors, YouTubers, and Twitter voices.
For example, you can find the most influential authors around your subject just by typing a seed keyword into the search box.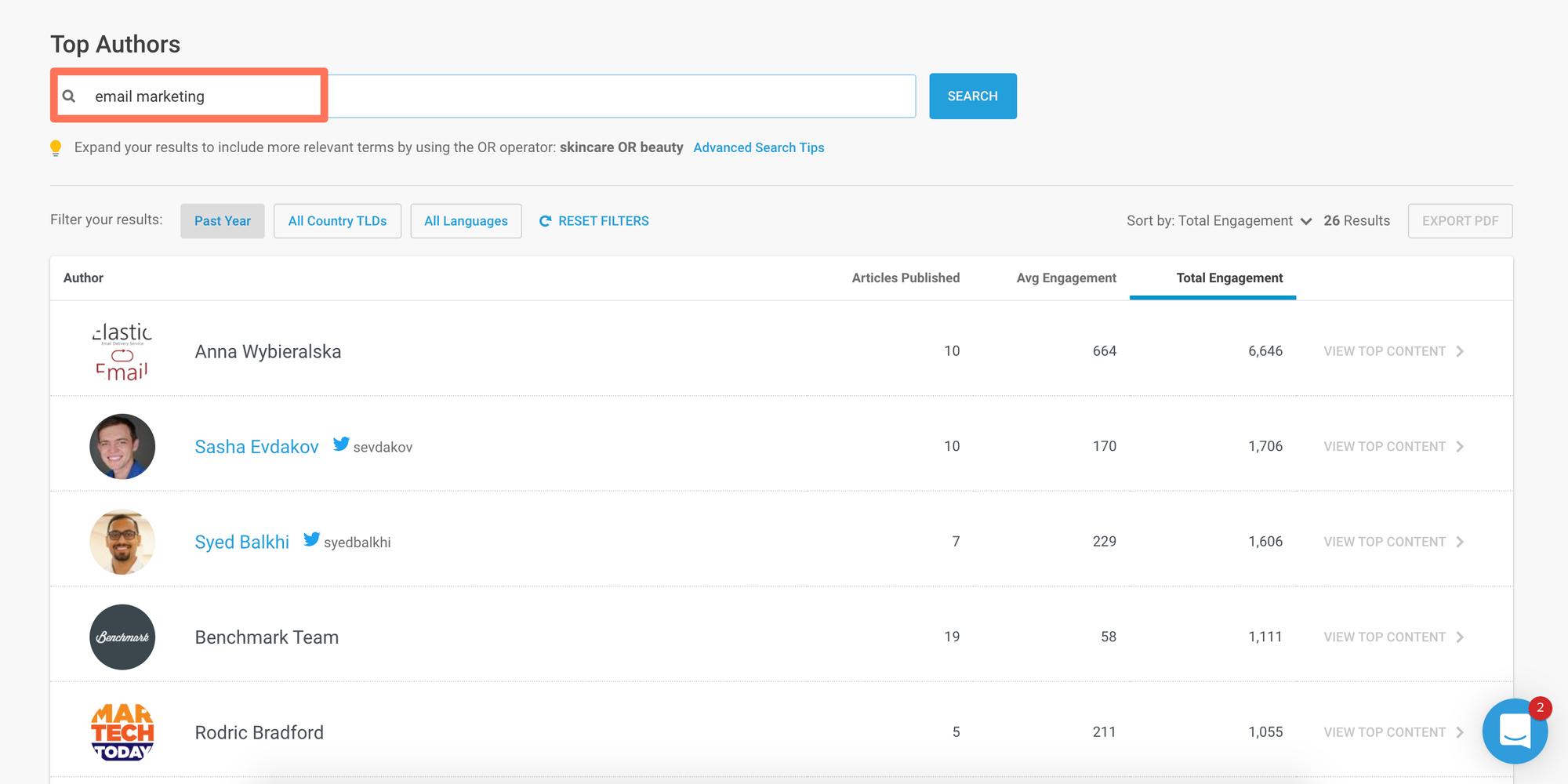 You can find the top headlines these authors have shared and sort them by the number of articles they've published on the same topic.
Besides that, you can check for influencers on Twitter, Facebook, and YouTube just by typing in your seed keyword and applying different filters (number of followers, page authority, retweet ratio, location, etc.).
You can save and export all of your searches for future outreach.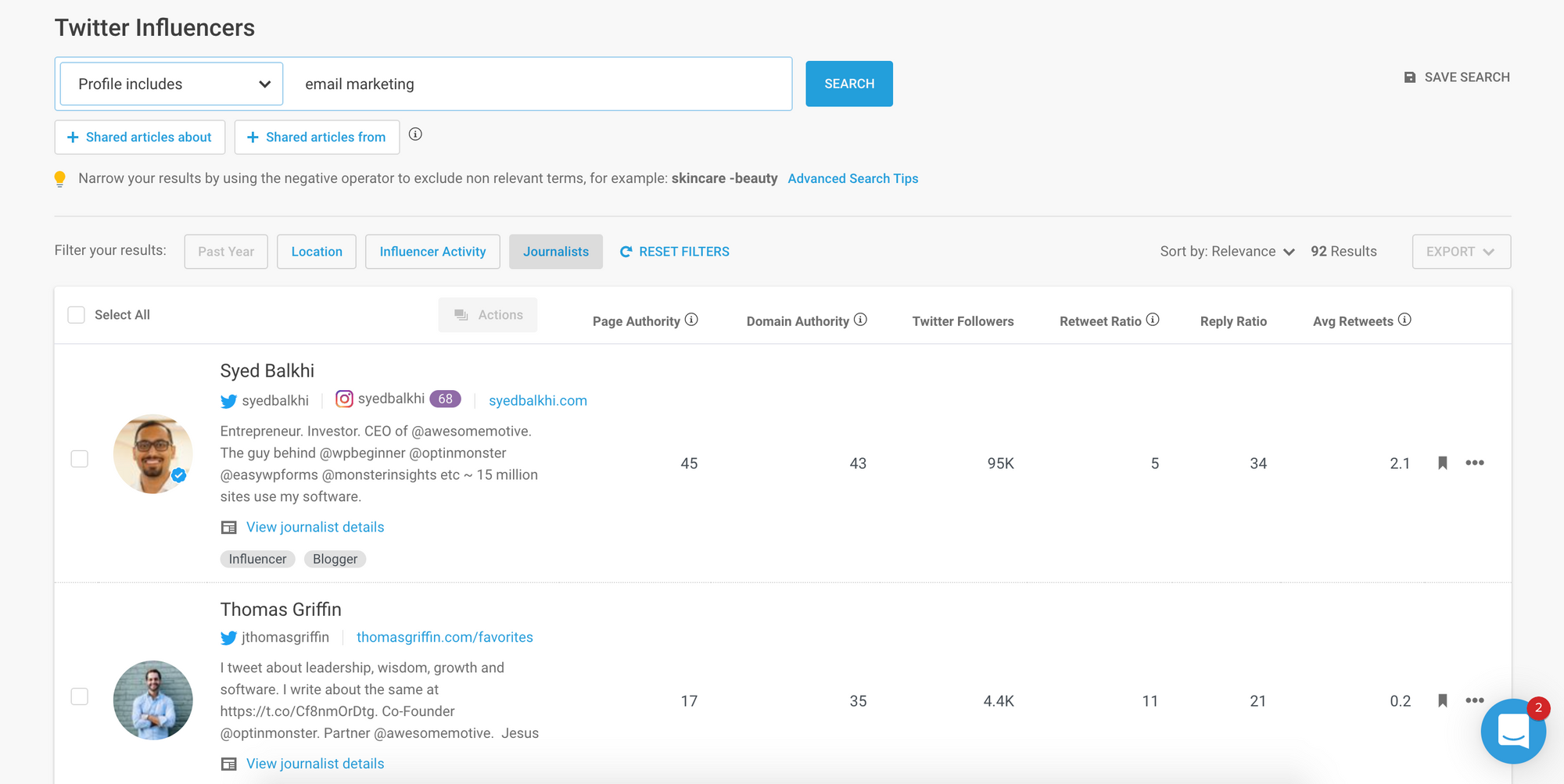 ---
2. How to find prospects' contact information
Now, when you've found enough bloggers for outreach, it's time to find their contact information.
To automate the contact lookup process, you can use one of the following tools depending on what kind of entry data you have:
Find article authors with Author Finder

Once you finish looking for the prospect with Google, Ahrefs, or BuzzSumo, you may end up having a list of the articles your target bloggers created.

To find the contact information of the authors of those blog posts, you can use the Author Finder.
Just type the blog post URL in the search box and immediately get the result.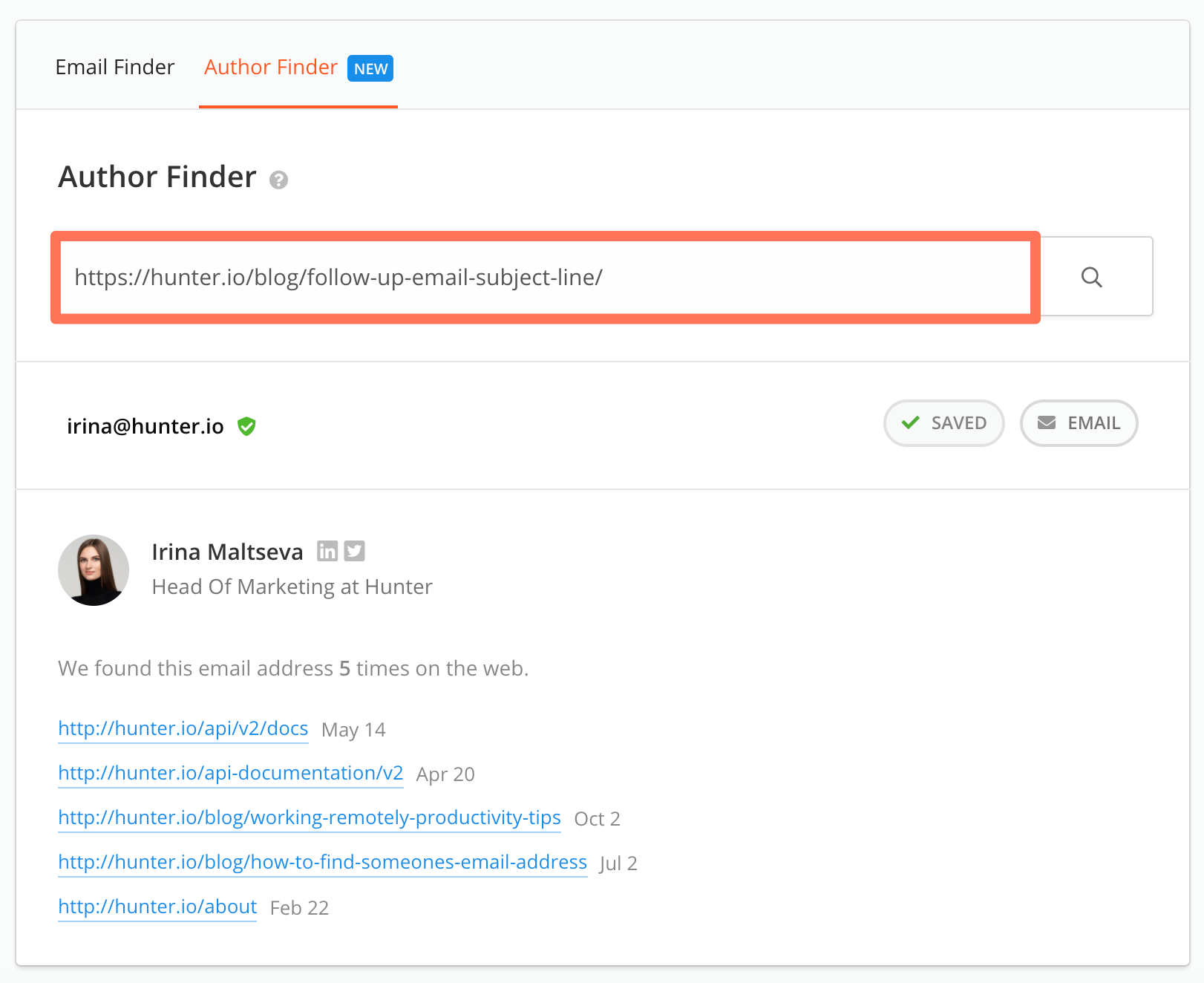 Along with the email address, you'll also get the author's full name, company, position, and public sources where the email was mentioned.
You can save email to Leads at Hunter (a simple CRM for outreach) or send an email right away by clicking the button with the email icon.
If you have a huge list of article URLs (and that could be the typical case for the blogger outreach!), you can automate the contact lookup process using the Bulk Author Finder.
Just type in the list of URLs you have or load the list from the file, and you'll get all of the contact information with a click of a button.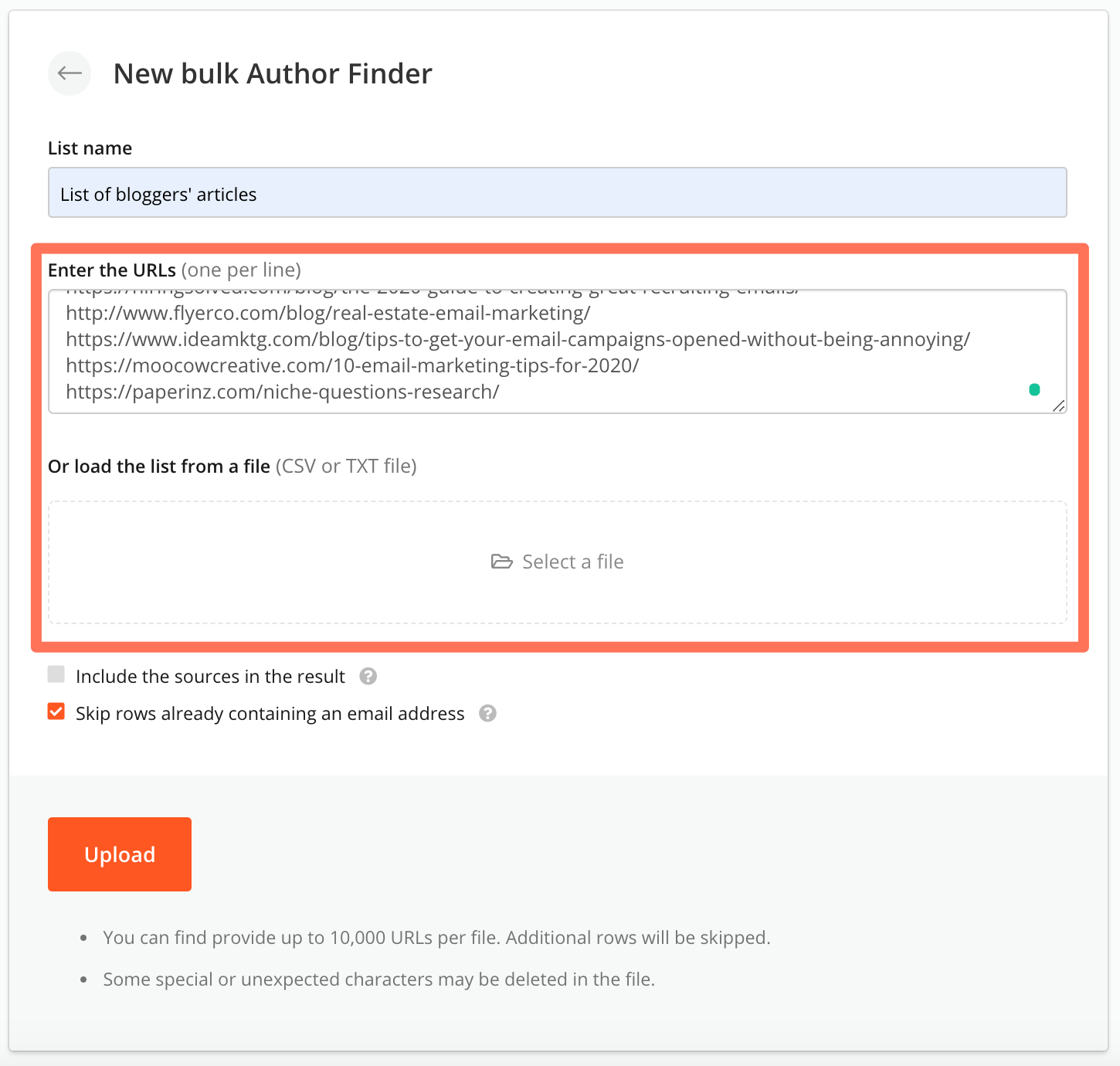 You can download the final result as a CSV along with the verification statuses.

Find specific prospects with Email Finder

You may find it helpful to automate the contact lookup process with Email Finder if you have only the prospect's name and domain of the website.

Just enter the full name of your prospect into the search box along with the domain name, and you'll get a result immediately.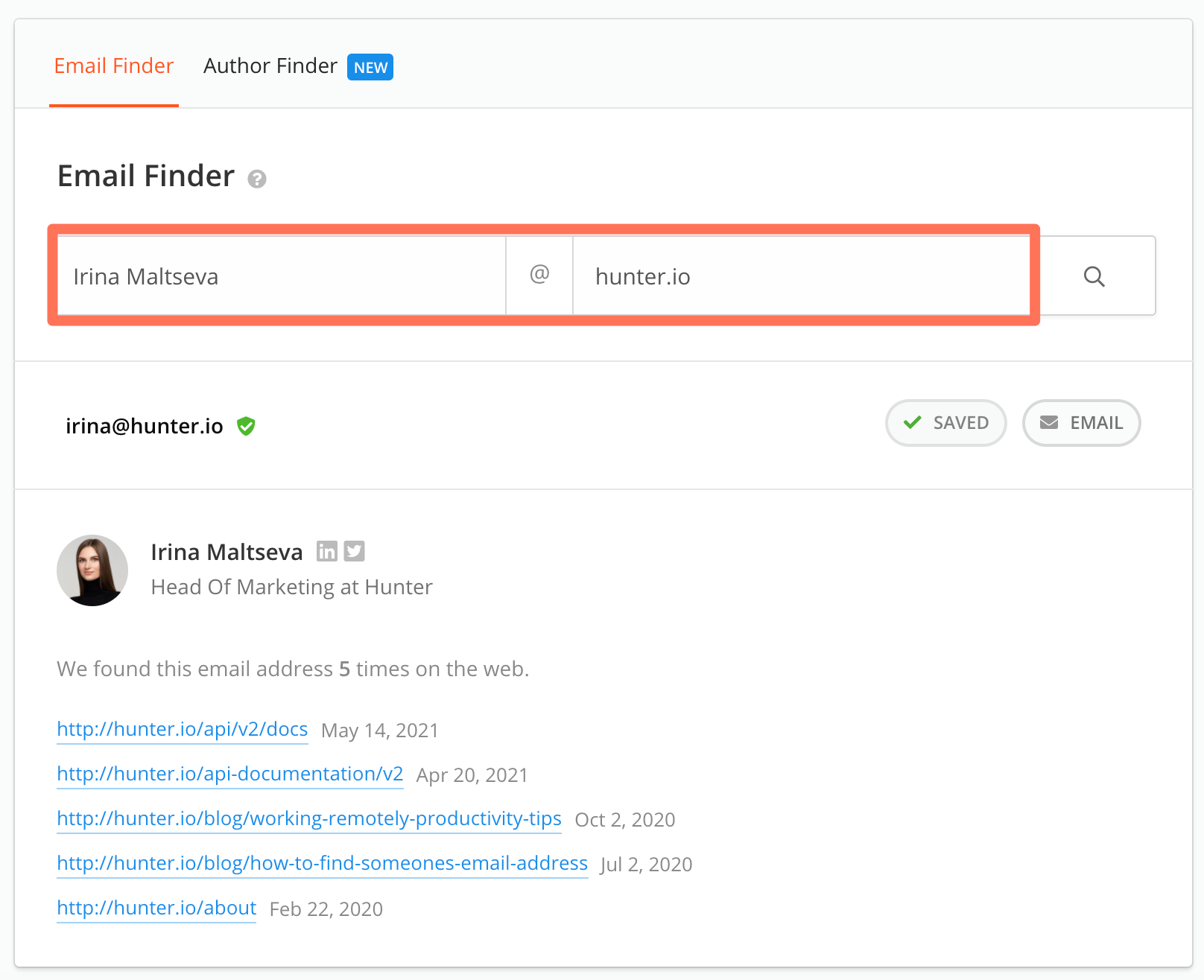 If you have a massive list of prospects' names and domains, you can import them all at once and find contact information with the Bulk Email Finder.
Read: 8 Ways to Find Someone's Email Address in 2021 (Detailed Guide)
Don't forget to verify emails

Once you collect the list of bloggers' email addresses, don't forget to verify them. By conducting verification, you clean your email list, filtering invalid and spammy email addresses that cause bounces and hurt your delivery rate.
You can verify a single email with Email Verifier and a list of emails with the Bulk Email Verifier.
Read: How to Verify Email Address Without Sending an Email
---
3. How to segment your list

Before crafting your pitch, you should understand that you don't need to treat everyone the same for better results.
That's why it's essential to segment your list into categories. These are three key segments you can start with:
Industry Stars

These are people who are well-known in your industry. They are opinion leaders who are usually super busy, and the only chance to get on their radar is to get a personal introduction.
For example, in the marketing industry, these opinion leaders would be Seth Godin, Neil Patel, Tim Ferris, etc.
It's super hard to catch their attention with a generic cold email. So if you'd like to contact them, it's better to find a mutual connection or send a very personal and relevant email to initiate a conversation (and even that doesn't guarantee the result!).
Market Influencers

The influencers from this segment are not as popular as the Industry Stars. However, they are powerful enough to bring an impact to your business.
It could be influencers who run their businesses in a similar niche, have popular blogs, podcasts, YouTube channels, and who have tons of followers. At the same time, they're open to new partnerships and check their inboxes regularly for new business opportunities.
Some of the Market Influencers in marketing would be Tim Soulo, Eric Siu, Noah Kagan, etc.
You can get their attention with a cold email. However, you'll need to do in-depth research before reaching out and send personal and quite relevant offers to them.
Emerging Bloggers

These are the smallest bloggers who are just starting out on their bloggers' path. They have some experience in the industry, but not many people are aware of them. They don't have thousands of followers but could be pretty influential in tight professional circles.
You can decide whether to contact them or not. It all depends on your business goals. For example, they could be relevant to reach for link building. If you see that their blogs are growing and they constantly work on their content, a link with a small domain authority can become a powerful link very soon.
To contact these bloggers, you can collect some basic info on them, such as their industry, name, company, and interests, and run a campaign with an outreach tool on autopilot.
How to segment bloggers into categories?

The easiest and fastest way to do it is to segment your list based on Ahrefs' Domain Ranking (if you use Ahrefs to collect prospects, that is).
The Domain Rating (or DR) is the metric that shows the strength of a website's backlink profile compared to others in Ahrefs database on a 100 scale. This means that the higher the DR is, the more influential the blogger or website is.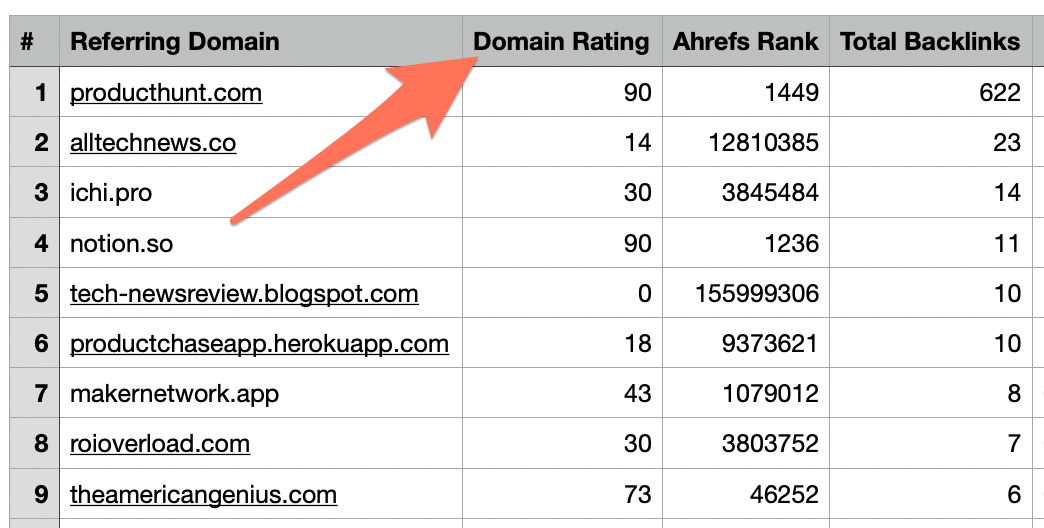 For example, to filter out the Industry Start, remove prospects with a DR 80 or higher. To remove Emerging Bloggers, you can remove everyone with a DR lower than 40.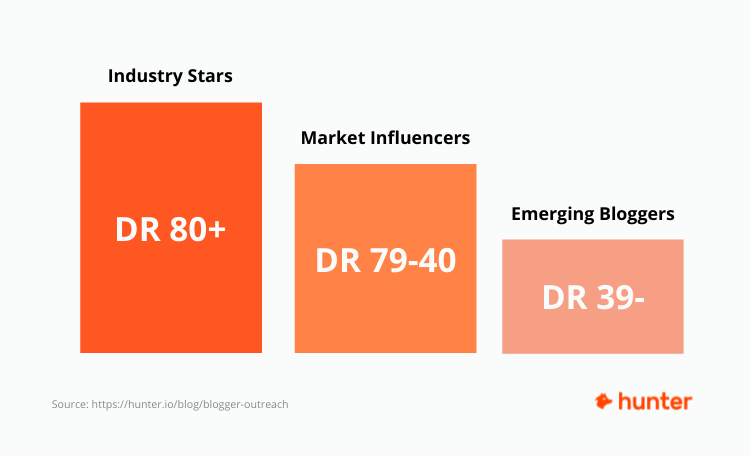 ---
4. Approaches for the outreach
There are two critical approaches for cold outreach: sniper and shotgun.
Sniper Approach

The sniper approach is focused on sending manually highly personalized emails. You have to choose your targets carefully and find a unique approach for each prospect.
Here is an example of the sniper approach that I recently employed: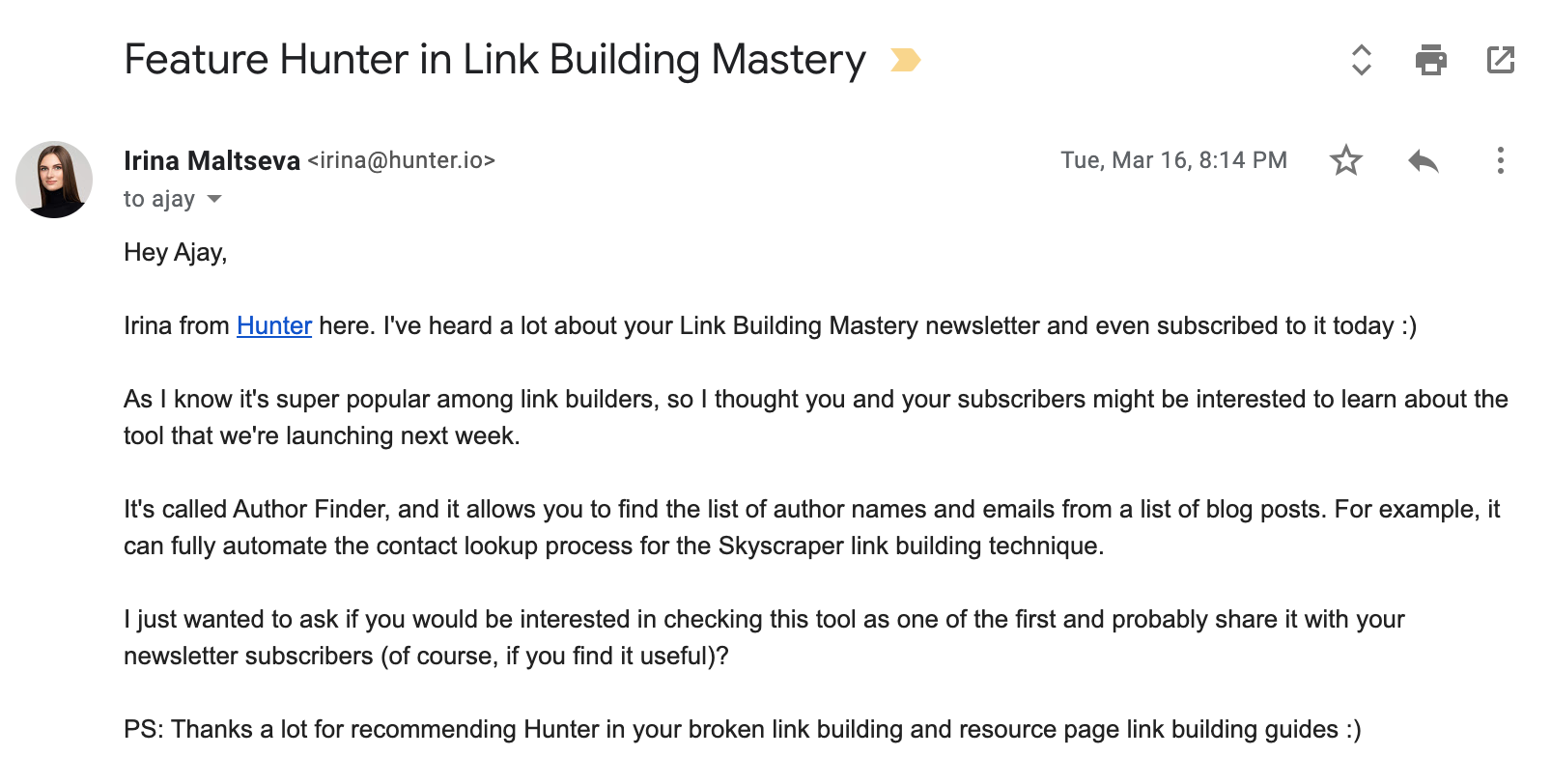 I used it to pitch Author Finder to one of the bloggers in the link building niche. As you see, this email is focused on Ajay only and couldn't be applicable to any other blogger because of the personalization used.
PROS OF SNIPER APPROACH
You can use this approach to target famous bloggers (personalization is uber essential in this case).
It's easier to build relationships with bloggers this way since they see from the very first emails that you did your research.
The response rate is typically higher.

CONS OF SNIPER APPROACH
It's time-consuming since you need to craft every email manually and send them out manually as well.
You have to manage the whole follow-up process by yourself, and keep in mind when and who to follow-up with.
Shotgun Approach

The shotgun approach is much different from the sniper one since the former is focused on outreach automation. The idea of the correctly executed shotgun approach is to stay personal while automating the whole outreach process.
Here is an example of an outreach using the shotgun approach that worked successfully for us:

As you can see, this email is entirely personal, but it was part of an automated outreach campaign. The shotgun approach lets you quickly scale your outreach process and spend less time manually changing each email.
PROS OF SHOTGUN APPROACH
Lets you spend less time on email copy.
Easy to scale.
You don't have to worry about follow-ups; they are sent automatically to those who never replied.
Easy to track performance on each stage (open rate, CTR, response rate).

CONS OF SHOTGUN APPROACH
You still have to spend time researching your prospects (shotgun approach gives good results only when your emails are personalized).
You need to keep track of your deliverability and warm up your domain (if you just started with cold outreach).
Use Campaigns to automate your outreach

If you want to contact significant volumes of bloggers, and Emerging Bloggers and Marker Influencers are among them, we recommend you to go with a shotgun approach.
For big email volumes, it's not always possible to manually edit all of the emails, since that can take a decent amount of time.
Fortunately, tools like Hunter Campaigns can help you save time preparing and scheduling highly-personalized emails.
Hunter Campaigns doesn't "automate the whole process" but still saves hours of your time. It's always better to spend a bit more time to add a personal touch to each message, even though they will ultimately be sent on autopilot.
All you need to do is to create a CSV file with detailed information about your prospects.

Upload it into Hunter Leads (a simple CRM tool that allows you to structure information about your prospects).
Note: If you use Hunter to find your prospects' email addresses, there is no need to create a CSV file—you can save this info directly to Leads.


Use the data from CSV/Hunter Leads to personalize emails in bulk automatically.
---
5. Get on bloggers' radar before outreach

Blogger outreach is not easy. Influencers typically receive tons of collaboration requests and respond only to the ones that really deserve their attention, or respond to those who they know well.
To increase your chances of getting a desired response from a blogger, try to get on their radar before outreach. You can do it using different tactics:
1. Comment on their blog

By commenting on an influencer's blog, you're showing that you're interested and engaged in their content. The chances are high to start the first conversation in the blog comments. And if that happened, you can even mention that quick conversion in the beginning of the cold email. It works perfectly to catch a blogger's attention!

2. Engage in their social media

Follow your target bloggers on social media, leave relevant comments under their posts, share the best content with your audience, and learn about their interests. By doing this, you'll be able to get noticed and collect some valuable information for the highly personalized outreach.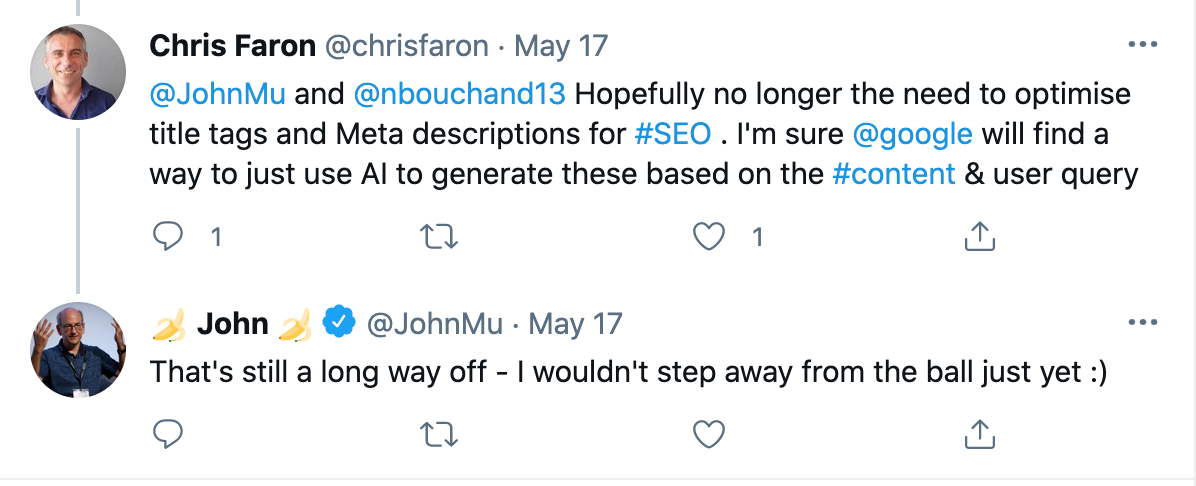 3. Make a first contact asking nothing in exchange

You can make the first contact with a blogger asking nothing in exchange. You can share feedback about their work (if you find it useful, don't hesitate to share a few nice words), or share a few tips based on your own experience that can supplement their content. If you find any typos in a blog post, you can also let bloggers know about it.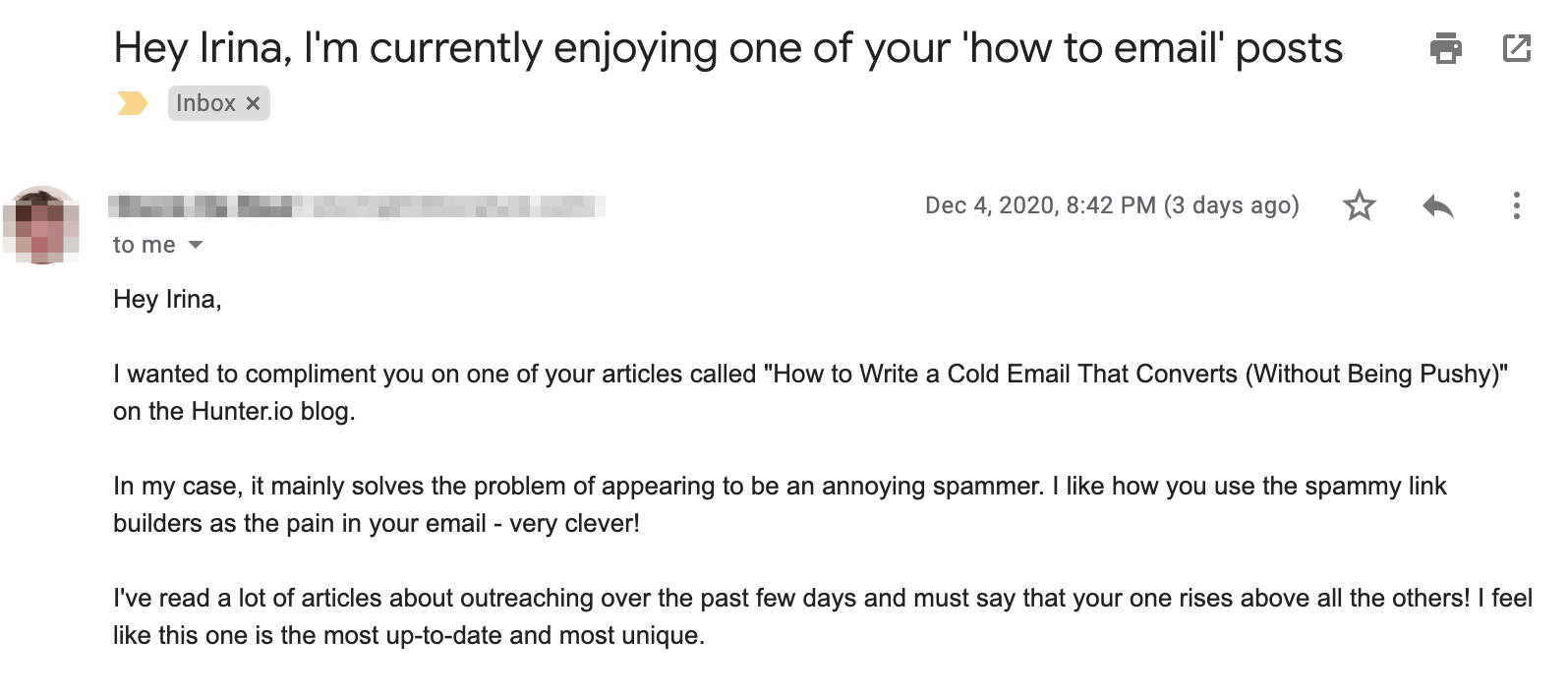 ---
6. How to craft your pitch

One of the most essential parts is to create a pitch that will make bloggers say YES to you.
1. Create a personal and short subject line

Make your subject line personal. Besides mentioning the first name and company name in a subject line, try to think of other touchpoints you may have with your prospect. For example, the content they wrote, common connections, the place you met, a conference they attended, etc.
Adding a personal touch is your best bet in getting engagement for your cold emails.
Keep your subject line short. It's much easier to catch a prospect's attention with something short, sweet, and straight to the point. Moreover, short subject lines invoke curiosity.
Read: 89 Effective Cold Email Subject Lines & How to Craft Them
2. Create personalized email copy
Personalization is uber important when it comes to sending a successful cold email. The more personal your cold email is, the better your response rate will be.
Generally, there are two key ways to personalize cold emails:

1. If you have small volumes of cold emails
It makes sense to spend time on high-value prospects and manually add a personal touch to every email you send.
You can create a single template for the outreach, but add precise information for each of your prospects to make the message relevant to them and provide maximum value.
A great example of such personalization is an email I received from HubSpot's Growth Specialist Adam Toothaker.
2. If you have large volumes of cold emails
You can personalize your message at scale using Campaigns. You'll just need to integrate your data (in CSV or TXT) with Campaigns and add a personal touch to each email.
Read: How to Write a Cold Email That Converts (Without Being Pushy)
3. Be brief and straight to the point
There are three key elements your cold email should contain:
Who you are/or short introduction
What your offer is
The action you want a prospect to take
As long as you have these three elements in your email, you won't need to write any extra sentences.
Try to eliminate extra greetings, don't use wordy sentences, and be straight to the point.
Remember, most emails are read on mobile devices. It's much easier to consume and reply to a brief message than scroll through a short story.
4. Avoid being fake

I often receive cold emails starting from "I'm a big fan of your work/content/blog," and then the irrelevant pitch comes. That shows that person didn't even have an opportunity to do basic research before sending the cold email.
The same situation exists for someone who gives many compliments for a single reason—they want something in exchange.
It's so easy to spot when people are fake with their pitches!
One of the key Dale Carnegie's principles says that it's important to give honest and sincere appreciation if you want to build great relationships and stand out above everyone else.
Being honest is vital in cold emails. People love compliments about their work, but you should know and enjoy what they're doing.
I'm a big fan of Ahrefs, I use it daily, and it helps us automate many things related to SEO at Hunter. When we launched our new product that is very relevant to Ahrefs audience, I reached out to their Head of Content, Joshua Hardwick, sharing some info about the product and a few words on how I love Ahrefs (that was really honest!).
5. End with a CTA

Setting the right CTA (call-to-action) is the key to boosting your reply rates. This is the part of your cold email that persuades prospects to take action—send a reply, click the link, submit a form, etc.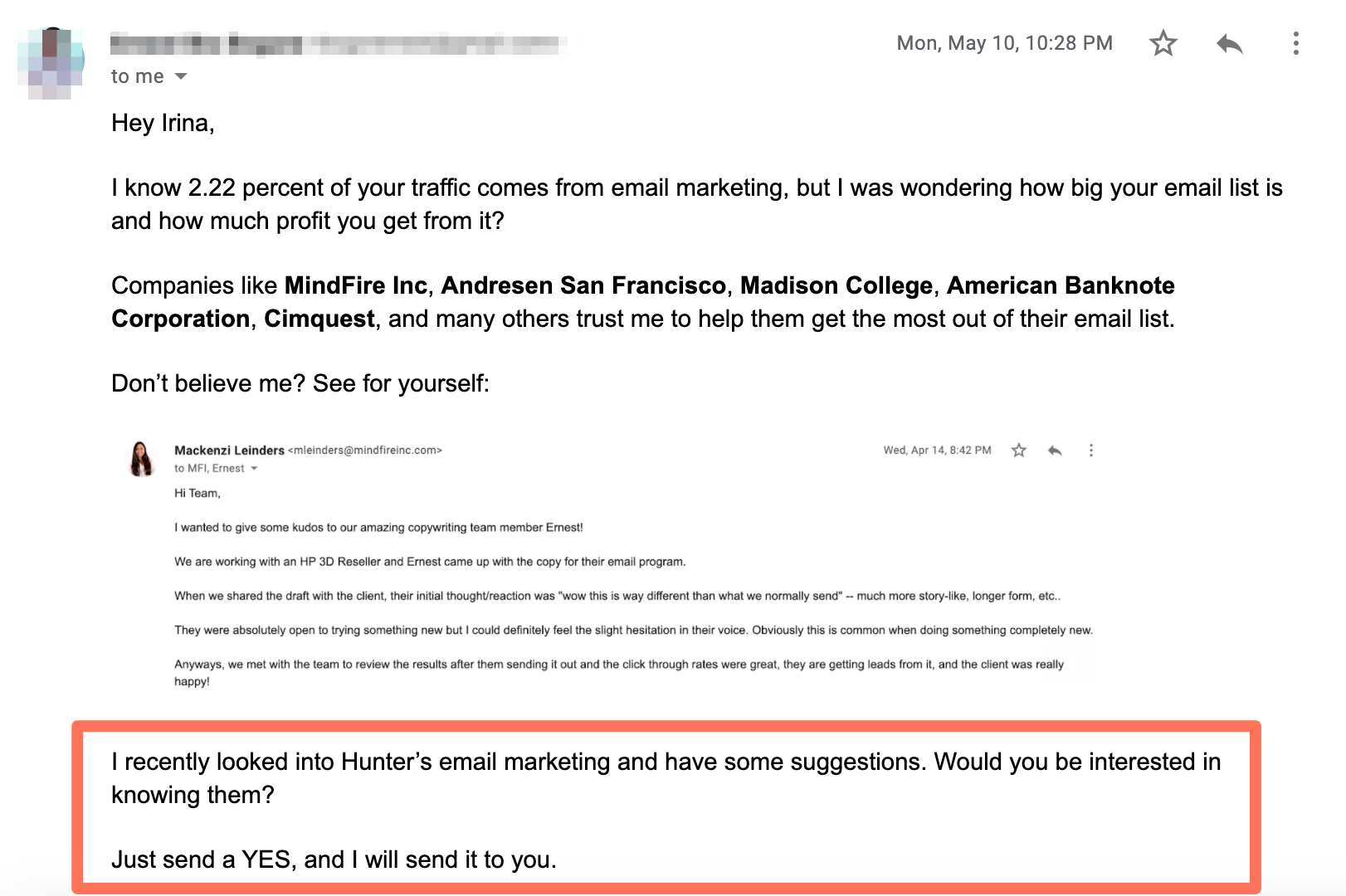 The CTA should align perfectly with the goal of your cold email. Try to focus on a single thing you want to achieve with your outreach.
Also, try to be precise and specific with your CTA and let prospects know what "next step" you expect from them to continue the conversation.
Are you looking for inspiration for a cold email copy? Check out Hunter Templates - the largest free directory of cold email templates, segmented by categories.

---
7. Pitch don'ts

There are a few things I don't recommend doing while doing blogger outreach:
Don't use generic templates used by everyone. Templates are great to get some inspiration and ideas for your cold outreach, but don't copy the exact text and hit the "Send" button right away. Try to add some personalization, introduce yourself, add something personal. That would show you the best results.
Don't send time-consuming requests. With cold emails, you can start with a simple ask and straightforward CTA. Ask for something small and simple—that's a great way to initiate a conversation with a blogger.
Don't be too generic. If it's possible to find personal information about your prospect - do it! I always ignore emails starting with a "Dear Madam/Dear Webmaster" etc. It's just as easy to find my name as an email address on the web (well, even if you don't have time to research the name, the email says for itself "irina@hunter.io").
Focus on quality, not quantity. It's always better to add a personal touch to each email and send fewer rather than sending 10X more generic emails. It's your best bet to build long-term relationships with bloggers and get what you want.
Accept "no." No means no—don't be too pushy and ruin your relations with bloggers entirely.
---
8. Track open rates

You sent your pitch to the blogger and are waiting for a reply. You're not sure if your emails were read, got into the junk folder, or were just ignored.
The easiest way to know whether your email was open and read is to use email tracking tools. Depending on the outreach approach you're using, your toolset may vary:
Email tracking for the sniper approach

You can use a simple and free email tracking extension called MailTracker, which allows you to know when recipients open your emails.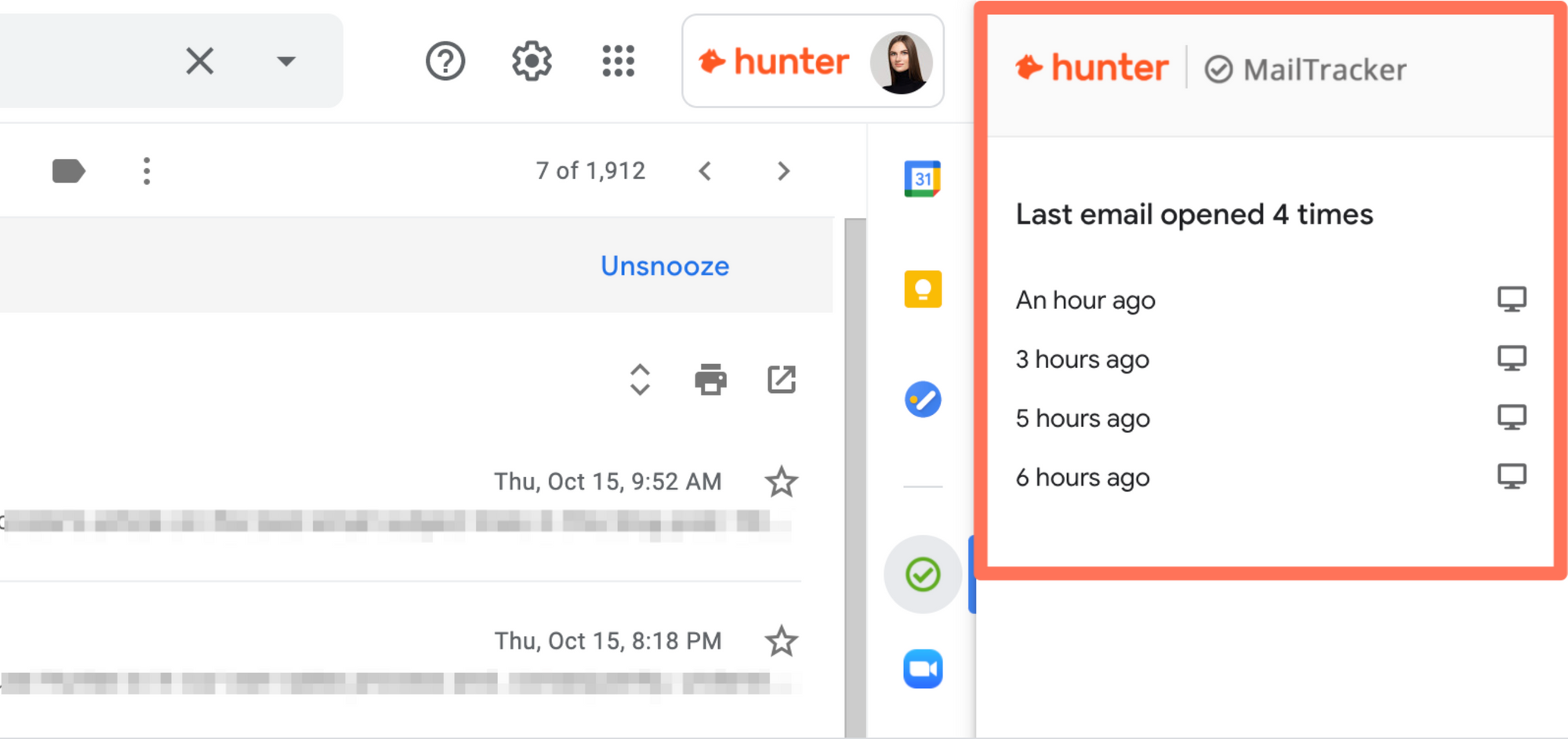 Email tracking for the shotgun approach

If you're sending emails in bulk with Campaigns, you can check the stats section to get detailed reports on your open rate, CTR, and response rate.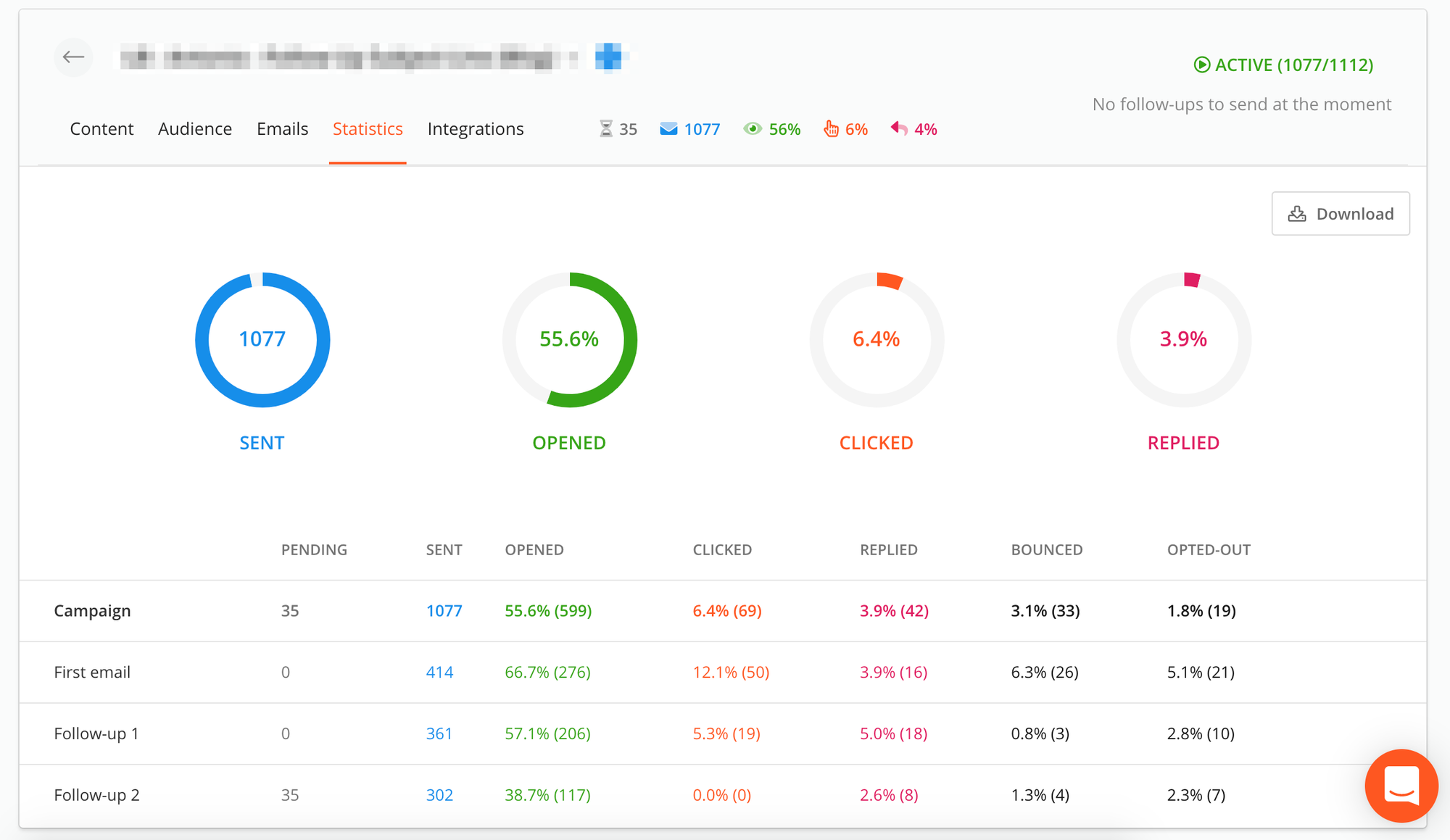 Read: How to Know if Someone Read Your Email
---
9. Send follow-ups

As research shows, you can boost your reply rates by 65.8% by sending a single follow-up.
Follow-up can be another chance to pitch your product or service to the blogger, and I highly recommend you not miss this opportunity.
There are situations when prospects are busy or just forget to respond to the first email. It's likely your initial offer wasn't clear enough to proceed, so you have another chance to explain.
How many follow-ups to send?
It's better to focus on writing irresistible emails instead of adding too many follow-ups. So I recommend limiting to three follow-ups for your cold email campaigns. If you send too many follow-ups to someone who's never heard about you, you may seem like an annoying person and damage your company brand.
How often to send follow-ups?
Around 90% of emails are opened on the same day they are sent. Pretty similar situation for the responses—the chances that your prospects get back to you the same day your campaign was sent are much higher.
So don't wait for too long to send your follow-up email. Typically, 2–5 days is the best timing to remind prospects about your offer.
How to automate follow-up sending?
You can use Campaigns to run your follow-ups on autopilot. You can choose how many follow-ups you want to send, specify the time delays between each follow-up, personalize the subject line, and work on the email copy.
Once you set this up, you'll never have to worry about forgetting to send a follow-up to your prospects. Everything will be sent on autopilot.
Read:
---
Wrap up
There are tons of other strategies and tips related to blogger outreach. If we decide to list them all, it will be a long book.
If you're just starting out with blogger outreach, always keep in mind these two strategies (these are the basics for successful outreach): focus on building long-term relationships with bloggers; and offer win-win collaborations.
Being personal, human, and relevant are the small things that skyrocket any cold outreach campaign results.
Have questions or feedback? Don't hesitate to ping me on Twitter or drop a few lines at irina@hunter.io.