How to Introduce Yourself in an Email (Everything You Should Know)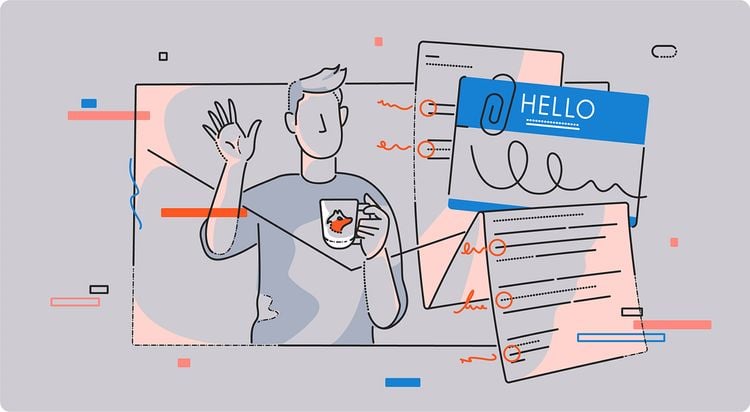 Social media may be the trending method of finding and reaching new people right now, but email is still the most accepted mode of communication in the business world. While writing emails to colleagues is pretty straightforward, creating an introduction email is a different ball game altogether.
When dealing with an introductory email, there is still no functional relationship between you and the recipient, and this makes it difficult to craft such correspondence. It's hard—but not impossible.
In this guide, I will show you most common ways on how to introduce yourself in an email to make a great first impression.
Let's dive in.
How to Introduce Yourself in an Email to a Client
How to Introduce Yourself in an Email to Your Team
How to Introduce Yourself in an Email to a Recruiter
How to Introduce Your Company in an Email to a New Employee
How to Introduce Yourself in a Cold Outreach Email
How to Introduce Yourself in an Email to a Client
An introduction email to a client plays a vital role in determining how successful your working relationship will be. A great introduction sets the right tone. It makes the client feel reassured that your organization is more than capable of handling their needs.
On the other hand, a poor introduction could leave the client questioning their decision to work with you. You don't want that.
A good introduction email to a client is composed of four components. First, create a subject line that depicts the key message you want to share in the email. For example, you can use as an email subject line something like "[your company] + [client's company]" or "[your name] from [your company]: quick intro".
Next, we have the greeting line and not just any greeting but a personalized one. Your client needs to feel valued, and one of the easiest ways of showing that is by personalizing the relationship.
So, don't just open your emails with a "Hey," "Hello," or "Hi," then jump straight to the primary subject. Mention the client's first name. There are no fancy psychological reasons you should do this. It's just the proper and polite way to start an email.
The little personalization techniques like mentioning the client name, writing a custom message, and providing personalized offers compound to increase open rates and email engagements.
The second part covers the reason for writing your email, i.e., introducing yourself to the client. You can mention your organization at this point. It's also the perfect place to mention a professional mutual connection if there's one.
In addition to the basic introduction, you should also mention a few details regarding the client. More specifically, their pain points or goals. That should lead you nicely to the third section of a client intro email where you offer a solution.

Lastly, end your email with a strong CTA (call-to-action). Let the client know that you are available to discuss in detail how your business can help them move forward.
Check out the email sequence that introduces a new relationship manager to clients. You will notice that the first one is not exactly an introduction email as the sender already has a working relationship with the reader. The second one, however, is an introduction email as the sender has had no prior correspondence with the recipient: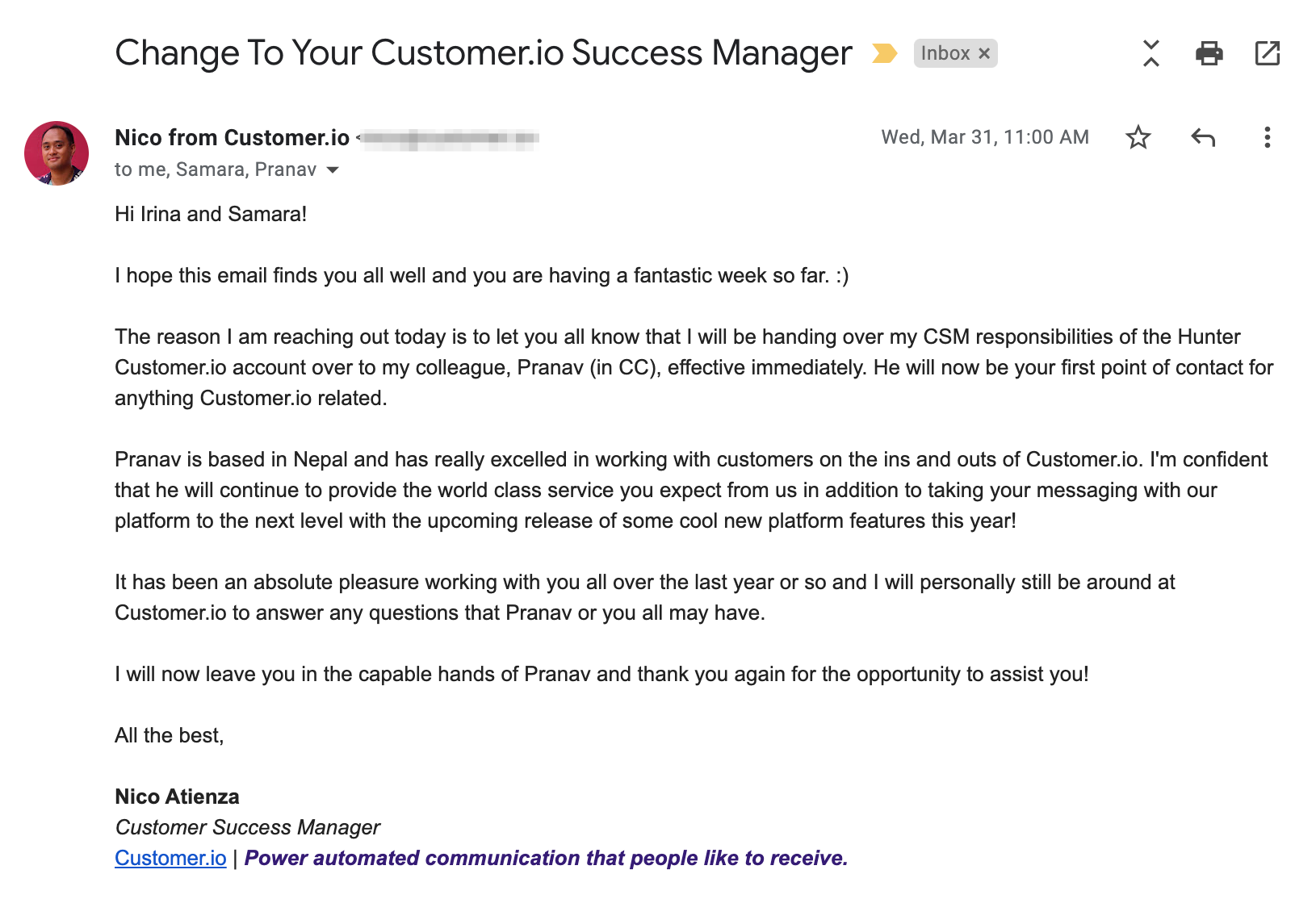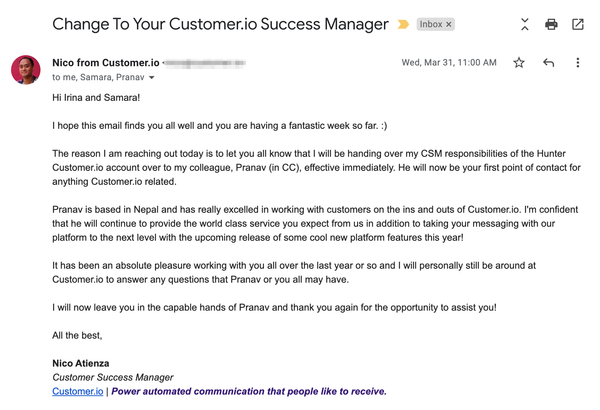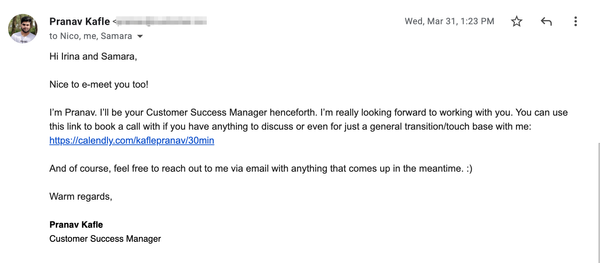 Keep in mind that the best email introduction is always brief. Modern professionals receive dozens of emails as it is, so you don't want to bore your clients with text-heavy emails. Keep it short and engaging.
---
How to Introduce Yourself in an Email to Your Team
Whether you're working in a remote environment or are slowly going back to the office, you'll need your team to know who you are. An introductory email will let them know that you're on board and are looking forward to working with them.
An email to coworkers isn't nearly as serious as a client introduction. The rules of the email are also quite different. Nevertheless, it's essential to get the email right to smoothen your transition into the new team.
Introduction emails to coworkers cover two primary subjects. The first is your background. Let your team know a bit about yourself. You can share a few details on your educational and professional experiences.
The other subject is your new role. What position are you filling? Mention it in the email.
Close the introduction by showing your eagerness to help the team. Let them know you are available to offer any assistance required to achieve the company's goals. You should also share some details on how they can reach you.
That's how simple writing email introductions is to a new team. You can cover all subjects in a 4-5 sentence email.
Here's an example of a brief yet effective email introduction to a new team:
Hello Team,
My name is Katherine Perez, but feel free to call me Kate! I'm the new graphic designer taking over for Riley. I have over five years of experience in graphic design and will be assisting the team in creating visual content for our digital channels.
I'm so excited to be joining the team and can't wait to meet you all in person.
Kindly reach out to me if you need any assistance.
Regards,
Katherine Perez
k.perez@newco.com

One thing most recruits struggle with is finding the right tone for the introduction email. How should the email sound? Well, it all boils down to the organization's culture, which you should be familiar with after going through the recruitment process.
The general idea is to sound friendly and convey a positive attitude. How you will do that will ultimately depend on the company's culture.
For example, in companies with a super casual culture, using emojis and gifs in emails is pretty standard. But in a formal industry that demands extreme professionalism, you'll need to keep your email introductions proper.
Think about the correspondences you've been exchanging with the company so far. These should give you a good idea of what tone to use in your email.
Also, don't forget to add a relevant to your introduction subject line that gives your colleague a quick tip on what the email you're sending is about. Here are some subject line ideas:
Glad to join your team
Let's connect
New [your job title] joined [company]
Happy to join [company]
---
How to Introduce Yourself in an Email to a Recruiter
You would have written a cold email to recruiters at some point in your careers, especially if you are particularly interested in a job you've seen on a job board. However, recruiters sift through dozens of resumes and intro emails per day. If you want your job application get noticed, your cold emails need to stand out from the rest.
The introduction email can determine whether recruiters will get back to you or not. Some recruiters will even decide whether to open your email or not based on the subject line alone. So make it relevant, noticeable and intriguing. Here are a few ideas for the inspiration:
Opportunity at [company]
Question about the open position
[your name] - [position]
Shall we connect?
Note: Find more subject line ideas and introduction email template examples to contact a recruiter in this library of cold email templates.
The first step to writing an excellent introduction is finding out who exactly is responsible for recruitment. That should help with email personalization, which is crucial because you don't want the recruiter to feel like you're sending generic job application emails to multiple companies. The more personal your email comes off, the higher the chances the recruiter will pay attention to you.
After getting the recruiter's name and including it in the greeting line, move on to the email's body and share some details about yourself. Mention your name and current or previous position, then link it to the open position for which they are recruiting.
Do not go into the finer details of your qualifications. The email has to be brief. Instead, you should attach your resume or provide a link to LinkedIn or your online portfolio. That's where you can now sell your skills to the recruiter.
Remember to include a CTA before signing off your email by inviting the recruiter to check out your resume or portfolio. Ask if they can spare some time to discuss the opportunity with you.
Check out this template:
If you don't hear back from the recruiter after a week or so, write a short follow-up email. Here's a template you could use for the follow-up.
If you applied to multiple positions at the same time, it's hard to keep track of each application and follow up on each of them. Automating your follow-up emails will save you time and ensure that recruiters are aware of continued interest in the jobs for which you're applying.
You can set up an email automation tool, such as Hunter Campaigns, to send a follow-up email after a specified number of days without receiving a response from a recruiter. You can even customize the subject line and email copy. It's an effective way to remind recruiters of your application without losing track of who you've reached out to and when.
Here's what it looks like: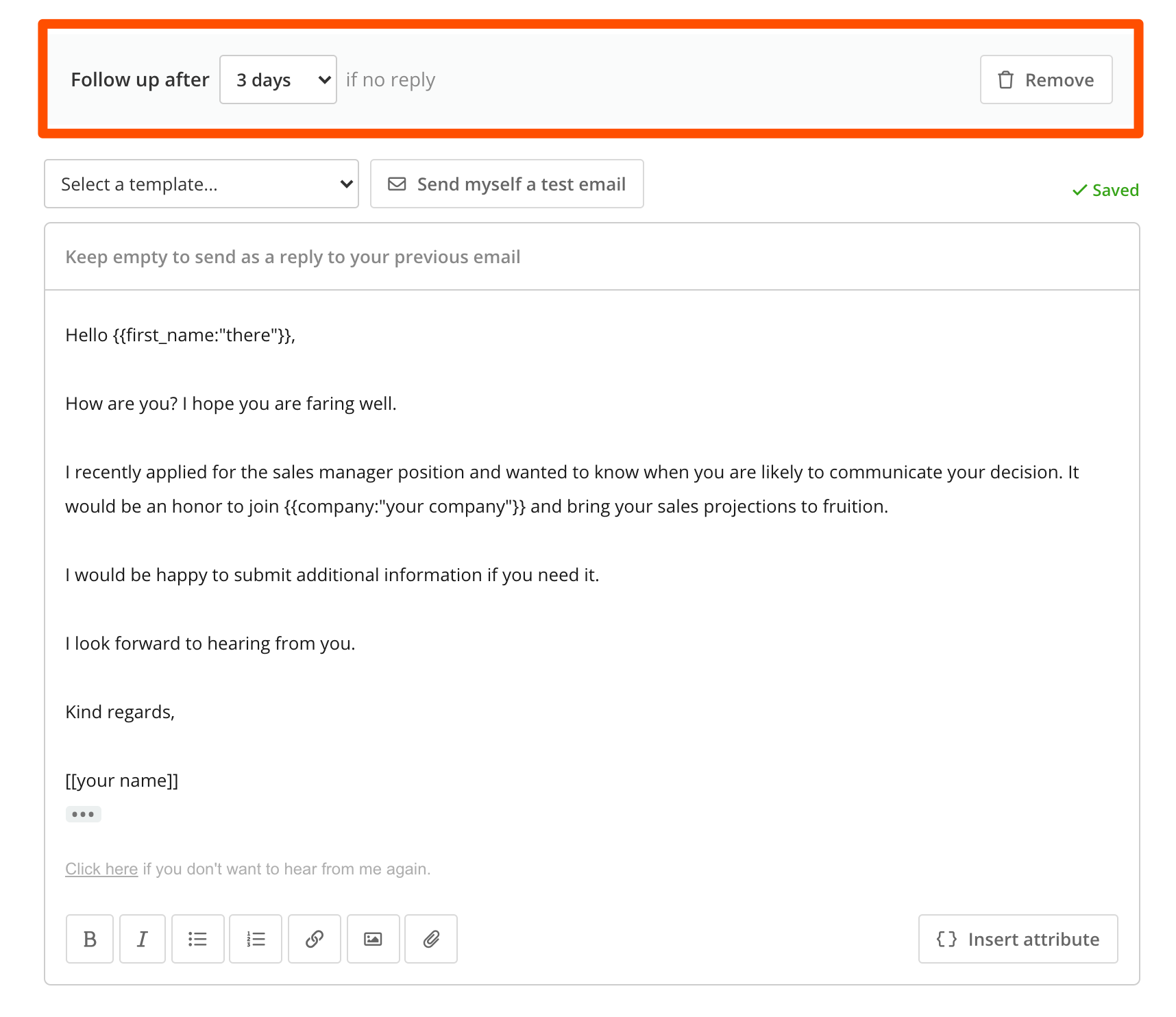 Additional read: How to Find Hiring Manager's Email Address (8 Effective Ways)
---
How to Introduce Your Company in an Email to a New Employee
After acquiring some fresh talent for your company, the next objective is to make the new employee feel in the right place. That means introducing them to your company and the key members with whom they'll be interacting in their new role.
The introduction is not just helpful in making the recruit feel comfortable; it's also vital for onboarding. Connecting the new employee with co-workers makes it easier for them to do their job.
Start the email with a personalize email subject line (e.g. "Welcome to the team [name]"). Continue with a personalized greeting, then open the email body by mentioning why you are writing. For this email, the purpose is to introduce one or more people to the recruit. So, mention their names and briefly share details on who they are and their roles in the company.
Not only that, but you should also mention how the people are relevant to the new employee. Talk about the specific role they play and how it interlinks with the recruit's position. Of course, you should CC everyone mentioned in this email.
Close the email by letting the new employee know you're available to answer any questions they may have.
Consider this introduction email example:
Hi Ryan,
We are delighted to have you on board! I would like to introduce you to our wonderful team at ABC Company.
Meet Spencer, our account executive, and Kelly, our sales admin. They'll be working with you in your new role as our newest sales representative.
Welcome to the team, Ryan, and don't hesitate to reach out if you have any questions.
All the best,
Jim Beckford
A great introduction gets the communication ball rolling, which is critical during the onboarding process.
---
How to Introduce Yourself in a Cold Outreach Email
Writing cold emails can be very challenging. For one, you don't have any relationship with the recipient. They don't know you and probably don't think they need anything from you. That makes it challenging even to get your foot on the door.
But when done correctly, cold outreach emails can produce impressive results. Perhaps the most popular example of this is when Factmata's founder landed a $500,000 investment from a cold email he sent to Mark Cuban.
So, how do you write a cold outreach email that generates results? Start by researching the recipient. That includes doing the basics like finding and verifying their email address. Fortunately, you can do this in just a few clicks with Hunter's Email Finder and Email Verifier.
If you don't know the identity of the person you should contact, searching on LinkedIn will give you the information you need. However, most LinkedIn users don't indicate their email addresses on their profiles. Here's where Hunter can help. All you need to do is go to the Email Finder, pop in the name of the person and their website domain or company name: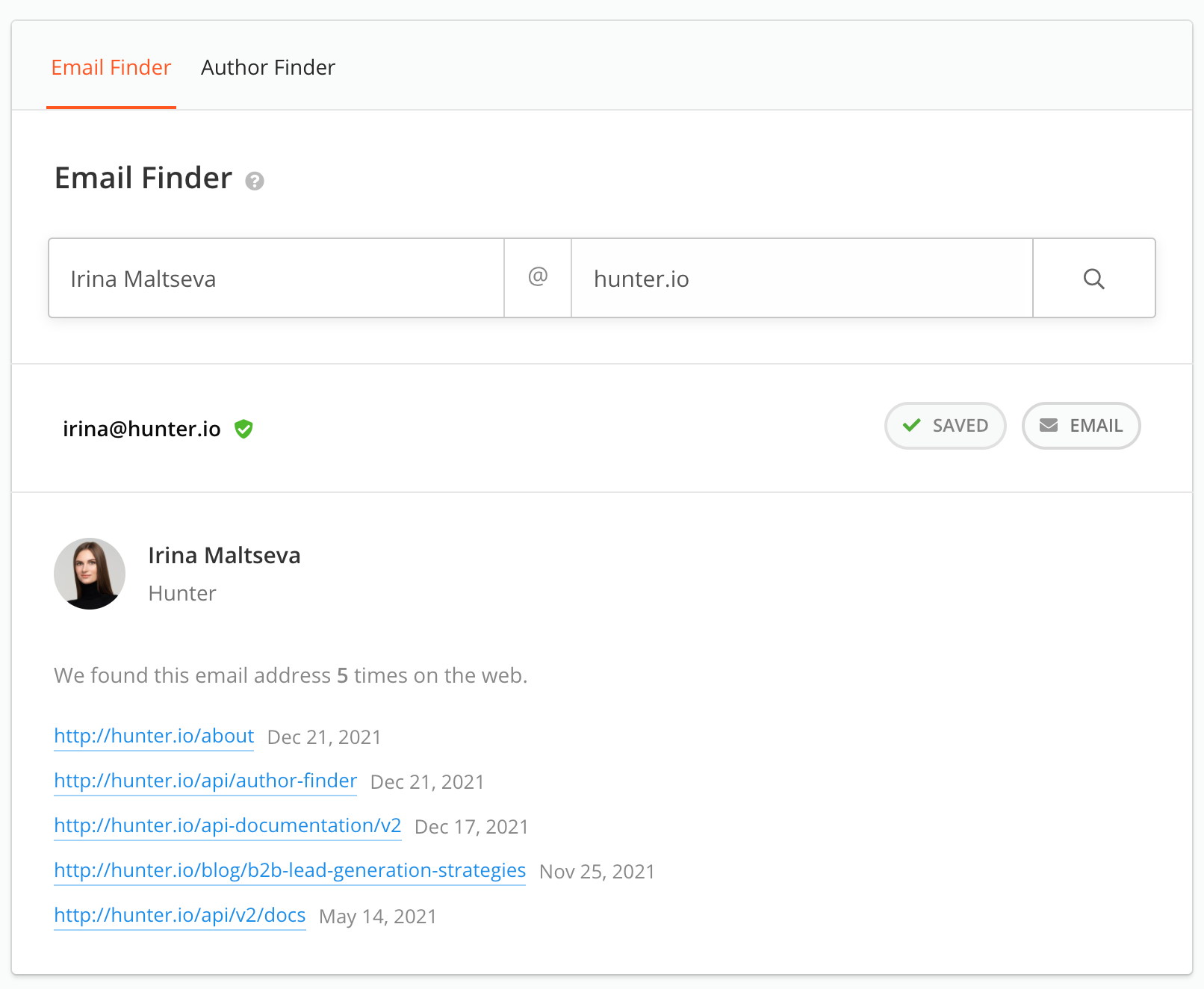 If you don't know the person's name, you can use Domain Search to do a broader search using the company email domain.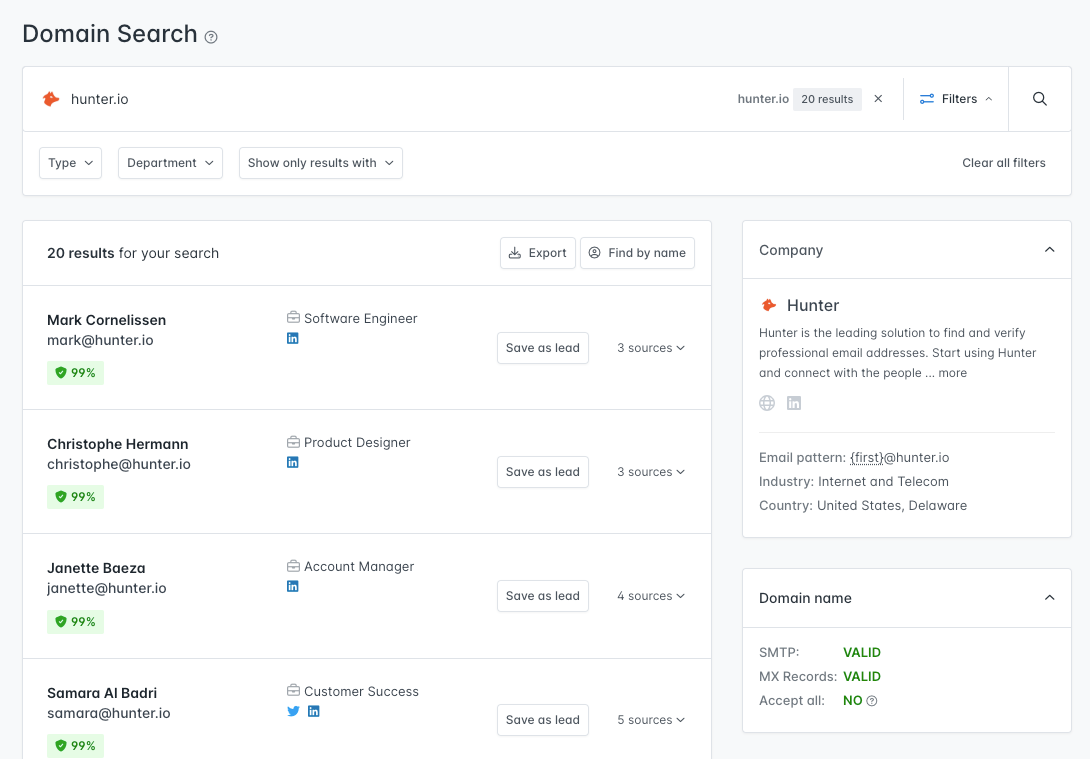 Finally, if you have your intended recipient's email address, you can run them through Email Verifier before hitting send: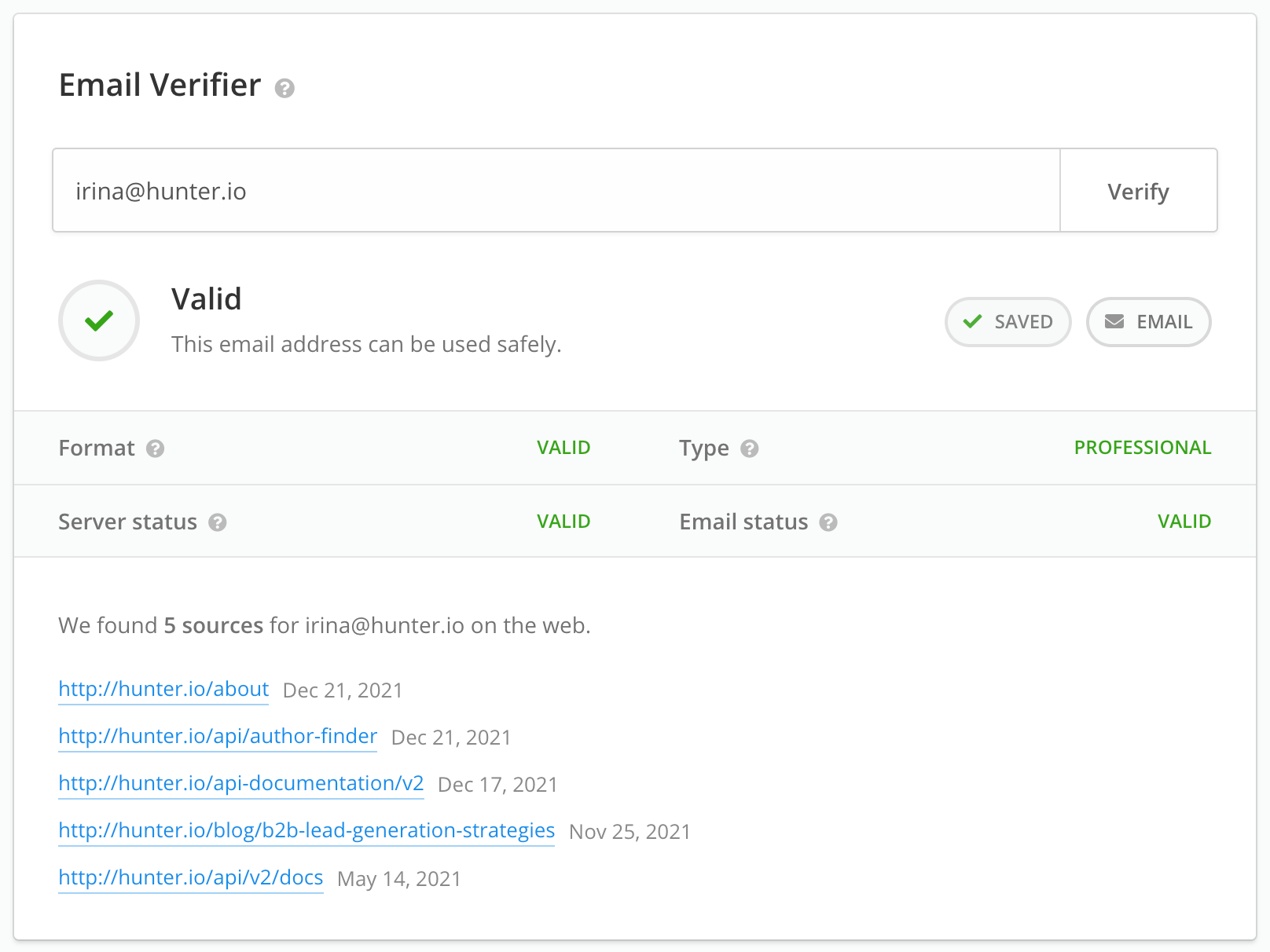 Hunter has everything you need to find and verify business email addresses, guaranteeing that you send cold emails with a high degree of accuracy.
Once you have a list of cold leads, you can start composing introductory emails.
Let's say you're in the middle of a link-building campaign for your e-commerce site. You need to make an impact right away by creating a catchy greeting and an engaging hook. In this case, you can start with a relevant statistic:

Next, you need to tell the reader why you're reaching out to them and why they should care about your message.

Remember to keep the introductory email short and sweet. You can end the email with an invitation for the recipient to share their thoughts.

In just a few short paragraphs, you can establish yourself as someone knowledgeable in your field, express your intention to write a guest post for their blog, and invite them to engage with you. This approach works because it piques the reader's interest and gives them a reason to respond.
Note: Find more email template and subject line examples for your inspiration in Hunter Templates.
---
Wrapping Up
Writing introduction emails gets easier when you know what to include and how to include it. While there are some differences between introductory emails to your team or a potential client, you need to observe conciseness and personalization for both.
Personalization doesn't stop with using your recipient's name in an email template. It involves taking time to assess the nature of your introductory email, your relationship with the recipient, and what you intend to accomplish with your message. You also need to ensure that you are sending your emails to the right people.
With this information at your hands, I'm pretty confident that you have what it takes to know how to introduce yourself in an email and write a killer introduction. Plus, I've given you lots of templates for inspiration. Good luck!