15 Sales Enablement Tools to Help Your Sales Team in 2023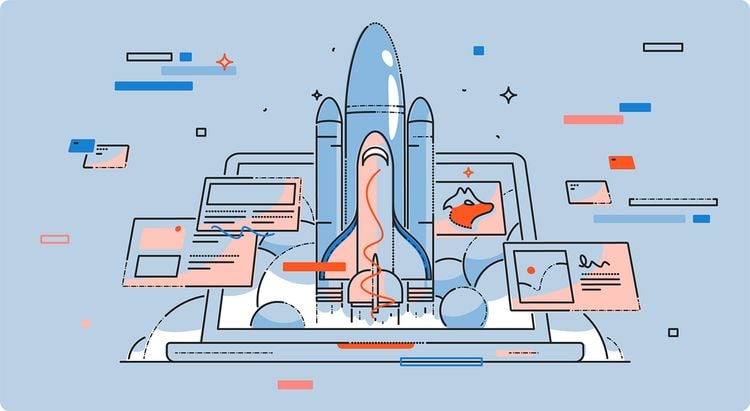 Sales teams have a hard job to do, but it can be made easier with the right sales enablement tools.
In this blog post, we go over what sales enablement tools are, how to choose the right one for your team, and list the top sales enablement software available in 2023.
What are sales enablement tools?

Sales enablement tools allow you to improve sales productivity by enabling sales reps to find more prospects, close more deals, and speed up the sales cycle.
They might help improve the way you onboard or train your sales reps, create and organize sales content, or book and run meetings.
---
How to choose the best sales enablement tools for your team

With many sales enablement tools available on the market, it can be difficult to decide which ones are the best fit for your team. When choosing a sales enablement tool, ask yourself:
How easy is it to use? You want a tool with an intuitive interface that won't require your team to spend a lot of time figuring out how to use it.
Does it integrate with your CRM software? Sales enablement tools should enable your sales team to work more effectively and close more deals. Avoid tools that might create more repetitive work for your team by forcing team members to do additional data entry.
Is it mobile-friendly? If you think your sales reps will find themselves in situations where they'll need to access the software from a mobile device, make sure the tool you decide to use is mobile-friendly.
Does it offer responsive customer support? No matter how great a tool is, you'll very likely run into software bugs or other issues at one point or another. When this happens, you'll want the software's customer support team to be quick at addressing the issue.
---
Top 15 sales enablement tools in 2023

Now that you understand how to choose the right software for your team, let's look at the top 15 sales enablement tools available in 2023.
1. Hunter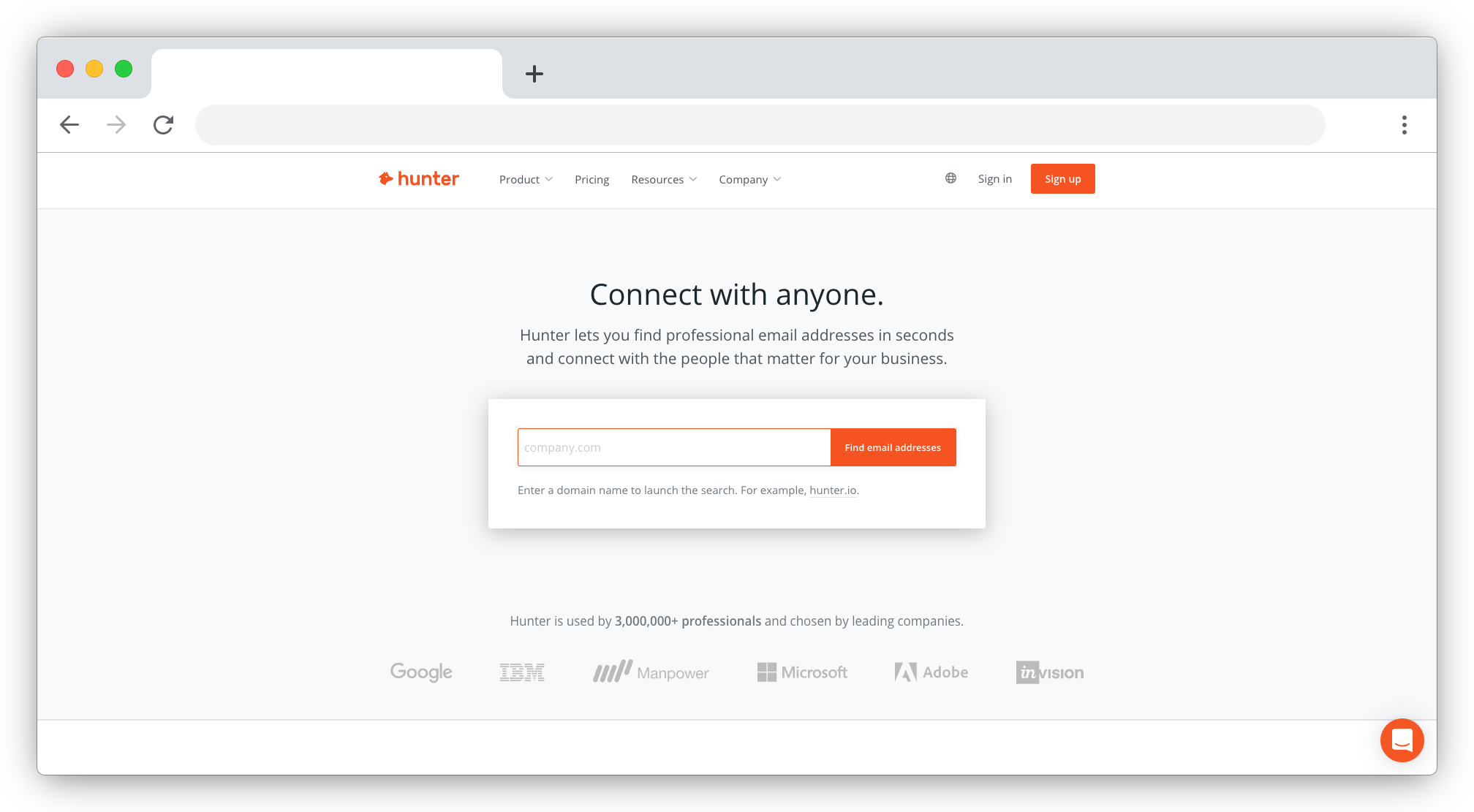 Hunter can save time for your sales team by allowing sales reps to find and verify prospects' contact information in seconds. It can also help you set up and run automated outreach campaigns.
You can use Hunter's Email Finder to find the email address of any professional. At the same time, the Domain Search tool will help you uncover all the email addresses associated with a particular domain.
The Email Verifier will ensure that an email address is valid and safe to reach out to.
The Email Finder, Email Verifier, and Domain Search tools can all be used when working with a single email address or domain and a list of email addresses or domains.
Hunter also offers Campaigns, a cold outreach tool that enables you to set up, launch, and manage automated outreach campaigns.
Campaigns supports advanced personalization through the use of custom attributes, custom sending schedules, multiple email addresses, and email tracking.
You can also take advantage of Hunter Templates, a collection of top-performing cold email templates that can help you start your next campaign quickly.
Thanks to its many features, Hunter can be used by both marketing and sales teams.
2. Ambition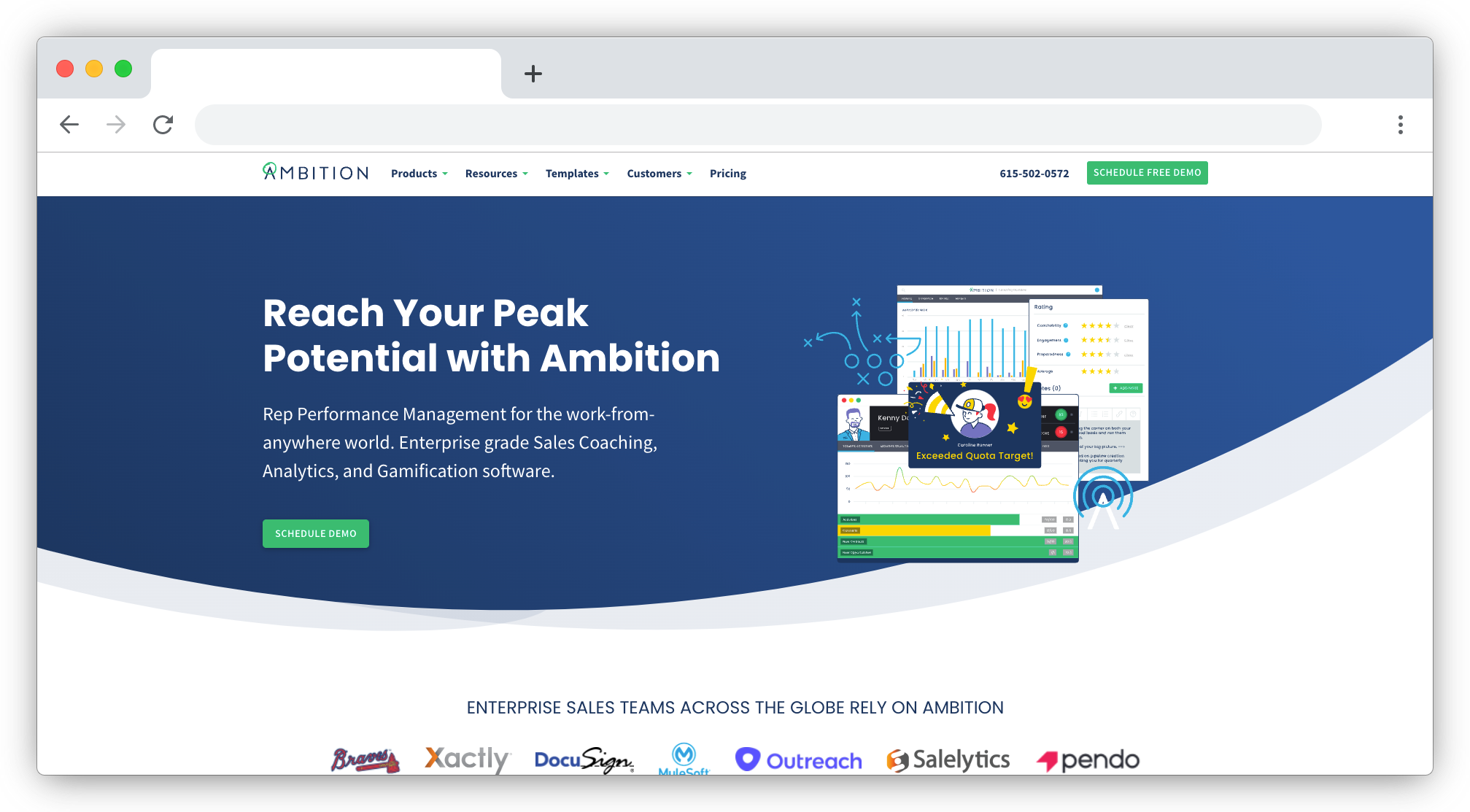 Ambition enables you to maximize your sales team's performance by implementing metric-based sales coaching programs. It's designed to help facilitate and improve conversations between managers and sales reps.
You can use it to plan and run 1-on-1 and team coaching sessions. It features agenda templates you can take advantage of to set sales reps' expectations for 1-on-1 meetings with their managers.
There's also the option to set personalized goals and action plans for sales reps and track their progress from within the tool. Another great feature is the ability to see a timeline of all coaching sessions.
You can schedule recurring check-ins and rate reps' performance after each check-in. Ambition also offers you the option to take check-in notes within the tool and record the conversations you have with your reps.
The tool enables you to automate encouragement and motivate your sales reps by setting up:
Leaderboards – You can encourage friendly competition and showcase your reps' success using the Leaderboards feature.
Automatic update sharing – Ambition can also let your team know about updates related to new qualified opportunities, set meetings, and won deals.
With Ambition, you can integrate developmental coaching, pipeline coaching, and call coaching into a single experience and develop your sales team's skills more effectively.
3. MindTickle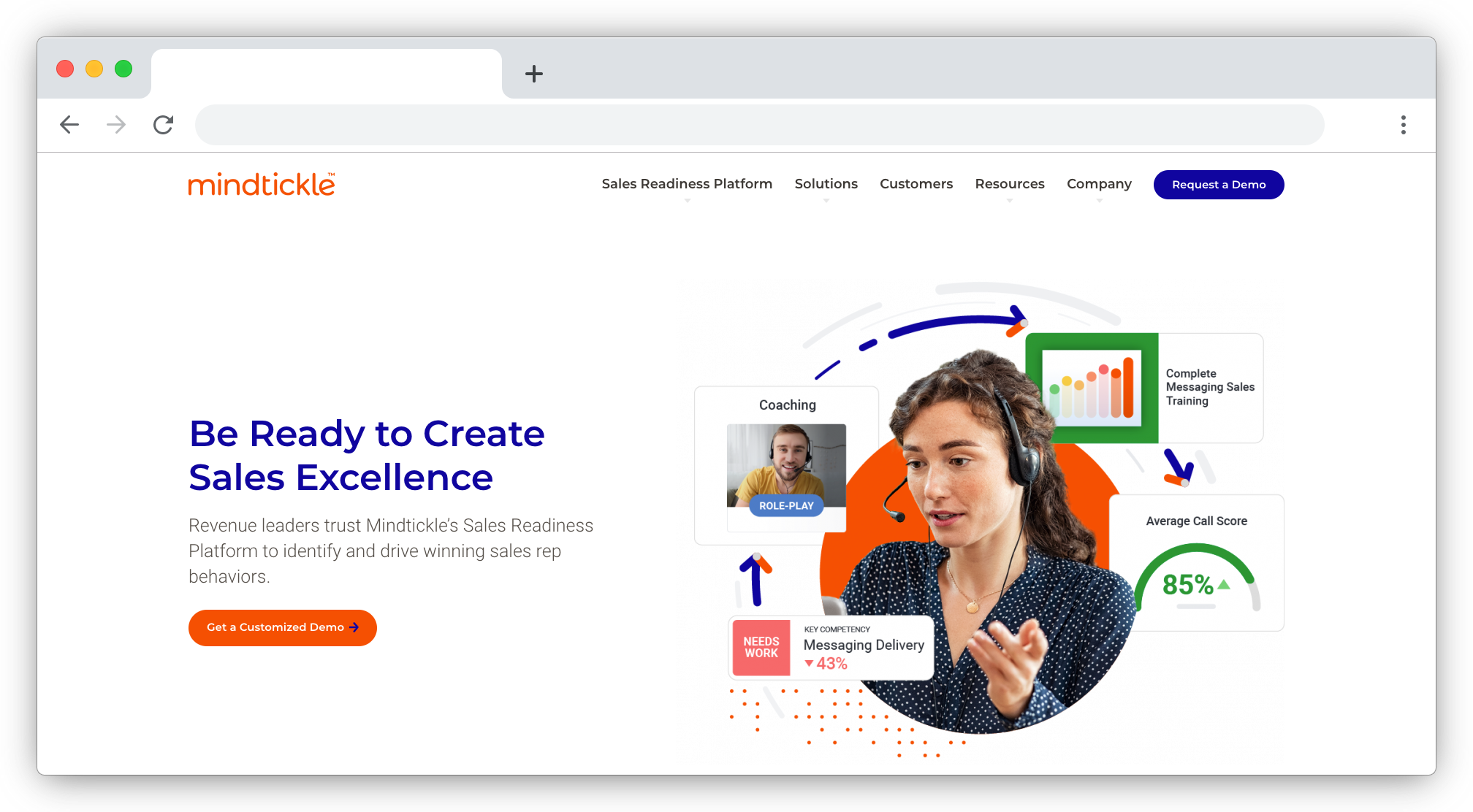 MindTickle calls itself a sales readiness platform. It consists of four main modules.
The first one is called Sales Enablement & Training, and is designed to help you develop sales knowledge within your team, improve your reps' skill set, and build winning behaviors.
It features pre-built templates you can use to launch training programs quickly.
The next module is Sales Content Management. It allows you to store all your sales content in a central location and organize content assets into hubs for easy access. Reps can use the smart search features to find the content they need quickly.
Its version control and content expiration date features can help you simplify sales content management significantly.
The Analytics & Dashboards module allows you to review sales reps' performance through built-in and custom reports and dashboards. It's very helpful for assessing how effective your training programs are and identifying areas for improvement.
Finally, the Conversation Intelligence module enables you to unlock valuable insights about your team's sales calls. You can use it to identify buying signals, important topics, and deal risks.
There's also the option to record calls and save call snippets to re-use within your training programs.
4. Albacross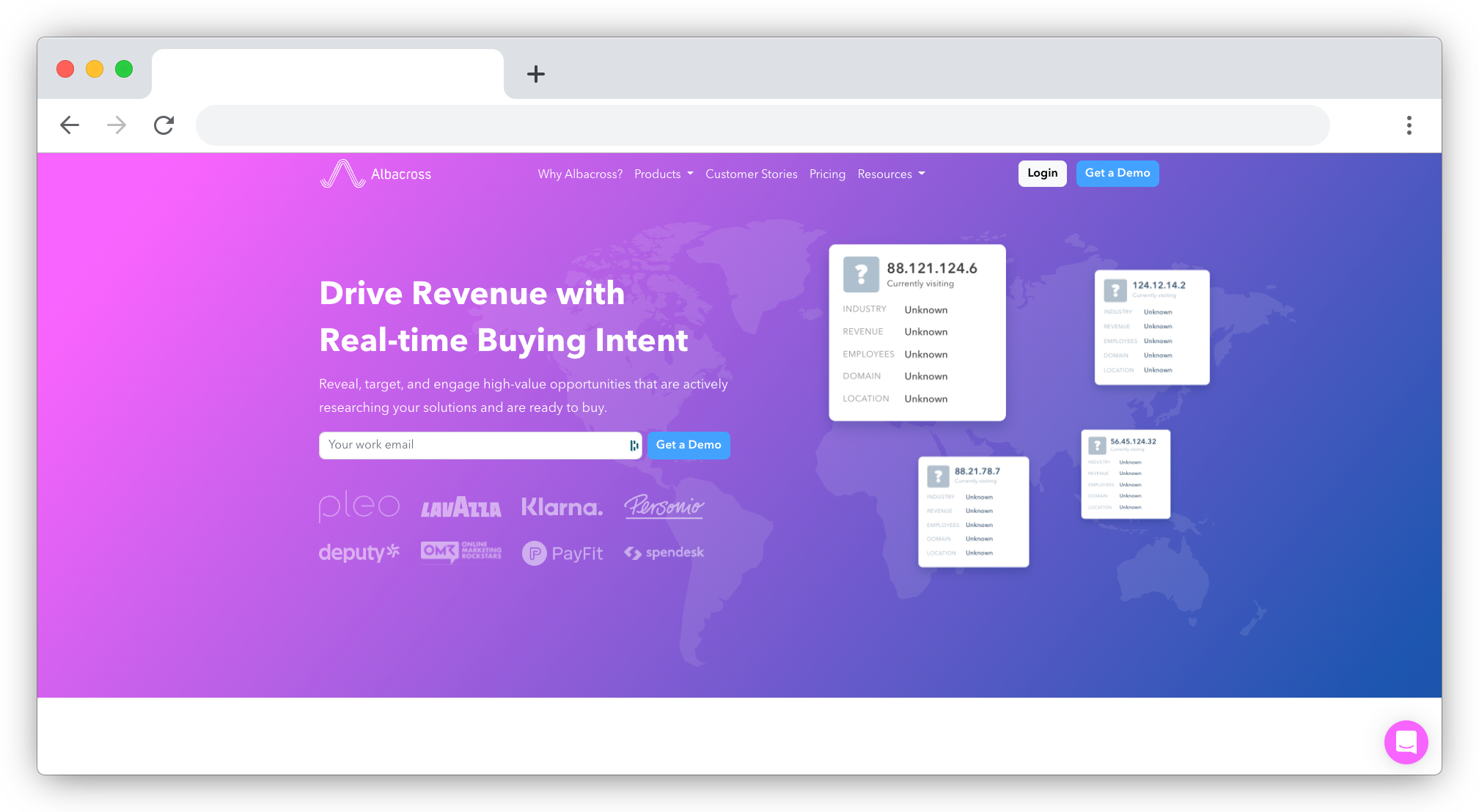 The main idea behind Albacross is to help sales and marketing teams identify buying signals and connect website visitors to target accounts so that reps can prioritize active buyers.
It allows you to monitor the activities of your target accounts, including where they come from, which keywords they use, and what content they consume.
This, in turn, enables you to personalize the website experience for each target account and customize the buyer's journey based on intent and potential account value.
You can also use the information provided by Albacross to improve your outreach campaigns by focusing your team's efforts on target accounts that are further down the buyer's journey.
5. Showpad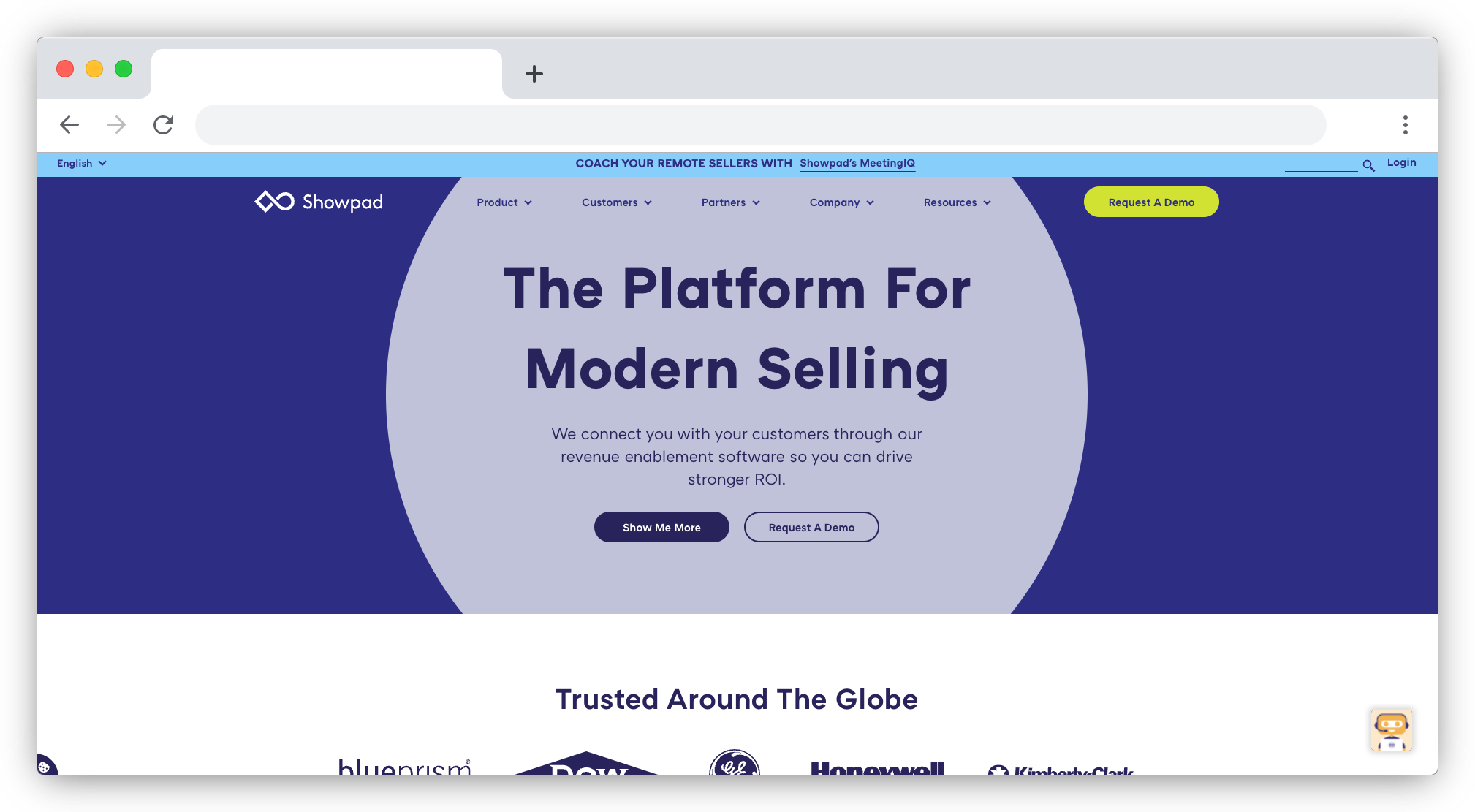 Showpad is a sales enablement platform designed to make B2B selling easier.
You can use it to organize all your sales content in a central location and make it easy for your team to find the content assets they need quickly.
It allows you to learn how reps and prospects interact with your sales content and helps you understand the impact of content on company revenue.
You can also use Showpad to create onboarding and coaching programs with role-specific content and training exercises.
It will allow you to identify gaps in your reps' knowledge and skills so that you can address them with personalized training programs.
The software gives you the option to create interactive sales plays, record and review sales calls, and get AI-powered content recommendations to help move deals forward.
You can also use it to set up branded, deal-specific microsites where sales reps and buyers can discuss deals and share content.
Additionally, it's possible to connect Showpad to your CRM tool to log all sales activities and identify at-risk opportunities and deals.
6. Brainshark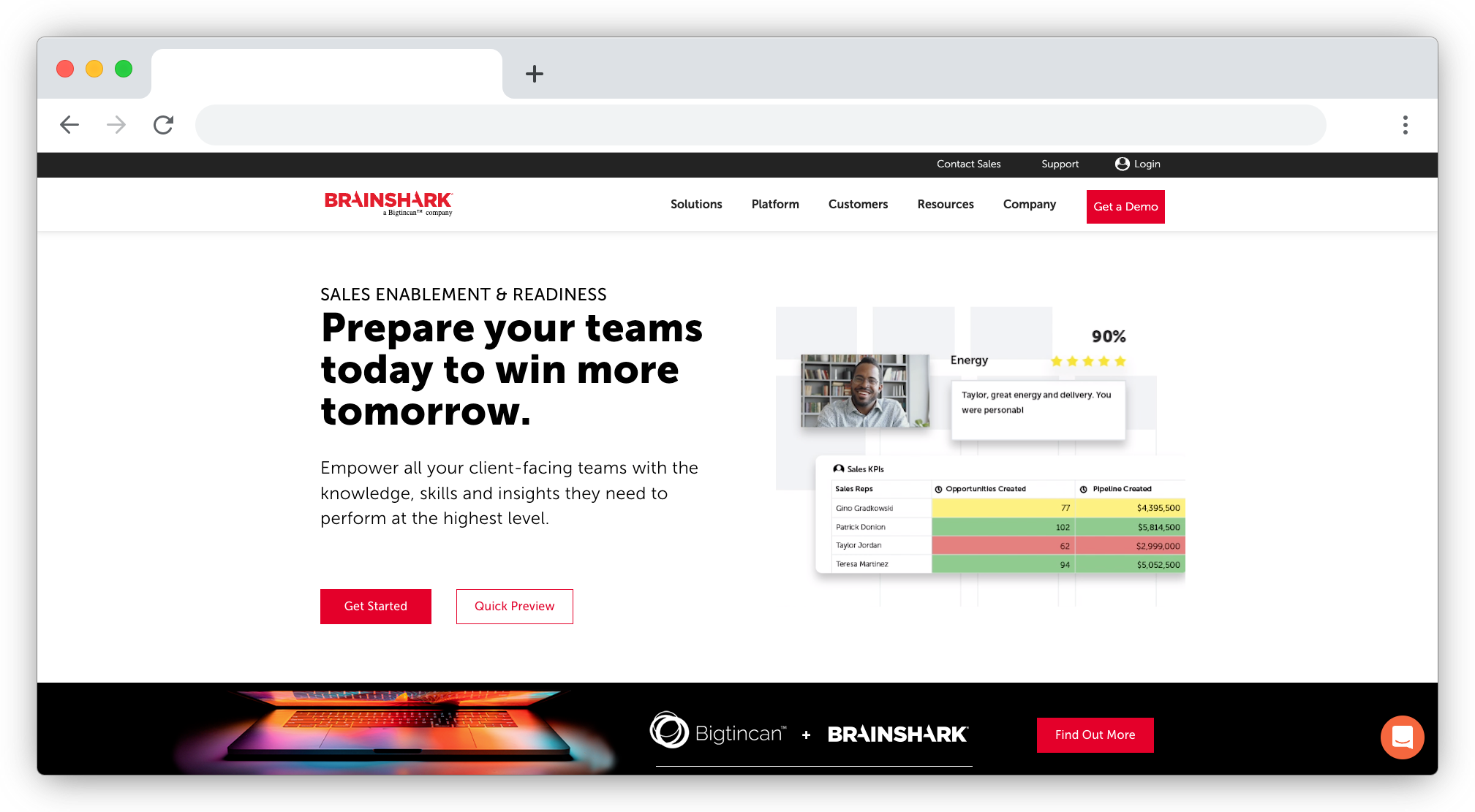 Brainshark is a data-driven sales enablement solution with features that allow your sales team to perform at the highest level.
The Readiness Scorecards feature helps you understand how your sales reps are progressing in developing their skills and knowledge.
You can use it to identify skill gaps or integrate it with your CRM tool to see how readiness activities impact performance metrics.
Additionally, Brainshark allows you to create video-based training content to level up your team's skills. You can also enrich your training content with links, attachments, polls, and exam questions.
Brainshark's mobile-friendly platform and offline content availability encourage continuous learning and enable reps to learn on the go. You can also motivate and reward sales reps for leveling up their skills with badges and certifications.
7. Spekit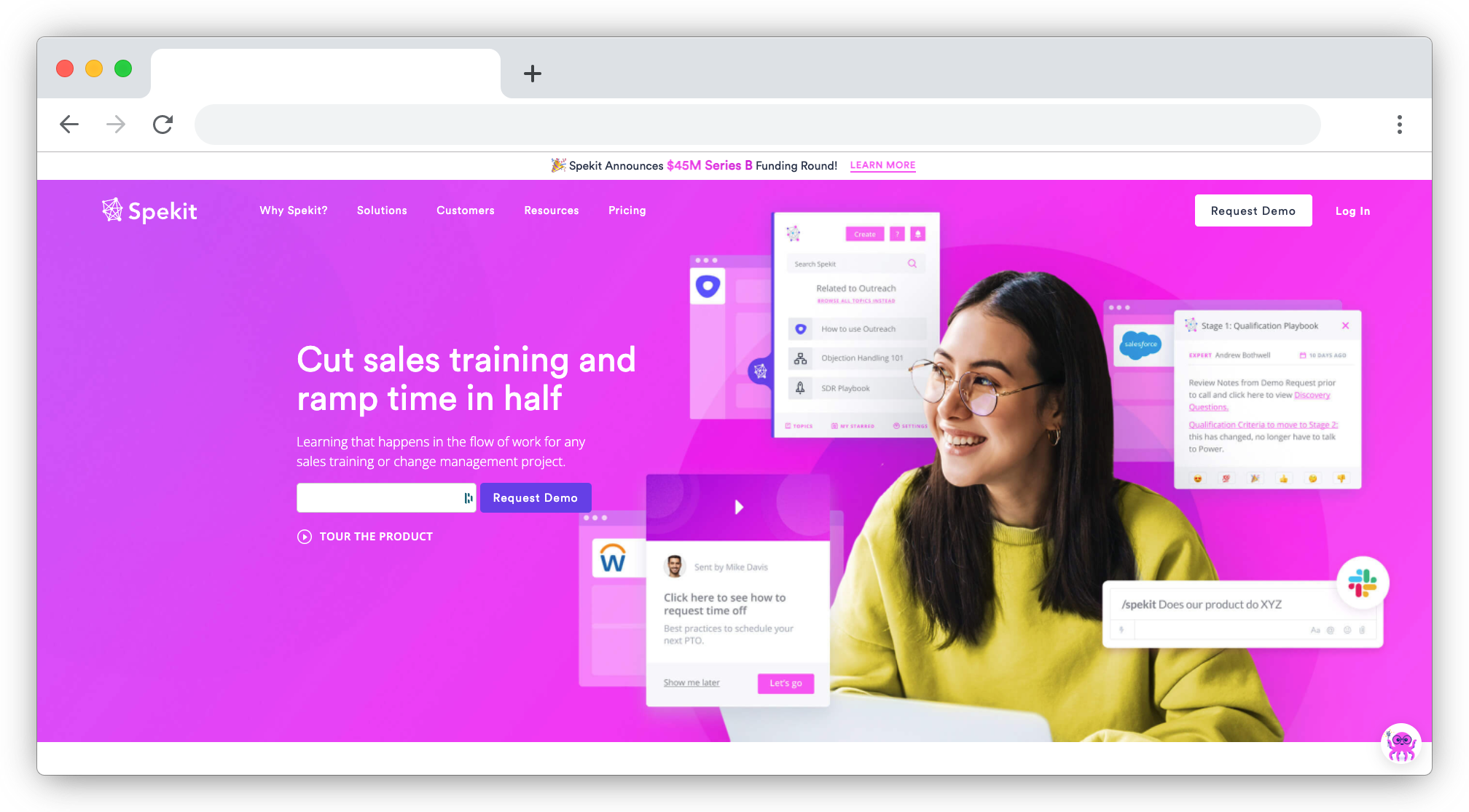 Spekit is a digital adoption platform for sales teams. It provides you with a way to manage all your sales content from a central location.
With Spekit's Chrome extension, you can link content across different tools, create and share step-by-step workflows, and search through your sales content in Slack, Outlook, and Salesforce.
There's also the option to set up in-app alerts to notify team members of process changes and playbook updates.
The software enables you to create onboarding programs and walkthroughs to guide team members through tools and processes. Content can be structured by topic or team to provide the right information to the right people.
You'll be able to get real-time feedback on training content and see how your team engages with your training materials.
8. DealHub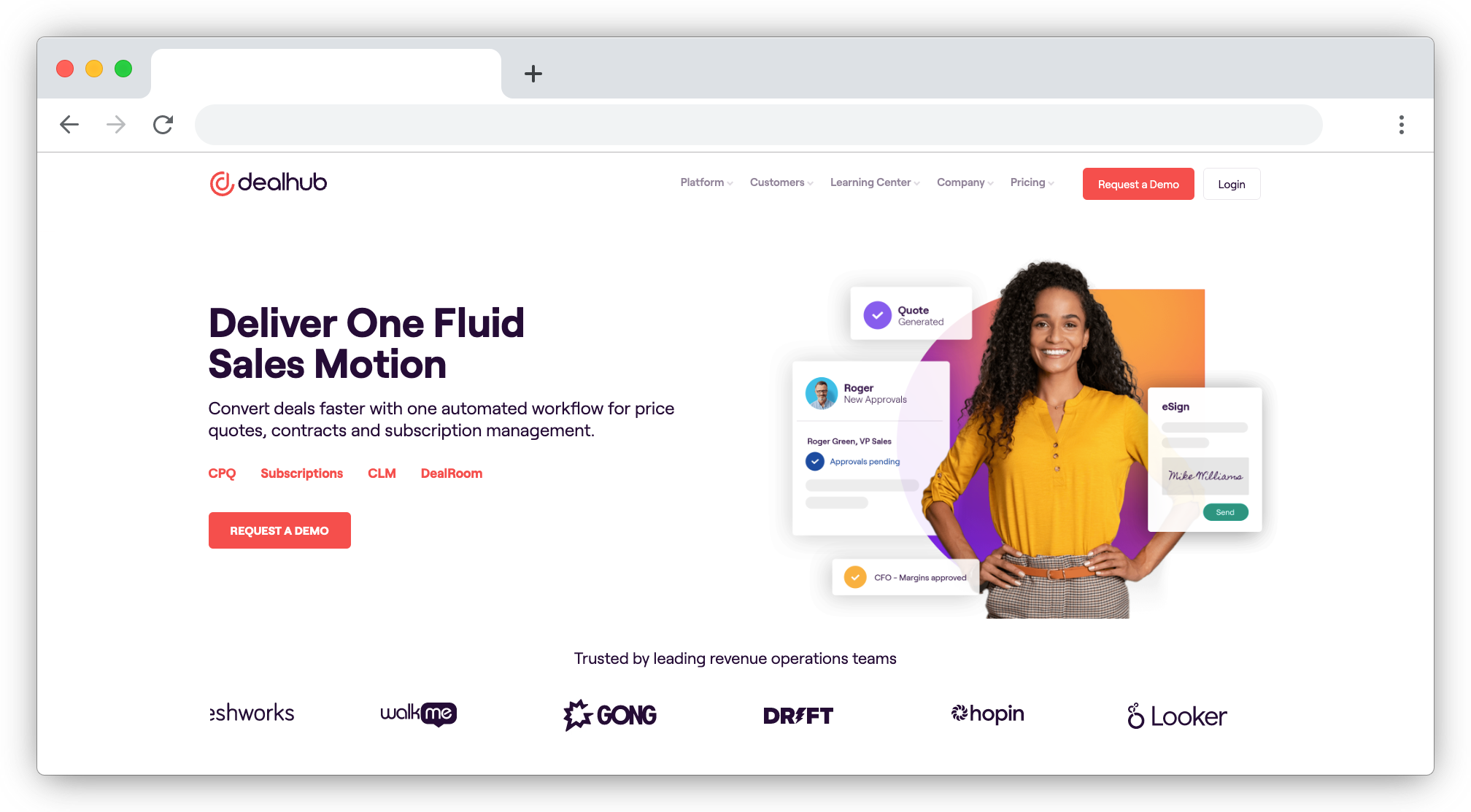 DealHub is a platform that aims to simplify the way sales teams work with quotes, proposals, contracts, and subscriptions.
You can use it to create quotes in multiple file formats and set up automated workflows to streamline the quote approval process.
Built-in templates allow you to create contracts and agreements quickly. Deal stakeholders can collaborate in a DealRoom to avoid back-and-forth emails and multiple versions of contracts to close deals faster.
Additionally, DealHub allows you to store contracts in the cloud and collect e-signatures.
The software's subscription management features enable you to automate subscriptions, renewals, and recurring payments. DealHub can also calculate reps' commissions automatically.
9. Modus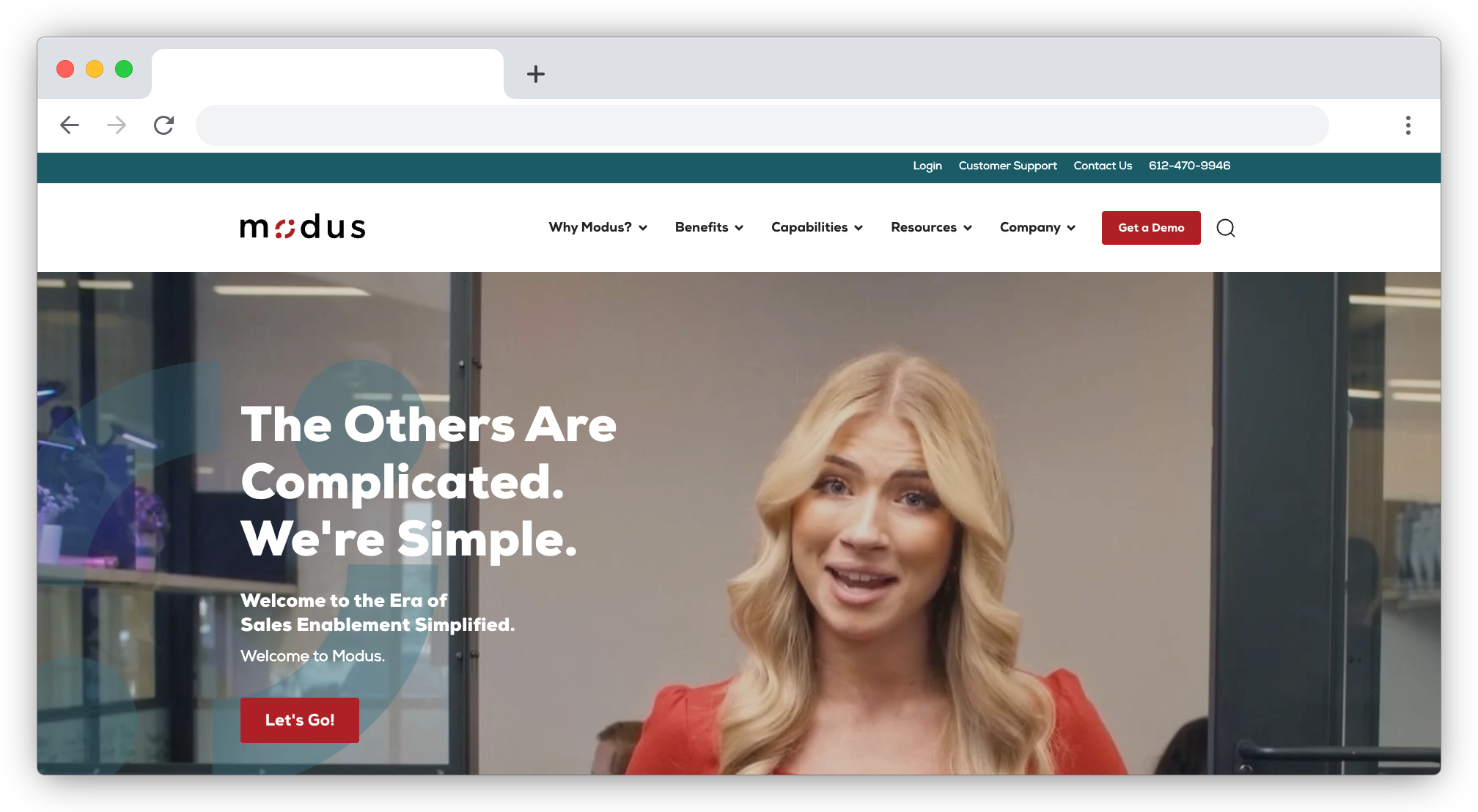 Modus is a sales enablement tool that describes itself as a sales hub, buyer engagement system, and revenue engine.
One of its main functions is to simplify sales asset management. You can use it to store all your sales collateral, group content into collections, and make it available offline.
There's also the option of setting up alerts to notify reps about content they need to review. Additionally, you can assign custom user permissions to team members to control access to content assets.
Modus can also be used to build training courses to improve your sales reps' skills and knowledge.
The tool offers a quiz feature you can take advantage of to gauge your reps' knowledge, as well as leaderboards you can use to spark friendly competition between reps.
Finally, you can extend Modus' capabilities with the following add-ons:
Virtual product tours – Create virtual product tours and sales booths.
Lead capture – Scan badges at trade shows and have new leads synced to your CRM system automatically.
10. SalesHood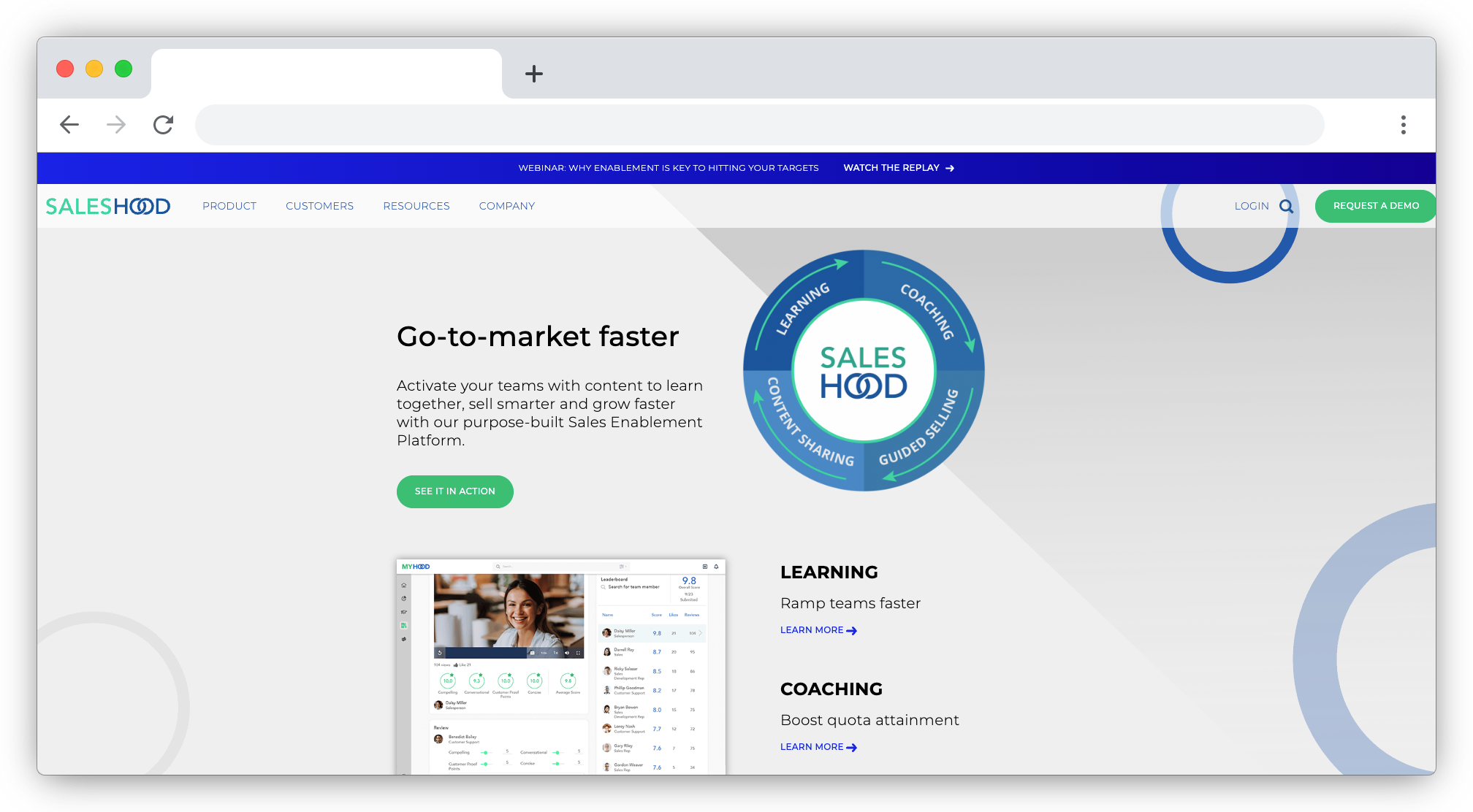 SalesHood allows you to create personalized learning paths for your sales reps. You can use it to design quizzes to test your reps' knowledge and set up leaderboards to make the learning process more fun and engaging.
Team members can use SalesHood to practice pitches and share feedback. The tool is also useful for getting new team members onboarded faster and measuring onboarding engagement.
With SalesHood, you can set up coaching programs to allow sales managers to actively work on improving your sales team's skills.
The software offers a turnkey coaching system and built-in templates you can use to set up a coaching program quickly.
It supports automated activities and notifications, and enables you to manage scorecards for the entire team. The tool has pre-built templates for one-on-one calls, deal reviews, and sales training.
You can use SalesHood to tag your sales content and sync content from multiple platforms, as well as search for content using filters, tags, and search queries.
Another standout feature is called Buyer Sites. These virtual meeting rooms allow your sales team to collaborate with buyers more effectively by having a central location to share sales content and personalized videos. They're also highly useful for tracking buyer engagement.
11. Salesloft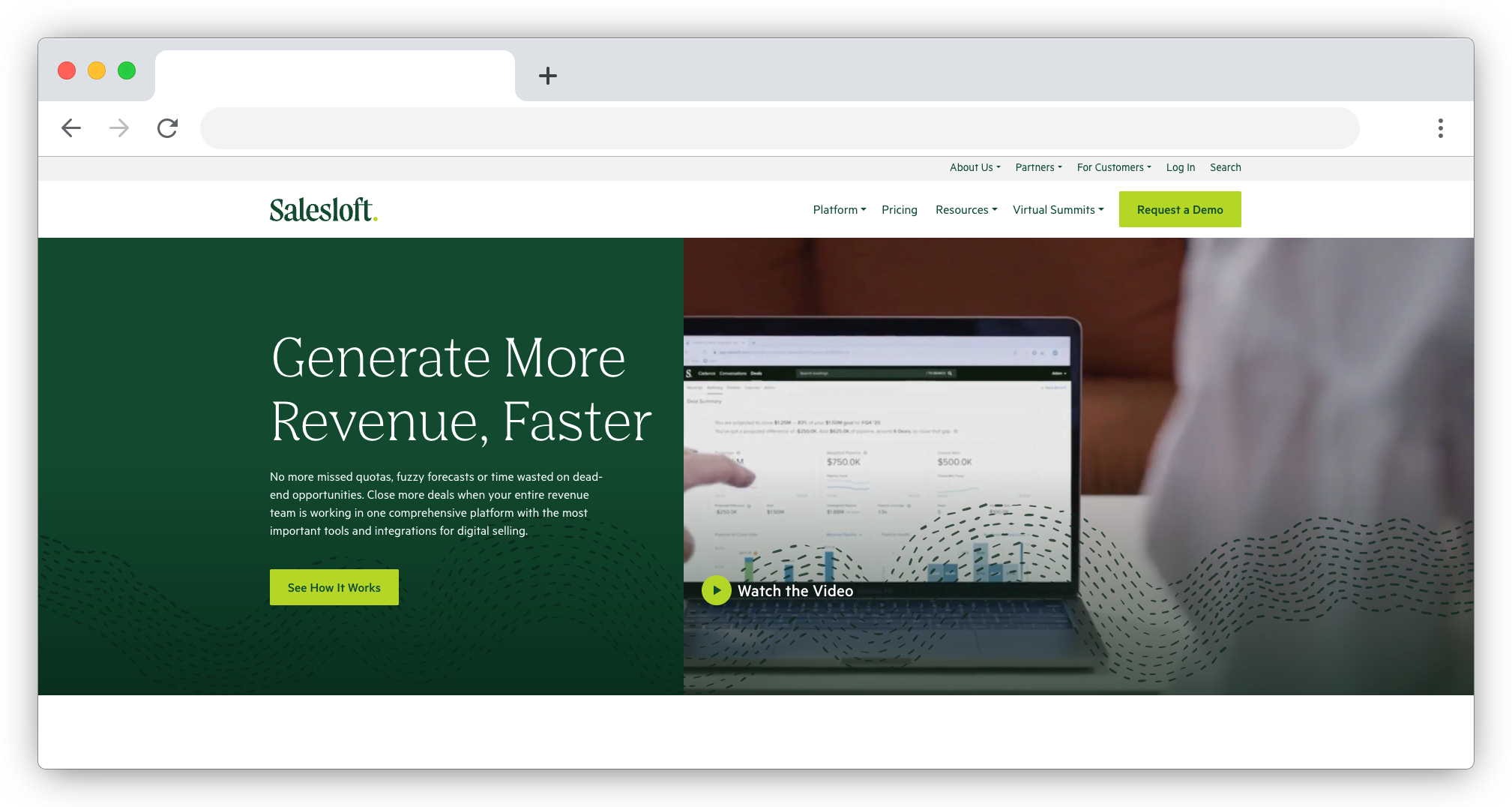 Salesloft is a sales engagement platform designed to help sales teams streamline their daily operations.
You can use it to create sales playbooks your reps can follow to close deals consistently. It allows you to send sales emails directly from the platform and use built-in or custom templates to speed up the sales process.
The tool offers detailed email analytics, allowing you to track and review open, click, and reply stats to learn more about the performance of your emails. You can also sync all email activities to your CRM tool.
Salesloft has a built-in dialer and messenger, which you can use to call and text prospects with a single click. It supports call and text tracking and logging and can sync everything to your CRM tool.
There's a LocalDial option you can use to display a local number when calling prospects. Salesloft also supports pre-recorded voicemail drops.
When it comes to deals, Salesloft provides a comprehensive dashboard that shows all your sales team's opportunities and helps you identify deal risks. You also have the option of creating sales forecasts.
Other notable features include call recording and transcription, as well as detailed sales analytics and reports.
12. Avoma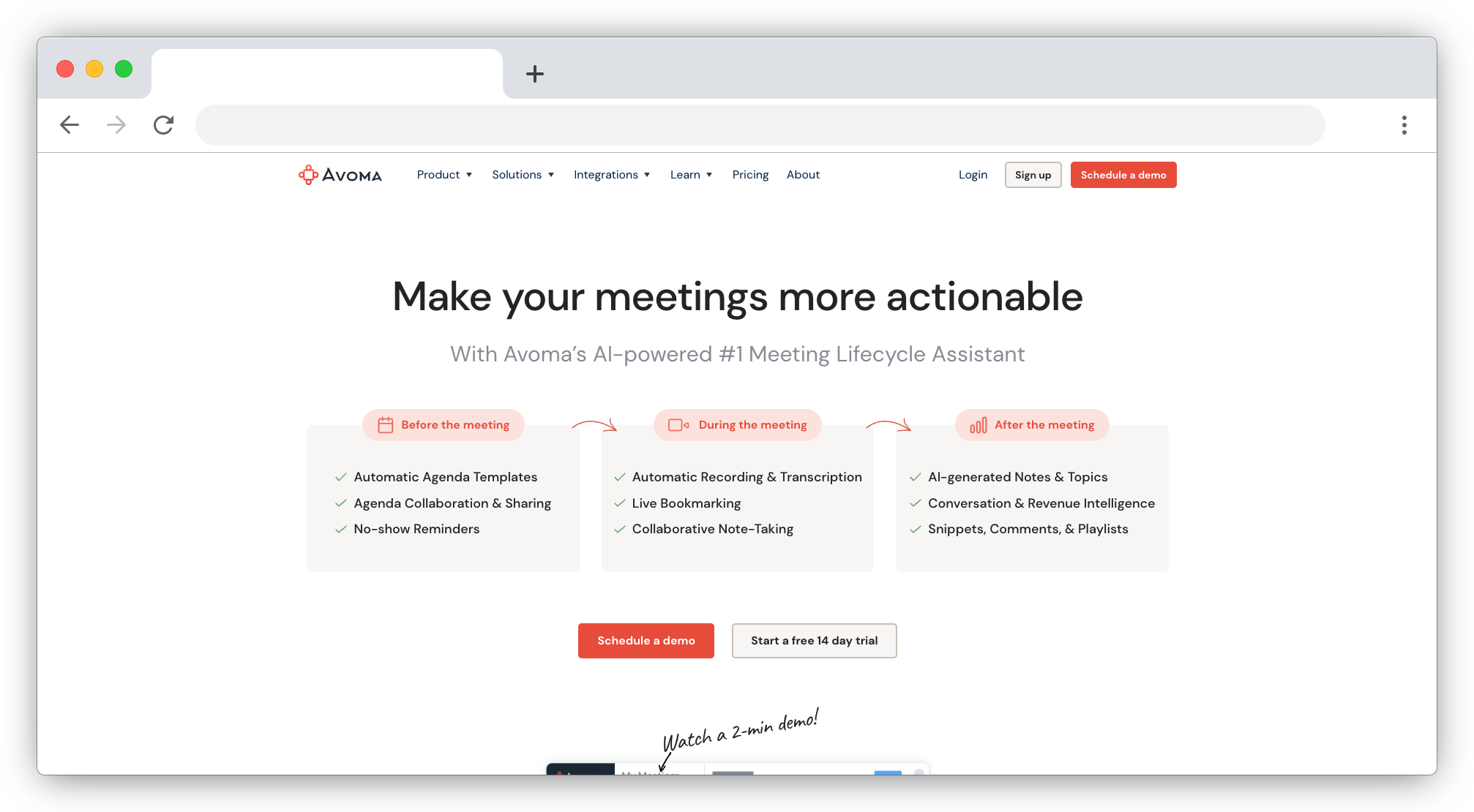 Avoma is a meeting lifecycle assistant designed to help sales teams with activities they need to carry out before, during, and after a sales meeting.
It comes with meeting agenda templates you can use to create agendas quickly and ensure you never come to a meeting unprepared. There's also a collaborative note editor for team members to collect all their notes in a central location.
You can use Avoma to record meetings and generate transcripts, as well. You also get the option to create coaching playlists by curating call recordings.
The software supports AI-generated meeting notes and can sync all notes back to your CRM tool automatically.
13. Crystal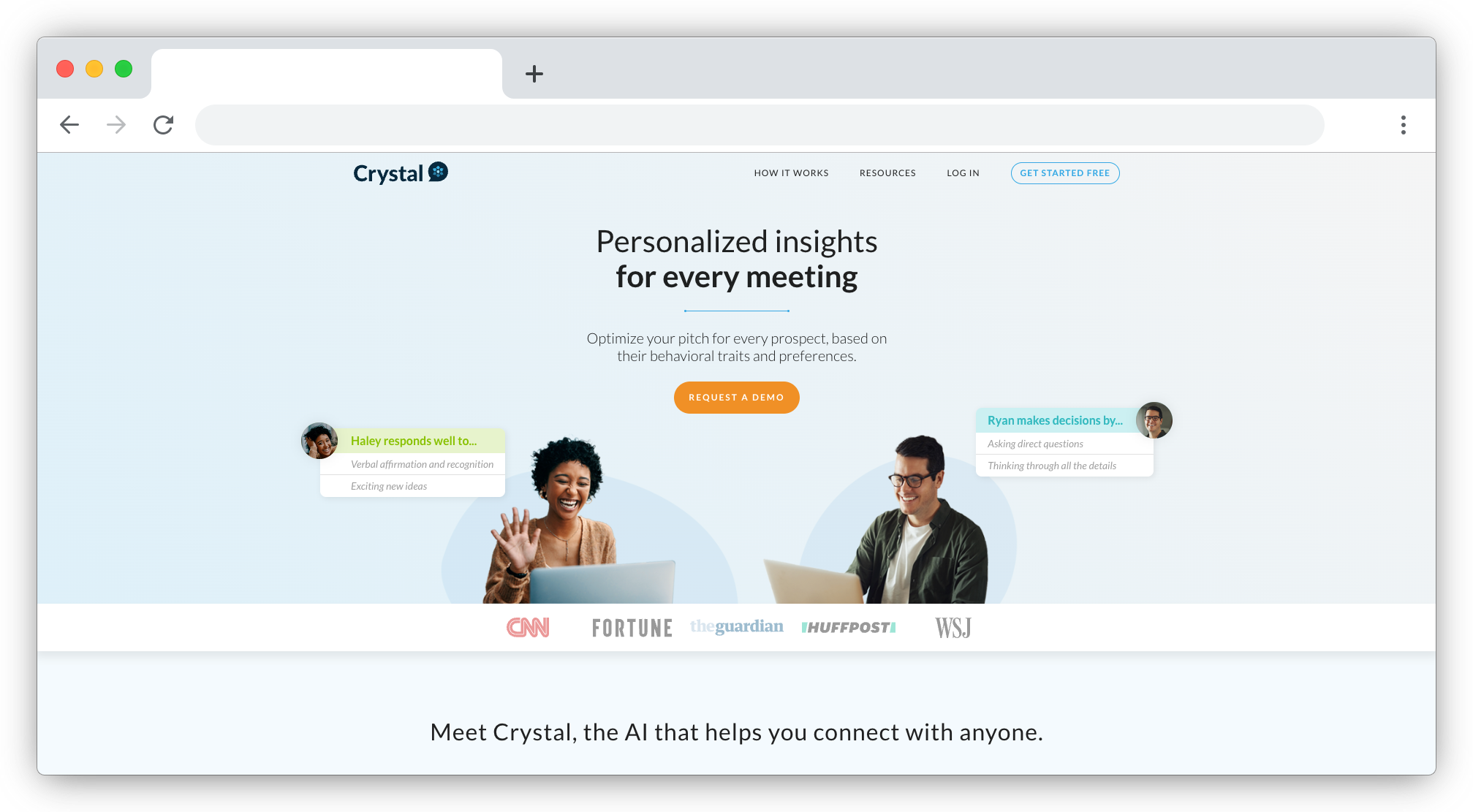 Crystal is a tool that uses machine learning and the DISC behavioral framework to try to predict the personality traits of prospects and team members.
You can use it to learn more about your prospects and find out the best way to motivate them to make a purchase.
The software can also be used to conduct personality assessments of team members and learn how to best manage your team.
It can be useful for identifying team members' strengths and weaknesses so that you can develop personalized training programs.
Another potential use case for Crystal is in the hiring process. You can use it to better understand which personality types are the best fit for a role and find out which candidates exhibit the required personality or behavioral traits.
14. Cirrus Insight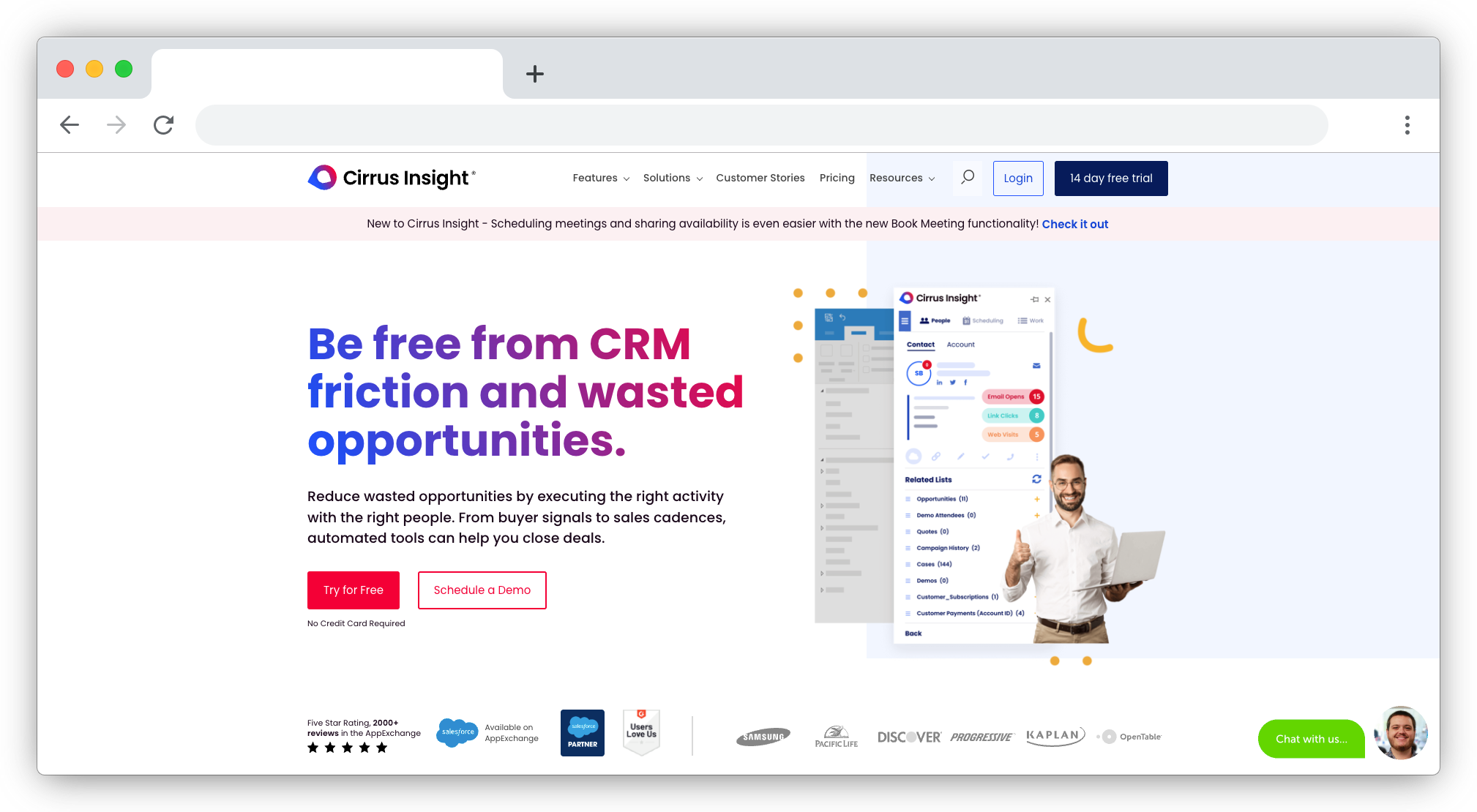 Cirrus Insight monitors your reps' inboxes and syncs their emails to Salesforce, automatically assigning emails to the appropriate prospects. This eliminates the need for your team to waste time on manual data entry.
The software also offers attachment tracking, allowing you to have a better idea of what happens to your sales collateral once you send it to prospects.
This can help you learn which prospects interact with your content so that you can prioritize them in your follow-up efforts.
Additionally, Cirrus Insight gives you the opportunity to automate scheduling by creating personalized booking pages where you can add custom meeting types and set your availability.
You can also use it to set up multi-channel sales cadences involving both emails and calls.
It comes with email templates you can use to set up outreach campaigns quickly. The software can also pull information on your prospects from public sources, allowing you to personalize your outreach more easily.
15. Demodesk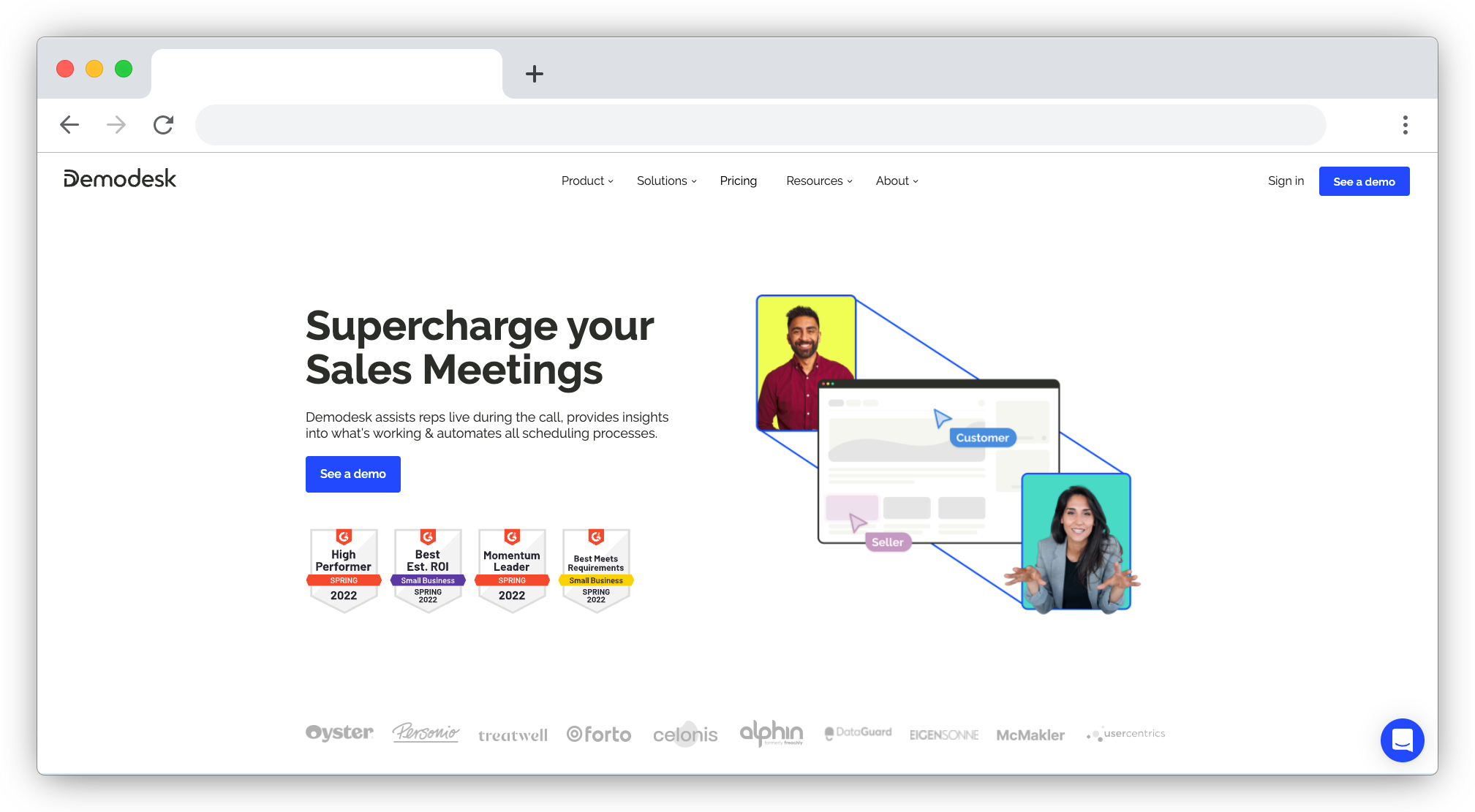 Demodesk is a virtual meeting platform made specifically for sales teams. It allows you to create custom booking pages, add pre-booking questions and meeting buffers, and set meeting reminders to reduce no-shows.
You can add custom routing rules to make sure leads are assigned to the right sales rep every time.
There's also the option to create custom sales playbooks and have the right playbook automatically loaded at the start of each meeting. Playbooks can include slides, talk tracks, apps, and battle cards.
Two standout features are the virtual sales rooms and the virtual sales floor. With Demodesk's virtual sales rooms, you can meet with prospects and share content more easily.
The platform supports co-browsing without having to share your screen, giving prospects the ability to interact with your content or product seamlessly.
The virtual sales floor feature allows you to see all your team's upcoming and in-progress meetings, shadow calls, and assist your reps in real-time.
Demodesk syncs all your meeting activities and notes to your CRM tool, reducing manual data entry and freeing your team's time for more important activities.
---
Empower your sales team with sales enablement tools

We've reached the end of the list. Now it's time to take action.
Here's what you should do:
Pick a tool from the list and sign up for a trial or free account – Most of the tools we've listed offer a free plan or a trial period you can use to see if a particular solution is a right fit for you. Pick a tool that seems the most interesting to you and sign up for an account.
Test out the tool with your team – Test out the tool thoroughly with your team. Check out all the features and note down what you liked or disliked about the software.
Evaluate and decide whether it's a good fit for your team – Review your notes and ask your team about their experience with the tool. Decide if you're going to keep using it or try out a different tool instead.