8 Best Cold Email Tools of 2023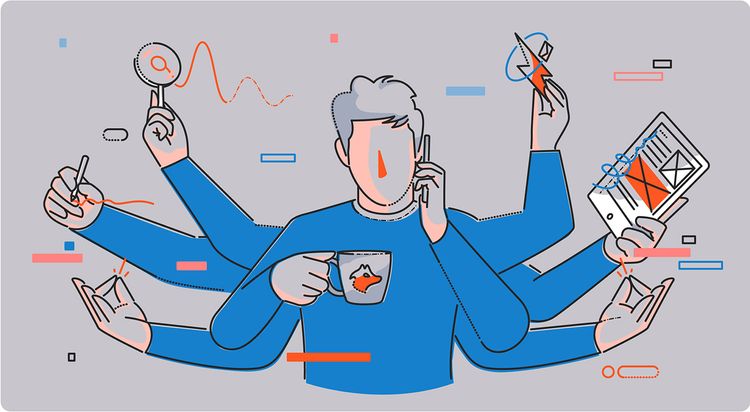 The only way to truly scale cold email outreach is through automation. Here are the 8 best cold email tools that can help you automate your email outreach.
1. Hunter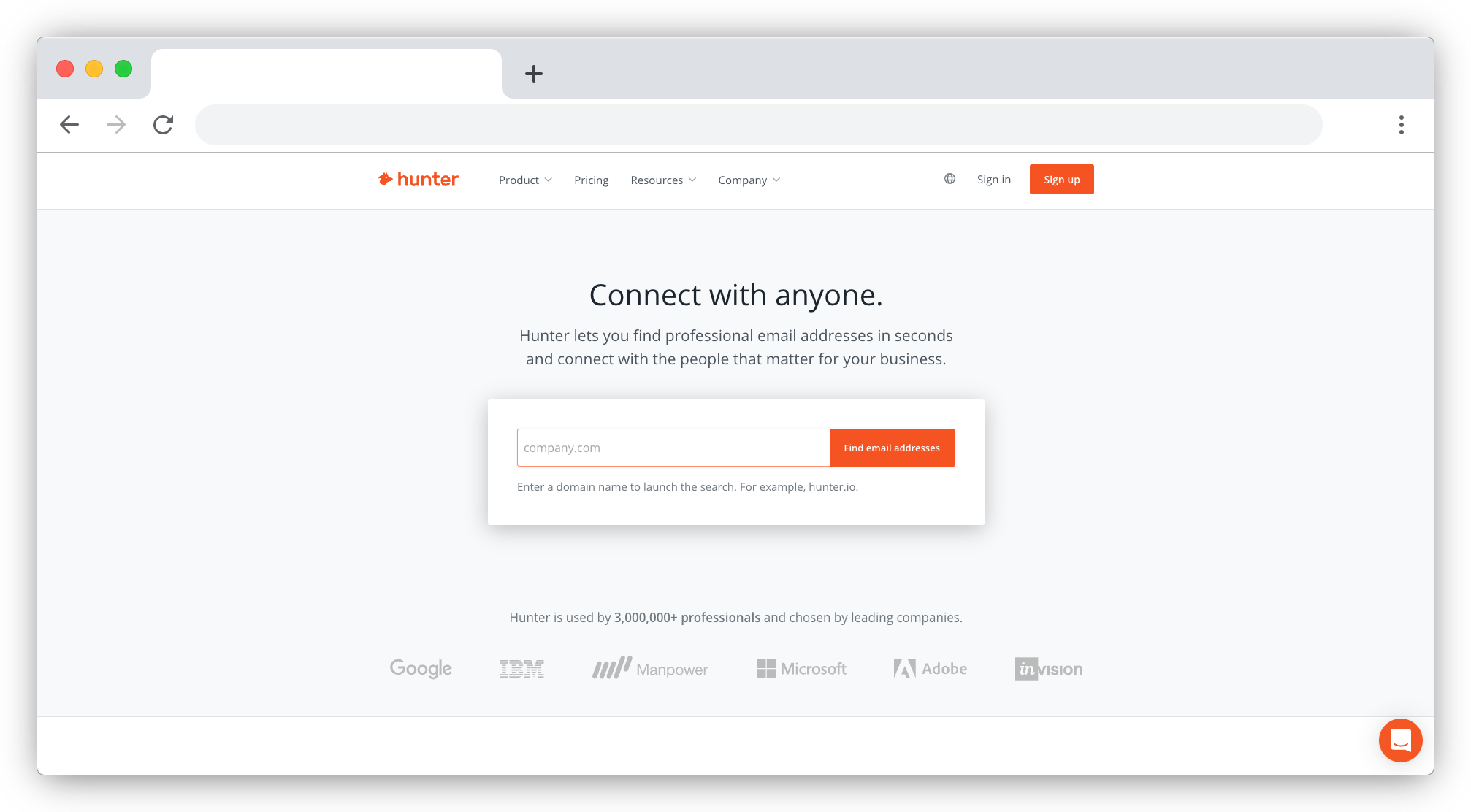 Hunter offers a suite of tools that allows you to scale and automate cold email outreach.
With Hunter Campaigns, you can set up and automate cold emails and follow-ups. It also supports advanced personalization with the help of built-in and custom attributes, allowing you to send extremely personalized emails to prospects.
You get the ability to set a custom sending schedule for your emails, as well as review the performance of your campaigns through detailed analytics powered by email tracking.
There's also Hunter Templates, Hunter's collection of effective cold email templates.
Campaigns isn't the only tool in Hunter's toolbox, though. There's also the Email Finder, which you can use to find anyone's professional email address in seconds.
If you have a list of domains you'd like to target in your outreach, you can use Domain Search to find all the email addresses associated with the domains on your list.
Finally, if you already have a list of email addresses for cold outreach, you can verify them using the Email Verifier to ensure your emails don't bounce.
Pricing

Hunter has a free plan you can use when starting out. It includes 25 email searches and 50 verifications per month. You can also use it to send cold email campaigns to up to 500 recipients for free.
Paid plans include:
Starter ($49/month)
Growth ($99/month)
Pro ($199/month)
Business ($399/month)
Enterprise (custom pricing)
2. Mailshake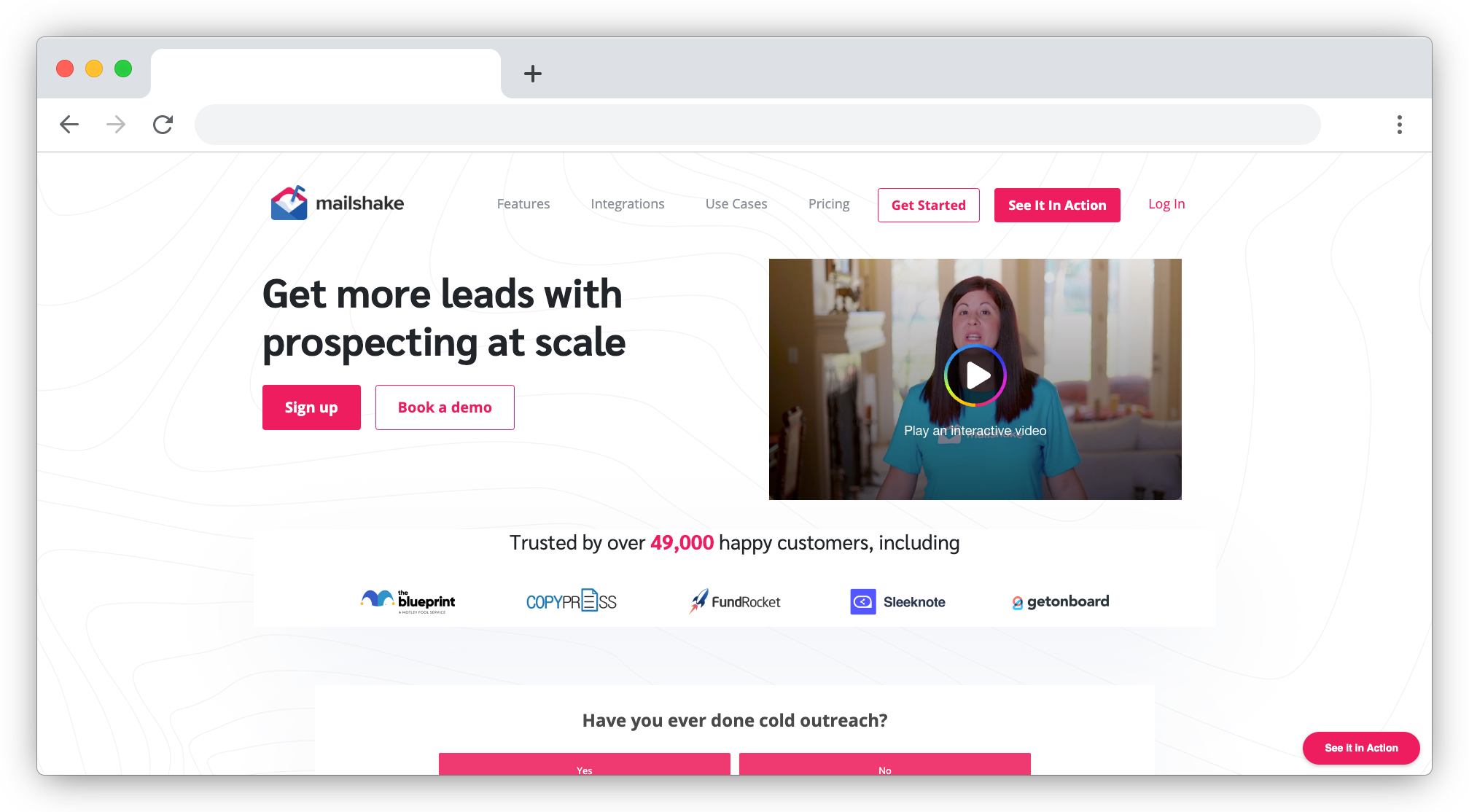 Mailshake is a sales engagement platform you can use to send cold emails and automate follow-ups to prospects that don't reply. It includes an AI-powered email writing feature that can help you automate email copywriting.
The software supports inserting personalized text and links into your emails using mail merge, as well as setting a custom sending schedule for your emails.
Additionally, there's an analytics section you can use to review open, reply, and click-through rates for your emails.
Mailshake also offers cold email templates you can use to get a campaign started quickly.
The software integrates with CRM platforms like HubSpot, Salesforce, and Pipedrive to sync lead activity to your CRM system seamlessly.
Pricing

Mailshake offers the following plans:
Email outreach ($58/user/month)
Sales engagement ($83/user/month)
3. Woodpecker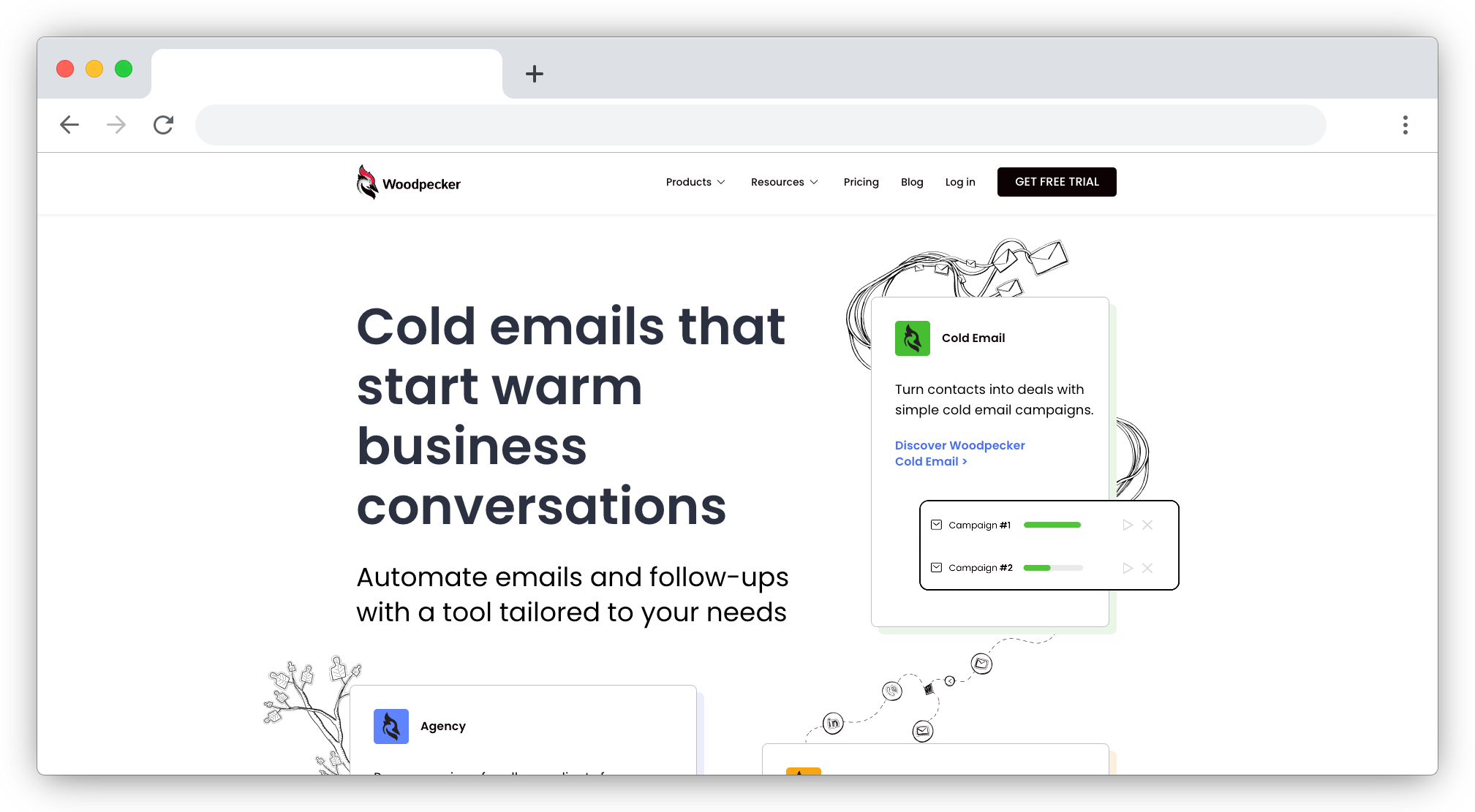 Woodpecker offers a sales outreach platform which includes cold emailing features.
Apart from cold email and follow-up automation, it also supports email personalization with the help of personalization tags. It can detect empty personalization fields and prevent emails containing them from being sent.
Woodpecker supports reply detection, which means that it'll never send an automated email to a prospect that already replied to your email.
There are also options to randomize the sending frequency for your emails, send emails in the prospect's time zone, as well as check them for spam trigger words before sending.
Pricing

Woodpecker offers three plans:
Cold Email ($49/month)
Sales Automation ($59/month)
Agency ($54/month)
4. QuickMail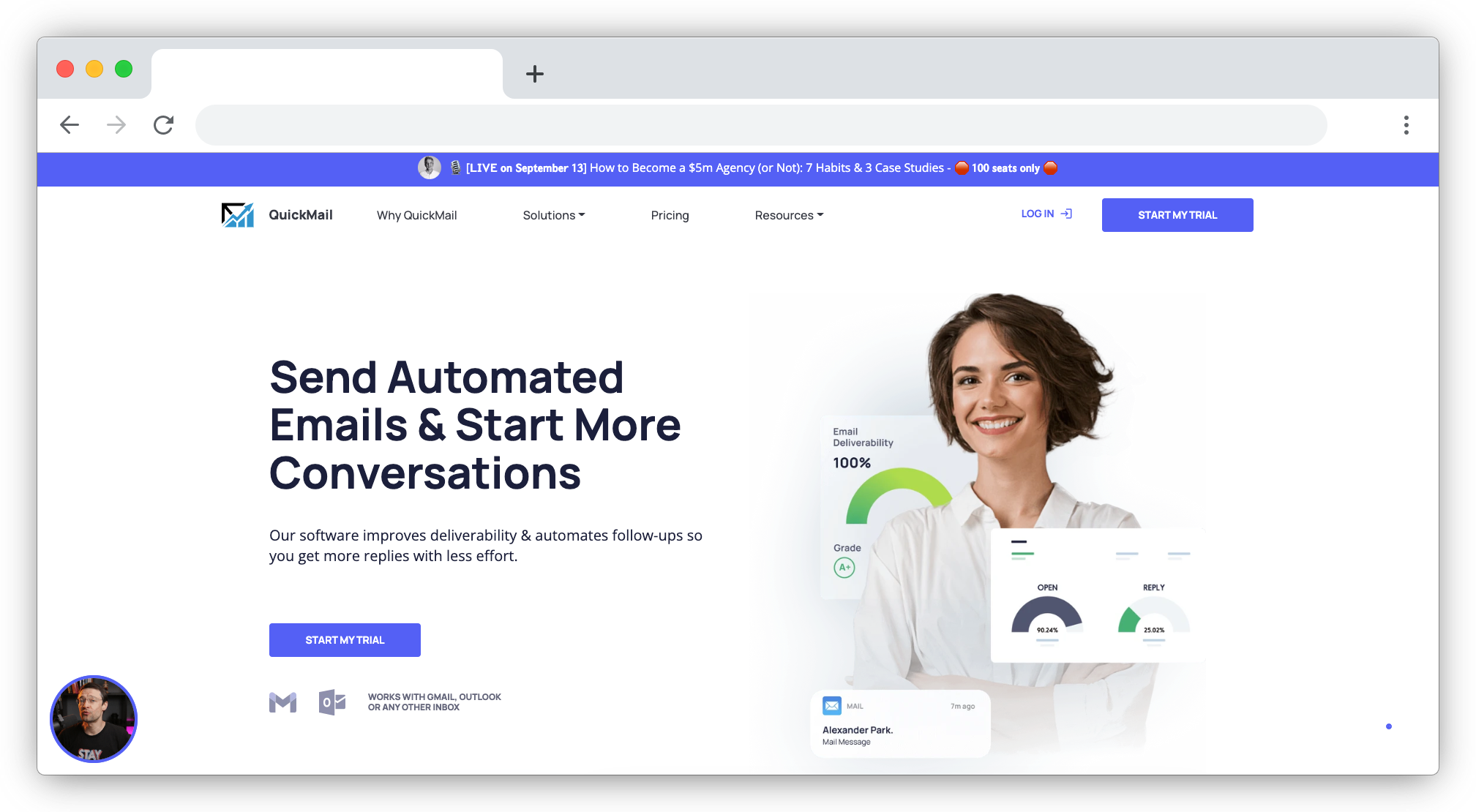 QuickMail is a cold email software solution that allows you to automate cold emails and follow-ups.
It supports inbox rotation, enabling you to send emails from the same campaign using multiple inboxes. This can be very useful for protecting your sender reputation and maintaining email deliverability when scaling outreach.
QuickMail integrates with Mailjet and Mailgun, and also allows you to use a custom SMTP server for your campaigns.
Pricing

Quickmail offers two plans:
Starter plan ($59/month)
Pro plan ($79/month)
5. Yesware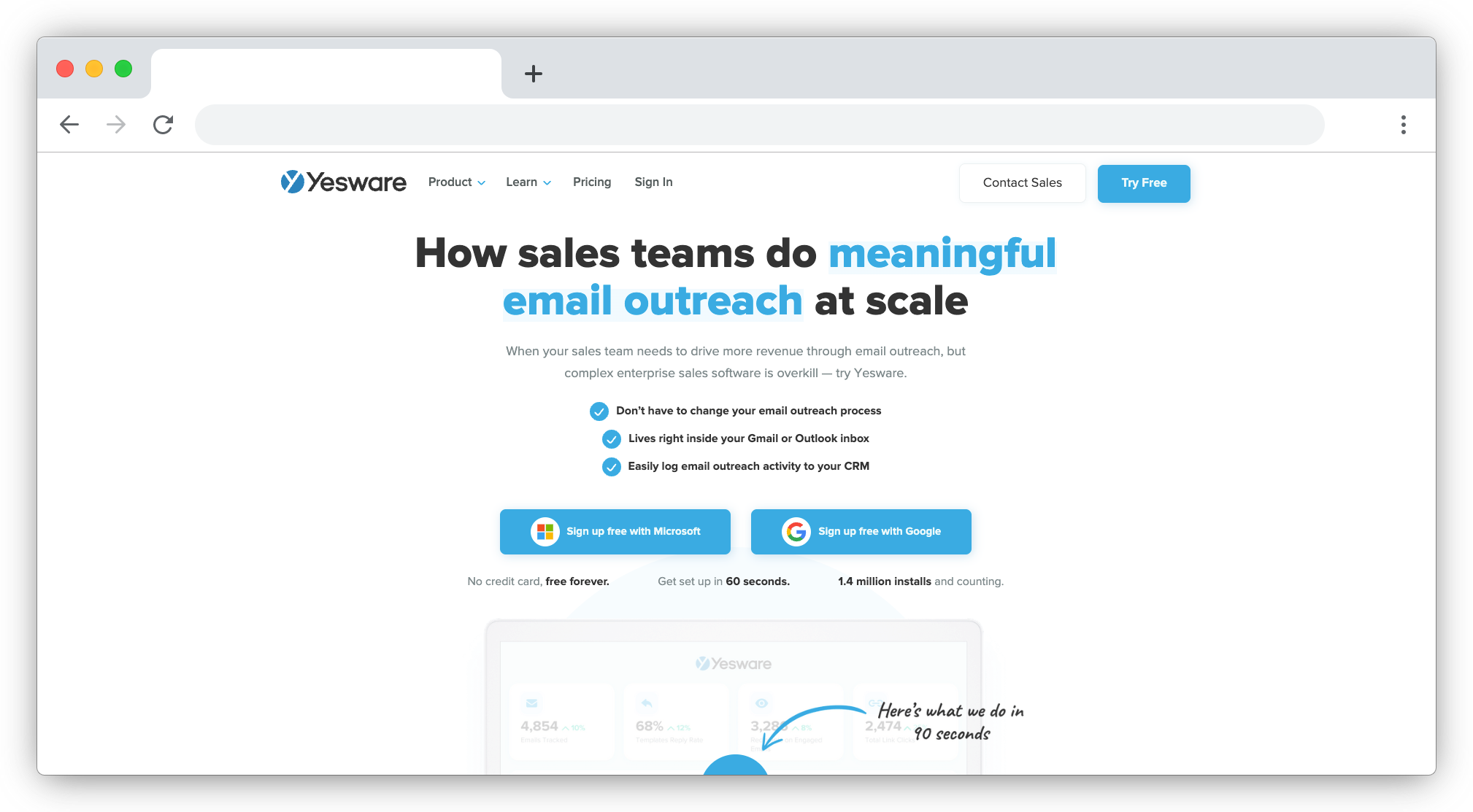 Yesware allows you to send cold email campaigns from your Gmail or Outlook account.
It can let you know when recipients open your emails or view attachments. Yesware software supports tracking PDF, PPT, DOCX, and CSV attachments.
You can also automate follow-up emails or get reminders when it's time to follow up.
The software allows you to save best-performing emails as templates your team can reuse. Additionally, Yesware has its own library of email templates you can access and use for your campaigns.
There's also a Meeting Scheduler feature you can use to help prospects book meetings with you more easily. It connects to your calendar and syncs existing events to prevent double booking and scheduling conflicts.
Recipients who reply or book a meeting through the scheduler are removed from a follow-up sequence automatically.
The detailed analytics section shows you how recipients are engaging with your emails over time. It can also help you identify your most engaged leads so that you can give them special attention.
Pricing

Yesware offers a free plan that includes basic open and attachment tracking. You can opt for one of the paid plans to get access to more features:
Pro ($19/seat/month)
Premium ($45/seat/month)
Enterprise ($85/seat/month)
6. Lemlist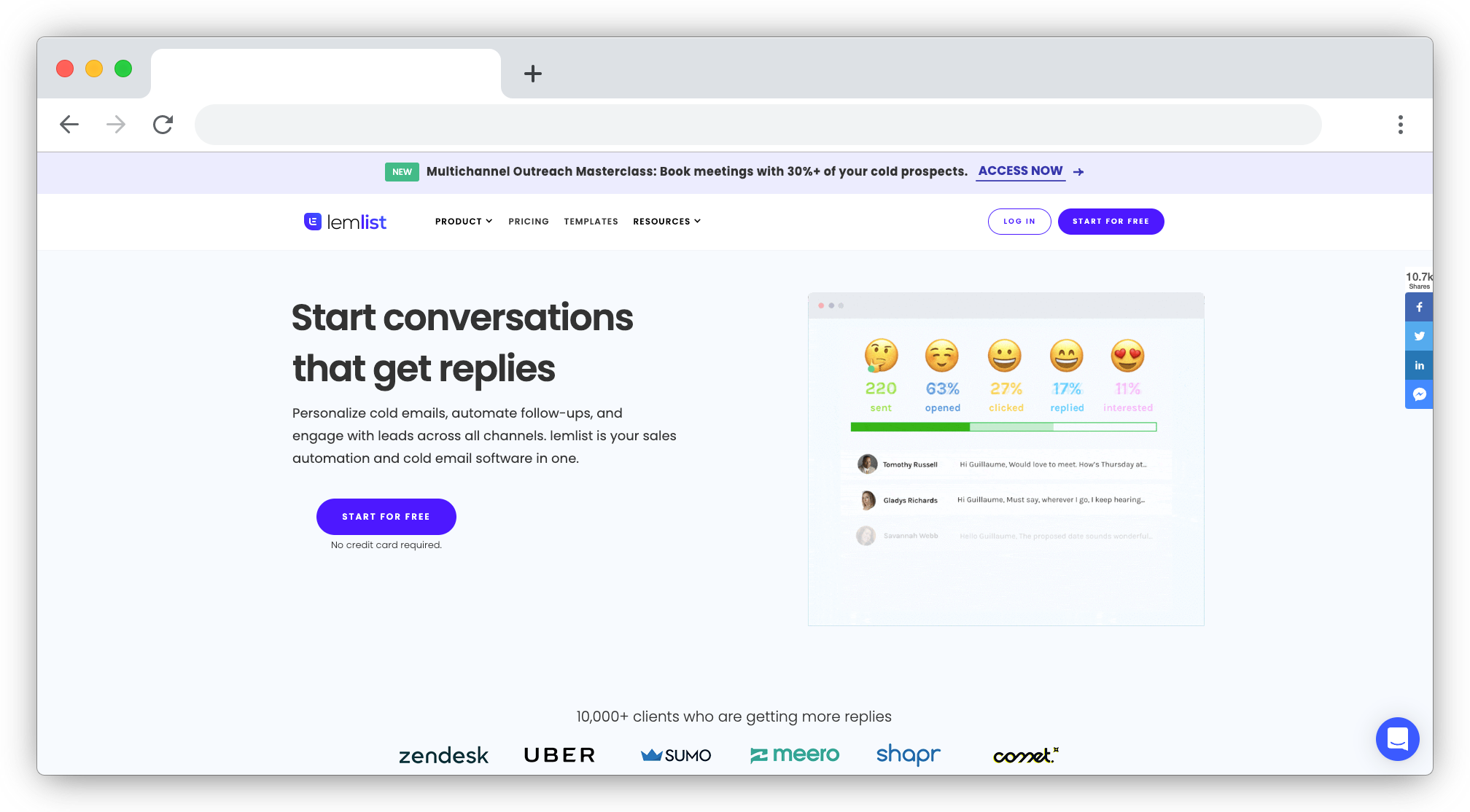 Lemlist is a cold email outreach tool you can use to automate both cold emails and follow-ups. When scheduling follow-ups, it's possible to set custom delays between each follow-up email.
The software supports email personalization through merge tags, as well as image personalization. Additionally, you can set a custom sending scheduling for your campaign.
You can also use Lemlist to create personalized landing pages for leads to help you book more meetings.
Pricing

Lemlist offers the following plans:
Email outreach ($59/user/month)
Sales engagement ($99/user/month)
7. Instantly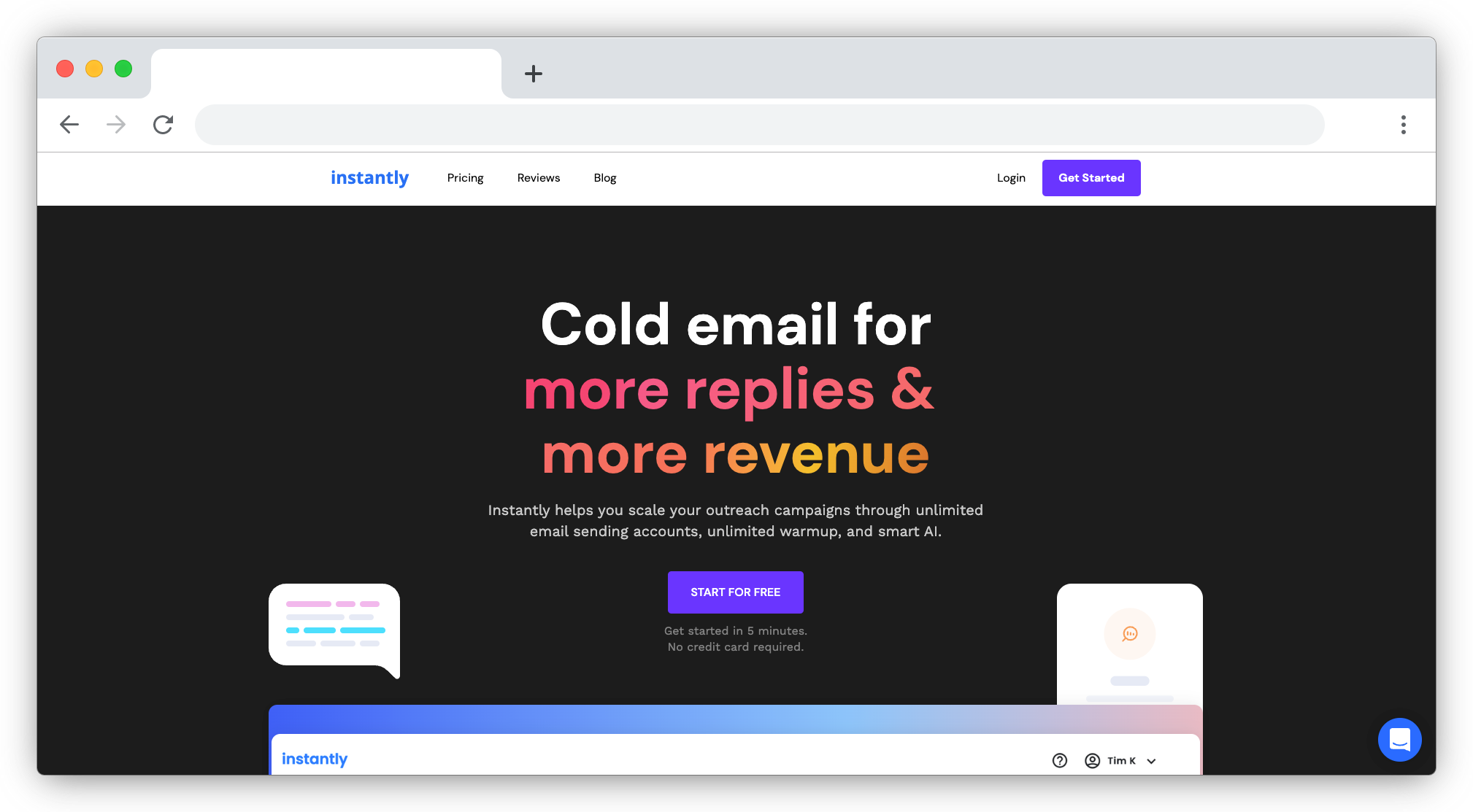 Instantly is a tool that allows you to scale and automate your email outreach campaigns. It includes follow-up automation and supports unlimited email accounts.
The software has built-in reputation management features and uses AI-powered optimization of sending patterns to improve open and reply rates.
You also get to use multiple email accounts within a campaign to protect your sender reputation.
Pricing

Instantly's plans include:
Growth ($37/month)
Hypergrowth ($97/month)
8. Saleshandy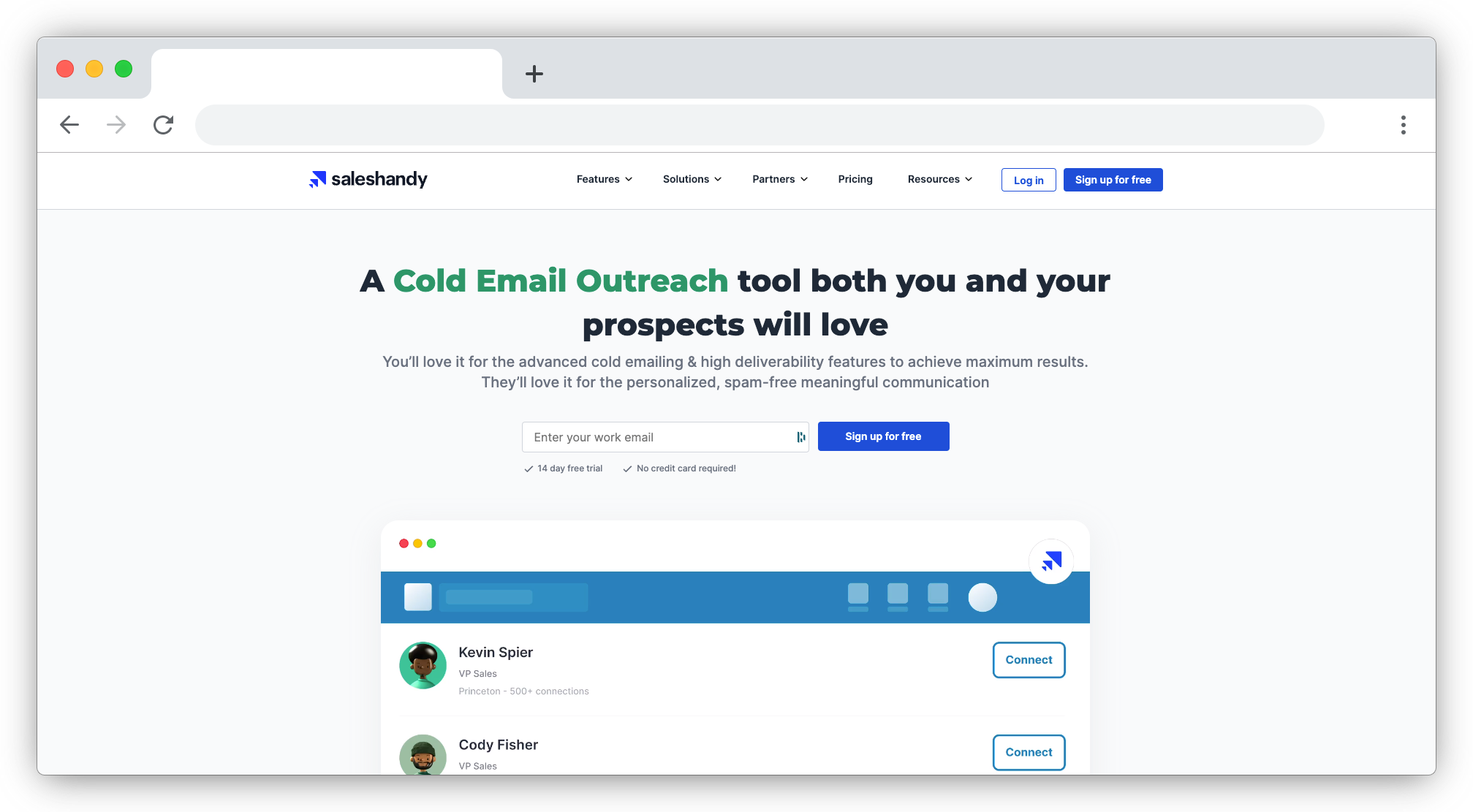 Saleshandy is a dedicated cold email outreach platform aimed at startups and agencies.
Sales teams can use it to set up automated follow-up sequences with custom delays and built-in personalization. The software can detect bounces automatically and pause the sequence to protect your sender reputation.
Its email ramp-up feature automates the process of increasing your email sending rate slowly to build up your sender reputation. This cold email tool also offers real-time suggestions when you're writing emails to help you create high-converting email copy.
Pricing

Saleshandy offers the following plans:

Pro ($29/month/user)
Agency (custom pricing)
Automate outreach with cold email tools

Ready to automate your cold email outreach efforts? Pick a few tools from our list, sign up for a free account or a trial, and test them out.
When testing out the tools, pay attention to the available features, ease of use, and quality of customer support. Then, choose the best cold email software for your specific needs.
In the meantime, you can also check out these guides to learn more about effective cold email outreach: