Affiliate Link Building: All You Need to Know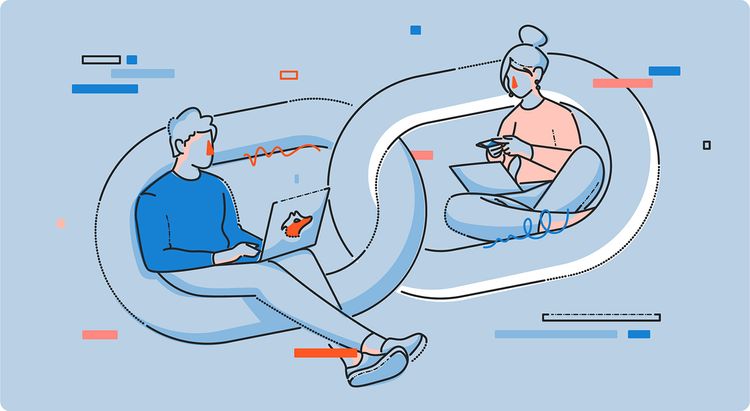 Affiliate marketing is a critical channel for many businesses. According to a report by FetchProfits, affiliate marketing is responsible for 16% of global eCommerce sales. While your website may rely on affiliate networks to get products you'll promote, the success of your affiliate marketing efforts will rely heavily on affiliate link building.
By "affiliate link building", we refer to building links back to your affiliate website to draw more traffic and improve your search engine visibility. Like any marketing strategy, affiliate link building requires careful planning before getting started.
This article will tell you all there is to know about affiliate link building and why it is crucial in growing your business. But first, let's look at an affiliate website that used link building to increase organic traffic drastically in just a few months.
Case study: affiliate website
The example I'll discuss in this article is a website that generates revenue through affiliate sales. It first went live in 2017. Thanks to a combination of link building, on-site optimization, and content production, the site has seen significant growth in 2021. The site recently pushed through the 120,000-visitor mark for the first time and enjoyed substantial profits from its affiliate networks as well.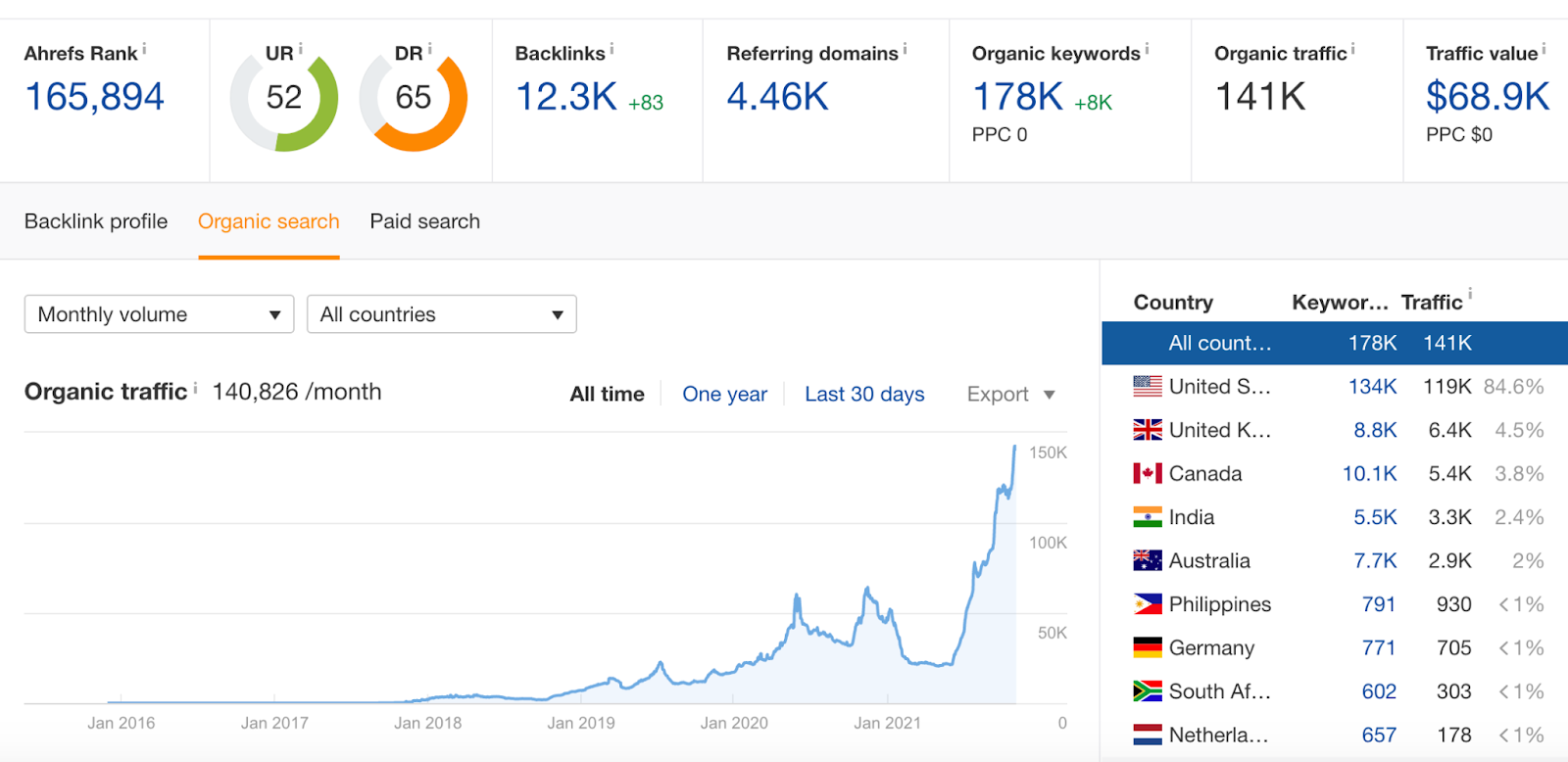 I won't reveal too much about the site. However, I will share some tips based on the affiliate link-building strategy that we implemented. Read on to discover seven methods you can use to get backlinks from high-quality websites and boost the rankings of your affiliate site.
---
How to build backlinks to your affiliate site
When you're trying to build backlinks, the first thing you need to do is to have something worthy of linking back to. You should start every campaign by ensuring you have high-quality, high-converting content that provides value to your readers.
Secondly, you need to decide which pieces of content you want to focus your link-building efforts on. You should always have multiple pieces of content that you're targeting. Don't run a link-building campaign based solely on one page.
It's going to be pretty easy for Google to figure out you're trying to get a piece of content to rank if all the links point to one URL. That can result in negative consequences.
Rather than focusing all your efforts on one URL, spread your bets across several pages. I recommend picking 4-7 priority pages. You should build links to these pages simultaneously from different domains.
Use a mixture of anchor text. Some should be exact match anchor text, others might be branded text, and then you should have some random anchor text.

Select your preferred exact match anchor text by reviewing what appears for that page on Google Search Console. You should pick the terms that make the most sense for the page. Often, it will be the term that has the highest number of impressions.
Here's an example of how you'd pick those options. I'm using Ahrefs, which provides publicly available information. You should use Search Console as the data is more accurate.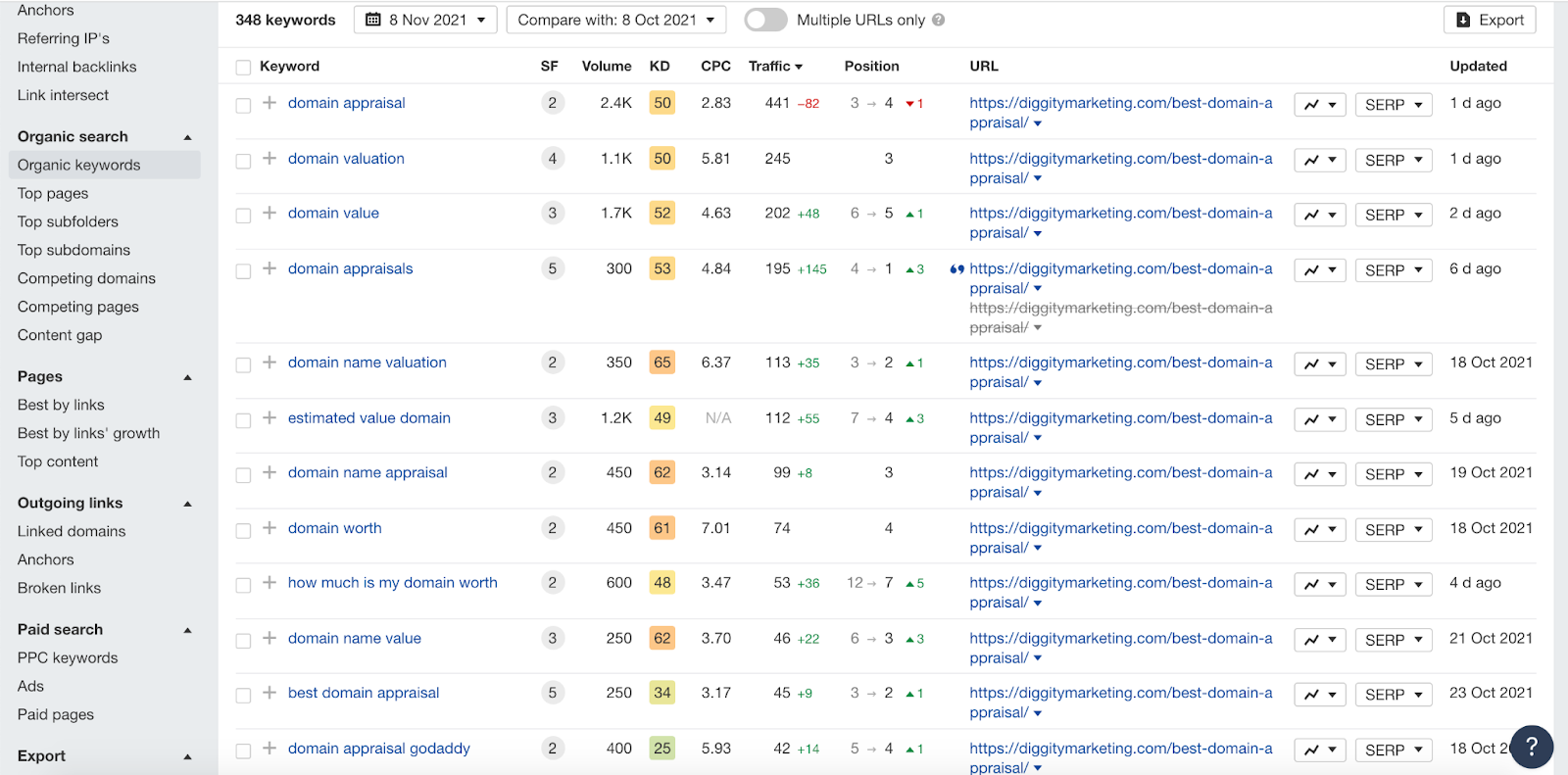 Once you have your list of URLs and preferred anchor text, you're ready to kick off your link-building campaign. Let's look at seven strategies you can use to build backlinks to your affiliate site.
---
Guest posting
The best way I've found to secure links from authority sites in your niche is guest posting. There are a lot of excellent guides on guest posting, and this topic has been discussed at length.
Rather than cover the same old ground again, I'll provide you with a quick overview of how to run an effective campaign. The starting point for your campaign is creating a list of suitable sites to target.
The quickest way to find these sites is to review the backlink profile of the largest sites in your niche. The Ahrefs Backlink Checker allows you to do just that.
Just select the biggest site in your niche and review the referring domains. For example, if you were in the golf niche, you might look at a site like 2nd Swing.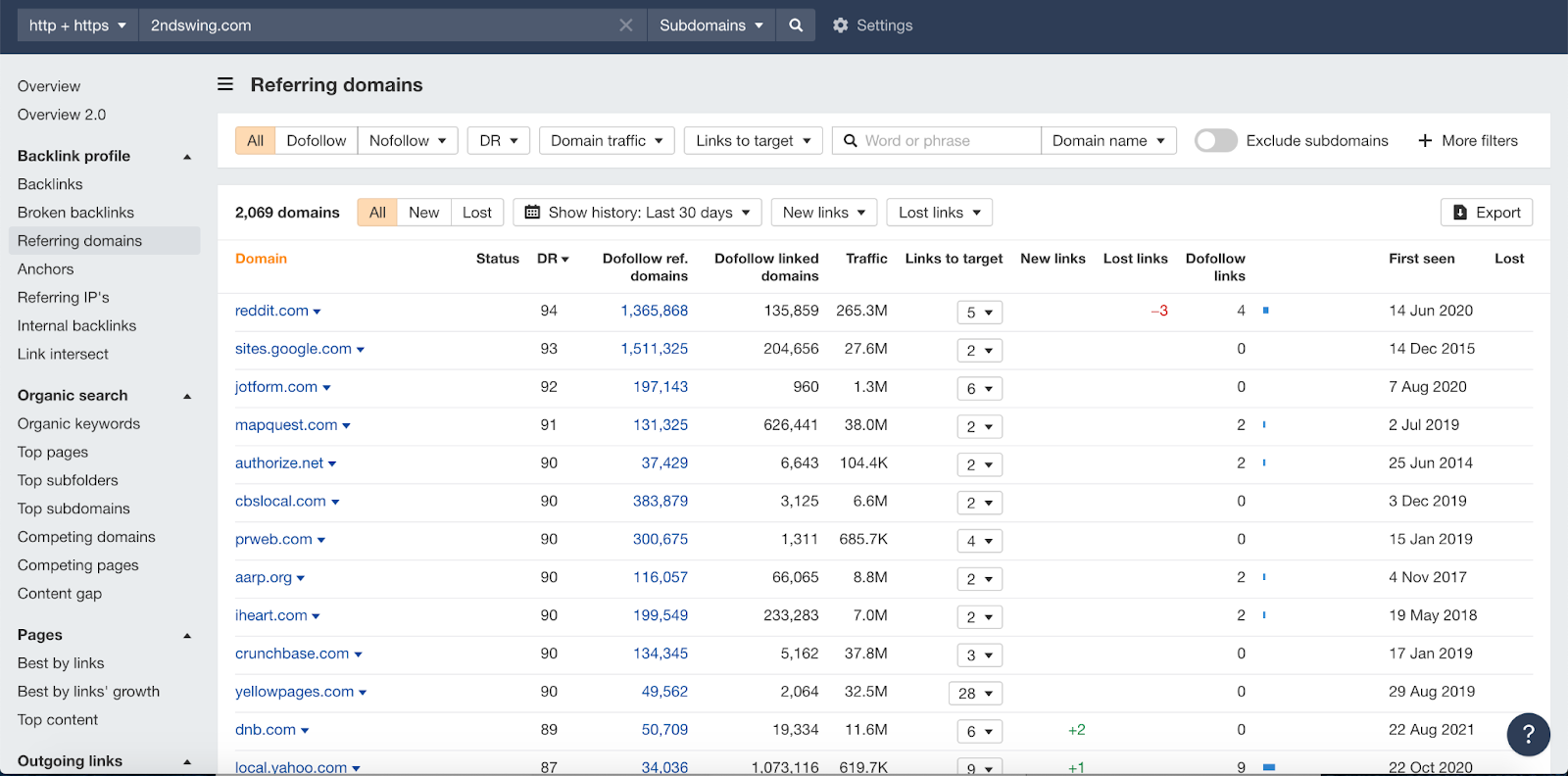 You can see there are over 2,000 referring domains to the site.
You need to create a shortlist of relevant domains. Start by removing irrelevant domains and sites where you won't be able to get a link. Then, remove sites that don't hit your minimum requirements. I recommend targeting sites that have:
Good Domain Authority. Preferably DA 30+.
High Trust Flow. Preferably 15+.
Link out to reputable sites. If there are loads of betting sites or crypto sites, they're probably worth skipping.
High traffic. Aim for a minimum of one thousand visitors a month.
Once you've created your shortlist, you need to contact the sites. You will need to use an email finder like Hunter to find their contact details. Just go to the Domain Search tool, pop in the domain of the company you'd like to contact, then filter the results by department: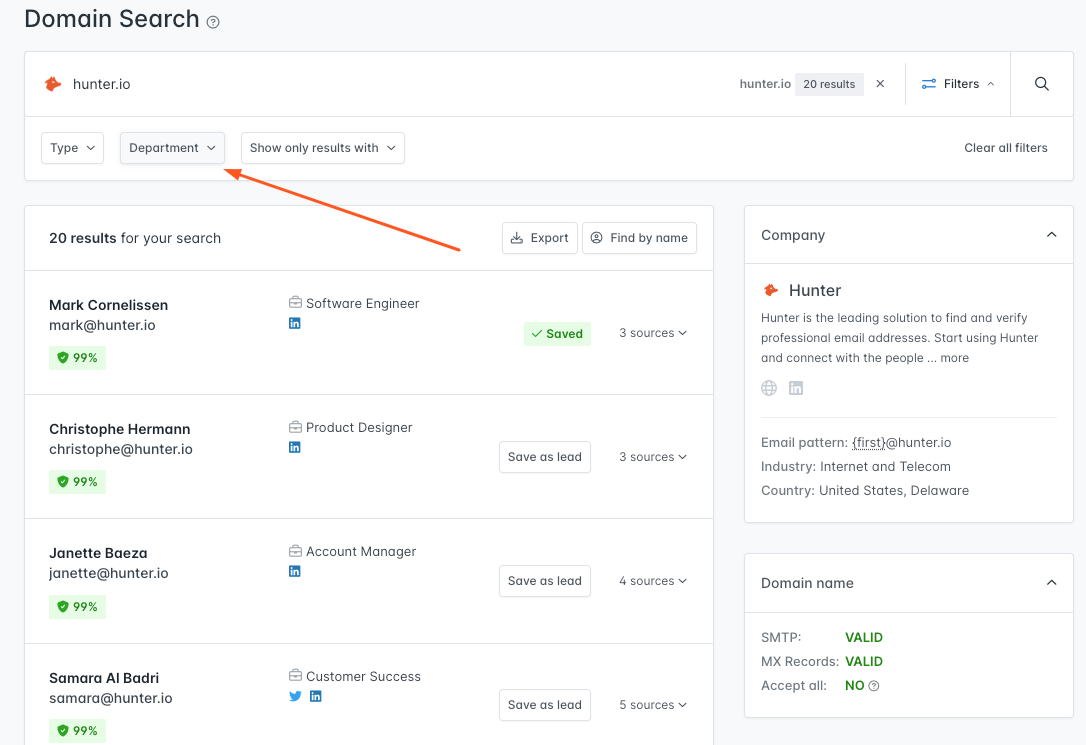 Once you have the contact details of the editor, you need to send across an email. This directory provides a nice list of the best-performing guest post cold email templates you can use.
Your outreach email is a chance for you to connect with the editor. It is also a chance for you to provide value to the site. Here's an example outreach template that we use for guest posting.
The template is general enough that you can send it in bulk. Importantly, it provides some social proof that should increase the chance of getting positive responses from a site.
Assuming your idea is accepted, you'll need to develop some topic ideas and write your article. The following post covers the next stages of a guest posting strategy in a bit more detail.
Additional resource: Check Matt's in-depth Hunter review
---
Testimonials
As an affiliate site owner, you create a lot of content promoting the products or services you support. You should be driving a lot of traffic and leads to those businesses, which means your site has some brand recognition. With the right approach, you can translate that brand recognition into links to your site.
Start by creating a list of products or services that you recommend through your blog. Place the sites where you send the most referral traffic at the top of the list.
You will need to get in touch with the sites once you have your list. The basic idea here is to send an email talking about how much you love the product or service they offer and mentioning that you'd be happy to share a testimonial.
Here's an email template you could use for this type of outreach.
The email template provides a bit of social proof alongside your offer.
Providing a positive testimonial can be a win-win for you and the business. Most businesses will provide a link back to your site by your name as thanks for sharing your feedback. The link they provide is also a form of social proof for the business. That way, people can look up who the quote is from.
Securing testimonial links can pay dividends. I made a testimonial for KWFinder a few months ago. It's now on the KWFinder homepage, along with a backlink to my website: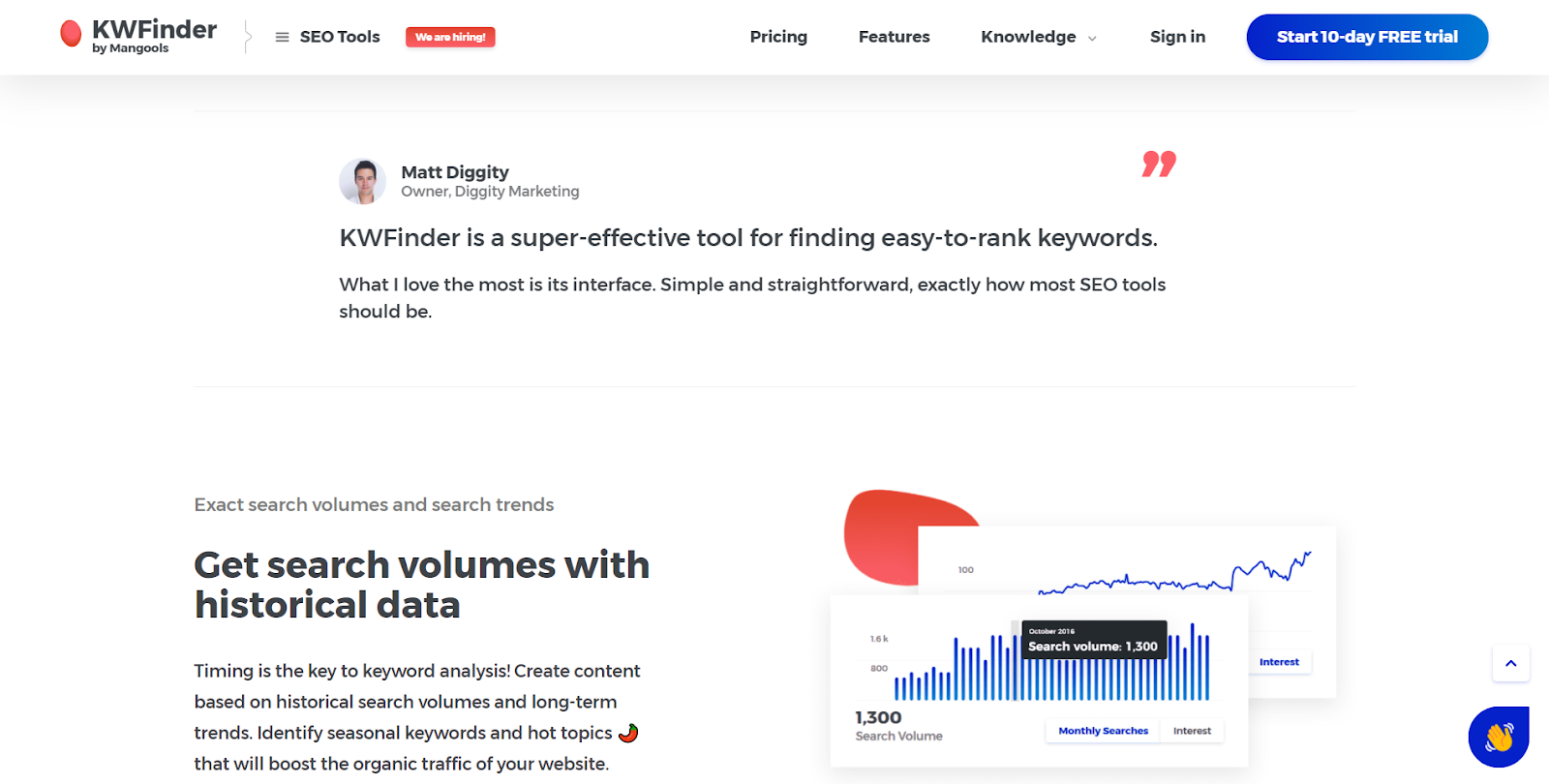 A link back from a company homepage can help boost your Domain Authority, making it much more likely your content will organically rank in the search results. Moreover, this is a great way to develop a relationship with a company.
---
Content Partnerships
Many people look at link building as a short-term thing. You secure a link from a site through a guest post or similar and then move on immediately to the next opportunity. To my mind, that is a short-term way of thinking. Content partnerships are a great way to build relationships and even earn money. For instance, you can make money on YouTube by adding affiliate links to your content.
You should try to develop strategic partnerships with sites rather than just trying to secure the occasional link. Content partnerships can pay real dividends. For example, you can:
Get introductions to third-party websites where you could guest post.
Run link partnerships where you get included in content from other folk and help others get links too.
Arrange co-marketing activities that benefit both businesses.
I always try to develop strategic business partnerships.
For instance, I have a long-standing affiliate relationship with web hosting provider WPX. I promote the service through the Diggity Marketing site. I've also done interviews with Kyle, the founder of WPX, and more.
Investing time developing a relationship with WPX has resulted in many marketing opportunities for some of my businesses. For example, I recently judged a contest that WPX was running.
WPX included three links to AffiliateLab in their contest promotional page: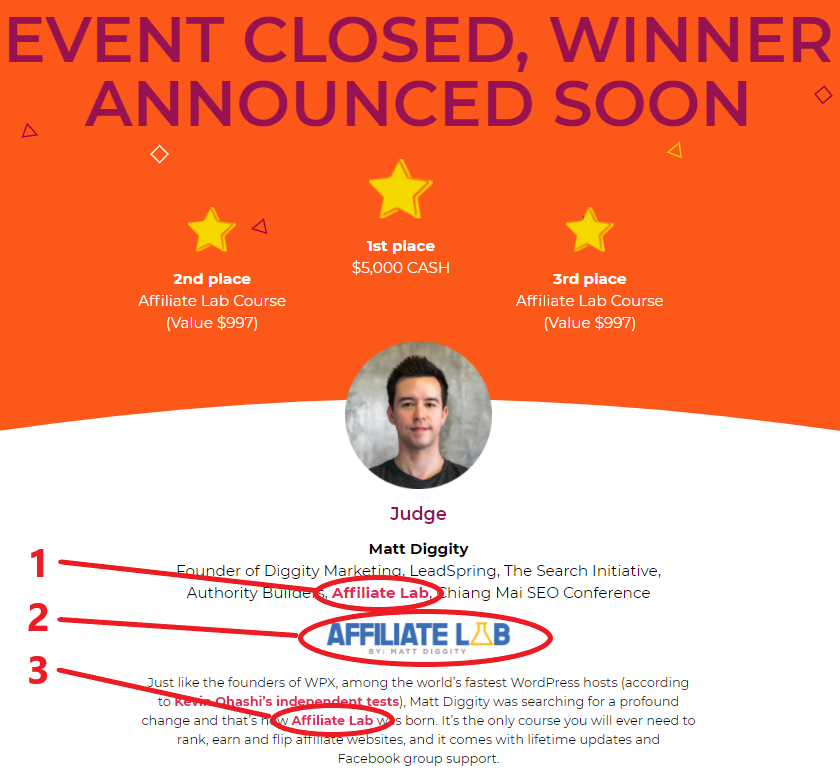 That's just one example of the benefits I've got from content partnerships.
If you have a long-term game plan for your affiliate marketing site, you need to invest time in online networking. Developing strategic partnerships with other businesses in your niche will help you secure backlinks to your site and a whole lot more.
---
Mention companies on social media
Social media is a logical channel for connecting with relevant individuals and businesses that operate in your niche or a relevant niche. You can run targeted outreach campaigns to help raise the profile of your site and get links.
When sharing content on social media, give people a reason to engage with your content before tagging them. For instance, every month, I do an SEO roundup on Diggity Marketing. I share the roundup on Twitter and always tag relevant businesses (and people).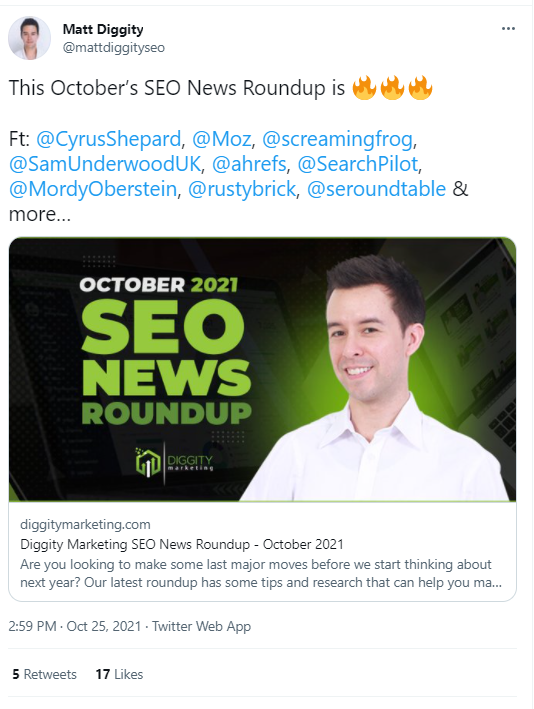 Here's a recent example.
Now, guess who retweeted my article:

Mordy Oberstein is the Head of Communications at SEMRush and is widely considered an SEO industry expert. However, that's not all. Look at who liked my tweet: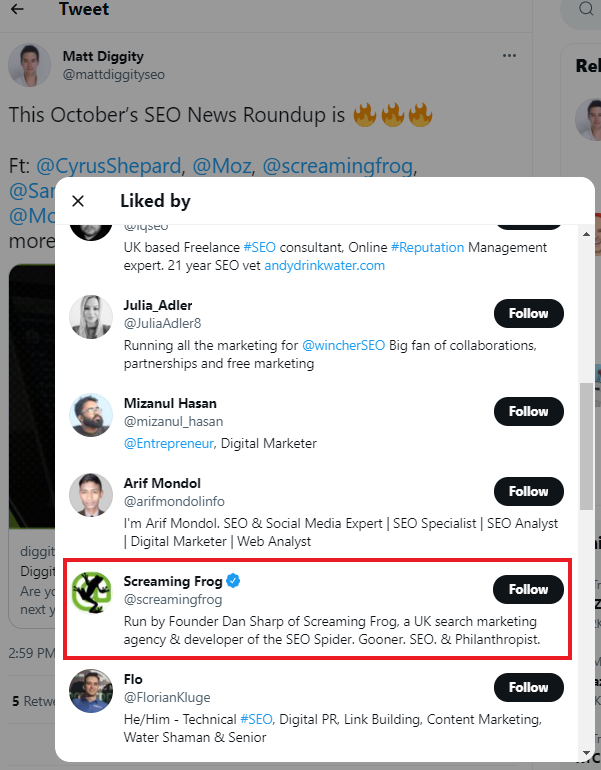 Screaming Frog is one of the largest SEO agencies globally and is very active on social media, with over 58,000 followers. When the Screaming Frog Twitter account liked my post, their activity became visible to their followers.
That visibility generates referral traffic to my site. It can also lead to indirect references and organic new links to my website. Essentially, it's an effective content marketing and link-building strategy.
---
Media requests
One tried and tested affiliate link-building strategy is to secure links through media requests. Essentially, a reporter asks for a quote or insight for a story, and you share your tip. If you're picked, you get a link back to your website.
Help A Reporter Out (HARO) is one of the most popular media request websites.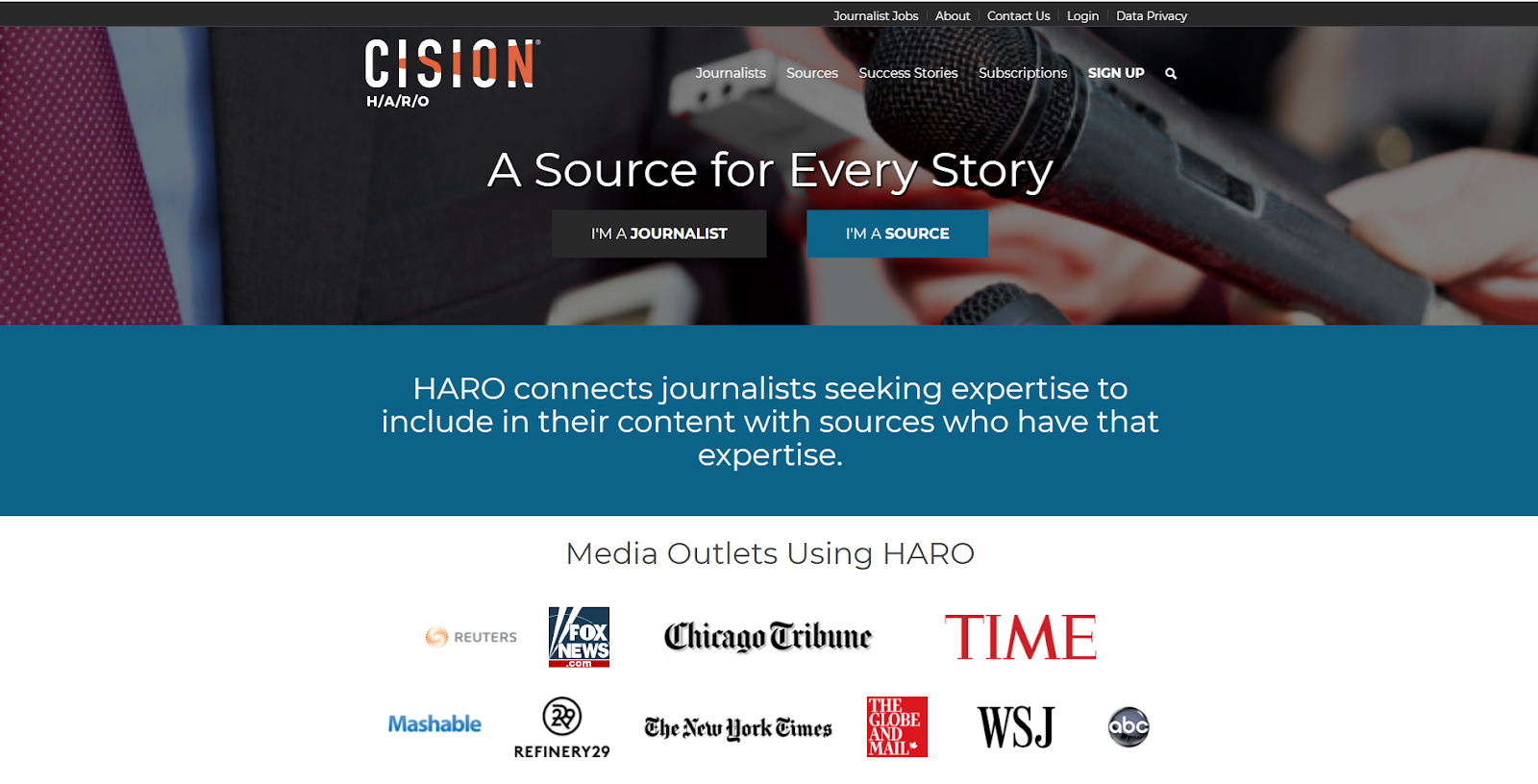 Many journalists working for well-known print publications, such as the Wall Street Journal, Time, and The New York Times, use HARO. These are the types of links that every site owner wants but are difficult to secure.
A comprehensive guide to using HARO goes beyond the scope of this post. The basic principles, though, are straightforward. Here goes:
Sign up to a service like HARO
Keep an eye out for opportunities relevant to your niche
Respond to anything that looks suitable
Make this part of your daily routine
Services like HARO are popular, and you can bet there will be a lot of competition to be the company that provides a comment. Consequently, you need to make your pitch memorable.
Show how you can provide value to the journalist.
It's also good practice to keep track of which journalists make regular requests. Try connecting with the most active journalists and befriending them. That could involve providing them tips about possible stories, introducing them to someone in your professional network, etc.
---
Unlinked mentions
Ever come across an article that mentioned your company but didn't link back to your site?
It happens, and it can be frustrating.
Every cloud has a silver lining, though. You can always reach out to the publication and ask them to add your link to the content.
The easiest way to find unlinked mentions involves using a tool like Ahrefs Content Explorer. Simply search for your company name without a link to the site.
Let's use Diggity Marketing as an example: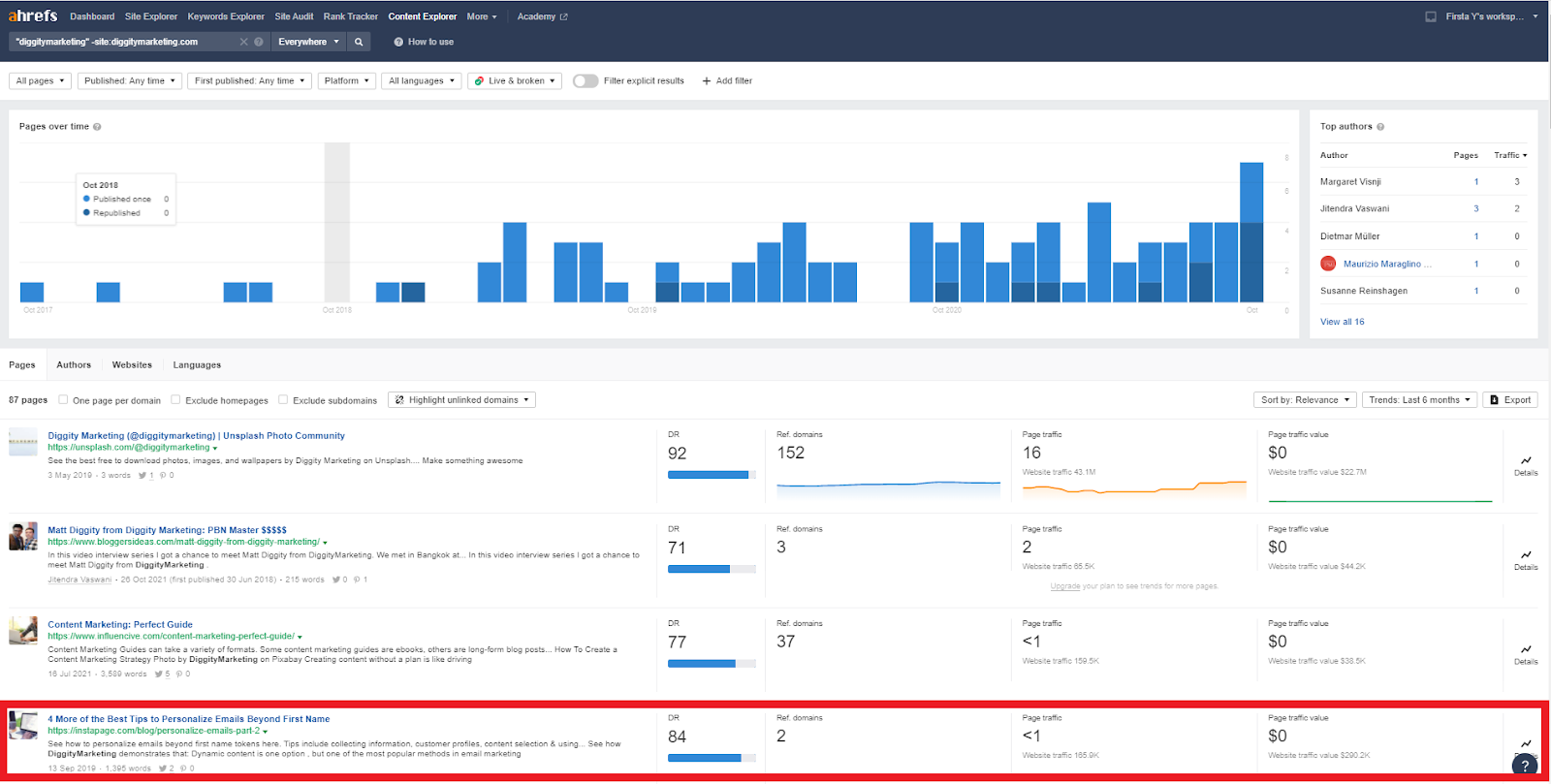 There are 87 mentions in total, which is manageable to review manually.
When you click on the boxed result, you'll land on an article that contains an unlinked mention: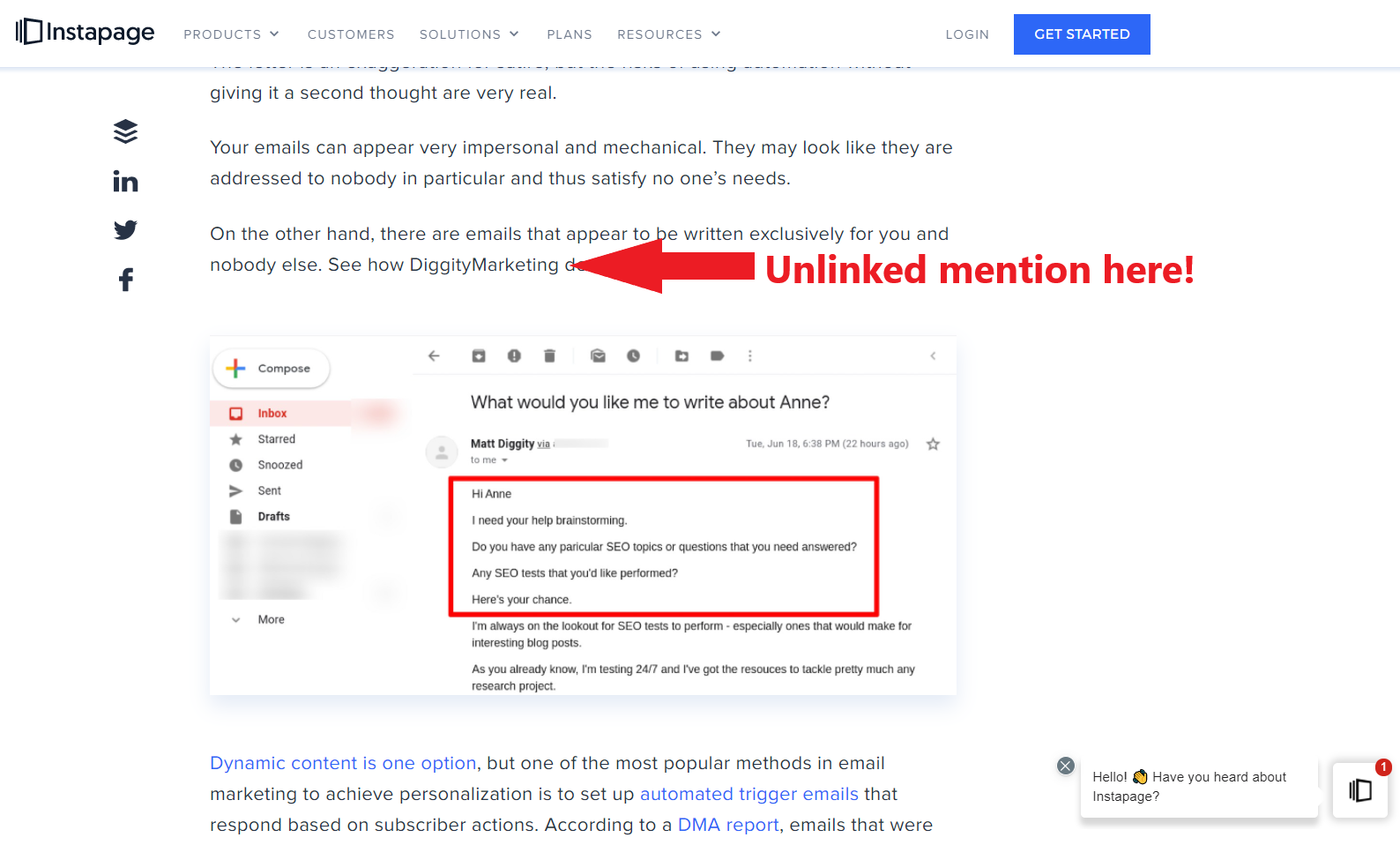 When you find unlinked mentions, you can mail the site and ask them to reference your business. Here's a sample email template you can use for this type of campaign.
It's worth monitoring references to your competition, alongside references to your business. There will be opportunities where you can get your link included in content where competitors are mentioned.
---
Improved resource or broken link building hack
Aside from unlinked mentions, broken links are a valuable source of potential backlinks for your affiliate site. Links get broken because the websites they link back to are no longer active, the content URL has changed, or the content itself has been deleted. Nobody likes dead links in their content as they detract from the user experience.
Thankfully, you can salvage broken links with your own backlinks. You just have to be systematic about it. You have to do two main things: 1) create good content to link back to, and 2) find broken link opportunities. Let's discuss how you can do both in a scalable manner.
First, you need to write your internal content. If you think coming up with original ideas is a challenge, you can instead look at the top-ranked content for your desired keywords and think of new angles for them.
For instance, if you're promoting running shoes on your website, you can write about the best treadmill running shoes instead of running shoes in general. If you think one article isn't enough, you can even break it down into treadmill running shoes for men and women.
Once you have a great piece of content to link back to, you can start searching for broken links you can replace.
First, you can create a shortlist of websites about running and fitness. Then, go to Ahrefs Site Explorer > Pages > Best by Links, then filter the results "404 not found". From there, it's a matter of sorting the results according to the number of referring domains and choosing the most relevant ones to your site. In this example, let's us runtothefinish.com: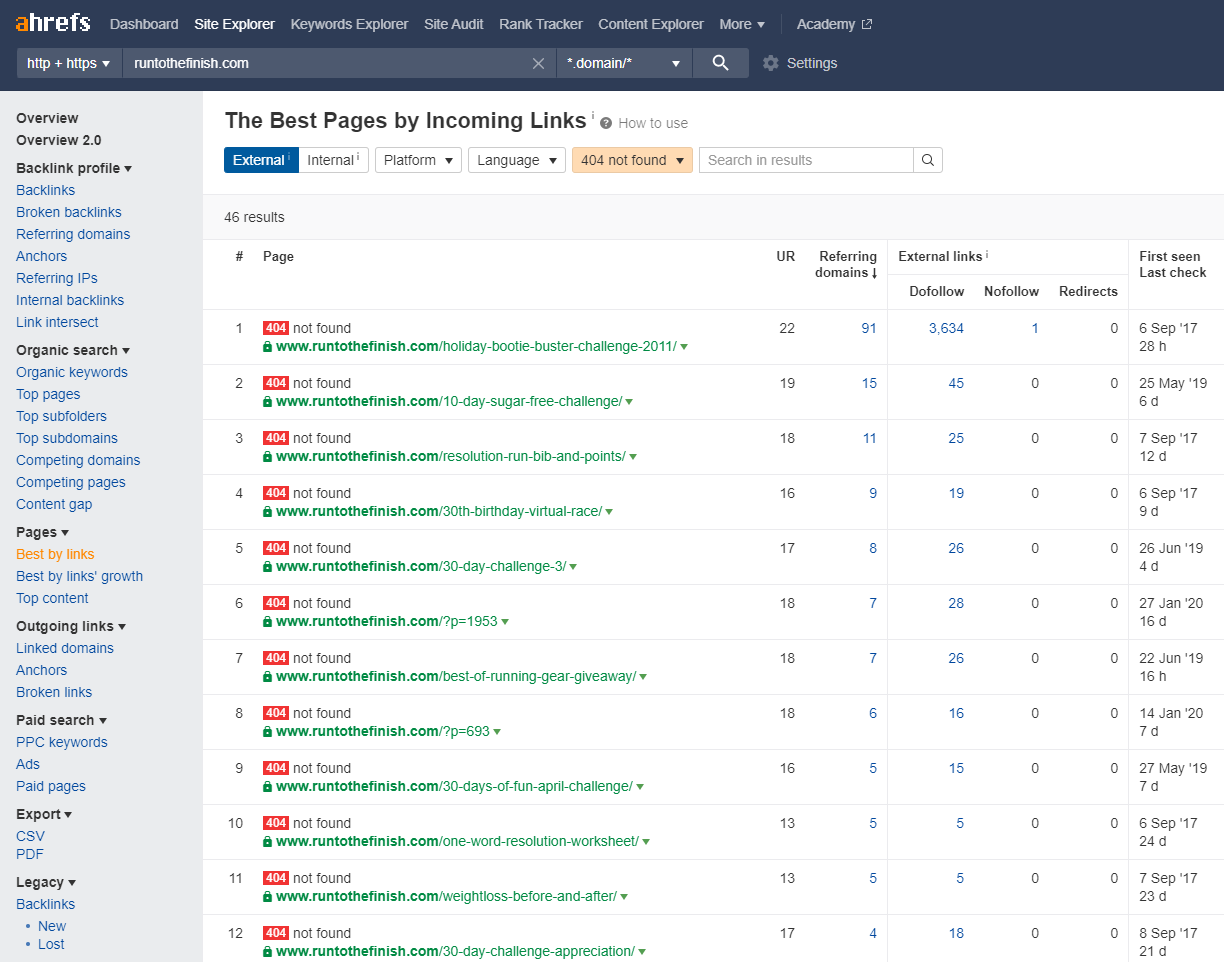 Next, copy the broken link and run it through the Site Explorer > Backlink Profile > Anchors, and click on the anchor text with the most referring domains:
You will then get a list of all the websites that linked back to the missing page. While a lot of these articles are already dated, you can fine-tune this approach further so you'll get more evergreen content that you can link back to. After making a list of websites that have broken links, you can send the outreach email below:
This approach might seem complicated at first, but once you get the hang of it, you can drastically reduce the time you spend looking for new backlinks.
---
Outreach automation
One of the most important factors in getting affiliate backlinks is the ability to reach out to as many websites as you can. If you're just starting out, it's fine to send out just a handful of emails a day. But as your business expands and the market gets more competitive, you need to scale your link building. Outreach automation is key to the success of these efforts.
Most email marketing platforms have some sort of automation tool. However, many of these solutions are beyond the budget of the typical blogger. Fortunately, Hunter offers a free tool for cold emails. This tool, called Hunter Campaigns, allows you to compose and schedule fully personalized outreach emails using your Gmail account.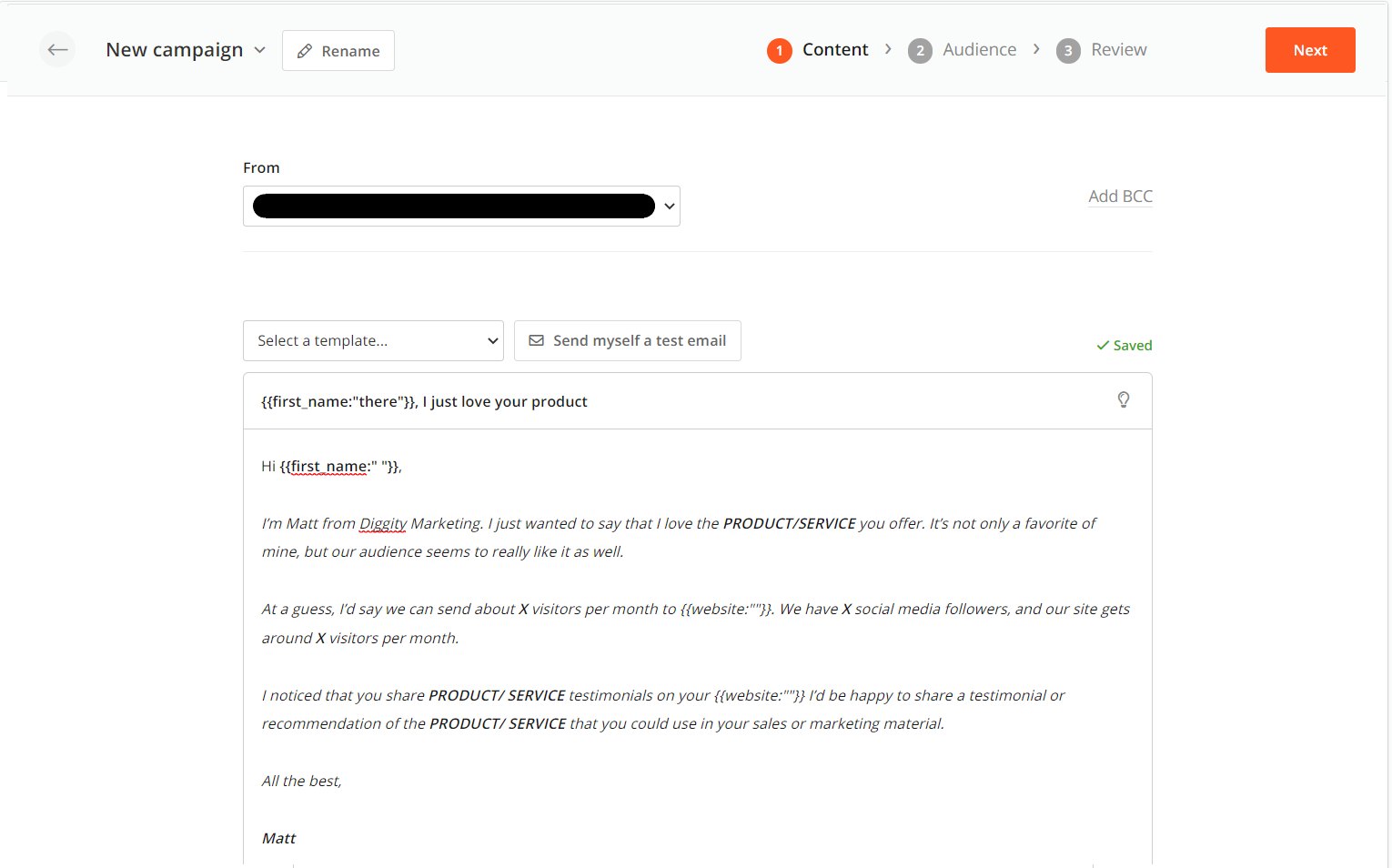 After you've composed your email, you can upload a list of leads or paste a list of email addresses manually: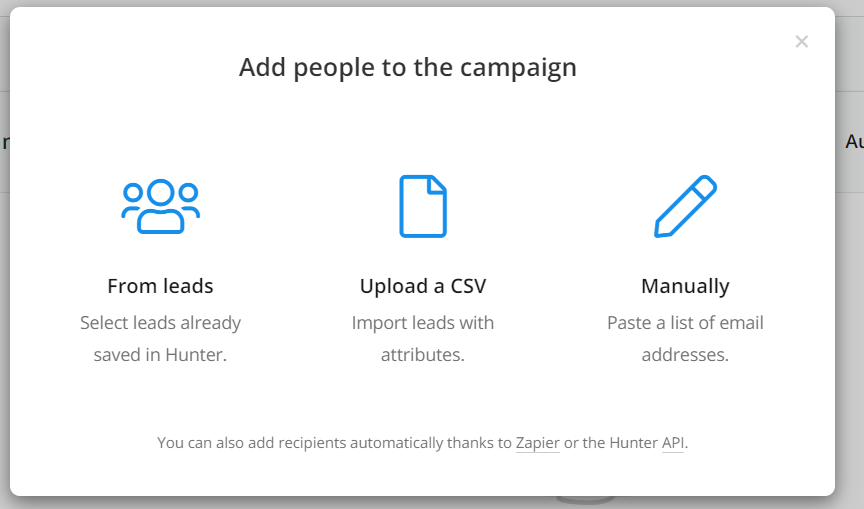 Finally, you can edit each email and personalize it even further before sending or scheduling them: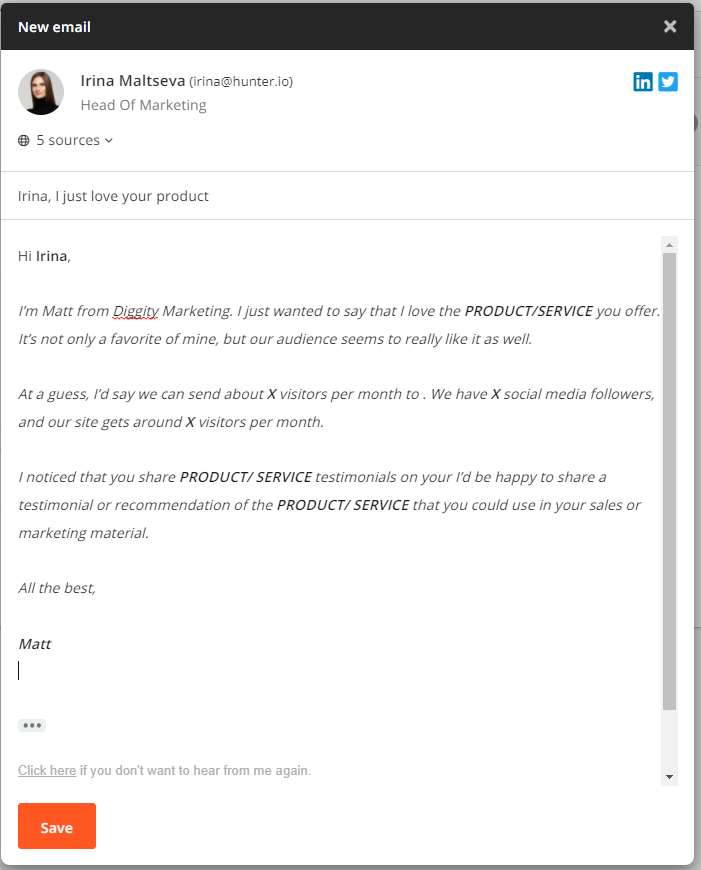 Aside from letting you send personalized emails with custom attributes, the free plan also lets you automate follow-ups and find out if your recipients have already opened your emails. The $49/month Premium plan offers even more features, including support for images and attachments and email verification.
Conclusion
Building links back to your affiliate website isn't very complicated. However, it takes a bit of patience to find opportunities to backlink, especially if you want those links to come from high-traffic sites.
The eight methods I discussed today are all proven ways to increase your backlinks, boost incoming organic traffic, and improve your website's domain authority. While these methods might seem different from each other, at their core lies a commitment to providing useful, actionable content to your audience and the sites where you'll get the backlinks.