Top 11 Lead Generation Tools in 2023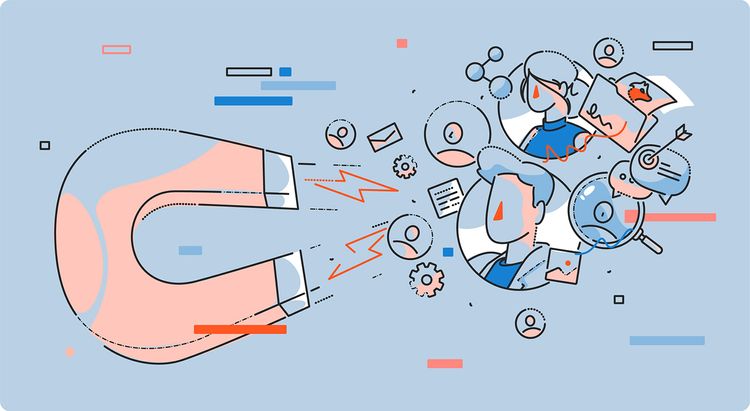 Lead generation tools can help simplify and automate the process of generating leads for your business.
In this post, we're going to go over the 11 best lead generation tools available in 2023.
1. Hunter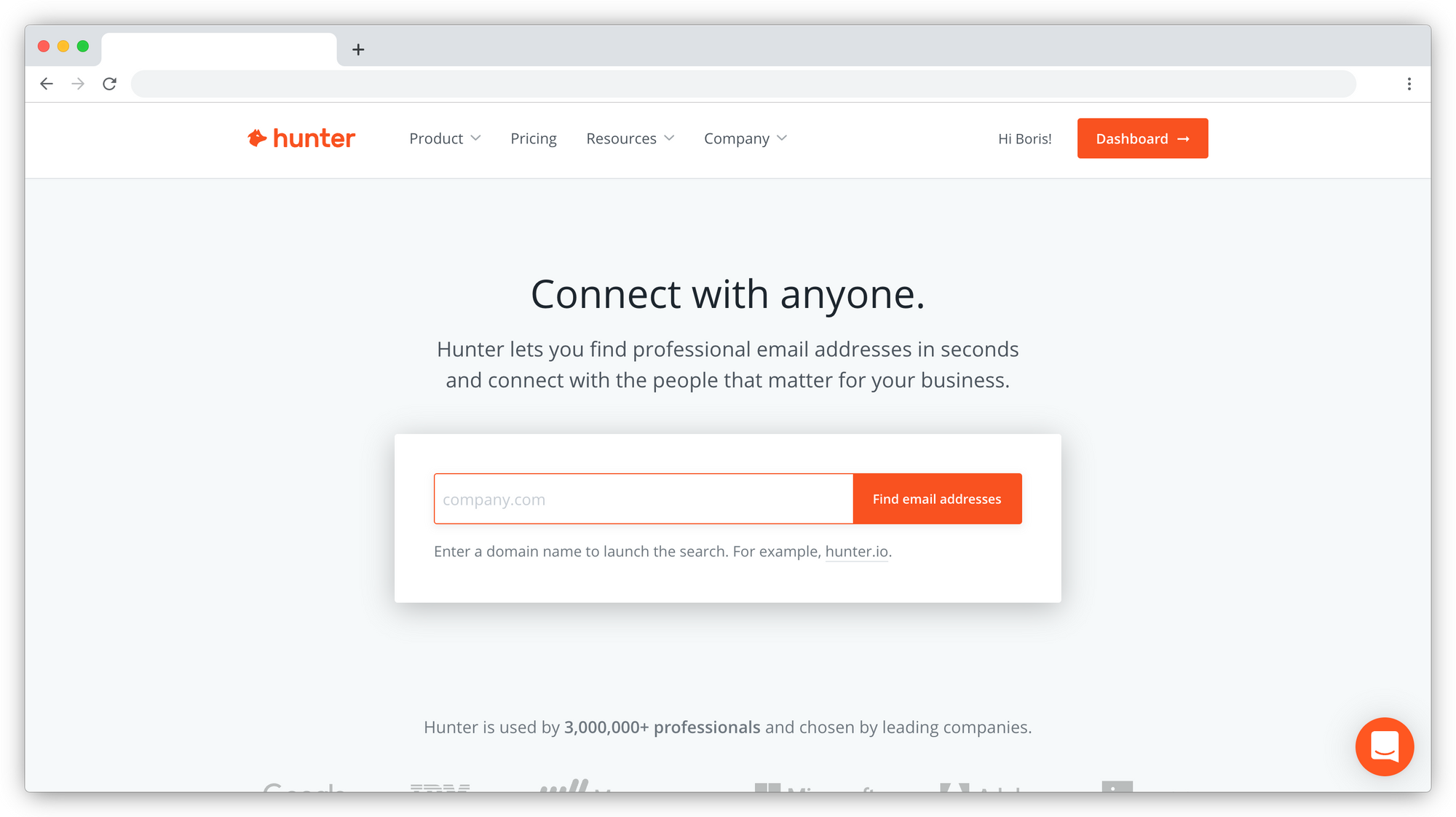 Hunter offers a suite of tools for lead generation.
You can use Hunter Campaigns to set up and manage cold email campaigns to generate leads on autopilot. It supports advanced personalization through custom attributes, custom sending schedules, automated follow-ups, and email tracking.
Then there's Hunter Templates, our database of top-performing cold email templates you can use to get a campaign started quickly.
Going further, tools like Email Finder and Domain Search can help you find accurate email addresses for your prospects. There's also Hunter for Chrome, a Chrome extension you can use to find email addresses associated with any website you visit.
Finally, if you already have a prospect's email address but want to make sure it's accurate, you can take advantage of the Email Verifier tool.
Pricing

Hunter offers a free plan that includes 25 searches and 50 verifications per month. You can also use the free plan to send cold email campaigns to up to 500 recipients.
If you need more searches, verifications, or campaign recipients, you can opt for one the following plans:
Starter ($49/month)
Growth ($99/month)
Pro ($199/month)
Business ($399/month)
Enterprise (custom pricing)
2. Albacross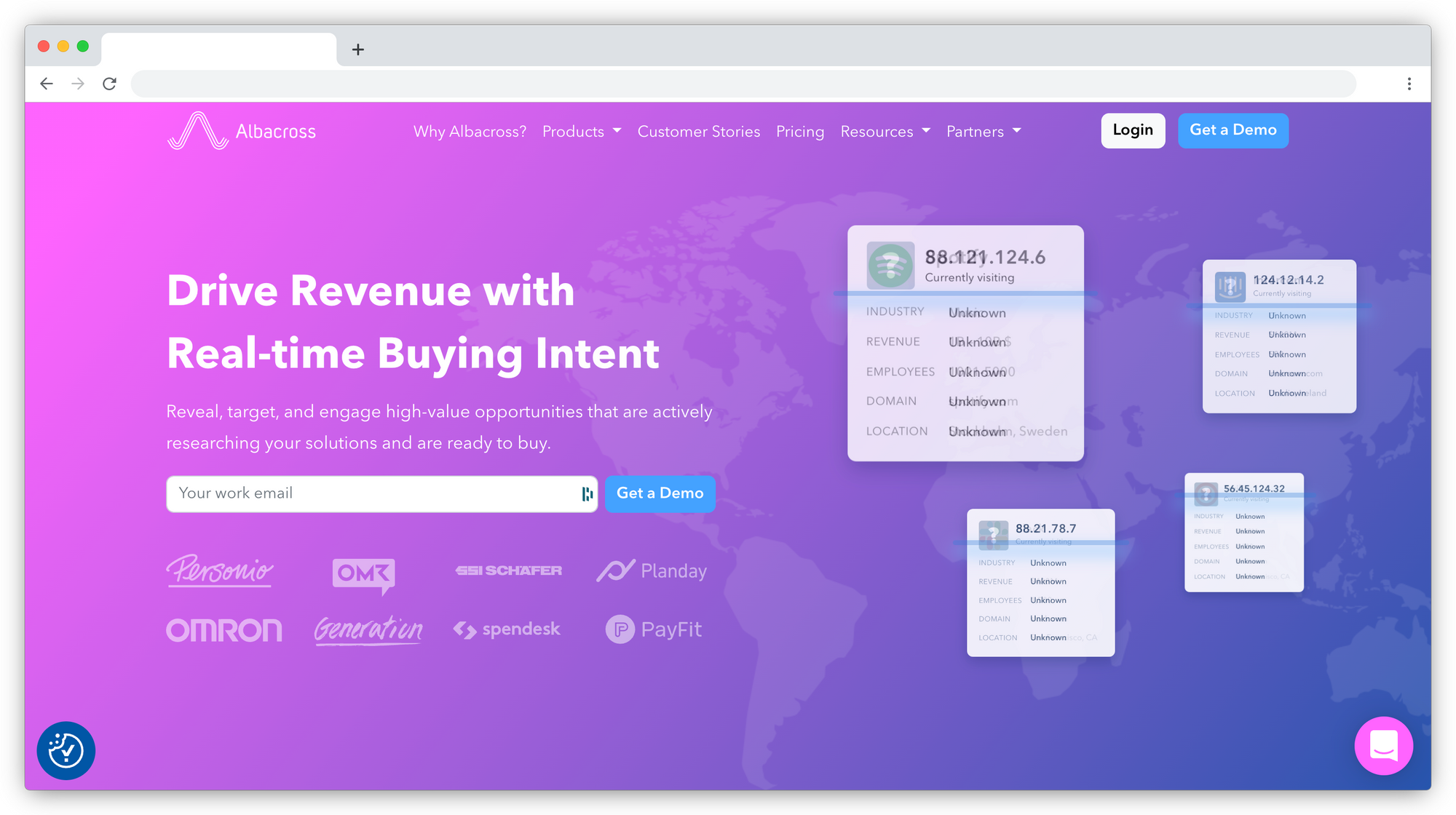 Albacross is a B2B lead generation tool that allows you to identify website visitors, showing their company, domain, annual revenue, and location.
It can track buying signals and help you prioritize active buyers. You can also set up notifications to alert you when target accounts show buying intent.
Albacross can help you monitor the activities of selected accounts, including where they come from, which keywords they use, and what content they consume.
The software enables you to customize ads based on target account and industry to get better results from your campaigns. It also allows you to create customized website experiences for target accounts by personalizing website content.
All the data from Albacross can be pushed to your CRM tool to make your sales team's life easier.
Pricing

Albacross doesn't display pricing publicly — you'll need to request a quote through their website.
3. OptinMonster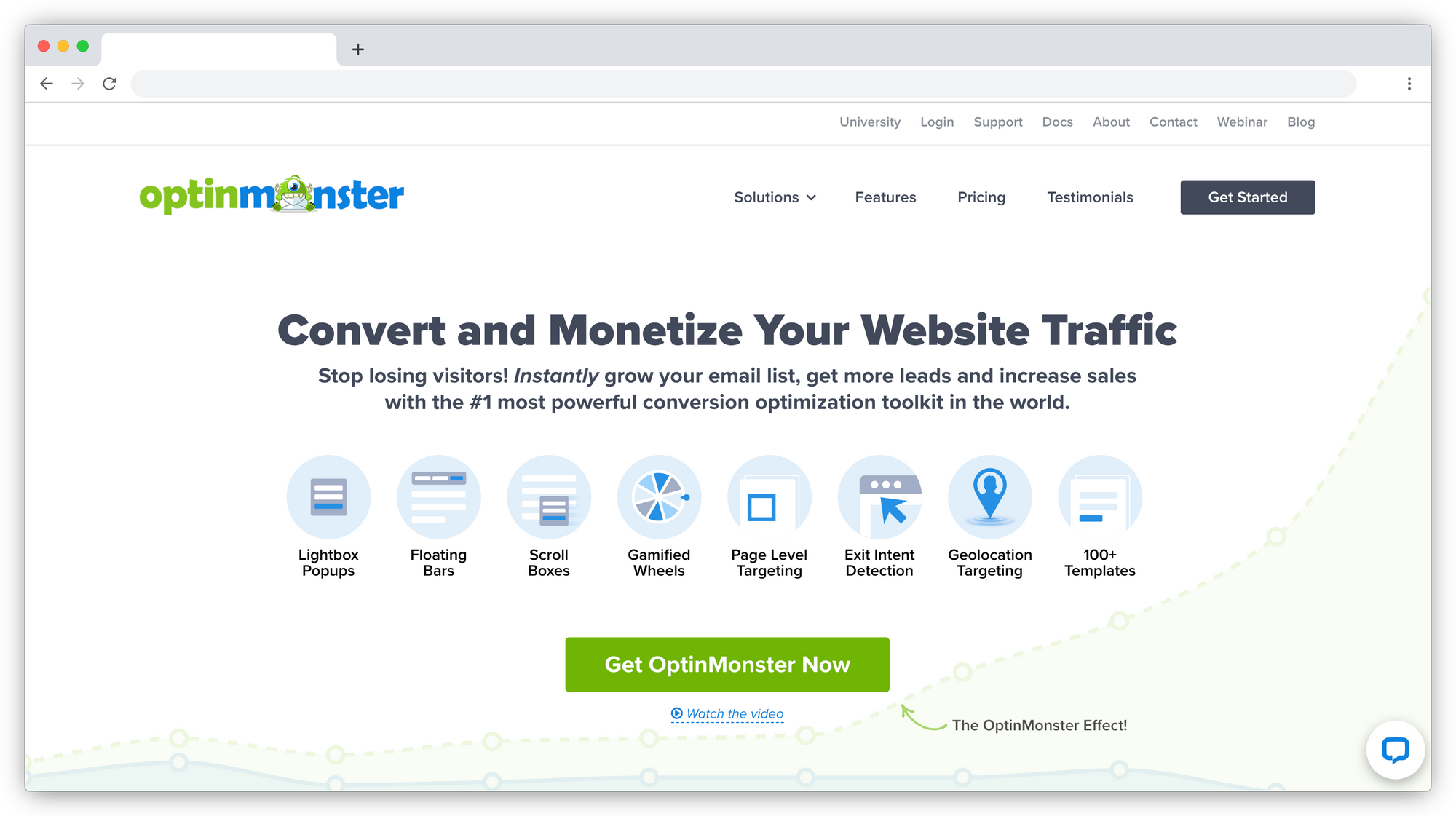 OptinMonster helps you create opt-in forms you can use to capture leads from your website. It offers a visual builder with drag-and-drop functionality, making it easy for anyone to create stunning opt-in forms.
Additionally, it comes with plenty of pre-made templates which you can customize to suit your needs.
You can choose between different form types, including pop-ups, overlays, slide-ins, and floating bars.
The tool allows you to set up rules to target specific visitor segments. It supports geo-location targeting to show visitors relevant content based on their location.
Smart triggers allow you to display your lead forms when users scroll through the page or try to leave.
You can split test forms, testing different variations of headlines, copy, and layouts. OptinMonster also supports on-site retargeting and follow-up campaigns that can help boost visitor engagement.
Pricing

OptinMonster's plans include:
Basic ($14/month)
Plus ($30/month)
Pro ($47/month)
Growth ($80)
4. Leadfeeder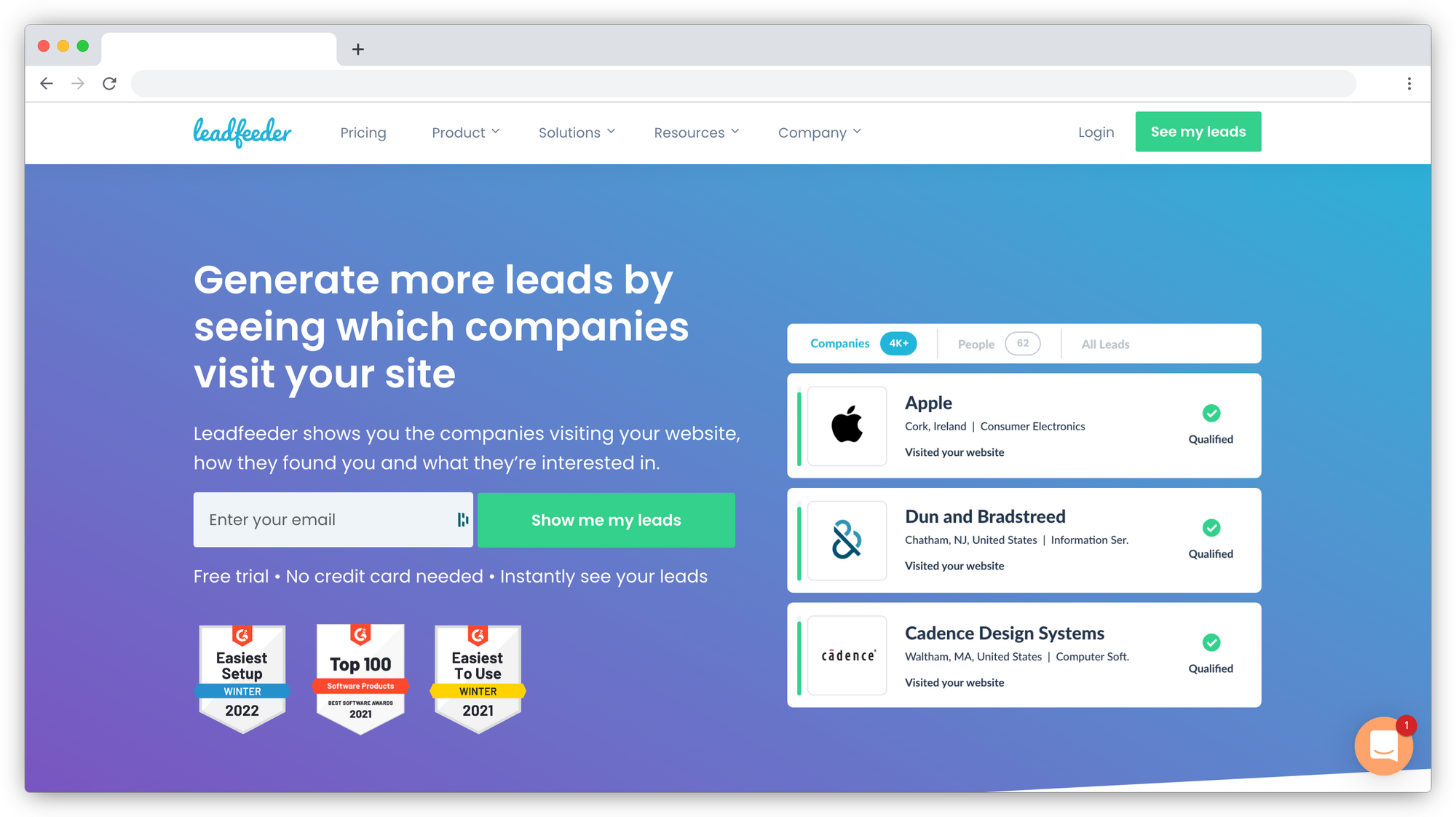 Leadfeeder enables you to see which companies visit your website and understand what content they consume. You can segment leads using behavioral and demographic filters, as well as score them based on website activity.
The tool allows you to set up alerts for when specific target accounts visit your website. There's also the option to personalize the buyer's journey based on company industry or size.
Leadfeeder can even match IP addresses to companies and identify remote workers. All the data can also be synced to your CRM tool.
Pricing

Leadfeeder offers a free plan with limited features. Paid plans start at $82/month.
5. CallPage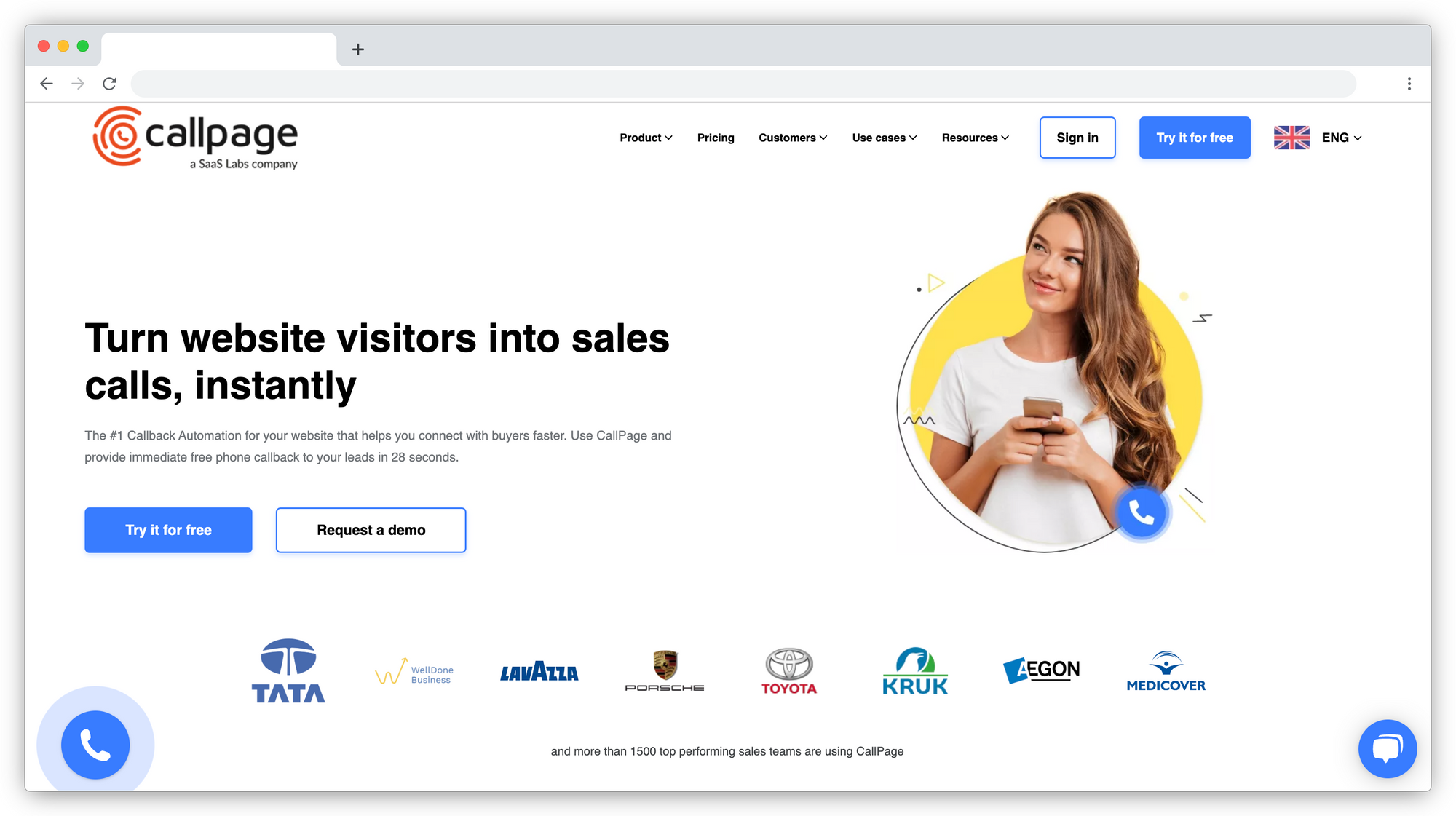 CallPage is a lead generation software tool that allows you to add a callback widget to your website that guarantees visitors get a call back within 28 seconds.
Visitors click the CallPage button, and then a pop-up shows up, asking them to enter their phone number to get a call back. They're then connected straight to one of your sales reps.
The pop-up widget is fully customizable and can be adapted to fit your website's look. It's possible to edit the copy and even apply advanced personalization by adding additional code.
With CallPage, you can set office hours during which sales reps are available, allow prospects to schedule calls, record custom voice messages, and queue calls. Another useful feature is follow-up SMS automation.
The tool also offers detailed reports that show what happens before, during, and after calls.
Pricing

CallPage offers a free plan with limited features. Paid plans include:
Basic+ ($29/month)
Professional ($159/month)
Premium ($379/month)
Custom (custom pricing)
There's also a free 7-day trial you can use to see if the tool is the right fit for your needs.
6. Hello Bar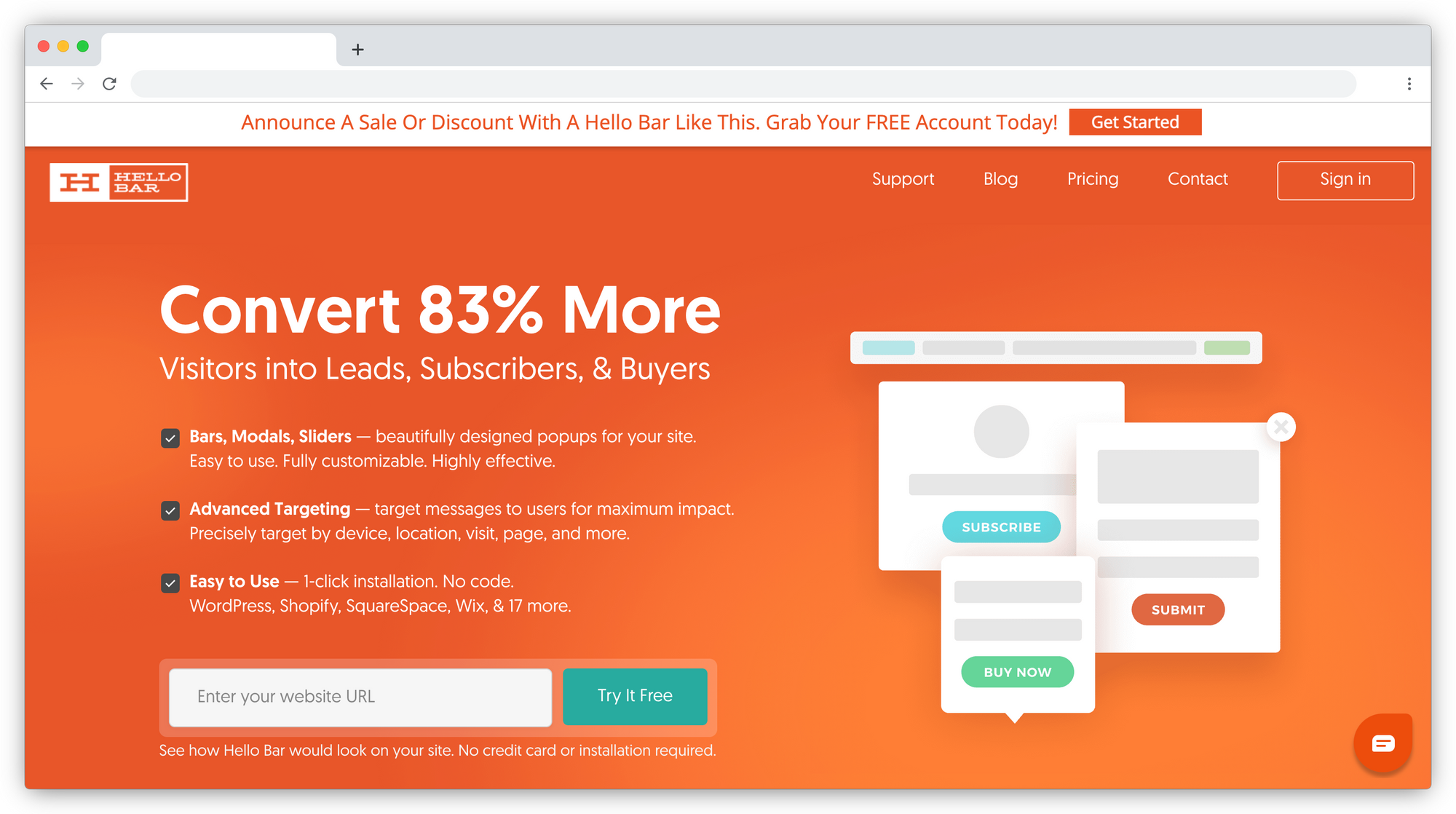 Hello Bar is a lead generation tool that offers different types of opt-in forms, including bars, modals, alerts, sliders, and full-page pop-ups.
You can customize your form with hundreds of built-in themes or use the visual editor to adjust the pop-up's look to fit in with your website's design. There's also a Design Assistant feature that can analyze your website's design and match colors and fonts automatically.
Hello Bar supports advanced targeting features. You can use it to target visitors based on location, traffic source, and visit history.
You'll get access to built-in reports that allow you to analyze pop-up performance. There's also the option to create custom reports with data that's most important for your business.
The tool has an A/B testing feature, allowing you to test different form variations and find top performers.
Pricing

Hello Bar has a free plan which is limited to 10 pop-ups and 5,000 pageviews per month. Paid plans include:
Growth ($29/month)
Premium ($49/month)
Elite ($99/month)
7. Drift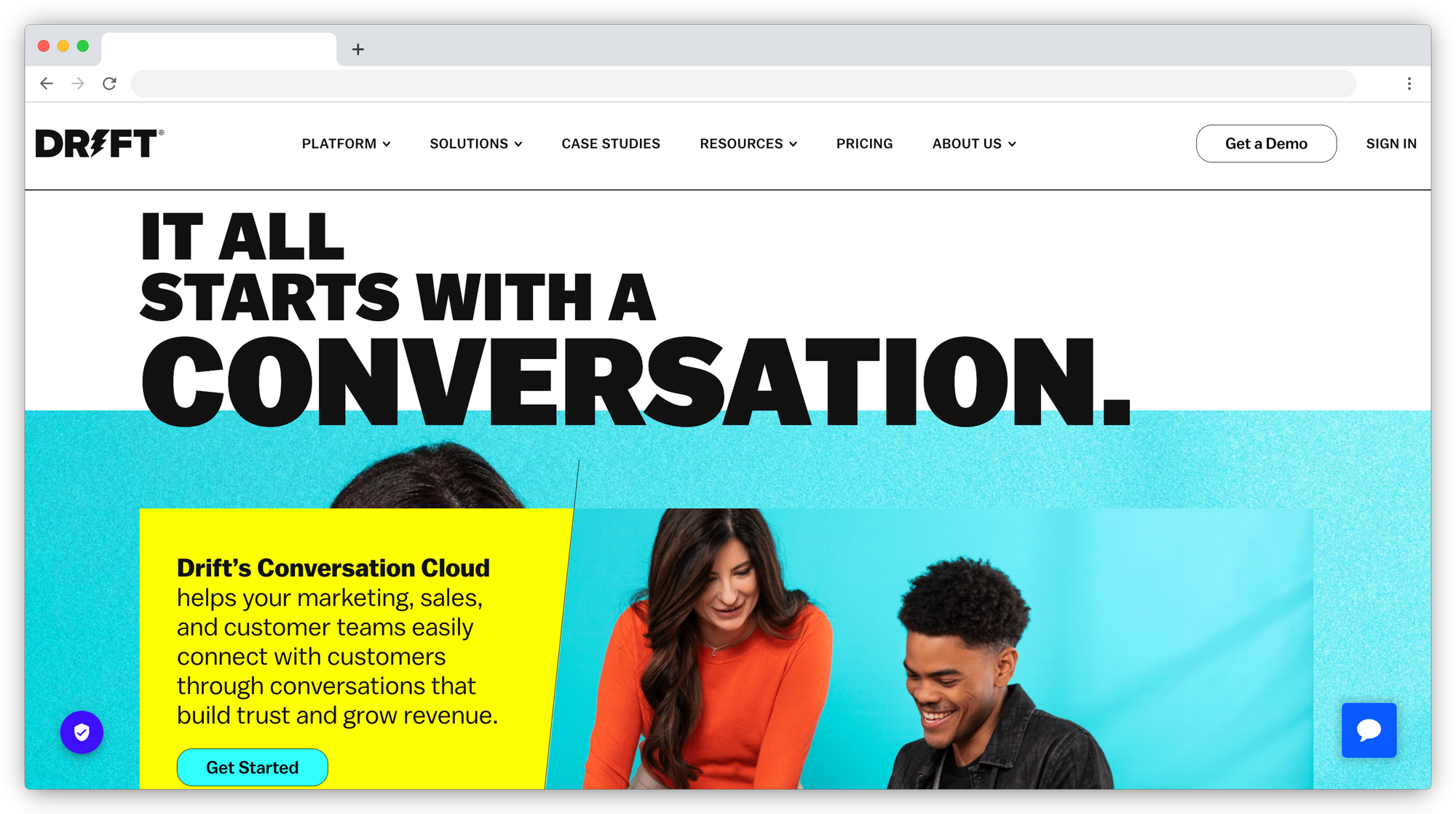 Drift is a conversational marketing platform that offers a lot of different ways for businesses to generate leads.
The live chat tool allows you to connect with website visitors when their buying intent is at its highest, as well as create a better customer experience by providing instant answers to their questions.
You can also build live chat playbooks to route leads to the right account executives at the right time. Drift can even alert your sales reps when one of their target accounts is on your website so that they can jump in and chat.
Alternatively, you can use the Live View feature to see who's on your website at any given moment.
The Chat to Call and Chat to Zoom features enable you to get on a call with prospects and qualify them on the spot. There's also the Drift Meetings feature which gives prospects the option to book a call at a time that works for them.
You can create multiple inboxes in Drift to manage different types of conversations and save common replies so that your team can have an easier time serving customers.
Teams can also use Drift to build custom chatbots that can help qualify leads, share helpful content, and schedule meetings.
Then there's Drift Video — a tool that allows you to engage prospects with personalized videos and GIFs. You can record these by using your webcam, capturing your screen, or both. Detailed reports will show you who watched your videos and for how long.
Finally, there's the Drift Prospector tool, which can help your sales team prioritize target accounts automatically by collecting buying signals across contacts and accounts.
Pricing

Drift doesn't display the pricing for its plans publicly, so you'll need to request a quote using their website to learn more.
8. Sleeknote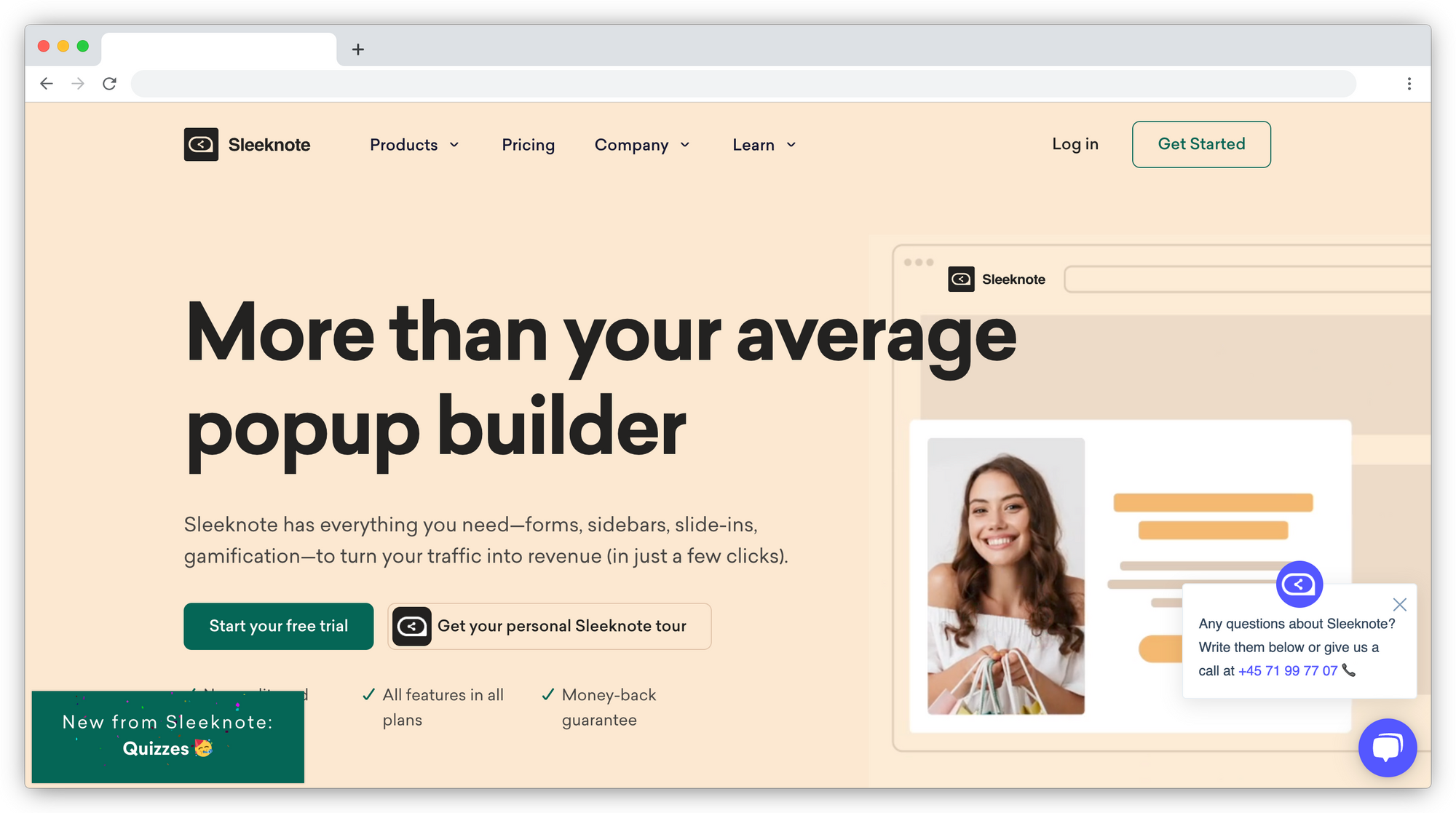 Sleeknote is a popular pop-up builder and lead capture tool that allows you to build lead capture forms easily using drag-and-drop functionality. It comes with more than 100 templates you can take advantage of to get one or more opt-in forms designed quickly.
There's also the option to add videos and custom HTML code to your pop-ups. The pop-ups can be triggered based on exit intent, scroll depth, referrer, visitor location, and more.
You can use Sleeknote pop-ups to run surveys, schedule meetings, or offer support to visitors and customers. The integration with Zapier allows you to forward the right leads to the right team members automatically.
You can also create campaign goals and track performance for every pop-up and lead generation campaign you create with Sleeknote.
Pricing

Sleeknote offers a free 7-day trial you can use to test out the tool. Paid plans include:
Lite ($64/month)
Basic ($77/month)
Plus ($149/month)
Pro ($294/month)
Premium ($481/month)
9. Paperform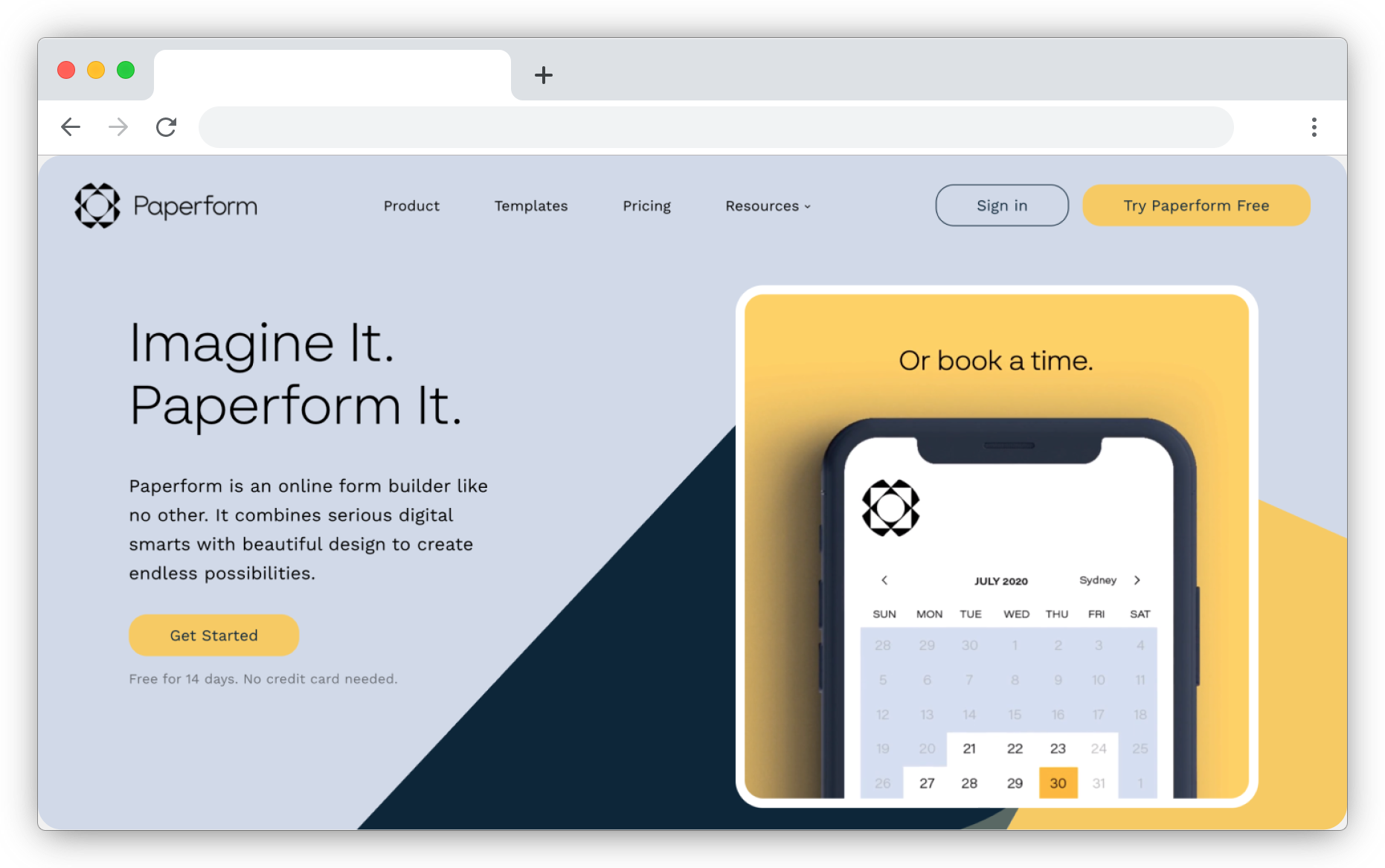 Paperform is a lead generation tool that allows you to attract and nurture relationships with customers continually and turn insights into actions with custom data analytics.
With Paperform, you can create interactive content from simple webinar sign-up forms, event bookings, and coupons to personality quizzes and surveys.
You can import branded multimedia and tweak backgrounds, colors, and fonts to customize your lead magnets to your unique brand. Paperform integrates with over 3,000 apps (like Shopify, Slack, and Monday) putting your manual processes on autopilot.
It can track buying signals and help you prioritize active buyers.
There's also the option to set up custom thank you pages and email notifications, as well as use complex calculations to tailor the experience for your user.
Pricing
Paperform offers a 14-day free trial period you can use to decide whether it's a good fit for you. Paid plans include:
Essentials - From $20/mo
Pro - From $40/mo
Agency - From $135/month
10. forms.app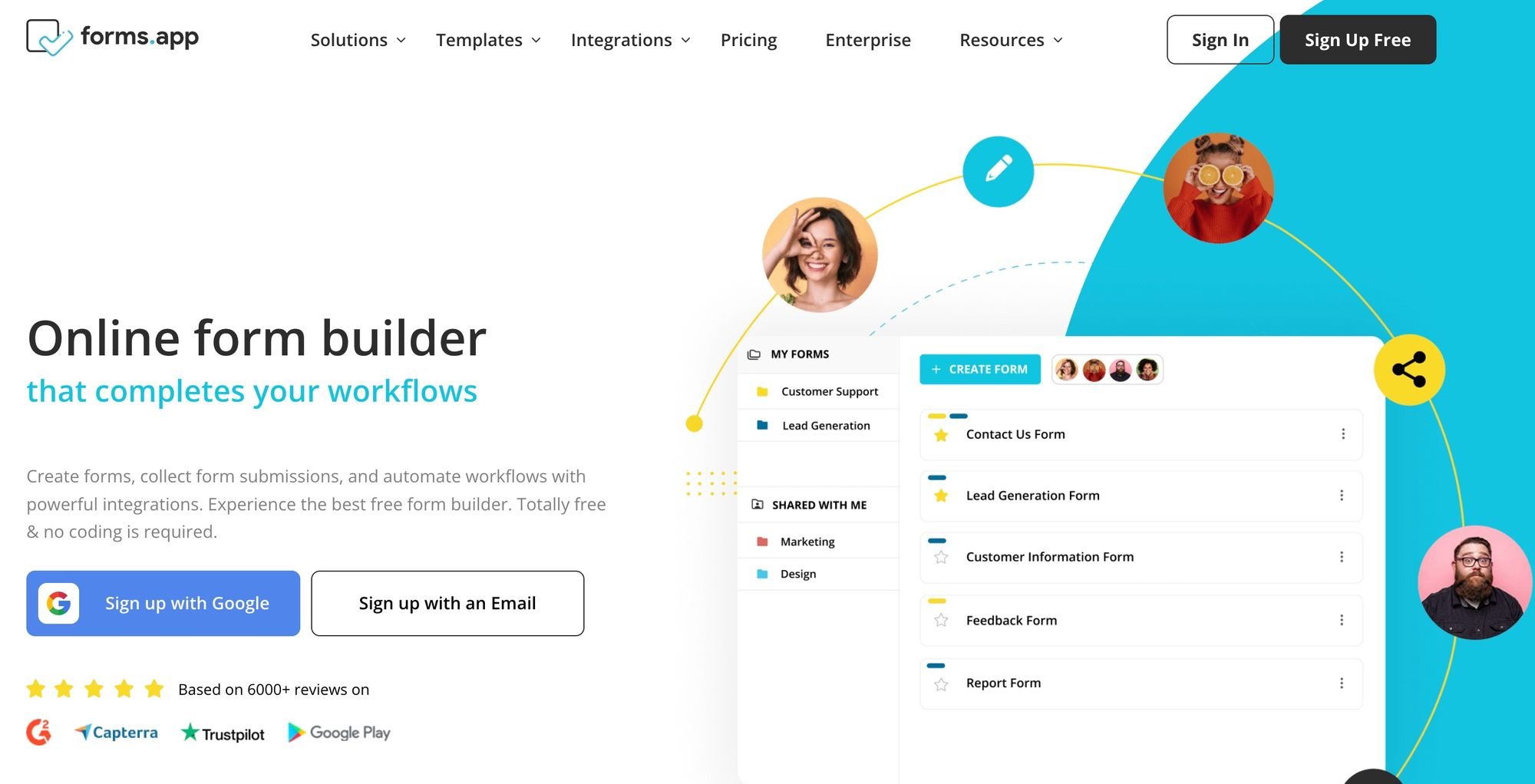 forms.app is a form builder software that helps you create online forms, surveys, and quizzes, and it has many useful features for lead generation.
Users can get a lot of data from your potential customers with the help of lead generation forms, contact forms, and registration forms. You can use the data you obtain to convert your leads into loyal customers.
With forms.app's newly introduced AI form generator feature, users can obtain both forms and questions for free without wasting their time. All you need to do is to describe what you want to AI with a few words.
forms.app offers its users many advanced features in its free plan. For example, conditional logic, customization options, payment acceptance, signature collection, and geolocation restriction are some of them. In addition, more than 1000 ready-made templates speed up your form and survey creation process and save you hours of time.
Pricing
With forms.app's free plan, which offers almost all advanced features, you can create 5 forms per month and collect up to 100 responses. Paid plans are as follows:
Basic: 19 USD billed monthly
Pro: 29 USD billed monthly
Premium: 99 USD billed monthly
11. Woorise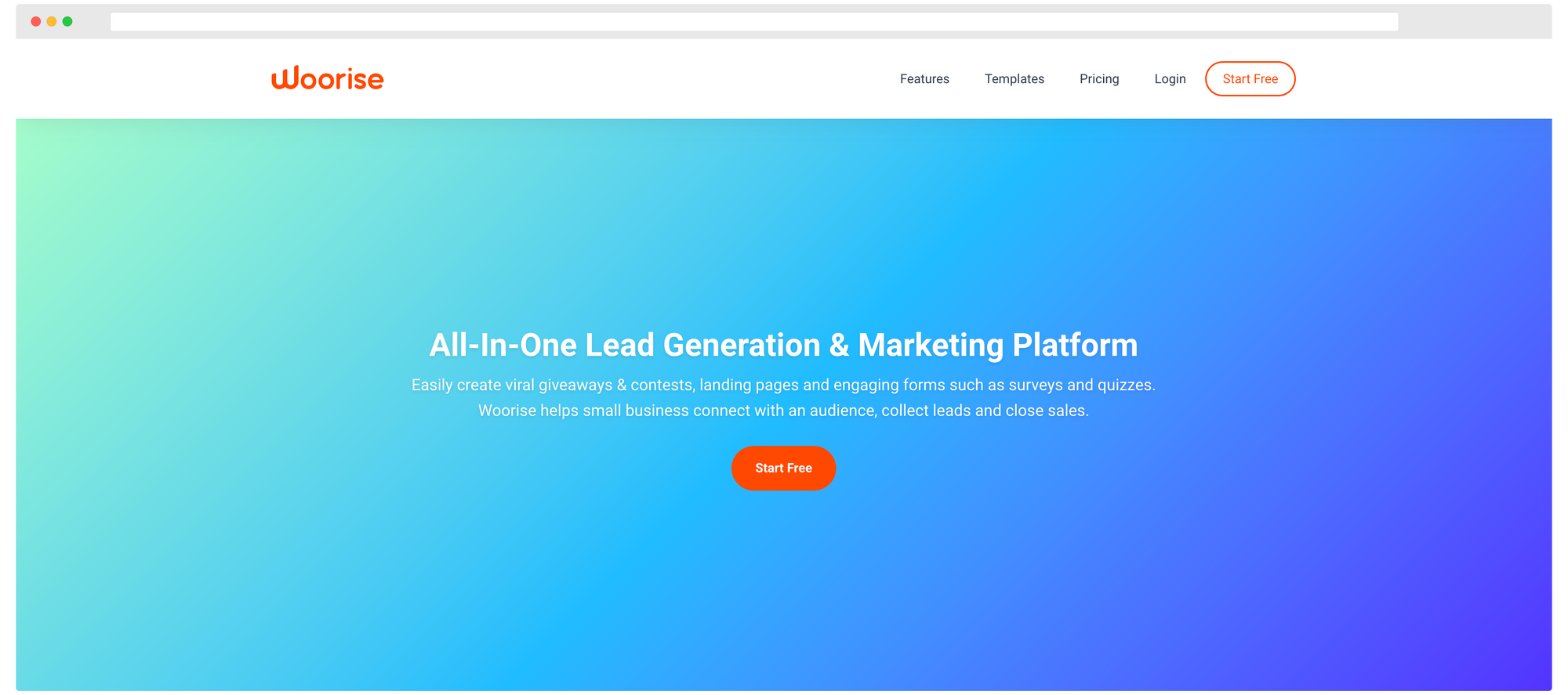 Woorise is an all-in-one lead generation and marketing platform that allows you to create a wide range of interactive campaigns such as landing pages, forms, surveys, quizzes, viral giveaways & contests, accept payments, and more to help you reach your goals from a single platform.
Features include a modern landing page and form builder, 40+ field types and thousands of social actions, 100+ interactive templates, conditional logic, real-time email notifications, multi-language support, and built-in analytics.
Woorise makes creating powerful campaigns for your business easy, including lead magnet campaigns, NPS campaigns, advanced marketing and feedback surveys, event registration and signup forms, accepting payments and subscriptions, and more.
Woorise also integrates with popular marketing platforms such as Mailchimp, Hubspot, ActiveCampaign, Facebook, Google Analytics, Bitly, Zapier, PayPal, Stripe, and many more, allowing you to automatically send your new leads to the tools you already use.
Pricing
Woorise offers a 14-day free trial period you can use to decide whether it's a good fit for you. Paid plans include:
Basic - From $29/mo
Grow - From $49/mo
Pro - From $99/mo
Use tools to automate lead generation

Ready to take action? Pick a few tools you like from the list above and use their free plans or trial offers to test them out and see if they're a good fit for your needs.