How to Write a Professional Business Proposal Email: 7 Steps to Doing it Right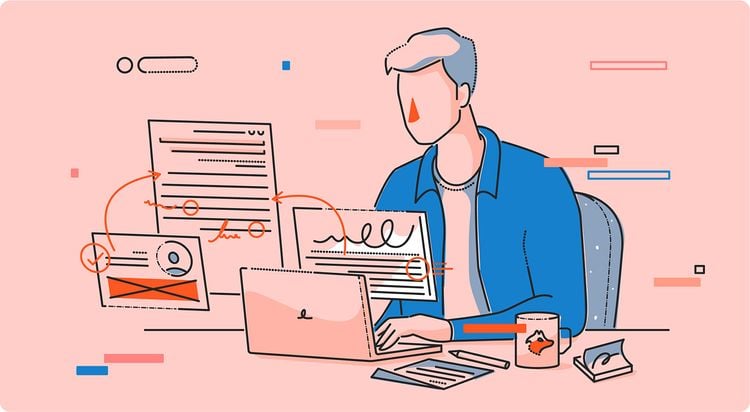 Sending a business proposal email is an essential part of the sales process. Nowadays, we are blessed with a choice of channels for business communication, but email is still the number one channel for closing deals.
However, emailing your colleagues whom you understand and cooperate with is one thing, while winning new business is another.
In this blog post, we're going to show you how to write an effective business proposal email that will help you land the deal.
The table of content will be generated here
What is a business proposal email?

A business proposal email is an email that you send to your prospects in the early or middle stages of a sales process. This kind of proposition is most common in business-to-business (B2B) transactions.
A proposing party can send a proposal email after a potential client has agreed to review the terms of a sales transaction. In this case, we're talking about a solicited business proposal.
A solicited business proposal email can be a stand-alone sales document that fulfills the request for bids or grant proposals.
However, a business proposal email can also be the first touchpoint with a client. In that case, we're talking about an unsolicited business proposal.
Unsolicited business proposals are often a part of cold email campaigns. In those cases, a dedicated cold email campaign tool such as Hunter Campaigns can help you set up your campaign and automate follow-ups while adding personalization to every message.
Solicited or not, a business proposal email must be engaging to be effective. A well-written proposal must have an introduction with a clear objective statement, outline in enough detail what is being proposed, and be acknowledged by both parties.
Let's write one together!
Before you start

Before we delve deep into the structure of a business proposal email, there are a few things you need to get done. I like to call it "doing your homework."
Create a buyer persona

A buyer persona is a profile of your ideal customer that contains demographic information, values, and motives for making a purchase.
Who are the people you're writing a business proposal to? Once you get this figured out, it's much easier to adjust the vital elements of your proposal, such as tone, the formality level, and the actual sales content.
How to come up with a buyer persona? Here are a couple of ways:
You can start by interviewing existing clients. This is a good way to collect demographic information that tells you who your prospective buyers are in terms of age, gender, and occupation.
You can also analyze your business's social media following to understand more about your audience and use this information to create a buyer persona.
Do your research

Next, you need to research any relevant information on the client you're targeting with your proposal email. Ideally, you'll have an opportunity to sit with the client and ask them questions. Video conference calls are great for this stage.
For example, you can ask them questions like:
If you could solve one problem in your business, what would it be?
How much time and money would that solution save for your business?
The purpose of asking questions like these is to get information that you can use in creating your proposal.
But what if you're sending an unsolicited proposal? You don't know much about your prospects, not even if their email address is working.
In that case, you need to verify the email address you have. That's where Hunter's Email Verifier comes into play. You can use it to verify a single email address or a list of email addresses to ensure they're safe to reach out to.
This is important to do when contacting new recipients for the first time. It helps you reduce your bounce rate and improves email deliverability.
Outline your objectives

Your proposal email should start with an objective statement which will make your objective clear at the very beginning of the email.
To formulate the objective, you need to know:
What does the client need?
What problem can you solve?
Why is your solution the best one for this client?
A good objective statement needs to intrigue the client from the very start. This is essential for unsolicited proposals where you have no previous relationship with the potential client.
7 steps to writing a business proposal email

Now, you're ready to write a business proposal email. Let's get started.
1. Introduce yourself

Start by addressing the recipient by their name. This is not a place to use "to whom it may concern."
The purpose of the introduction is to spark the reader's interest and pull them into reading the rest of the email. This part should include basic information about your company and the topic of the proposal.
If your prospect has requested a proposal (RFP), they'll be expecting your pitch. But even in that case, a table of contents in the introduction part will make it look more professional.
If you use proposal building software, there's usually an integrated table of contents, so you don't have to worry about that part.
2. Show background knowledge

If you're following up on a meeting, briefly mention it in the opening statement. If your business already has an ongoing relationship with the recipient, be sure to mention that too. It's always better if you can relate the email to a previous touchpoint.
If not, research any information relevant to the client you're targeting with your proposal. If you had a chance to sit down with the potential client, now is the time to show that you've actually listened to the prospect.
On the other hand, if you're sending an unsolicited proposal, you may only have limited information at your disposal.
In that case, talk to other people within your network who can tell you something about the needs of your potential client. Also, try to spend more time online and learn more about the company. What is it that they're missing, or what can they do better with your help?
Make sure that your email reveals that you have researched your prospect's business, products, or services and found out more than just their contact information.
3. Explain why you're submitting the proposal

This is the part where you need to tell the prospect what you want to accomplish or what problem of theirs you're looking to fix.
For example, a proposal for event planning would discuss details and basic terms of the event:
"We at Starlight don't just stop at simply planning your event. We offer total event production from creative consultation to on-the-night coordination. We can organize events for 10 guests up to 200, and that includes guest list preorders for catering and security."
On the other hand, a proposal to redesign their company website would include your understanding of their website's issues:
"During our meeting, we identified a number of improvements we could make to your current website in order to represent your brand more effectively and increase the number of new leads you generate from the website every month."
4. Set your objectives and goals

Describe the long-term outcomes you plan to achieve and the objectives you plan to establish to get there.
This is where you need to be very specific about figures.
Instead of writing, "Using our analytics software, you will increase your conversion rate significantly," you should say, "Our analytics software will increase your conversion rate by 25% over the next 12 months."
5. Prove your unique qualities

Your proposal is the answer to the client's business problem, so you need to showcase the valuable asset that sets you apart from companies that offer similar products or services.
It's very unlikely that yours will be the only proposal email in their inbox. This is why you need to use every opportunity to stand out. List some of your special skills related to the project, followed by the reason why you're the best fit for the job.
Include your experiences with a similar issue by giving a brief glimpse of a unique process you developed that gets great results.
If your proposal is for a website redesign, highlight a few features that differentiate your ideas from others. Whenever you highlight something that makes a difference, use bullet points so that it's easier to read.
Proving your unique qualities is difficult without social proof or third-party reviews. This is why digital proposal templates are an upgrade from traditional emails. They allow users to import customer reviews from CRM software and support their claims without shifting focus from the proposal itself.
6. Discuss budget and timeline briefly

All things aside, the cost is still the biggest point of concern for most decision-makers. Depending on the reason for writing a proposal email, you may need to disclose some details on how you plan to use the client's budget.
There's no need to include a full account of costs. Just provide a general picture of the budget so clients can get a better idea of how much solving their problem is going to cost.
It's always better to present a single offer. Don't try to upsell your clients. When given a choice of multiple packages, they're likely to be confused and won't know which one to choose. You're the one who should tell them which features are best for their needs.
7. Call-to-action

A call-to-action (CTA) is where you tell the prospect what you want them to do next and create a sense of urgency for them to move forward as quickly as possible. Typically, you need to ask them to call or email you or sign the attached contract if they have no other concerns.
Providing a CTA is much easier if you ditch traditional email for a digital proposal form. In this case, you can invite the prospect to electronically sign the proposal and even pay using integrated payment services.
Wrapping up

Use these tips to turn your proposal email into a formidable lead nurturing tool and the "prequel" to your proposal. It sets the tone for what is to come and gets the prospects excited about reading your entire plan.
The failsafe advice is to always focus on the prospects. In this stage, it's more about you knowing them and understanding their problems or goals.