7 ZoomInfo Alternatives in 2023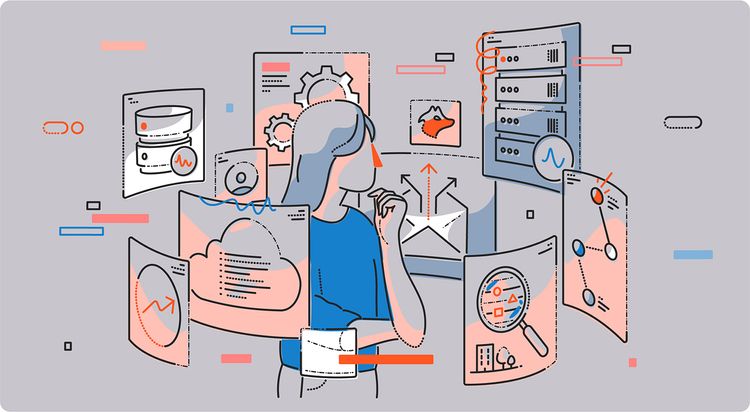 Do you find ZoomInfo to be too expensive, unreliable, or simply a bad fit for your needs? If that's the case, check our list of the top ZoomInfo alternatives available in 2023.
1. Hunter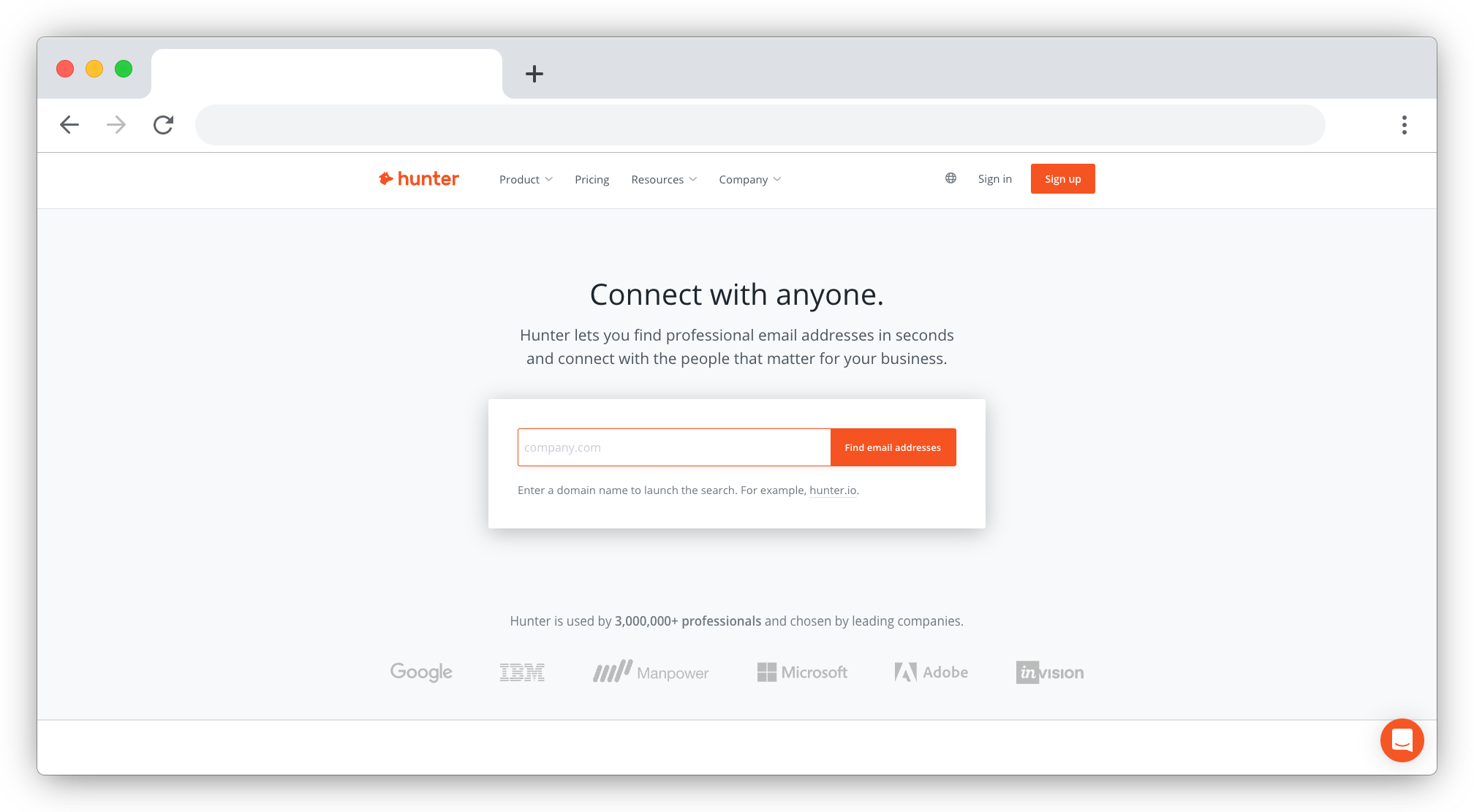 Hunter is a powerful alternative to ZoomInfo and offers a suite of tools sales and marketing teams can use to find and verify prospects' contact information, as well as automate outreach campaigns.
You can use Hunter's Email Finder tool to find anyone's business email address in seconds. If you're looking to enrich a list of prospects with contact information, you can do that with the Bulk Email Finder.
Hunter will return verified email addresses, making it safe for you to email contacts without worrying about bounce rates. If you already have a list of email addresses, however, you can verify it using the Bulk Email Verifier.
Hunter's Chrome extension can help you find the email addresses behind any website you're browsing. If you're looking to get contact information for a list of websites, you can use Hunter's Bulk Domain Search.
Hunter also offers a Google Sheets add-on you can use to find and verify email addresses within spreadsheets.
For those looking to send email outreach campaigns, there's Hunter Campaigns — Hunter's cold email outreach tool.
You can use Hunter Campaigns to set up and manage automated cold email campaigns. It supports advanced personalization, custom sending windows, and follow-up automation.
Pricing

Hunter's free plan includes 25 email searches and 50 email verifications per month. You can also use it to send cold email campaigns to up to 500 recipients.
Paid plans include:
Start ($49/month)
Growth ($99/month)
Pro ($199/month)
Business ($399/month)
2. Lusha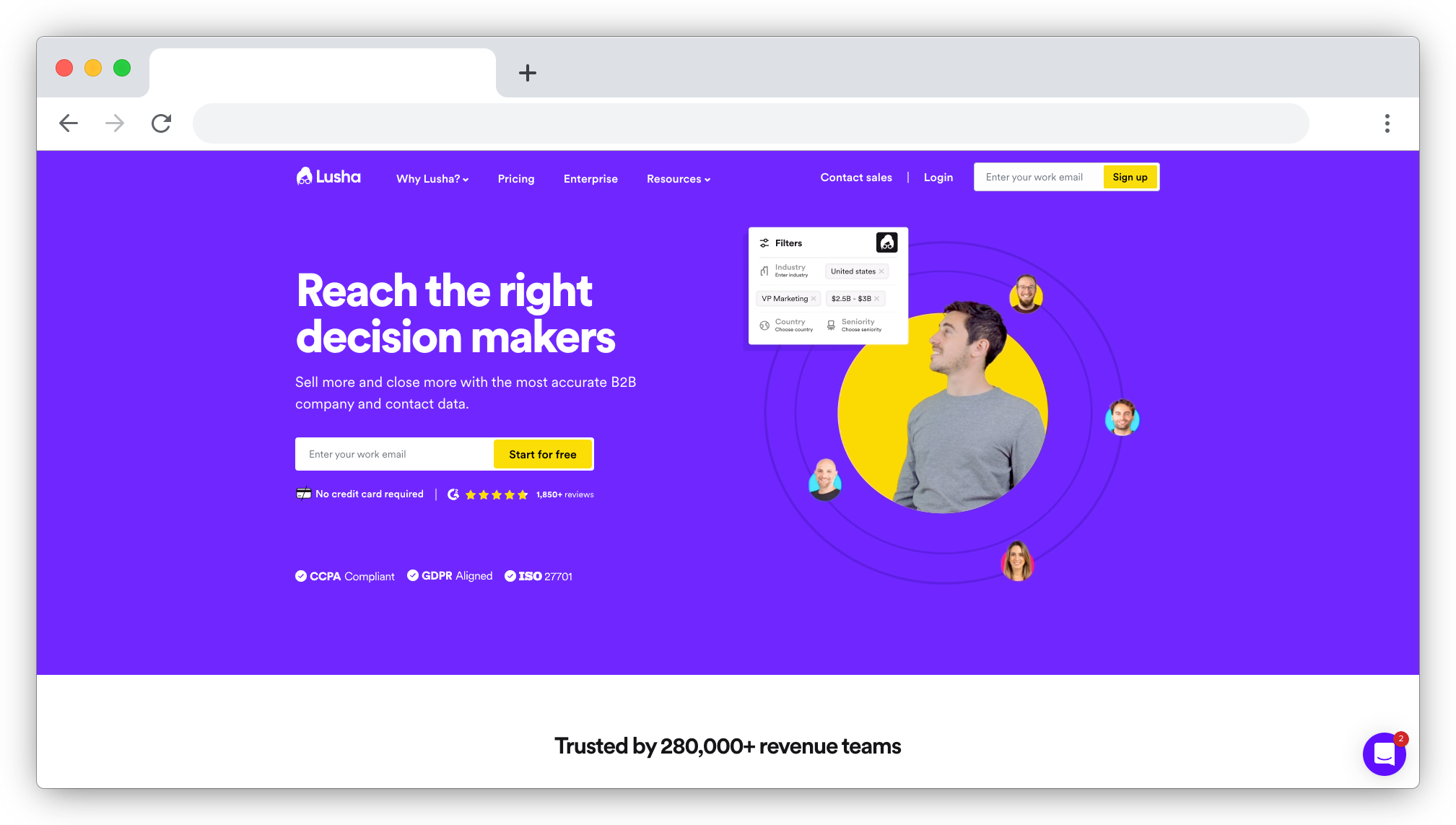 Lusha is a B2B company and contact database that offers plenty of filters you can use to narrow down your search and find key decision makers at your target accounts.
Sales professionals can use it to build prospect lists and then export them to a CRM or a .CSV file in one click. The platform can help you identify business email addresses and work phone numbers for prospects on your list.
You can use the company search feature to find companies that fit your ideal customer profile. There's also a Salesforce data enrichment feature that can help you enrich your Salesforce records with contact and company data automatically.
The platform offers an analytics section that gives you an insight into your team's sales prospecting activities and lets you know how credits are being used.
Lusha integrates with CRM solutions like HubSpot, Salesforce, and Pipedrive, and is fully GDPR and CCPA compliant.
Pricing

Lusha offers a free plan that includes 5 credits per month. Paid plans include:
Pro ($39/month/user)
Premium ($69/month/user)
Scale (custom pricing)
3. Apollo.io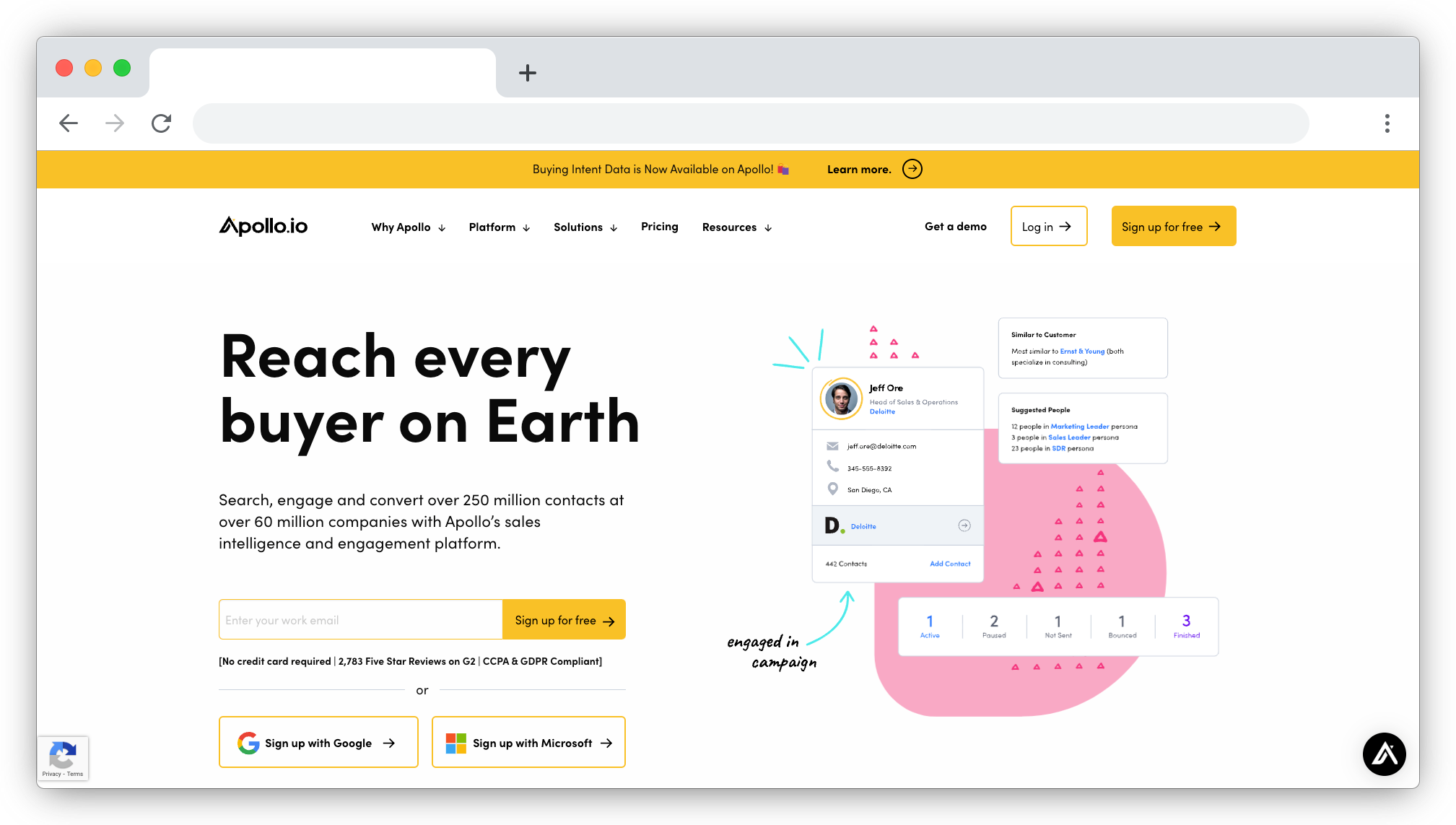 Apollo.io is a sales intelligence platform that offers more than 200 data attributes sales teams can use to filter search results and find the right prospects.
It provides verified email addresses for contacts, ensuring that your emails won't bounce. In case a bounce does happen after emailing a verified email address, Apollo.io guarantees users a refund.
The platform offers data enrichment features that can help update contacts in your CRM with any missing data. There's also the option to upload a .CSV file and have Apollo.io enrich the data in it.
You can use Apollo.io to set up automated, personalized email sequences to reach prospects at predefined intervals.
The platform offers detailed analytics on your outreach campaigns, including information on open, reply, and click-through rates.
Additionally, you can create custom tasks for each prospect and assign them to team members. There's also the option to set up rules to automate certain tasks and save time for your team.
Another interesting feature are notifications that can alert you when contacts change jobs or get promoted so that you have the best chance of capitalizing on new opportunities.
Apollo.io also features a built-in dialer with click-to-call functionality, allowing your team to make sales calls without leaving the app.
It supports call recording and transcription, and can sync both (as well as other data and activity) to your CRM automatically, thanks to integrations with tools like HubSpot, Salesforce, and Salesloft.
Pricing

Apollo.io's free plan includes 50 credits/month and limited features. Paid plans include:
Basic ($49/user/month)
Professional ($99/user/month)
Custom (starts at $5,000/year)
4. Seamless.AI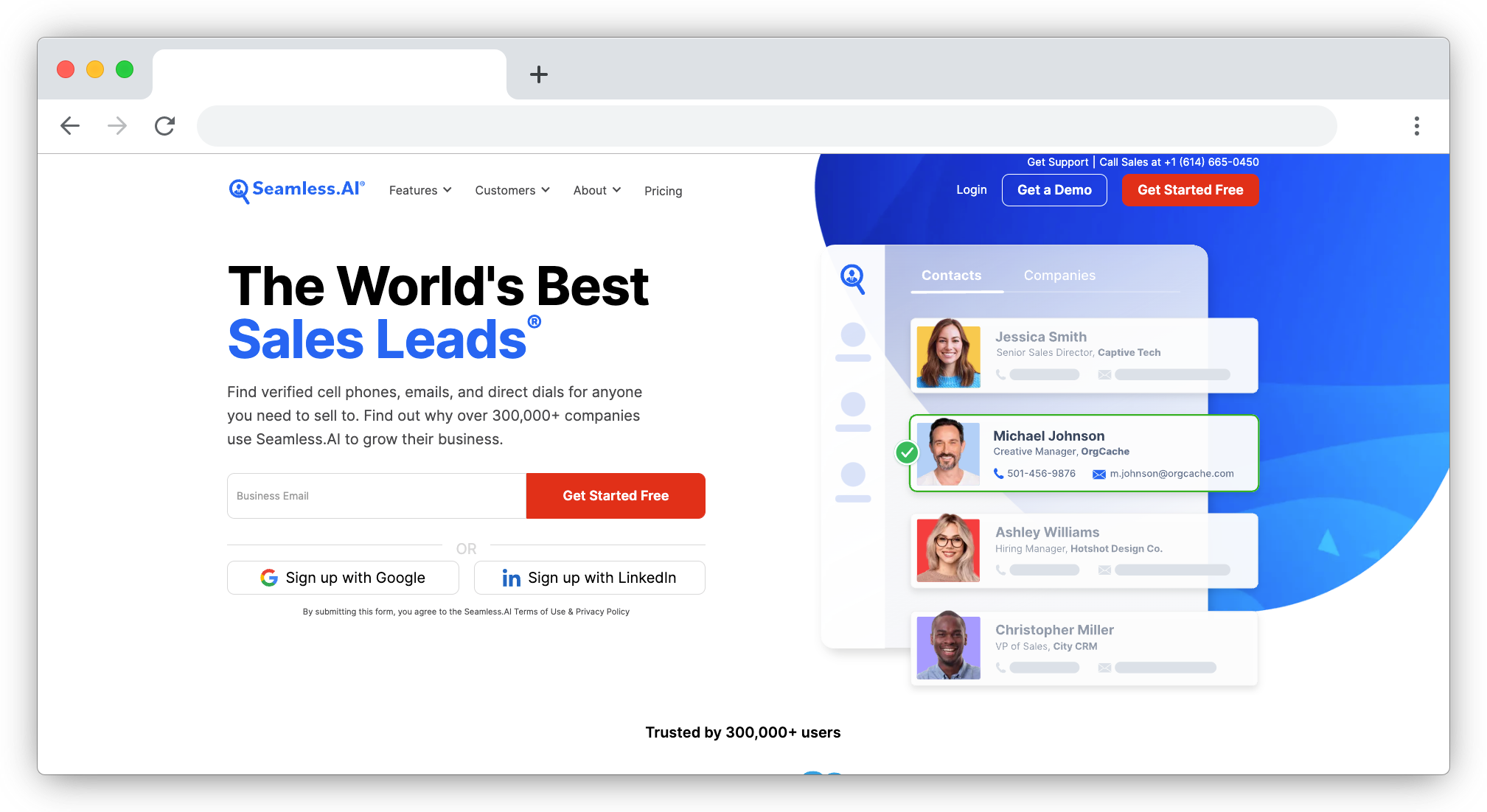 Seamless.ai is another ZoomInfo alternative that allows you to build prospect lists based on criteria such as industry, location, company size, revenue, and job title. It can also provide AI-powered recommendations for prospects you should reach out to.
Its Autopilot tool allows you to automate your prospecting efforts. All you need to do is input your criteria, and the tool does the rest.
There are also data enrichment features that help keep your contact records up-to-date and ensure your sales team works with quality data.
Seamless.ai integrates with solutions like HubSpot, Pipedrive, and Zoho CRM natively, as well as with plenty of other tools through Zapier.
Pricing

Seamless.ai's free plan gives you 50 credits/month and access to basic features. For more credits and features, you can opt for one of the paid plans:
Basic ($147/month billed annually)
Pro (custom pricing)
Enterprise (custom pricing)
5. GetProspect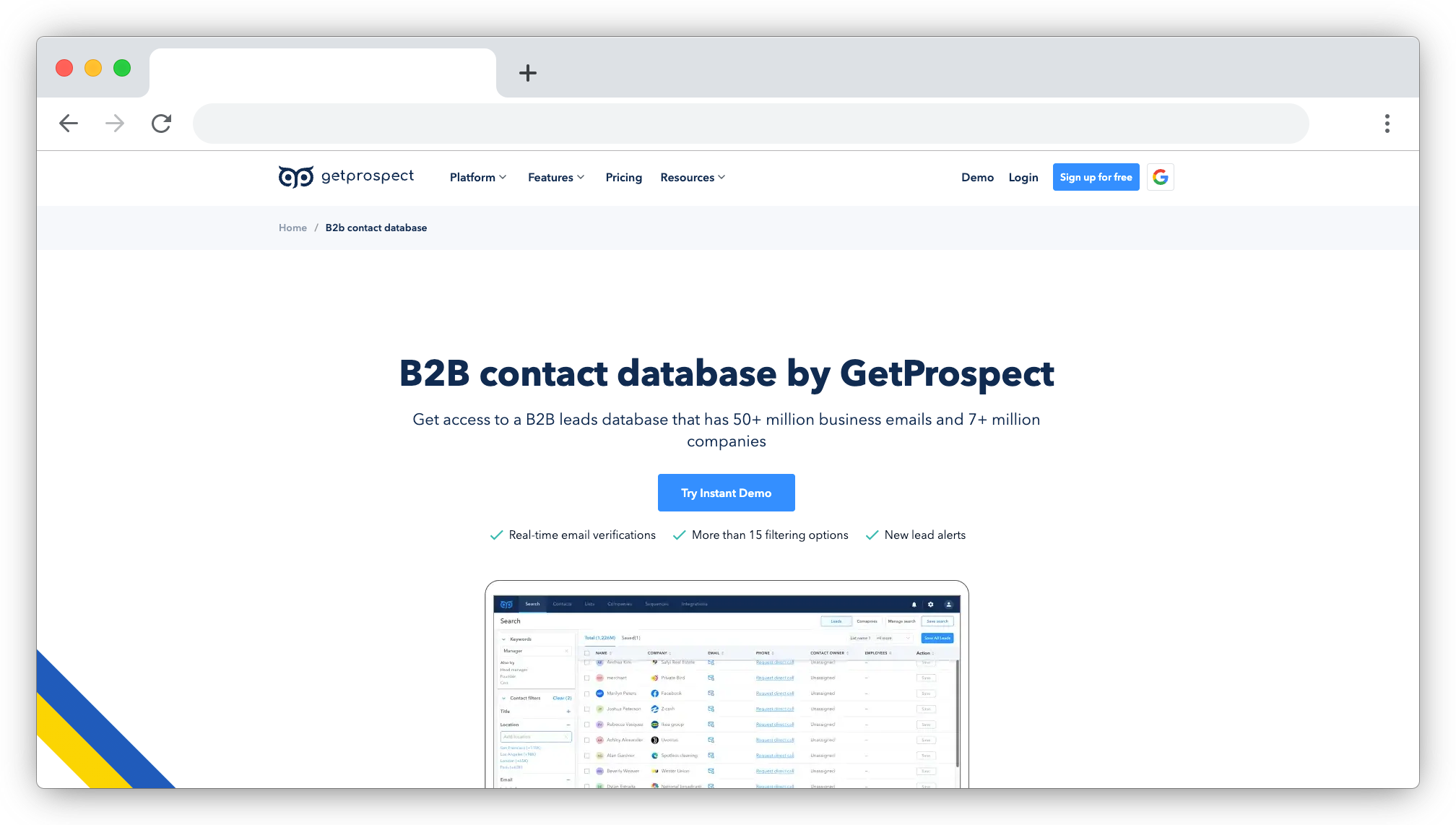 GetProspect is a B2B database that includes more than 50 million companies and 200 million contacts. You can search through the database or upload your own list for data enrichment in .CSV format.
GetProspect can enrich contact records with information such as location, job title, LinkedIn profile URL, and more.
The platform's search feature includes plenty of filtering options to help you narrow down your search and find the right prospects. You can save searches to continue building your list at a later time.
There's also the option to set up alerts to get notified when new qualified leads that fit your search criteria get added to the database.
Another useful feature are workspaces. You can create unlimited workspaces in GetProspect to keep all your projects separate.
Pricing

GetProspect offers the following plans:
Starter ($49/month)
Basic ($99/month)
Plus ($199/month)
Pro ($399/month)
6. SalesIntel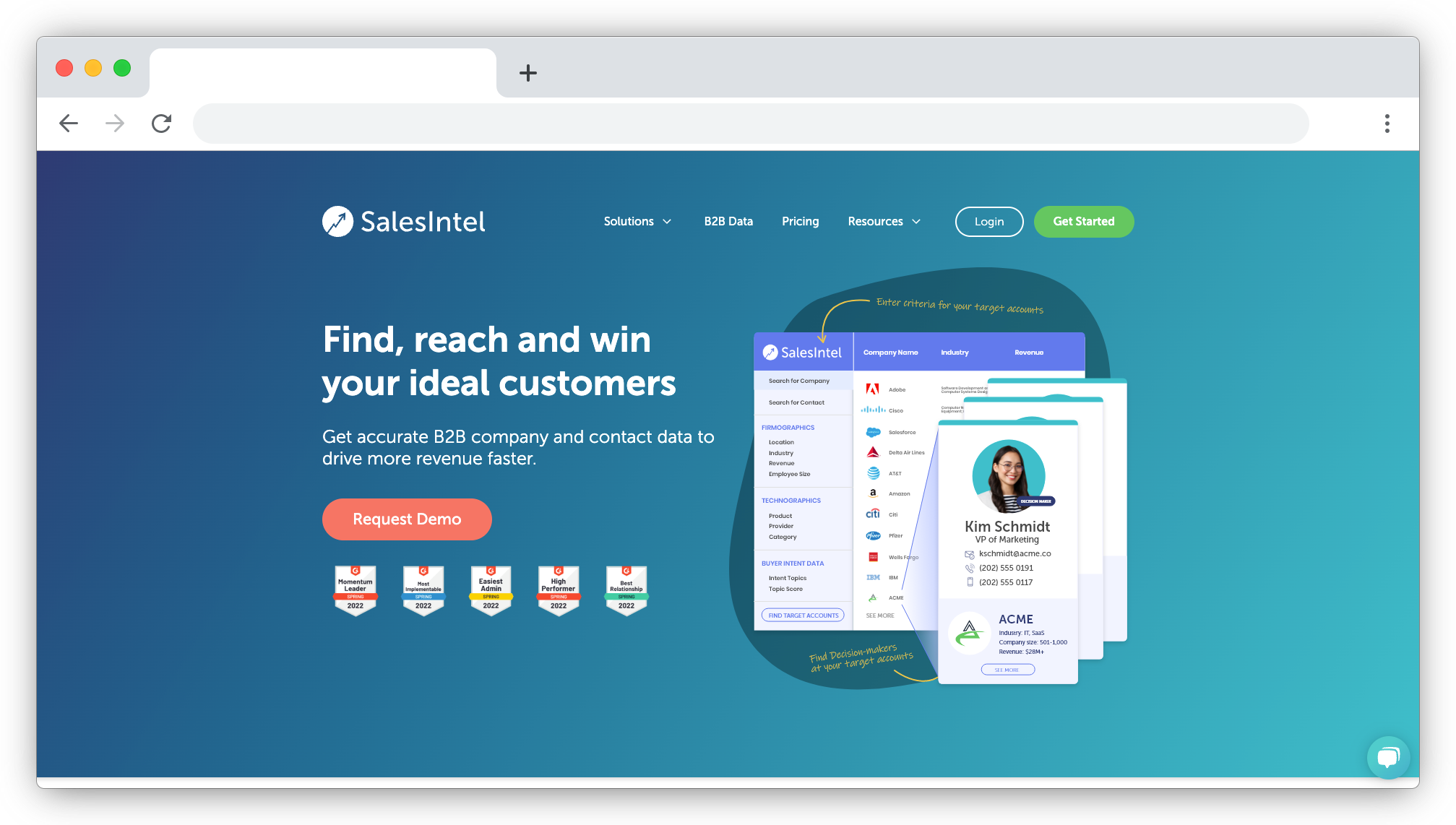 SalesIntel offers human-verified data on millions of B2B contacts. The company claims to re-verify all of its data every 90 days, which ensures accurate data.
When searching through the database, you can use firmographic, technographic, and industry filters to narrow down your search.
The database also includes intent data, helping you understand which companies are currently in the market for a solution like yours. According to SalesIntel's website, the platform has buyer intent data on over 9,000 intent topics.
An interesting feature is the Company Surge score, which makes it easier to identify prospects that are interested in buying a solution like yours.
SalesIntel also includes a data enrichment feature that allows you to improve your contact records by filling in any missing information. The platform integrates with CRM and marketing automation solutions like HubSpot and Marketo.
If you're unable to find contact information for a particular prospect in their database, the company also offers a research-on-demand service where human researchers can find the information for you.
Pricing

SalesIntel doesn't display pricing publicly. You'll need to fill out and submit a form through their website to get access to pricing information.
7. Cognism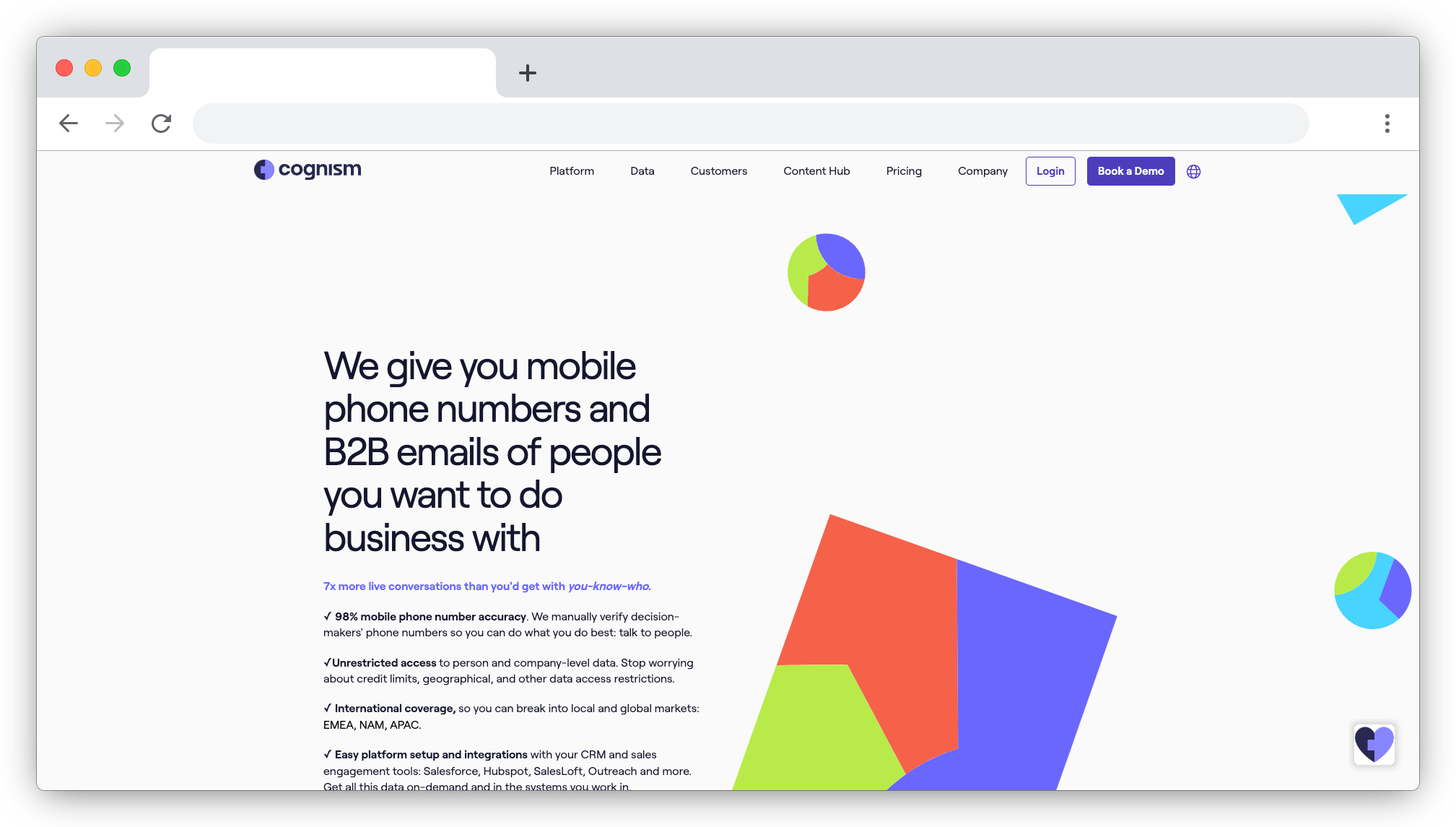 Cognism is a sales intelligence tool you can use to find prospects' email addresses and phone numbers. Cognism's biggest selling point is their mobile phone data — they have a large database of mobile phone numbers with a claimed 98% accuracy.
There's also the Prospector tool, which you can use to build account lists that fit your criteria more easily.
It combines firmographics, technographics, as well as hiring and funding triggers with buying intent data to help you identify prospects who are most likely to buy your solution. You can push all the data to your CRM in two clicks.
Cognism is fully compliant with GDPR and CCPA regulations.
Pricing

Cognism doesn't display its pricing publicly. You'll need to contact the company to learn more about pricing.
Ready to replace ZoomInfo?

You've reached the end of our list. Now pick out a couple of solutions from the list and test them out to see if they're the right fit for your business development and sales prospecting needs.