How to Run a Successful Campaign with Personalized Videos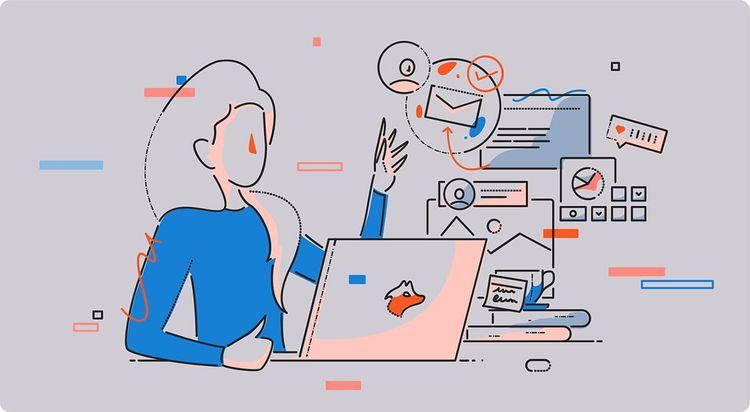 This article was written by Maria Harutyunyan from Loopex Digital.
On average, only 8.5% of cold outreach emails get responses. This means that most cold outreach attempts fail or don't convert.
Still, it's possible to significantly exceed the industry average if you are very strategic about your campaign.
The cold outreach campaign we started as part of our sales strategy demonstrates exactly that!
We ended up with a 46% open rate and a 21% reply rate.
Our tactic was to reach out to relatively few but highly targeted prospects - 3000 websites.
And our secret sauce was the personalized videos we made for each prospect.

As a result, I received countless emails from the prospects stating they chose us over large agencies.
As you can see from their feedback, the prospects, many of whom became my clients, loved my offer!

In this article, I'll share practical tips on making your cold outreach stand out step by step based on my experience.

Step 1. Define your audience

Defining your target audience is a crucial step you need to take at the beginning of the campaign.

Ask yourself the following questions:
What sets my audience apart?  
What are their needs?  
What do I have to offer?
What companies you want to contact mainly depends on the products or services you provide (SEO, Development, Engineering, etc.)

Here are some factors you should consider when defining your audience for cold outreach:
Industry: Target companies in industries that could benefit from your products or services.
Company size: Look for companies that are of an appropriate size for your products or services.
Location: Consider where your target prospects are located. You may want to focus on companies in your local area or expand your outreach to other regions or countries if you have the capability to serve them.
Business goals: Look for companies interested in improving the aspect of their business you can help with.
Pain points: Consider pain points to capture attention and demonstrate how your product or service can solve your audience's problems.
In-house team: Check on LinkedIn if the company has an internal team providing the same services as you. If so, they will most likely turn down the offer to capitalize on their existing team.

For example, for an SEO company like Loopex Digital, Shopify beauty stores that generate 10K+ organic traffic and use Klaviyo as their e-mail marketing provider may be an excellent target to consider.
Why?
Because a website generating 10K organic traffic monthly is likely to have a consistent revenue stream that would enable them to afford our services.
On top of that, we already have a successful, put-together case study to show them as an example.
Step 2. Define your offer

Now it is time to define your offer. Here are the steps you need to take to define your offer correctly:
Conduct market research: Research your target audience to determine their pain points and the services they may need to generate more revenue.
Analyze competition: Check what services your competitors are offering and see if there is a gap in the market that you can fill.
Provide a solution: Bring your best to the table. Pick your most efficient and working service.
Be generous: Offer a free consulting or trial, a big discount on your services, etc. Apply the low–cost–high–value principle.
Be flexible: Consider negotiating certain elements of your offer to make it more attractive to your prospects.
For example, as an SEO company, we could offer a technical audit, content audit, or link building for e-commerce sites as a limited offer with a 40% discount.

A technical audit that we offer to e-commerce stores may reveal huge problems like poor speed, security, and indexation issues which can cause a website traffic loss, bad user experience, etc.

Step 3. Qualify prospects

Once you've defined your target audience and offer, you should start prospect qualification.
So, how do you pick the most relevant and valuable prospects?
To continue using the example above, for us, the ideal prospect would be:
Shopify e-commerce websites
Organic traffic from 10K-30K
Organic Traffic from the US, UK, AU, CA
30+ Domain Rating
Good UI/UX design
You can use tools like Ahrefs and BuiltWith to collect lists of target websites.

Option 1: Use Ahrefs for Prospecting

Here's how it can be done with Ahrefs.

Go to Content Explorer
Fill in the field with the type of websites that you want to find
Filter by Type (e-commerce), Language, Traffic, etc.

In this example, the targets are e-commerce websites selling shoes in the UK, with 10K-30K monthly traffic.

Export the list of websites and start filtering out those that don't fit your requirements.

After that, manually check what's left and ensure those are your targets with the initially defined metrics.

Option 2: Use BuiltWith for prospecting

If you want to target websites using a certain CMS, you can use BuiltWith.

Let's say you're looking for e-commerce websites in the US that use Shopify.

Type in the specific CMS and country and press Lookup (f.e. Shopify websites in the US)
Only keep the following data and get rid of the rest (Tech Spend, Company, Vertical, Page Ranking, Emails, Facebook, Linkedin, Country, Last Indexed...)
Download the full list and filter the data and paste it into a Google Sheet doc.