5 Cold Email Examples That Drove Millions of Dollars in Revenue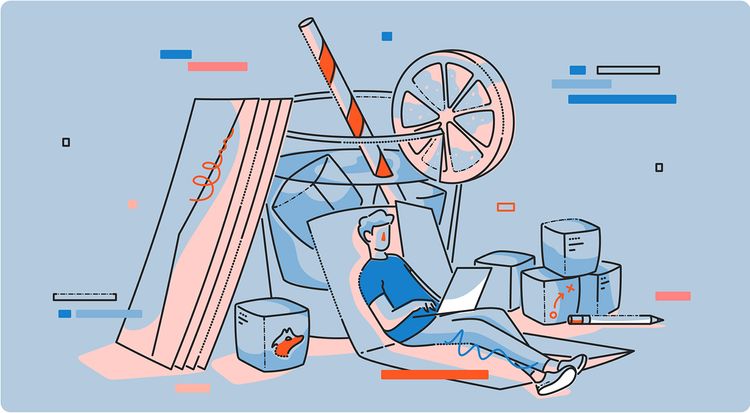 Not sure whether you should send that cold email or not? Cold email outreach has proven to be very effective for generating leads, closing clients, securing funding, and more.
In this blog post, we'll show you five cold emails that have resulted in millions of dollars in funding and revenue for their senders.
We'll also explain what makes these five emails effective so that you can replicate their strategies in your own cold email campaigns.
Let's start.
1. Allie Janoch turned a cold email into a $2.5M seed round

When she needed to raise capital for her startup, Mapistry, Allie Janouch didn't hit a home run right out of the gate. Her first email fell flat—and that's actually what made it possible for her to raise $2.5 million in seed money.
How?
By showing her what doesn't work in cold email outreach.
In her first attempt to connect with Jason Lemkin of SaaStr, her email danced around what Mapistry did and undermined her own enthusiasm for it. Take a look at it here:

Two years later, she tried again. Here is her second cold email: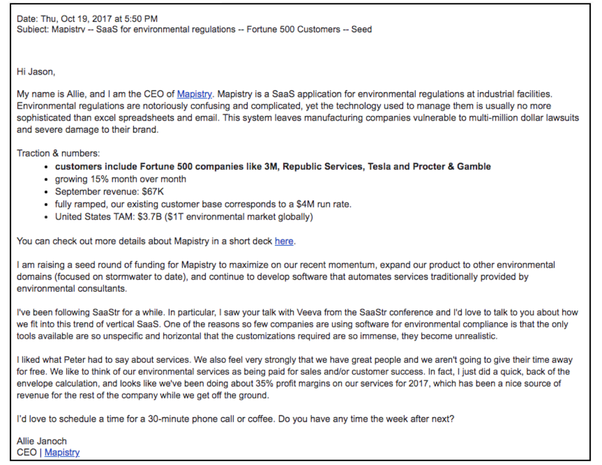 It's long, yes, but in this case, it needed to be. Janoch had a lot to explain, so instead of wasting investors' time, she dove straight into her pitch.
And she had a 33% success rate with this template (she tweaked it for each investor).
The lesson here is that in cold emails that ask for investments, you need to demonstrate your product's viability clearly. Like any other cold email, a cold email to an investor needs to plant a worm in their mind that they just can't ignore.
But unlike a cold email that's asking for, say, a meeting, an investor pitch needs to show that ignoring the offer is leaving money on the table.
2. Dhruv Ghulati got a $500,000 investment from Mark Cuban by sending this cold email

Dhruv Ghulati, the founder of Factmata, secured a $250,000 investment from Mark Cuban on his first try—and then another $250,000 investment nine months later!
Here's how he did it: Like Janoch, Ghulati had a startup that needed investors. And like Janoch's second email, Ghulati's first nailed the ask by:
Stating exactly what Factmata does
Clearly communicating Factmata's value
Expressing his confidence in Factmata's viability
Made a personal connection to Cuban (read the email's last sentence)
Made a reasonable request—he didn't ask for money; he asked if he could send Cuban more information
Take a look at the email he sent.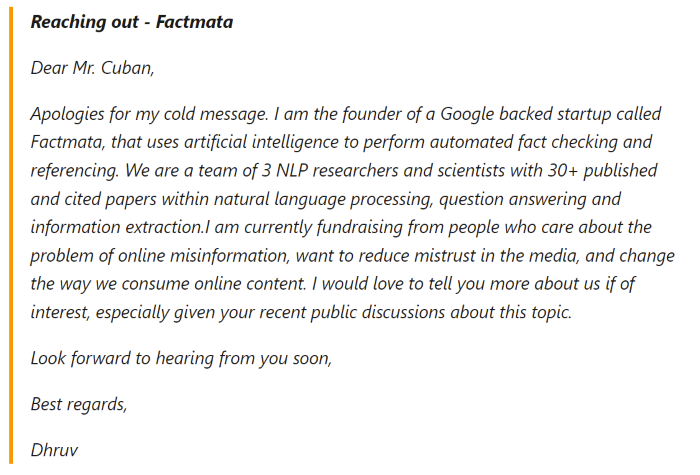 In Ghulati's case, reaching Cuban was fairly straightforward. Cuban receives about 1,000 emails per day, so he's publicly stated exactly what makes him pay attention to an email request for funding.
Ghulati followed these directions and ended up with half a million dollars for Factmata.
3. Alex Berman closed $400,000 worth of deals through cold email

Alex Berman's story is a bit different. Instead of using cold email to secure funding, he and his team used it to build their agency, Experiment 27, from the ground up to $400,000 annual recurring revenue in just 30 days.
It's another long one, but as the results show, it's exactly as long as it needed to be. Take a look at this cold email example below.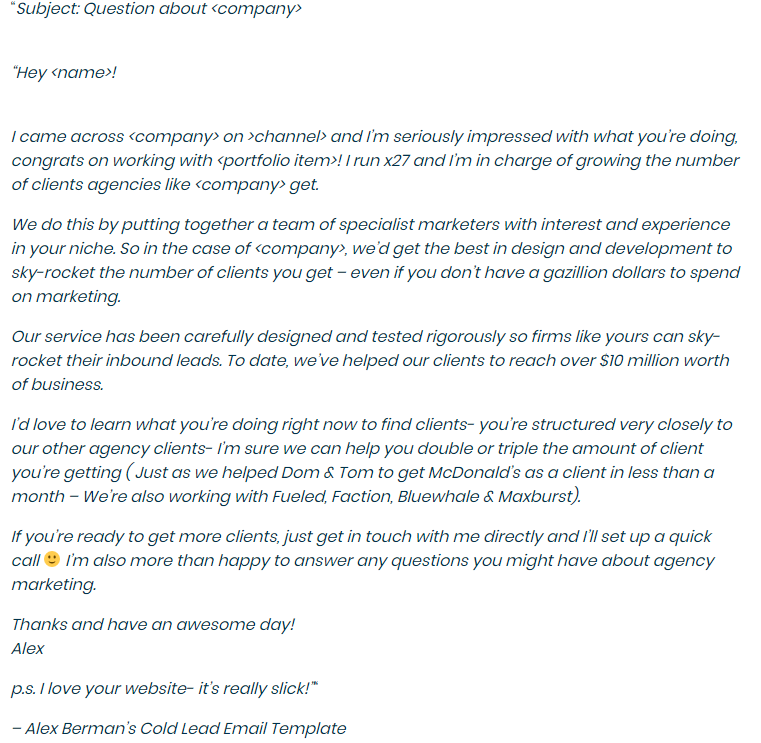 Let's break it down. This email hits a bunch of cold email strategies we've covered in other blog posts, like:
It's personalized (in multiple places, including the subject line which references the prospect's company name)
It explains Experiment 27
It engages the recipient by asking about their successful strategies
It subtly points to the recipient's pain point
It positions the sender as an authoritative resource they can come to at their leisure, rather than hard-selling them
Berman was able to customize his cold email so many times because he carefully tracked down all the information about his leads. From this email alone (that he sent to 40 leads), Berman had a 17.5% meeting book rate.
4. Ryan Robinson used this cold email to land a $10,000 per month retainer contract

Ryan Robinson is a blogger, podcaster, and content marketing consultant who teaches brands and startups how to start effective blogs and build side businesses.
He experienced his first taste of business success when he was in college with the iStash, a hinged storage compartment that looks like an iPhone. In just four months, he sold more than 6,000 iStashes.
That experience launched him into the world of online marketing and, as part of that, content marketing. Today, he gives away free cold email templates and a lot more value through his website and online presence.
But that's just the top of his funnel—as a consultant, Robinson's ultimate goal is to land contracts with brands that will benefit from his services.
In a recent blog post, Robinson broke down this cold email he sent:

That email resulted in a $10,000 per month retainer with the client.
Notice how casual the email's tone is. That's by design—a key part of Robinson's strategy is to identify, then target clients who are a perfect fit for your business.
That goes beyond them needing the service you provide—perfect fit clients are clients whose values and style match yours.
He starts the email talking about the recipient rather than his offer. By doing this, he demonstrates that he's done his homework and creates a genuine connection with the person on the other side of the email.
5. Laura Lopuch grew her copywriting business by 1400% using cold email

Laura Lopuch is a copywriter whose claim to fame is growing her business to $200,000 per year…while only working 10 hours per week.
To put that level of growth into perspective, she grew her business by 1,400% in four months!
And to lean into copywriting language for a moment, she did it with this one amazing trick: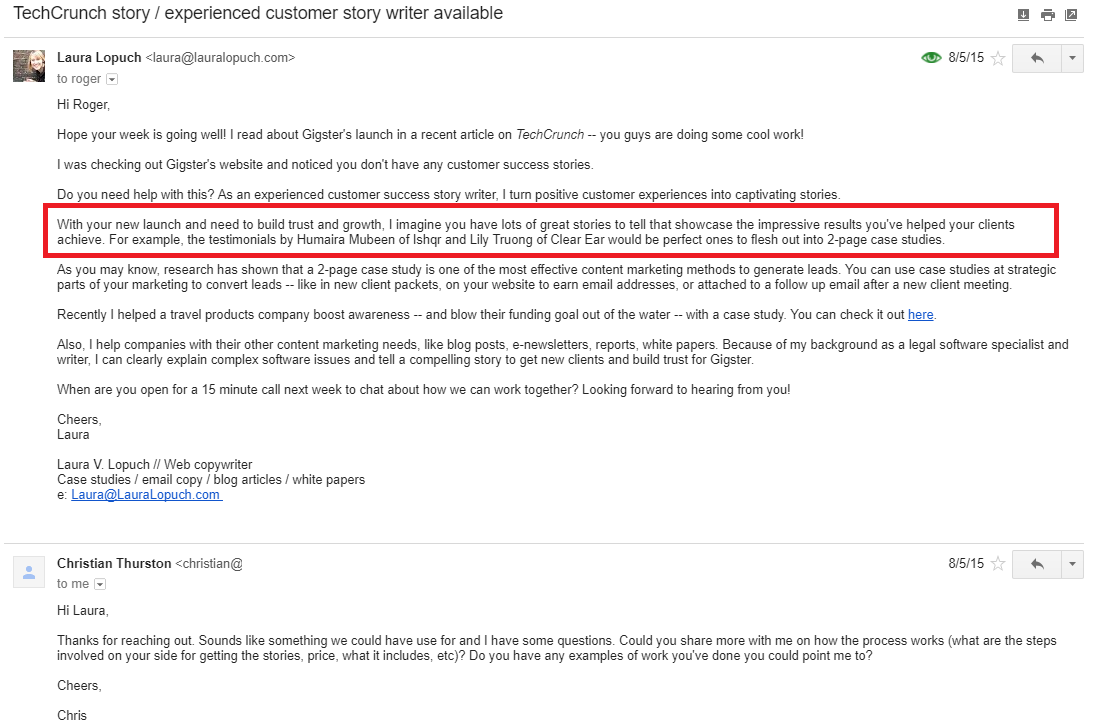 Of course, we don't actually think an effective cold email is a trick. Writing cold emails that convert is a skill, and as a copywriter, Lopuch honed that skill over the course of her career. Here's what she got so right in this specific email:
Instead of referring to herself as a generic-sounding copywriter, she refers to herself as a customer story writer. By doing that, she immediately communicated the benefit she was offering to the client—before they even opened the email.
She provided value for free, right in the email. Even if Gigster chose not to work with her, they could still develop a strategy for leveraging customer stories. She even tells them the best format for presenting these stories.
Before signing off, she explains her credentials as a tech writer. If they weren't interested in customer stories, they might be interested in other types of content marketing.
Lopuch's cold emails are successful because they're relevant. She speaks directly to the recipient about a strategy that can help them address their pain points, then backs up her claim with credentials.
It's not unsolicited advice, nor is it a time-waster — it's a demonstration that she not only knows what she's talking about, but she also knows who can benefit from what she's offering.
Go ahead and send that cold email

As you can see in the examples above, cold emailing works. Whether your goal is to get more clients, secure funding, or get an elusive spot on a busy CEO's schedule, a well-crafted cold email campaign is often the ticket to getting what you want.
Need help crafting the perfect cold email for your offer and your audience? Find inspiration in the examples we worked through, but don't stop there. Hunter Templates has hundreds of effective templates you can use to create your next email quickly.
Just find a cold email template you like, personalize it as needed, and send it off to your list.
If you're looking to learn more about cold email outreach, check out these guides: