How to Format an Email: Tips and Templates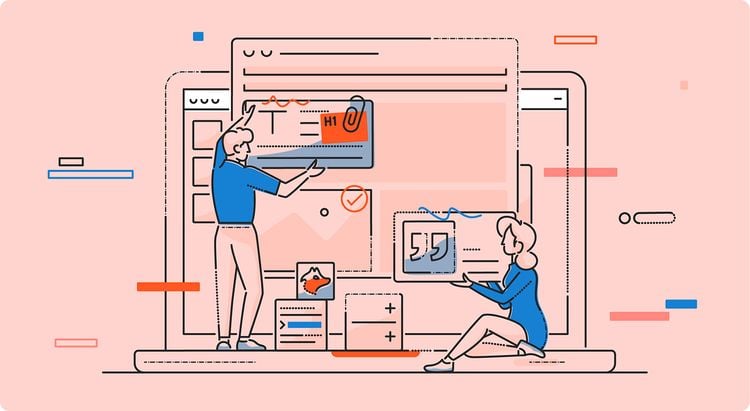 Email is still one of the most popular ways to communicate online, especially when it comes to business communication. However, email open and reply rates have been decreasing for years.
Nowadays, most people only open one email for every six they receive.
If you want your email to be opened and read, you need to structure and format it properly.
In this post, we're going to show you exactly how to do it and provide you with a professional email format you can use to create the perfect email every time.
The structure of an email

You probably don't think about it consciously while doing it, but you follow a specific structure every time you write an email. It likely includes the following elements:
A subject line – This part of the email tells the recipient what the email is about. Making the subject line clear is essential for getting your email opened.
The body of the email – The main email message, which should include a greeting, an introduction, a reason for sending the email, a call-to-action, and a closing phrase.
The email signature – The email version of a business card. This is where you include your personal information, such as your name, your job title, and any other relevant details. It's especially important to add your email signature to formal emails.
Now, let's talk about how to format an email and the proper email format for different types of emails.
---
How to format a professional email

Looking to send professional or business emails? Follow these tips to make sure your emails get opened, read, and responded to every time.
1. Make the subject of the email clear

33% of people decide whether to open an email or not based on the subject line alone. Creating a good subject line is crucial for making sure your email gets opened.
In general, an email subject line should:
Create interest in the content of the email
Tell recipients what to expect from the email
Help recipients prioritize emails
While the subject line needs to grab the recipient's attention, it shouldn't be misleading.  Getting someone to open your email won't do you any good if the content doesn't reflect what they were promised in the subject line.
This might result in the recipient getting frustrated and never opening any of your emails again.
If you want to maximize the chances of your email being opened and read, make sure the subject line is:
Short – The subject line should be short and state the email's purpose. Aim for a subject line between 30 to 50 characters. This will ensure that it will be displayed in its entirety even if recipients check their inbox from their mobile devices.

Relevant – A study has shown that personalized emails get 50% higher open rates compared to non-personalized ones. Personalize the subject line by including details that the recipient will recognize and that are relevant to them. For example, mention a mutual acquaintance, a company they're familiar with, or a project they're working on.

Specific – Avoid using generic-sounding subject lines — an email with the subject line "Content strategy proposal" will get noticed and opened more frequently than one with a subject line that simply says "Proposal."
Additionally, a study by Yesware has revealed that email subject lines which include numbers, questions, or imply urgency generate higher than average open and reply rates. Experiment with using these in your subject lines to try to get even more engagement on your emails.
2. Start your email with a greeting

Every email should start with a greeting. The two most commonly used email greetings are:
Greetings [Name],
Hi [Name],
The first one is better suited for a more formal email. Note that both the informal and formal style of greeting include the recipient's name.
However, there will be times where you won't know the name of the person you're contacting (e.g., if you're reaching out to an info@domain.com or contact@domain.com email address).
While you can start your email without a greeting in these cases, it's better to try to find out the actual name of the person you're reaching out to by looking around their website.
By using the recipient's name at the beginning of the email, you not only grab their attention but also show them that the email is from someone who knows who they are and isn't a part of a mass spam campaign.
You can find more ideas on how to start an email here.
3. Keep the email short and to the point

The average attention span is getting shorter. If you want people to read your entire email, you need to keep it short. Your email should include the following:
An introduction – Briefly state who you are and how you know the recipient. You can skip this part if you're emailing someone you know personally.
The reason for sending the email – Make it clear why you're emailing the person. Try to include all the relevant information without making the email too long.
A call to action – This is where you ask the question which made you send the email in the first place.
A closing phrase – End the email by thanking the recipient and using a closing phrase such as "Sincerely" or "Kind regards" followed by your name. Alternatively, use one of these signoff examples.
That's it. If you do it right, your email shouldn't be longer than five sentences in most cases.
To create a great email, make sure to:
Use simple language – Avoid using jargon, abbreviations, or complex phrases and expressions that could make your email difficult to understand. Opt for using simple language to make sure everyone will be able to understand your message completely.
Personalize – We've talked about the importance of personalizing the subject line already. Personalizing the body of the email is even more important. Try to personalize your email for each individual recipient by including details that are specific to them.
Skip the formatting – Different email clients won't display text formatting in the same way, so it's best to avoid it altogether. Stick to plain text emails to make sure the email will look the same to the recipient as it does to you.
Proofread – Don't leave a bad impression by sending an email full of poor spelling and grammar. Make sure to proofread the email before you send it out. You can use a tool like Grammarly or ProWritingAid to ensure your email is error-free.
Don't forget the attachment – Apart from poor spelling and grammar, another thing that can make you look unprofessional is forgetting to include an attachment you refer to in the email. A good way to make sure that you'll remember to add an attachment is to do it before typing out the body of the email.
4. Craft an email signature that leaves a lasting impression

Your email signature is the last part of the email the recipient will see. It will be shown on every email you send, so you should put some thought into what to include in it.
A good signature lets recipients know who you are and what you do. You can think of it as a digital version of a business card and add any information you'd include on your business card.
Most email signatures should contain the following:
Your name
Company name and role
Business address (optional)
Phone number
Your website URL
Links to your social media profiles (if relevant)
A professional headshot (optional)
Use these tips to create an effective email signature:
Prioritize information - You probably don't need to include all your social media handles in your email signature. Prioritize which information to fit in within those three or four lines that make up your signature.
Leave out the email address - This tip goes hand in hand with the previous one. There's no need to include your email address in the signature since the recipient can easily find it by looking at the email's From field.
Add secondary contact information - Are there other ways people can contact you besides through email? If there are, make sure to include that information here. This could be a phone number, a social media handle, or even your Skype username.
Consider including a booking link - If your job involves having a lot of meetings on a weekly basis, consider including a link recipients can click to book a meeting with you. You can use Calendly to create a free booking link for your signature.
Use an email signature generator - Tools like WiseStamp, MySignature, Newoldstamp, and the ThriveDesk Email Signature Generator make it easy for anyone to create a good-looking and effective email signature. Use them to design your new signature more easily.
Here's an example of a good email signature for a sales manager:
5. Use the right email template

If you're having trouble structuring or formatting your email on your own, you can try using a template that already follows the proper business email format. Here are some of the most popular email templates from Hunter's template directory.
1. Connecting with the right person

2. Guest post outreach
3. Link building outreach
4. Recruitment introduction

5. Event follow-up
6. Securing a guest spot on a podcast

Didn't find what you were looking for? Visit Hunter's template library for more templates and email format examples.
---
Format your emails the right way
If you got this far, you're ready to craft a great email. Just make sure to follow these steps:
Make the subject line clear
Start with a greeting
Keep it short and to the point
Don't forget to include a signature
Use Hunter's cold email templates to simplify the process
Doing cold email outreach? Check out Campaigns, our free outreach tool.