6 Types of Sales Collateral You Should Be Using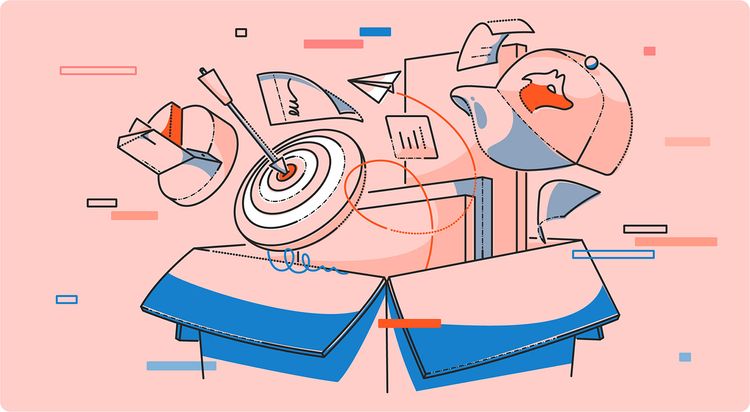 After your marketing team has successfully generated new leads for your business, it's time for your sales reps to nurture and convert them into customers.
But, your sales team shouldn't have to go into the process without some help. That's where sales collateral comes in. Different types of collateral highlight the value of your products or services so your team can show the proof behind what you're offering.
As part of the sales process, successful collateral can help you close more deals and move your leads further down the sales funnel.
Explore these six types of sales collateral that you should be using to win more clients.
How to determine which types of sales collateral to use

Before you start creating sales collateral, you need to determine which types are beneficial for your business.
It's likely that your audience of leads needs specific messages or data to help them convert, and you don't necessarily need to spend time developing all types of collateral. Instead, ask yourself these three questions:
Who are our buyer personas, and what information do they need to convert?
What stage of the funnel are your leads getting stuck on or dropping off? It might be awareness, building trust during the consideration stage, or further down the funnel in the decision-making stage.
What are your sales team's biggest challenges? They might be missing the data to prove what they're communicating to leads, or they're simply missing visual aids to guide them through the sales process.
1. Case studies

Case studies spotlight how other customers have used your products or services, usually in a long-form content format. They give your sales team the opportunity to show potential customers exactly how other customers like them benefited from your offering.
For case studies to be more impactful, they should incorporate tangible results, such as the numbers behind your impact. This might include money saved or time saved, or any other metrics that are relevant to your industry.
Don't forget to tell an appealing story as well. Your case study should tap into pain points that similar customers might be feeling. With an effective case study, you can hook your leads with an impactful before and after story that centers around the benefits of your solution.
2. White papers

White papers are more beneficial collateral to offer during the awareness stage. If you want your sales team to be able to nurture leads at the start of your sales funnel, white papers are the tools that help them show your business is an authority.
With white papers, you can own insights within your industry by using research and data. For example, if you have a SaaS product, you can survey and gather insights from your customers to deliver broader insights about your audience.
Leads who are in the same audience can use your white paper data within their businesses, and they'll align your brand as an expert on the topic. After using a white paper, your sales team can continue to nurture leads with related content, eventually bringing them down the funnel.
3. Digital brochures

If you're a small, independent business, one of the best types of sales collateral you can use is a digital brochure. Unlike a landing page, you can personalize digital brochures to your leads to make them more valuable during the decision-making stage.
Within your brochure templates, you can include the products or services that make sense for your target leads as well as specific testimonials. Instead of leaving it to your leads to search your site for more information, the brochure lets you deliver the most important information directly to them.
Brochures are most effective when your leads are close to booking—they just need to determine how to move forward with your business.
To make your brochures even more effective, you can streamline your process to combine booking or payment directly with your digital brochure. That way, there's no friction in converting to a customer.
4. Data sheets

Data sheets are a type of collateral suited for more technical-focused B2B sales. Within a data sheet, you can summarize your product highlights and key features in just one to two pages.
Unlike other types of collateral, the data should be more straightforward, and it doesn't have to be cluttered with visual branding.
Create your data sheets to offer quick details about your product for customers who may not have time for a product demo or need a quick list of highlights to compare to other software.
5. Product demos

For many SaaS businesses, customers in the consideration phase want to see how different products work and compare them with each other. If your sales team can offer product demos, it's a great opportunity to show your core features and benefits.
To use demos successfully, make sure your sales team is asking for pain points upfront. From there, they should align a few different features with the pain points themselves.
Make sure you aren't diving too deep into the product too fast. You'll want the demo to focus on high-level value, personalized for each client.
6. Printed materials

If your sales team is at conferences and events or focused on in-person network sales, print collateral is key to transitioning leads onto digital formats where you can nurture them.
Your print materials should focus on the awareness stage, so you can test using postcards, flyers, or traditional brochures.
When you create print collateral, make sure to include a clear call-to-action and keep it simple. It can be tempting to include as much information as possible, but you want to hook your leads quickly and move them to visit your website, take an action online, or take advantage of an offer.
Make your sales collateral more effective

When you send your collateral, the way you send it and the way you follow up is crucial. Make sure your team is equipped with sales email templates they can use to send collateral and specifically address their prospect's pain points.
Explain the value behind each sales piece and what they'll get out of it. Think of their perspective– they want to know why they should care and what value they can expect from taking the time to read or experience your solution.
Don't forget you can also repurpose your sales collateral into different formats. Written case studies can become video case studies, digital brochures can become print material, and so forth. Take the time to test different formats and see which type of collateral leads to the close rates.