Hepper Establishes 6-Figure Affiliate Partnerships by Using Hunter's Tools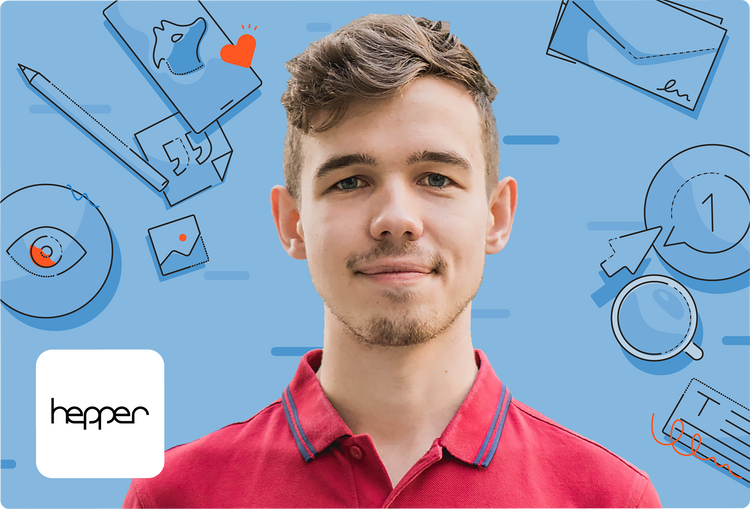 With Simon Treulle, CEO
Meet Hepper

Hepper is an e-commerce store that designs and sells modern cat furniture. Their biggest source of new customers is their pet blog which is visited by more than 2.7 million readers every month.
About Hepper
Industry

Pets (cat furniture e-commerce)

Team members

95

Headquarters

Singapore

Plan

Pro
Results

Formed dozens of 6-figure affiliate partnerships
No longer need to manually find email addresses of the decision makers, saving dozens of hours every month
Improved deliverability rate by automating email verification
Toolset

Domain Search
Email Finder
Email Verifier
Hepper's blog is a big channel for Hepper to find new customers and help pet owners. They write about anything from cat behavior to cat toys.
By forming affiliate partnerships with other big pet brands such as PetCube and Kitty Poo Club, they are able to introduce interesting products to their audience while also driving more revenue for their business.
However, forming these partnerships isn't always easy. Finding the right pet brands to work with can be hard. After that comes the next challenge: figuring out who the affiliate partnerships manager of a company is and how to contact that person.
This is where Hunter has been a massive help for Hepper. They primarily use Hunter for solving two problems:
Automating the email finding process with the help of Hunter's Domain Search tool. This is normally a very time-consuming task. "If you try to ask the customer support person about affiliate partnerships, then you will often just get rejected. However, if you reach the affiliate partnerships manager within their company, then you will have a much higher success rate," shares Simon, the CEO of Hepper.
Improving the deliverability of outreach campaigns by using Hunter's Email Verifier. "This is a crucial step as it gives us confidence that we have indeed found the right email address to contact," Simon explains.
Using Domain Search to find the right person at the company to contact

Getting past 'the gatekeeper' was the biggest issue we had when we started emailing pet brands to set up an affiliate partnership where we could promote their products.
In most cases, we would just reach out to the default support@domain.com email address and then reach someone from their customer support department. We would then often get rejected right away because the person from customer support had no idea their company had an affiliate program.
We quickly realized that we saw much higher success rates when we reached out directly to the affiliate partnerships manager within a company.
The big issue is that it's incredibly hard and time-consuming to find the email address of the affiliate partnerships manager when it's a big company with more than 30 employees.
This is where Hunter was a huge help.
Now, when we find a great pet company that we want to partner with, we enter their domain name inside Hunter's Domain Search tool: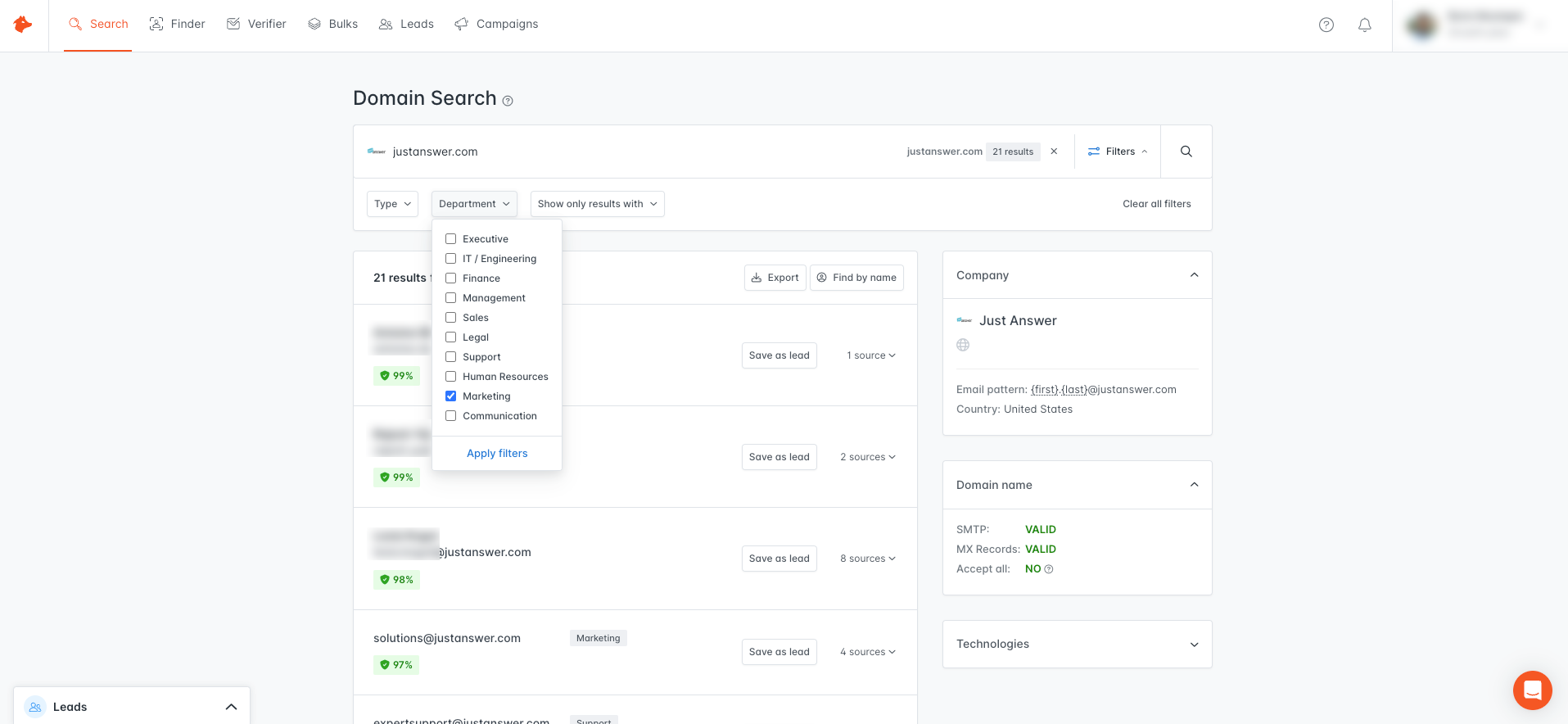 This allows us to get an overview of all the email addresses of employees in that company.
What we then do is check the 'Marketing' box in the Departments drop-down (as shown in the screenshot above), which then shows us the email addresses of people from the company's marketing department.
We then choose the person that we think is most relevant for the affiliate partnership program.
From our experience, most people from marketing departments know about their company's affiliate program and are happy to help or direct us to the right person.
But there's one more step we do before we send our email:
Increasing deliverability and success rate with Email Verifier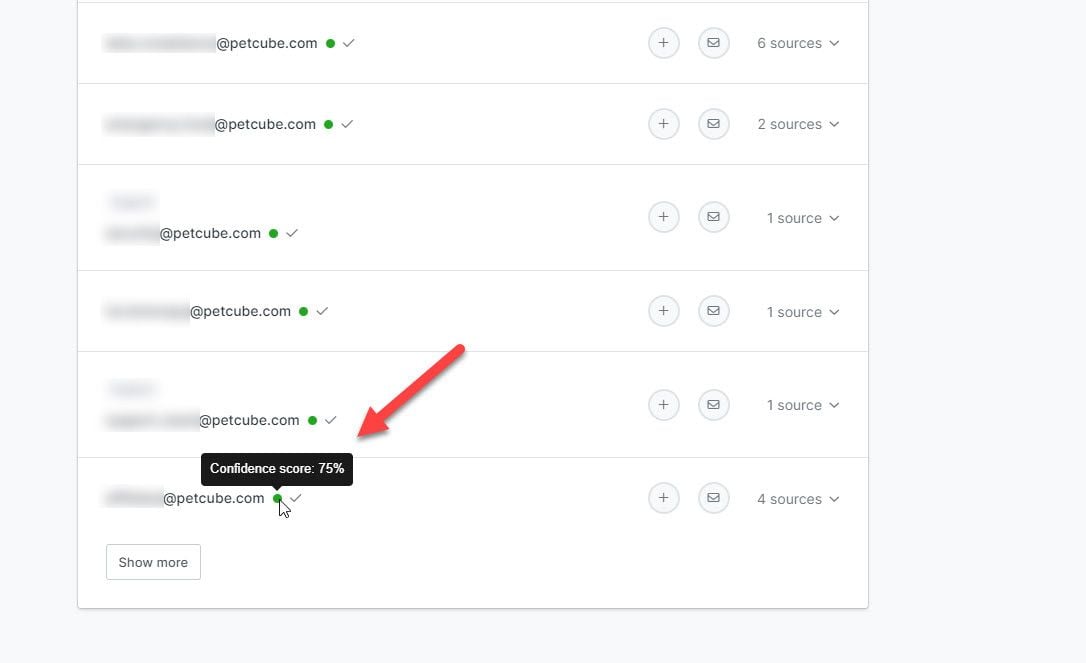 You can see the 'confidence score' if you hover over the little colored dot right next to the email address inside the Domain Search tool. This is very handy since it gives you an idea of the likelihood that this email address exists.
We usually only send messages to email addresses with a confidence score higher than 70%.
Anything lower than that is likely not to reach the recipient, which means that we won't be able to start a partnership, and if we have many emails like this that bounce, then our email address might get flagged as a spam sender over time.
Sometimes we also go into the Email Verifier tool to get a bigger picture of how 'safe' it is to send a message to an email address: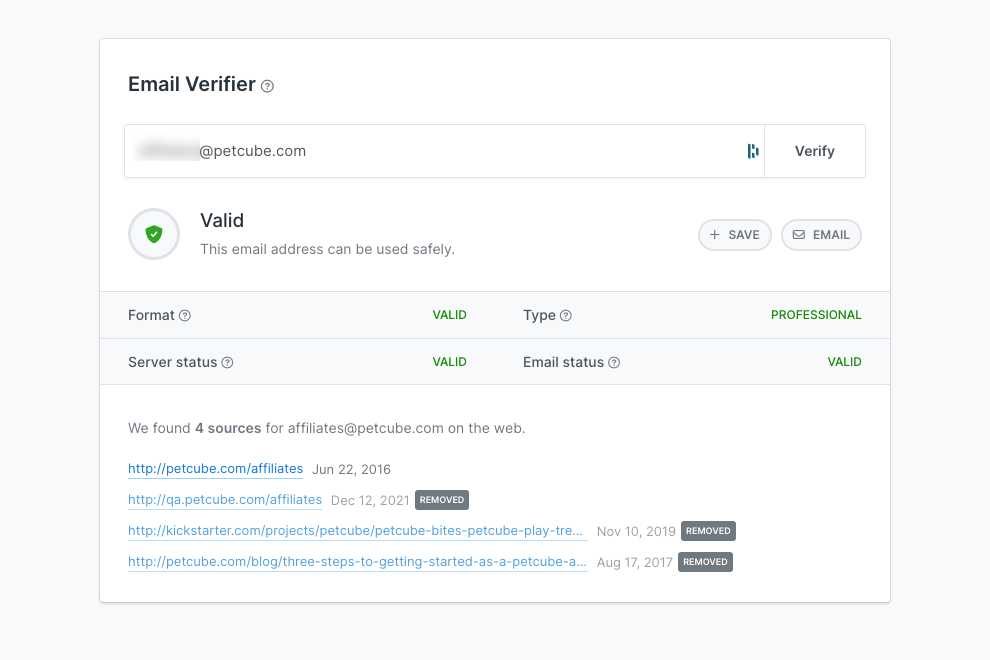 This gives you a lot of data, as you can see in the screenshot above. We always see a very high deliverability rate when we send to an email address that passes all the four criteria listed above.
Tip: Hunter's Google Sheets add-on is also very handy for doing this in bulk.
A template for reaching out to potential affiliate partners

Now it's time to send the email.
What we would normally do is send an email like this:

This email usually gets the conversation started. Also, notice the fields I put into brackets, such as [Name]. These are called custom attributes. They allow us to create personalized emails at scale with Hunter Campaigns. This way, we can easily send thousands of personalized emails to potential partners.
Another thing I highly recommend is to schedule two follow-up emails. Follow-up sequences are truly invaluable, as it's been shown that following up on your cold email can double your response rate. Hunter Campaigns can help you automate follow-ups easily.
The team at Hepper has been achieving so much success with Hunter's toolset that they also implemented this process on their other site: Pet Keen, where they have seen similar levels of success from this approach.