Belkins Found A Six-Figure Client With Hunter's Smart Lead Generation Tools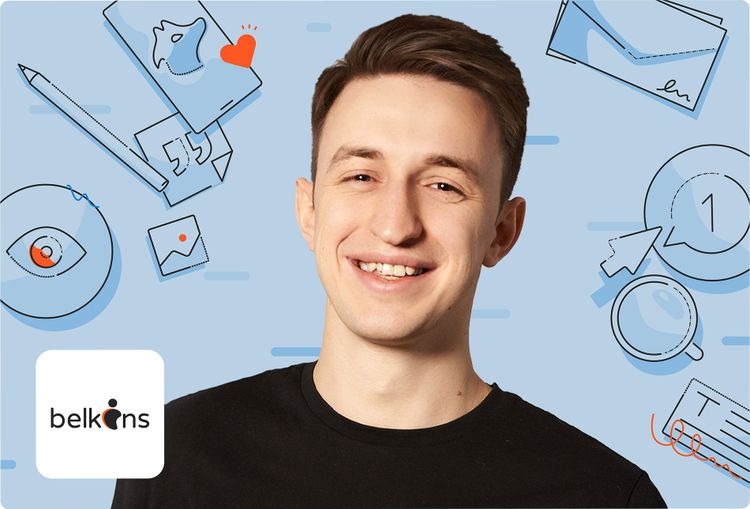 With Vladislav Podolyako, Founder & CEO
Meet Belkins

Belkins is a lead generation agency that offers a comprehensive range of sales and business development services, including lead research, B2B outreach, LinkedIn influencer programs, and appointment-setting services.
It has been rated as one of the world's top-performing digital marketing agencies by Clutch and GoodFirms.
Industry

Sales

Team members

210

Headquarters

USA

Plan

Enterprise
Results
Generated $10M revenue for one of their clients as a result of cold outreach with Hunter.
Saved up to 25 hours a month per team member using Hunter.
Toolset
Domain Search
Email Finder
Email Verifier
TechLookUp
As Belkins' core focus is B2B lead generation, they use many tools that help them automate prospect lookup and outreach processes for their clients and their own business.
Vladislav Podolyako, the founder & CEO of Belkins, shares: "When growing an agency business, you usually have two options: hire more people or automate as many processes as possible." At Belkins, they do both: grow fast and automate the repetitive and routine work.
Currently, 210 people work for Belkins, and for almost 70 of them, Hunter is an essential tool they use every day.
When Belkins starts working with a new client, they have tight deadlines. Their team wants to show the first results quickly.
They typically have two weeks to find 2,000 prospects and two more weeks to set up the outreach campaign, send follow-ups, and present the first leads and appointments to the client.
Belkins focuses on quality when finding prospects for their clients. Vladislav shares: "It's relatively easy to find potential prospects for any business, but finding the right prospects and their contact details is a much more challenging task."
Hunter makes it easy to find accurate email addresses for all the prospects we need.
Vladislav shares Belkins' most successful approach to finding and reaching out to prospects below. He also talks about the exact tactics that helped Belkins get 500% ROI for one of their clients' outreach campaigns, where 99% of  the email addresses were found with Hunter's Domain Search.
How Belkins found a six-figure client with a single cold email

As a lead generation agency, we use cold outreach as a key tactic to find new clients for our agency.
When we start a research project, we focus on our Ideal Customer Profile (ICP): a B2B midsize or enterprise company that owns a product, technology, or industrial business.
There are around 1,000 clients currently in our portfolio, and we have experience working with many industries. Our business development outreach is often focused on narrowing down big niches and running very targeted outreach campaigns for our ICP targets.
We may start by looking at a list of industries. Then, we sort it in alphabetical order and check every industry one-by-one from "A" to "Z."
For example, when we reach "E," we can find the "Energy" category. Next, we narrow it down by country and state (let's say "The United States" and "Illinois").
After that, the most exciting work starts. With the help of many tools, we identify the companies in a specific state in the energy business.
We create a list of those companies and their domains. Then, we find the email addresses of the decision-makers using Domain Search.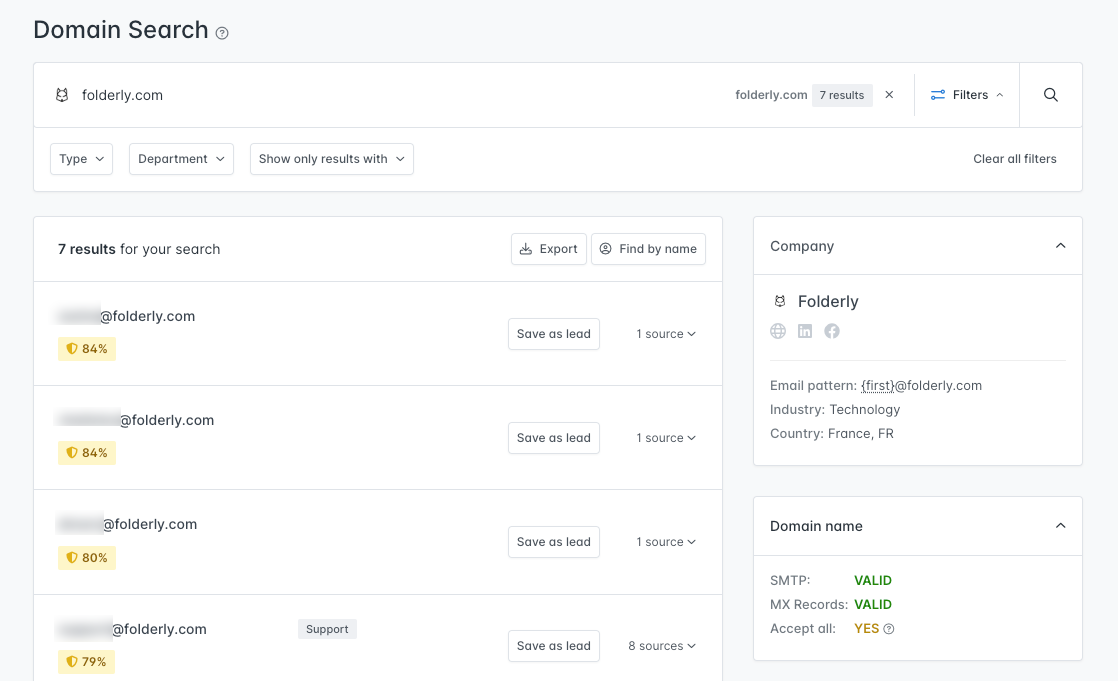 Once we create a list of prospects and find their email addresses, it's time for outreach. Our email template writing department (yes, we built a whole department for it!) prepares an email template that can later be modified based on each prospect's profile.
Here is an example of an email template that helped us land a six-figure client operating in the energy industry:
How Belkins generated 500% ROI for a client found with Hunter's Domain Search
Once we got the "yes" from this energy prospect, we started preparing an outreach campaign for them.
The clients' brief was to find leads in Pennsylvania, Illinois, and Texas, with offices in buildings that are 20,000 square feet and bigger.
The requirement for building size was justified because the client specializes in installing solar panels of a specific size.
Find target companies in the specific states

Our team chose quite an interesting approach to finding companies. We used Google Maps and satellite imagery to measure the sizes of roofs with Google's measurement tools.
Identify companies that work in those buildings

The next challenge was to find companies that work in the target buildings. Again, Google Maps helped us as many companies add their business profiles to the site.
However, at the same time, it was challenging to double-check the information about those companies on LinkedIn and Crunchbase (something we often do), as many of them didn't have profiles on those platforms. So, we had to resort to Google searches.
Find decision-makers in the relevant companies

Once we identified which companies fit the ICP of our client, we started identifying decision-makers. For us, these were CEOs, founders, and board members.
We used many sources to find these individuals: company websites and blogs, social media pages, and plain old Google searches.
The next step was to collect the list of domains and the prospects' full names. This data helped us automate the email lookup process.
There are two ways we were able to collect email addresses:
1. By using Email Finder
With Email Finder, we could enter the data we have (domain name + prospect's full name) and get a verified email address straight away.
2. By using Domain Search
In some cases, when the email wasn't listed in public sources, and Hunter couldn't find it, we used Domain Search.
The benefit of using Domain Search is that besides showing emails of all of the people working for a specific company, it also shows the most common email patterns used.
For example, at hunter.io, all of the team members use the same pattern:
We used patterns recommended by Hunter to find the email addresses of decision-makers in the target companies.
Then, we verified our findings with Hunter's Email Verifier. It helped us keep deliverability high and make sure we contacted only valid email addresses.
Domain Search saved us tons of time and helped us scale faster.

Here's what the spreadsheet looked like when we found all of the data we needed for our outreach campaign:
Set up a personalized outreach campaign

We created an email outreach template based on the brief the client provided us with to show the benefits solar panels can provide to businesses.
Additionally, based on the business' state, we personalized each email with the calculations on how much money the business could save by installing solar panels.
Here is what the email that generated a $1M sale for our client looked like: