Moosend Recruits 50 Affiliates Monthly on Autopilot With Hunter's Tools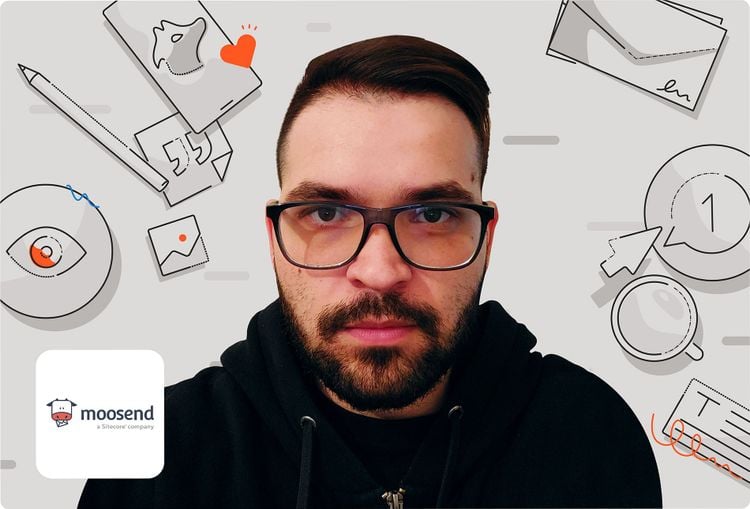 With Nick Dimitriou, Head of Growth
Meet Moosend

Moosend is a powerful email marketing and marketing automation platform. With Moosend, you can easily manage multiple email campaigns and mailing lists, and you can design and send great-looking newsletters created using the built-in campaign editor.
Industry

Marketing

Team members

12

Headquarters

Greece

Plan

Growth
Results
Recruiting up to 50 new affiliates every month by automating the recruitment process using Hunter's tools.
Increased email open rate by 15% after starting to verify emails with Hunter's Email Verifier.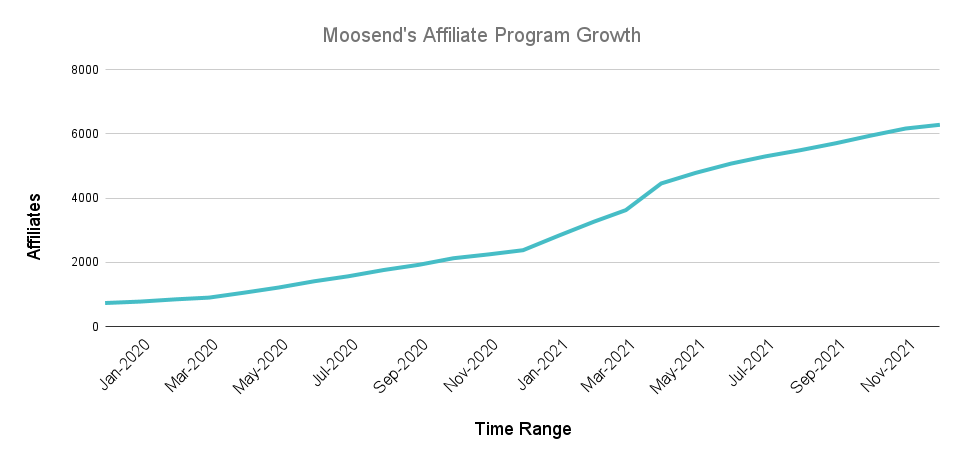 Toolset
Domain Search
Email Finder
Email Verifier
Moosend has been running an affiliate program for quite a long time now. Affiliate partners help Moosend attract new customers who are highly relevant and engaged with the product. In return, Moosend pays their affiliates 30% recurring commission for life.
As the email marketing space is quite competitive, Moosend is working hard to convert new leads that affiliates bring in and recruit new affiliate partners.
As Nick Dimitriou, Moosend's Head of Growth, shares: "Hunter automates the whole email lookup and verification process for us, which is one of the most time-consuming parts of the affiliate recruiting process."
Below, Nick shares a step-by-step guide on how they successfully recruit up to 50 affiliates every month:
Identify competitors' affiliates

The first step in our affiliate recruitment process is to use Ahrefs to identify which affiliates use affiliate links of our competitors. Affiliate links usually have the same pattern or unique identifiers:
https://www.company.com/?tap_a=9999-fb99f90

The unique identifier for that particular affiliate link is "tap_a".
By scraping backlinks from our competitors and applying filters included in those patterns (for example, affiliate ID), we can get a list of affiliates who promote our competitors.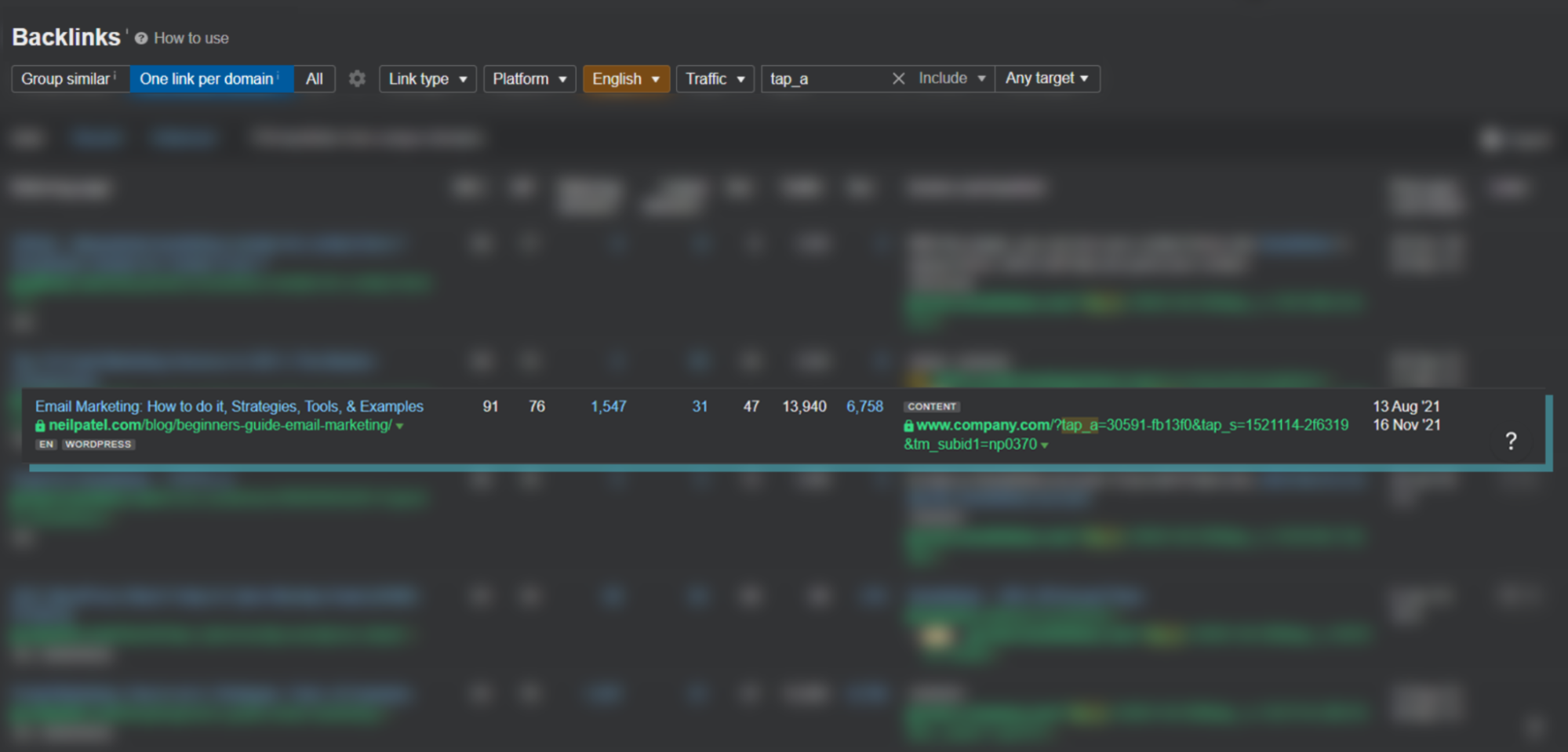 Once we get this list, we apply additional filters to avoid contacting existing affiliates. Also, we typically don't want to reach those who have irrelevant or spammy websites.
Find email addresses with Domain Search

After applying all those filters, the final result is typically a .CSV file that contains a list of domains that promote our competitors' offers.

The next step is to find the email addresses of the affiliates behind all those domains.
Our affiliate recruitment campaign aims to contact only partners who best fit our criteria and are relevant to our niche. The general goal is to find and contact around 400 potential partners each month.
As we value quality over quantity, we use Domain Search and a manual approach for email lookup. We enter emails one by one into the search box and see which prospects are the most relevant to contact.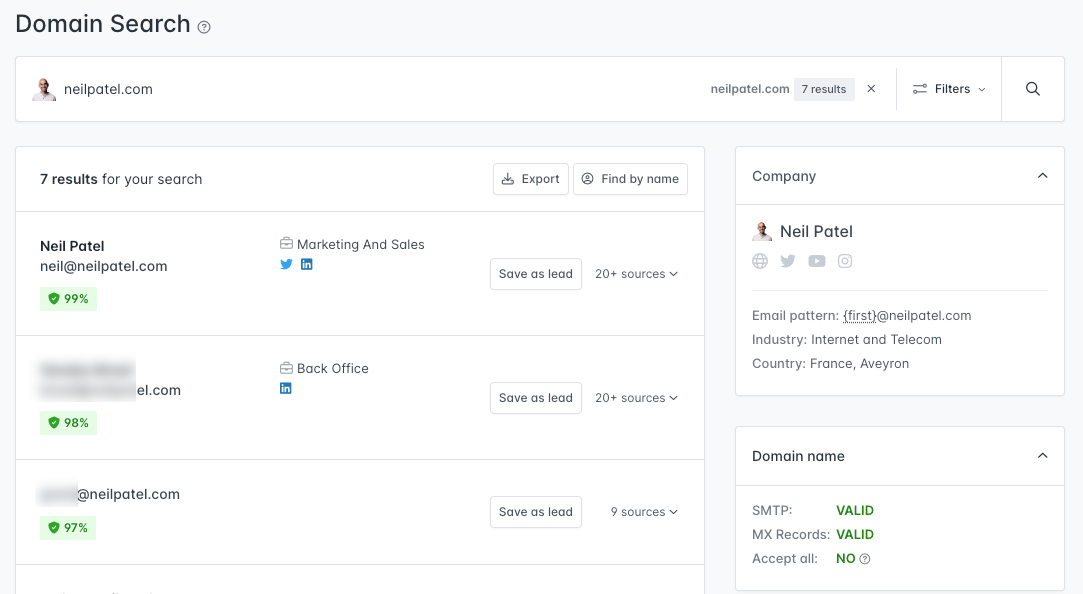 We usually find one to two prospects per domain, but we make sure they're highly relevant ones.
Verify emails for better deliverability
We started verifying emails a couple of months ago and instantly realized that it helps us improve the results of our outreach campaigns.
We did this because we noticed some deliverability problems with our campaigns. Some unverified emails were constantly bouncing, which caused frequent Gmail account blocks.
Once we started using Email Verifier, we were surprised by the results. Our sender reputation increased, and Google has never blocked us since that time.
Our response rate improved by 15%.

Send personalized emails to recruit affiliates

In our outreach email, we use a targeted and personalized approach. As we value quality over quantity, we do in-depth research on every prospect we scrape from Ahrefs.
We typically send 400 emails every month and currently have a 10% conversion rate by sending this email:
This approach allowed us to recruit some of our biggest affiliates, including WPBeginner and Quicksprout, which own a variety of other B2B related blogs.
Every month Hunter helps us recruit 30-50 highly engaged affiliates.

The whole process I described is perfect for finding new affiliate partners. However, once you start implementing it yourself, don't forget about the next important part: onboarding.
Besides recruiting your affiliates, you need to provide them with all the necessary materials that explain your company and product, educate them along the way, and help them to progress in the right direction.