SEO & Outreach for SaaS: How to Grow Your Traffic and Backlinks in 2023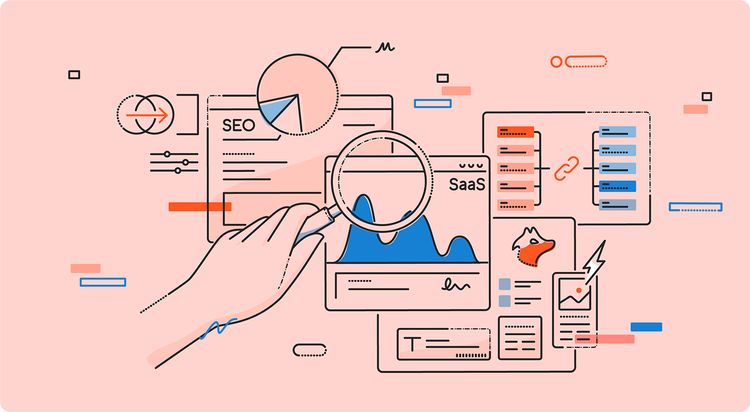 Investing in SEO is the gift that keeps on giving. Search engine optimization continually brings large numbers of visitors to your website, organically increasing your reach over time. That might be why 64% of marketers say that they actively invest in SEO.
"Actively invest" is the key to success though. SEO isn't something that just naturally happens - it takes targeted, effective strategies to get great results.
One of the most effective strategies to grow your website's authority for SEO is to earn new backlinks and mentions on reputable sites. While there are many ways to grow your backlink profile, we'll focus on outreach.
Below, we walk through the six steps you can use to grow your inbound traffic with SEO and outreach so you can nail your 2023 marketing strategy.
Publish SEO-optimized blog content
Start by getting your existing blog in order. Run a content audit to see where your existing content needs updating in order to perform its best. This might include updating image alt-text to be more descriptive, adding meta descriptions with your keywords, and adding internal links to older content. A content audit template can make sure you don't miss any of the small details that really matter when it comes to SEO.
Secondly, build a Search Insights Report (SIR) to provide a clear roadmap for future content creation. An SIR identifies content "gaps" in your current library of content including customer pain points you're not addressing, analyzes your competitors' content to see what keywords they're ranking for, and then translates these insights into content briefs for your writers. A complete SIR provides a mix between a keyword report and an editorial calendar. Ultimately, it makes sure that you're dedicating your writing resources to creating the most valuable content for SEO.
A few quick tips to make sure your content is ready for the search engines:
Aim for one primary keyword per blog post.
Use the keyword in the title, meta description, URL and the first paragraph
Remember that quality is a key factor in Google's algorithms. Make sure your pages are mobile-friendly, load quickly, and are valuable to the reader.
Use your SEO tool stack as Surfer SEO for content optimization, Grammarly for the grammar review, and Quetext for plagiarism check.
In this example, the blog post below is optimized for "how to write a pitch".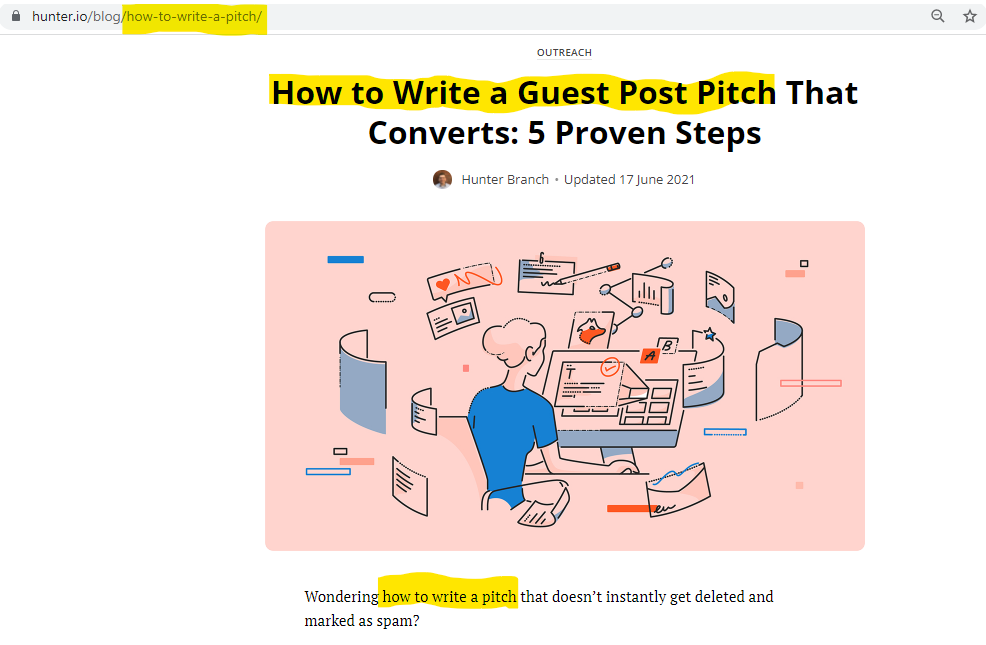 ---
Publish product-led pages
When customers are in the Consideration stage of their buying journey, they tend to search online using specific keywords. The keywords that your customers are searching for are unique to your business. For example, if you were selling dog beds, your customers might search for "best dog beds", "dog beds for small breeds", or "fun dog beds". Keywords that have a high estimated cost per click (CPC) are "high-intent" - ie. the customer is looking to purchase, and soon. Ideally, you want to find the high-volume, high-intent keywords for your business.
Once you've discovered the high-intent keywords for your business, you'll need to develop product-led pages to capture and convert incoming prospects. There are two ways to do this:
1. Optimize your existing product pages to rank for high-intent keywords and to convert incoming visitors. These product pages should be hyper-focused on the keywords you want to target. For example, this is a page that ranks for "free form maker".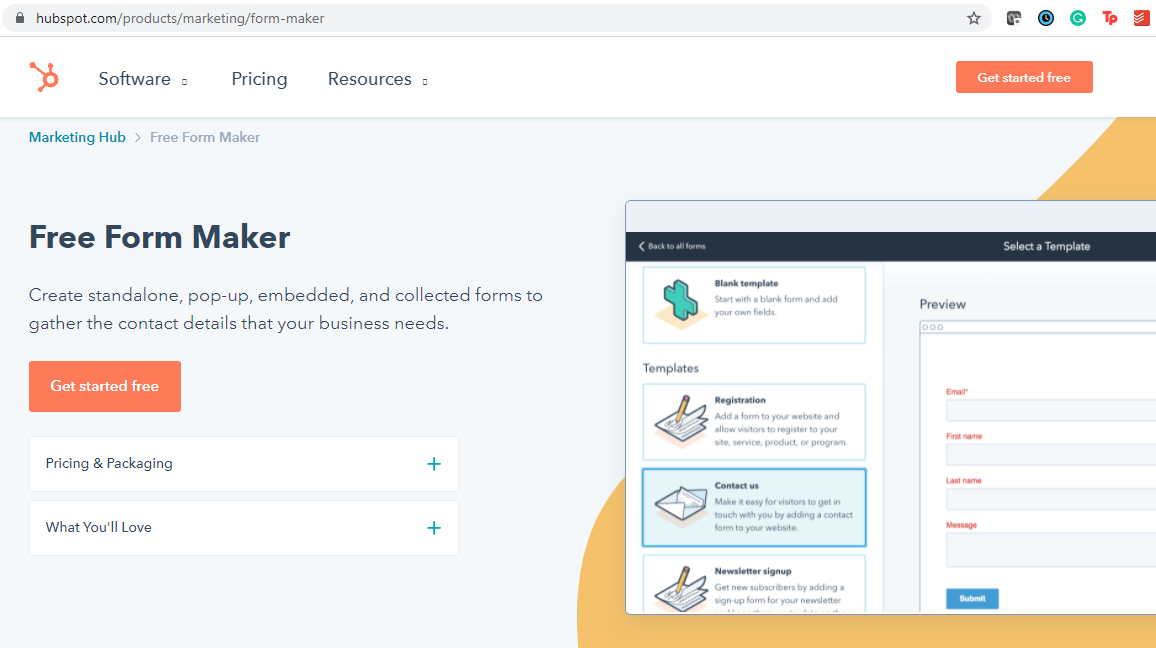 The product page uses primary and secondary keywords to boost ranking potential, but also includes detailed information about the product and a compelling CTA. Search traffic that comes through this page will have a good chance of converting to a free trial.
2. Publish new product-led content pages to capture more search intent. If you're finding gaps in your content designed to rank for certain keywords, focus on filling those gaps with product-led content (ie. content that solves a common problem or a paint-point for your audience and weaves your product in through the narrative). A great example is Hunter's very thorough blog post on How to Write Professional Emails.
While the content isn't specific to Hunter's tools, the intended audience would also benefit from using Hunter to send better emails to the right people. Suggesting specific ways that Hunter helps with writing professional emails makes a much more compelling case than a simple product page. Plus, you can use internal links to your optimized product pages to boost relevance.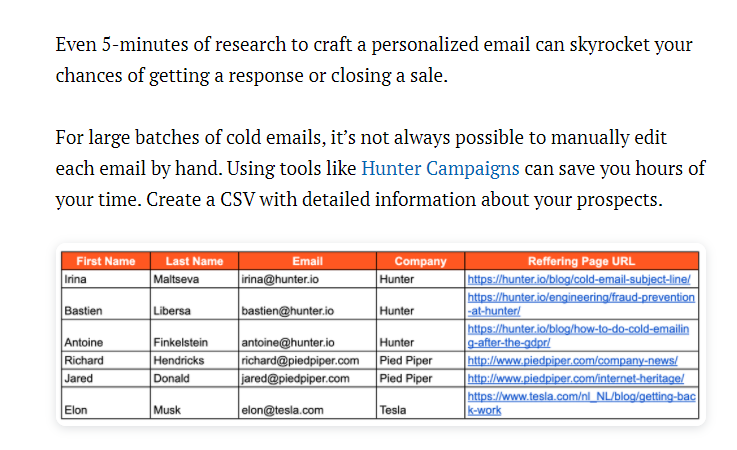 ---
Publish timely, data-driven content
You want to create content that readers in your space find interesting and valuable. Simply repeating the same lists and examples over and over again won't get you the link-building attention you need. There are several ways to do this.
First, look for timely topics that haven't been covered yet and jump on them. Working from home and the global pandemic's impact on e-commerce are two topics that have been popular over the last 18 months. If you can bring a new angle, or have an expert perspective on a current trend, that's a great way to get published.
Second, use proprietary data to say something new or original.  We often run "state of the industry" surveys to gather new data that's helpful for our audience. These stats are sourced by other writers for other publications, thus gaining us additional linkbacks.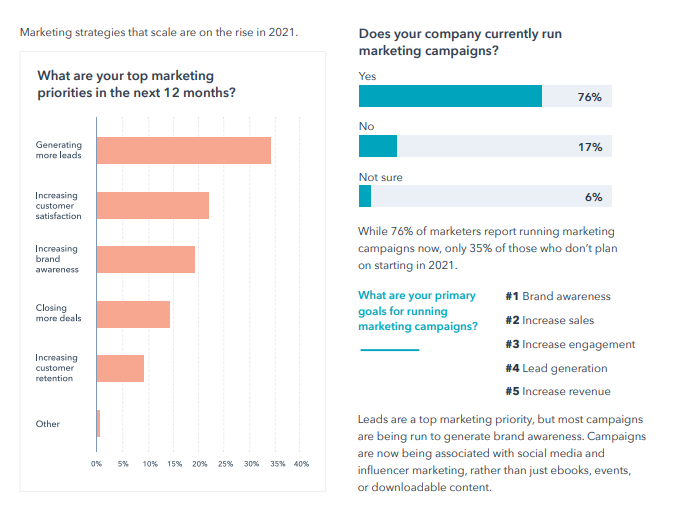 Finally, publish beautifully designed reports. When you start your outreach campaign, a high-quality report will be your calling card. By offering up a quality report, you'll stand out from other marketers that are emailing to ask for links. When you put in the work to make your content look aesthetically pleasing, other marketers will know that you're a great partner to have (as you'll make them look good too!).
---
Understand your current visibility in SERP
Ideally, you want your company to be mentioned in every "Best" and "Top" listicle about your product, such as "best dog beds under $50" or "top christmas gifts for dog lovers". The more places your target customer reads about your product, the higher they will rate it subconsciously. This is the "surround sound" effect that we're looking for.
Surround sound effect: the more often someone hears about your product, from multiple (trusted) sources, the more likely they are to buy it. You want your product to be listed everywhere your customer looks when comparison shopping.
Do a quick check to see how you're currently performing when it comes to search engine results for your keywords. This is an example of how HubSpot is performing for "free email marketing".
Do this exercise and check how many times your brand is mentioned in the articles that appear in Google's top 10 results for your high-intent keywords. If you're in less than 5 of the positions, you can do one of two things: work with the publishers that are already ranking and see if they can update their content to include your brand or, publish new content (or optimize your existing pages) to rank for that particular keyword. Often becoming a guest author on relevant publications and writing content that targets the keywords that you want to be found for, provides the greatest bang-for-your buck.
Once you've identified your baseline for visibility on the product keyword SERP, create a list of publications that you'd like to target. This is similar to the HARO approach (Help a Reporter Out), but instead of working with reporters, you're helping out fellow marketers. Each publication has its own goals and approach to content. Creating a network of link-builders can help everyone reach their goals.
---
Automate, but personalize your outreach
SEO outreach is similar to an outbound cold email campaign. While templates are helpful to save time and ensure consistency, personalizing every message is essential to building connections. Here are the three steps we use to get great results from our outreach campaigns:
1.Start by finding the right contact for each publication.  Hunter's Author Finder Chrome Extension makes it easy to locate article authors, along with their contact details.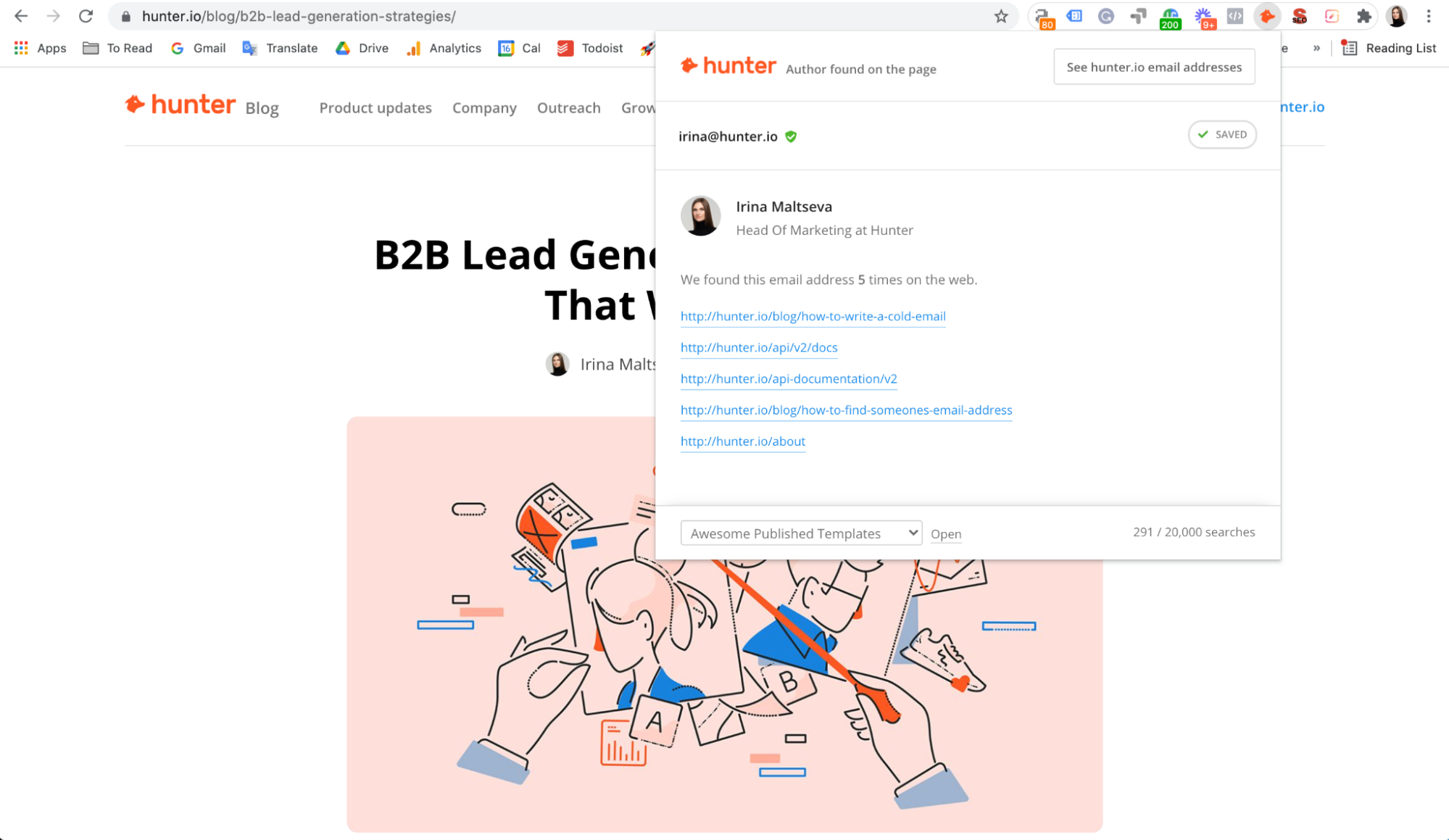 2. Use templates to simplify your first email. Experimenting with different formats and approaches can help you find what works for you. But then once you have something that works, there is no need to reinvent the wheel with each new contact.
3. Personalize every message. If you're only sending out a few emails each week, you can manually personalize every email. For outreach campaigns where you need to contact hundreds of people, it's helpful to use custom attributes and personalize emails at scale.
Here is a sample SEO outreach template from Hunter's own template library. Note the bolded areas where the email should be personalized to the recipient. The email also refers back to the high-quality, aesthetically pleasing report or study that we mentioned in Step 3. Without great content to showcase, these emails are not effective.
---
Track and keep a record of your outreach
Rather than throwing spaghetti to a wall and seeing what sticks, we recommend a more targeted approach. Tracking your progress and using the right outreach tools will have a better success rate (and you lower the risk of your messages being seen as spam).

Outreach is the process of forming partnerships with publications. If you use Gmail, integrating Hunter's Campaigns with your inbox makes outreach even easier. With this free tool, you can create workflows, schedule follow-ups, and track every step with Campaigns Stats.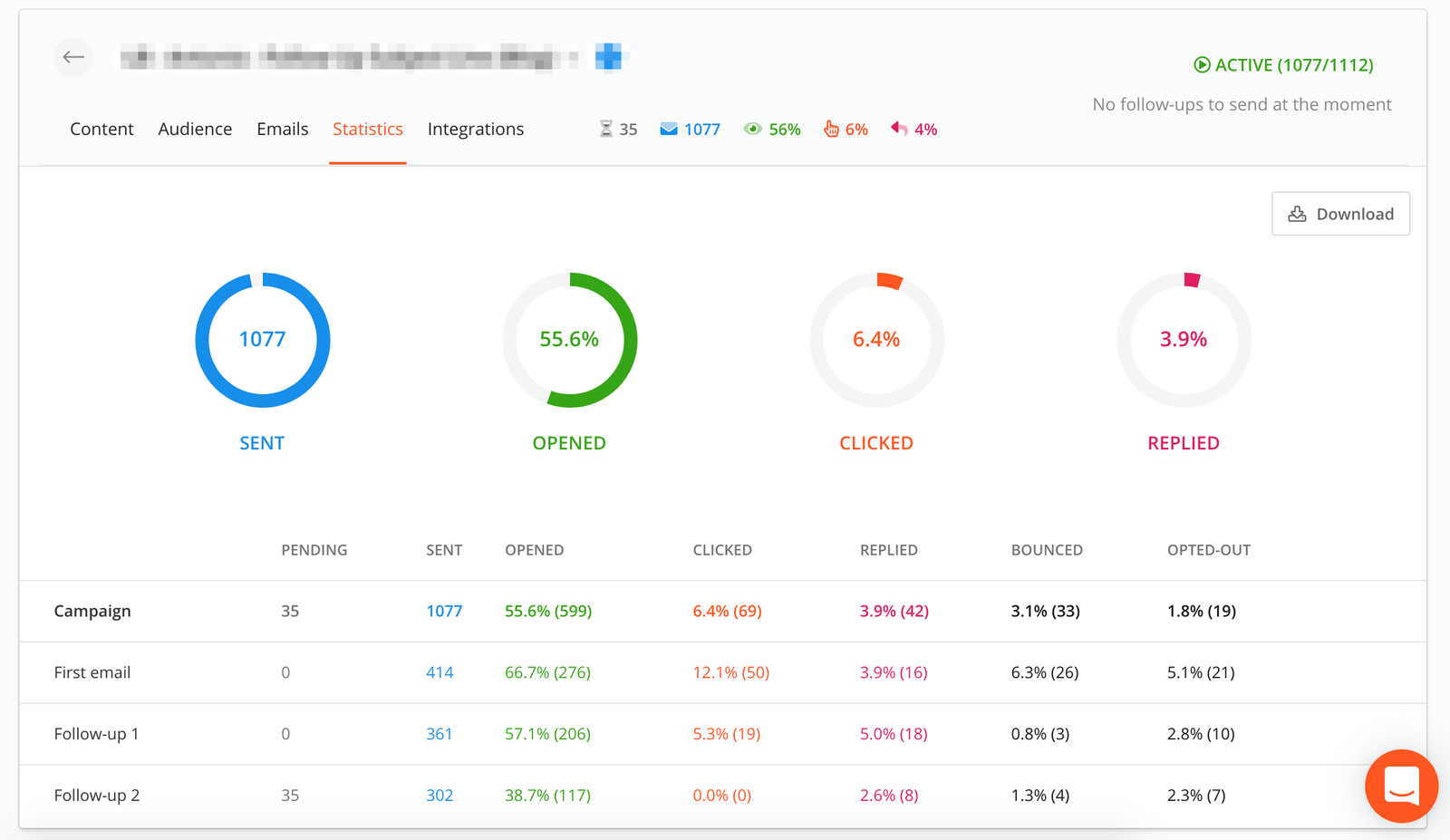 Once you start forming new relationships, consider using a CRM to keep track of them. HubSpot's CRM offers a free plan that allows you to keep up to 1 million contacts, a record of your communication as well as custom notes. The paid plans include more advanced features like call recording which can help your new team members pull up, reference, and learn from later on. Moreover, HubSpot CRM integrates with Hunter.io so can keep your outreach and contact records are all in one place.
---
Putting it all together for increased traffic and conversions
These six steps all work together to supercharge your SEO strategy. By optimizing your blog and product page content, publishing meaningful content that encourages link building, and creating an outreach strategy that develops quality links through partnerships, you'll see your pages ranking increase.
Directing the ever-increasing volume of organic traffic to your optimized product pages will generate conversions and show a direct pay-off from your SEO efforts. In other words, investing in a surround sound strategy through outreach is a surefire way to increase backlinks over the next year.